This Mocha Bread is packed with rich chocolate flavor and hints of espresso! An easy gluten free quick bread you will love!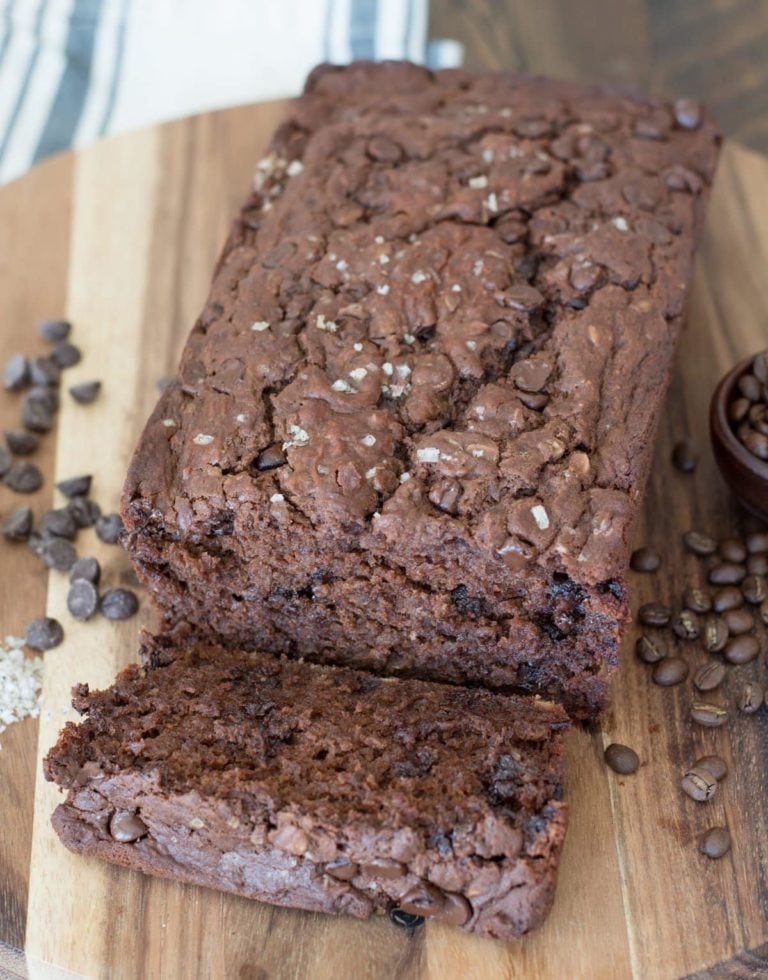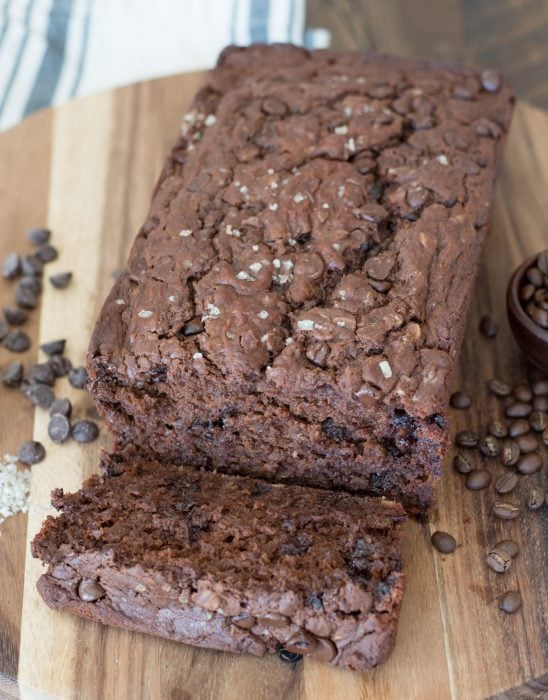 The mind is a powerful thing. We tell this funny story in my family about my Mom and her memory. Her memory isn't so great.
A couple years ago, Mr. Maebell thought he left his iPod in my Mom's car. We mentioned it to her and she made all of these faces and said all of these things like "um…yeah"…"hmmm…I do remember that."
Eventually, she went from kind of sort of remembering it, to "Oh, yes. I saw it. I actually used it. I remember walking around listening to it!" Mr. Maebell found it a few months later in his backpack.
Had Mom ever had it? Nope. But she was pretty darn sure she had! See, the mind is a powerful thing. Sometimes, we need to give our minds and bodies a little extra oomph.
That is where this Mocha bread comes into play! This is a sweet treat packed with rich espresso, dark chocolate and topped with sea salt for that perfect balance! I love a good caffeine kick- if you're interested in spicing up your morning, pair this bread with a Keto Pumpkin Spice Latte or a Keto Peppermint Mocha Frappuccino!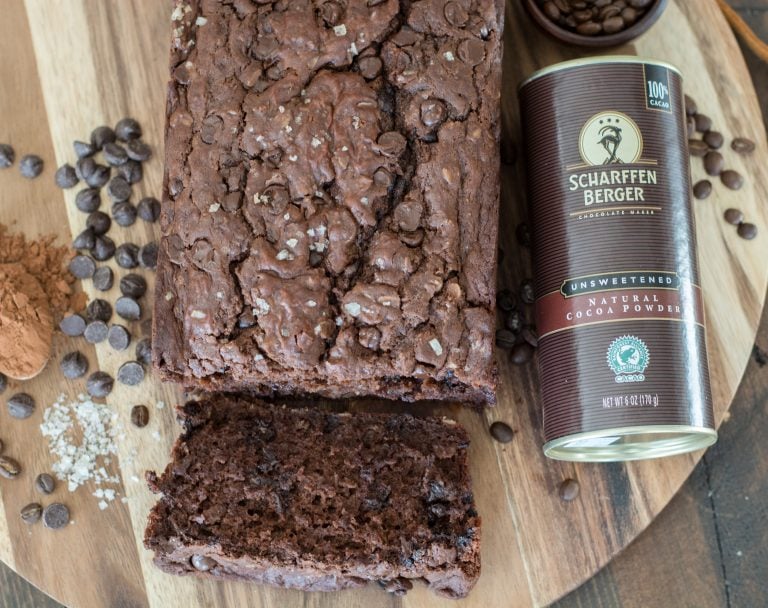 Ingredients for Chocolate Bread
Gluten Free Bisquick- if you aren't gluten free in your house, then any type of Bisquick will work.
Gluten Free Old Fashioned Oats- again, if you only have regular oats, that's totally fine.
Cocoa powder- I recommend using a high quality brand, especially if you are using gluten free ingredients
Baking powder- any type of baking powder will work fine in this recipe
Salt- you will need regular table salt for the baking, but if you wanted to sprinkle sea salt or kosher salt on top of your bread, it's always a hit in my house!
Vanilla instant pudding mix- this adds a great amount of moisture to the bread, so I do not recommend skipping this step
Brown sugar- dark or light brown sugar both work here.
Instant espresso powder- if you only have coffee, your flavor may not be as intense, so you may want to add a little more than the recipe calls for
Oil- I used vegetable oil, but you could also use grapeseed oil if that is what you have.
Buttermilk- low fat or full fat both work well. If you only have regular milk, you can add a tablespoon of lemon juice to a cup of milk. Wait five minutes and you've got yourself a buttermilk substitute!
Eggs- I recommend using large eggs.
Dark chocolate chips- I prefer dark chocolate in this recipe, but if that is not a flavor you enjoy, milk or semi-sweet chips will work fine.
Optional: sea salt or kosher salt for sprinkling on top
How do you make gluten free Mocha Bread?
This recipe can seem intimidating (bread has a way of doing that!), but it is genuinely so simple to bring together. Here is how we make it!
First, preheat your oven to 350 degrees. Next, combine your gluten free flour, gluten free oats, cocoa powder, baking powder, salt, vanilla pudding mix, brown sugar and espresso powder in a large bowl. Stir well to combine.
Following this, add your oil, buttermilk, eggs and half of your dark chocolate chips to the bowl containing your already mixed dry ingredients and mix well. Finally, pour everything into a greased loaf pan and top with your remaining dark chocolate chips. If you choose, add your sea salt during this step as well.
Lastly, you will bake for one hour. To check to see if your loaf is done, you can stick a skewer into the middle of the loaf. If it comes out clean, your delicious gluten free Mocha Bread is ready to be enjoyed!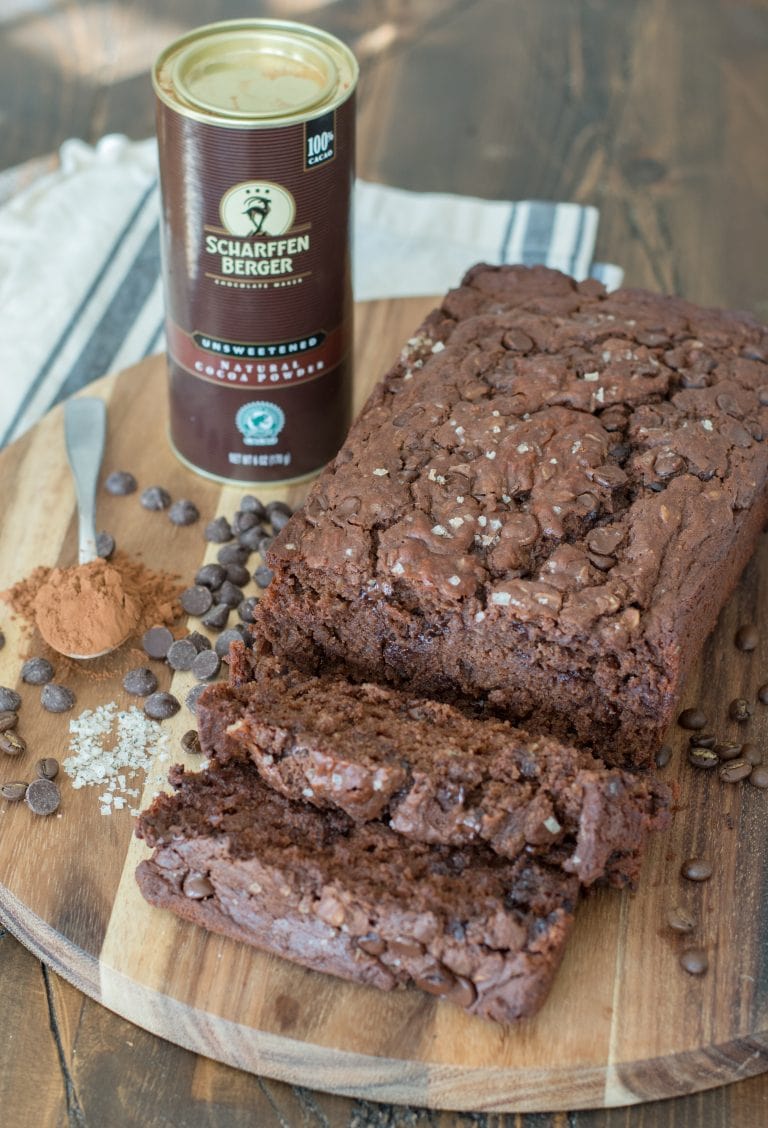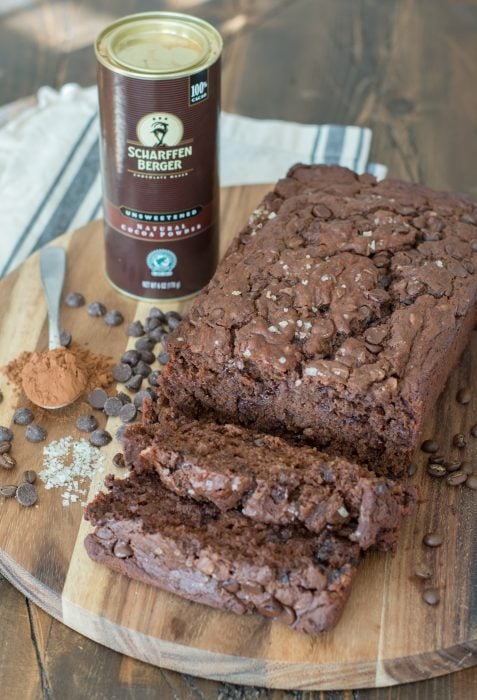 Tips and Tricks for the Perfect gluten free Bread
Some of you may not know, but Mr. Maebell has Celiac, so we are very serious about being gluten free in our house. This has led to a lot of trial and error over the years, but I feel like I now have enough knowledge to spread it with you all! Here are some of my suggestions:
The first step to making a delicious gluten free bread is the ingredients. You want to use high quality ingredients in your recipes, because I promise, not everything is made the same. Also, I recommend double checking labels, because I have assumed things are gluten free in the past to learn that they are not after I've purchased them and taken them home.
For the purposes of this gluten free Mocha Bread, one aspect I really recommend paying attention to is the type of cocoa powder you use. You want to be sure to use a high quality cocoa powder to make up for the elasticity gluten provides. There are several different types in the grocery store, but if you have a brand you've used in the past that you've had good results with, stick with that!
I also am always sure to use a really nice, delicious dark chocolate. For gluten free flour, I like using a gluten free Bisquick to replace flour with gluten. Bisquick provides a nice rise, which is essential to any bread. I've also used Cup4Cup, which also makes a nice gluten free flour.
Storage and Reheating of gluten free Chocolate Bread
I store this bread in a container with an airtight lid or in an airtight bag. This bread will stay fresh at room temperature for four days. Try to make sure that your container isn't sitting on top of the bread, as this can make the top of the bread too damp too quickly.
To reheat, just slice off your desired amount and place on a microwave safe plate. Warm in 10 second increments until the Mocha Bread is to your desired temperature. This always warms up very well!
Other Quick Breads You May Enjoy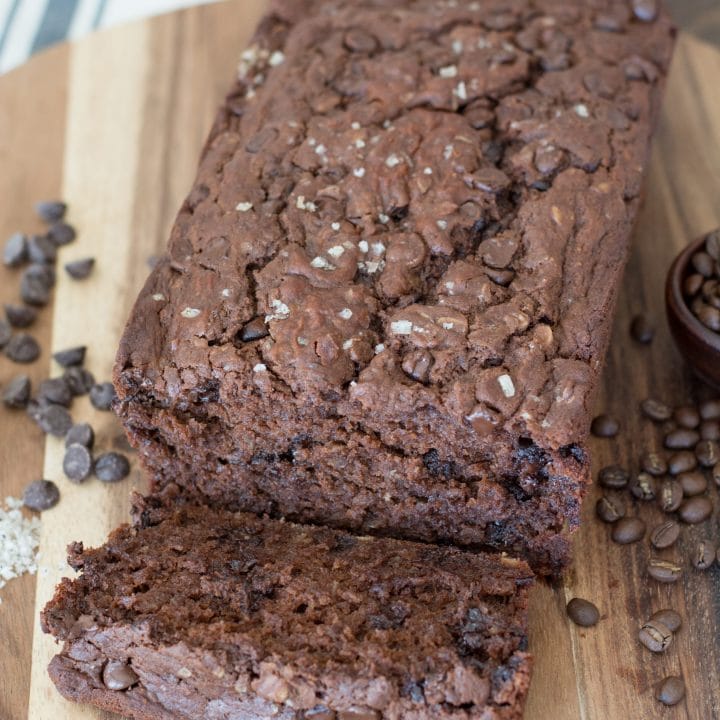 Mocha Bread
This Mocha Bread is packed with rich chocolate flavor and hints of espresso! An easy gluten free quick bread you will love!
Ingredients
1 1/2 cup Gluten Free Bisquick
1 cup Gluten Free Old Fashioned oats
1/2 cup Cocoa Powder
2 teaspoons baking powder
1/2 teaspoon salt
1 package vanilla instant pudding mix (3.25 ounce)
1/2 cup lightly packed brown sugar
1 tablespoon instant espresso powder disolved in one tablespoon hot water
3/4 cup oil
1 1/4 cups buttermilk
2 eggs, beaten
1 cup dark chocolate chips, divided.
Optional: sea salt for sprinkling on top
Instructions
Preheat oven to 350
Mix flour, oats, Cocoa Powder, baking powder, salt, vanilla pudding mix, sugar and espresso powder in a large bowl. Combine well.
Add wet ingredients and half of the chocolate chips to dry ingredients and mix well.
Pour into greased loaf pan, top with remaining 1/2 cup of chocolate chips.
Bake for 1 hour.
Nutrition Information:
Yield:

12
Serving Size:

1
Amount Per Serving:
Calories:

269
Total Fat:

20g
Saturated Fat:

5g
Trans Fat:

0g
Unsaturated Fat:

16g
Cholesterol:

34mg
Sodium:

510mg
Carbohydrates:

26g
Fiber:

3g
Sugar:

17g
Protein:

6g
To avoid any confusion I remove erythritol from the final carb count and net carb count, as it is not known to affect blood glucose levels. To calculate Keto recipes listed on this site carbs - fiber = net carbs. I use Nutrifox as my nutrition calculator. This nutrition information is an estimate based on the information provided by Nutrifox and the specific ingredients I used.