These Sweet and Spicy Asian Meatballs are loaded with flavor and perfect for an easy weeknight dinner or a game day snack!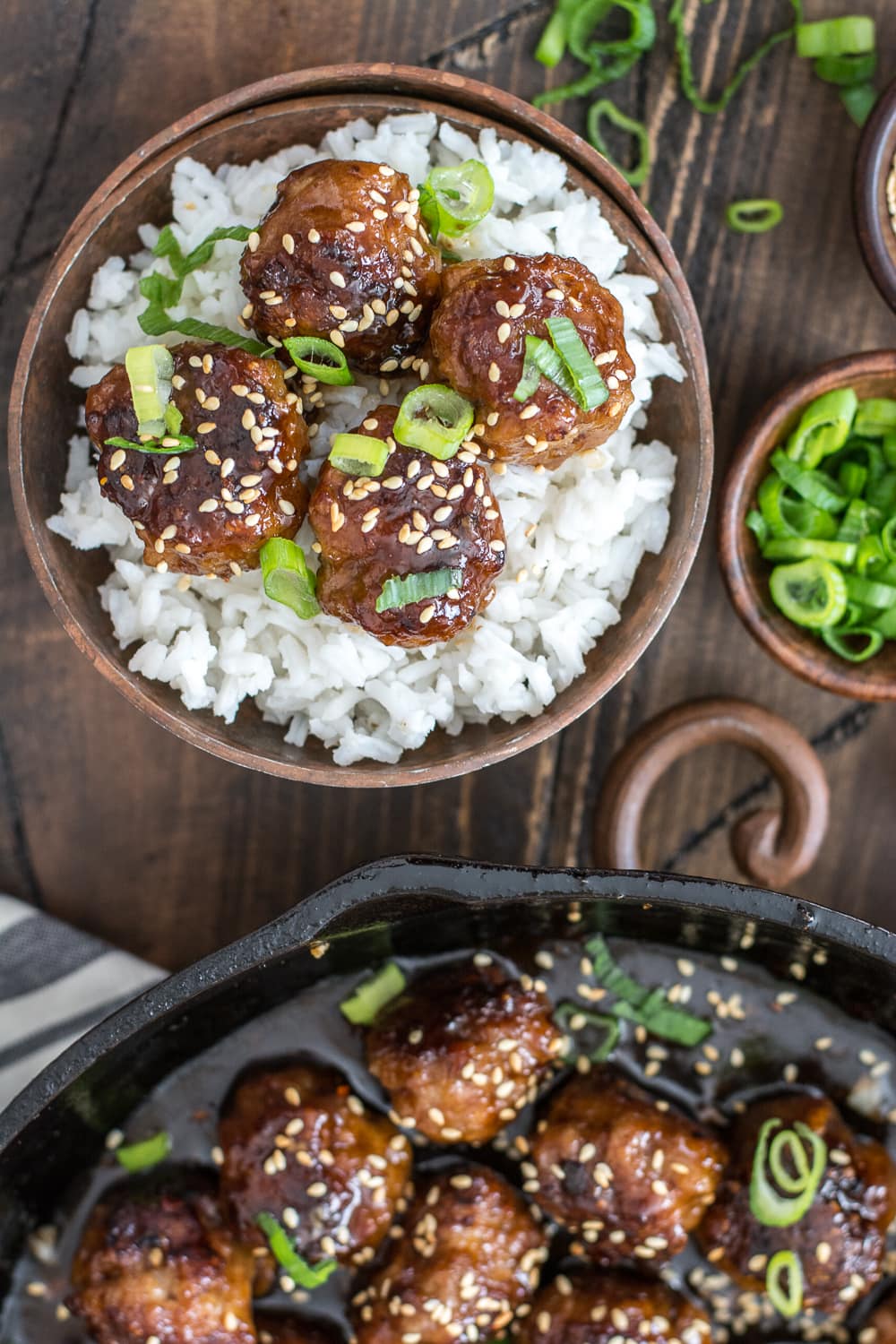 I have not been sure Autumn was going to arrive in Tennessee. Every year I like to wait until the first cool crisp fall morning before I decide to go get my mums and pumpkins for the porch and this year we skirted very close to Halloween before that nice cool morning came! Fortunately, it finally arrived! I love everything about fall. I love the colors, the clothes, and of course, the food! Fall is the time to fully embrace comfort food!
If there is one food that screams comfort food it is a piping hot skillet of meatballs! These are not your mama's meatballs. These are Sweet and Spicy Asian Meatballs loaded with red pepper flakes and lots of savory spices then coated in a thick sweet and spicy sauce that is to die for! These would be great as a game day appetizer or a main dish with rice or lo mien.
Ingredients for Sweet and Spicy Asian Meatballs
As always, you will find the complete recipe below but here is a quick list.
Ground pork
Egg
Breadcrumbs
Honey
Sesame oil
Rice vinegar
Soy sauce
Cornstarch
Red pepper flakes
Garlic powder
Garlic salt
Ground ginger
Garlic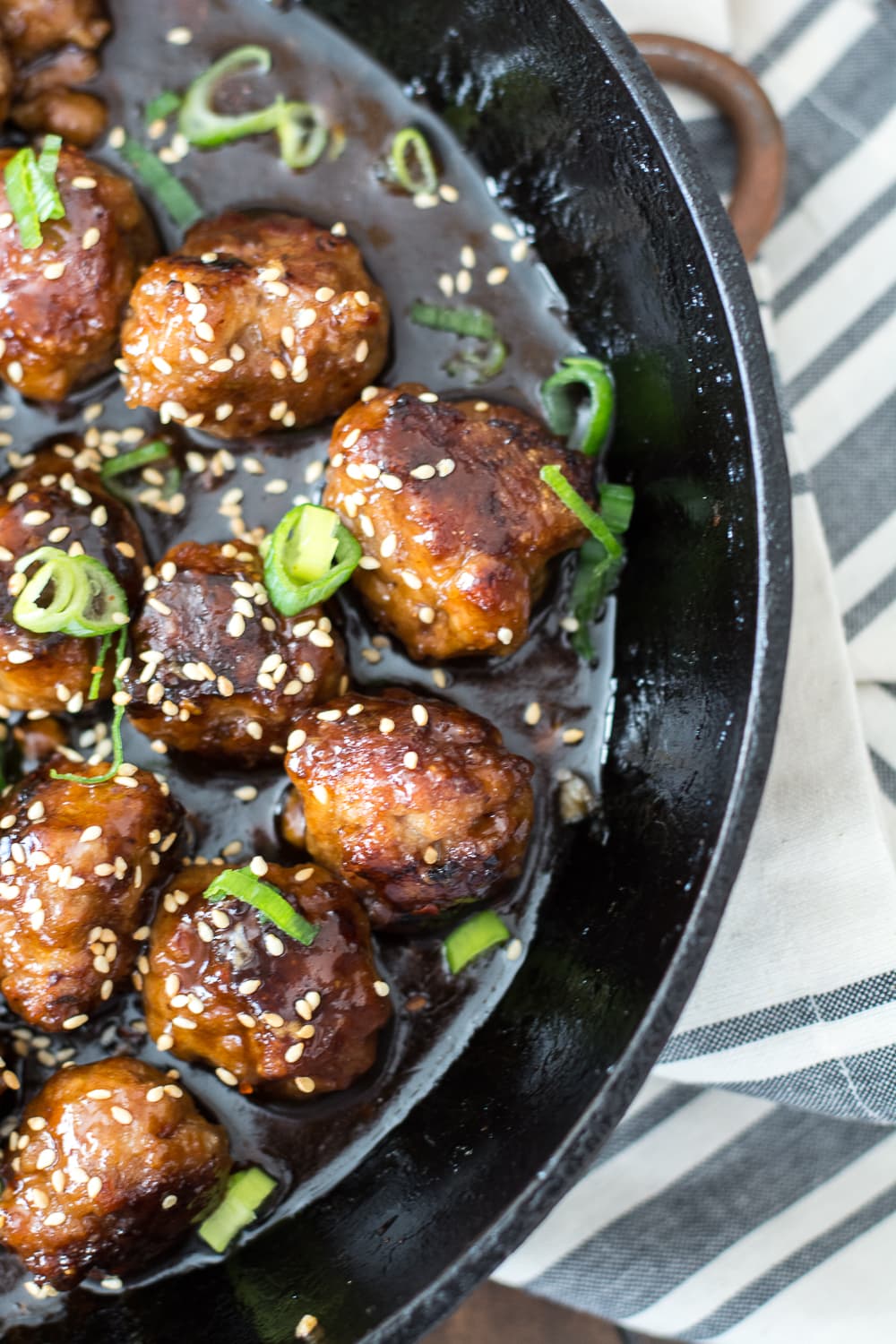 How do you make Sweet and Spicy Meatballs?
These meatballs come together pretty easily. You just combine the ingredients for your meatballs in a mixing bowl and roll them into small balls, about the size of a golf ball, and sear them in a pan until they are nice and brown on all sides, then pop the pan in the oven and let them finish cooking.
Then we mix the sweet and spicy sauce! This is a sauce that works great on other things like shrimp, chicken, or veggies. Combine all of your sauce ingredients except the water and cornstarch.
When the meatballs are cooked through place your skillet back on the stove over medium heat and remove the meatballs from the skillet and set them on a paper towel-lined plate and drain off any grease in your skillet. Pour your sauce mix in the skillet heat over medium-low heat.
Meanwhile, combine the cornstarch and water in a small bowl and pour in the skillet while stirring continuously. When the sauce begins to thicken add the meatballs back to the skillet and allow it to cook over low for 3-4 minutes so they are coated and soak up that delicious flavor!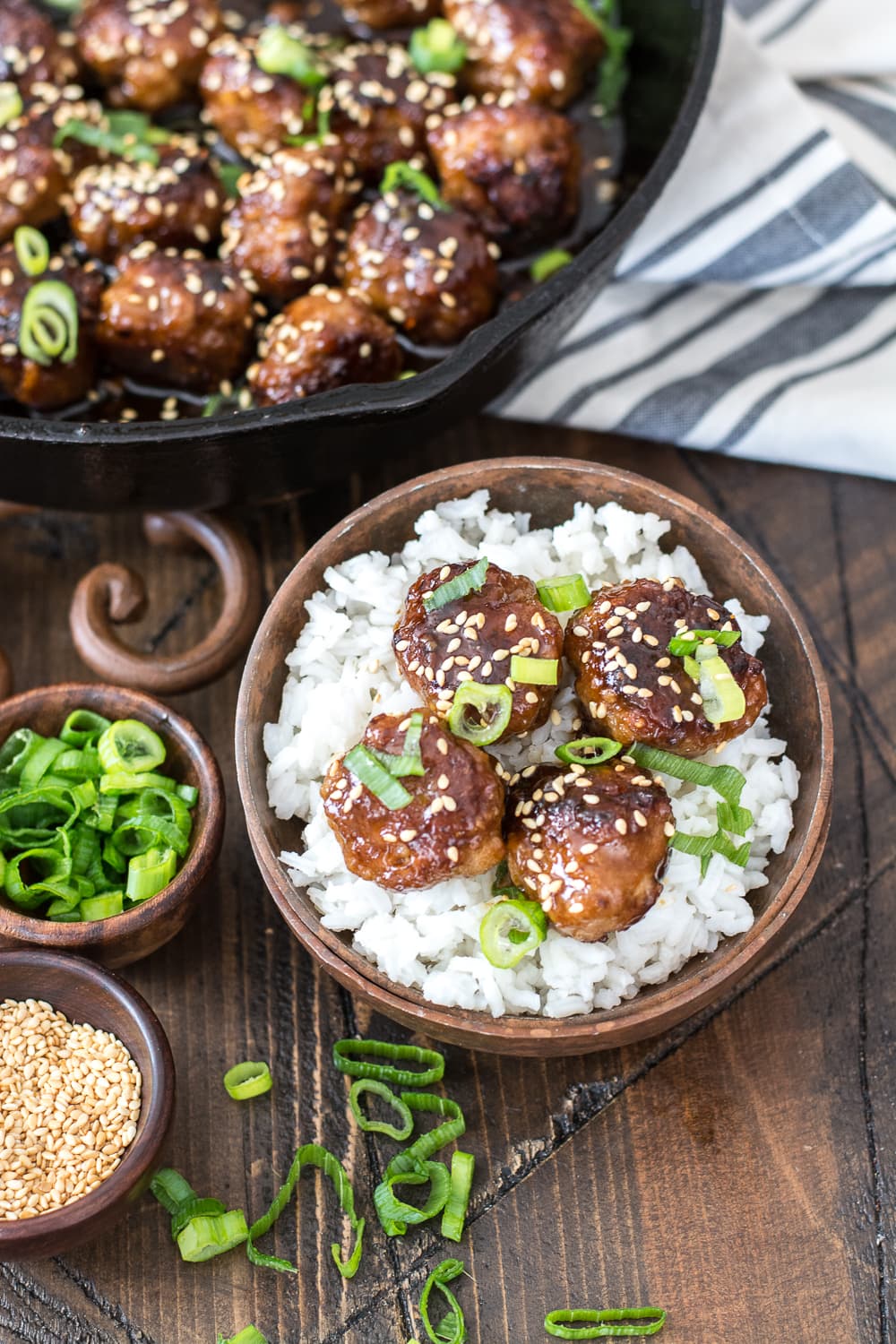 More Asian-Inspired Recipes to Try: