These Gluten Free Gingerbread Cupcakes are covered in a sweet Maple Cinnamon Frosting that pairs perfectly with the soft, spiced cupcakes. This is an easy holiday dessert recipe!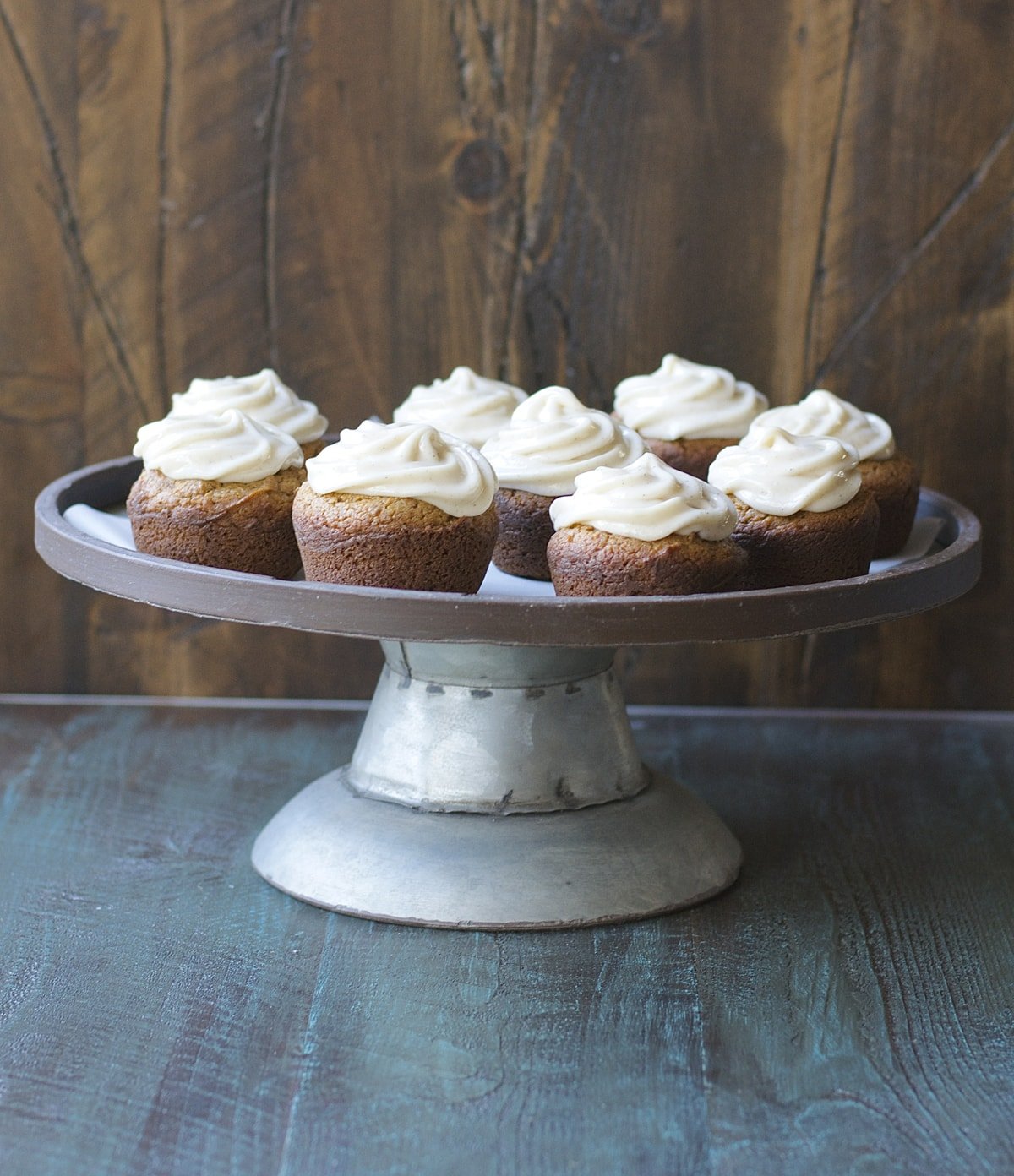 I'm going to go ahead and say what we are all thinking.
How in the WORLD is it December already? For me every year seems the same. The beginning of the year has those very cold and dreary months, so they seem to drag forever. Spring goes by faster because it is such a nice change of pace. Summer lasts a long time because the days are bright, and it is so hot. Fall absolutely flies by, and then here comes winter. I'm just not totally sure how we got here this fast!
What do you like most about this time of year? The holiday parties or the gift giving? Maybe you actually like the snow and cold weather? For me, it is the baking. I really love holiday baking! Especially if you are baking to give as gifts, I think that can be one of the most thoughtful things to do this time of year.
I've already put together some little baggies of this Low-Carb Crockpot Candy, but I wanted to make a super holiday-themed gift as well. You know, one of those treats you'd ONLY get during the holidays? So the idea of these Gingerbread Cupcakes topped with a luscious, smooth Maple Cinnamon Frosting was born!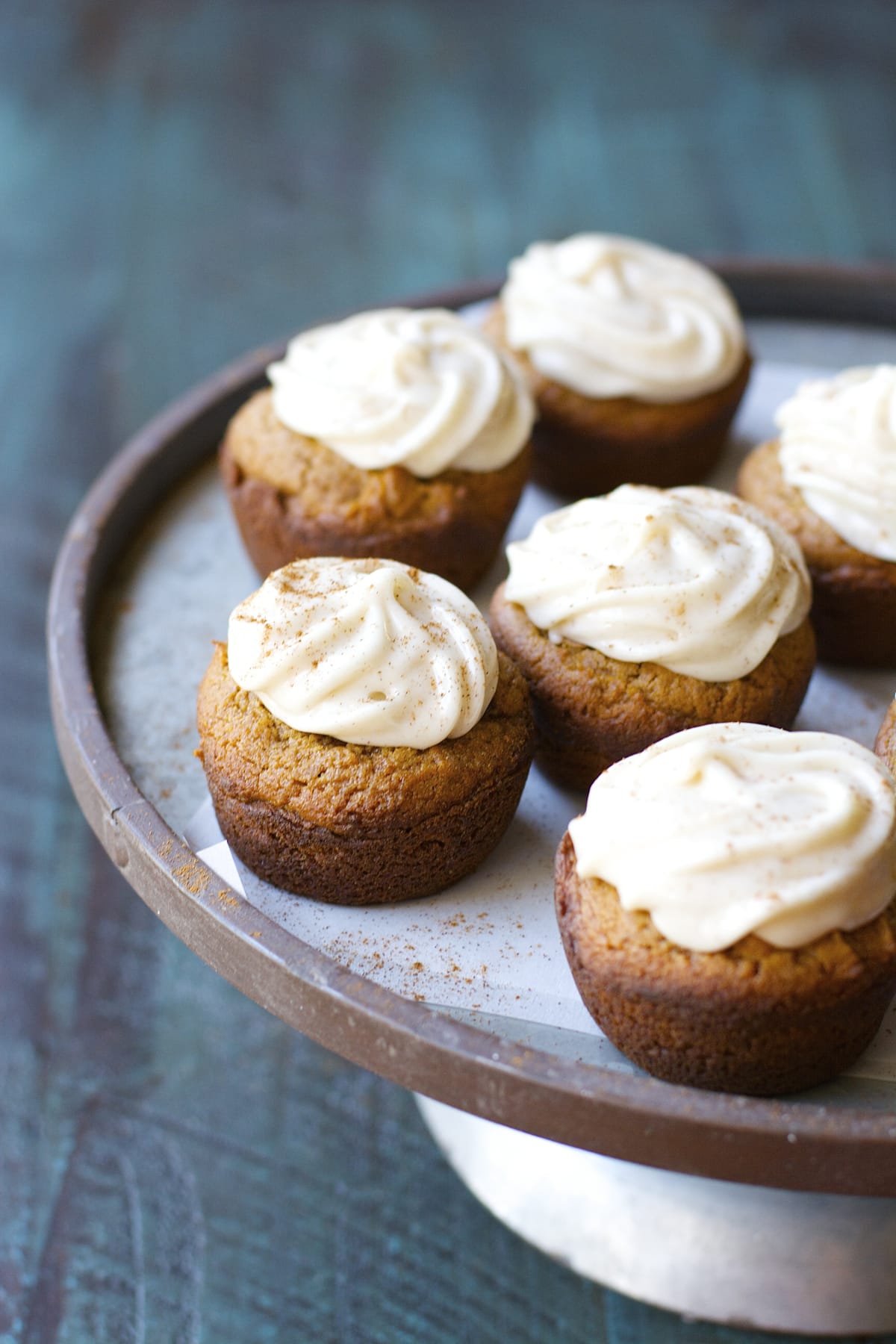 Ingredients for Gingerbread Cupcakes
Butter
Brown sugar
Egg
Buttermilk
Molasses
Bob's Red Mill Gluten Free 1-to-1 Baking Flour — If you aren't gluten-free, just replace with All Purpose Flour)
Baking powder
Vanilla pudding mix
Spices: Salt, Ginger, Cinnamon, Apple Pie Spice
How do you make gluten free cupcakes?
I know some may think gluten free baking seems impossible or have these preconceived notions about what gluten free baked goods taste like, but I think that is a really outdated thought. If you use the correct ingredients, you can easily make a gluten free holiday treat everyone will love!
While the oven is preheating, start with beating the butter and sugar. I like to use a stand mixture to make sure I get the texture light and fluffy. Once the sugar is well incorporated, add the remaining wet ingredients and continue mixing.
In another mixing bowl, stir together the flour, baking powder, dry pudding mix, and spices. Spoon this mixture into the running stand mixer until completely combined in a thick batter. If you don't have a stand mixer, just spoon in the flour mixture, mix it into the batter, then continue spooning and mixing.
Fill the wells of a greased muffin tin 3/4 full to get a nice round top that doesn't spill over the edges. Bake and let completely cool before frosting. If they aren't completely cooled, the frosting will melt right off!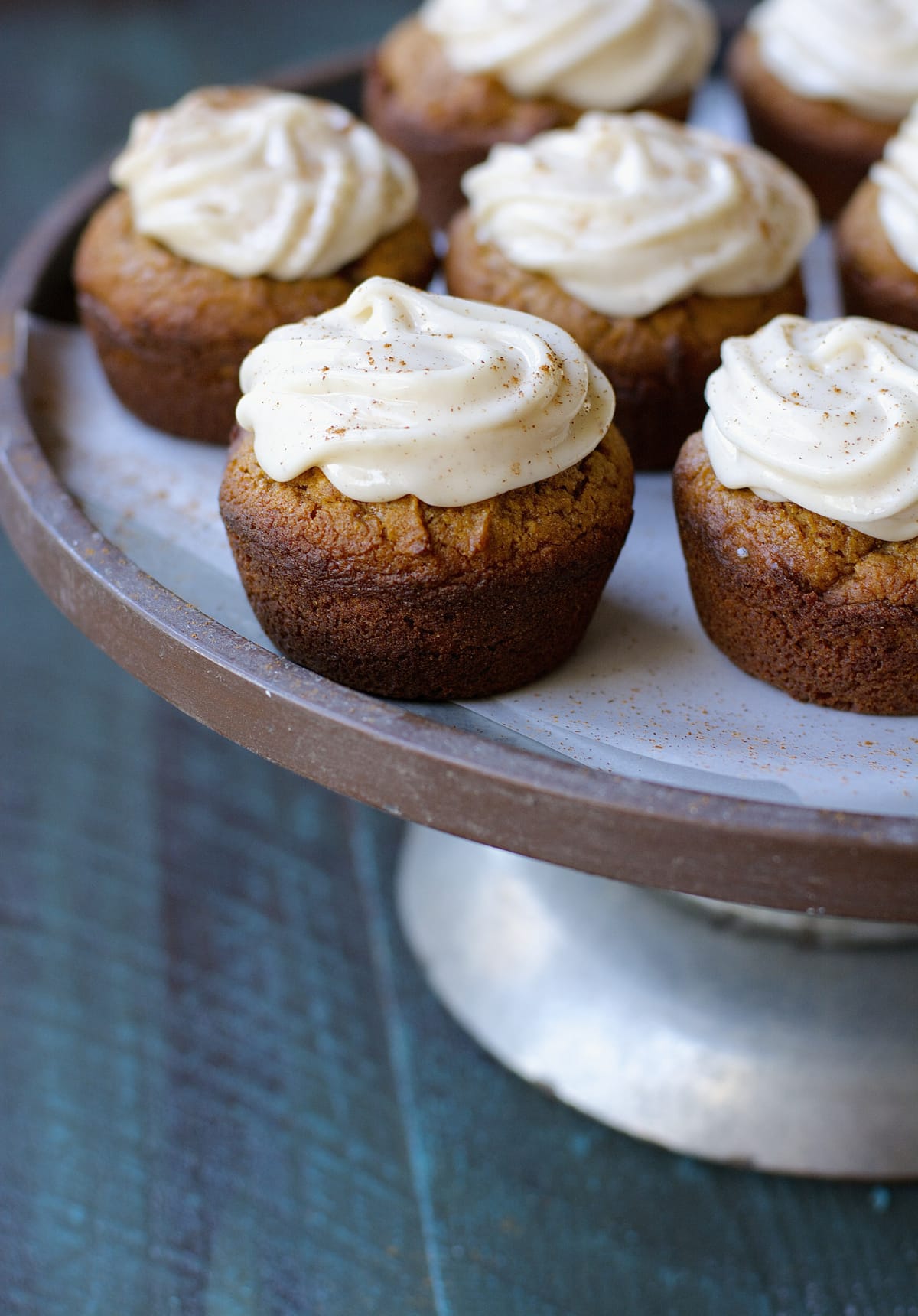 Ingredients for Maple Cinnamon Frosting
Of course, we can't forget the frosting! This frosting contains just a few basic ingredients to highlight the distinct gingerbread flavors in the cupcakes! It is the perfect holiday treat that just happens to be entirely gluten free! For the Maple Cinnamon Frosting you will need:
Cream cheese — Could be low-fat or regular
Powdered sugar
Maple syrup
Cinnamon
How do you make Maple Cinnamon Frosting?
Pour all ingredients into a mixing bowl and beat until the mixture is nice, light, and fluffy. If you prefer a thicker, sweeter frosting, add more powdered sugar a tablespoon at a time. Pour into a ziplock or pastry bag and cut the tip, then squeeze frosting onto each cooled cupcake.
How should I store frosted cupcakes?
Cupcakes dry quicker in the fridge, so try to leave them in a covered container on the counter. However, if your home is too warm, you might find that your icing wants to melt. Store in the fridge if you have to, but make sure to allow them to come to room temperature before serving for the best taste and texture.
If you want to store your cupcakes and your frosting separately, you can keep them fresh for longer! If storing separately, allow cupcakes to COMPLETELY cool (preferably on a wire rack). Once cool to the touch, store in a single layer in a covered container (like this one or these) on the counter. It's best to have a lid with space instead of plastic wrap to prevent the cupcakes from getting sticky tops.
Frosting can be made ahead of time and stored in a container in the fridge up to 1 week. Frost & serve cupcakes within 2 days of baking for best taste and texture.
Can I freeze cupcakes?
Absolutely! With a few easy steps, you can freeze unfrosted or frosted cupcakes.
Freezing Unfrosted Cupcakes:
First, allow cupcakes to complete cool. Once cool to the touch, wrap each cupcake in multiple layers of plastic to prevent freezer burn. Store in a freezer bag and eat within 3 months. To thaw, unwrap cupcakes and allow to come to room temperature on the counter (usually 1-2 hours). Frost cupcakes and store in covered container up to a week.
Freezing Frosted Cupcakes:
Place frosted cupcakes on a baking sheet or plate and freeze for 2-6 hours or until frosting is completely frozen. Quickly wrap each cupcake with plastic (just as you would with unfrosted cupcakes), and store in a sturdy container in the freezer. It's best to store in a plastic or glass container with a lid to protect the icing rather than a plastic bag. To thaw, unwrap cupcakes and allow to come to room temperature on the counter (usually 1-2 hours, just as above). Keep covered on the counter up to a week.
More Gluten Free Holiday Desserts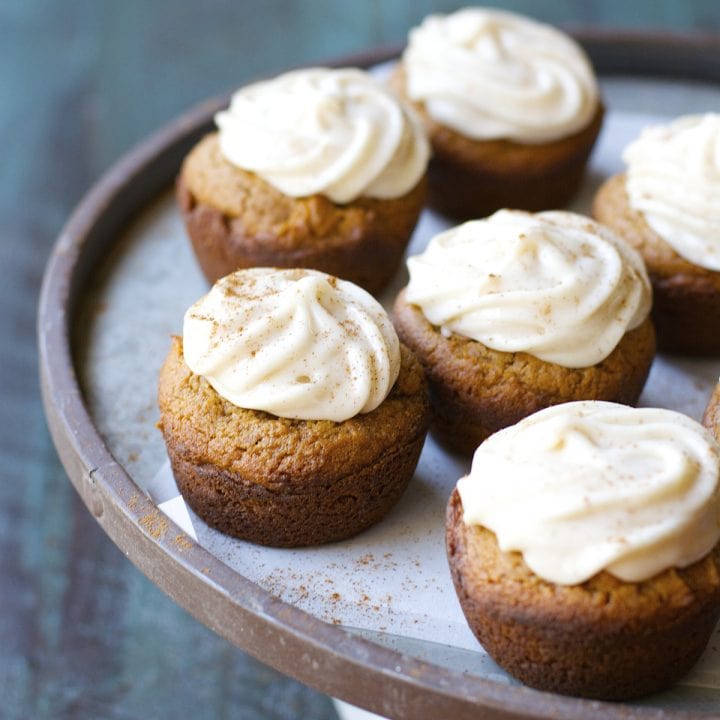 Gluten Free Gingerbread Cupcakes
These Gingerbread Cupcakes are covered in a sweet Maple Cinnamon Frosting that pairs perfectly with the soft, spiced cupcakes. This is an easy, gluten free holiday dessert recipe!
Ingredients
Gingerbread Cupcakes
8 tablespoons unsalted butter
1/2 cup lightly packed brown sugar
1 egg
3/4 cup buttermilk
1/2 cup molasses
1 1/3 cup Bob's Red Mill Gluten Free 1-to-1 Baking Flour*
2 teaspoons baking powder
1/2 teaspoon salt
1/2 teaspoon ginger
2 teaspoons cinnamon
1 teaspoon apple pie spice
1 (3 ounce package) vanilla pudding mix
Maple Cinnamon Frosting
8 ounces (1 package) cream cheese, room temp
1 cup powdered sugar
1 tablespoon maple syrup
1/2 teaspoon cinnamon
Instructions
Preheat oven to 350 degrees F
In a stand mixer with a paddle attachment beat the butter for about two minutes until light and fluffy. Add the brown sugar and beat until the sugar is completely incorporated and the texture is very light.
Add the egg, buttermilk, molasses and combine well.
In another bowl mix the flour, baking powder, salt, ginger, cinnamon, apple pie spice and pudding mix.
With your stand mixer running carefully spoon in the flour mixture until it is completely combined. The mixture will be thick.
Spray a standard 12 count muffin tin with cooking spray and fill each well 3/4 full.
Bake 20 minutes and let cool completely before frosting.
For the Maple Frosting: Beat the cream cheese, sugar, maple syrup and cinnamon until completely combined and light and fluffy. If you feel it is not thick enough add a few tablespoons of powdered sugar at a time until you reach the desired consistency.
Notes
*If you are not gluten free simply substitute regular all purpose flour in place on the gluten free flour.
Nutrition Information:
Yield:

12
Serving Size:

1 Cupcake with Frosting
Amount Per Serving:
Calories:

220
Total Fat:

9g
Saturated Fat:

6g
Trans Fat:

0g
Unsaturated Fat:

3g
Cholesterol:

39mg
Sodium:

368mg
Carbohydrates:

35g
Fiber:

1g
Sugar:

34g
Protein:

3g
To avoid any confusion I remove erythritol from the final carb count and net carb count, as it is not known to affect blood glucose levels. To calculate Keto recipes listed on this site carbs - fiber = net carbs. I use Nutrifox as my nutrition calculator. This nutrition information is an estimate based on the information provided by Nutrifox and the specific ingredients I used.