This Strawberry Oatmeal Smoothie comes together in less than 5 minutes and is packed with good-for-you ingredients! Perfect for a quick breakfast or morning snack!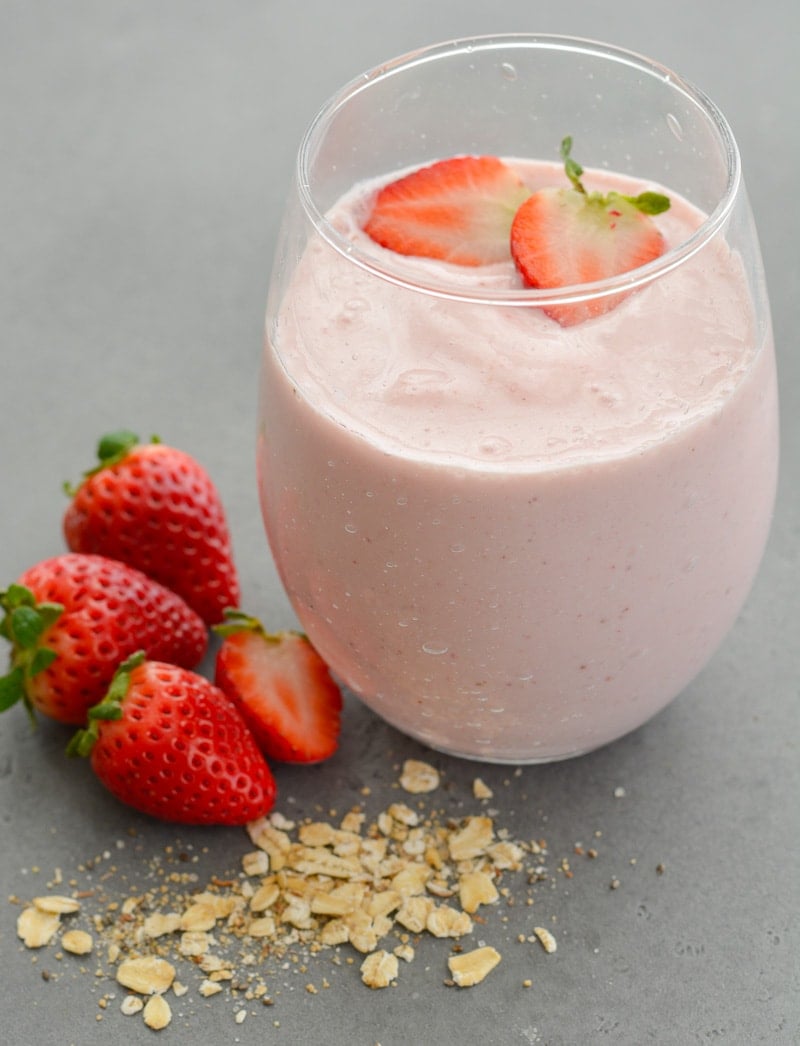 I think there are two kinds of people in this world. There is one kind who can manage mornings well. They wake up at an appropriate time, take a shower, get dressed, eat a complete well balanced breakfast and have a cup of coffee while reading the news. Mr. Maebell is that type of person.
Then there are the rest of us. The people who hit the snooze button a few too many times, rush to get ready, are lucky if their clothes match when they sprint out the door, and have to keep a hair brush in the car because chances are they didn't do it before they left the house. Those people don't eat breakfast because they are too busy trying to beat the clock.
I will forever be in awe of people who value being able to leisurely get ready over an extra bit of sleep. After all, I choose to starve for the better part of the morning because I don't want to miss a minute more than I have to!
Luckily, I have found a solution. This Strawberry Oatmeal Smoothie takes all of 30 seconds to make and have a full serving of fruit, oats, and milk.
Ingredients for This Oatmeal Smoothie
The ingredients list for this oatmeal breakfast smoothie is short and simple:
Instant oats: I use gluten free instant oats
Frozen strawberries
Milk: regular, oat or almond milk
Sweetener of your choice: Honey, Monkfruit, Coconut sugar, or sugar
Vanilla extract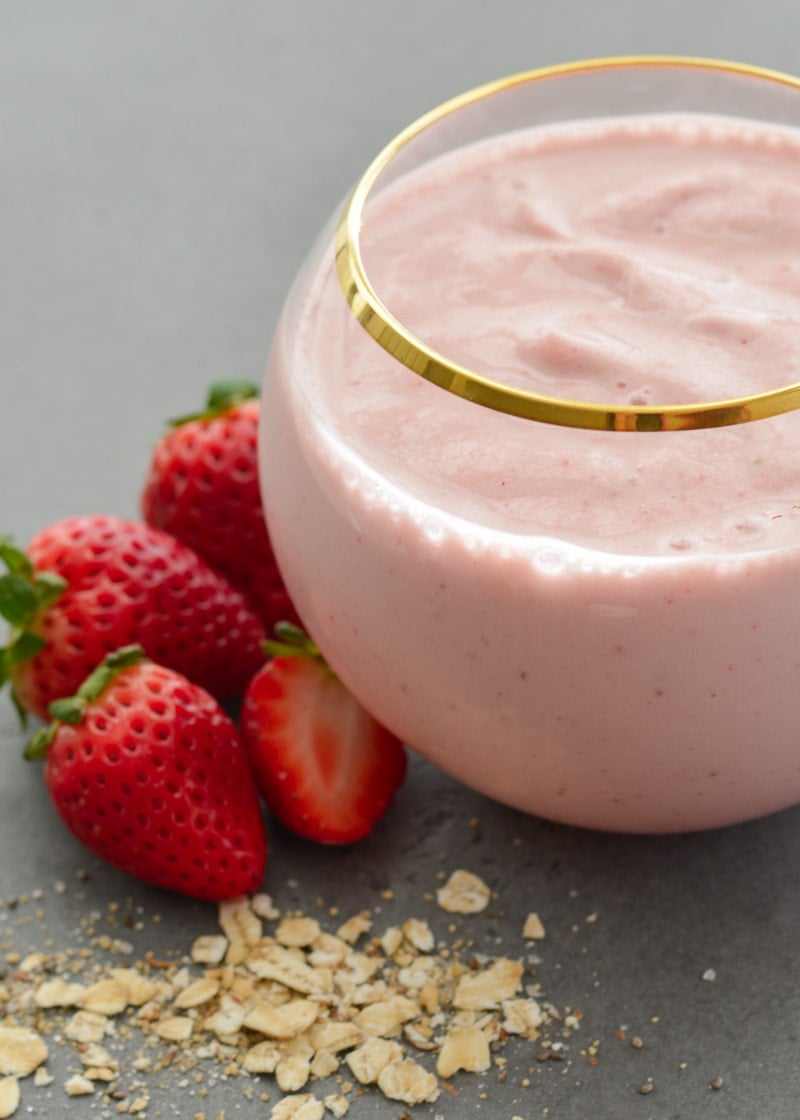 How to Make a Strawberry Oatmeal Smoothie
The concept is super easy. I just combine instant oatmeal, frozen strawberries, sweetener, and milk in a blender and give it a whirl! It does not get much easier than that!
Can I Use Different Berries?
Of course! You can make any oatmeal fruit smoothie you'd like.
Can I Use Old Fashioned Oats?
Instant oats are smaller and finer in texture, so they blend easier. However, you can use Old Fashioned Oats if that is all you have, you may want to blend a little longer to fully blend.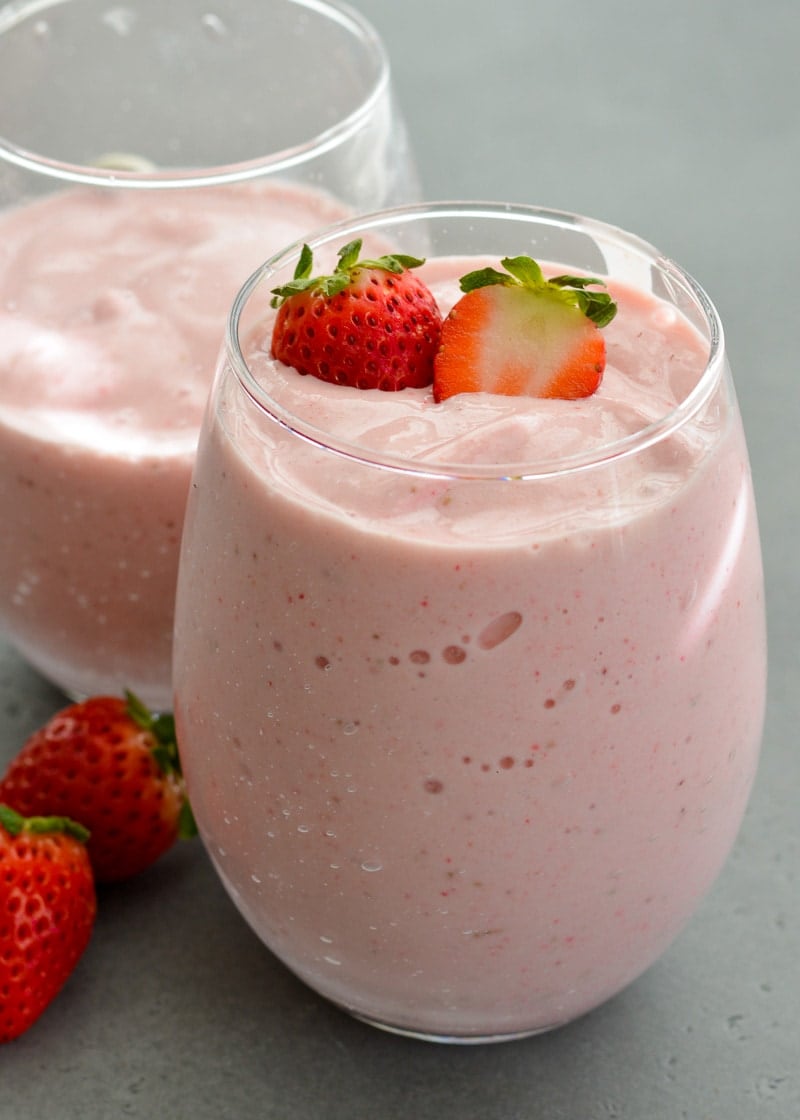 Tips for Making an Oatmeal Fruit Smoothie
If the idea of oats in a smoothie freaks you out, don't worry, you really can't taste them. If you have a good blender, they will be broken down well enough you will not notice they are in there.
However, you can combine the oats and milk in the container of your blender the night before and let it set all night in the fridge. This basically breaks down the oats so they are super soft. When you add the rest of your ingredients it has a perfectly smooth and creamy consistency!
For a more substantial breakfast, add a scoop of protein powder to your morning smoothie! Just make sure it's unflavored or complements the strawberry flavor of this smoothie.
More Healthy Smoothie Recipes: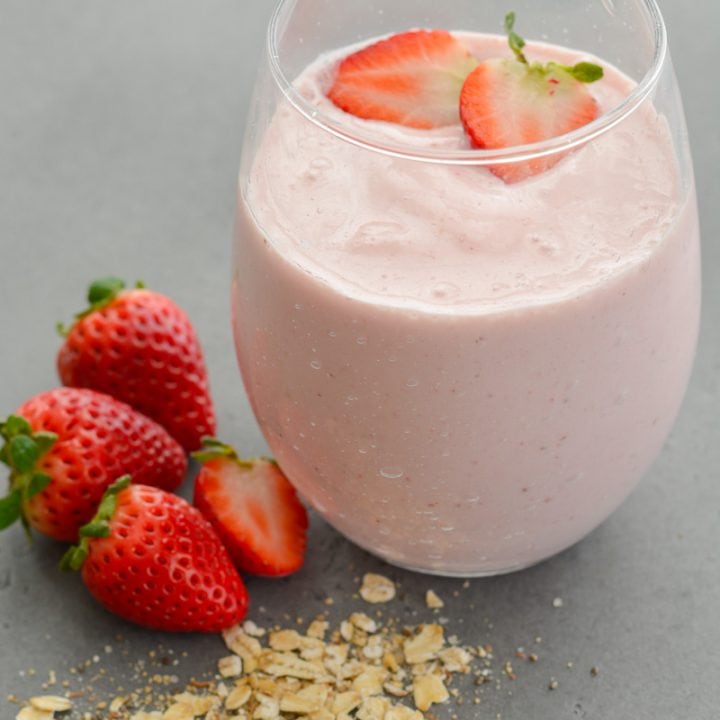 Strawberry Oatmeal Smoothie
This Strawberry Oatmeal Smoothie comes together in less than 5 minutes and is packed with good-for-you ingredients! Perfect for a quick breakfast or morning snack! 
Ingredients
1 heaping cup frozen strawberries
1/4 cup instant oats
2 cups milk
2 tablespoons sweetener (such as honey, monkfruit, sugar or coconut sugar)
1 teaspoon vanilla extract
Instructions
Combine all ingredients in a blender and blend on high for 30 seconds or until smooth.
Alternatively, you can combine the oats and milk the night before, then finish preparing in the morning for a smoother texture.

Nutrition Information:
Yield:

1
Serving Size:

1
Amount Per Serving:
Calories:

369
Total Fat:

1.3g
Trans Fat:

0g
Cholesterol:

9.5mg
Sodium:

224mg
Carbohydrates:

58g
Fiber:

6g
Sugar:

67g
Protein:

18.5g
To avoid any confusion I remove erythritol from the final carb count and net carb count, as it is not known to affect blood glucose levels. To calculate Keto recipes listed on this site carbs - fiber = net carbs. I use Nutrifox as my nutrition calculator. This nutrition information is an estimate based on the information provided by Nutrifox and the specific ingredients I used.