Pizza Stuffed Baked Potato! Everything you love about pizza stuffed in a perfect baked potato!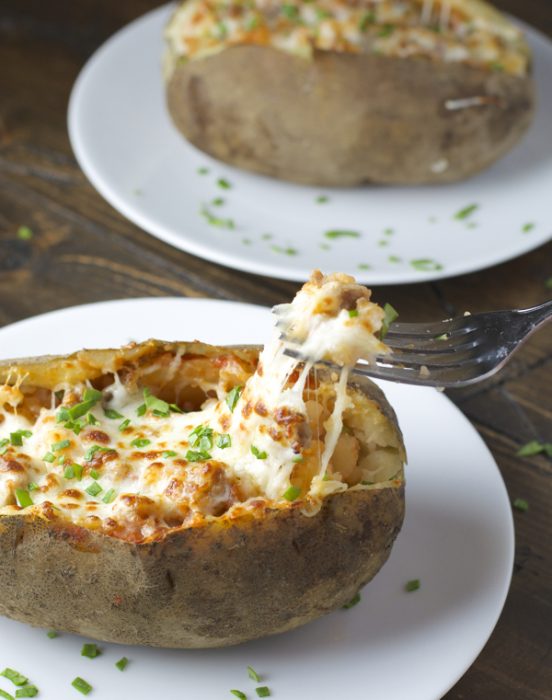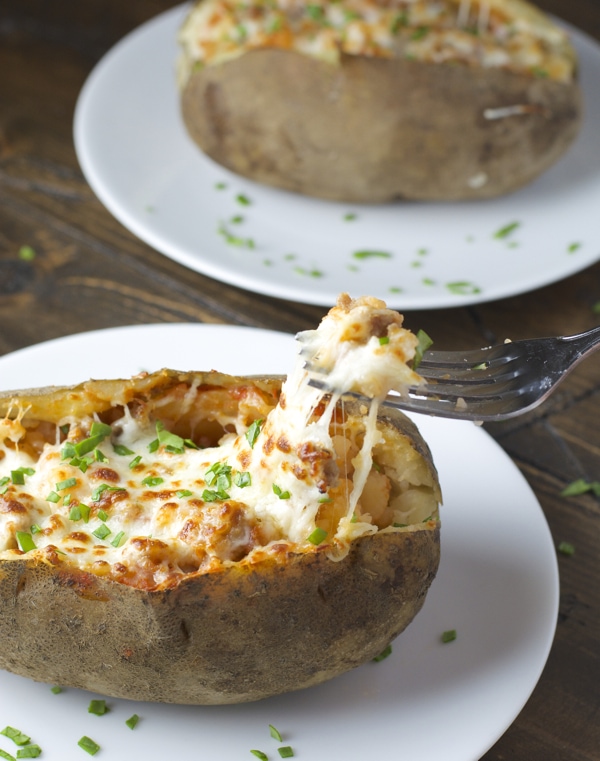 Want to know how to make your family happy?Stuff all your favorite pizza toppings in a baked potato. Carbs + sauce + cheese. Yep, that is the way to a happy Monday!
Now, this concept of cheese and carbs coming together in beautiful harmony is not a new one in our house. I regularly make these Gouda and Jalapeno Twice Baked Potatoes and a Pizza Quesadilla is a regular weeknight meal in the Maebell residence. But these potatoes were a happy accident.
I normally do some meal prep for the week on Sundays, sometimes I prepare a few baked potatoes for easy, fast side dishes. On a particularly hectic week I had planned pizza, but had no patience left at the end of the day for yeasty crust, so I decided to get creative. Turns out, pizza is really good crammed inside a baked potato.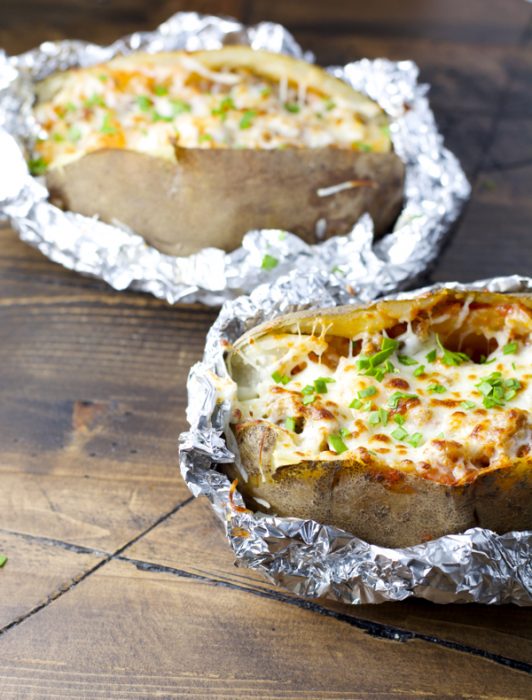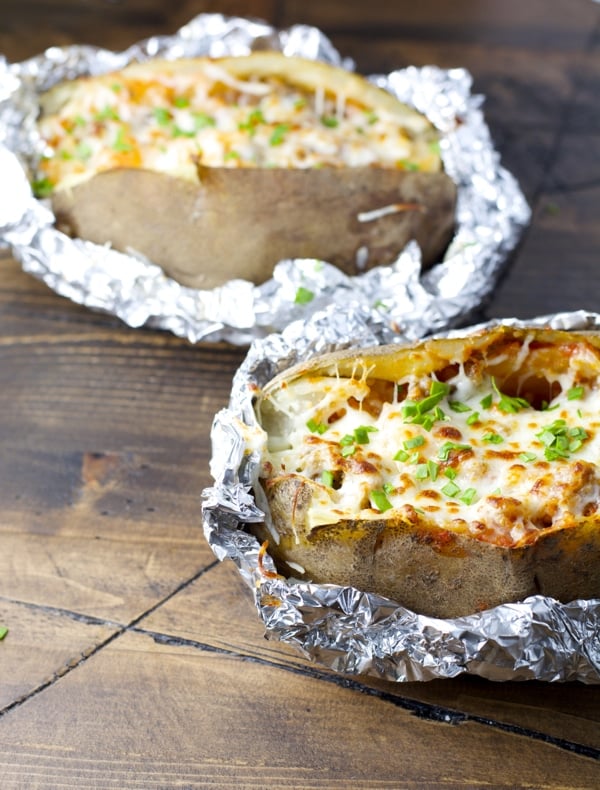 Ingredients for Pizza Stuffed Baked Potatoes
As always, here is a quick overview of the ingredients you will need to make Pizza Stuffed Baked Potatoes. For the complete recipe, just keep scrolling.
Baked potatoes- I used size large
Marinara sauce- I used gluten free
Italian sausage- If you want some kick, you could also use a spicy sausage
Mozzarella cheese- shredded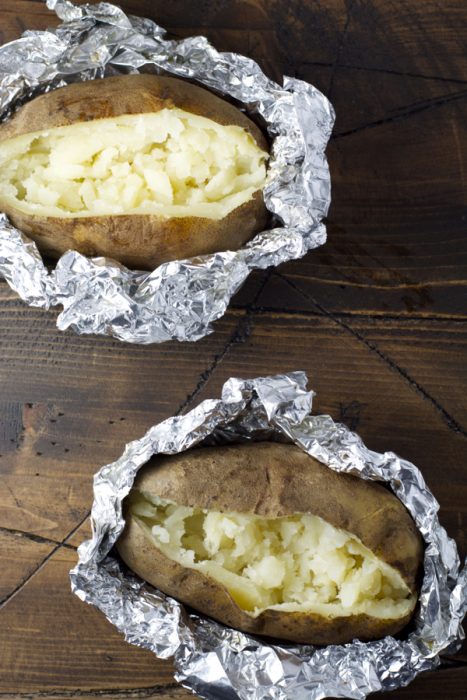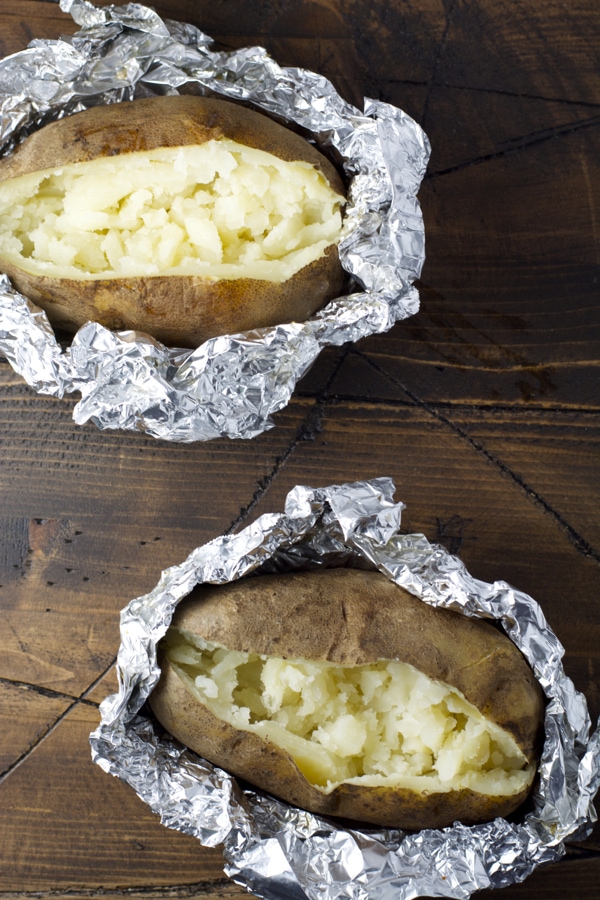 Substitutions for Pizza Baked Potatoes
The great thing about these Pizza Stuffed Baked Potatoes is how easy and versatile they are! You can really make this recipe to fit whatever you're craving. The best part is, everyone in the family can make their own potato to their own liking!
I used Italian sausage, but pepperoni, ham, or bacon would also be great. You could also make a combination for a meat lovers option! Feel free to also add bell pepper, onions, garlic, olives, mushrooms, green onions… the combinations are endless here.
I also think these would be great for a party. Have you seen the traditional baked potato bars? You know, sour cream, bacon, cheese, etc. Instead of the normal ingredients you could do a pizza inspired for a really fun twist.

Can you make Pizza Stuffed Potatoes ahead of time?
You can definitely cook potatoes ahead of time and freeze them. The trick is, you have to be sure to completely cover your potatoes in aluminum foil before you pop them in a bag and place them in the freezer. This is key!
To defrost your potatoes, you can just put them in the fridge overnight and allow them to thaw. They'll be ready for Pizza Stuffed goodness in the morning (breakfast stuffed potato, anyone?!) It doesn't get any easier than that!
With so many kitchen gadgets these days, you really don't have to take the time to cook your potatoes in the oven. An air fryer, instant pot or slow cooker are all no-fuss options for an easy, delicious potato!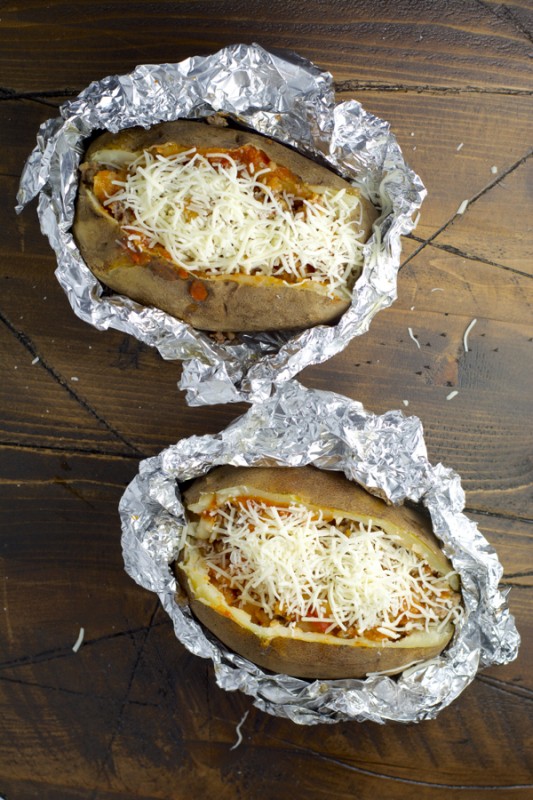 How do you make Stuffed Baked Potatoes?
Here is how we make them! First off, cut your potatoes in half and use a fork to loosen up the inside of your potato. Next, add some marinara sauce and Italian sausage to your potato and spread to make sure even distribution.
If your potato is warm, top with shredded cheese and pop your potatoes under the broiler in your oven for one minute, or until the cheese starts to melt. Be sure to watch carefully and not burn the cheese. If your potato is not warm, preheat your oven to 350 and bake for 20-25 minutes.
Top with your leftover marinara or whatever toppings you want! There you go, the easiest dinner that is sure to please everyone! I mean, who doesn't love a good potato?
Now you can chow down and enjoy the carby goodness! Or you can add a bit bit more meat and sauce to the top for good measure like Mr. Maebell. So how do you enjoy your pizza? Extra saucy, extra cheesy, or extra meaty?!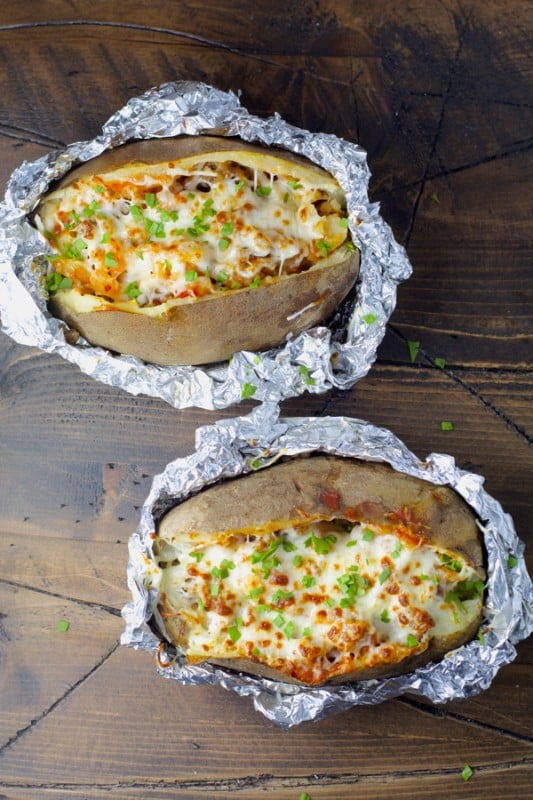 Storage and Reheating of Pizza Baked Potatoes
To store these potatoes, simply place in a glass or plastic tupperware with an airtight lid. Place in your fridge. Your potatoes will stay good for 3-4 days.
To reheat, I recommend warming in the oven or the microwave. For the oven, set your oven to 350 and place your potatoes on a foil lined baking sheet. Heat for ten minutes and check to see if they're warm enough for you. In the microwave, place on a plate and warm in 30 second increments until your desired temperature is met.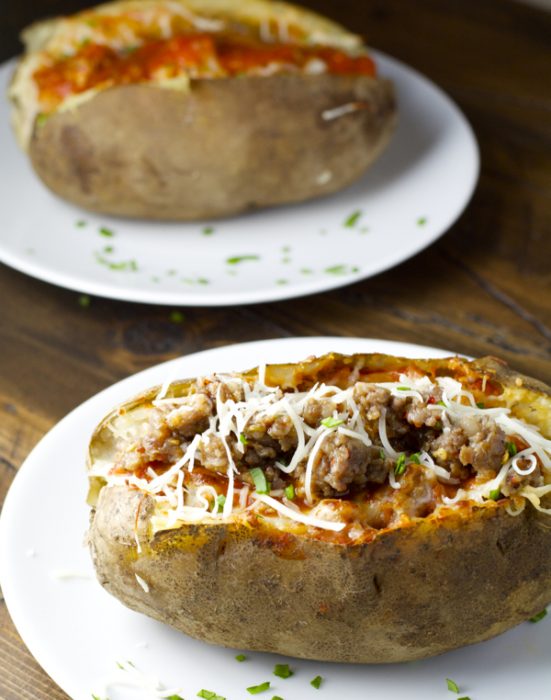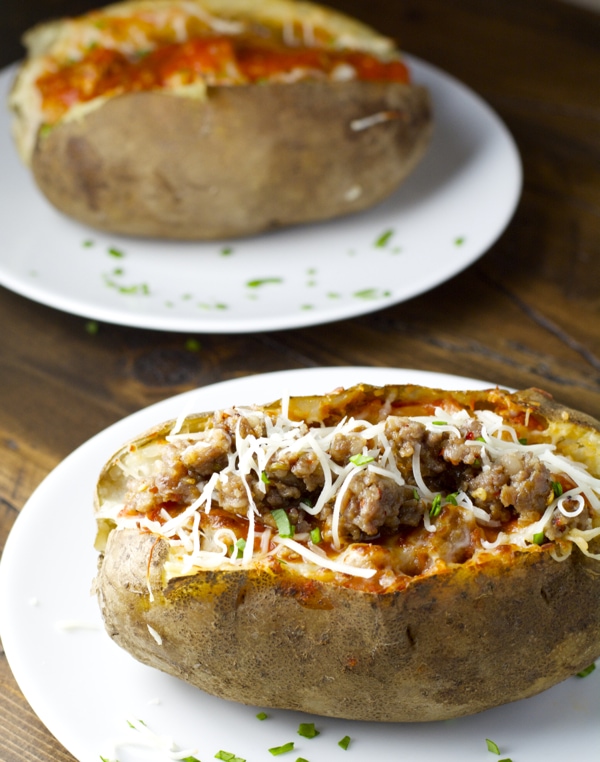 Other Easy Dinners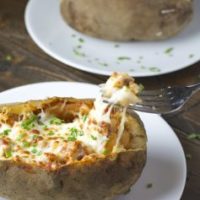 Pizza Stuffed Baked Potatoes
Pizza Stuffed Baked Potato! Everything you love about pizza stuffed in a perfect baked potato!
Ingredients
2 large baked potatoes
1/2 cup shredded mozzarella cheese
1 cup marinara sauce
1/2 cup cooked Italian sausage
Instructions
Split the baked potatoes in half, use a fork to loosen the inside of the potato.
Fill each potato with 1/4 cup marinara sauce, 1/4 cup of italian sausage.
Top each potato with 1/4 cup shredded mozzarella cheese.
If your baked potato is warm set it under the broiler in your oven for approximately one minute until the cheese begins to bubble.
If your baked potato is not warm preheat your oven to 350 and bake for 20-25 minutes until cheese is melted and the potato is heated through.
Top with the remaining marinara sauce (if desired)
Nutrition Information:
Yield:

4
Serving Size:

1/2 potato
Amount Per Serving:
Calories:

229
Total Fat:

5.7g
Cholesterol:

14.6mg
Sodium:

526mg
Carbohydrates:

34.5g
Net Carbohydrates:

28.9g
Fiber:

5.9g
Sugar:

5.6g
Protein:

10.5g