Almond Butter Espresso Balls are packed with oats, almonds, coffee and vanilla! The perfect snack for a little pick me up!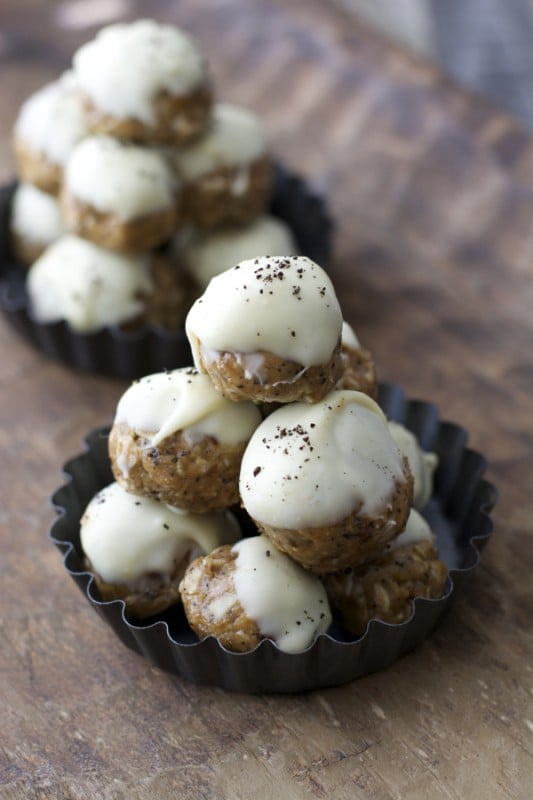 I grew up in a really small, rural town. Growing up the way I did had a lot of advantages, you actually knew the people who lived in the same community as you, I think as kids we probably had a bit more freedom because there wasn't just a ton of stuff to get us in trouble. It was nice. It was a nice way to grow up.
But, there were disadvantages. We didn't have malls or places to shop. If you wanted to just hang out your options were a super smoky bowling alley, the movies with the mean ticket taker, or the Wal-Mart parking lot. But most importantly, there is no place to go for coffee.
This is probably a big reason why my love of coffee didn't start until later in life. I just wasn't exposed to it. My Mom never ran through the drive through at a coffee shop to grab a Frappuccino because we didn't have them. But now that I live in a much bigger place I do have access to all of the delicious coffee shops and my addiction is in full swing!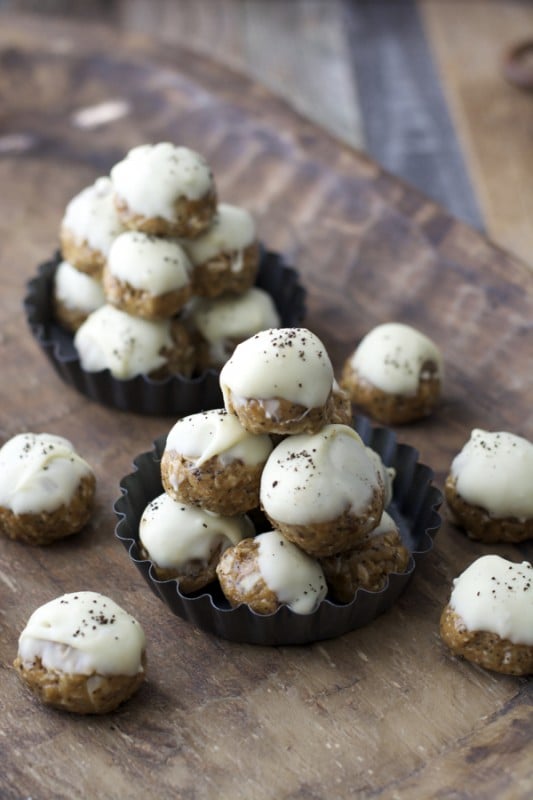 How did this recipe come about?
I make lots of snacks, you can see tons of granola, snack mixes, bars, and peanut butter creations on this blog. But this one is totally different. It was inspired by Barney's Espresso and Almond Butter. Have you ever seen it? I hadn't until a few weeks ago when I came across it at World Market. We eat loads of peanut butter, but I like almond butter too and the idea of almond butter with espresso?
I couldn't really imagine it, but I was intrigued.
In a word, these are… AMAZING. They actually get better as they sit. That probably has something to do with the fact that for the espresso flavor I just dumped some coffee grounds in the mix. Yes, just unbrewed coffee, right in there.
To be honest, I was slightly terrified when I did this because I knew it would either be fantastic, or I was completely ruining a big bowl of expensive almond butter. Luckily, it worked like a charm!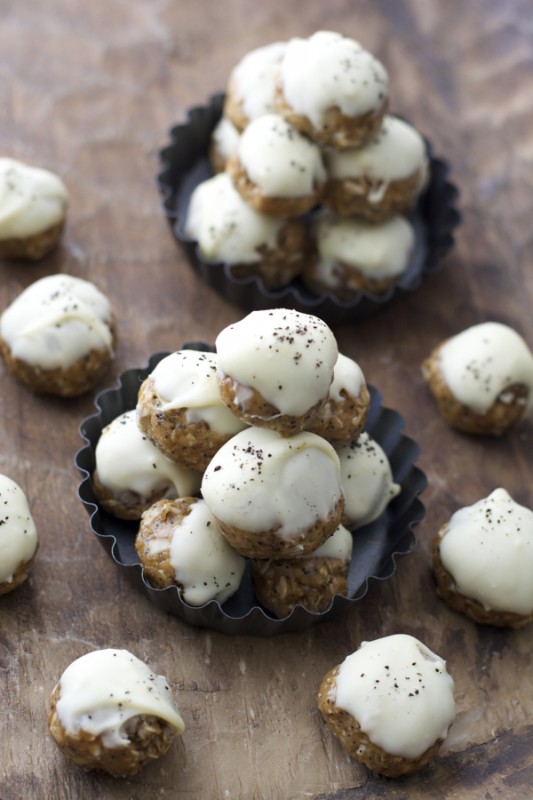 These little delights are packed with creamy almond butter, sliced almond, oats, honey, and coffee. Then rolled into perfect little balls, and dipped in white chocolate and sprinkled with coffee for good measure. They are the perfect little pick me up!
Ingredients for Almond Butter Espresso Balls:
Here's a quick overview of the ingredients you'll need. Keep scrolling for exact measurements!
Creamy, no-stir almond butter (I used Barney's Butter)
Gluten free old fashioned oats
Honey
Sliced almonds
Vanilla
Unbrewed coffee grounds (I used French roast)
White chocolate (bar or chips… Will be melted for dipping)
How should I store Almond Butter Balls?
These delicious bites should be stored in an air-tight container in the fridge for up to two week or in the freezer for three months. They keep their shape best when still cool, so these are perfect for pulling from the freezer and putting into your lunchbox for a mid-morning pick-me-up!
More Coffee-Flavored Treats and Snacks:
Are you like me and can't have enough? Try out these recipes to infuse your day with more coffee!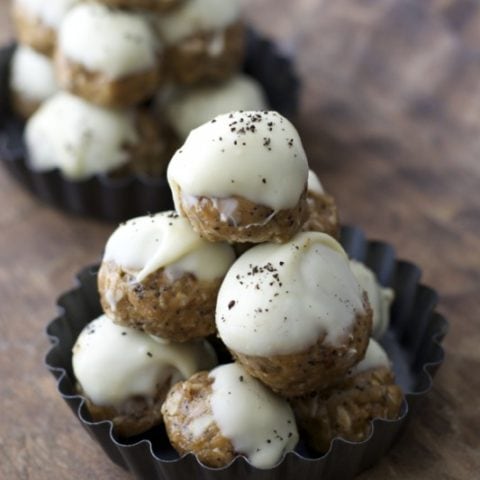 Almond Butter Espresso Balls
Inactive Time:
30 minutes
These delicious bites are super easy and require no baking! You're only seven ingredients and about 40 minutes away from a tasty, energizing treat!
Ingredients
1 cup creamy almond butter (Barney's Butter, see note below)
1 cup gluten free old fashioned oats
1/2 cup honey
1/2 cup sliced almonds
2 teaspoons vanilla
1 tablespoon unbewed coffee grounds (I used French roast)
1 (4 ounce) package white chocolate for melting
Instructions
In a mixer, combine the almond butter, oats, honey, almonds, vanilla and coffee grounds and mix until well combined. Mixture will be very thick.
Place the bowl in the fridge for at least 30 minutes to firm up.
Roll the mixture into balls, about the size of a tablespoon, maybe a bit smaller.
Melt white chocolate according to package directions and dip or roll in chocolate.
Sprinkle with additional coffee grounds if desired.
Notes
Mixture will be very thick and is easiest to roll/dip after being chilled at least 30 minutes.
For best results I highly recommend using Barney's Smooth Almond Butter or a similar "no stir" almond butter. 
*I have also made this recipe with 3/4 cup semi sweet chocolate chips instead of dipping them in white chocolate. Simply stir in the chocolate chips after the mixture is combined.
Nutrition Information:
Yield:

20
Serving Size:

1
Amount Per Serving:
Calories:

155
Total Fat:

9.4g
Cholesterol:

0.9mg
Sodium:

5.1mg
Carbohydrates:

15.1g
Net Carbohydrates:

13.1g
Fiber:

2g
Sugar:

10.2g
Protein:

3.9g
More Sweet Treats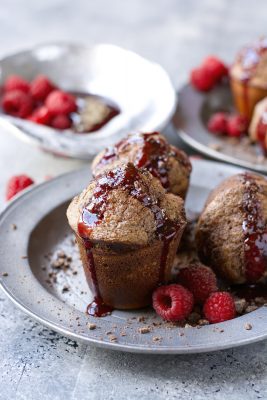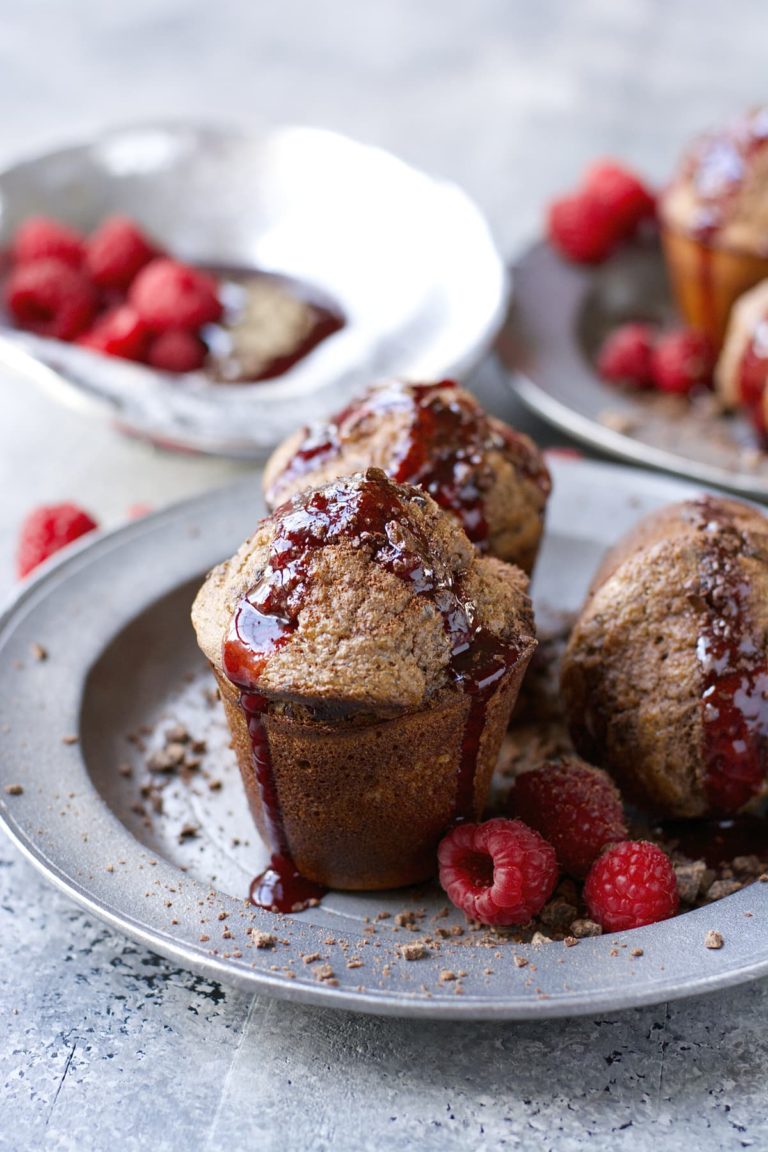 Dark Chocolate Popovers with Raspberry Sauce