This list of 30+ Low Carb Cookout Recipes features the best keto BBQ sides, main dishes, and desserts. These easy summer recipes are perfect for Memorial Day or July 4th!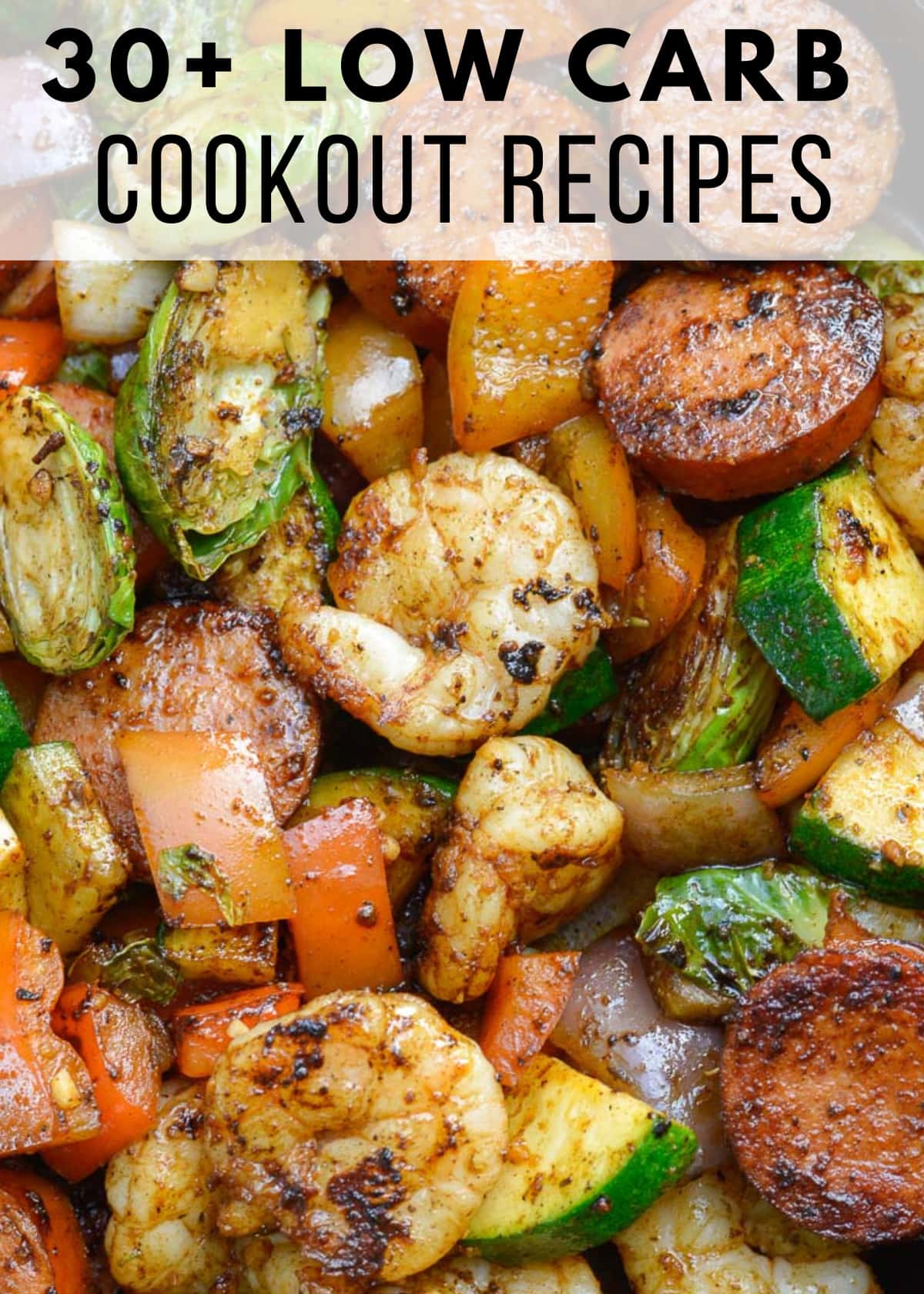 The Best Keto Summer Recipes
Summer is the perfect time to naturally cut back on carbs. With seasonal produce rolling in you can easily make salads, low-carb wraps, and keto-friendly dinners! Today I'm sharing 30+ low-carb cookout recipes you have to try. None of these recipes require an oven, they can all be made on a grill, griddle, or with a smoker. Some of these recipes don't require cooking at all!
Keto BBQ Main Dishes
Go to keto-friendly main dishes includes grilled meats such as this Chipotle Ranch Chicken, Flank Steak, or Blackened Chicken. If you are feeding a crowd try this BBQ Pulled Pork, it has a sugar-free rub that is sweet and savory!
Keto Side Dishes
A Classic Broccoli Salad is always my go-to low carb side because absolutely no one ever misses the carbs! This chilled Caprese Salad with Asparagus or this delicious salad with a lemon vinaigrette! If you want to opt for a few grilled side dishes we loved this wrapped in bacon, or these Zucchini Wraps!
No Bake Keto Desserts
Enjoy something sweet without turning on your oven! This Chocolate Keto Milkshake, or Keto Coconut Milkshake are two of the best low carb shake recipes! You can also enjoy a slice of No Bake Cheesecake, or spoon this Sugar Free Strawberry Sauce over low carb ice cream!
Essentials for Summer Grilling
Even the most talented grill master needs the right tools! These are some of the most useful products we regularly use when we cookout!
30+ Low Carb Cookout Recipes