This easy One Pan Pasta is a quick, 30-minute meal that is packed with Spicy Sausage and Black Beans! The perfect one-dish family dinner!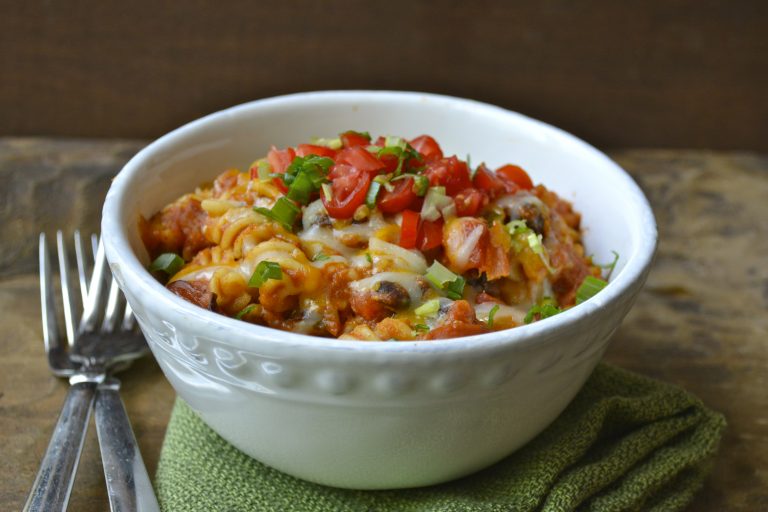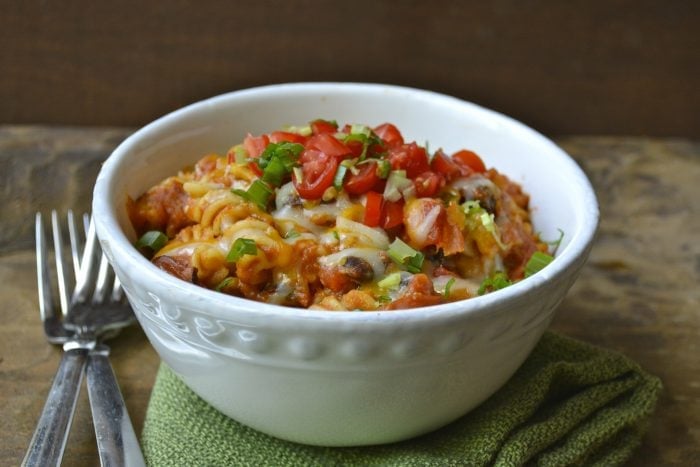 What kind of grocery shopper are you? Are you super organized and only buy what you need? Do you follow your list to a T? Or are you a free spirit that will purchase whatever looks good?
Most of the time I am a strict list follower. We already spend so much money on food that if I get things that I don't need for that week it would get out of control quickly. So, I normally don't have much left in my pantry at the end of the week.
But last week I found myself in a pinch and needed to make something quickly with only what I had on hand. My first thought was to make breakfast for dinner (that is my go to, I will never turn down bacon and eggs) but I did have a couple things in the cabinets so I decided to get creative.
The result was a super tasty pasta dish loaded with flavor. Not only was it good, but it took just one dish and it was ready in less than 30 minutes! It doesn't get much better than that! For another great one pan pasta, try this One Pan Creamy Pesto Penne!

Ingredients for Spicy Sausage and Black Bean Pasta
As always, here is a quick overview of the ingredients needed to make Sausage and Black Bean Pasta. For the complete recipe, just keep scrolling.
Andouille sausage- I used Johnsonville Andouille Sausage, thinly sliced
Onion- sliced
Olive oil
Black beans- drained and rinsed
Rotel- undrained
Tomato sauce
Dry pasta- I used Gluten Free Barilla Rotini
Water
Taco seasoning
Cheddar or Mexican cheese
Green onions- chopped
Doesn't this recipe just scream "Make me at the end of the week! You already have everything you need!" At least, it did to me!
How do you make Sausage and Black Bean Pasta?
Here's how you make it! First, I thinly sliced some andouille Sausage and chopped an onion. I sauteed both in a little olive oil in a large cast iron skillet.
Next, I tossed in a can of black beans (rinsed), rotel, tomato sauce, and some water (not pictured) with the Sausage and onions. I then gave it all a good stir. Following these two steps, I added my taco seasoning spices and dry rotini noodles.
I know it feels weird to add dry pasta to a dish, but the pasta cooks with the moisture in the pan and really soaks up all of the flavors beautifully. Finally, when everything was mixed well, I just covered the skillet and let everything simmer for approximately 12-15 minutes, stirring occasionally.
When the pasta was tender, I stirred in some cheese to make it extra creamy. I topped the whole thing off with a little extra cheese on top and some chopped green onions. And you're done!
Voila! It really is that simple! Just some basic pantry staples and some andouille Sausage are transformed into an easy cheesy pasta dish that your whole family will love! This Spicy Sausage and Black Bean Pasta are always a hit in my house!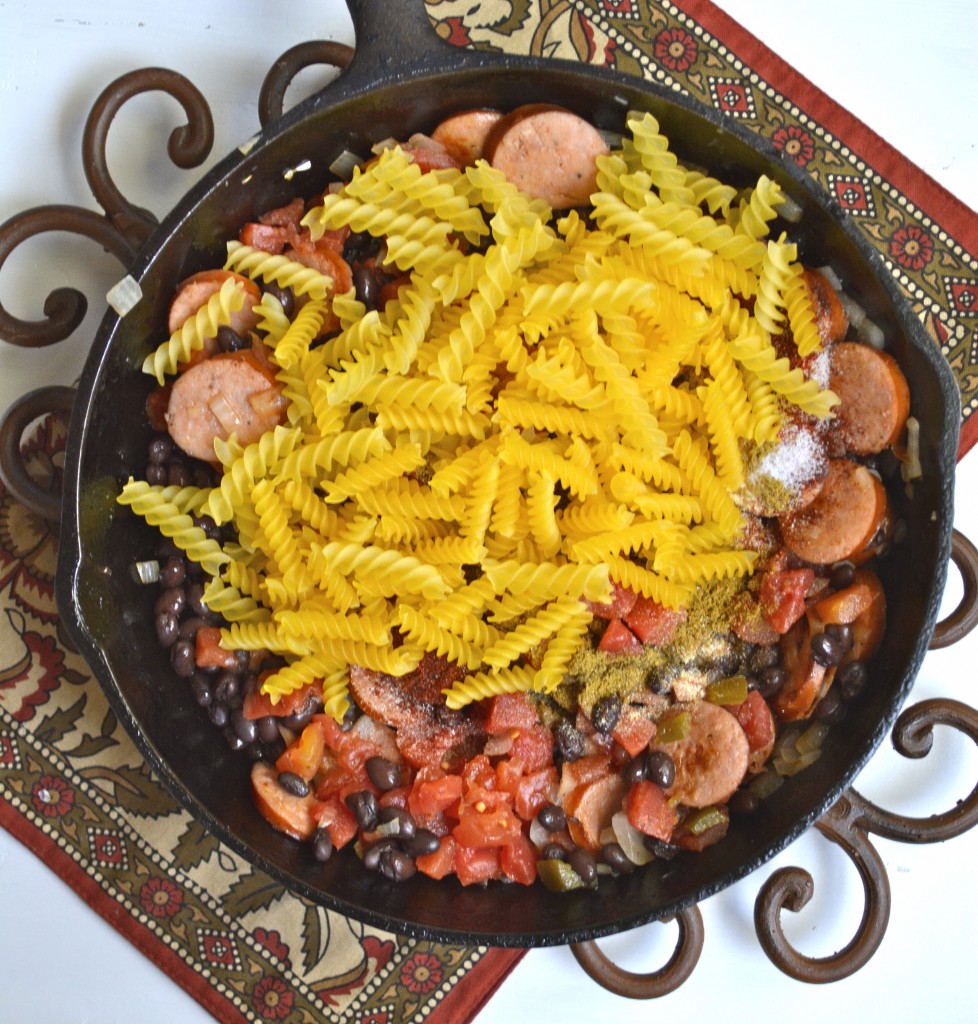 Do I have to use a Taco Seasoning Packet?
Absolutely not! If you're interested in cutting out some sodium or you don't have a seasoning packet on hand, a homemade blend of spices is super easy to whip up. Here's what I put in mine:
2 teaspoons chili powder
1 teaspoon cumin
1/2 teaspoon salt
1 teaspoon onion powder
1/2 teaspoon smoked paprika
1 teaspoon garlic powder
Substitutions for Spicy Black Bean Pasta
One of the beautiful things about this recipe is it's versatility. You can really put in whatever you prefer! Or you can mix it up just enough that it can become a new recipe for a different night!
If you don't like pork sausage, turkey sausage is a great option (and lightens things up a little). You can also always use any kind of ground meat you like- beef, turkey or chicken are all delicious in this pasta. Or, cut the meat out entirely!
To add some more spice, you can always include a spicier Rotel or add your favorite hot sauce. If you're feeling really spicy, add in some chopped jalapenos! I love Black Beans, but they aren't everyone's cup of tea. Kidney beans, black-eyed peas or even lentils would be great here.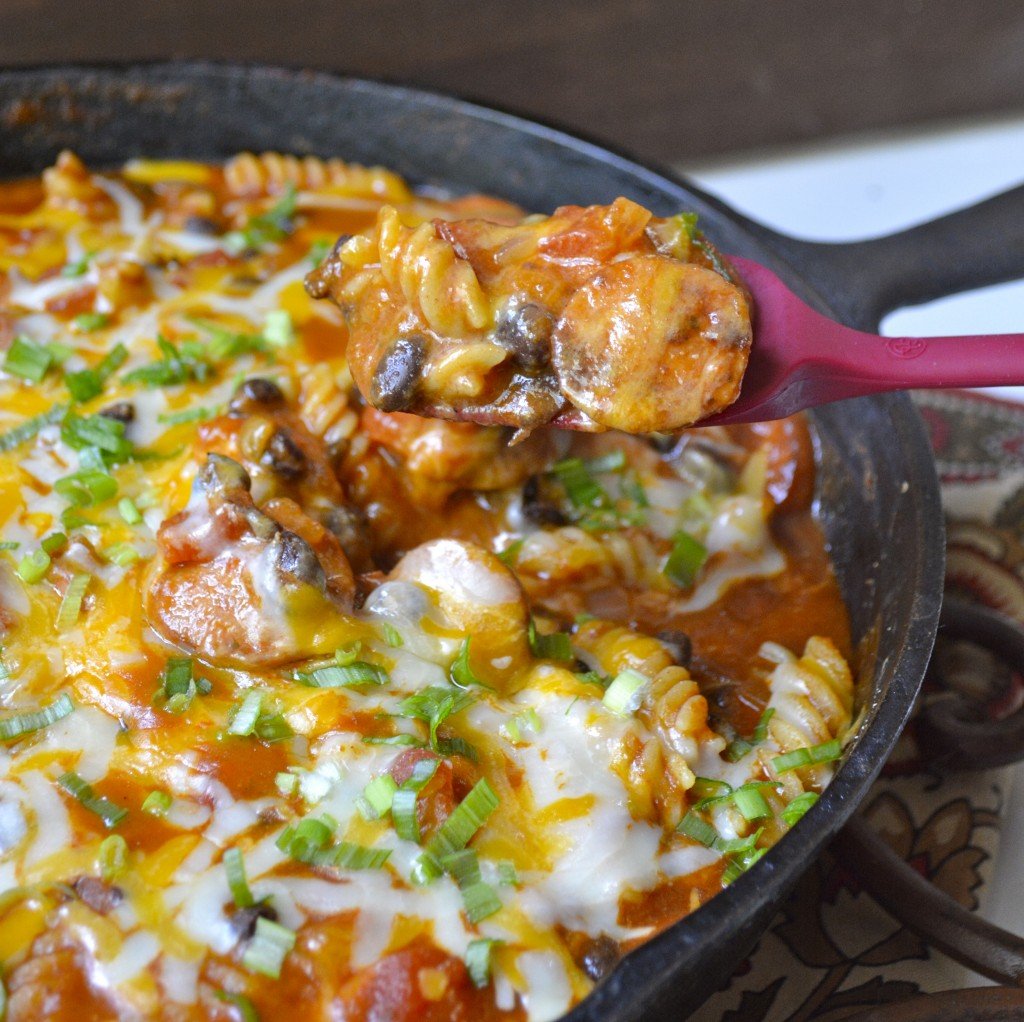 How to Store and Reheat Sausage Bean Pasta
To store this pasta, simply place in a glass or plastic airtight container and put in the fridge. This pasta will stay fresh for up to four days. To reheat, put on a microwave safe plate and warm in 30 second increments until the dish is hot enough for you!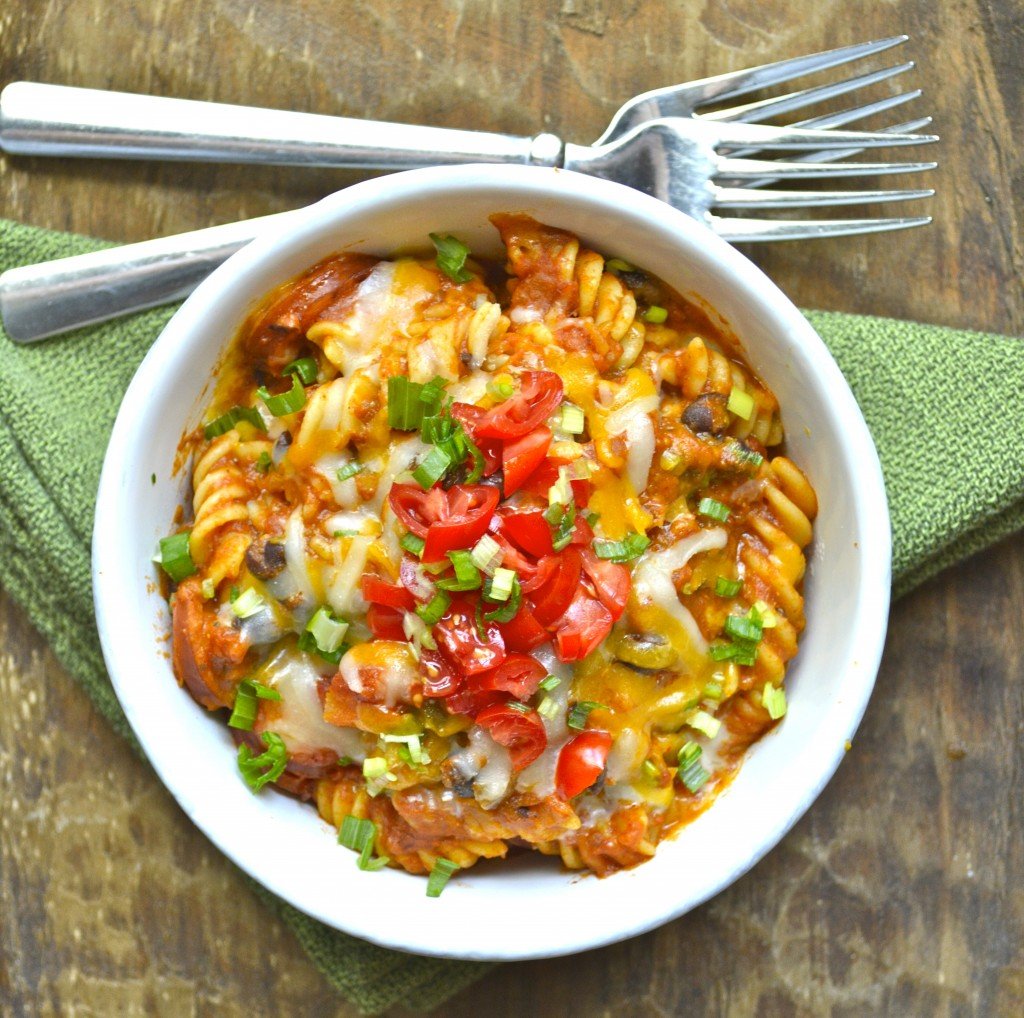 More Easy Dinner Ideas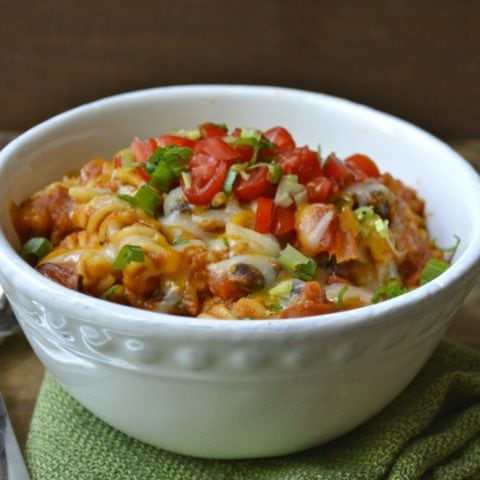 Spicy Sausage Black Bean Pasta
This easy One Pan Pasta is a quick, 30-minute meal that is packed with Spicy Sausage and Black Beans! The perfect one-dish family dinner!
Ingredients
1 link andouille sausage (1/2 a pack of Johnsonville Andouille Sausage)
1 small onion, chopped
1 tablespoon olive oil
2 cups dry pasta (I used Gluten Free Barilla Rotini)
1 can black beans, drained and rinsed
1 can rotel
1 15 ounce can tomato sauce
1 cup water
1 package taco seasoning* (or spices listed below)
Chopped green onions for garnish
1 cup shredded cheddar or mexican cheese
Instructions
Thinly slice sausage and finely chop the onion. Set aside.
Heat olive oil in a large skillet over medium heat. Add the sausage and onion and saute until lightly browned, stirring occasionally. (3-4 minutes).
Add the can of drained and rinsed black beans. Then add the undrained cans of rotel and tomato sauce. Stir in the cup of water, dry pasta, and taco seasoning (or spices*).
Cover skillet and reduce heat to medium low. Let the mixture simmer for 12-15 minutes, stirring occasionally.
When pasta is tender, stir in 3/4 cup of cheese, and top with remaining 1/4 cheese, place lid back on pasta just until cheese melts. Top with chopped green onions.
Nutrition Information:
Yield:

4
Serving Size:

1
Amount Per Serving:
Calories:

439
Total Fat:

18.5g
Cholesterol:

37mg
Sodium:

823mg
Carbohydrates:

55.2g
Net Carbohydrates:

48.4g
Fiber:

11.8g
Sugar:

6.8g
Protein:

19.8g