Somewhere in your mid to late twenties you come to this realization that your life is defined by questions. As a kid your asked what you want to be when you grow up. As a teen it is what college do you want to go to? As a young adult your asked what your major is and what your career goals are? When you finish school you're then asked when your getting married? After you're married the big question is when are you having babies?
I understand the questions. I also understand that for most people this is the natural progression of life. But I am still totally baffled when people ask me about kids. Babies? Your asking me about babies? I am just proud I picked an outfit for today that matched. Why are we talking about babies?
All of our friends either have children or want them. I am on the fence. Sometimes I really think about it and I just can't picture it. Which is weird because if you knew me in real life you would know I am SUPER maternal and I love kids. I am just not sure I want to be responsible for one.
So what does all of this baby talk have to do with breakfast for dinner? Well, let me just tell you….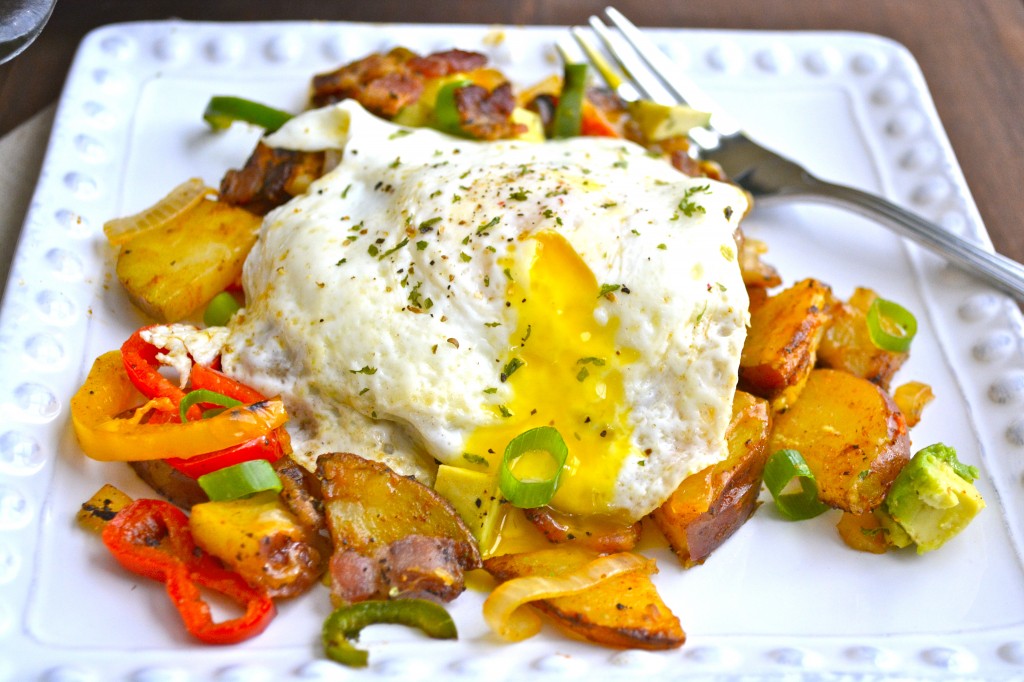 The night that I made this dish I was in a total tizzy. I had gotten up early worked on the blog for a few hours. Then I headed off to my day job where a well meaning client asked if I had children. I politely asked if dogs counted. She said absolutely not. So I said, no I don't have children. She had a very confused look on her face and asked why not? After work I went to the gym. Ran like a mad woman to get a decent run in before I had to go home, make dinner and photograph it before I lost natural light to photograph in. After the gym I flew home and burst into the door declaring I HAVE TO CHOP THE POTATOES!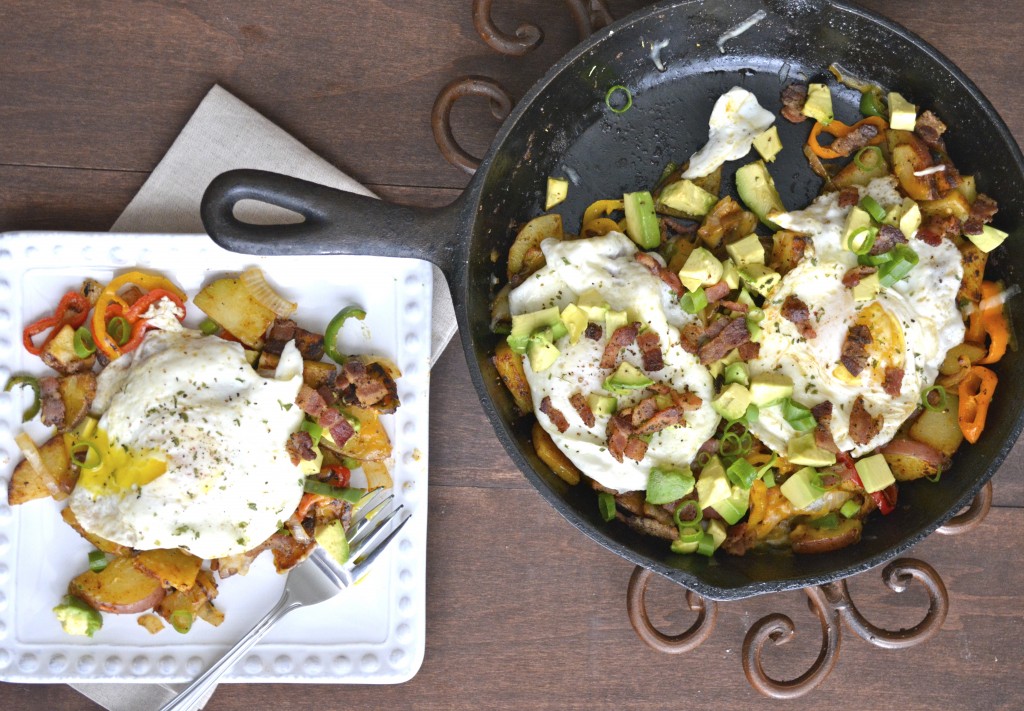 So there I was, all of my ingredients flung haphazardly on the counter. I was chopping potatoes, peppers, and onions while also trying to measure the ingredients and write them down. I was sprinting back and forth from the counter to the window to photograph the step by step process.
After I threw the potatoes in the skillet to cook for ten minutes I set the timer, told Mr. Maebell to stir them occasionally, ran and took the fastest shower ever and finished preparing dinner only half dressed with soaking wet hair.
It was at about that moment, standing there only partially dressed, with a messy kitchen, wet hair, sore muscles, and absolutely no patience left that it occurred to me. I am pretty much at my limit. Those women who can have it all? Yeah, I am not one of them. This isn't to say I may never become one of them, but right now I am a hot mess! How do they do it? My Mom had four kids and I don't know why someone hasn't given her a freaking medal! I don't remember ever thinking that my Mom's job of being a mom looked hard, so why does it seem so impossible to me now?
So to all you Moms, you amaze me. You are cut from tougher cloth than I am!
I have included step by step photos for this super delicious Mexican Breakfast Hash, so Moms take the night off. Give the computer to your husband or your kids. They can handle this one! Kick your feet up and enjoy, you deserve it!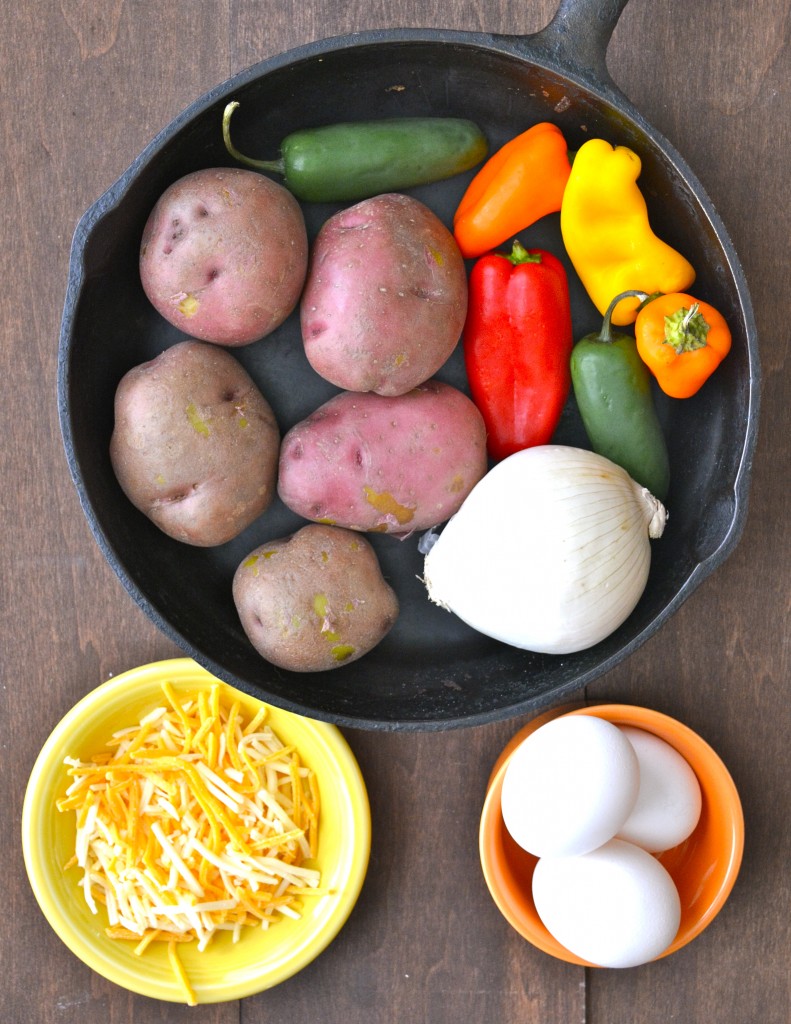 Here is your line up! A nice big cast iron skillet (any nice deep skillet will work) potatoes, onions, peppers, eggs, and shredded cheese. And not pictured, the bacon and the optional garnishes, such as avocado and green onions.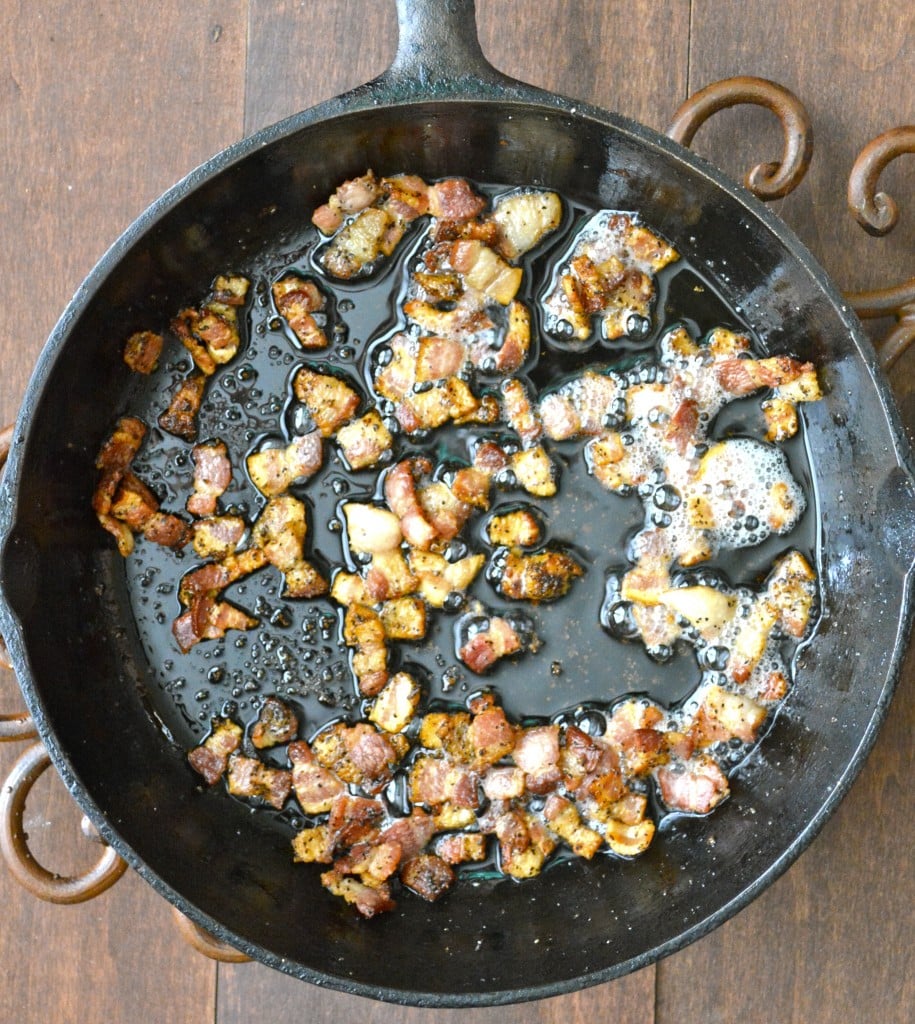 Carefully slice a couple slices of bacon. Heat your skillet to medium heat and cook bacon until crisp. Approximately 4 minutes, stirring often. When bacon is crisp remove from skillet and place on a paper towel. Drain off about half of the bacon grease and place the skillet back on the stove.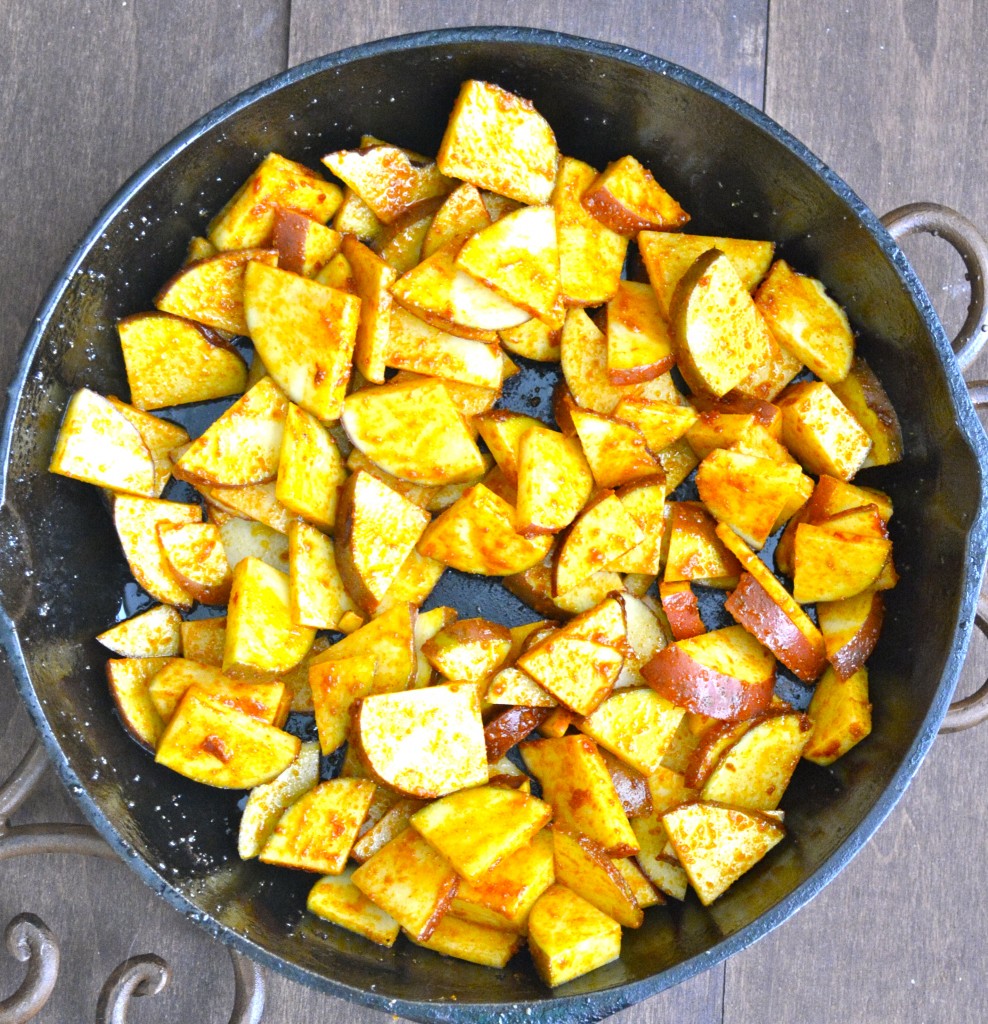 Roughly chop your potatoes, they need to be fairly small and uniform in size. Place the potatoes in a large plastic bag or bowl and toss with one tablespoon of olive oil. Throw in your spices and give them a quick toss. You want your potatoes to be evenly coated. Throw your potatoes in the skillet and let them cook covered for ten minutes, stirring occasionally.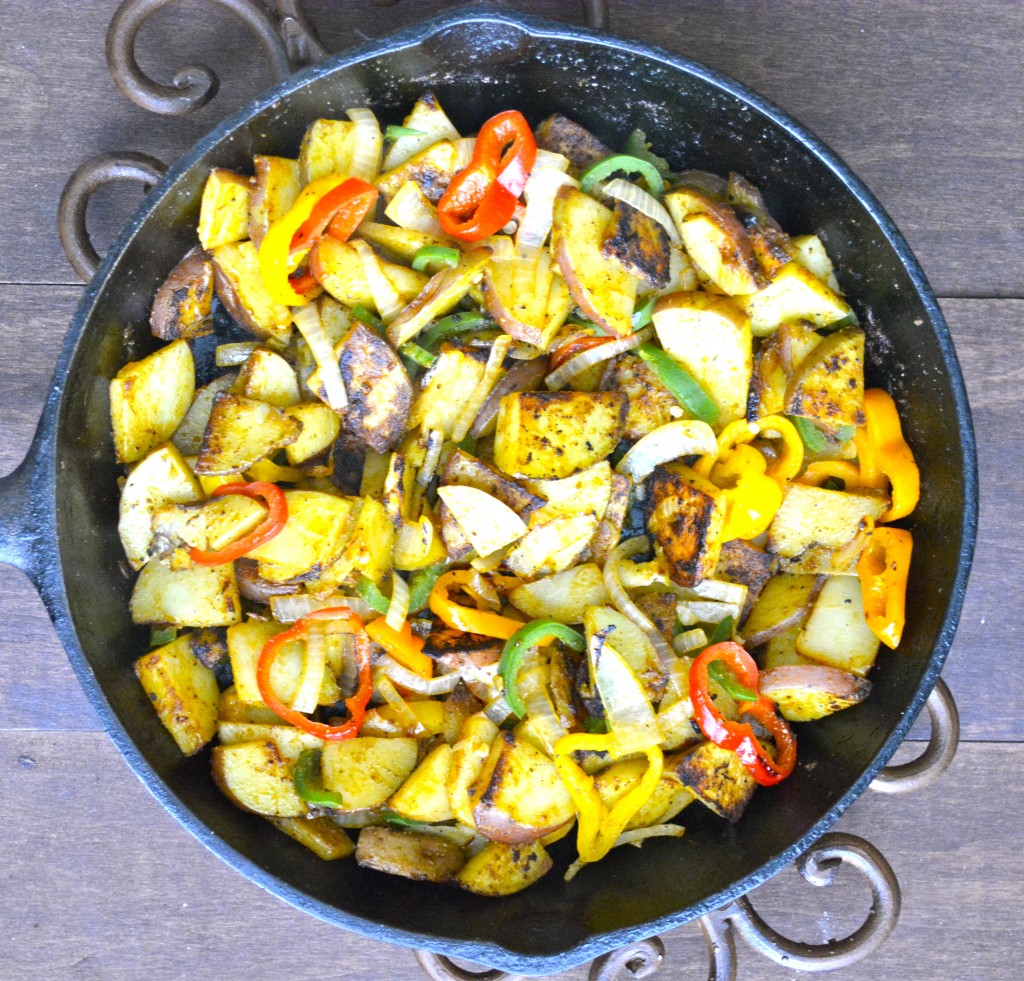 Once your potatoes are nice and tender throw in the peppers and onions. Cook everything, stirring occasionally until tender. This should take 3-4 minutes.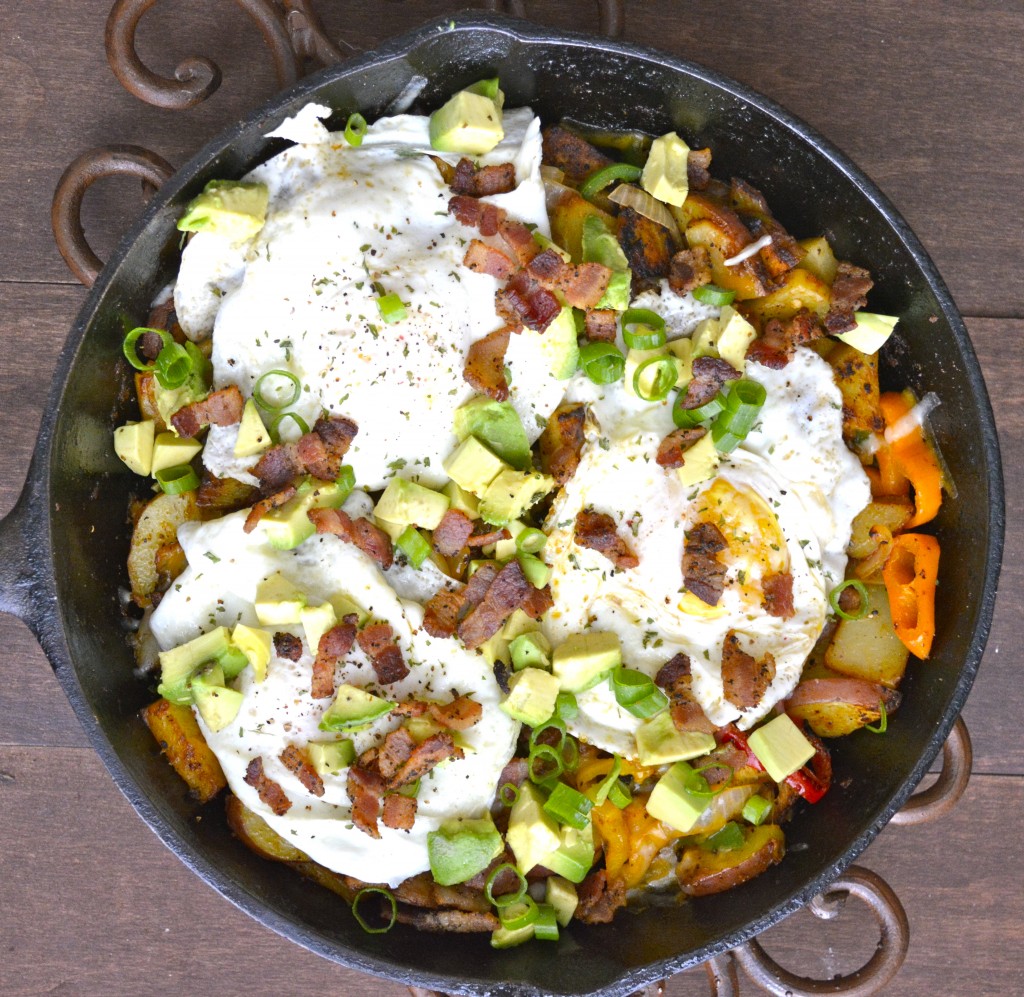 Now, the next part is totally up to you. You can place the potato mixture in another dish so you use the same skillet for your eggs or you can grab another one. Whichever works. Regardless, turn your skillet to medium heat and spray well with cooking oil. Carefully crack an egg directly into the skillet and let cook for about 45 seconds or until the white seems set. Using a spatula carefully flip the egg and let cook for about 20 more seconds, or until it reaches the desired firmness. Remove eggs from skillet and place on top of potato mixture. Top with bacon, green onions, and chopped avocado.