This Mexican Breakfast Hash is loaded with seasoned, crisp potatoes, peppers, onions, bacon and eggs! This is the perfect one pan breakfast recipe!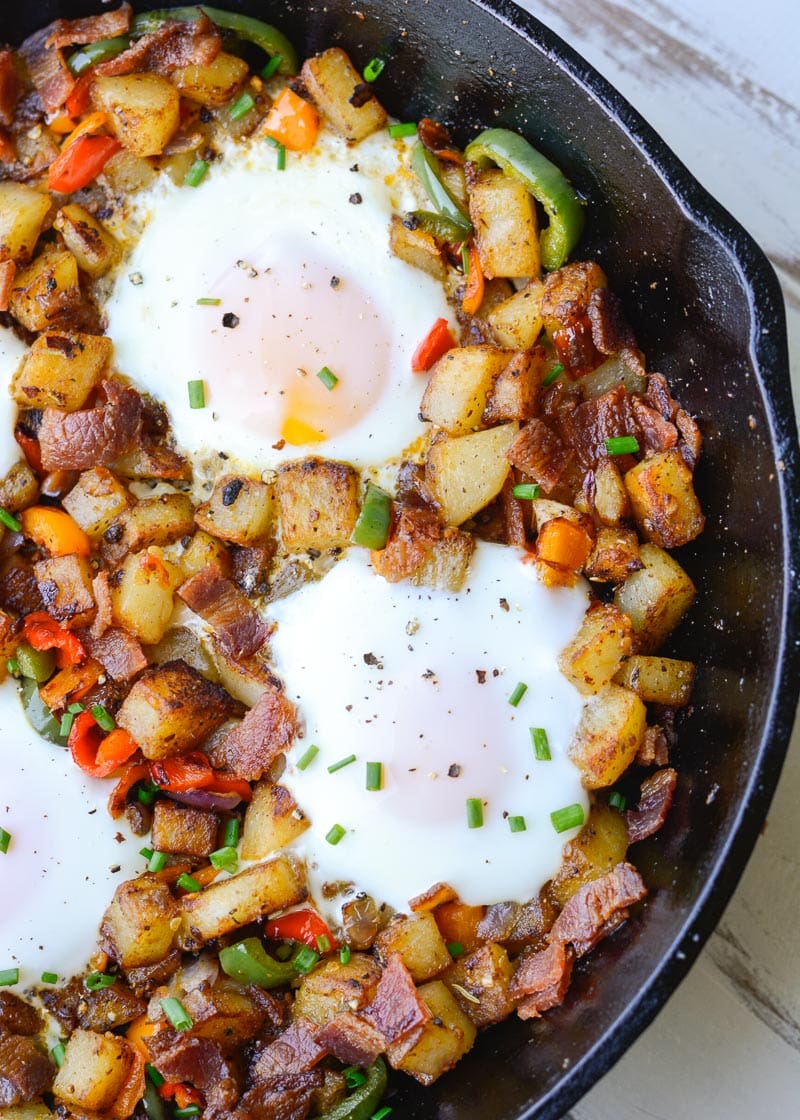 This easy one-pan breakfast hash is Mr. Maebells favorite breakfast. Though he isn't one to ever turn down biscuits, gravy, or a good, hearty casserole, he loves crispy breakfast potatoes! This Mexican Breakfast Hash features perfectly seasoned potatoes, peppers, onions, crispy bacon, and eggs. It is absolutely the best way to start the day!
This dish also happens to be naturally gluten-free and is easy to customize based on your personal preference. You can easily swap the potatoes for sweet potatoes, or bacon for ham if you prefer. The possibilities are endless!
Ingredients for Mexican Breakfast Hash
To make this easy one-pan fiesta breakfast hash you'll need the following ingredients:
Bacon
Diced potatoes
Olive oil
Garlic powder
Smoked paprika
Cumin
Saly
Onion
Peppers, sweet or spicy whatever you like better
Eggs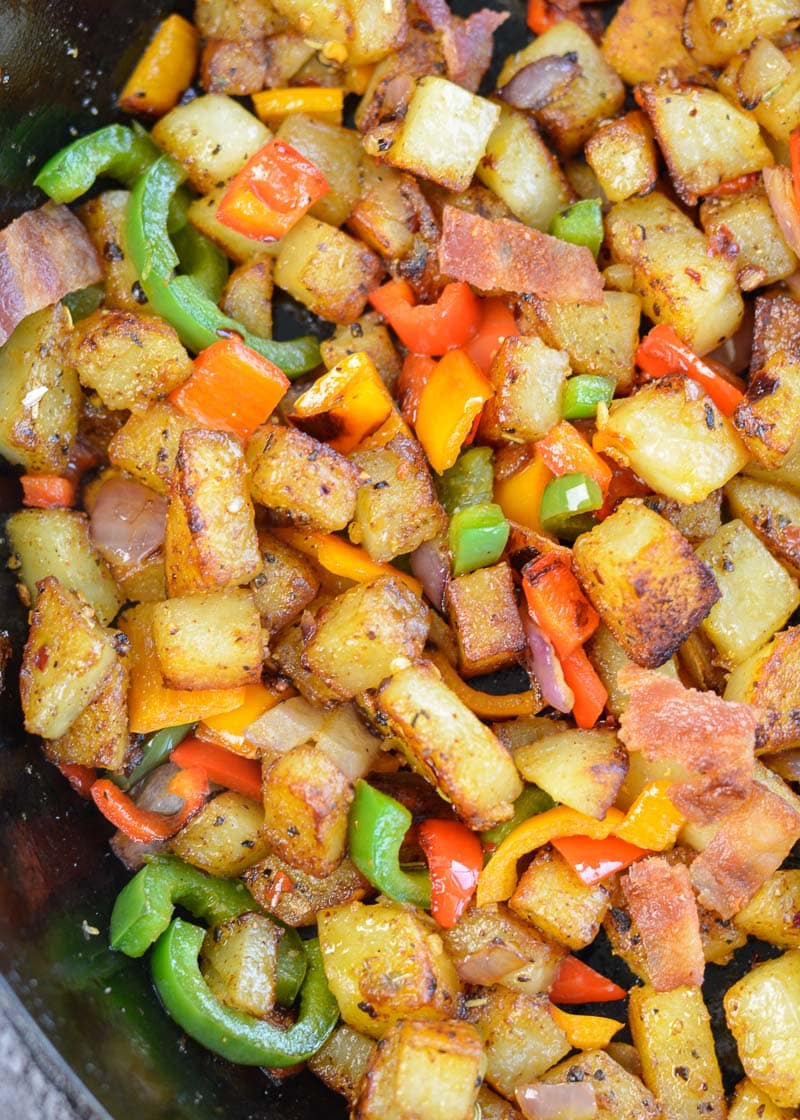 How to Make Breakfast Hash
This Mexican Breakfast Hash requires just a few easy steps:
Slice the bacon into small pieces and cook over medium heat until they are crispy.
Toss the diced potatoes in olive oil and spices until they are evenly coated.
Add the potatoes to the skillet in an even layer and fry them without stirring. After 5 minutes, occasionally stir the potatoes and cook for about 10 more minutes until they are fork-tender.
Add the chopped peppers and onions to the pan and cook until the vegetables are tender.
Make four wells in the hash and carefully crack an egg in each one. Continue to cook until the eggs have set to your liking.
Substitutions for Breakfast Hash
This recipe is completely customizable to your taste or whatever you have on hand! Here are a few of our favorite variations:
Potatoes: swap for sweet potatoes, butternut squash, or your favorite yam
Bacon: you can use any meat you prefer. Ham, sausage, or ground turkey will all work.
Spices: swap the spice mixture for your favorite blend
Peppers: use sweet peppers, jalapenos or if you want to omit them you can swap for mushrooms.
Optional: garnish with salsa, sour cream, avocado, and green onions.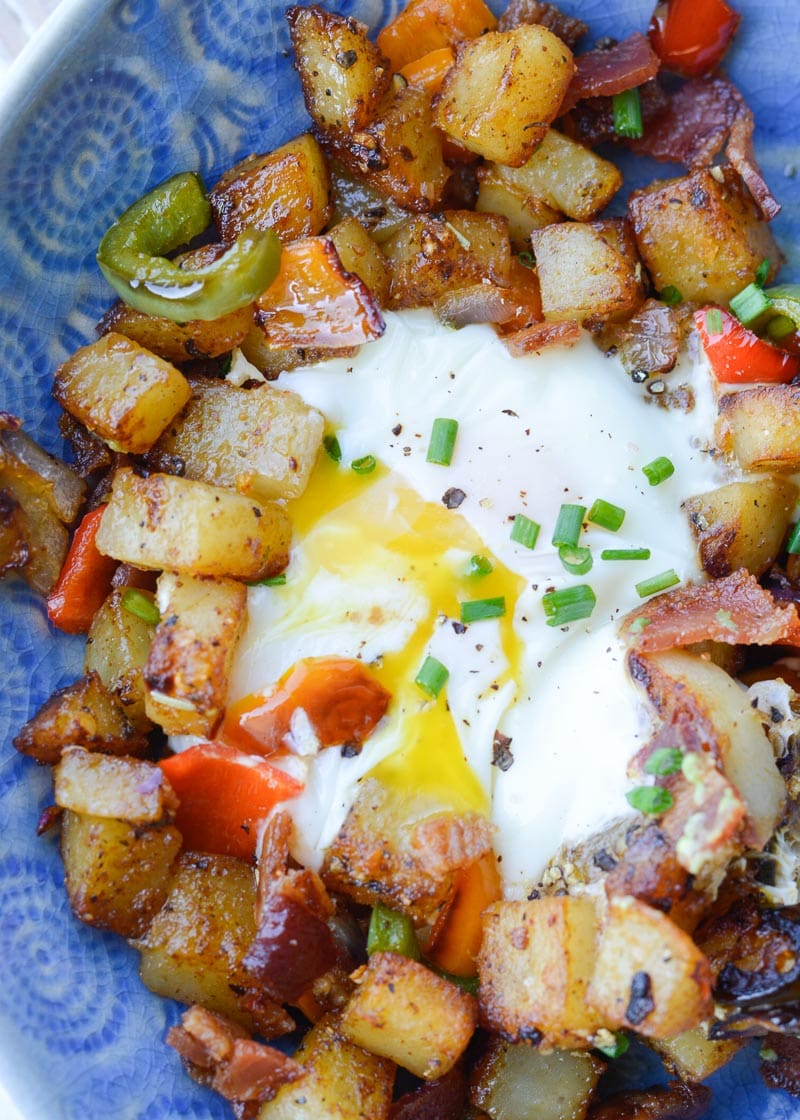 Tips for the Best Breakfast Potatoes
Cut Uniformly: To ensure the potatoes cook evenly make sure they are cut as uniformly as possible. If some are very small, and some are large they will not cook through at the same time.
Toss to Coat: You can toss the potatoes with the spices in a bowl, or as soon as you add them to the skillet, either work. Just make sure you coat the potatoes well so they are all perfectly seasoned.
Large Skillet: Use a large skillet so you have plenty of room to cook the vegetables.
More Easy and Healthy Breakfast Recipes