This shop has been compensated by Collective Bias, Inc. and its advertiser. All opinions are mine alone. The following content is intended for readers who are 21 or older. #Chardonnation #NotableSummer #CollectiveBias
This simple Sweet Peach Bruschetta combines the best flavors of Summer! Fresh peaches, blueberries and mint make for an impressive combination!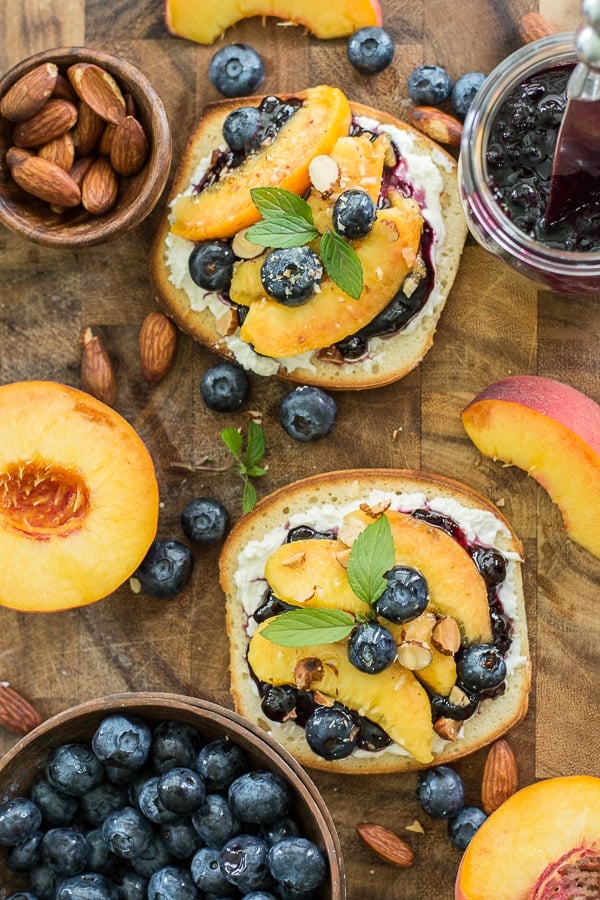 The past year has been a tough year for friendships. I have a group of girlfriends who I am close with, but as we have gotten older, started careers and families it has been so difficult to stop and take time to maintain our friendships. I know everyone struggles with this, but that certainly makes it more special when we are able to get together!
We have moved a little further apart so we don't see each other often, and trying to schedule a dinner around work and school and kids can be really tough. But I was determined to make it happen! We finally set a date and had a fun evening of easy appetizers, tasty wine and lots of great conversations!
The biggest hit of the night was this super easy Sweet Peach Bruschetta. This is a summer appetizer that absolutely anyone can make because the seasonal ingredients make it seem a lot more complex than it really is! I love easy recipes in the summer and have several staples- these Grilled Zucchini Mozzarella Wraps and Chicken Caprese Salad were also huge hits with my girlfriends!
For this bruschette, we take a nice slice of crusty, toasted bread (I used gluten free, of course) slather it with whipped cream cheese, wild blueberry preserves, juicy fresh peaches, blueberries and top it with honey, crushed almonds and mint! This combines some of summers best flavors into one delicious dish! This is an appetizer for everyone!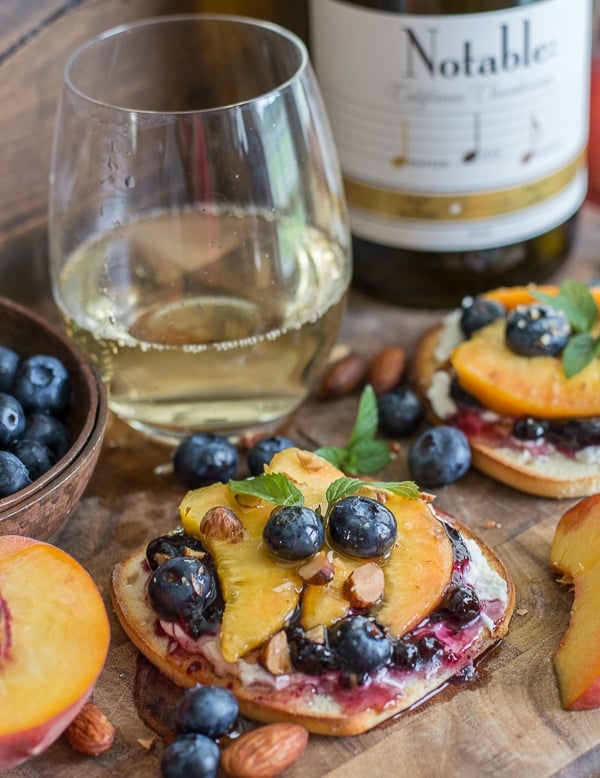 Ingredients for blueberry bruschetta
Ciabatta bread- I used gluten free, but any kind you prefer will work. You can also use a traditional baguette.
Cream cheese- I highly recommend using whipped cream cheese-it's got a great consistency and is easy to spread.
Blueberry preserves- preserves work best, but if you only have jelly, that's fine.
Peaches- be sure your peaches are ripe and then thinly slice them for this recipe.
Blueberries- also make sure your blueberries are ripe by snacking on them!
Honey- you'll use the honey for drizzling on top. Any kind you have should be fine.
Almonds- I recommend salted almonds that are crushed.
Mint- a fresh mint for garnish really makes this dish stand out!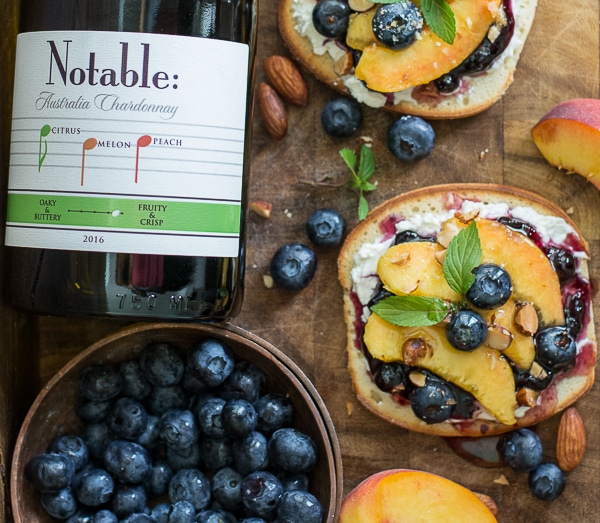 What should I serve with peach bruschetta?
I loved being able to gather around a table with my girlfriends and this delicious bruschetta. What made the occasion even more special was the wine! I paired this Sweet Peach Bruschetta with one of my new favorite wines, oaky and buttery Chardonnay and fruity and crisp Chardonnay.
If you haven't tried this refreshing wine you've got to pick up a bottle for your next summer get together. The wines have two very unique flavor profiles, both of which paired great with this Bruschetta. Whichever you choose (or both!) will compliment your table perfectly.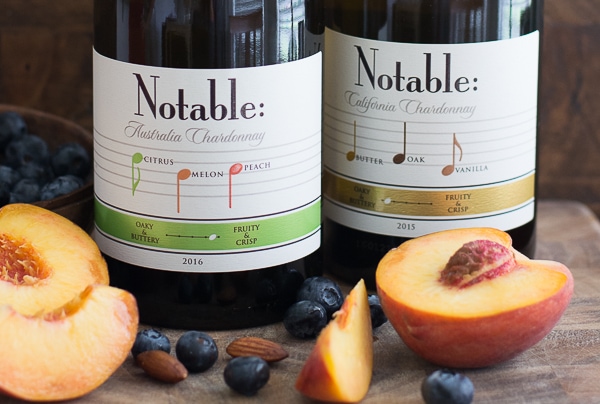 The first is Notable: Oaky & Buttery Chardonnay it has flavor notes of butter, oak and vanilla. The second, and my favorite is Notable: Fruity & Crisp Chardonnay. It has flavor notes of peaches, melon and citrus. I especially loved how well this paired with the fresh peaches and blueberries in the bruschetta.
If you are new to wine pairing, Notable is the first wine that highlights the flavor profiles on the front of the bottle, helping make the wine aisle a less confusing place. This is great because wines often vary in region and taste, yet most labels don't define the dominate flavor you're about to sip. So when a wine highlights its taste prominently on the front label, it can lead you to the wine you want.
So gather your girlfriends and host a summer get together you will all love! With this easy Sweet Peach Bruschetta and a bottle of Notable Chardonnay summer entertaining just got a lot easier! All you have to do is follow the flavor notes!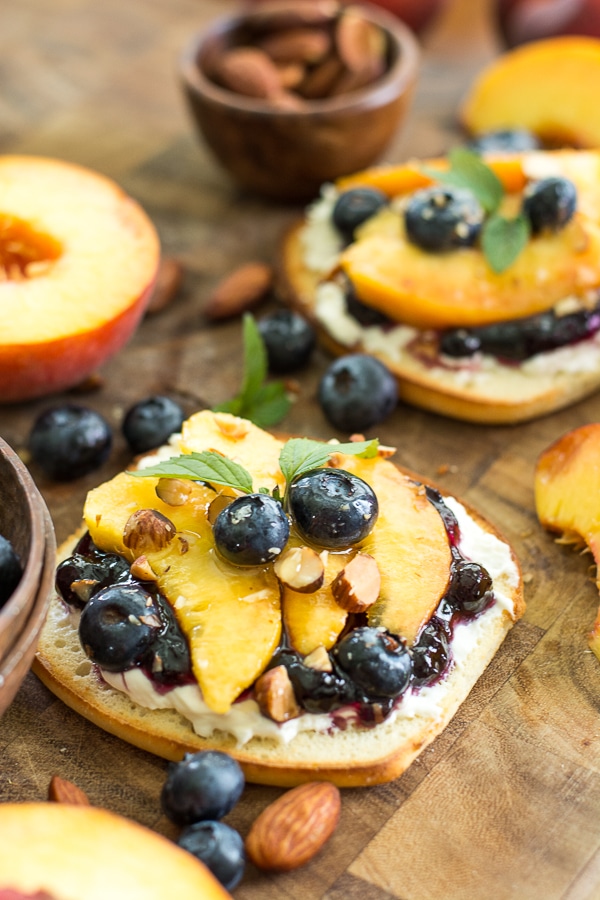 How do I make Sweet Peach Bruschetta?
This recipe comes together in a breeze. First, take your favorite large loaf bread- a baguette or a ciabatta work best (we used a gluten free baguette). Slice your bread into your preferred thickness and toast!
Next, the best part. The topping! Get together your ingredients and top your sliced bread in order of: whipped cream cheese, blueberry preserves, peach slices, blueberries, honey, crushed almonds and sliced mint.
If you prefer, you can cut this Sweet Bruschetta into smaller pieces for more sharing! Also, if you wanted to serve this for a crowd, simply double your recipe! And that's it, the perfect plate to gather around is served!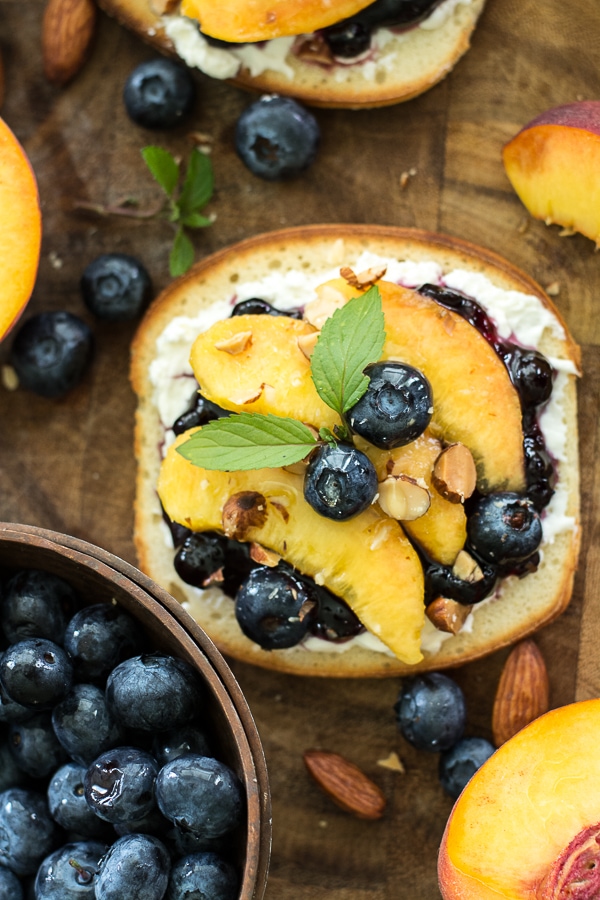 How to Store Sweet Bruschetta
I recommend storing this bruschetta in steps. I would store my blueberries and peaches together in an airtight container or a produce saver in the fridge. Since your peaches are sliced, I would use them within two days. Store in the produce drawer of your fridge.
For the bread, if it is already sliced, place in a resealable bag and leave on the counter. Depending on how fresh your bread was originally, it will stay good on the countertop for two to three days. If your bread is still whole, store in a paper bag on the counter top. A ciabatta or classic baguette will stay good for three to five days.
When you are ready for another Bruschetta night, simply assemble again! Your cream cheese and blueberry preserves will stay good in the fridge according to their use by date, so go ahead and make this show stopping appetizer for guests or for your family. This is a dish everyone is sure to enjoy!
Other Easy Dishes
SaveSave
SaveSave
SaveSave
SaveSave
SaveSave
SaveSave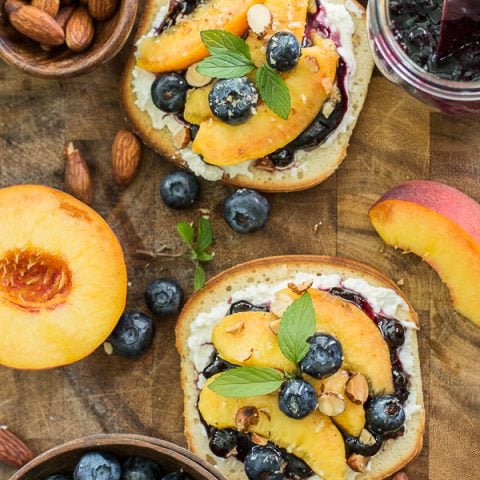 Sweet Peach Bruschetta
This simple Sweet Peach Bruschetta combines the best flavors of Summer! Fresh peaches, blueberries and mint make for an impressive combination!
Ingredients
1 baguette or 1 package of ciabatta bread (I used gluten free)
8 ounces (1 container) whipped cream cheese
1/2 cup wild blueberry preserves
1/8 cup honey for drizzling
3-4 medium size fresh peaches, thinly sliced
1/2 cup fresh blueberries
1/8 cup crushed salted almonds
Fresh mint for garnish
Instructions
Slice and lightly toast your bread, allow it to cool before topping.
Top each slice of bread in this order: whipped cream cheese, preserves, peach slices, blueberries, honey, crushed almonds and mint leaves.
Cut bread into triangles, if desired and serve immediately.
Nutrition Information:
Serving Size:

1
Amount Per Serving:
Calories:

276
Total Fat:

3.4g
Cholesterol:

2mg
Sodium:

443mg
Carbohydrates:

52.8g
Net Carbohydrates:

49.8g
Fiber:

3g
Sugar:

26.3g
Protein:

10.7g