Rosemary Garlic Sweet Potato Wedges are packed with flavor and baked until crisp on the outside and tender on the inside!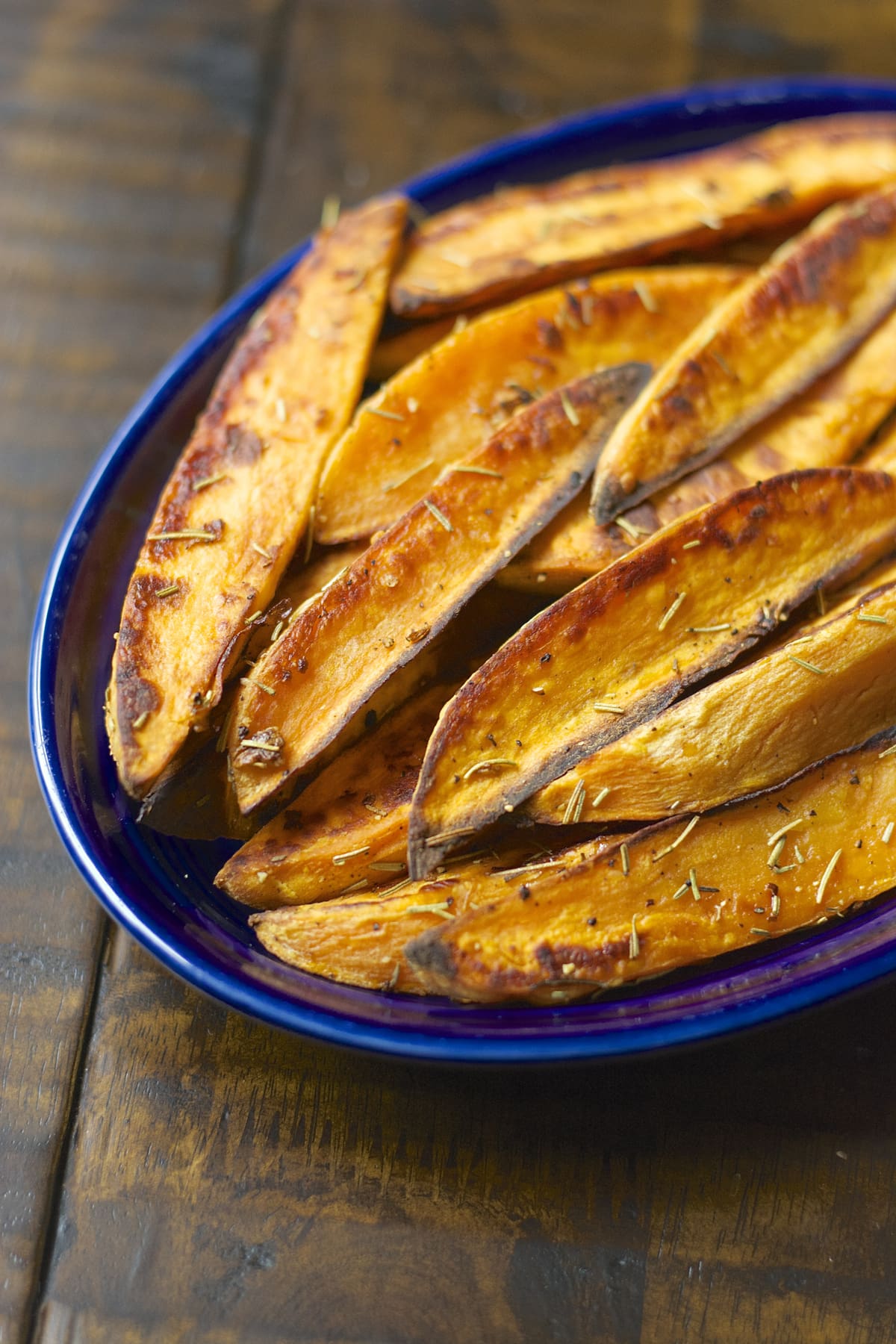 Every single weekend I go to the grocery. This is nothing earth shattering, you probably do it too. But every single weekend I put it off like the plague. Every single week. I will meal plan and make grocery lists until the cows come home, but actually getting up and going? Nope. I don't think so.
But my lack of desire to go to the grocery store morphs into some pretty cool recipes sometimes! It inspires me to create dishes out of the odds and ends I have on hand. These are the product of my no-i-am-not-changing-out-of-my-yoga-pants-to-go-to-kroger…like-ever attitude I had all day Saturday.
Ingredients for Sweet Potato Wedges
Roasting sweet potato wedges in the oven is super easy and requires few ingredients. Here's what I used in this recipe:
Sweet potatoes
Garlic
Olive oil
Dried rosemary
Salt and pepper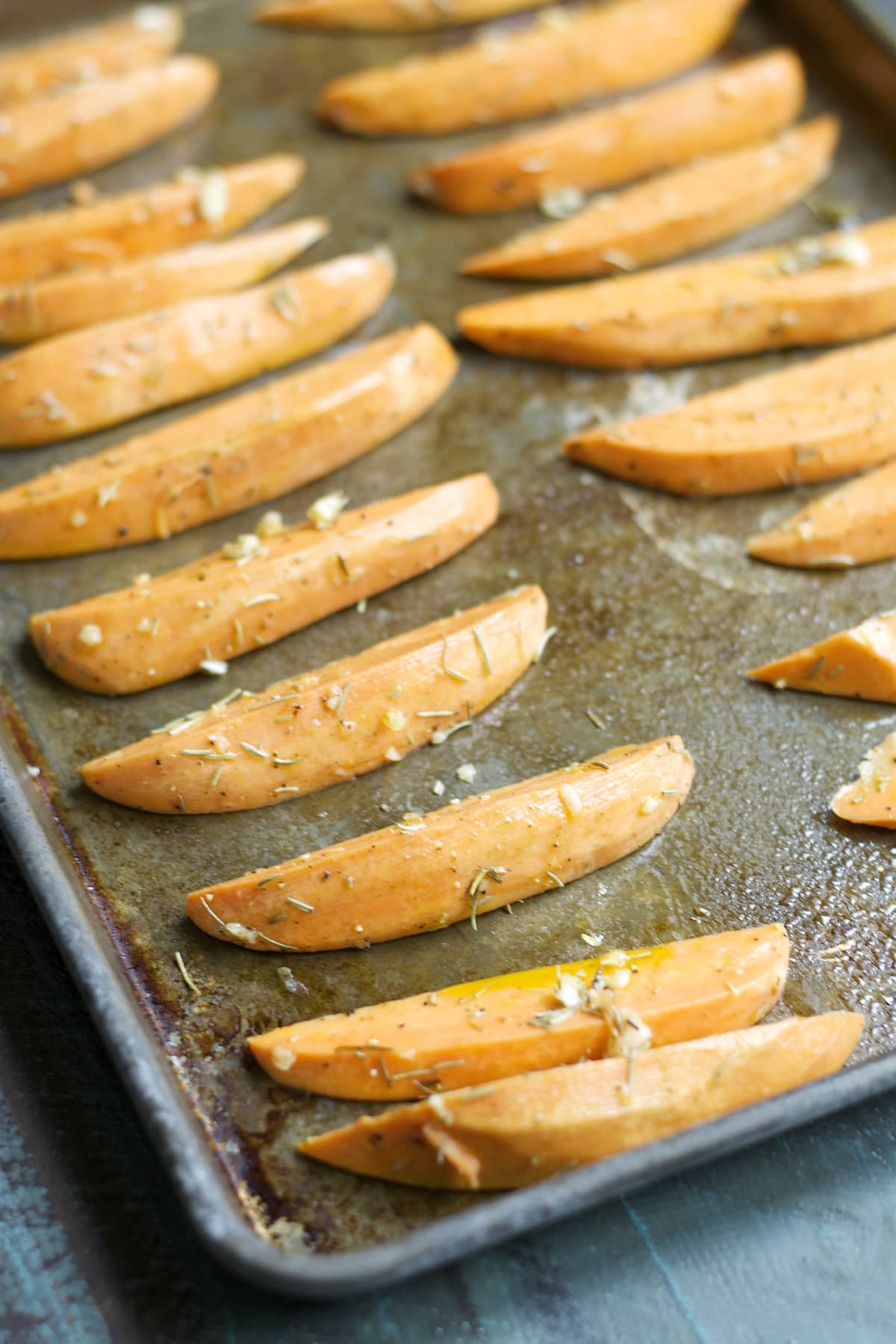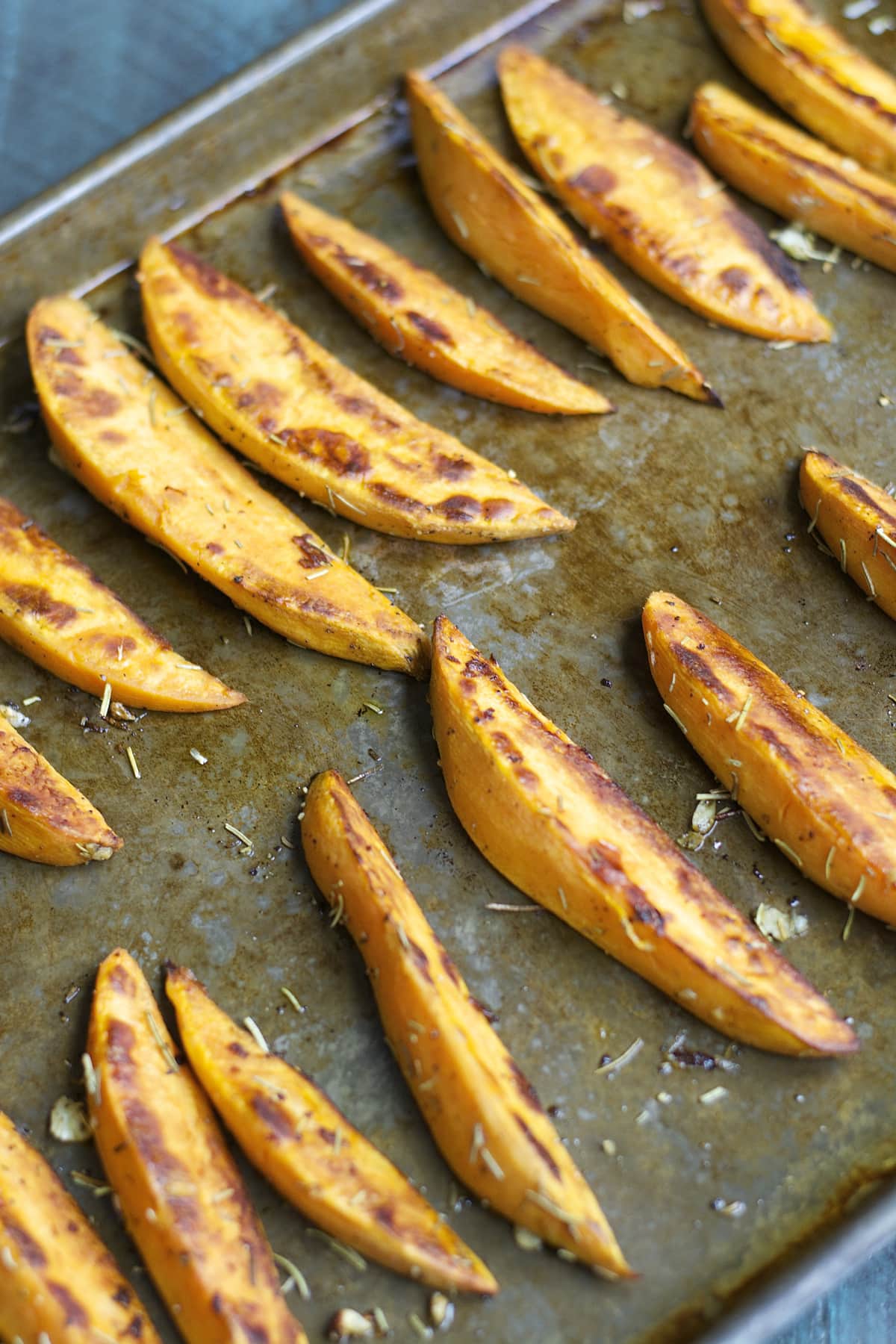 How to Cut Sweet Potato Wedges
Never cut a sweet potato into wedges before? No problem! It's simple:
Cut the sweet potato in half lengthwise.
Lay one of the halves cut side down.
Angle your knife slightly as you cut into the sweet potato half so you create wedges.
Repeat with the remaining sweet potato half.
How to Make Roasted Sweet Potato Wedges
Mix a good quality olive oil with dried rosemary with fresh garlic to get things started. Then, we cut a couple medium size sweet potatoes into nice sized wedges and toss them in the herbed oil and lay them in a single layer on a large baking sheet.
Now you can see about how thick I cut the wedges, I cooked them for 15 minutes, flipped then another 10. The cooking time will vary a bit depending on the thickness of your wedges so just keep that in mind.
You want to take them out when they are perfectly crisp on the outside and nice and tender on the inside. Salt and pepper those babies and you have a really delicious, very easy side dish perfect for any meal!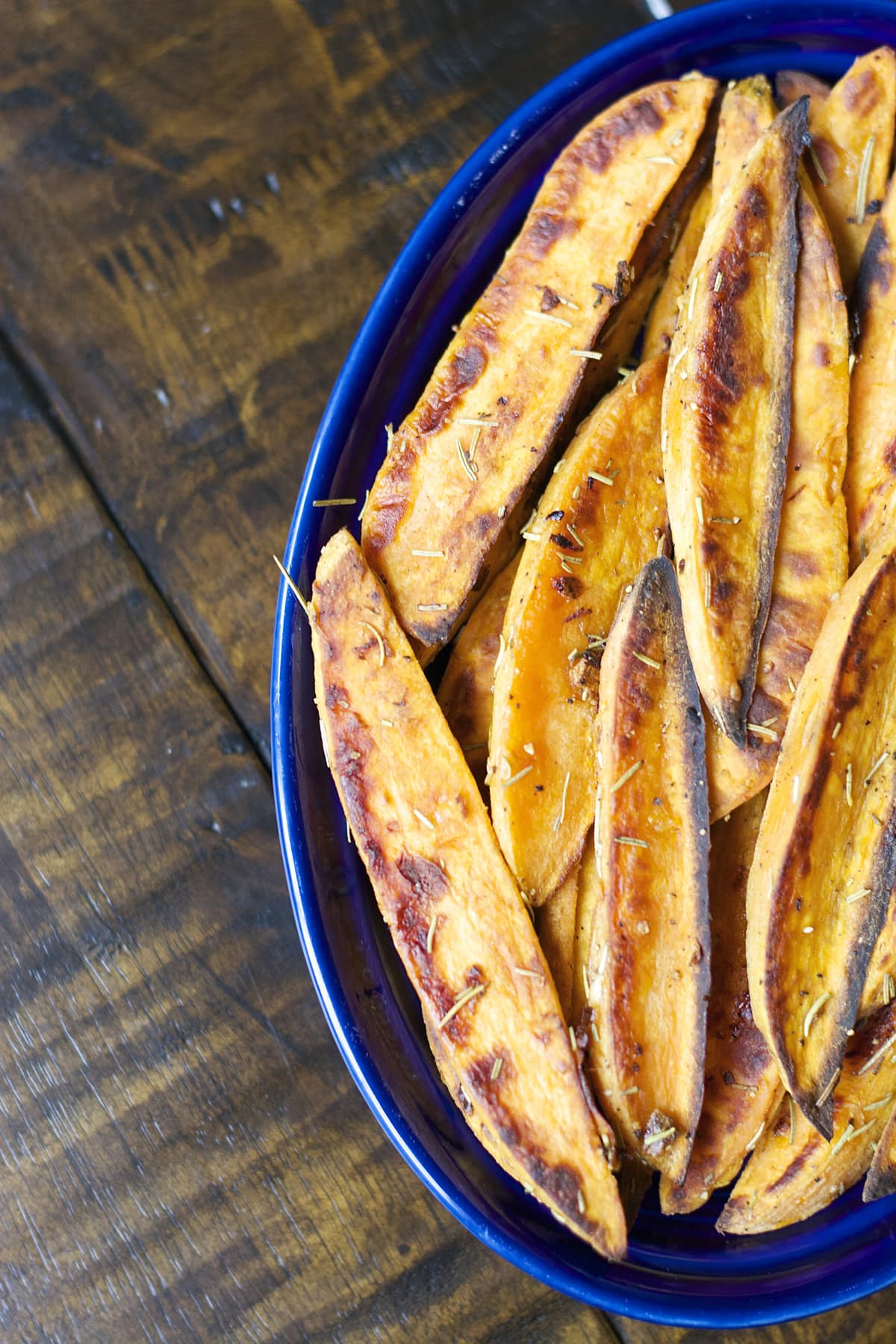 Do I Have to Peel Sweet Potatoes?
No! You can cut the sweet potato wedges as is. I actually like leaving the skin on because it gets super crispy. However, you're welcome to peel the sweet potato if desired.
Tips for Making Baked Sweet Potato Wedges
The key here is to let the garlic and rosemary sit in the olive oil for a little bit before you actually cook the fries. It helps to infuse the oil with all of that delicious flavor!
Feel free to switch up the herbs and spices used in this recipe. I used just dried rosemary, but sweet potatoes pair nicely with many herbs!
These roasted sweet potato wedges are best enjoyed right away while they're still crisp. If you have leftovers, I recommend reheating them in an oiled skillet.
More Easy Potato Side Dishes: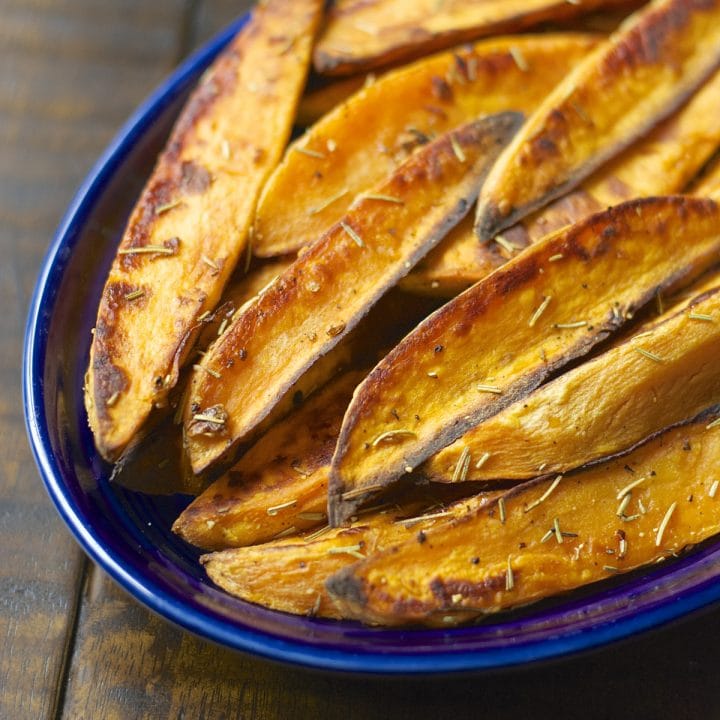 Rosemary Garlic Sweet Potato Wedges
Rosemary Garlic Sweet Potato Wedges are packed with flavor and baked until crisp on the outside and tender on the inside!
Ingredients
2 Sweet Potatoes, cut into wedges
3 tablespoons olive oil
3 cloves garlic, minced
1 1/2 teaspoons dried rosemary
1/8 teaspoon pepper
1/8 teaspoon salt
Instructions
Preheat oven to 400ºF.
Slice sweet potatoes into wedges, throw in a large ziplock bag and toss with the oil.
In a small bowl combine your spices well, and toss in with the sweet potatoes. Shake lightly until all of the wedges are covered well.
Place wedges in a single layer on a lightly sprayed baking sheet.
Bake 15 minutes, turn, then bake for 10 more minutes.