This Blue Cheese Buffalo Chicken Dip is packed with tangy buffalo sauce, crunchy celery, salty bacon, loads of cheese and shredded chicken! This is the ultimate game day appetizer!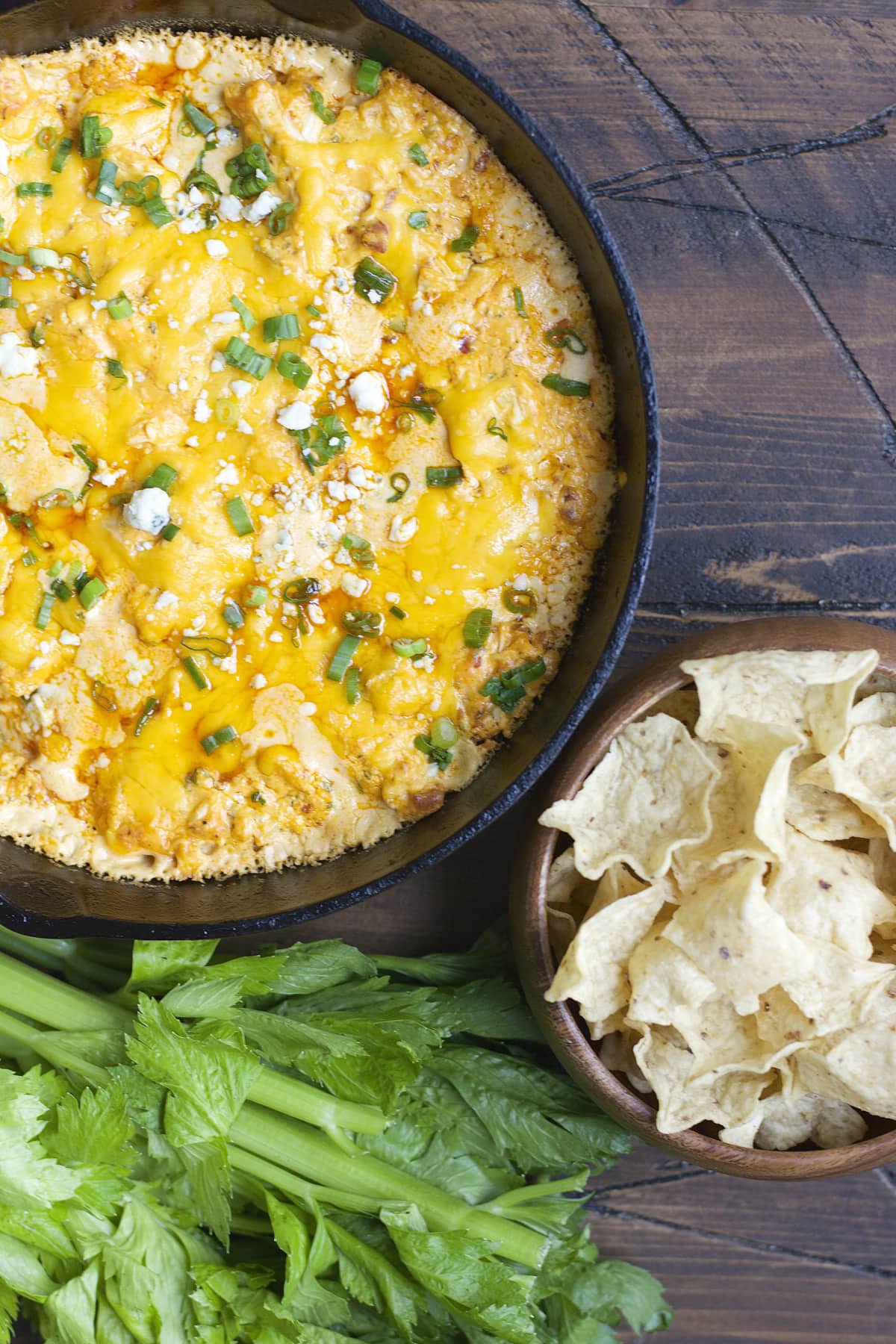 For the last two years, I have had a group of blogger friends that I talk to every single day. I talk to them more often than I talk to my real life friends actually.
It all started because of this weird obsession we have of taking photos of our food then putting it on the internet for the world to see. In the beginning our little group was a safe place to ask questions without feeling silly, a place to share your struggles or successes, just a somewhere you knew someone else "got" you.
Now it has developed into real friendships. I miss them when I don't talk to them, I worry about them when they struggle, I root for them to succeed. They are my coworkers, my teammates and I am so thankful for them. And I have never even met most of them in real life!
Last week we all decided to get tickets to the same food bloggers conference this Spring, so it will be nearly a dozen of us from all over the world finally meeting face to face. I am SO excited. This is an opportunity I really didn't think we would ever have!
And exciting things like that need to be celebrated! More specifically, they need to be celebrated with super cheesy dips!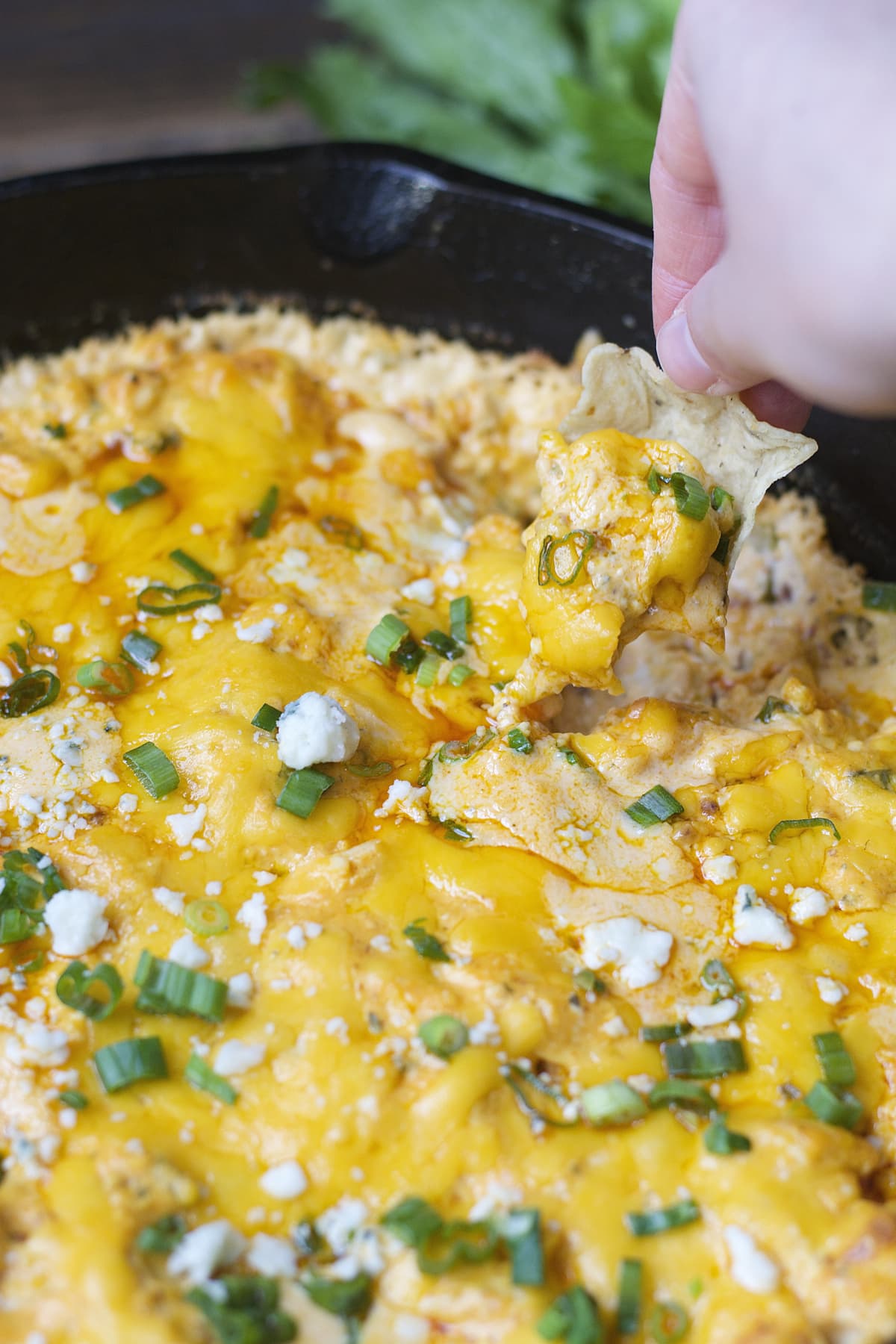 Ingredients for Buffalo Chicken Dip
Cream cheese (I used reduced fat)
Blue cheese dressing
Ranch dressing seasoning mix
Frank's Original Buffalo Wing Sauce
Cooked Chicken
Cooked Bacon
Celery
Green onions
Blue cheese
Cheddar cheese
How do I make Blue Cheese Dip with Chicken?
This dish could not be any simpler! Just mix, pour, and bake.
I mixed the softened cream cheese, dressing, seasoning mix, and sauce all together, then I dumped in everything else! Once they were well combined, I poured them into a skillet (you can use any oven-safe dish, but I love the sizzle that comes from a hot dip in a skillet!) and baked for 20 minutes.
I did choose to save half of the cheddar cheese to sprinkle on the top right before baking instead of stirring it all in, but that's up to you!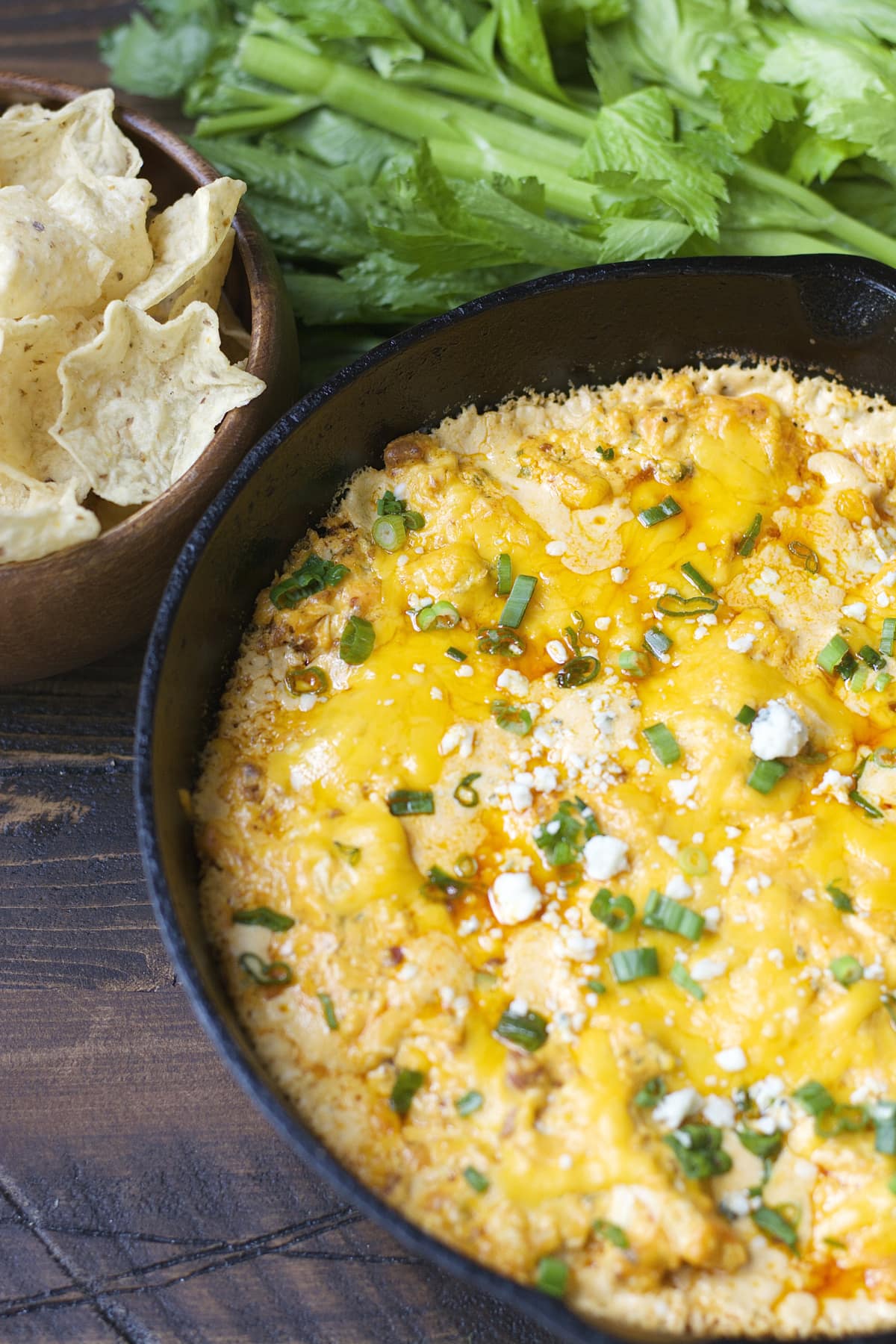 Can I make this dip ahead of time?
Yes, this dip is fantastic after being rewarmed! I do not recommend freezing this dip due to all the melted cheese–Sometimes it has a tendency to separate after thawing. Instead, it's best if this dip is made up to 3 days before you plan to serve it.
To reheat this dip, microwave covered in 45-second intervals until it's warmed throughout. You could also pour the dip back into a skillet and warm covered at 350 degrees.
You could also heat this up in a crockpot on low! This is a fantastic option if you need the oven and microwave for other dishes or want to keep this dip warm throughout an entire party.
What do you dip into Buffalo Chicken Dip if you're keto?
If you're sticking with a keto or low-carb diet, this dip is great as it's about 4 net carbs per serving! However, what you dip into it (the "dip vehicle," if you will) can get you into trouble.
This dip is fantastic with vegetables like cucumbers, mini sweet peppers, broccoli, and celery. Pork rinds, pepperoni slices, or cheese crisps could also work!
If you want to make some homemade dippers, these Air Fryer Green Beans would be amazing! You could even air-fry some low-carb tortillas (like these Zucchini Tortillas) into chips!
More Keto Party Food: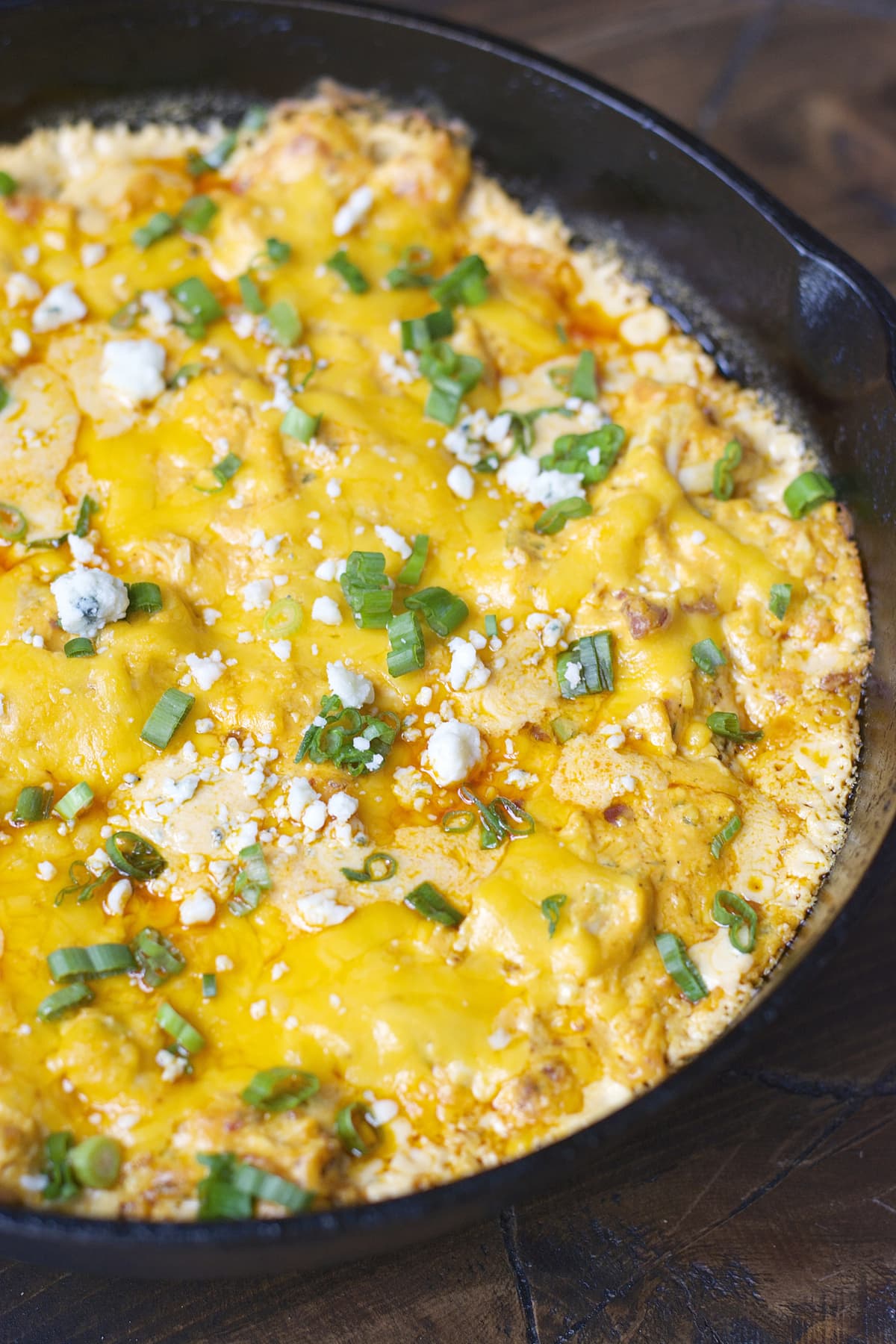 Blue Cheese Bacon Buffalo Chicken Dip
This Blue Cheese Bacon Buffalo Chicken Dip is packed with tangy buffalo sauce, crunchy celery, salty bacon, loads of cheese and shredded chicken! This is the ultimate game day appetizer!
Ingredients
1 (8 ounce) package of reduced fat cream cheese, room temperature
1/2 cup blue cheese dressing
1 (1 ounce) package Ranch dressing seasoning mix
1/2 cup Frank's Original Buffalo Wing Sauce
3 cups chicken, cooked and shredded
1/2 cup cooked, chopped bacon
1/3 cup celery, thinly sliced
1/3 cup green onions, thinly sliced
1/4 cup blue cheese
1 cup cheddar cheese, divided
Instructions
Preheat oven to 400 degrees.
In a small mixing bowl combine the soft cream cheese, dressing, Ranch seasoning, and Buffalo sauce. Mix until completely combined.
Stir in chicken, bacon, celery, green onions, blue cheese and 1/2 cup of the cheddar cheese until evenly distributed.
Spoon mixture into a greased cast iron skillet or deep dish pie plate.
Top with the remaining 1/2 cup shredded cheese.
Bake 20 minutes.
Nutrition Information:
Yield:

10
Serving Size:

Nearly 1/2 cup
Amount Per Serving:
Calories:

235
Total Fat:

14.6g
Cholesterol:

67.8mg
Sodium:

1130.5mg
Carbohydrates:

4.3g
Net Carbohydrates:

4.2g
Fiber:

0.1g
Sugar:

2.0g
Protein:

19g