This delicious Blood Orange Raspberry Sangria is perfect for the red wine lover. It's the best cocktail for beautiful brunch and bridal shower menus!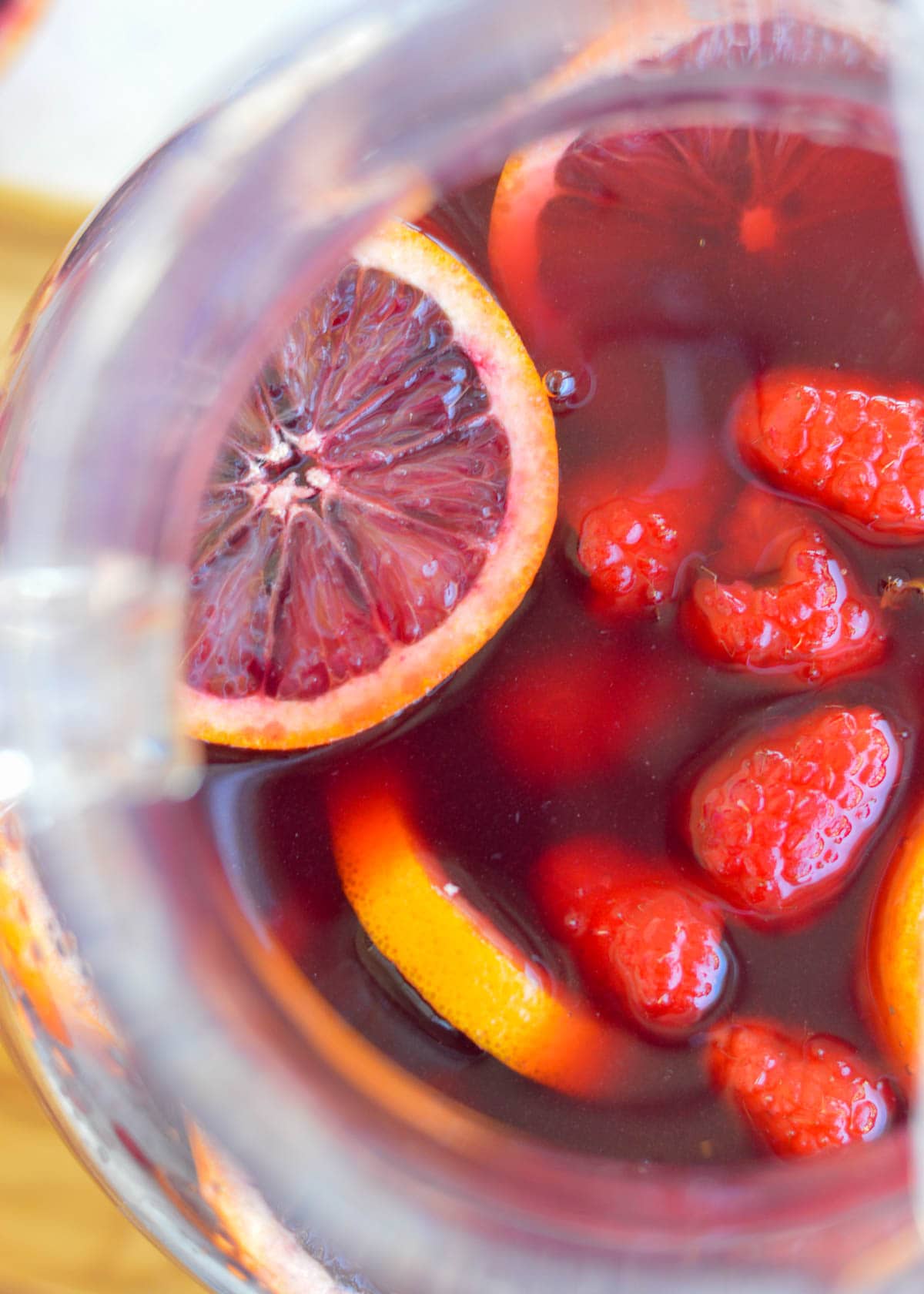 Blood Orange Red Sangria
This Blood Orange Raspberry Sangria is an absolutely beautiful cocktail that is perfectly light, sweet, and great for any party! Fresh fruit soaks in a delicious mix of pinot noir, citrus and raspberry liqueurs, and a bubbly soda for an amazing drink recipe you'll have to share.
This drink is great all year round, but it's especially what you want in the February and March months! Bold, dark red blood oranges are at their peak, right as fresh raspberries start to go on sale — The perfect combination for this smooth, citrus berry sangria. During warm weather, you'll love this sangria chilled with frozen fruit or ice, but it's just as delicious served at room temperature when you want to keep every ounce of warmth you have.
This is the perfect sangria to serve for the Super Bowl, brunches, holiday parties, and more.
Ingredients for Citrus Raspberry Sangria
Here's a quick overview of what you'll need for this fun Super Bowl Sangria. Keep scrolling down to the printable recipe card for exact measurements.
Red wine – I used a Barefoot's Pinot Noir
Liqueurs – I used part Triple Sec, part Chambord. Other citrus or berry liqueurs would be delicious as well. If you prefer less alcohol content, you could leave these out entirely.
Blood oranges – You'll need about 6 to produce 1 cup of juice, 3 sliced in the sangria, and perhaps another 1-2 for garnishes
Raspberries – These pair perfectly with the sweet blood orange flavor!
Ginger ale – This lightens up and acts as a sweetener to balance out the red wine. Lemon lime soda like Sprite can make it a bit sweeter while soda water would make it bubbly without adding more sugar.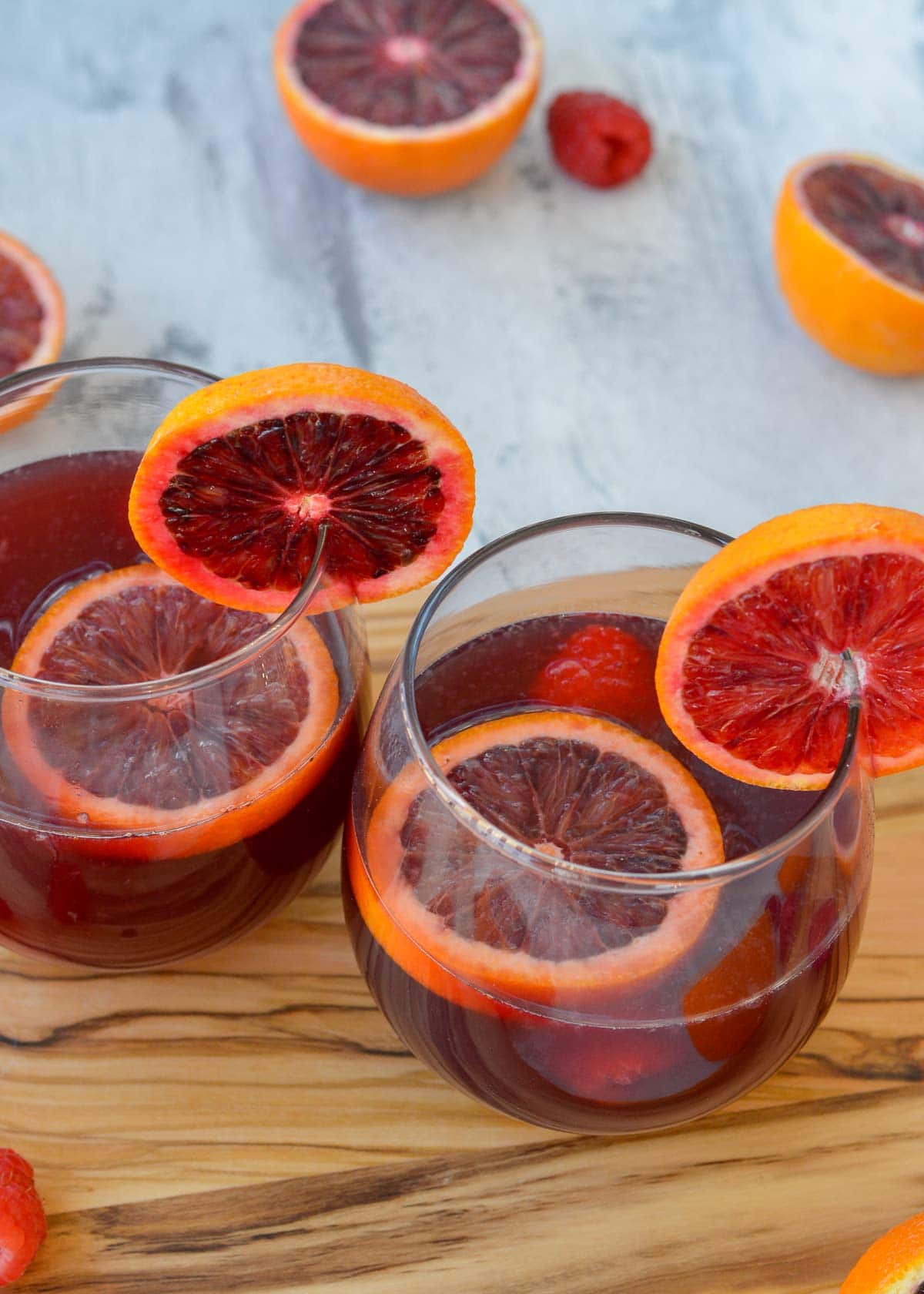 How to make the perfect red sangria
A sangria is very easy–The perfect cocktail to make before your guests arrive. Here's the perfect guide to making this easy brunch sangria:
Mix
In a large pitcher, combine the wine, juice, and liqueurs, stirring to combine. Pour in the raspberries and sliced blood oranges. If your pitcher has a tight fitting lid, you could go ahead and add your ginger ale. However, the ginger ale will lose its bubbly fizz if it's left long in an open container, so I prefer to add it just before serving.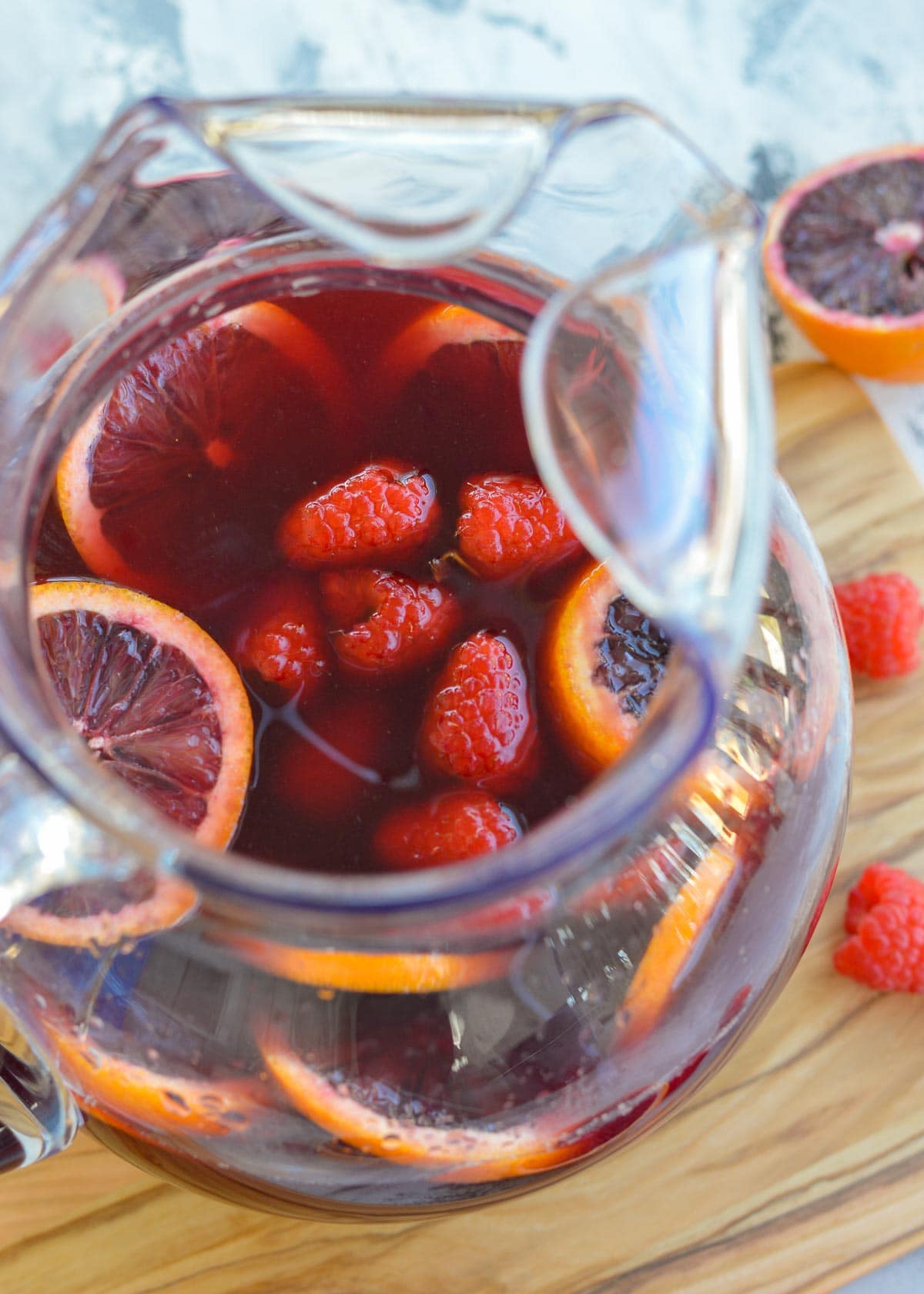 Chill
Place the sangria in the fridge and chill for a minimum of one hour, but overnight gives it a fantastic flavor! The raspberries and oranges flavors infuse beautifully for a complex yet light taste you will love.
Serve
We love serving this Blood Orange Sangria in a red wine glass with a big impressive blood orange wheel on the lip. If you want to keep the sangria cold but don't want to water it down, I've found that frozen raspberries make the PERFECT sangria ice cubes! Just freeze them ahead of time and serve them in the glasses.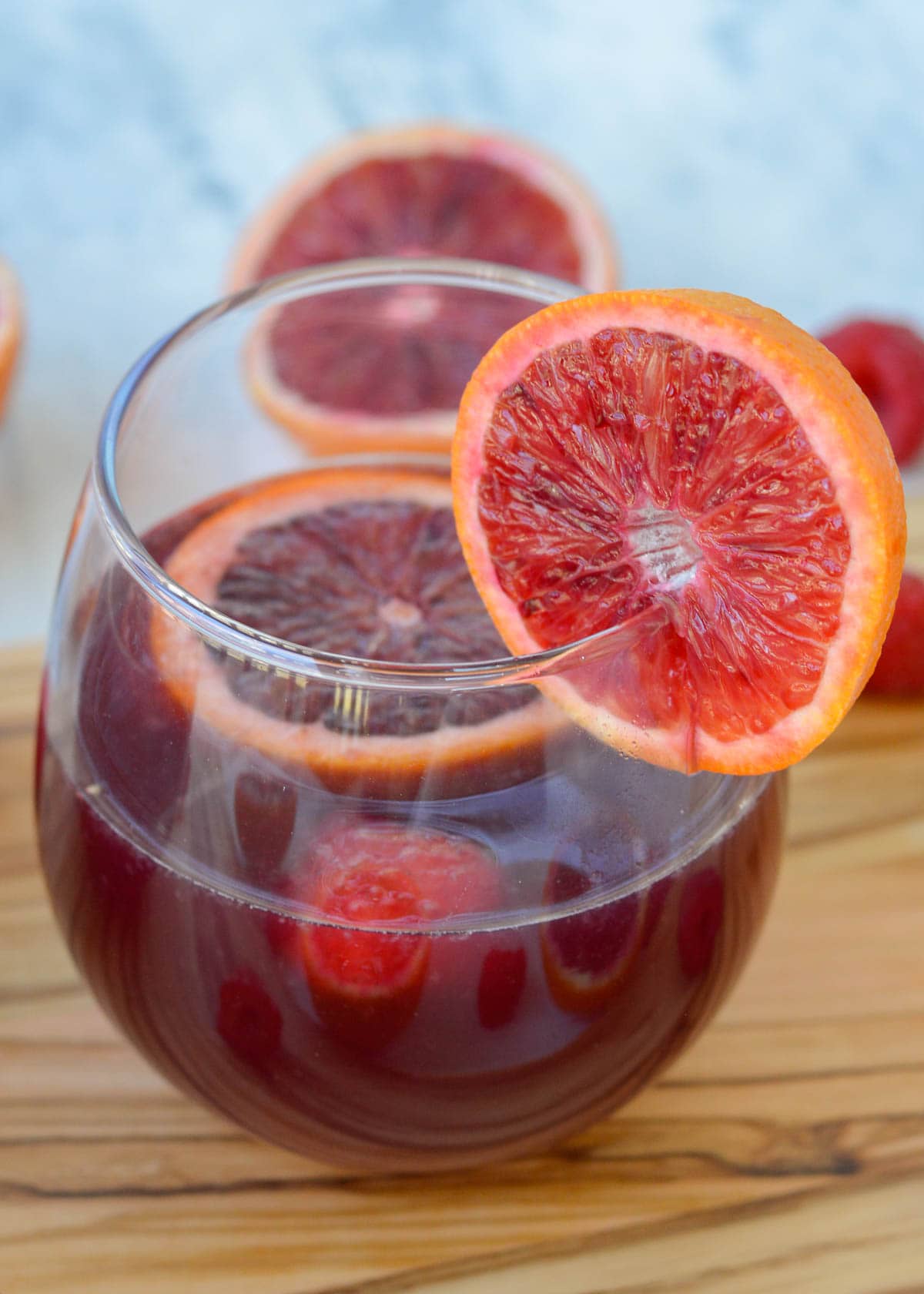 Store
Store this sangria in the fridge up to 48 hours. Keeping it in an airtight container makes it easier to make sure it doesn't pick up other fridge flavors, but it doesn't need a lid unless you've already added the ginger ale (or other carbonated drink of your choice).
Can I make sangria ahead of time?
Yes, this late winter sangria is the perfect party cocktail to make ahead of time! You can make this sangria up to 48 hours ahead of time, but I personally believe the best taste and texture come around the 24 hour mark. Add the ginger ale just before serving.
If you like this red wine sangria, you will love these delicious party drinks: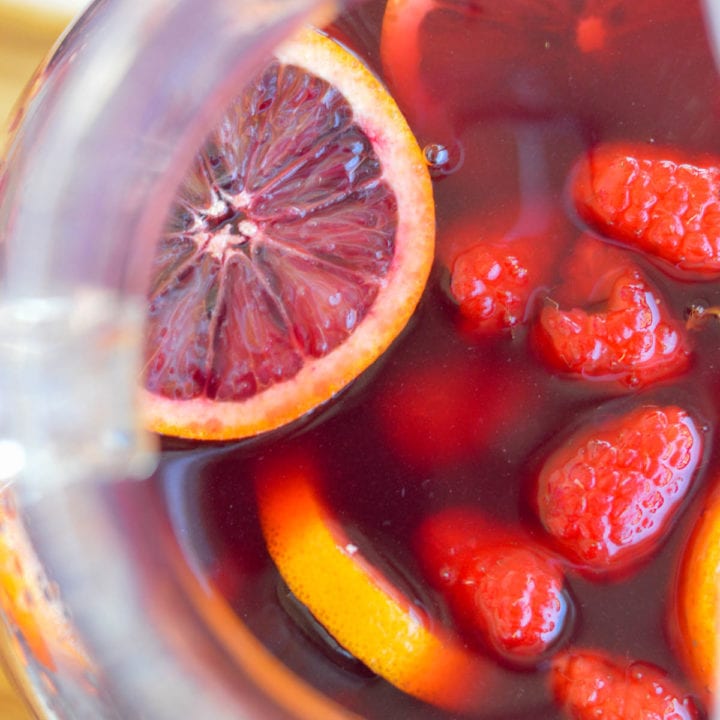 Blood Orange Raspberry Red Sangria
Total Time:
1 hour
5 minutes
This delicious Blood Orange Raspberry Sangria is perfect for the red wine lover. It's the best cocktail for beautiful brunch and bridal shower menus!
Ingredients
1 750 ml bottle pinot noir
1 cup fresh squeezed blood orange juice
1/2 cup orange and raspberry liqueurs (I used 1/4 cup chambord and 1/4 cup triple sec)
1 pint raspberries
3 blood oranges, sliced
2 cups ginger ale
Instructions
Combine wine, juice, liqueurs, and fruit in a large pitcher. Allow to chill 1-4 hours in the fridge.
Immediately before serving, stir in ginger ale.
Notes
Liqeuers can be omitted if you prefer a less alcoholic sangria. If you prefer a less sweet sangria, omit or reduce the ginger ale.
To keep chilled without watering down with melting ice, you can freeze blood orange slices and raspberries and use as ice cubes in glasses.
Nutrition Information:
Yield:

7
Amount Per Serving:
Calories:

159
Total Fat:

0.3g
Sodium:

5.4mg
Carbohydrates:

18.9g
Fiber:

3g
Sugar:

12.5g
Protein:

0.9g