This sweet and delicious Mango Moscato Smoothie has only two ingredients and is perfect for all your summer parties!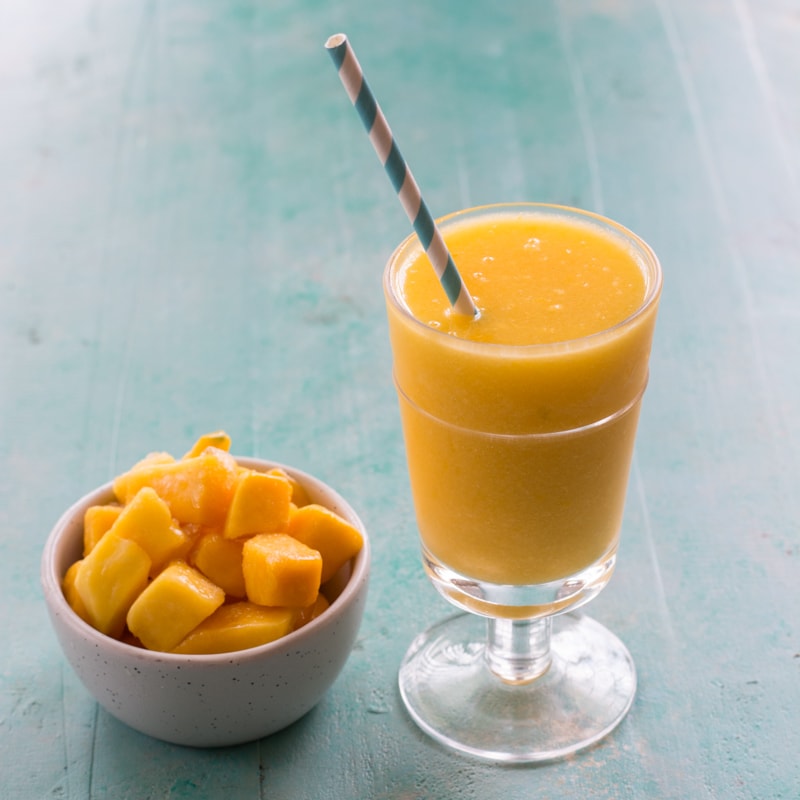 Are you melting yet? I am. I have said it before and I will say it again. Summer is just not for me.
I try really hard to enjoy the best of what each season has to offer, and while I do love the produce summer brings, I would gladly trade these perfect tomatoes for 70 degrees and sunny. I am so over summer that I just ordered a bunch of fall clothes. Scarves, sweaters, cardigans, leggings, the works.
Of course I can't wear any of it yet, unless I want to suffocate, but in my mind the leaves are already changing and pumpkin is on the horizon. I'm already dreaming about Pumpkin Bread and Pumpkin Spice Lattes!
Since it appears summer is showing no signs of slowing down, I am bringing you the best invention ever. A Mango Moscato Smoothie (AKA the best thing that has happened all summer long). So here's to Thursday, but wishing it was Friday! Cheers!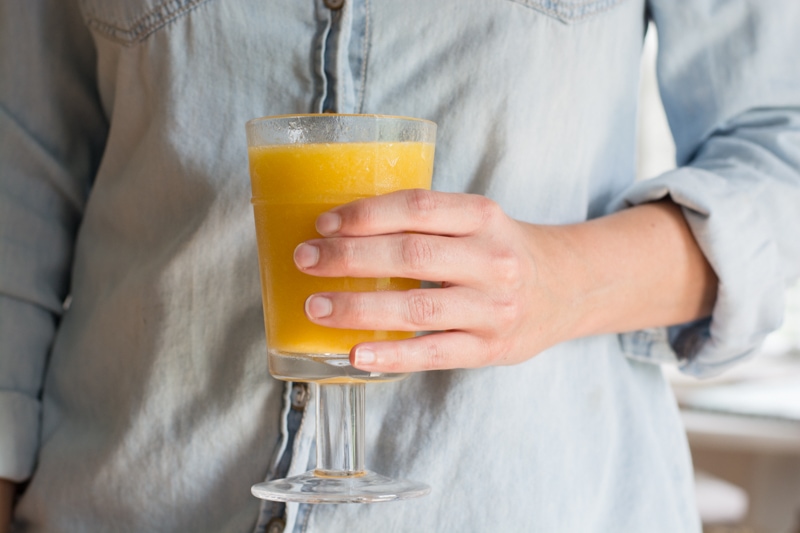 How do I make Mango Moscato Smoothies?
This is the ultimate easy recipe. Just two ingredients here: frozen mango and Moscato wine. Pour both into the blender, blend for 20 seconds (or until smooth), and suddenly your day just got a little better! You can easily make an entire pitcher by doubling, tripling, or quadrupling the recipe.
Can I make this non-alcoholic?
Of course! This smoothie really just requires a frozen fruit and a liquid. Instead of the Moscato wine, you could blend the mango with any juice or milk you like. White grape juice may keep the taste the most similar, but you could substitute peach, nectarine, orange, apple, or pineapple juice to create a delicious smoothie that keeps you sober!
What should I serve with Mango Moscato Smoothies?
This is the perfect drink for brunch, so why not play it up?! These Keto Breakfast Hot Pockets are fun and filling, or you could go for the this Bacon and Asparagus Quiche (also low-carb). These Keto Spinach and Bacon Egg Muffins are perfect for summer, pretty to look at, and nutritious! Or treat yourself to these delicious Strawberry Pancakes with Cream Cheese Glaze! If you'd like a non-alcoholic smoothie to offer, this Cranberry Orange Smoothie would be a great choice as well!
This would also be a beautiful (and easy!) drink to offer at wedding showers or baby showers. These Cheesecake Stuffed Strawberries taste just as deliciously as they look! This Avocado Bacon Dip would add a nice splash of color as well, or maybe this Apple Pico De Gallo would be more up your alley! You could even let people choose their own preferences with a well-done Charcuterie Board.

More Summer Brunch Recipes: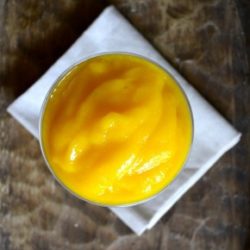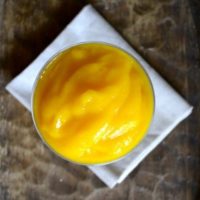 Mango Moscato Smoothie
This sweet and delicious Mango Moscato Smoothie has only two ingredients and is perfect for all your summer parties!
Ingredients
3/4 cup chopped frozen mango
1/2 cup moscato wine
Instructions
Place all ingredients in the blender and blend for 20 seconds or until smooth.
Enjoy!
Nutrition Information:
Yield:

1
Serving Size:

1
Amount Per Serving:
Calories:

86
Total Fat:

0.5g
Cholesterol:

0mg
Sodium:

1.2mg
Carbohydrates:

18.8g
Net Carbohydrates:

16.8g
Fiber:

2g
Sugar:

16.9g
Protein:

1g