Try these Keto Broccoli Bites for an easy low-carb snack or side dish! Each mini muffin is packed with tender broccoli and loads of cheddar cheese and is less than one net carb each.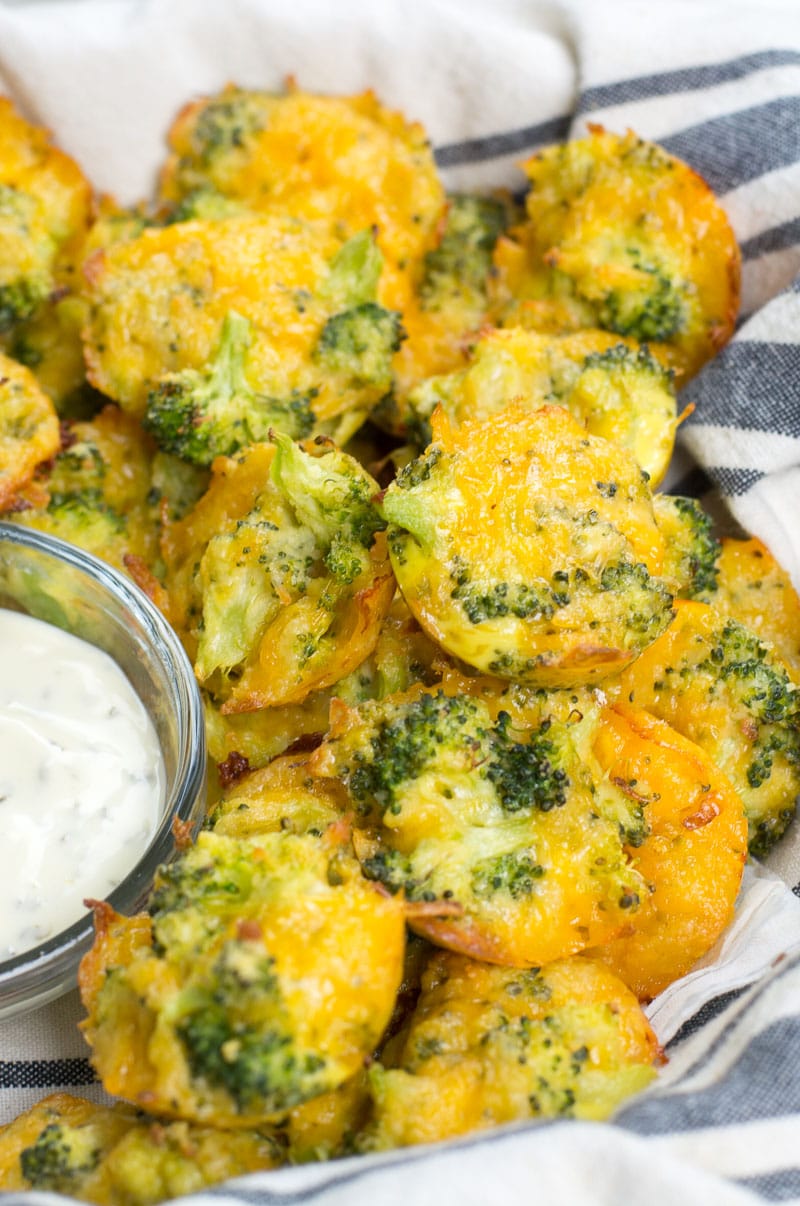 You guys know how much I love my "keto bites", and you guys love them too! These Keto Pizza Bites, Ham and Cheese Bites, and Sausage Egg Bites are some of the most popular recipes on my site. I think what makes them so popular is that they are all about one net carb, loaded with cheese, and are soft and fluffy to help you feel like you are getting your carb fix.
I've had several requests for some non-meat keto bites for our vegetarian friends or for those of you looking for an easy low-carb side.
These Keto Broccoli Cheddar Bites fit the bill perfectly. They are loaded with broccoli, cheddar and spices and they go perfectly with everything! And bonus, broccoli is in season right now!
Keto Broccoli Bites Ingredients
The ingredients list for these keto broccoli and cheese bites is short and sweet. Here's all you'll need to make this recipe:
Broccoli
Cheddar Cheese
Cream Cheese
Spices (garlic powder, salt & pepper)
Eggs
Coconut Flour
Baking Powder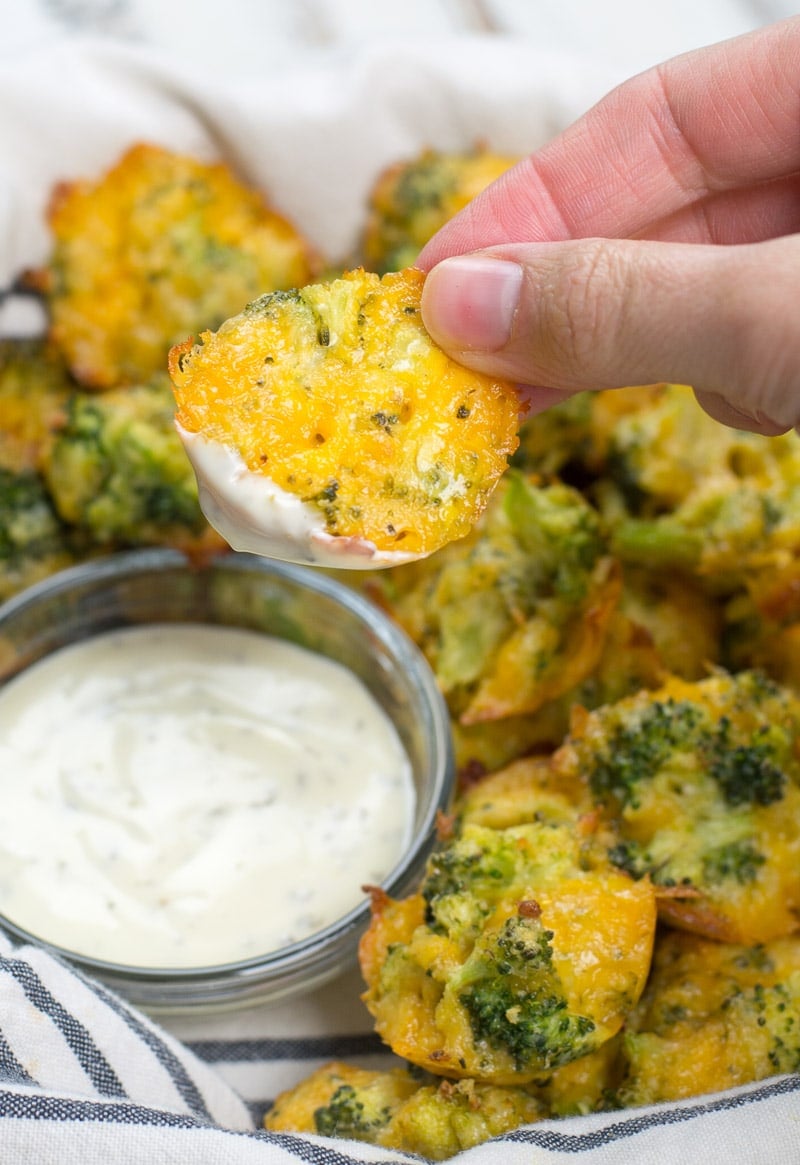 How to Make Broccoli Bites
The base for this recipe is, of course, broccoli. I find I get the best results from lightly steamed broccoli. You can steam fresh broccoli until tender or you can use frozen broccoli in a microwave friendly steam bag.
Once the broccoli is tender, lightly chop it, removing as many of the big stems as you can.
Combine the chopped broccoli with cream cheese, cheddar cheese and spices. Add the beaten eggs (make sure the broccoli has cooled so it doesn't cook the eggs) and then stir in the coconut flour and baking powder.
As with all of the keto bite recipes on this site, allow the mixture to chill 10 minutes to allow the flour time to absorb all of the moisture. Carefully spoon the mixture into mini muffin tins. I use a silicone muffin tin so the bites do not stick and always come out cleanly.
Can I Freeze These?
I bet you could! The texture of the broccoli may change slightly once frozen, but I imagine the keto broccoli bites would still be tasty.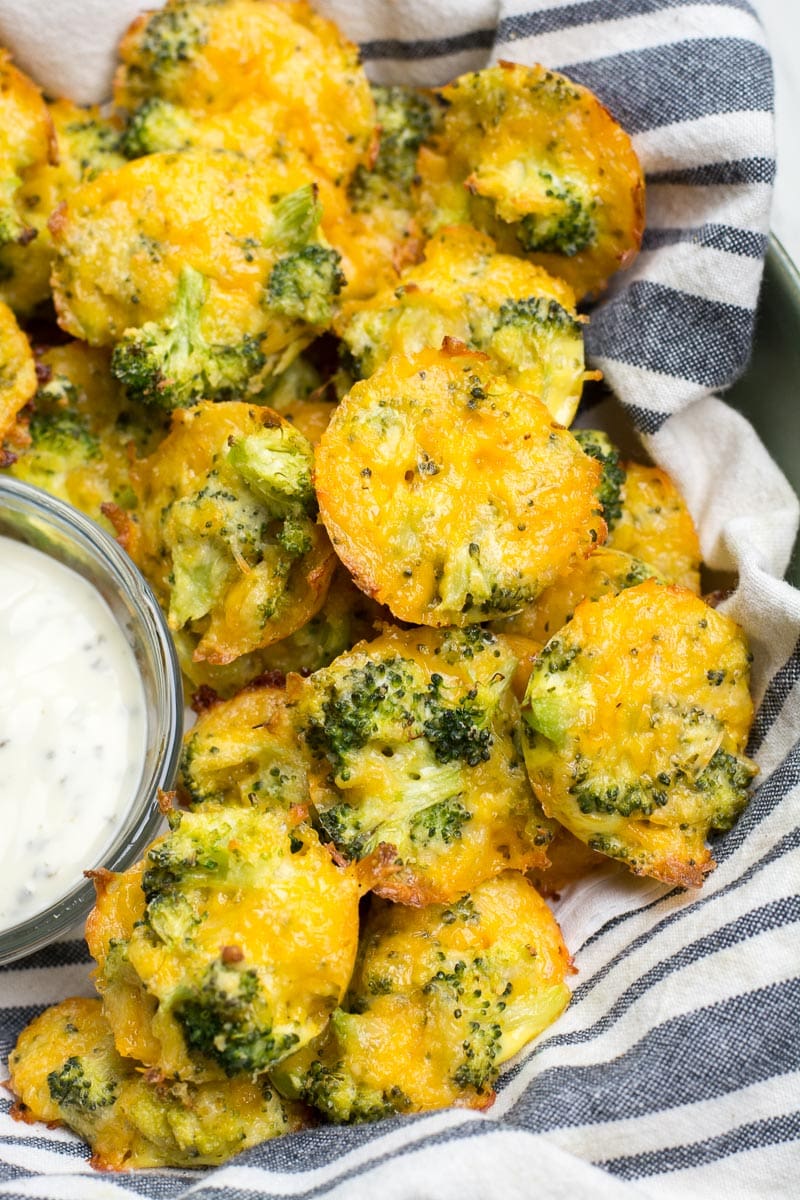 Can I Use Almond Flour?
I've only tested these bites with coconut flour, so I can't speak to whether or not almond flour would work. If you try it out, please leave me a comment below letting me know your thoughts!
Tips for Making Broccoli Cheese Bites
I think these cheesy veggie-packed bites make a great snack. I like to dip them in low-carb ranch dressing.
They also make a great side dish for Steak and Eggs or these easy Steak Rolls.
These broccoli and cheese bites reheat perfectly, making them a great meal prep option. Chicken or tuna salad, iceberg lettuce for wrapping and a few broccoli cheddar bites make an easy and delicious low-carb lunch.
More Keto Broccoli Recipes: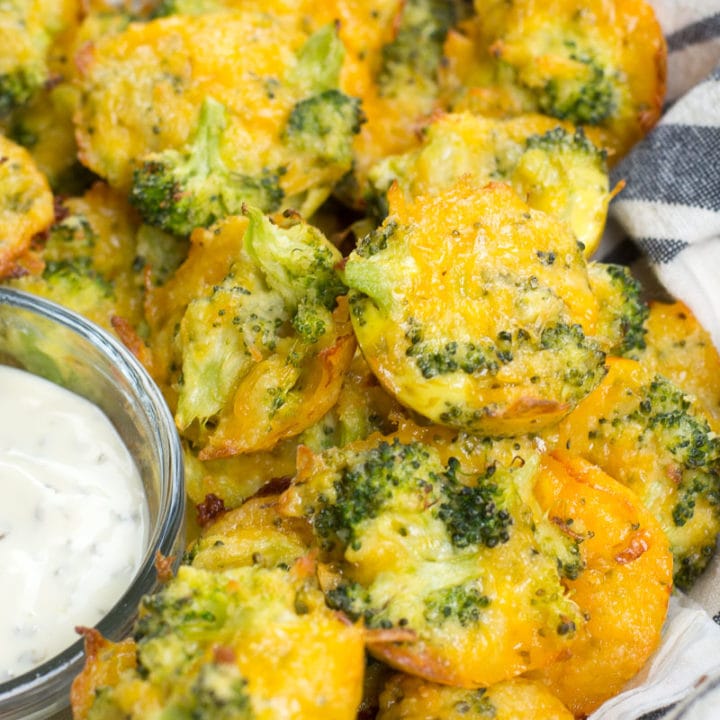 Keto Broccoli Bites
Try these Keto Broccoli Bites for an easy low-carb snack or side dish! Each mini muffin is packed with tender broccoli and loads of cheddar cheese and is less than one net carb each.
Ingredients
3 cups lightly steamed and chopped broccoli
1 ounce cream cheese, softened
1 1/2 cup cheddar
1/2 cup parmesan
1/2 teaspoon garlic powder
1/4 teaspoon salt
1/4 teaspoon pepper
2 eggs, beaten
2 tablespoons coconut flour
1 teaspoon baking powder
Instructions
Preheat oven to 400 degrees F.
Steam the broccoli, chop lightly and remove the tough stems.
In a medium size mixing bowl combine the cream cheese, cheese, spices and eggs. Stir in the broccoli.
Fold in the flour and baking powder.
Chill dough 10-15 minutes to allow the flour to absord the moisture, DO NOT SKIP THIS STEP.
Spoon into a silicone mini muffin pan.
Bake 12-15 minutes.
Recommended Products
As an Amazon Associate and member of other affiliate programs, I earn from qualifying purchases.
Nutrition Information:
Serving Size:

Nutrition per bite.
Amount Per Serving:
Calories:

46
Total Fat:

3.3g
Carbohydrates:

1.3g
Fiber:

0.4g
Protein:

2.9g

Other Easy Keto Recipes
If you are new to Keto try my favorite Sausage Egg and Cheese Bites, they contain less than one net carb per bite and they are perfect for meal prep! One of my favorite easy low carb dinners is this One Pan Cabbage Casserole. It is so easy, cheesy and delicious and it has less than 9 net carbs per serving. Some other favorites, Keto Chocolate Cookies, Pimento Cheese and Bacon Stuffed Peppers and Sausage and Cream Cheese Pinwheels!