These five ingredient Cake Batter Bars are a sweet gluten free treat! These easy cereal snack bars are the perfect school snack for your kiddos!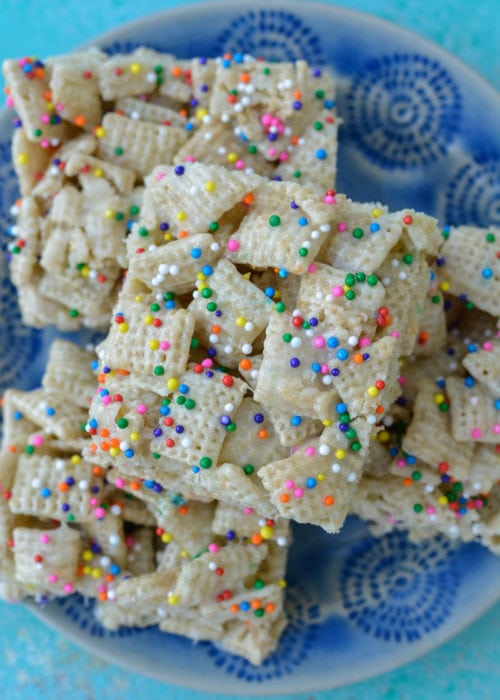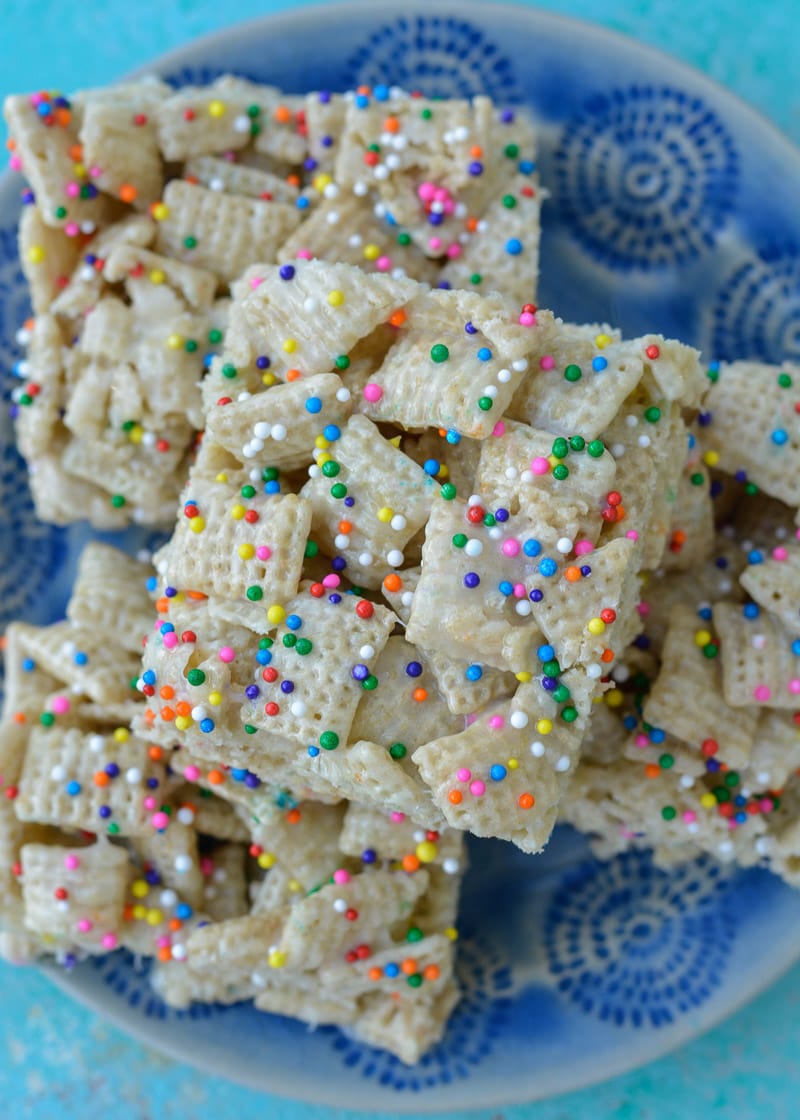 I adore sprinkles. They remind me of my very sassy niece, who will eat ANYTHING as long as sprinkles are covering it. She's also quite partial to my Banana Pudding Bites and Keto Dark Chocolate Cookies.
They also remind me of some of my favorite memories growing up. We always had a big fair that came to town every year, and you better believe the four of us were all itching at the bit to go every year! Fairs are amazing for kids for a number of reasons, but what really sticks out to me is the FOOD.
Who DOESN'T love fair food?! Deep fried oreos, ice cream, cotton candy, deep fried twinkies….I am drooling just thinking about it. The sweets you find at a fair are seriously a blessing.
Despite the dentist bill, my parents still took us all every year. We would all scurry into the car and be absolutely exploding with excitement every year- I still love the fair today!
One year, my younger brother went a little too hard on the popcorn. Butter covered popcorn combined with a Tilt-A-Whirl? I mean, hello.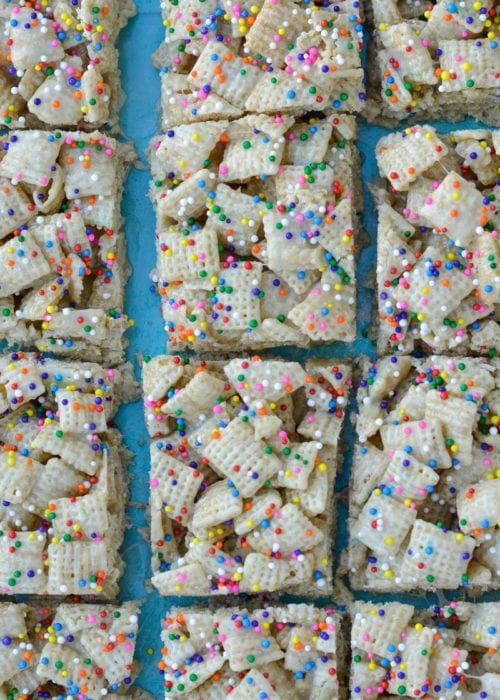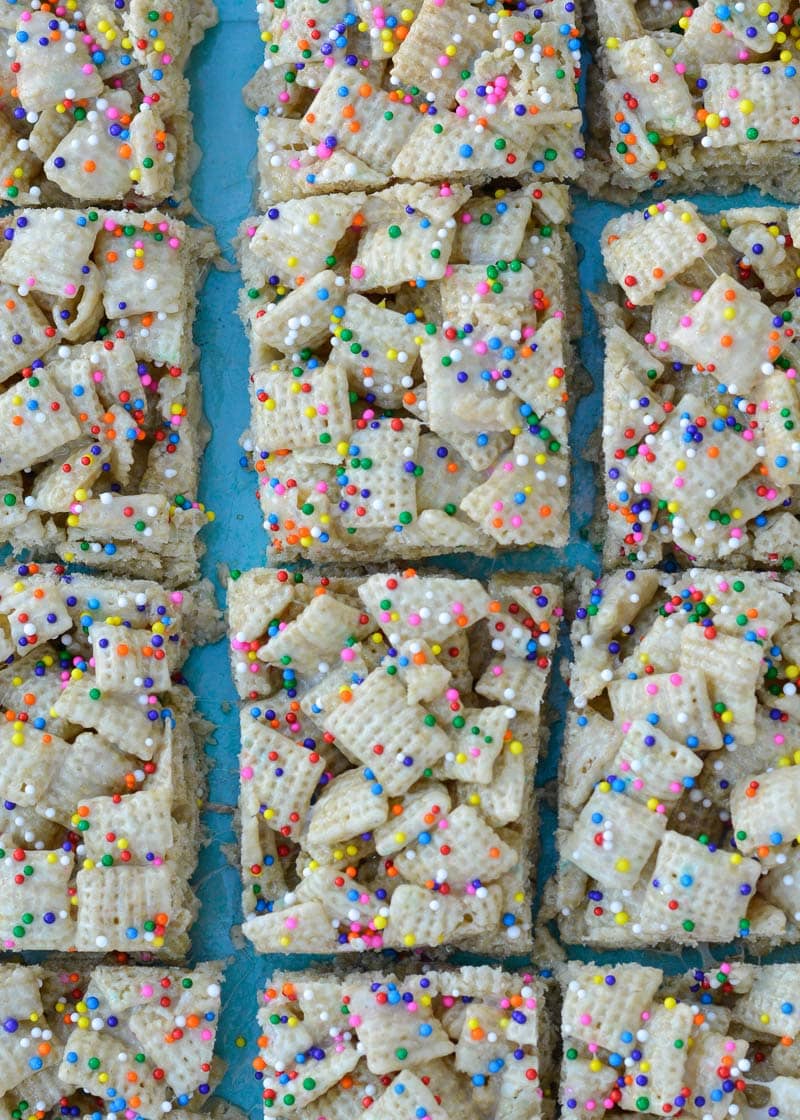 So here comes my brother, hobbling off of the ride, looking a little green but otherwise insisting he was fine. So we continued our fair outing to everyone's delight. Well, the ride home is where the popcorn really came to roost.
My poor brother's stomach could no longer contain the popcorn, and my sweet second sister took the fall. Yep, he threw up on her. So maybe not everyone in my family remembers fairs as optimistically as I do. But hey, I never lost my dinner!
What I remember the most about the fair is how much I loved these huge Rice Crispie Treats they sold- seriously, they were the size of my head. Chewy, sweet and covered in, you guessed it, sprinkles. I have loved Rice Crispie Treats to this day.
I knew I needed another sprinkle fix in my life, so to accommodate our gluten free diet, I came up with these Cake Batter Bars! These bars are gooey, indulgent and everything you could ever want them to be. They are so satisfying to even the biggest sweet tooth!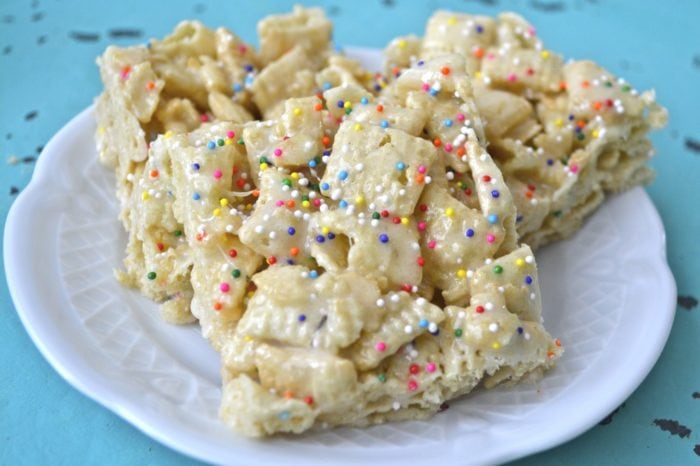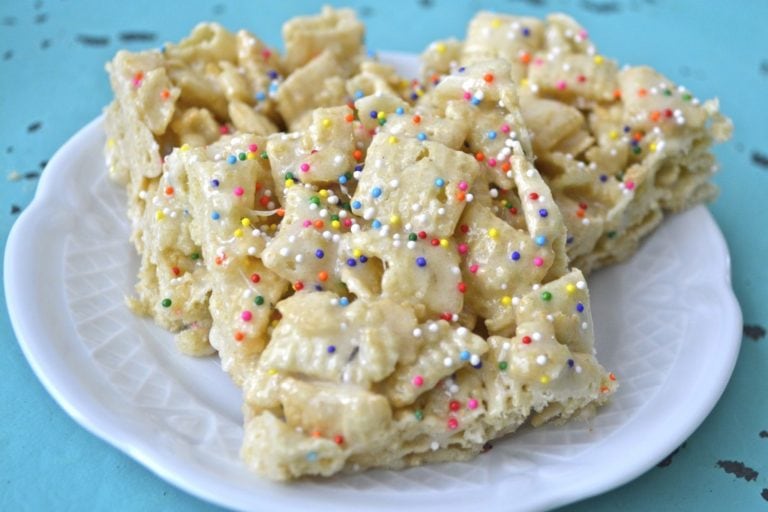 Ingredients for Chex Cereal Bars
As always, this is a quick overview of the ingredients you will need. For the complete recipe just keep scrolling.
Vanilla Chex: alternatively, you can use rice or corn Chex. For a chocolate version, use Chocolate Chex.
Marshmallows: if you are gluten free, Dandies are labeled gluten free.
Butter: salted or unsalted work for this recipe.
Vanilla Extract: adds flavor and helps to mimic the cake batter flavor.
Sprinkles: not necessary as far as flavor goes, but super fun!
How do you make Cake Batter Bars?
These bars are made just like traditional Rice Krispie bars, but instead of rice cereal, we use Chex. You just need to follow two basic steps to make these easy cereal bars:
In a large sauce pan or microwaveable bowl melt the butter, then stir in the marshmallows and microwave in 30 second increments, stirring well, until the marshmallows are completely melted.
Stir in the Chex cereal and make sure they are well coated. Stir in the sprinkles and spread the mixture into a lined 11×7 pan. Then just chill the mixture until set, and slice!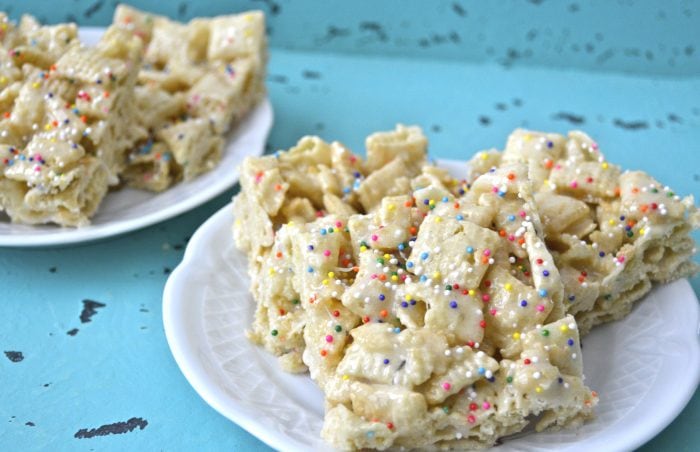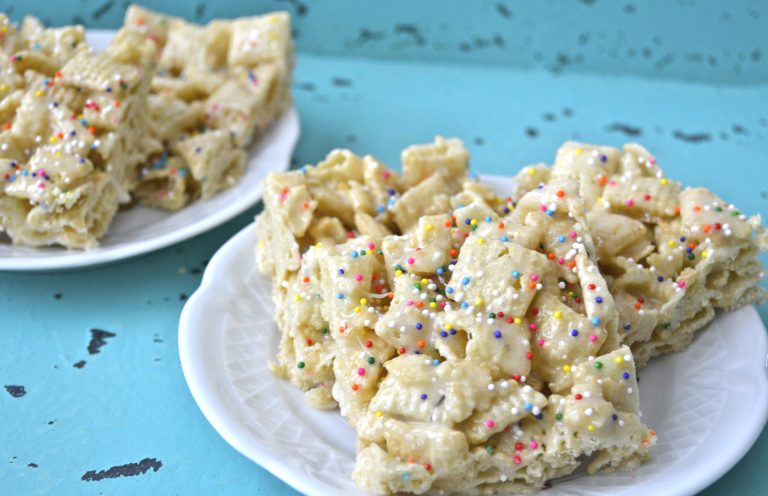 How do you Store Cake Batter Bars?
I stored these Cake Batter Bars in an airtight container in the fridge. These bars will stay good for two days in this way. If you wanted to prepare these bars beforehand or save them for a longer period of time, you can always freeze them!
To freeze, place the bars onto wax paper and place in an airtight container. Be sure not to layer these bars on top of each other without an additional layer of wax paper in place. By keeping these Cake Batter Bars in the freezer, they will stay good for six weeks! Just bring them to room temperature 15 minutes before serving.
Other No Bake Desserts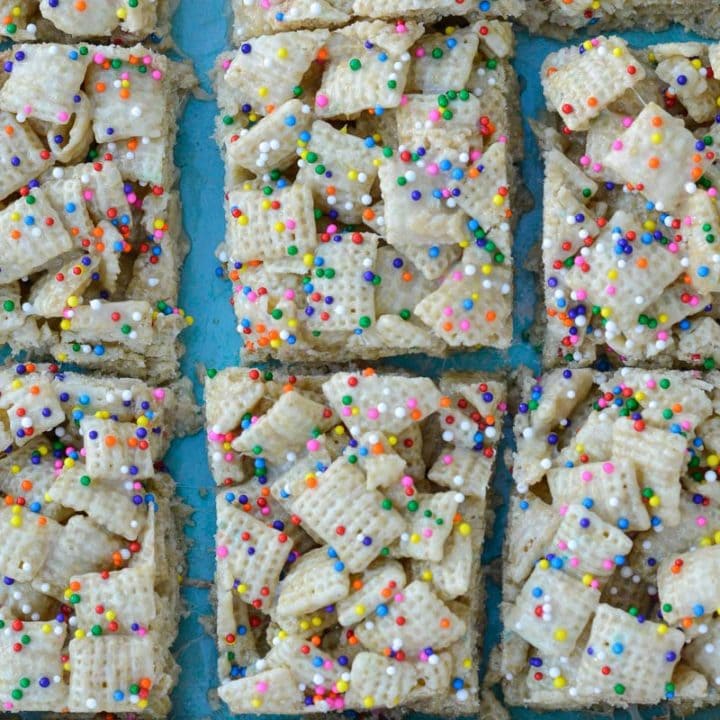 Cake Batter Bars
These five ingredient Cake Batter Bars are a sweet gluten free treat! These easy cereal snack bars are the perfect school snack for your kiddos!
Ingredients
5 cups Vanilla Chex
5 cups of marshmallows
4 tablespoons butter
1.5 teaspoons vanilla extract
1-2 teaspoons sprinkles
Instructions
Heat a medium size sauce pan to medium low heat, add butter and let it slowly melt. When butter is mostly melted add in the marshmallows and stir them regularly.
When the butter and marshmallows are totally melted add the vanilla extract and sprinkles
Line an 11x9 pan with wax paper, lightly spray with cooking oil and set aside.
Add the cereal to the marshmallow mixture, stir well, and spread into the pan then top with additional sprinkles if desired.
Place in the fridge and let the bars firm up.
When you are ready to cut turn them out onto a cutting board, removing the wax paper and cut into squares.
Store in an airtight container in the fridge.
Nutrition Information:
Yield:

12
Serving Size:

1
Amount Per Serving:
Calories:

173
Total Fat:

5.4g
Cholesterol:

10.2mg
Sodium:

121.4mg
Carbohydrates:

31g
Net Carbohydrates:

30.6g
Fiber:

0.4g
Sugar:

15.6g
Protein:

1.2g