This Bacon, Ham, and Egg Wrap with Honey Dijon Sauce is a hearty breakfast wrap that your whole family will love!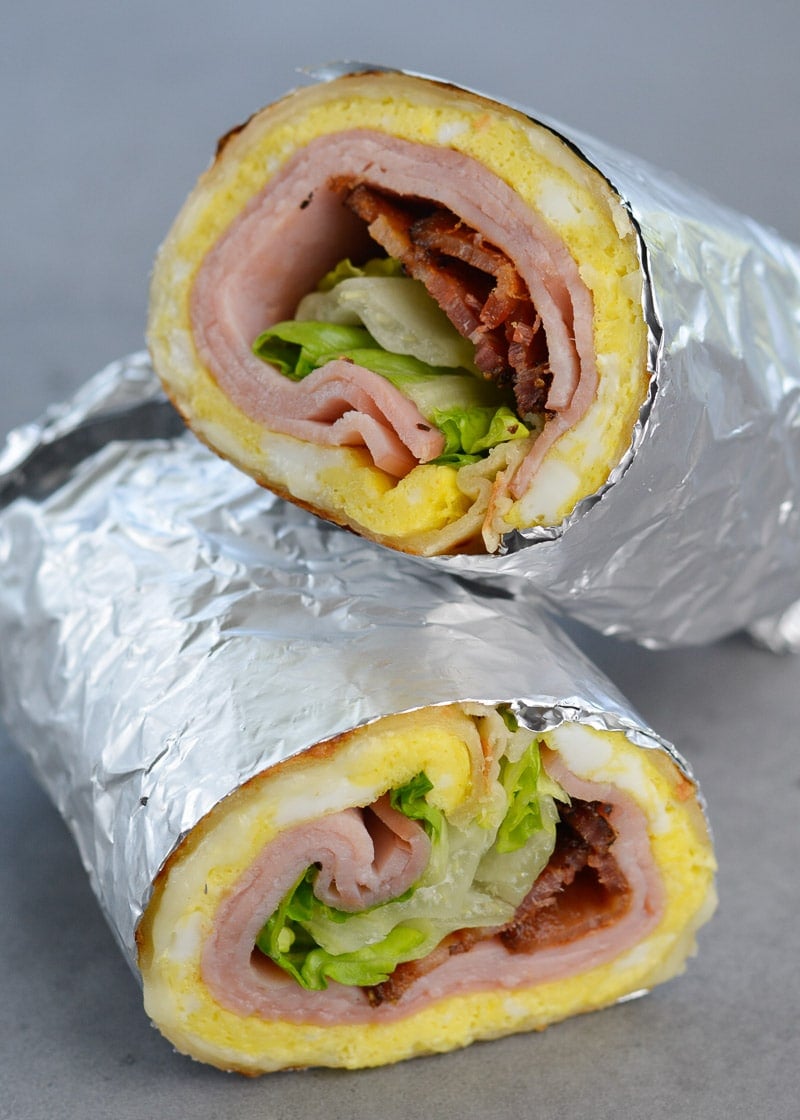 Sometimes when I ask Mr. Maebell what he wants for dinner he looks at me with pleading eyes and says, "please..just something simple." I have said before that spouses of food bloggers will someday need a support group. I totally stand by that. Sometimes I get caught up in an idea and go a little overboard. The dinner might be good, but it is a little much. Or the other side of that is that I get an idea, spend a lot of time on it, and then decide it is terrible and we eat cereal for dinner. That also happens a lot.
So, when he politely asks me to chill the heck out with the meals I don't really blame him. That is kind of what happened the night that I made this wrap. Luckily, it ended up being a no fuss meal that was actually pretty darn impressive. I combined a lot of basic staples together to make a really filling wrap. Some deli ham, a couple slices of cooked bacon, an egg, swiss cheese, lettuce, tomato, and of course a nice little sauce to top it all off.
This has quickly become one of our favorites. It can be thrown together in under 20 minutes and is sure to please even your pickiest eater!
Ingredients for a Breakfast Wrap
Tortilla: regular, gluten free or low carb all work well
Meat: cooked bacon, deli ham
Eggs: cooked, fried eggs
Swiss cheese: good quality sliced Swiss cheese
Vegetables: lettuce (tomato also if desired)
Condiments: Dijon, honey and mayonnaise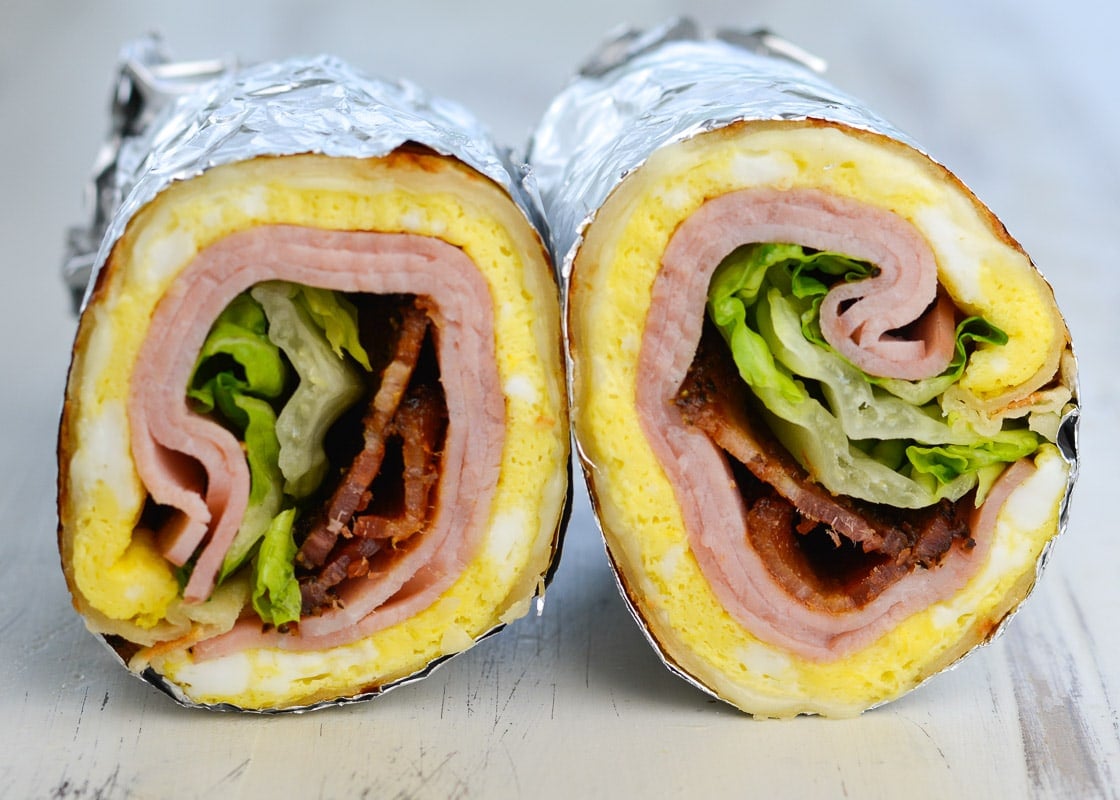 How do I make Bacon, Ham and Egg Wrap?
This wrap is super easy to make! Simply follow these three basic steps!
Warm a tortilla in a large skillet or in a microwave so it is easily pliable.
Combine the dijon, honey and mayonnaise until smooth. Spread the sauce on each warm tortilla. Top with cooked egg, Swiss cheese, deli ham, cooked bacon and lettuce.
Tightly wrap the tortilla and slice in half. Enjoy!
Is this wrap good for meal prep?
While it is possible to make this wrap ahead of time I feel it is best eaten fresh. Wraps that contain deli meat, or grilled meat hold up much better than this wrap that also contains an egg. Some good meal prep wraps are: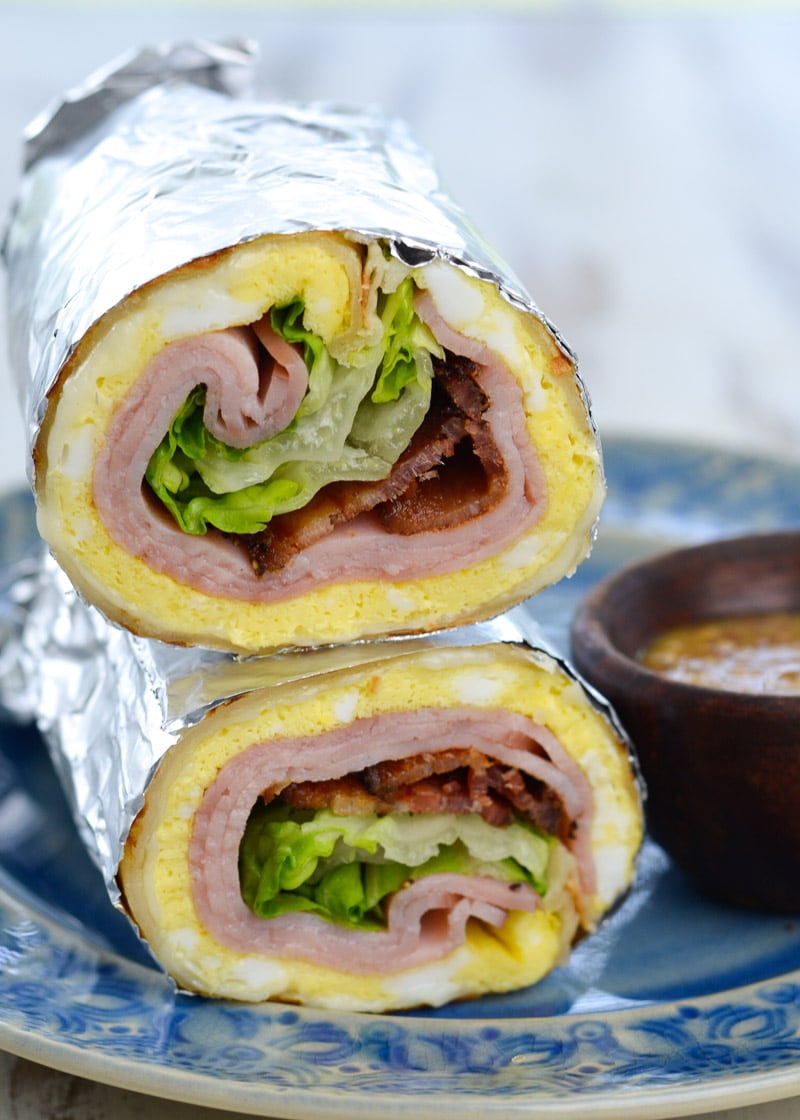 What are some other easy healthy recipes?
I am always on the hunt for simple, healthy recipes. I love this California Turkey Club Wrap, it is quick, easy and packed with flavor! These are some of my other go to recipes: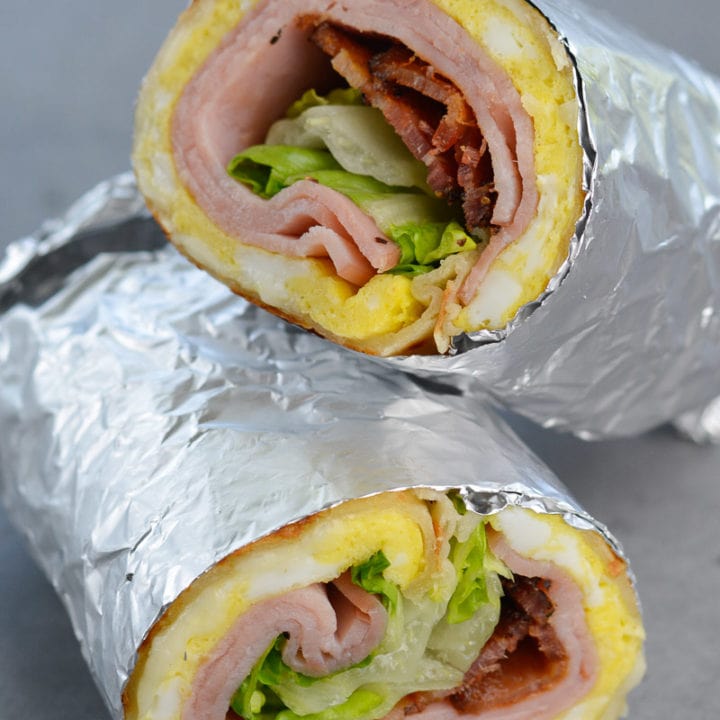 Bacon, Ham, and Egg Wrap with Honey Dijon Sauce
This Bacon, Ham, and Egg Wrap with Honey Dijon Sauce is a hearty breakfast wrap that your whole family will love!
Ingredients
4-6 slices of deli ham
4 slices of bacon, cooked until crisp
2 eggs, (divided, one per wrap)
2 slices of swiss cheese
4 leaves of lettuce
2 large tortilla wraps (regular, low carb, or gluten free)
1 tablespoon mayonnaise
2 teaspoons dijon mustard
2 teaspoons honey
Instructions
Combine the mustard, honey and mayonnaise, set aside.
Heat a skillet to medium heat and lightly spray with cooking spray. Beat the eggs and pour into the skillet. Allow the egg to cook 20-30 seconds until it begins to set, flip the egg and remove from the skillet when done. Repeat with the second egg.
Place each tortilla in a skillet over medium low heat for bout 30 seconds, until easily pliable.
Place each tortilla on a plate. Top with the honey mustard sauce. Top with the cooked egg, cheese, ham, bacon, and lettuce.
Carefully roll your wrap and slice down the center.
Nutrition Information:
Yield:

2
Serving Size:

1
Amount Per Serving:
Calories:

330
Total Fat:

15g
Saturated Fat:

8g
Trans Fat:

0g
Unsaturated Fat:

2g
Cholesterol:

260mg
Sodium:

320mg
Carbohydrates:

36g
Fiber:

8g
Sugar:

7g
Protein:

29g
To avoid any confusion I remove erythritol from the final carb count and net carb count, as it is not known to affect blood glucose levels. To calculate Keto recipes listed on this site carbs - fiber = net carbs. I use Nutrifox as my nutrition calculator. This nutrition information is an estimate based on the information provided by Nutrifox and the specific ingredients I used.