This delicious Chicken Fajita Soup is full of flavor and under 7 net carbs! Tender veggies, a spicy broth, and juicy chicken make this the BEST soup this season!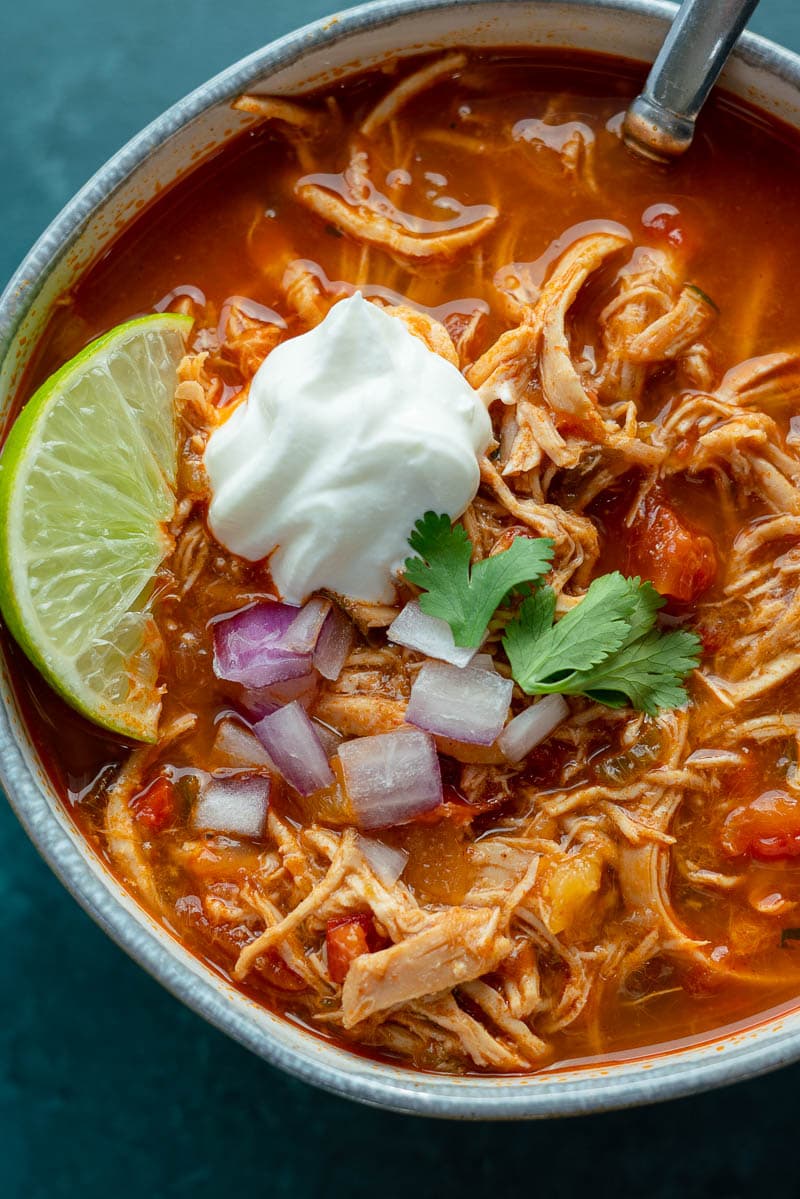 Chicken Fajita Soup
Everything we love about fajitas AND everything we love about soup? Absolutely! Enjoy shredded chicken, tasty veggies, and a broth with a bit of spice in this easy soup. It is a one pan meal that is quick enough for a weeknight, too.
If you're looking for a soup to freeze for meal prepping, you're in luck! This is a great recipe to make ahead of time, and it reheats perfectly for a leftover lunch. Under 7 net carbs, this soup is perfect for a low carb or keto lifestyle!
Chicken Fajita Soup Ingredients
Here's a quick overview of what you'll need. Scroll down to the printable recipe card for exact measurements.
Olive oil – You can use a different cooking oil if you prefer it.
Veggies – Onion, Bell pepper, Jalapeno, Garlic
Seasonings – Chili powder, Paprika, Cumin, Garlic powder, Onion powder, Salt
Chicken breast – This lean meat stays juicy in this soup, but you could use chicken thighs as well.
Tomatoes with green chilis – Undrained. This is also called ro-tel
Chicken broth – Better quality broth makes better quality soup!
Chipotle sauce – This will give the soup a bit of a kick. Feel free to use as little or as much as you like!
Lime juice – Start with half a lime, then taste test and go from there.
How to make Chicken Fajita Soup
This one pan meal is easy to make and has very little hands-on cooking time. Chop your veggies beforehand to make this soup in no time on a busy night!
Sauté the vegetables
Heat a pot to medium high and add oil. Add in the onion, bell pepper, and jalapeno, then sauté until the veggies are softened and garlic is fragrant. Make sure not to burn it.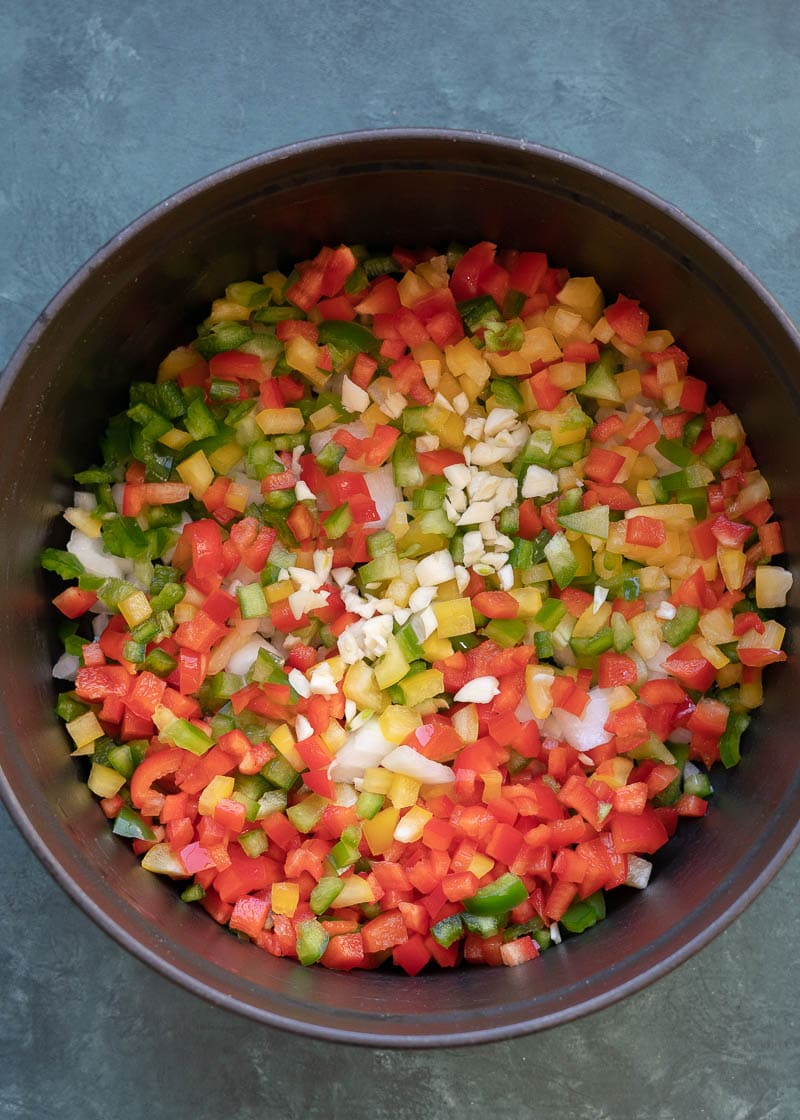 Add the chicken and seasonings
Place chicken breasts on top of your vegetables. In a small bowl, mix together your seasonings, then pour that over your chicken. Make sure it's all very well covered.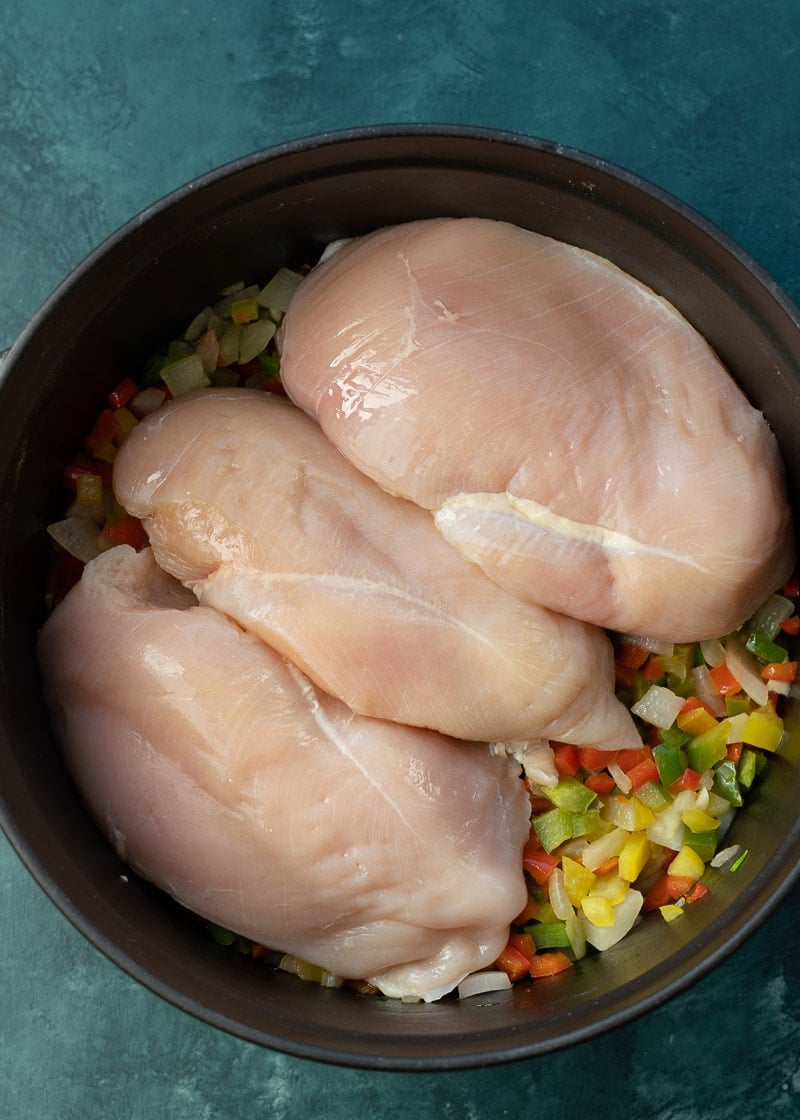 Add wet ingredients
Take your undrained tomatoes and green chiles and pour them into the pot. Add broth, chipotle sauce, and lime juice, then give it a stir.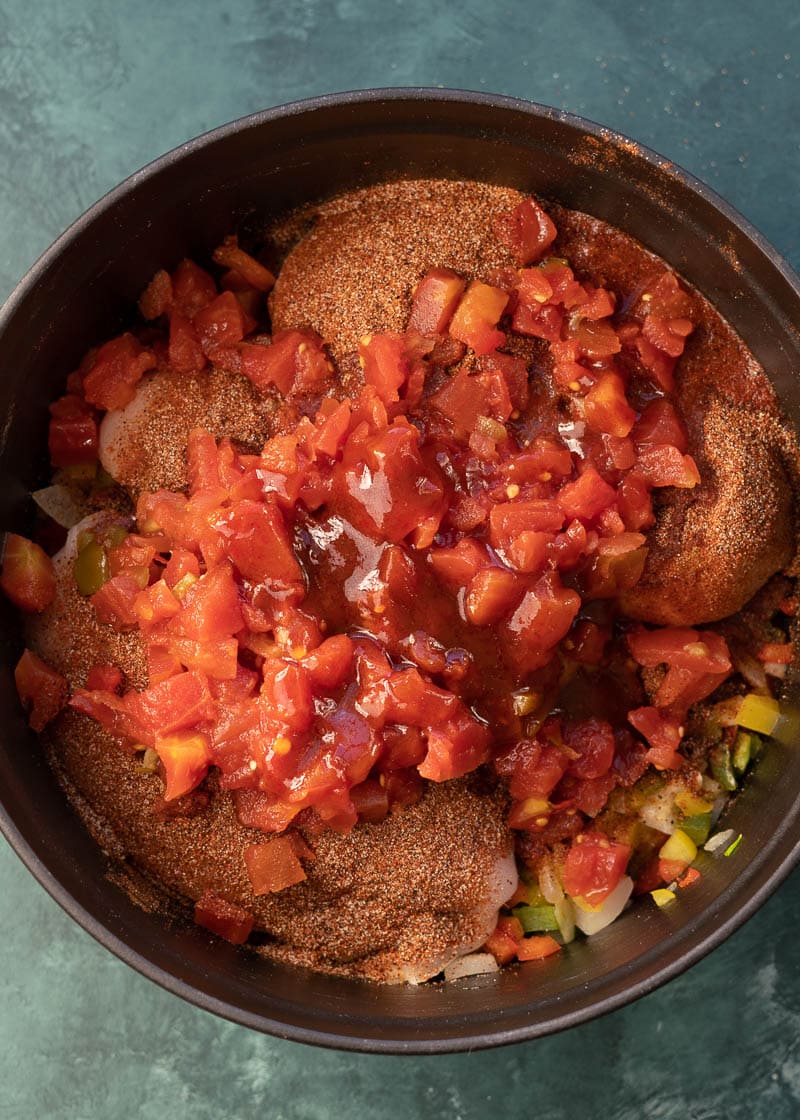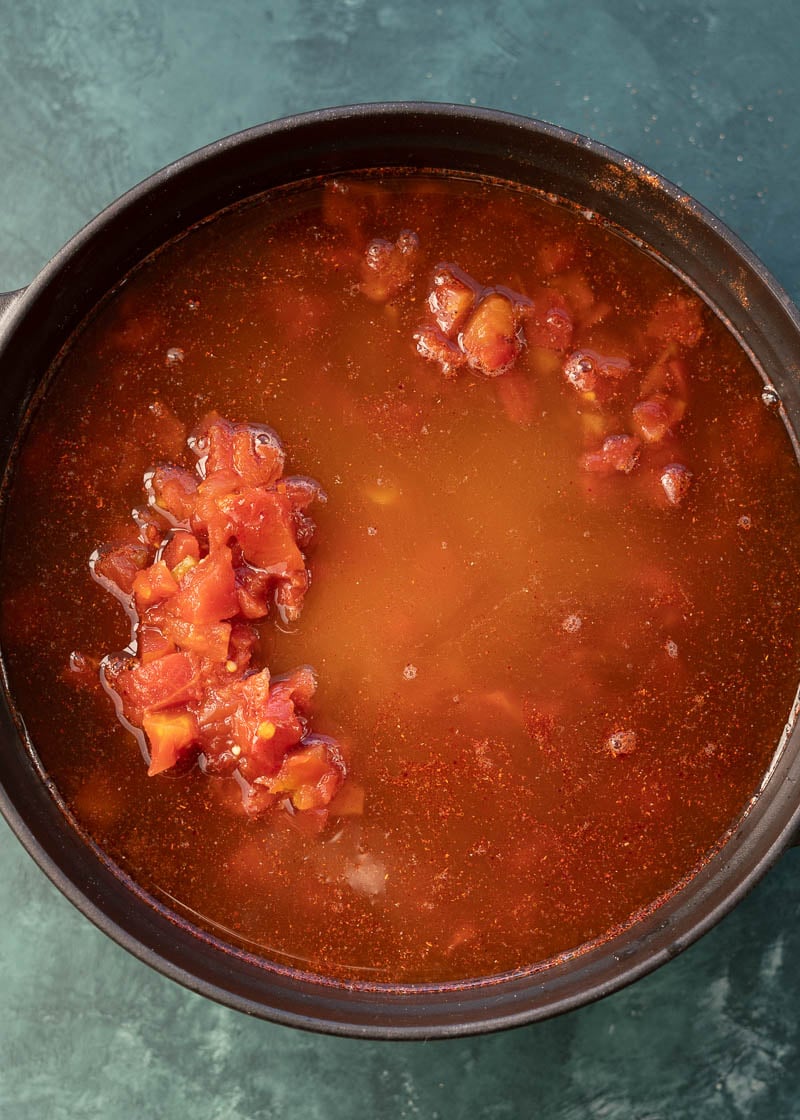 Simmer and Shred
Making sure the soup is well mixed, allow the soup to simmer for about 30 minutes. Remove the chicken from the soup and use a thermometer to make sure it has reached 165 degrees F. Shred the chicken, then add back to the soup. Stir and serve immediately.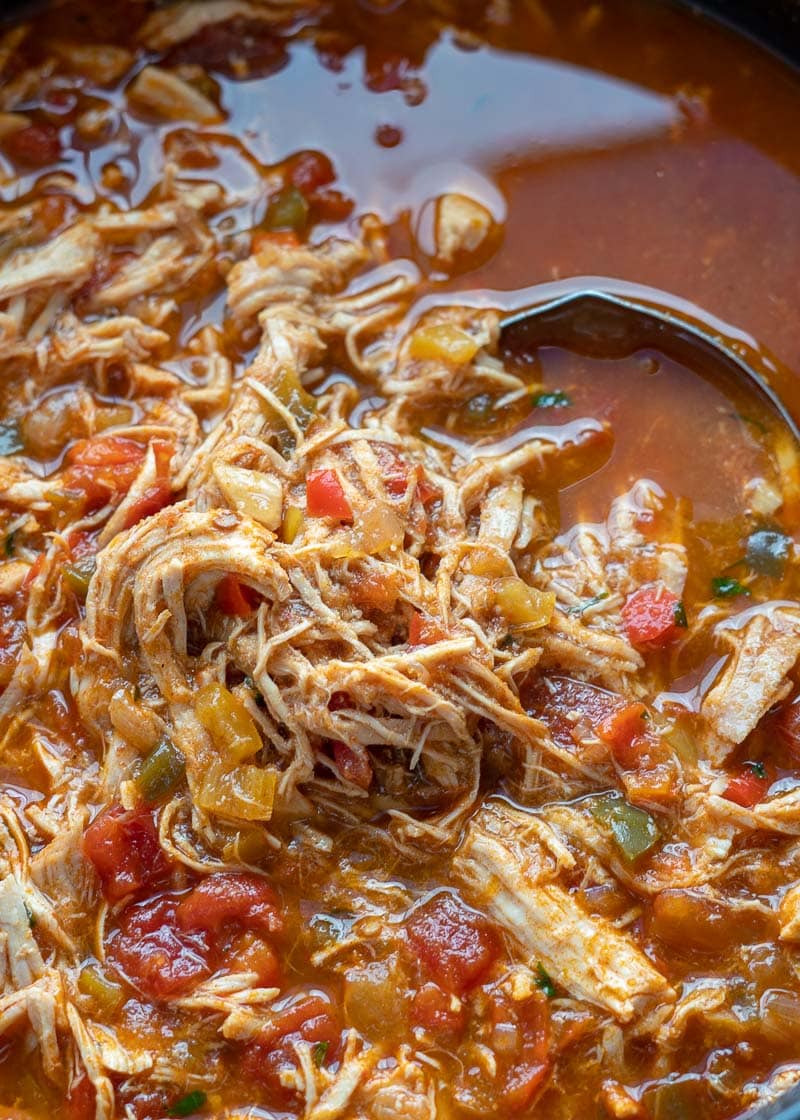 Serve
If you'd like, add a dollop of sour cream, an extra lime wedge, chopped red onions, and fresh herbs! Add soup toppers like crushed keto tortilla chips for a great crunch to the bowl.
If you'd like gluten-free and low-carb tortillas, try these Zucchini Tortillas. They are unbelievably tasty and add a great flavor to any keto Mexican food! Follow it all up with a Keto Margarita.
Store
Allow this soup to cool completely, then store in an airtight container in the fridge up to 4 days. You can store separately in meal prep containers or all together for dinner later.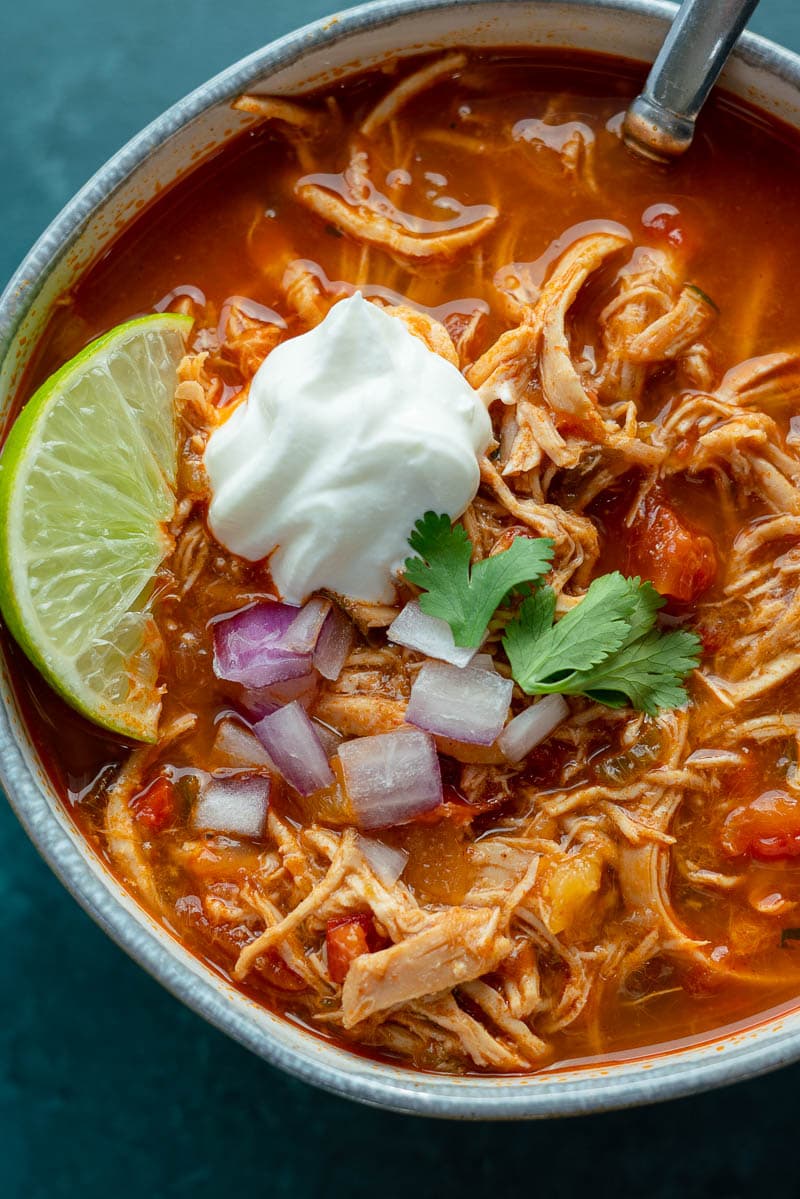 Freeze
This soup can easily be frozen! After it has cooled completely, transfer to a freezer safe container. It will last about 6 months but will have the best texture within 3 months. If you freeze it in a ziplock bag lying flat on a shelf, then you will be able to store it upright without taking up as much space!
Reheat
Talk about easy. To reheat individual portions of the soup, simply microwave a bowl of this in 30 second increments. For larger servings, reheat in a large pot on the stove. Set the heat to medium and stir frequently until the entire soup is warmed.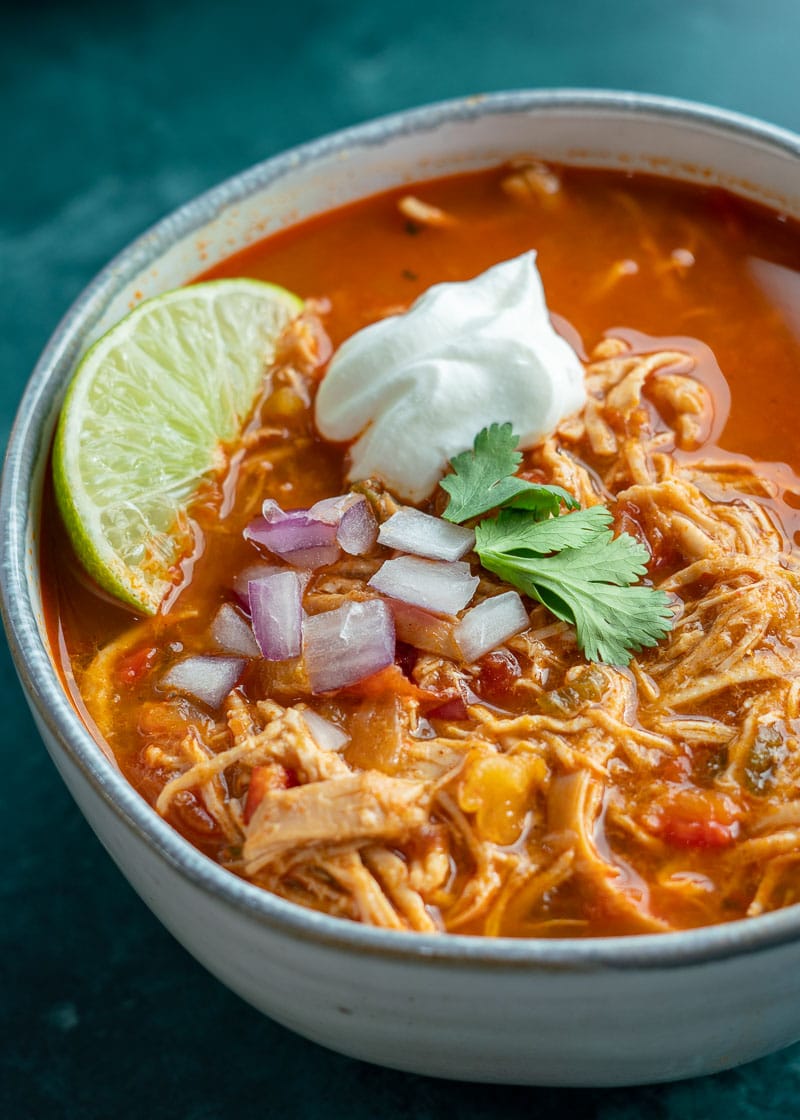 If you like this Fajita Soup recipe, you'll love these recipes:
Cheesy Keto Taco Soup – Full of ground beef and cheese with no beans to be found. Only 5.3 net carbs.
Keto Chicken Fajita Taquitos – Melted cheese wrapped around chicken, peppers, and onions. Just 1.3 net carb for 3 taquitos!
Keto Taco Salad – When you want tacos but also want to be healthier? This is perfect for you!
Shrimp Fajita Skillet – Great in a skillet or on a blackstone grill. Tons of veggies and seared shrimp for under 4 net carbs per serving!
Chicken Fajita Casserole – If you don't have a lot of time for a keto-friendly dinner, this casserole is as easy as it gets!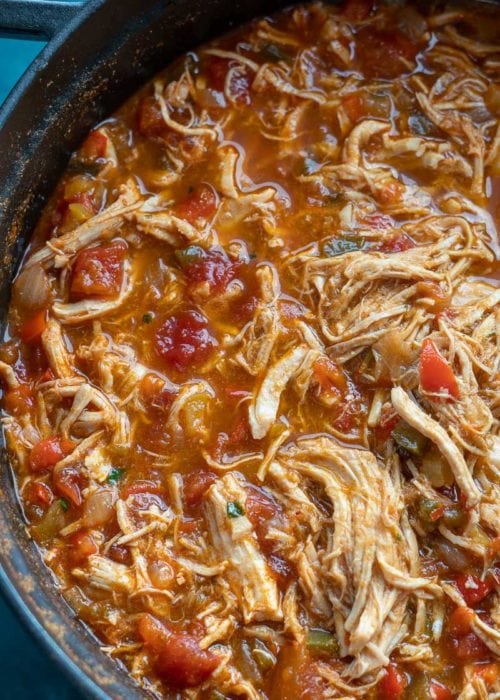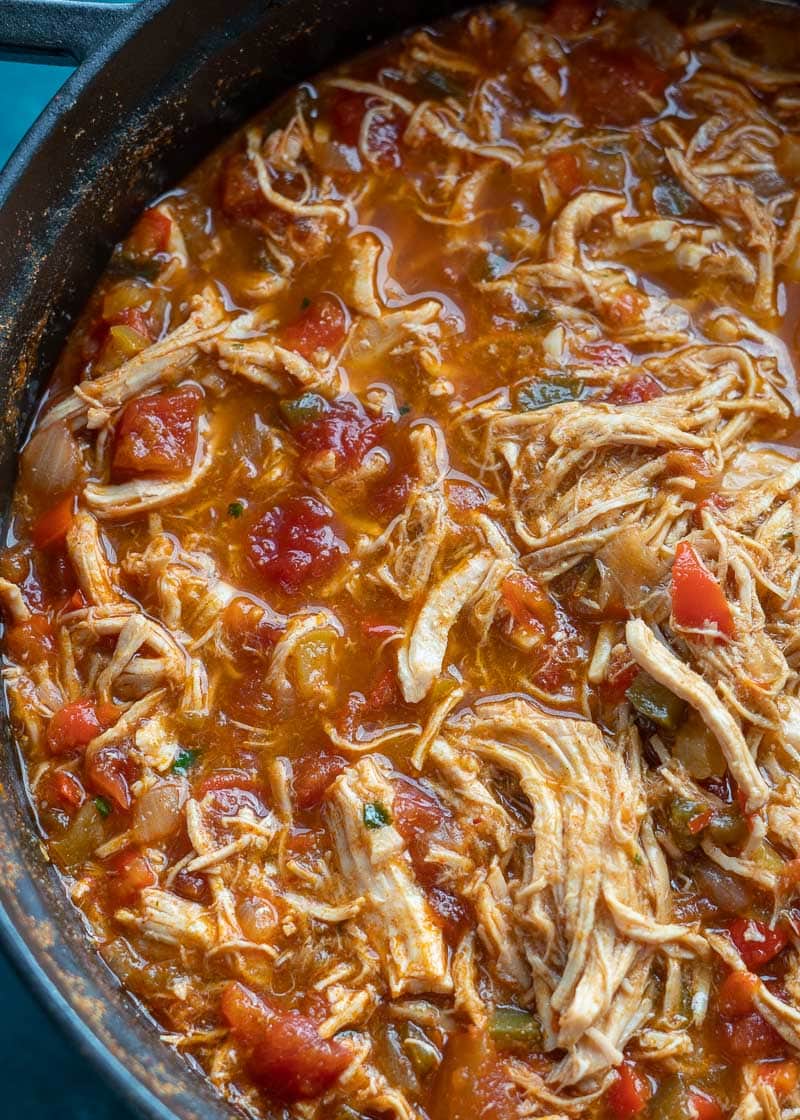 FAQs about Chicken Fajita Soup
Is chicken fajita soup keto?
This chicken soup is just 6.6 net carbs, so it's keto friendly! Many fajita soups include beans and corn which raise the carbs too much for a keto lifestyle.
What do you put on a keto soup for crunch?
Bake low-carb tortillas, then crush them onto the soup for a delicious tortilla soup with a crunch! Cheddar cheese crisps or keto bread cut and toasted into croutons would work as well.
What's in a fajita?
Chicken fajitas include chicken, tomatoes, bell pepper, onion, and lime! This soup hits all those key ingredients for an amazingly similar taste!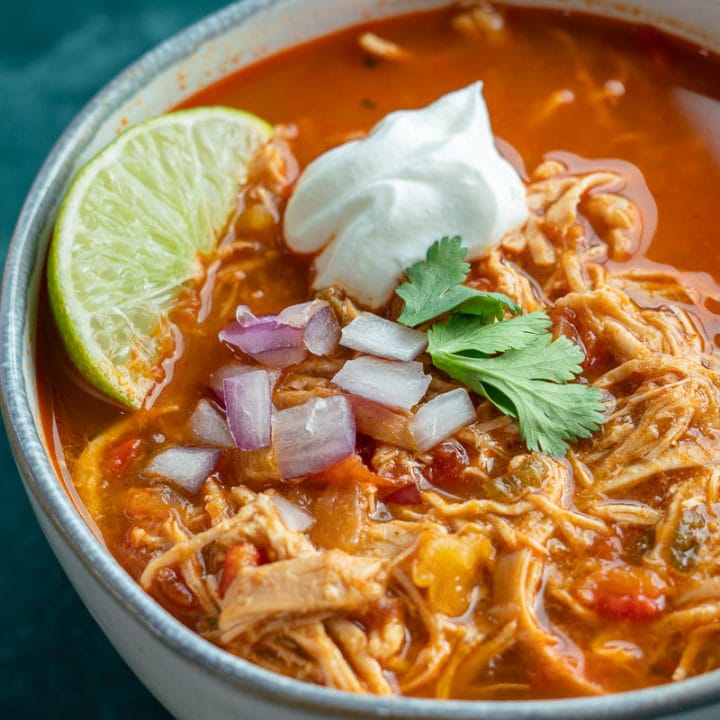 Chicken Fajita Soup
This delicious Chicken Fajita Soup is full of flavor and under 7 net carbs! Tender veggies, a spicy broth, and juicy chicken make this the BEST soup this season!
Ingredients
2 tablespoons olive oil
1 cup chopped onion
2 cups chopped bell pepper
1 jalapeño, seeded and diced
3 garlic cloves, minced
1 tablespoon chili powder
2 teaspoons each: paprika, cumin, garlic powder, onion powder
1 teaspoon salt
2 pounds chicken breast
1 (10 ounce) can tomatoes with green chilis undrained
32 ounces chicken broth
1.5 tablespoon chipotle sauce
2 tablespoons lime juice *start with half a lime and taste test
Instructions
In a pot on medium high heat, add oil. Toss in the onion, bell pepper, and jalapeno. Sauté until veggies are softened.
Add in the garlic and seasonings and cook until garlic is fragrant.
Place chicken breasts into the pot as well as your canned goods, broth, chipotle, and juice from half of a lime. Stir and allow to simmer for 30 minutes.
Remove chicken from the soup and shred on a plate. Add back to the soup, stir, and serve.
Nutrition Information:
Yield:

8
Amount Per Serving:
Calories:

214
Total Fat:

7.1g
Cholesterol:

85mg
Sodium:

851.2mg
Carbohydrates:

9g
Net Carbohydrates:

6.6g
Fiber:

2.4g
Sugar:

3.9g
Protein:

27.8g