This amazing Rotel Chicken is the perfect cheesy recipe for a busy weeknight! Ready in 30 minutes, keto friendly, and under 6 net carbs!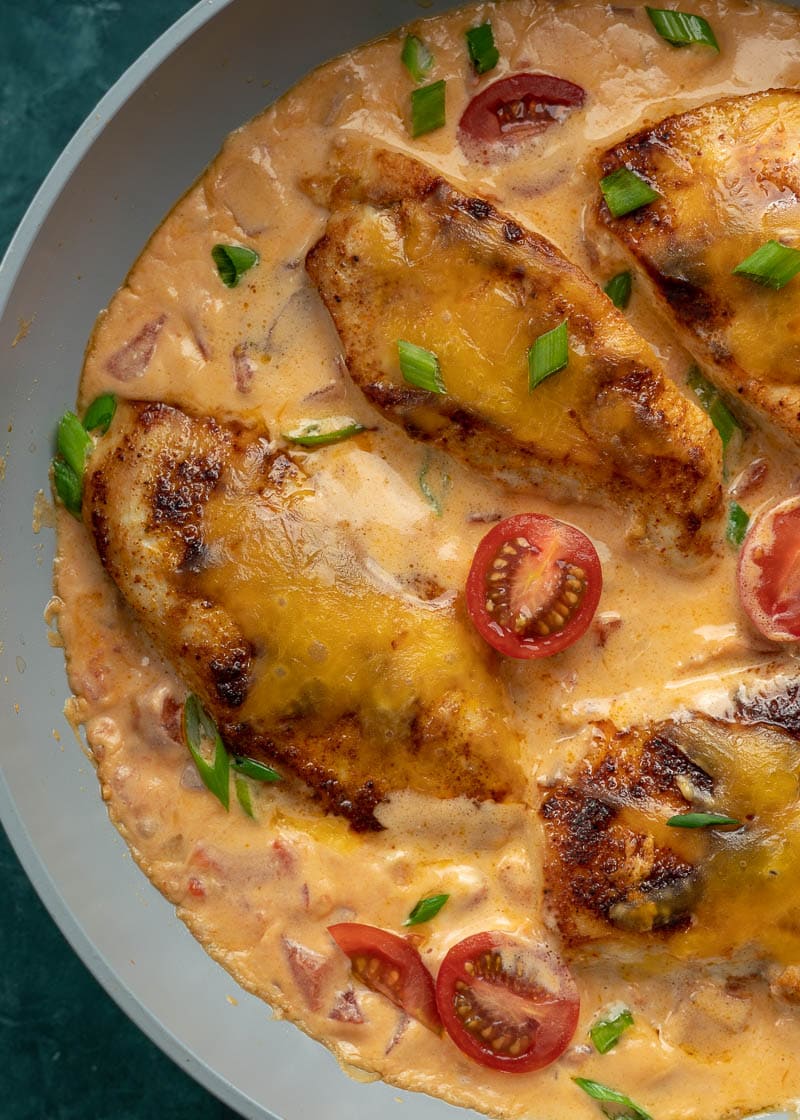 Rotel Chicken
This Rotel Chicken is going to be a five star chicken meal around the house soon! This keto chicken recipe has tender chicken in a beautifully creamy sauce with veggies and diced tomatoes. You will love how juicy the chicken gets while simmering in the cheesy sauce. If you love the popular rotel dip, you are going to want this again and again!
Easy to meal prep, keto-friendly, gluten free, and low carb… What's not to like? Make this on the weekend, then easily reheat it in a skillet later for a great dinner with no work! This easy chicken dinner is absolutely delicious and should go on your next menu.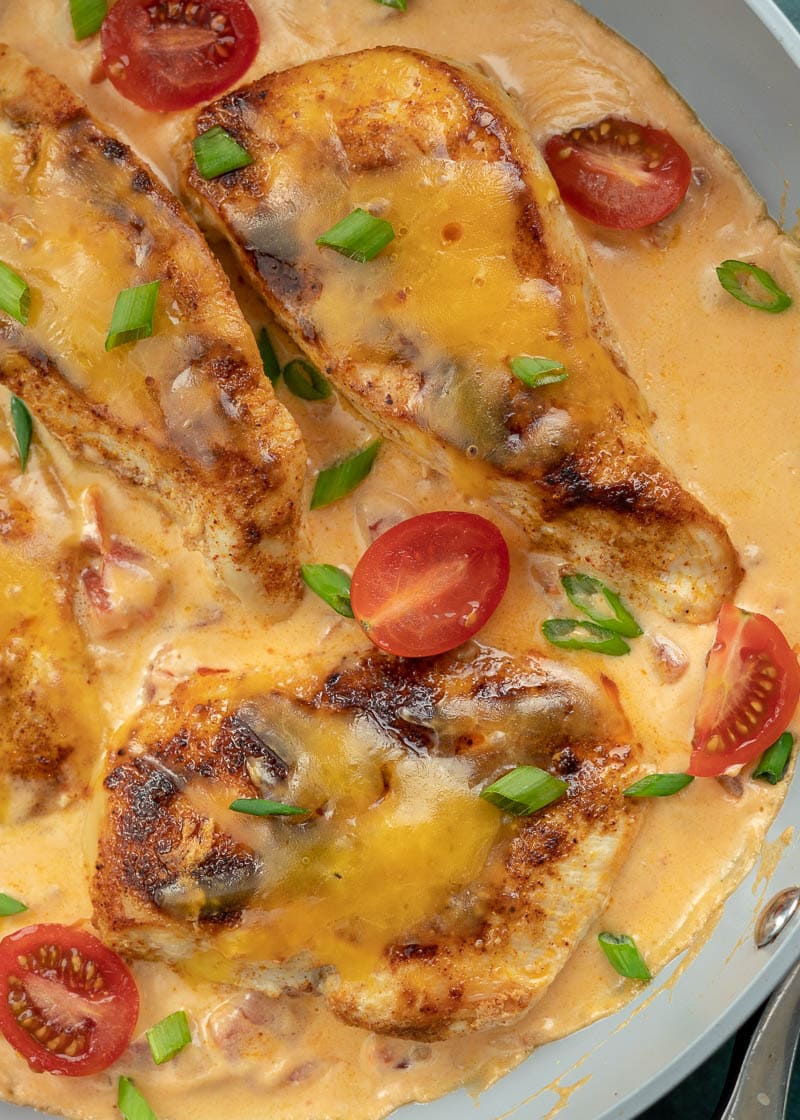 Cheesy Rotel Chicken Ingredients
As always, here is a quick overview of what you'll need. For exact measurements, scroll down to the printable recipe card.
Chicken breast – You can use chicken thighs instead if you would like. Either option will stay juicy and tender in the soup.
Seasonings – Cumin, Chili powder, Garlic powder, Salt, Pepper
Rotel – This is a can of diced tomatoes with green chilis. Amazing flavor!
Heavy cream – This is what makes the dish so smooth! Using a lower fat option will not result in the same thick, creamy sauce.
Chicken broth – If you can use a good quality, nutrient rich broth, your sauce will be even more flavorful!
Cream cheese – Once this melts, it gives the sauce a thick, luscious texture that complements the tender chicken perfectly.
Shredded cheddar cheese – When in doubt, add cheese! For the smoothest sauce, shred your own cheese from a block of cheddar.
How to Make Cheesy Rotel Chicken
This one pan meal can come together in about 20 minutes — It's that easy! Here's a step by step guide to making this amazing keto chicken dinner.
Season the chicken
In a small bowl, mix together the cumin, chili powder, garlic powder, salt, and pepper. Sprinkle this on both sides of the chicken.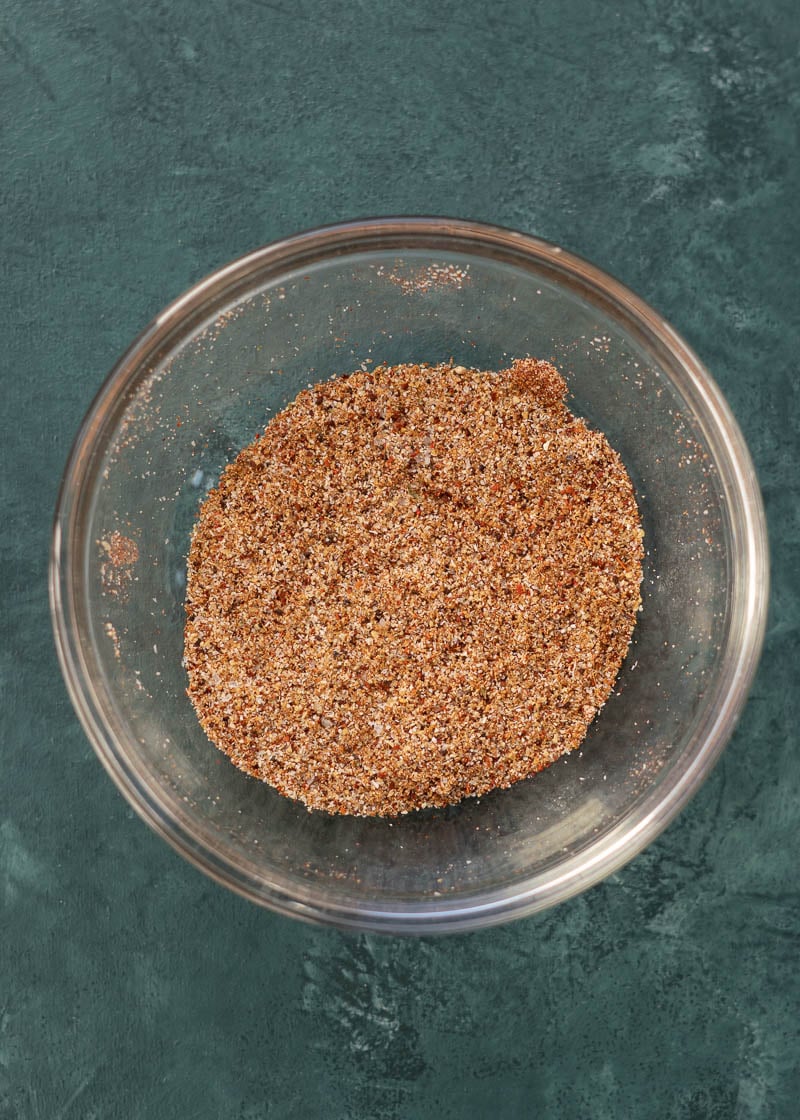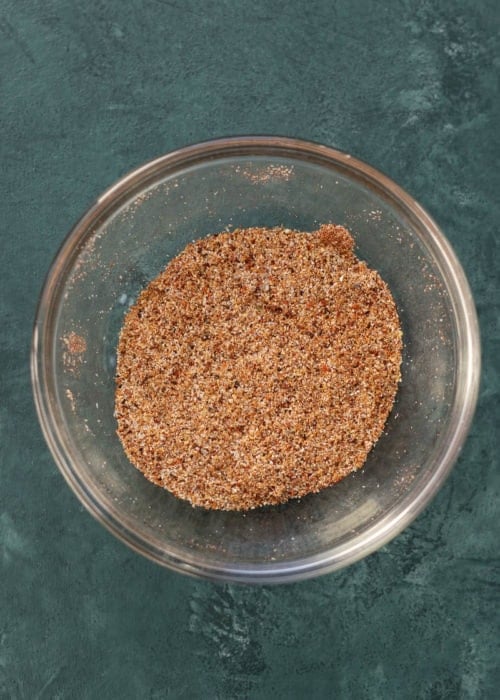 Sear the chicken
In a 12-inch skillet heated to medium, spray with oil or add up to 1 tablespoon of olive oil. Add the chicken and sear in the skillet 2-3 minutes on each side. Once it's nicely browned, take it from the skillet and set aside.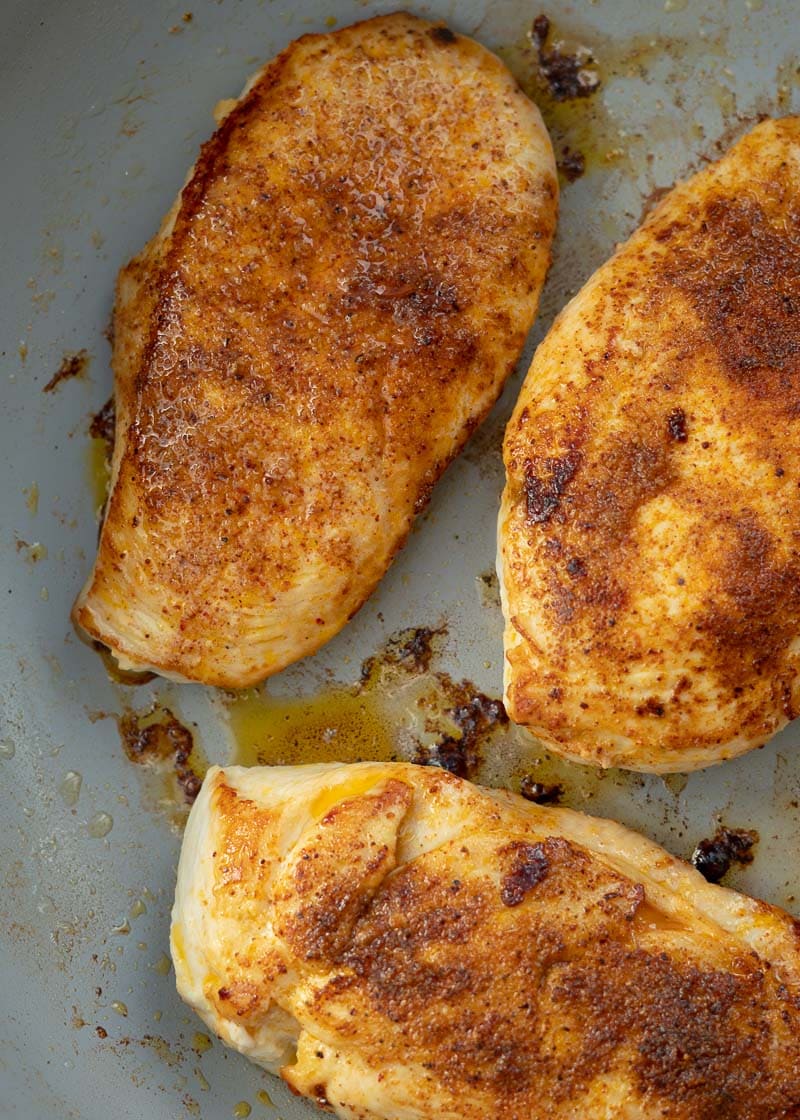 Add sauce ingredients
In the pan, add the drained can of rotel, heavy cream, chicken broth, and cream cheese. Reduce the heat to low.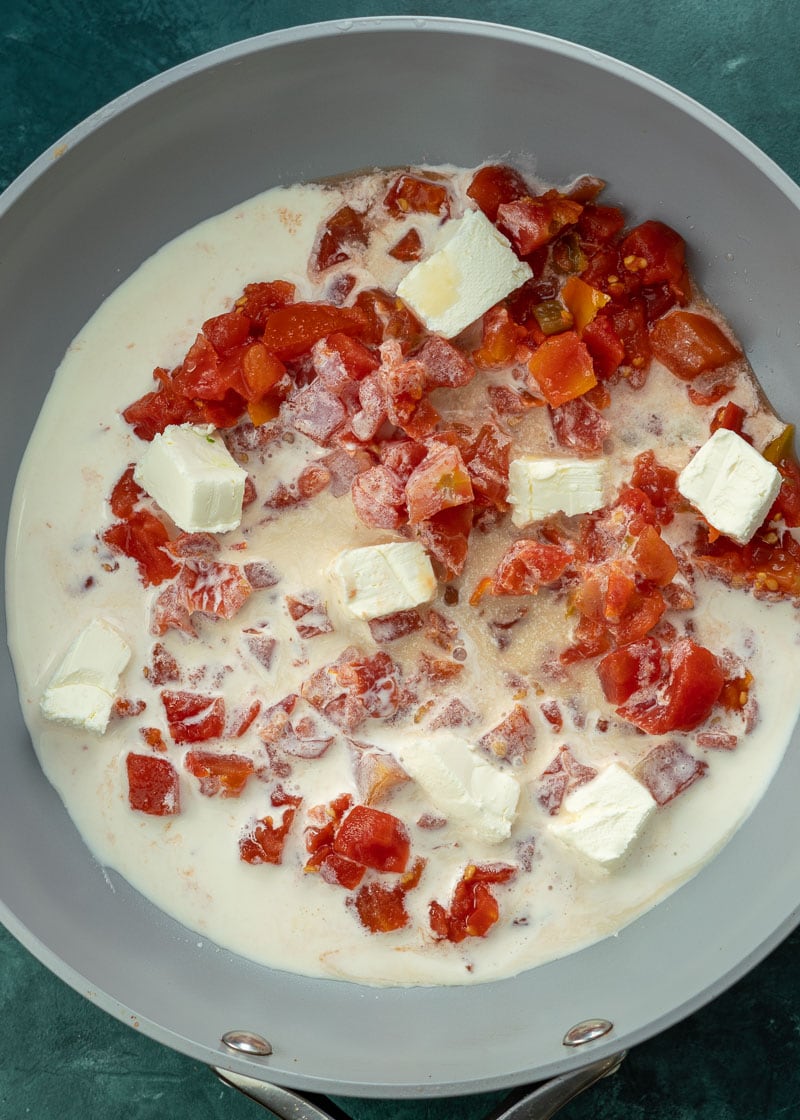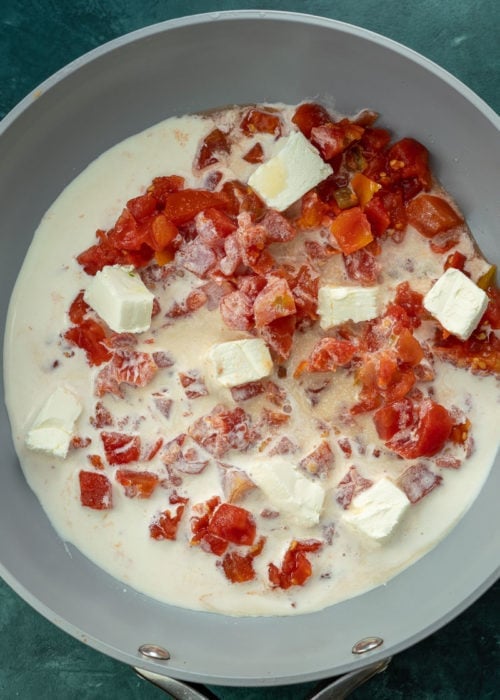 Add cheese
Stir the mixture until the cream cheese is completely melted. It's important to use softened cream cheese because it will melt easier and create a creamier sauce. Add a half cup of the shredded cheese. Stir the sauce well until the cheese is melted.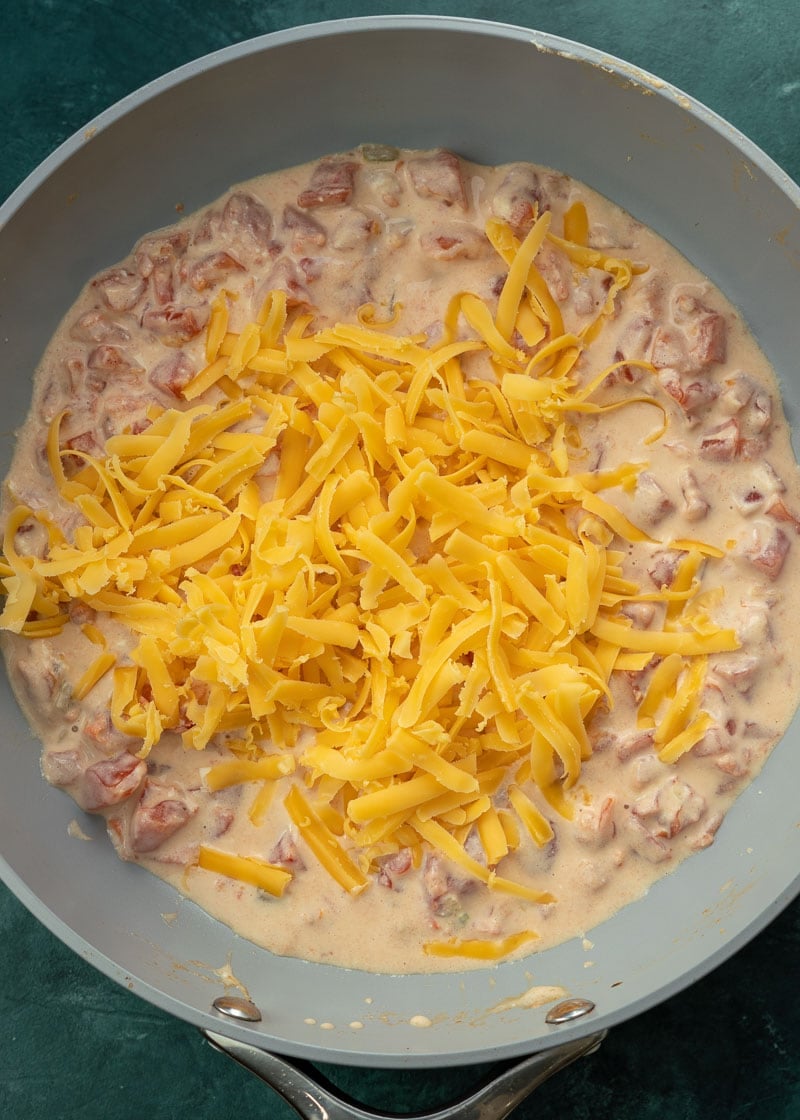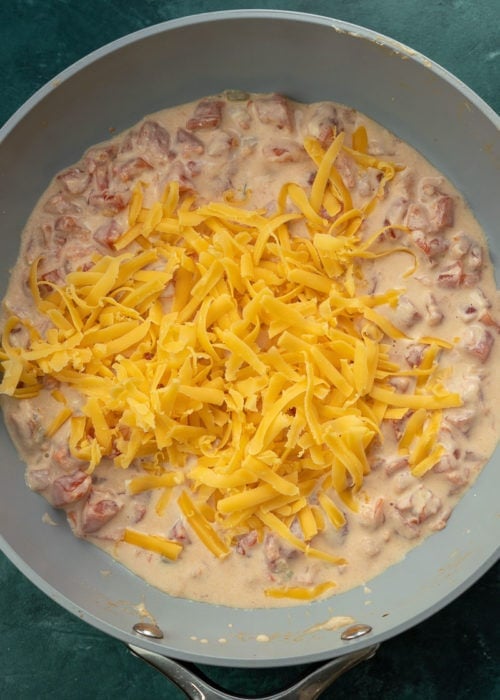 Return chicken to pan
Add the chicken back to the skillet and cover with the rest of the cheese. This will result in cheese covered, tender, juicy chicken complemented with diced tomatoes and chilis!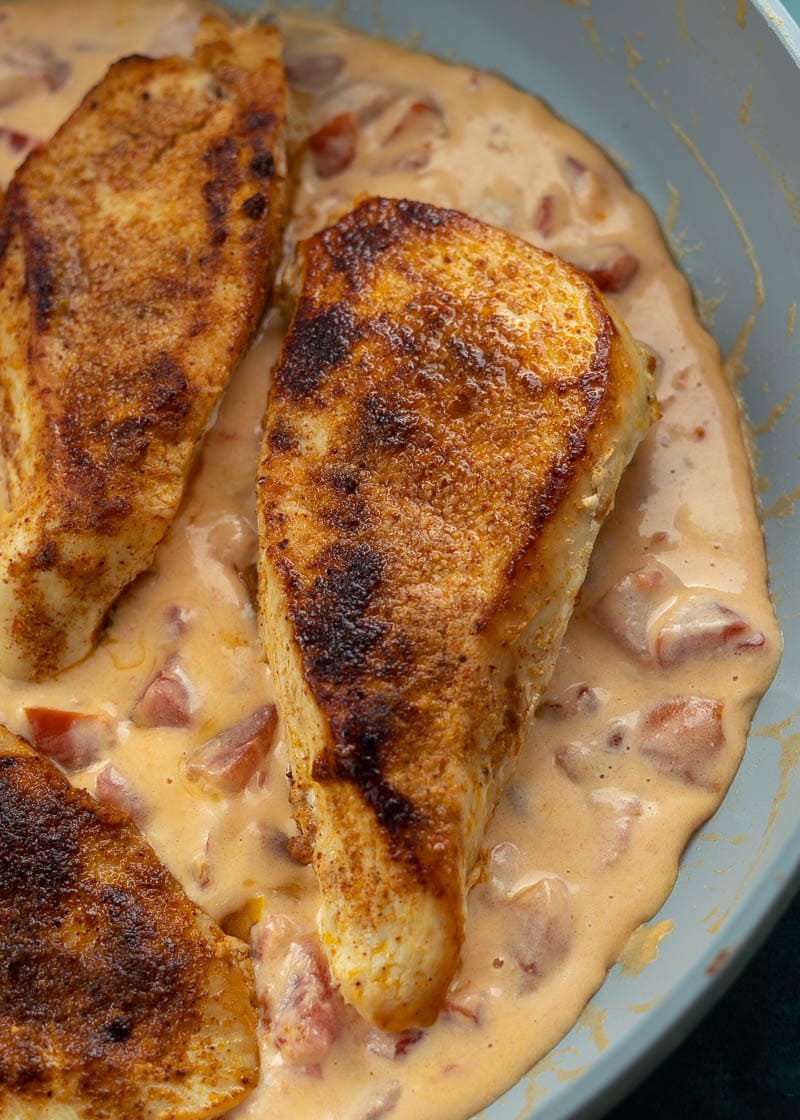 Finish cooking
Cover the skillet with a tight-fitting lid. Allow the dish to simmer on low heat for 6-8 minutes or until chicken is fully cooked and cheese is melted.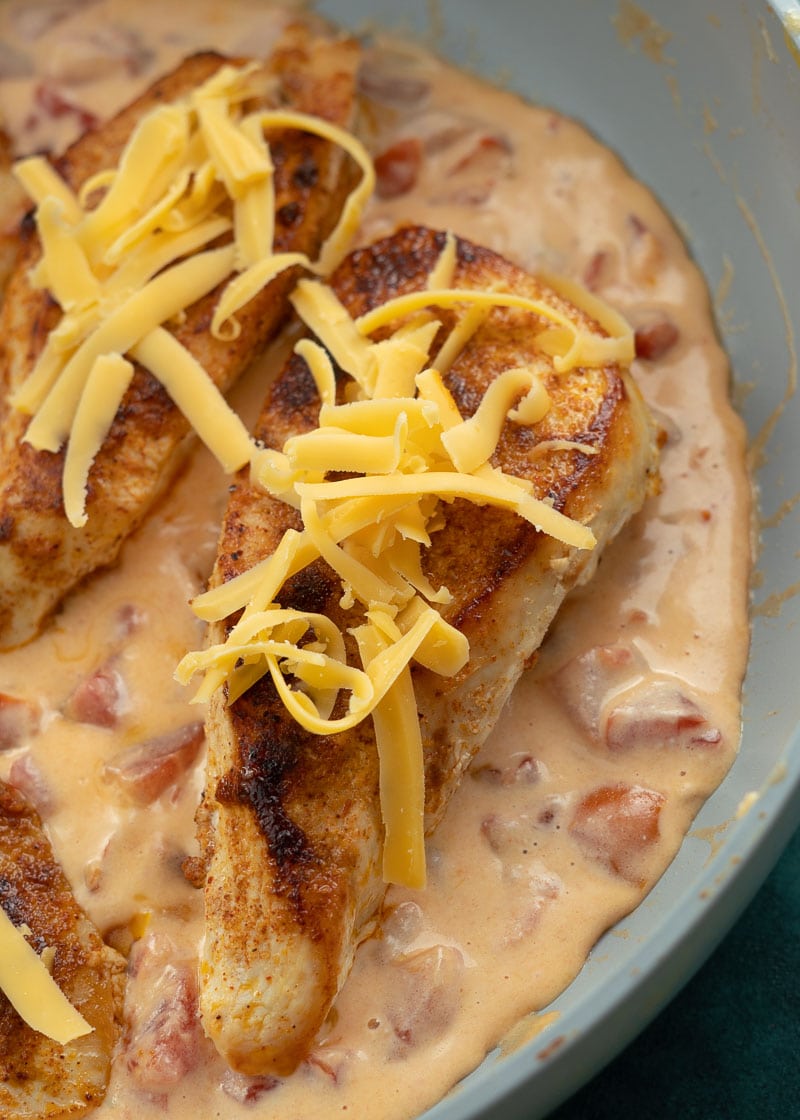 Serve
This delicious rotel chicken would be perfect with some Seasoned Black Beans and Jalapeno Cornbread! For more veggies, add this to some perfectly roasted brussels sprouts. Finish it off with a spicy keto margarita for a truly delish meal with TONS of favor!
For a keto friendly meal, consider serving with a Simple Arugula Salad and with Three Cheese Keto Biscuits. A cool dessert like Keto Key Lime Bars and drink like a Sugar-Free Lemonade would be the perfect finishing touches!
Store
Allow this dish to cool completely, then transfer to an airtight container. Store in the fridge up to 3-4 days.
Freeze
This can be a bit tricky to freeze, but it can be done! Cheesy cream sauce is perfect when you first cook it, but it can struggle when you reheat it from freezing. The sauce can separate, so the key is to pour a bit of heavy cream into the skillet when you're warming up the dish. To freeze, simply allow it to cool completely, transfer to a freezer safe container, and enjoy later!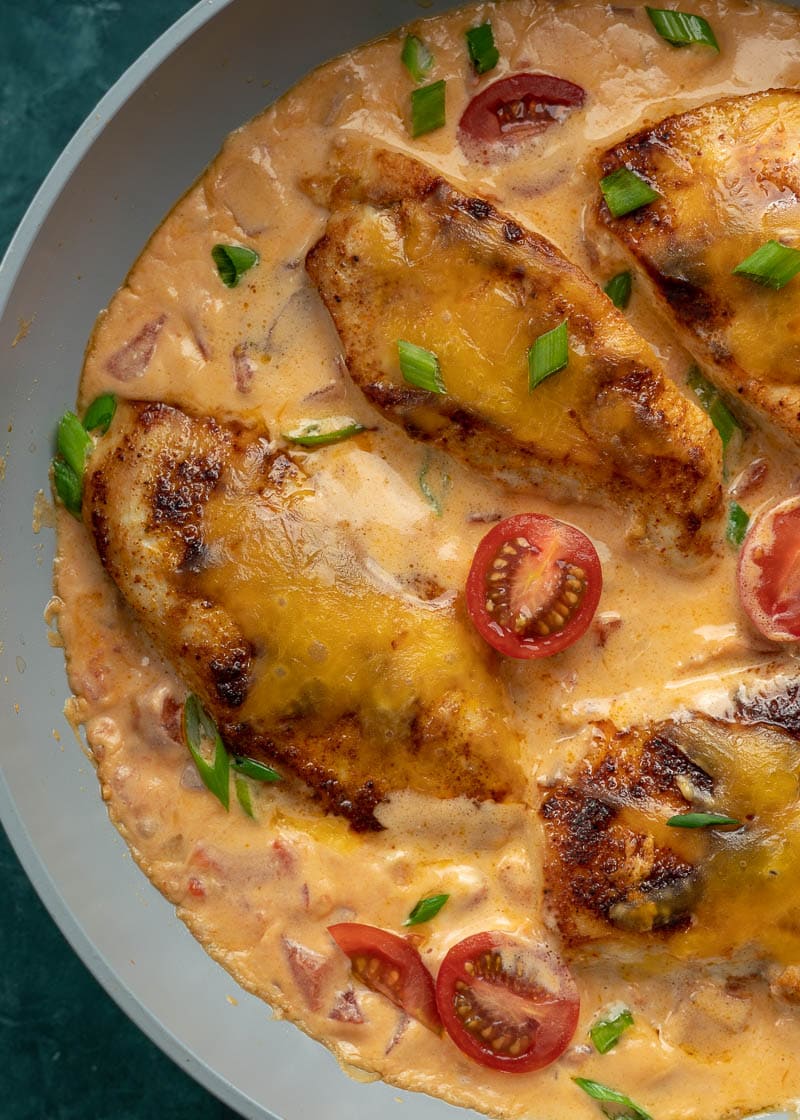 Reheat
Individual portions of Rotel Chicken can be reheated in the microwave with 30-second blasts. Larger portions can be returned to a skillet and rewarmed on low.
If you like this, try these other keto skillet dinners!
Pesto Chicken – This recipe uses the same method but with more of an Italian flair!
Cheesy Jalapeno Chicken – Spicy, creamy, and so delicious! This one pan dinner is low-carb, too.
Steak and Shrimp Skillet – No sauce, just perfectly seared meat and veggies! Couldn't be easier or tastier.
Keto Skillet Cookie – Skillets are made for dessert, too! This cookie is so good and ready quicker than most keto cookies.
Chicken Enchilada Skillet – Unbelievably juicy chicken with delicious enchilada sauce and veggies for a great keto dinner!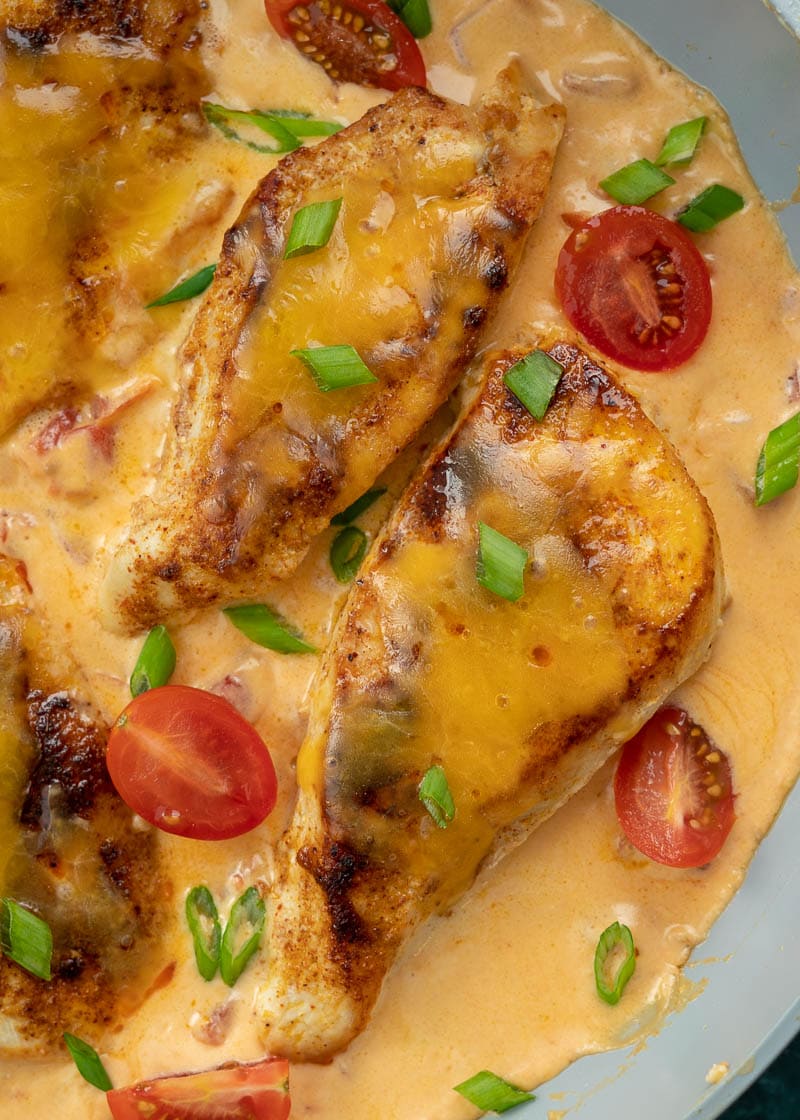 FAQs about keto chicken meals
What can I do with a can of rotel?
Rotel is a can of diced tomatoes and green chilies, and it's perfect for tons of dishes! This rotel chicken uses a can for a tasty mildly spiced one pan meal
How many carbs are in rotel?
Rotel has 3 net carbs per serving so it's a great ingredient to add to skillet meals and soups!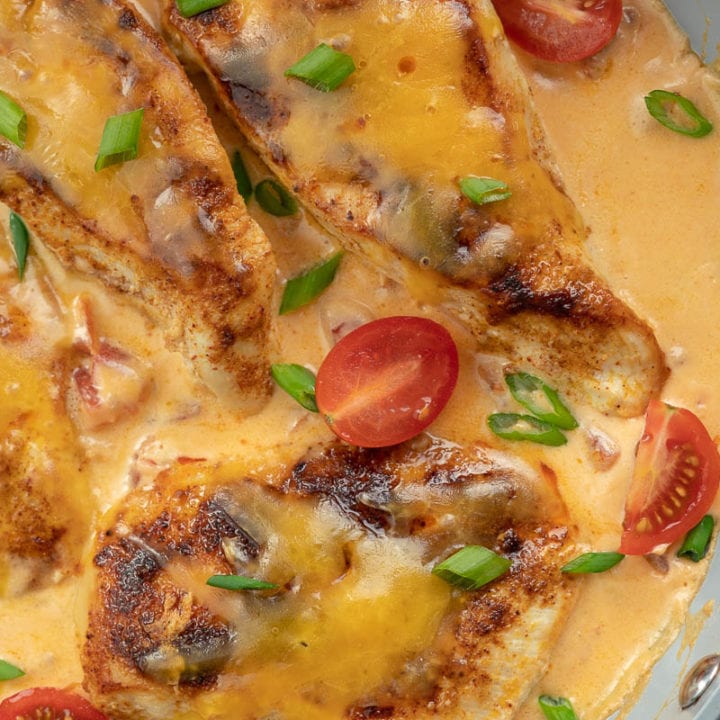 Easy Rotel Chicken Recipe
This Cheesy Jalapeño Keto Chicken is the perfect easy dinner with just 5 net carbs! This recipe is perfect for busy nights and easy keto meal prep!
Ingredients
4 small chicken breast
1 teaspoon cumin
1/2 teaspoon EACH: chili powder, garlic powder, salt, pepper
1 (10 ounce) can Rotel, drained
1/4 cup heavy cream
1/3 cup chicken broth
2 ounces cream cheese
1 cup shredded cheddar cheese (divided)
Instructions
Combine the cumin, chili powder, garlic powder, salt and pepper in a small bowl, then set aside.
Heat a 12-inch skillet over medium heat, spray with nonstick spray or add up to 1 tablespoon olive oil.
Sprinkle the chicken breast with the spice mixture on each side.
Sear the chicken in the skillet 2-3 minutes on each side until nicely browned, remove from skillet and set aside.
Add the drained can of rotel, heavy cream cream, broth, cream cheese and reduce heat to low.
Stir mixture until cream cheese melts completely and add 1/2 cup of the shredded cheese to the sauce, stir well.
Add the chicken to the skillet and cover with the remaining cheese.
Place a lid on the skillet and let simmer over low for 6-8 minutes.
Nutrition Information:
Yield:

4
Serving Size:

1 chicken breast + 1/4 sauce
Amount Per Serving:
Calories:

444
Total Fat:

30.1g
Cholesterol:

164.7mg
Sodium:

849.5mg
Carbohydrates:

6.7g
Net Carbohydrates:

5.8g
Fiber:

0.9g
Sugar:

3.4g
Protein:

35.9g