This Smoked Whole Turkey recipe is stuffed and coated in a homemade spice rub, then slow smoked to tender and juicy perfection.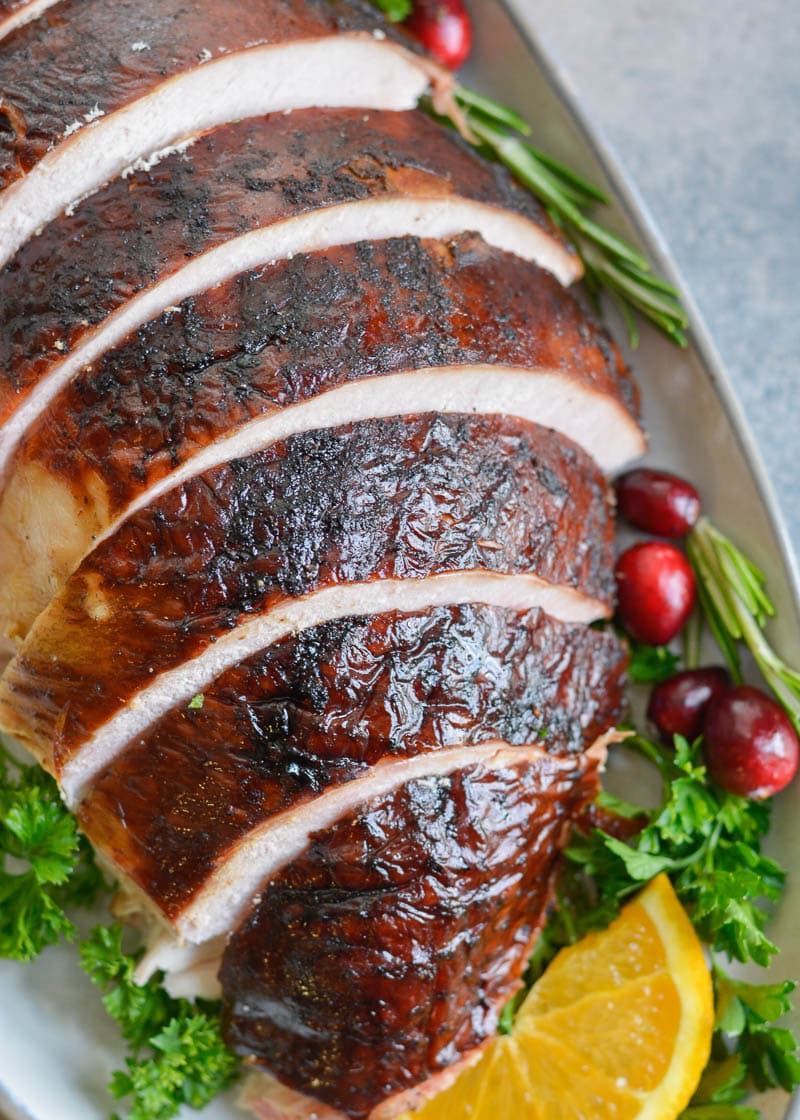 This stuffed, basted and smoked-to-perfection alternative to the traditional Thanksgiving roast turkey is guaranteed to be a hit with the whole family.
The spiced olive oil coating will accentuate your turkey's naturally delicious flavor, whilst complimenting the rich apple, onion, celery, orange and butter stuffing beautifully.
It's no secret that preparing Thanksgiving dinner can be a humungous task, but opting for a smoked turkey can leave plenty of oven space free for those all-important side dishes.
Give this fairly simple yet scrumptious recipe a go for a hassle-free yet flavorsome holiday!
Ingredients Needed for a Smoked Whole Turkey
Whole turkey (mine was 17 pounds)
Olive oil
Spices: Salt, Pepper, Onion powder, Garlic powder
Apple
Onion
Celery
Butter
Oranges
Herbs
Basting: Chicken broth, Apple juice, Apple cider vinegar, Orange Juice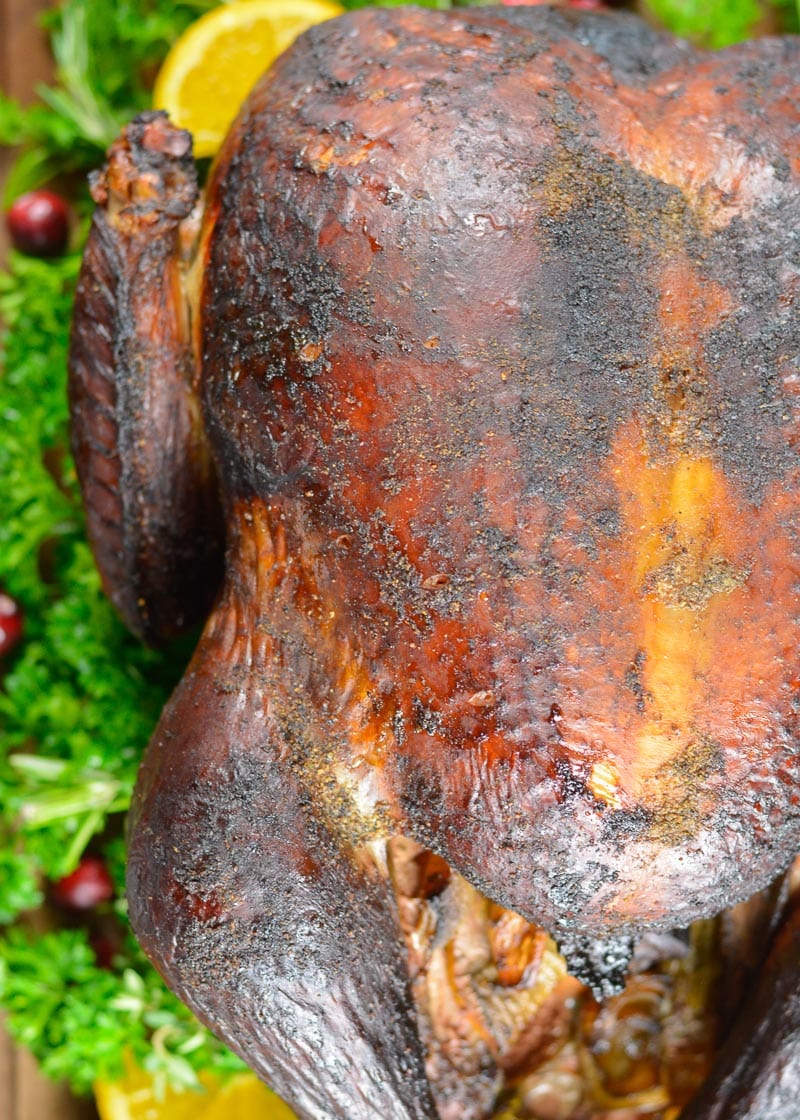 How Much Turkey Per Person
Generally, around 1 pound per person is absolutely ideal. By following this simple rule, you should have enough turkey for a good portion each, plus some leftovers for sandwiches.
Let's be honest, post-Thanksgiving sandwiches are almost as good as the main meal. If you would like a lot of leftovers for your guests to take home, you could up this to 1.5 pounds per person, but this isn't often necessary.
How to Smoke a Whole Turkey
Prepare a charcoal grill or smoker for indirect heat, at approximately 225 degrees F. Sprinkle in applewood chips that have soaked in cold water for at least 4 hours. The chips will smoke and create a delicious flavor.
Pat the thawed turkey dry and stuff with the fruit, vegetable and butter mixture.
Generously rub with olive oil and spices.
Place the turkey in a drip pan fitted with a rack.
Mix together the chicken stock, apple juice and apple cider vinegar. Baste the turkey after cooking for 45 minutes. Repeat the basting every 45 minutes until the internal temperature of the thigh registers 165 degrees F.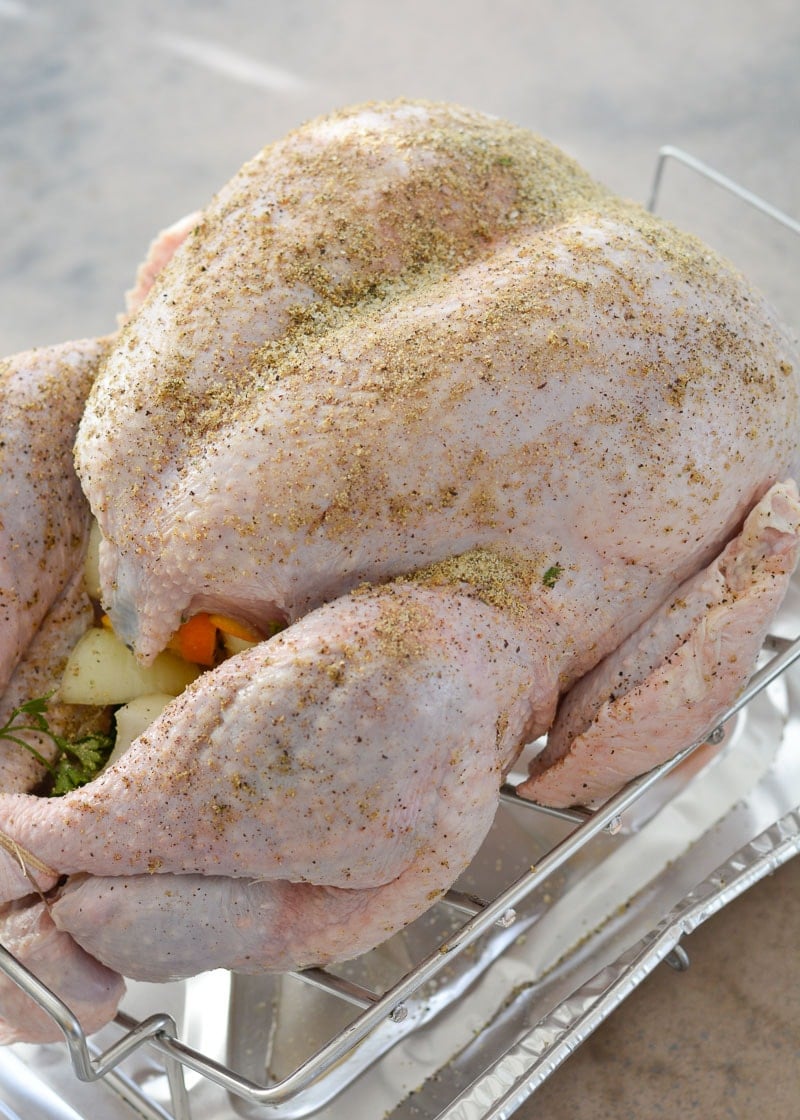 How Long Does it Take to Smoke a Turkey?
How long your turkey will take depends very much on its size. As a rough guide, it will take at least 30 minutes per pound of turkey at 225-250 degrees Fahrenheit.
Before serving your turkey, it's important to check it is cooked all the way through. Temperature checking with a thermometer usually offers the best guideline as to how well a smoked turkey is progressing.
How to Tell When a Smoked Turkey is Done
You can be sure that your smoked turkey is done once the internal temperature has reached at least 165 °F. Use a digital meat thermometer or the built-in digital probe of your device to be sure your turkey has reached the right temperature. Allow the turkey to rest for at least 10 minutes before carving.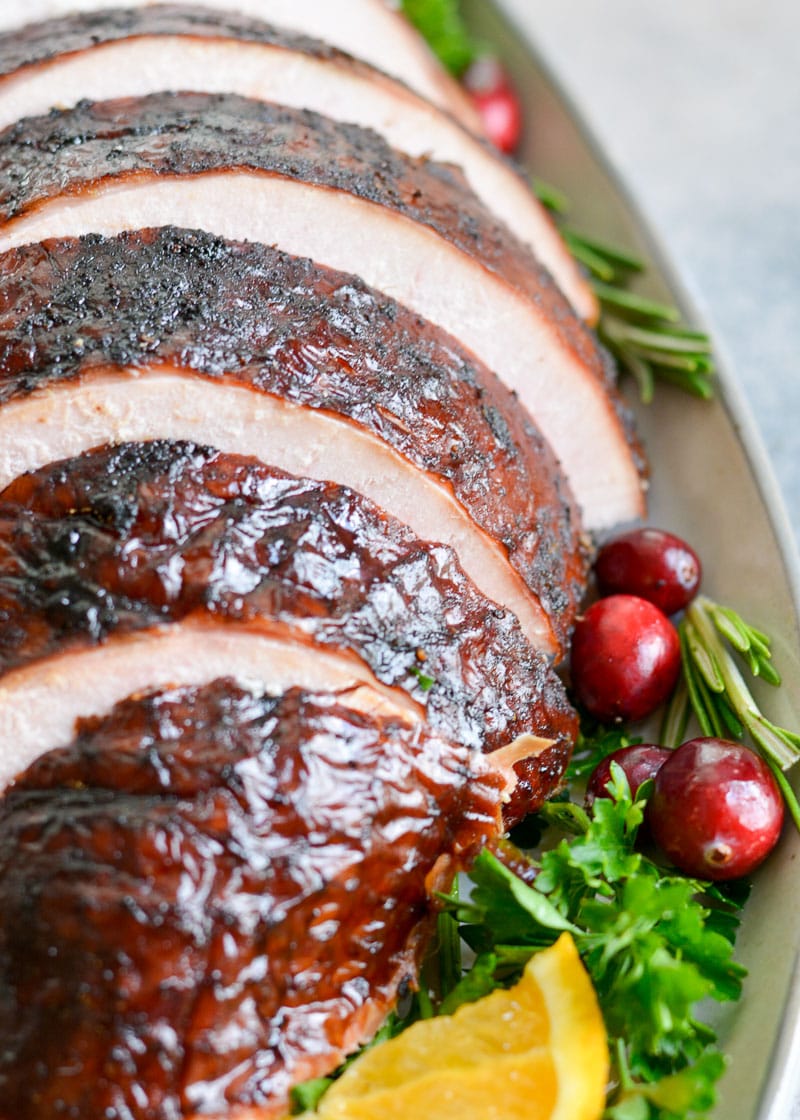 How to Reheat Smoked Turkey
Reheating smoked turkey is certainly doable, but it's important to take a few precautions to avoid it becoming dry in the process. There are a few ways to go about reheating, but using the oven is probably your best bet.
Simply place your turkey into a roasting pan and be sure to spray the skin – this is vital to avoid loss of moisture. Wrap the turkey up in aluminium foil and roast at 325 degrees Fahrenheit for around 5 minutes per pound (less if you're just reheating slices, wings or legs). Don't forget to temperature check again to ensure it has heated all the way through prior to serving.
Can You Freeze Smoked Thanksgiving Turkey?
Absolutely, there's no reason why you can't portion away some of your turkey for future enjoyment! Simply let it cool to room temperature, debone and slice before bagging into portion sizes for convenience and ease of reheating.
Tips for Best Smoked Turkey
Remember, the key to perfect smoked meat is low and slow. Keep the temperature low and allow it to slow roast all day.
Baste the turkey every hour to ensure it doesn't dry out.
Use wood chips, such as Applewood chips to enhance the flavor.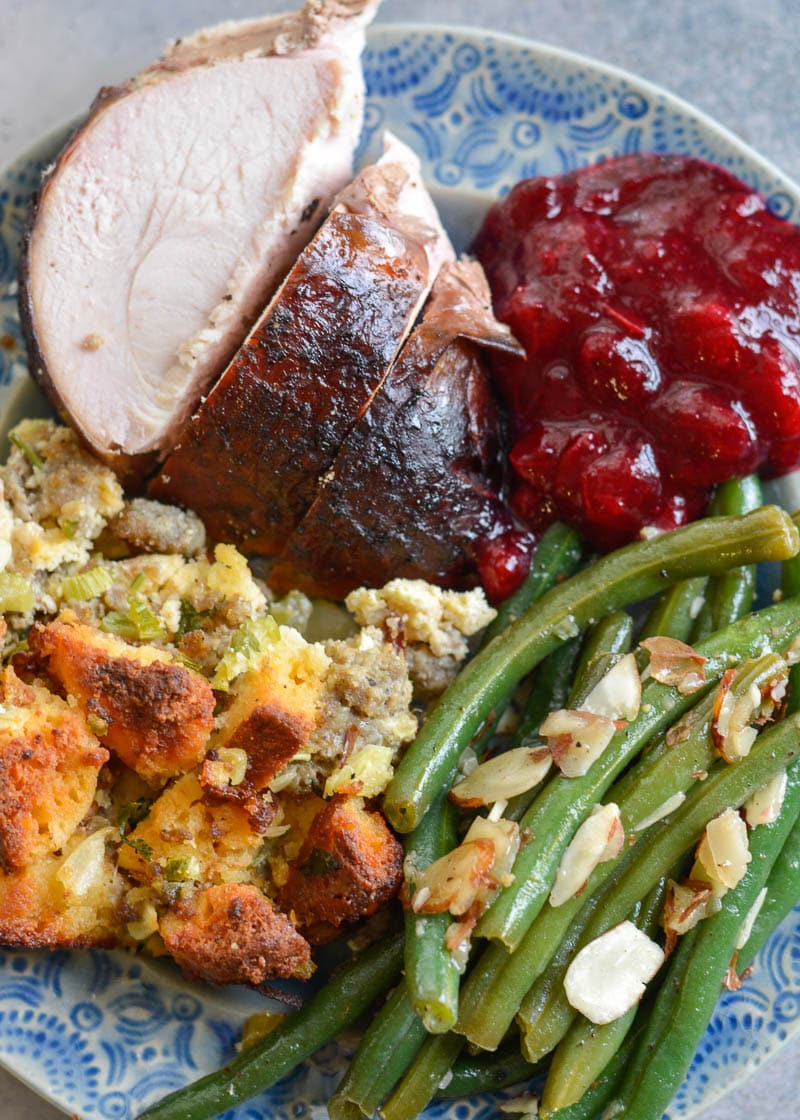 Other Thanksgiving Recipes
In need of more Thanksgiving inspiration? Take a look at these recipes to add a creative twist to the classics this holiday season!