This One-Pan Pork Chops and Rice is loaded with tender rice, black eyed peas and Cajun pork chops. This easy dinner recipe is quick, inexpensive, and easy!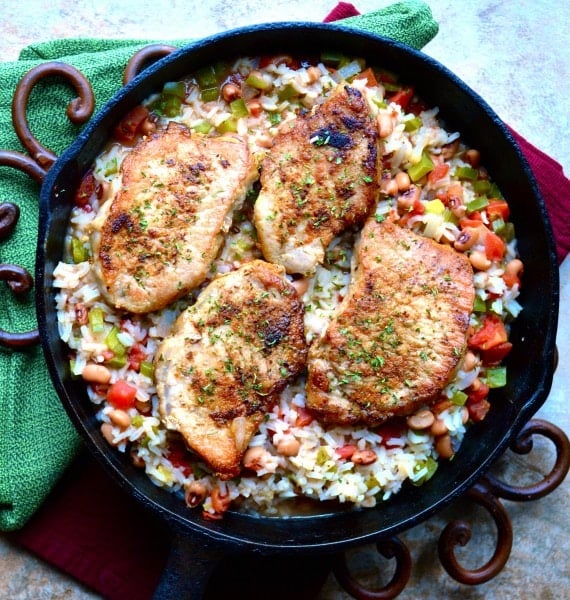 Cajun Pork Chops and Rice
This one pan meal is perfect for a busy weeknight! You can have this easy pork chop dish on the table in about 30 minutes for a quick, nutritious dinner. It's even simple to make ahead of time for meal prep.
There are no tricky ingredients and very little clean up, so it's not a recipe that's going to stress you out at the end of a long day. These cast iron skillet pork chops always turn out juicy, tender, and flavorful. The rice, black eyed peas, tomatoes, bell pepper, and onion add even more delicious tastes for a well-rounded, healthy meal!
Ingredients for Pork Chops and Rice
This easy pork chop skillet dinner recipe requires almost entirely pantry staples, which makes it an excellent go-to meal if you are trying to use up ingredients without going to the store. Here's a quick overview of what you'll need. For specific measurements, scroll down to the printable recipe card.
Pork Chops – As long as your pork chop is UNDER 1″ thick, you should be able to cook either bone-in or boneless pork chops within the time range listed.
Old Bay – This is a paprika/celery salt/pepper blend. You can use a basic Cajun seasoning or an all-purpose seasoning blend that is heavy on paprika.
Olive Oil – Extra virgin olive oil handles high heat better than others.
Bell pepper and Onion – Diced. You can use any color bell pepper, but I prefer red.
Canned goods – Tomatoes with Green Chiles (also called RoTel here) and Black Eyed Peas
White Rice – I don't recommend substituting, especially not with brown rice. Taste was off, the dish turned out soupy, and the rice wasn't fluffy.
Chicken Broth – A vegetable broth could be used as well.
Worcestershire Sauce – Adds a great depth of flavor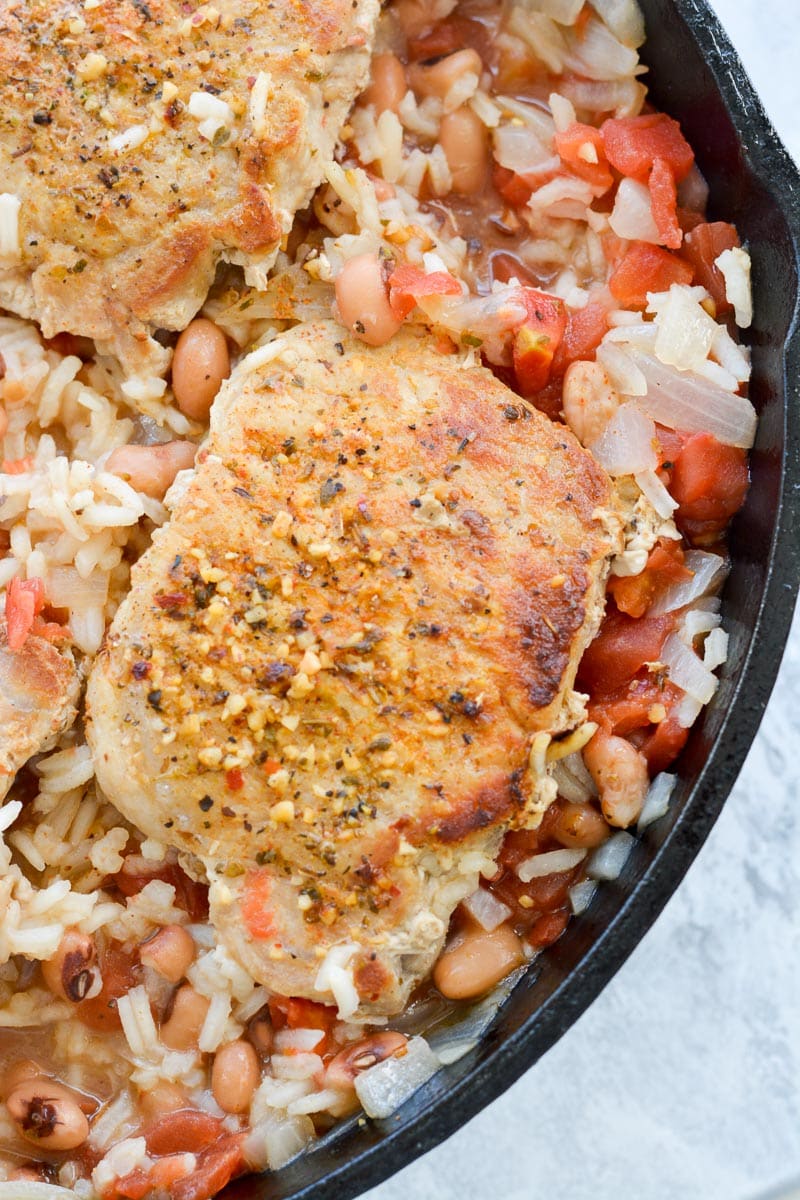 How to Make Skillet Pork Chops and Rice
This dish is simple and just requires a pan with a well-fitting lid. It's very easy — Check out this step-by-step guide:
Season, sear, and sauté
Heat olive oil over medium heat in a 12-inch skillet with a lid. Season the pork chops with most of the Old Bay — Keep 1 teaspoon aside for later. Add pork chops to the pan and cook about 2-3 minutes on both sides (or until each side has a good sear).
Remove the pork chops from the pan and set them aside. Toss in chopped onion, bell pepper, and the canned goods.
Stir in broth
Pour in the broth, rice, worcestershire sauce, and that teaspoon of Old Bay you reserved. Stir until it looks like the seasonings are well distributed. Place the pork chops on top.
Simmer
Place the lid on the skillet (it should fit well) and turn the heat down to low. Allow the dish to simmer for about 25 minutes. When all the liquid is absorbed and the rice is tender, you're ready to eat!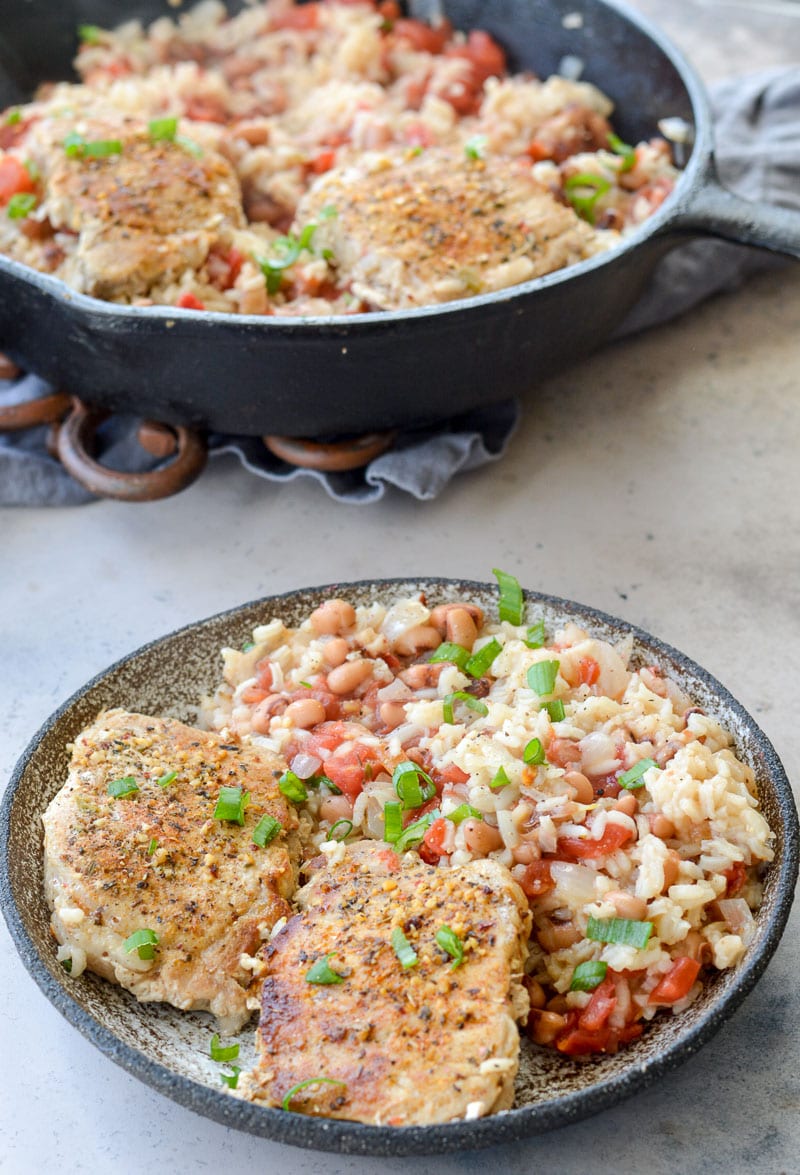 Serve
This dish is best served with these Sweet Potato and White Cheddar Corn Muffins — They perfectly balance out that bit of spice. To go spicier, try the Jalapeno Cornbread! You could add some Instant Pot Collard Greens to stretch out the meal and add more nutrients.
Store
Allow the meal to cool completely before placing in an airtight container. Store in the fridge up to 4 days.
Freeze
You can freeze pork chops and rice for long-term meal planning! Allow the dish to cool completely to prevent getting freezer burn. Freeze in an airtight container up to 6 months.
Reheat
You can reheat individual portions in the microwave — I like to do 50% power for 1 minute, then continue in 30-second increments until warmed through. To prevent the meal from drying out, add a teaspoon or two of water (or broth if you have it) to the dish before microwaving.
For larger portions, place the whole recipe in the pan on medium low heat. Add 1-2 tablespoons of water and allow it to warm up. Stir occasionally until it is warmed throughout.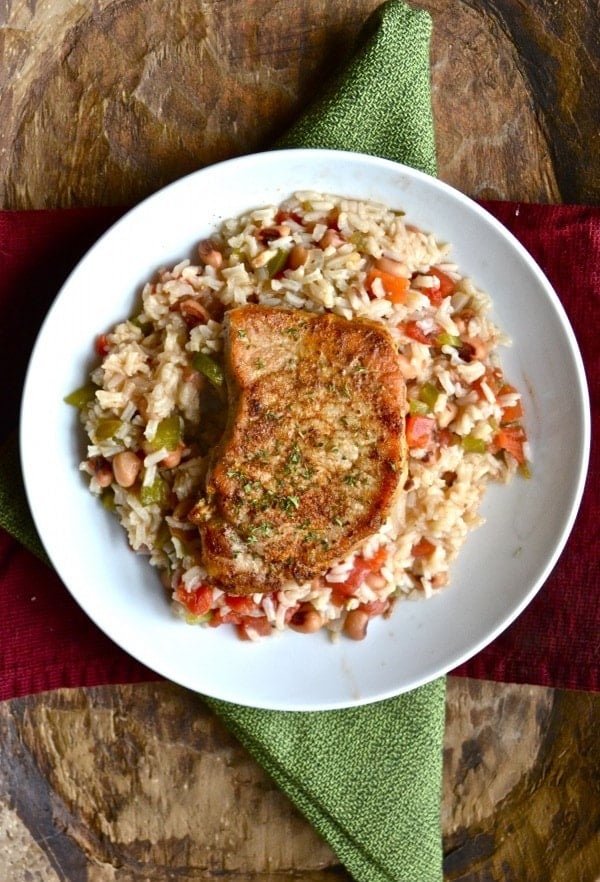 If you like these One Pan Pork Chops with Rice, you'll love these recipes:
FAQs about pork chops and rice
Should I drain the tomatoes or black eyed peas?
For this recipe, it's very important that you DO NOT drain the canned goods. The moisture is soaked up by the rice, and the flavor enhances the entire dish.
What is Old Bay seasoning?
This seasoning blend consists of celery salt, red pepper, black pepper, and paprika. It's fantastic with seafood, pork, chicken, and much more! If Old Bay is not available for you, try to find an all-purpose blend with a good amount of paprika and pepper.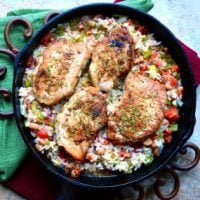 One Pan Pork Chops and Rice
Zesty rice, tomatoes, and black beans are simmered to perfection and topped with tender, spicy pork chops! You won't believe how easy this is!
Ingredients
4 pork chops
2 teaspoons of Old Bay Seasoning, divided
1 tablespoon olive oil
1 bell pepper, chopped
1 onion, chopped
1 can tomatoes with green chiles, undrained
1 can black eyed peas, undrained
1 cup white rice
1 1/2 cups chicken broth
1 tablespoon of worcestershire sauce
Instructions
In a 12-inch skillet with a lid, heat olive oil over medium heat.
Sprinkle the Old Bay on each side of the pork chops, reserving 1 teaspoon of seasoning for later.
Pan sear the chops, about 2-3 minutes on each side. You aren't looking for doneness here, just a good color. When both sides are golden remove form skillet and set aside.
Add in chopped onion, bell pepper and let cook for about 1 minute.
Pour the can of tomatoes and green chiles, and the undrained can of black eyed peas. Stir in the broth, rice, worcestershire sauce , and last teaspoon of Old Bay. Top with pork chops.
Bring mixture to a simmer. Place lid on skillet and turn down to low. Let simmer 25 minutes until all liquid is absorbed.
Nutrition Information:
Yield:

4
Serving Size:

1
Amount Per Serving:
Calories:

502
Total Fat:

22g
Saturated Fat:

6g
Trans Fat:

0g
Unsaturated Fat:

12g
Cholesterol:

134mg
Sodium:

956mg
Carbohydrates:

29g
Fiber:

5g
Sugar:

6g
Protein:

47g