Crock Pot Black Eyed Peas and Collard Greens are the ultimate Southern Comfort food!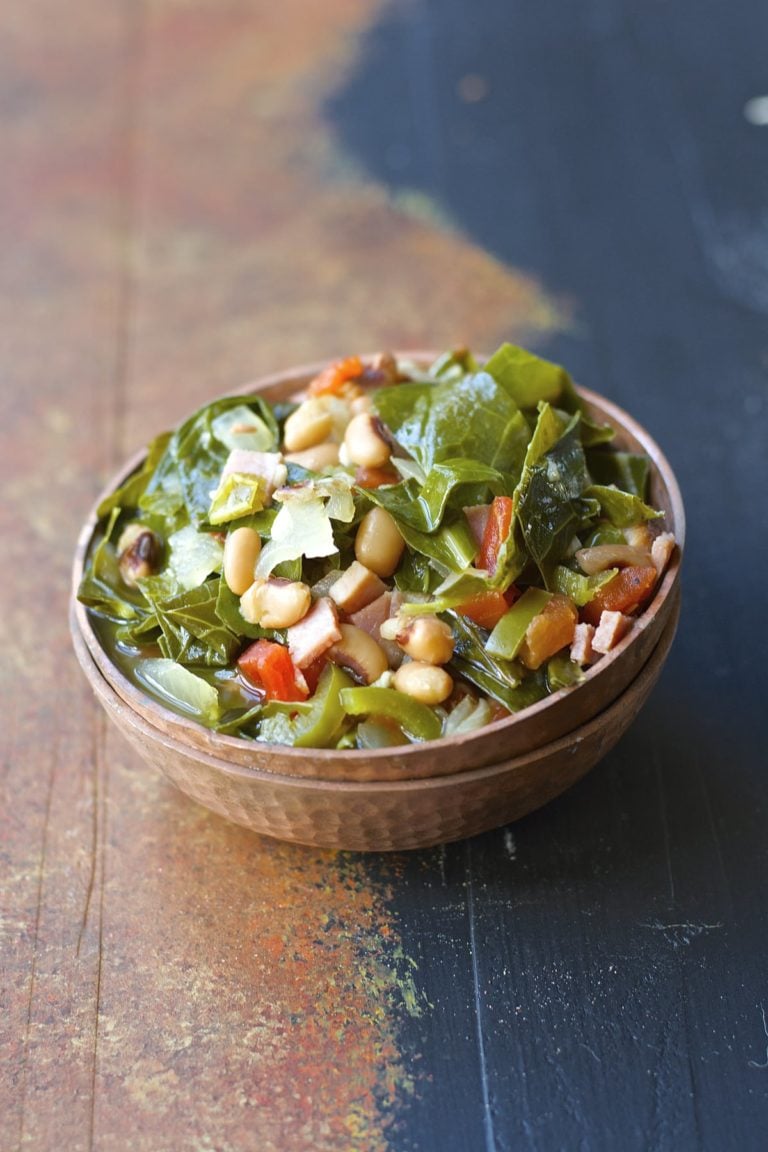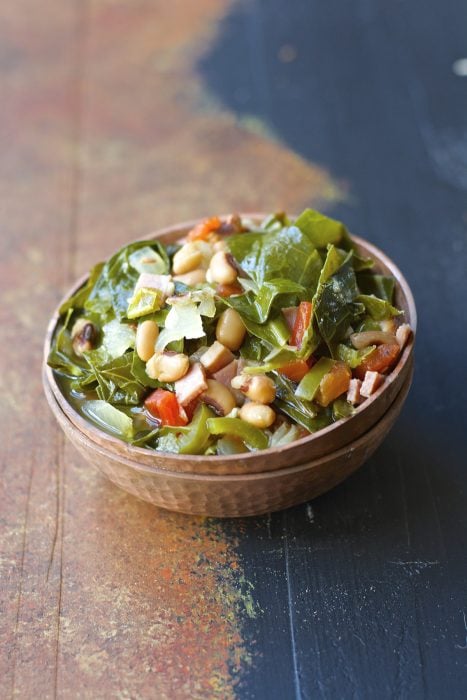 Hey there, how ya been? Did you have a good holiday break? I sure hope so!
We've spent 8 glorious days on the farm, soaking up as much sunshine as possible in this abnormally warm winter we are having. Getting the entire family together can be touch, so it was extra special to have so much time together. It was a great week with family and food!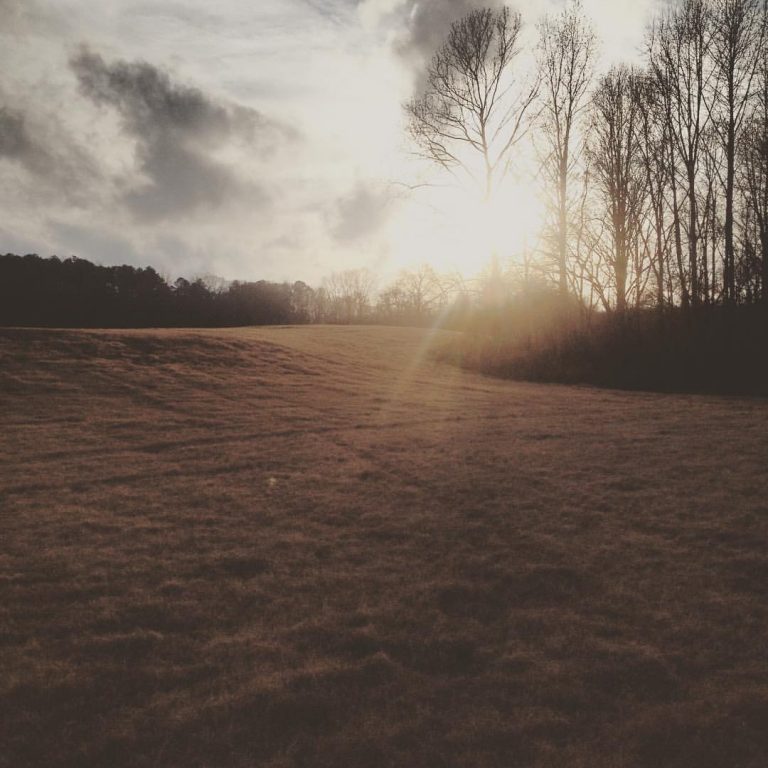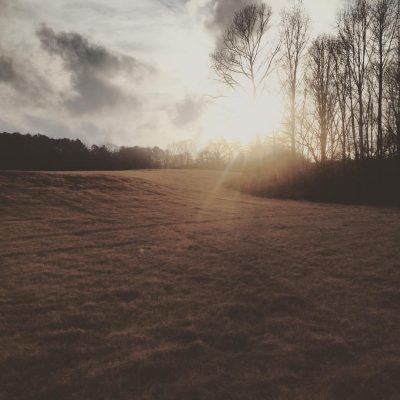 I'm still enjoying holiday break, but popped in to share this perfect New Years recipe with you! So, let's talk about important things like GREENS! Me, I can't get enough of them.
How do you feel about them? Are they a once a year occurrence for you? Are they the thing you eat on New Years because it is mandatory? Or are you like me and you totally love them?
If you aren't on board with them, this recipe for Crock Pot Black Eyed Peas and Collard Greens will convince you! It is packed with fresh collared greens, black-eyed peas, onions, spicy tomatoes and chunks of ham! It is a hearty, soulful dish that is loaded with flavor!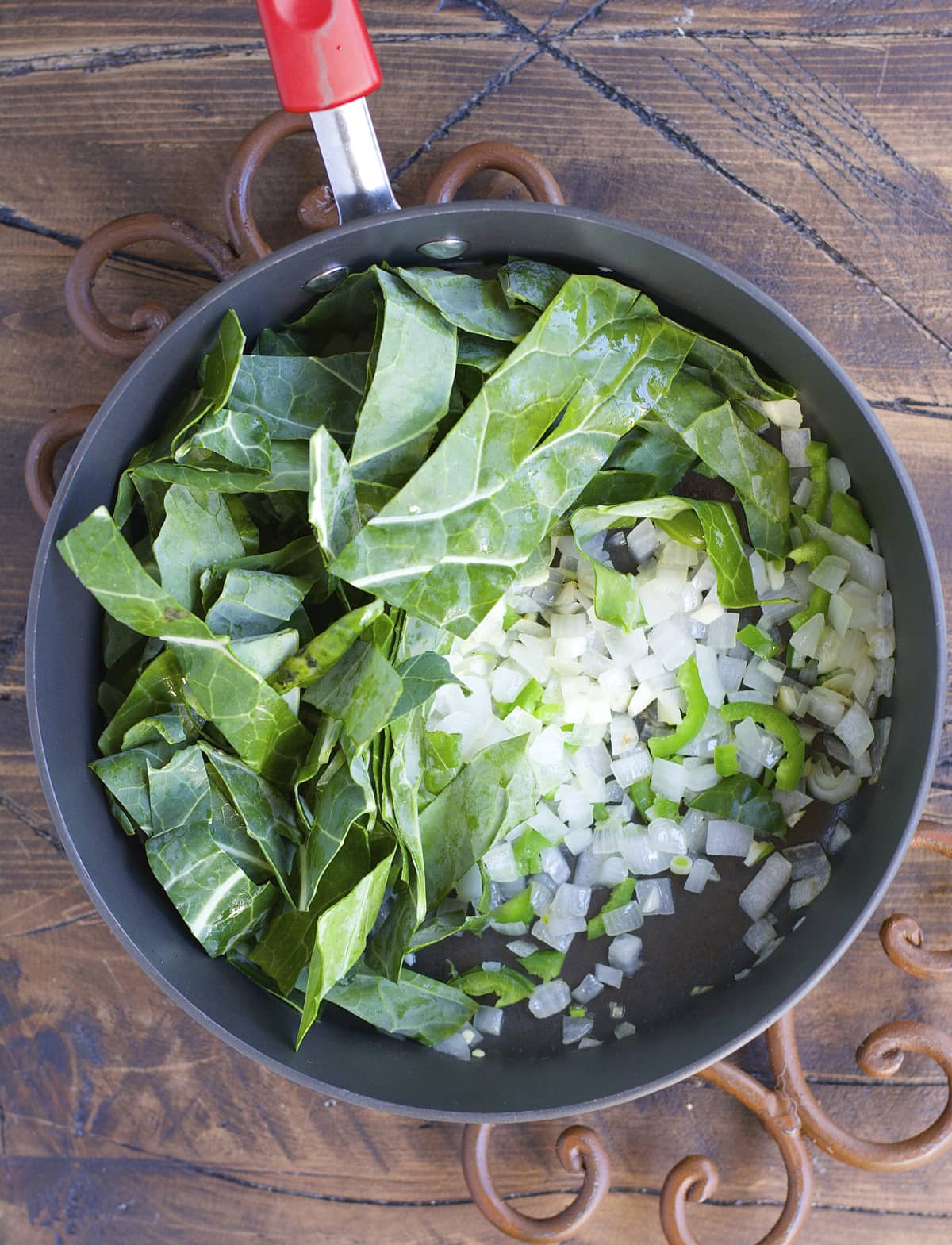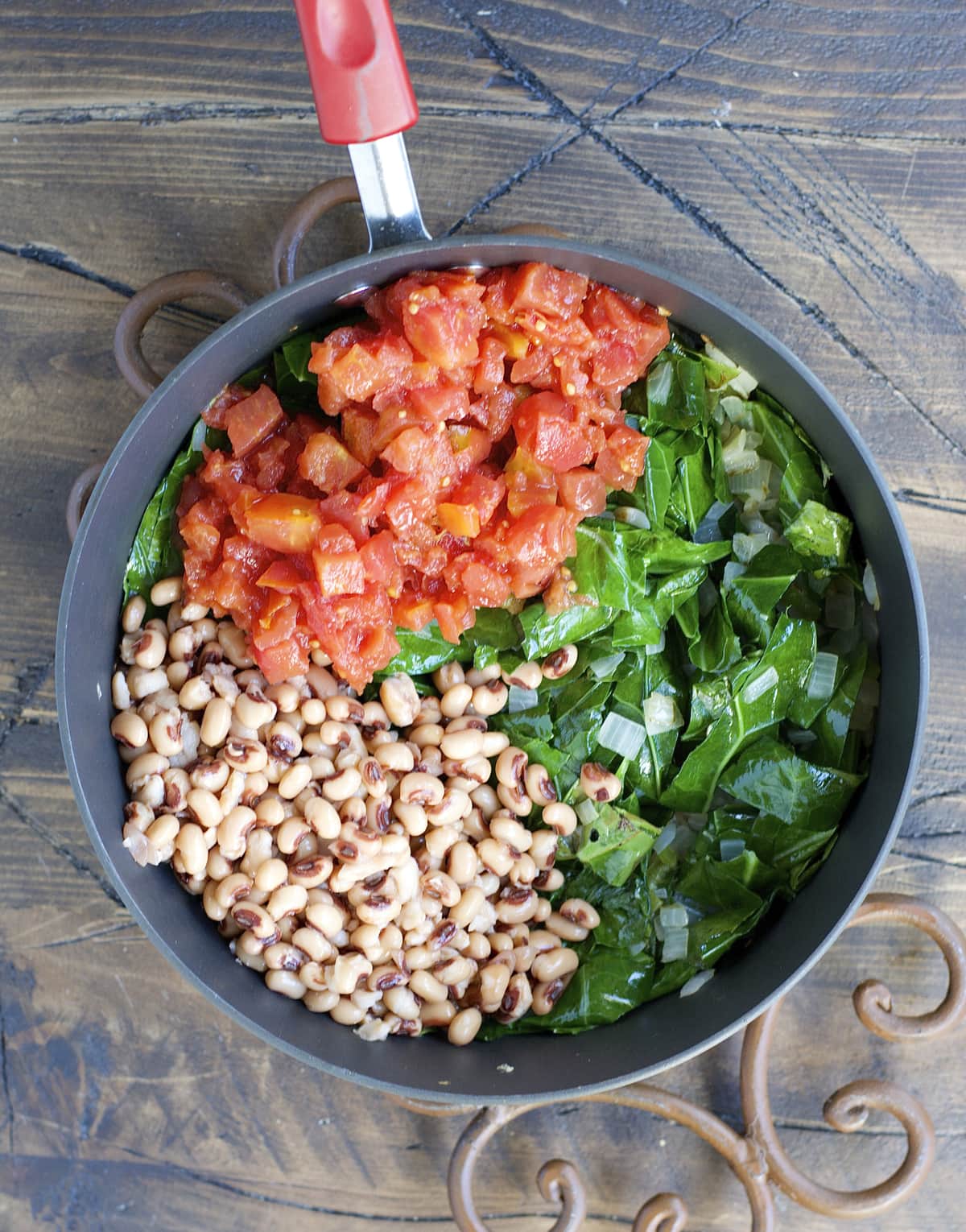 Ingredients for Crock Pot Black Eyed Peas
As always, here is quick run through of the ingredients you will need for Black Eyed Peas and Collard Greens. For the complete recipe, just keep scrolling.
Collard greens- chopped
Olive oil- any type you have will work fine
Garlic- minced
Onion- diced
Jalapenos- diced
Tomatoes with green chiles- canned
Black eyed peas- canned
Ham- sliced or shredded
Chicken broth
Salt and pepper to taste
Tips and Tricks for Slow Cooker Collards and Black Eyed Peas
Everyone knows for New Years, you gotta have the Black Eyed Peas and Collard Greens! You know, for luck. But there are a few different ways to prepare them.
First off, you can change the meat you use or add more meat. I personally enjoy ham in this recipe, but feel free to also use bacon, Canadian bacon, smoked sausage or even a ham bone! You can use whichever you prefer.
You can also add some pepperocini peppers if you're looking for more of a kick with this dish, although the jalapenos add a great flavor. You could also add carrots or peas if you're interested in adding in more veggies.
The biggest tip I can give you is to make sure that you're Collard Greens are fresh! Fresh collards have such a great flavor and really bring out the natural taste in this dish. You can find them at any grocery store.
I also recommend serving this dish up with cornbread. Here's a recipe for Mexican Cornbread that I am obsessed with!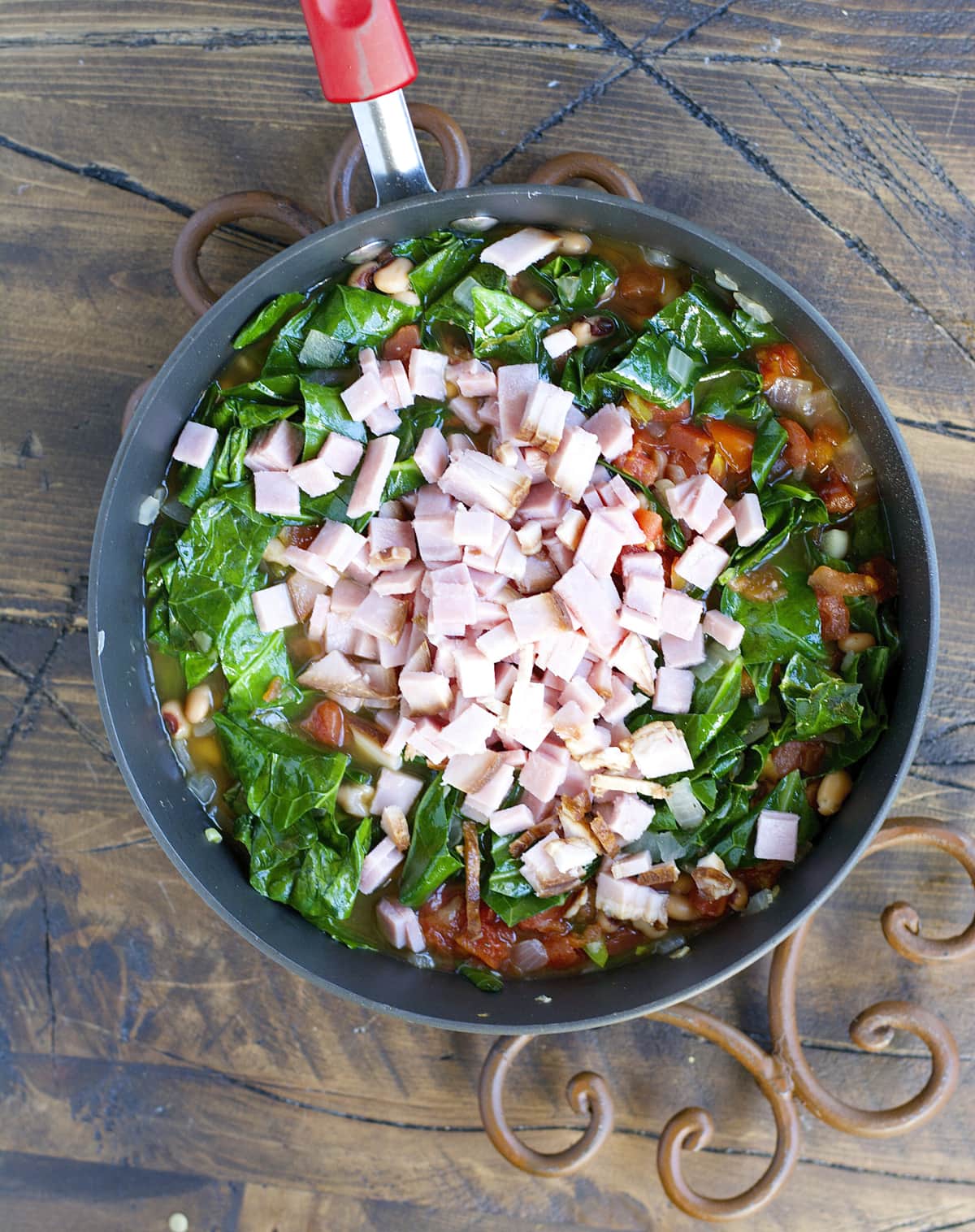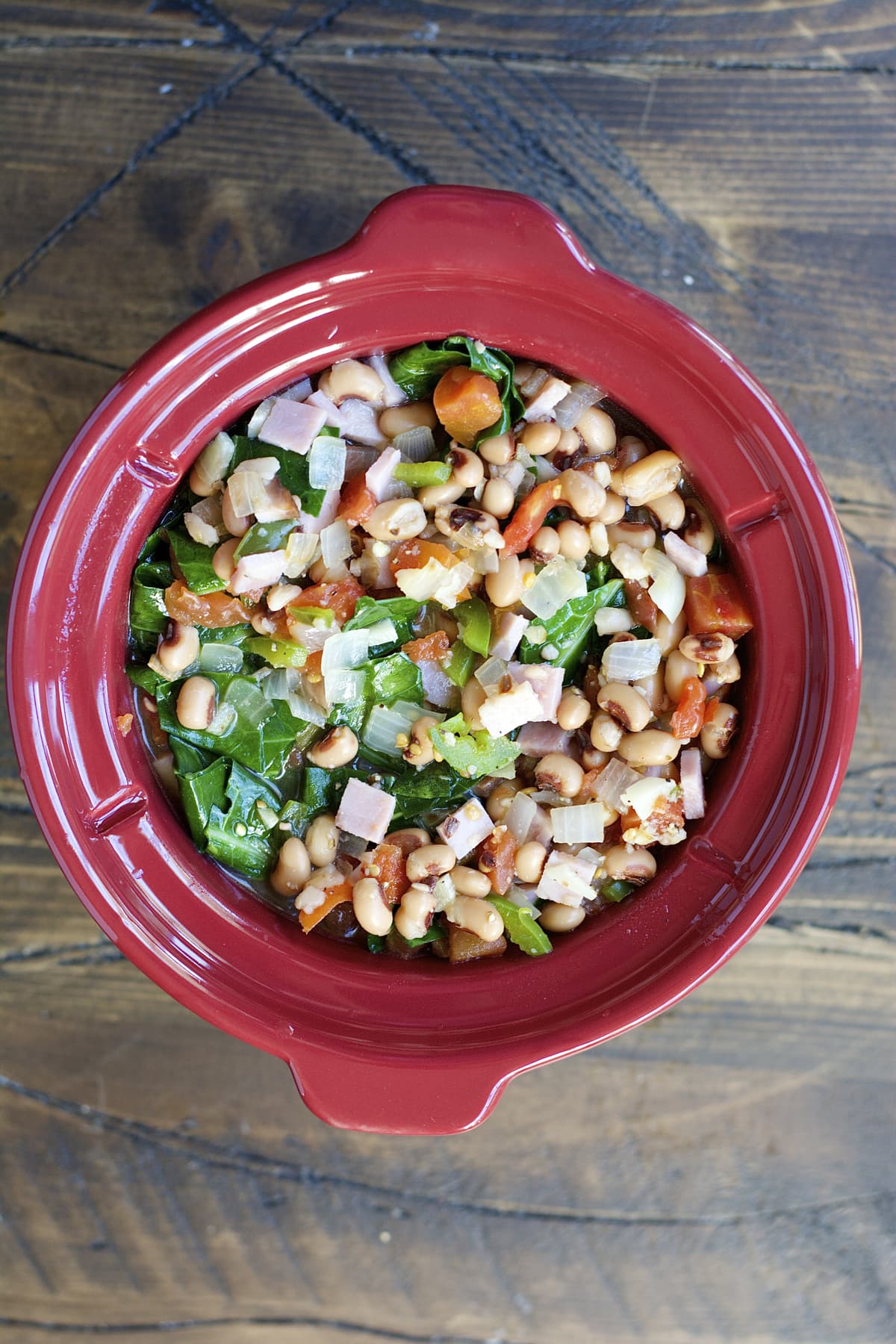 How do you make Spicy Black Eyed Peas?
Here is how we make them! We start with our greens. Remove the stem and slice them into strips, then slice and mince your onion.
Greens can be a little tough, so we are going to sauté them in a little olive oil with minced garlic and onion for some added flavor. Then we add an undrained can of tomatoes and green chiles, a can of black-eyed peas, some chopped jalapeños, chunks of tender ham and a bit of chicken broth. Let it all simmer for a few minutes and transfer to a slow cooker.
Let that big pot of Southern goodness slowly simmer all day for the perfect New Years treat! I love how simple this recipe is and the fact that the slow cooker does most of the work for me is another huge bonus! These Crock Pot Black Eyed Peas and Collard Greens are a healthy way to launch the start of a New Year!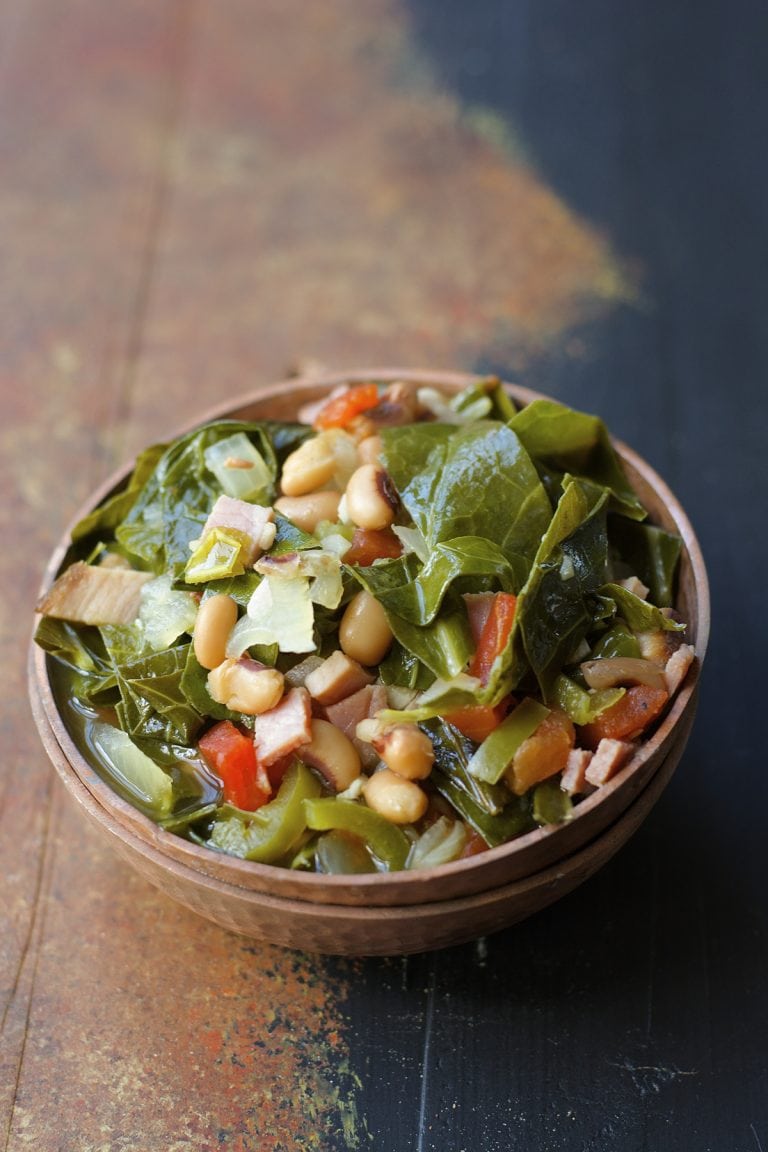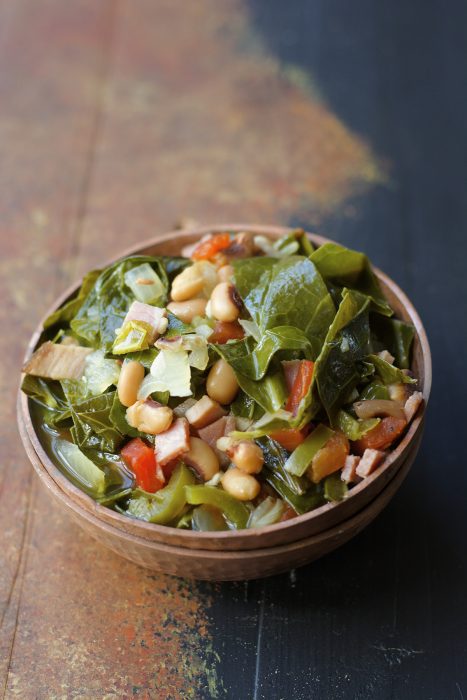 How to Store and Reheat Crock Pot Black Eyed Peas with Collard Greens
To store these Black Eyed Peas and Collards, simply place in a glass or plastic container with an airtight lid. These Peas and Collard Greens will stay fresh in the fridge for up to four days. To reheat, simply place in the microwave and warm in 30 second increments until they are hot enough for you.
More Crock Pot Recipes
For More Healthy Recipes Follow me on Pinterest!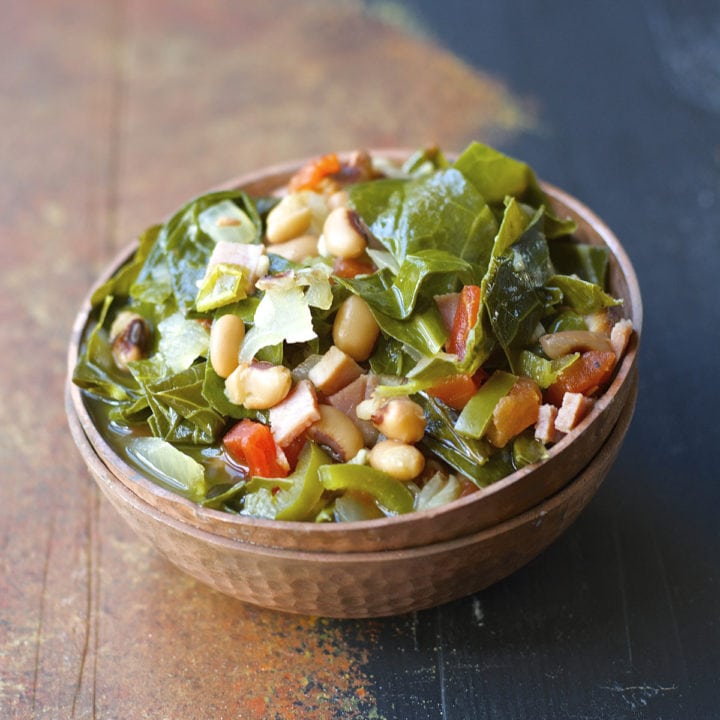 Crock Pot Black Eyed Peas and Collard Greens
Cook Time:
4 hours
10 minutes
Total Time:
4 hours
15 minutes
Crock Pot Black Eyes Peas and Collard Greens are the ultimate Southern Comfort food! 
Ingredients
1 bunch collard greens
1 tablespoon olive oil
2 teaspoons minced garlic
1 small onion, minced
2 jalapeños, seeded and finely chopped
1 (10 ounce) can tomatoes with green chiles, undrained
1 (15 ounce) can black eyed peas, drained
2 cups chicken broth
1 cup sliced or shredded ham
salt and pepper to taste
Instructions
Heat a large deep skillet to medium heat and add the olive oil, garlic and onion. Sauté until garlic is fragrant, add the sliced collard green leaves (you may need to add a handful at a time until they cook down as not to overcrowd your pan)
Cook greens, stirring occasionally until they are wilted.
Add the remaining ingredients and cook until the broth begins to simmer.
Transfer to a slow cooker and cook on low for at least 4 hours. The greens can be cooked longer than 4 hours- I tend to think greens taste better the longer they cook.
Nutrition Information:
Yield:

4
Serving Size:

1
Amount Per Serving:
Calories:

414
Total Fat:

8.2g
Cholesterol:

34.2mg
Sodium:

741mg
Carbohydrates:

56.2g
Net Carbohydrates:

46.3g
Fiber:

9.9g
Sugar:

7.6g
Protein:

31.4g
Other New Years Recipes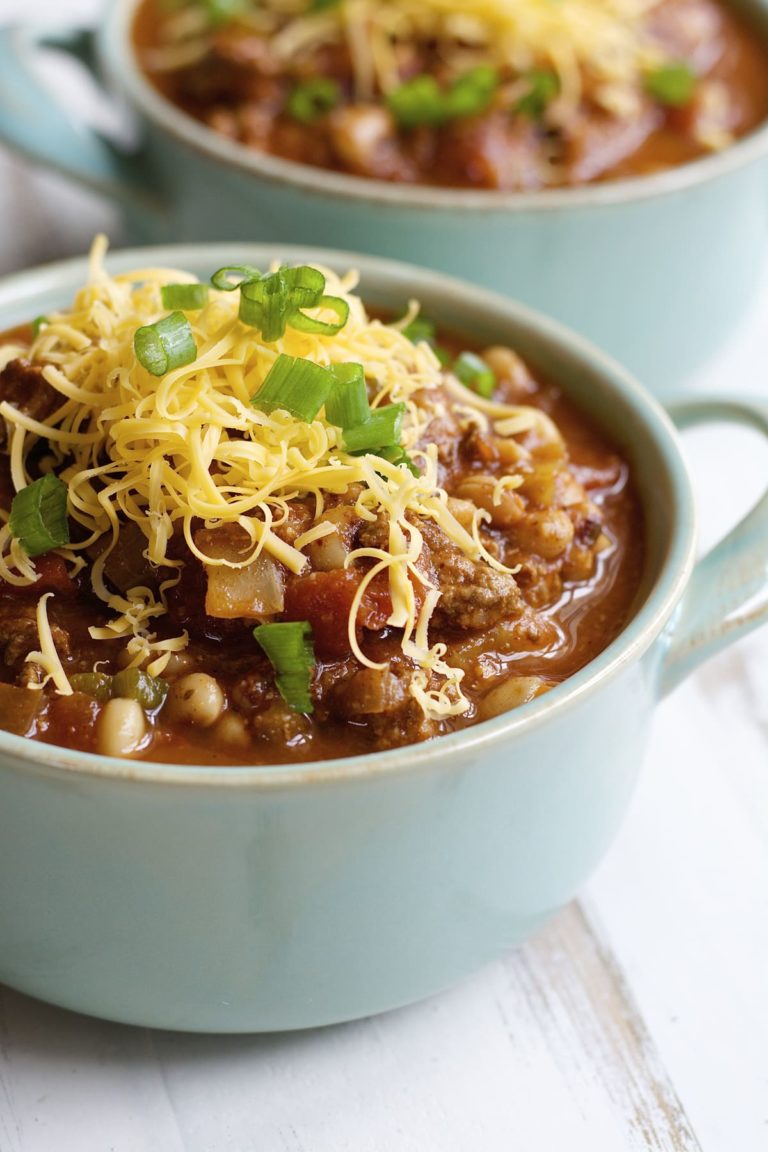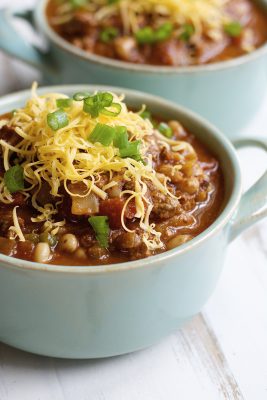 Cabbage and Black-Eyed Pea Soup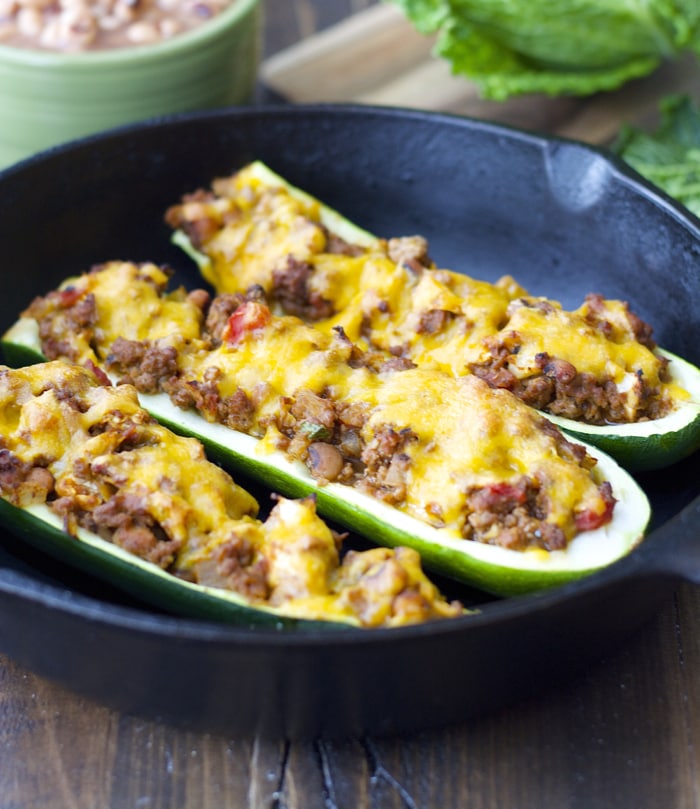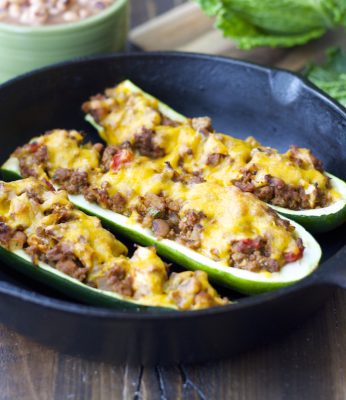 Cabbage and Black-Eyed Pea Stuffed Zucchini Boats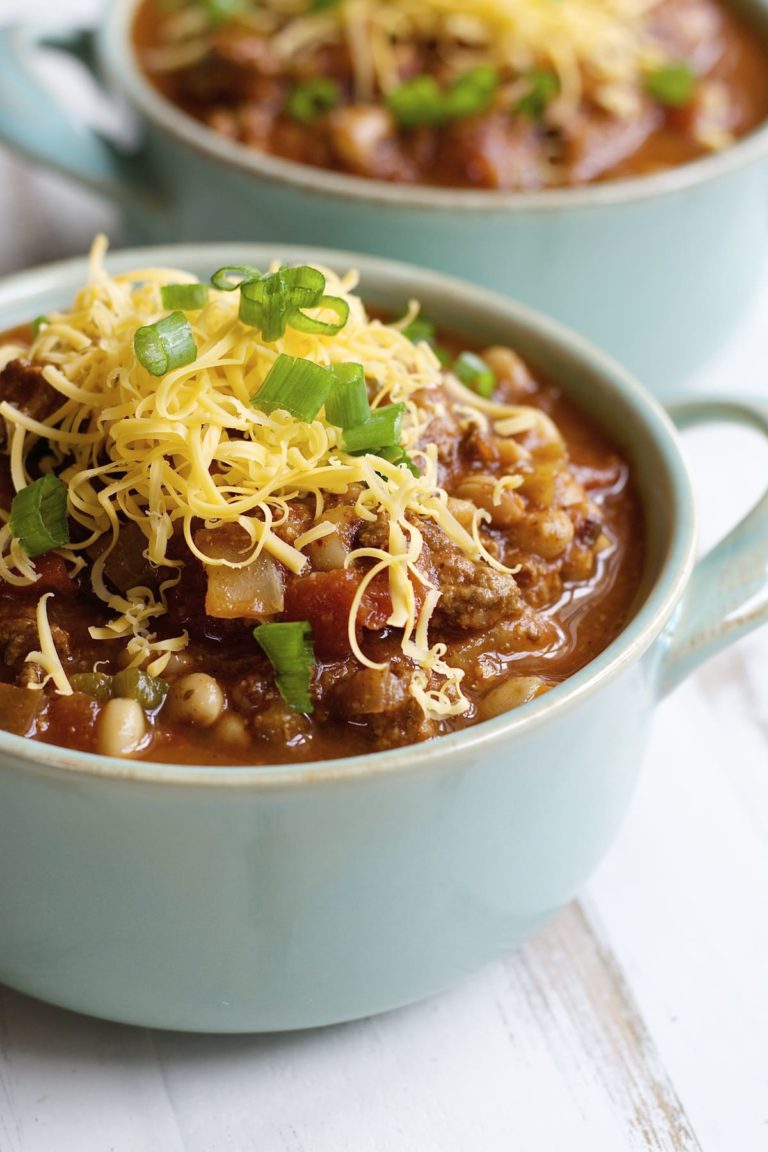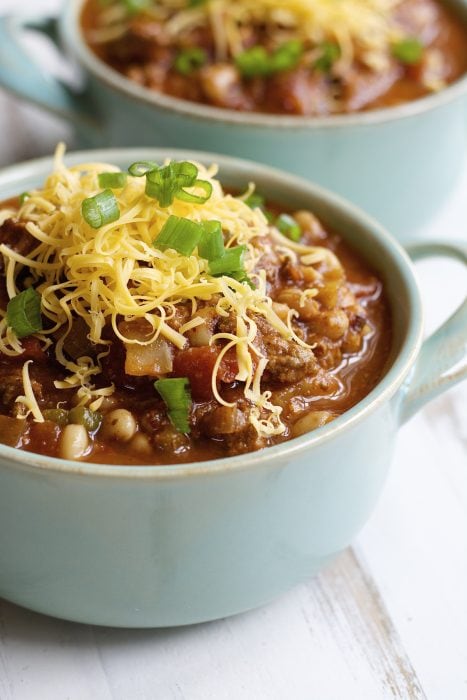 Cabbage and Black Eyed Pea Soup (Slow Cooker + Gluten Free)