These 40+ amazing recipes will help you celebrate with traditional New Year's Day food! Whether you're searching for luck and good fortune or just looking to host a fun party, this list has what you need.SaveSaveSaveSave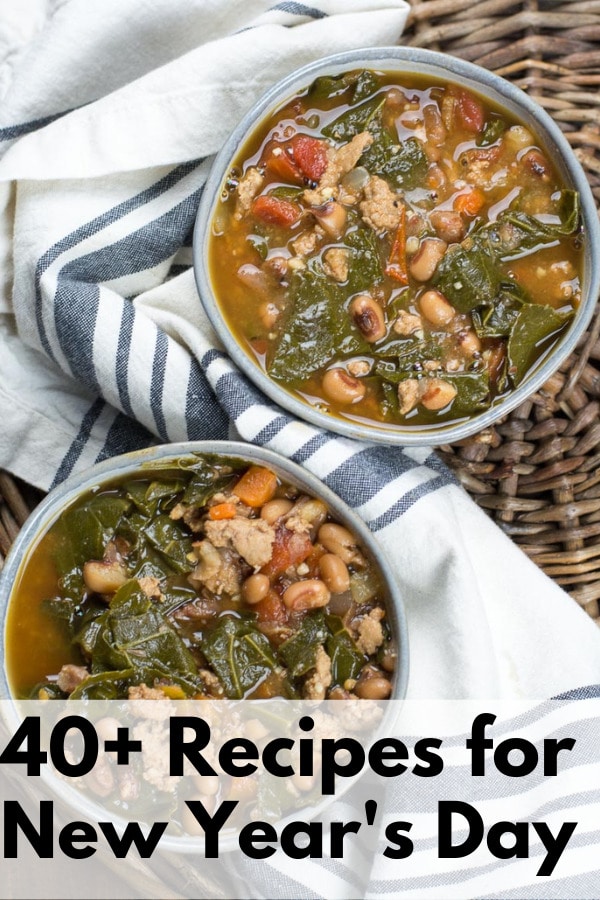 New Year's Day Traditions
Different places have different traditions for the joyous holiday of New Year's Day! In the southern United States, there are several foods that are believed to give good luck. On the downside, there are also a couple of foods you don't want to eat in case they lead to a bad year. Here are the traditional New Year's foods in the South:
What to eat on New Year's Day
Pork – This is a symbol for progress and prosperity. When pigs are rooting (or looking for food), their move forward with their snout. If a pig can keep going and moving forward, so can you!
Greens – These meaning behind eating greens (usually cabbage, collar greens, swiss chard, etc.) is to accept the money coming you're way in the new year. Get it, green leads to more green?
Beans, Peas, and Lentils – These are meant to symbolize coins, money, and financial success. Wouldn't it be great if you earned money for every single black-eyed-pea you ate?!
Cornbread – Beautiful golden cornbread will hopefully turn into beautiful gold in your pocket. This is all about gaining more wealth this year.
What not to eat on New Year's Day
Chicken – There are two beliefs behind this one. First, chickens scratch backwards when looking for food, so you may experience some setbacks. Second, chickens have wings, and that might cause your luck or loved ones to "fly away."
Lobster – Lobsters also walk backwards, so eating this may lead to undoing some previous progress and getting you further from where you want to be.
Crab – Crabs walk sideways, so eating them may lead to a stalemate year… No progress, no gaining, no losing, just a new year with no changes.
FAQs about New Year's Day Food
Do you eat New Year's food on New Year's Eve or New Year's Day?
For wealth, luck, and good fortune, you're supposed to eat these foods at midnight on New Year's Eve. This means it will really be your first meal of the year and will be the first step to achieving what you want!
Does everyone have the same food traditions on New Year's Day?
No, different regions often have different beliefs and traditions! This follows the traditions of the southern United States.
New Year's Day Recipes
These 30+ recipes will help you celebrate with traditional New Year's Day food! Perfect for dinner, parties, and finding luck and good fortune.