This loaded Cranberry Granola is packed with rich dark chocolate, tart cranberries, cinnamon, coconut, nuts, and seeds! It is the perfect grab-and-go snack for any occasion!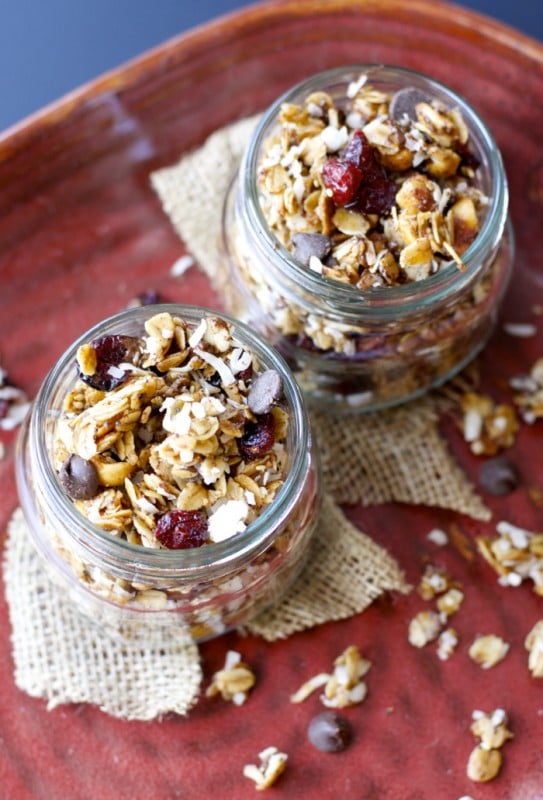 When I get ready to go on a trip I go into purging mode. I clean the house, throw out all kinds of things, scrub the floors and the countertops, clean out the fridge and the cabinets like a mad woman. I don't know why, I guess I just like the idea of coming back from a trip to a clean slate.
That is exactly what I did before we left for Utah. I took our dogs to my parents a few days before we left which left uninterrupted time to get everything in order. One of the things I did was make food for our trip. Just a couple snacks to keep handy in case we got stranded at the airport (like I expected) or if we couldn't track down any gluten free food.
Mr. Maebell always loves the Peanut Butter Granola, but I was looking to use up more of our pantry instead. After some experimenting, our favorite snack ended up being this Dark Chocolate Cranberry Granola.
It is amazing! It features cinnamon granola with dark chocolate chips, coconut, dried cranberries, honey roasted peanuts, poppy seeds and sesame seeds! Basically, every single thing left in my cabinets! I loved how all of the flavors played so well together, and it had so many elements in it it was far more filling than regular granola.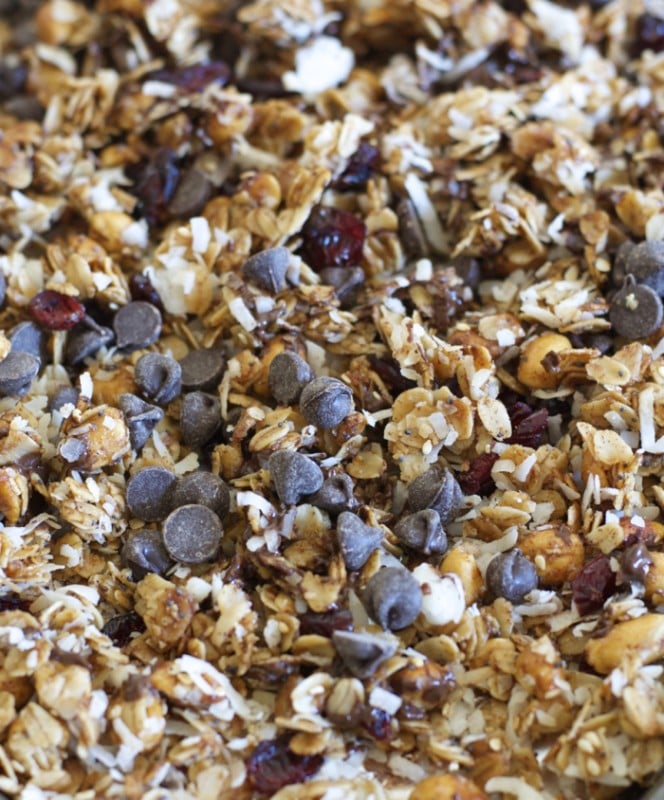 Ingredients for Cranberry Granola
Here's a quick overview of what you'll need for this granola. For exact measurements, keep scrolling to the printable recipe card!
Honey
Coconut oil
Old Fashioned oats (gluten free)
Spices/Seasoning: Cinnamon, vanilla extract, salt
Seeds: Sesame seeds, poppy seeds
Extras: Honey roasted peanuts, shredded sweetened coconut, dark chocolate chips, dried cranberries
How to make Gluten-Free Granola
I know this has a lot of ingredients, but the process is very simple. Most importantly, you do need to make sure that your oats are specifically labelled gluten-free because many aren't!
While your oven is pre-heating, toss together the spices and gluten-free oats in melted honey and coconut oil to get them completely covered. Pour mixture onto a lined baking sheet and bake for 10 minutes. Stir mixture well after 10 minutes and add peanuts and seeds.
Bake 10 more minutes. Finally, add the coconut, mix, and bake 5 more minutes. Remove from oven and allow to cool for 15 minutes. After the mixture has cooled, stir to break up clumps and add the chocolate chips and dried cranberries.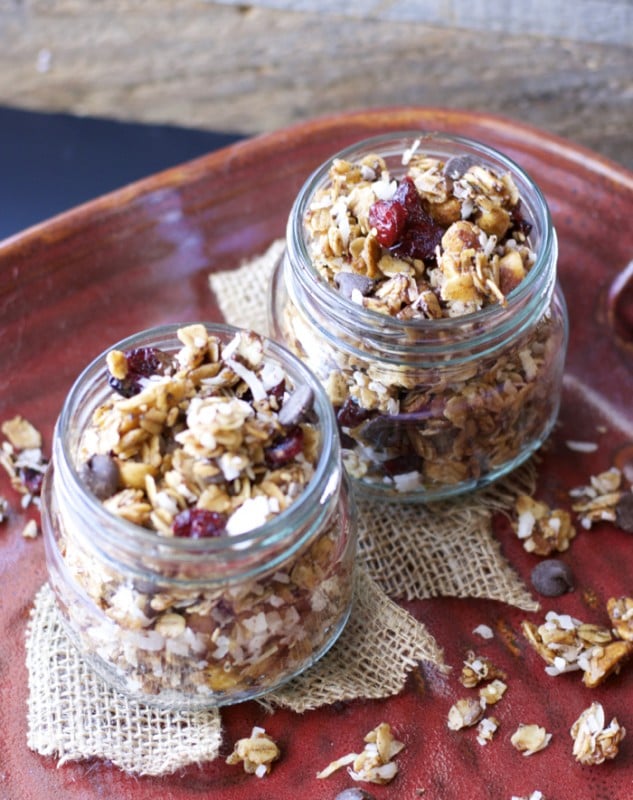 Tips for the BEST Homemade Granola:
Use high-quality ingredients — One great thing about granola is its ability to pack a ton of nutrients into a relatively small amount of food!
Don't cook everything at once — This recipe uses such a variety of ingredients, this isn't a recipe where you just mix and bake the entire thing together. Follow the recommended times to best avoid certain ingredients from overcooking or melting.
If you prefer clusters in your granola, you can form them with your hands while the mixture is warm, then allow them to cool completely before stirring or removing. If you like it to be fairly loose and free-flowing, stir while still warm and several times while cooling.
Granola Substitutions:
My FAVORITE thing about granola is how easy it is to customize! Here are some ways you could customize it to create your own perfect blend:
Nuts: Pistachios, cashews, almonds, pecans… Whole, sliced? You can create many different textures and flavors by adding different nuts!
Fruits: Dried fruits always work best in granola for storage and texture, but you could try all kinds! Raisins, dried blueberries or cherries, figs, apricots, banana chips… You could even cut your dried fruit before adding for a chewier granola!
Sweetener: Instead of honey, you could use maple syrup, molasses, agave nectar, or many other liquid alternatives! You could also reduce or increase this based on your taste.
Candies: I added dark chocolate chips because I didn't want it to be TOO sweet, but you could add milk or white chocolate chips, too! Replace them with m&m candies, diced peppermint patties, peanut butter or espresso chips, whatever you like!
Seeds: Try sunflower seeds, chia seeds, toasted pumpkin seeds, or none at all. I really love the crunch and nutrition they provide!
Seasonings/Spices: Try a different extract, different spices, maybe even espresso powder! Cocoa powder, powdered peanut butter, pumpkin spice mixes… The options are endless!
How should I store homemade granola?
After cooking your granola and mixing in any additions, you should make sure your granola is COMPLETELY cool before storing. If it is, it should stay crunchy and fresh for about 2 weeks in an air-tight container in a cool cabinet or pantry. If you can vacuum seal it or store in a baggy with all the air pressed out, it will keep for longer!
You can also freeze granola for longer-term storage. Again, make sure granola is completely cool, then place in freezer bags. Granola will keep about 6 months, but it's best eaten within 3 months.
Easy Gluten-Free Granola: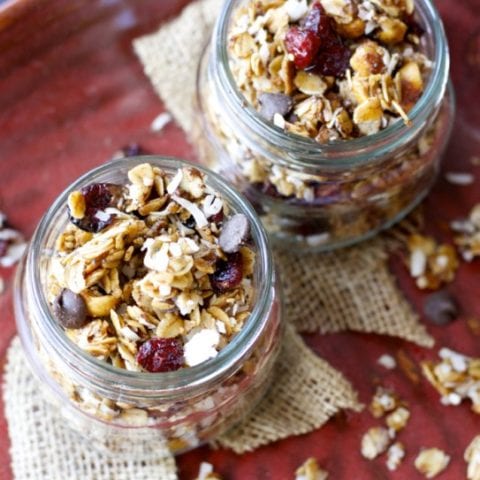 Cranberry Granola
Inactive Time:
15 minutes
This loaded Cranberry Granola is packed with rich dark chocolate, tart cranberries, cinnamon coconut, nuts, and seeds! It is the perfect grab-and-go snack for any occasion!
Ingredients
1/2 cup honey
1/2 cup coconut oil
3 cups gluten free Old Fashioned oats
2 teaspoons cinnamon
2 teaspoons vanilla
1 pinch salt
1 cup honey roasted peanuts
1 tablespoon sesame seeds
1 tablespoon poppy seeds
1 cup shredded sweetened coconut
1 cup dark chocolate chips
1 cup dried cranberries
Instructions
Preheat the oven to 350 F
Spray a large baking sheet with cooking spray (I also line with foil for easy clean up) and set aside.
In a medium size mixing bowl combine the honey, coconut oil, cinnamon, vanilla, and salt. Microwave until coconut oil is melted (about 45 seconds) and stir in the oats.
Stir oats well and make sure they are completely covered.
Spread onto baking sheet and bake 10 minutes.
After 10 minutes, stir mixture well and add the peanuts and seeds.
Bake 10 more minutes and add the coconut to the granola mixture. Bake 5 minutes.
Remove from oven and let cool about 15 minutes. Stir to break up the clumps and add the chocolate chips and cranberries.
Nutrition Information:
Yield:

12
Serving Size:

About 1/2 cup
Amount Per Serving:
Calories:

444
Total Fat:

24.4g
Cholesterol:

0.4mg
Sodium:

219.3mg
Carbohydrates:

49.6g
Fiber:

6.1g
Sugar:

28.1g
Protein:

7.3g