My Easy Keto Meal Plan includes 5 delicious keto dinners as well as an easy low-carb meal prep dessert! Download the printable meal plan and shopping list with net carb counts for an easy week of keto recipes!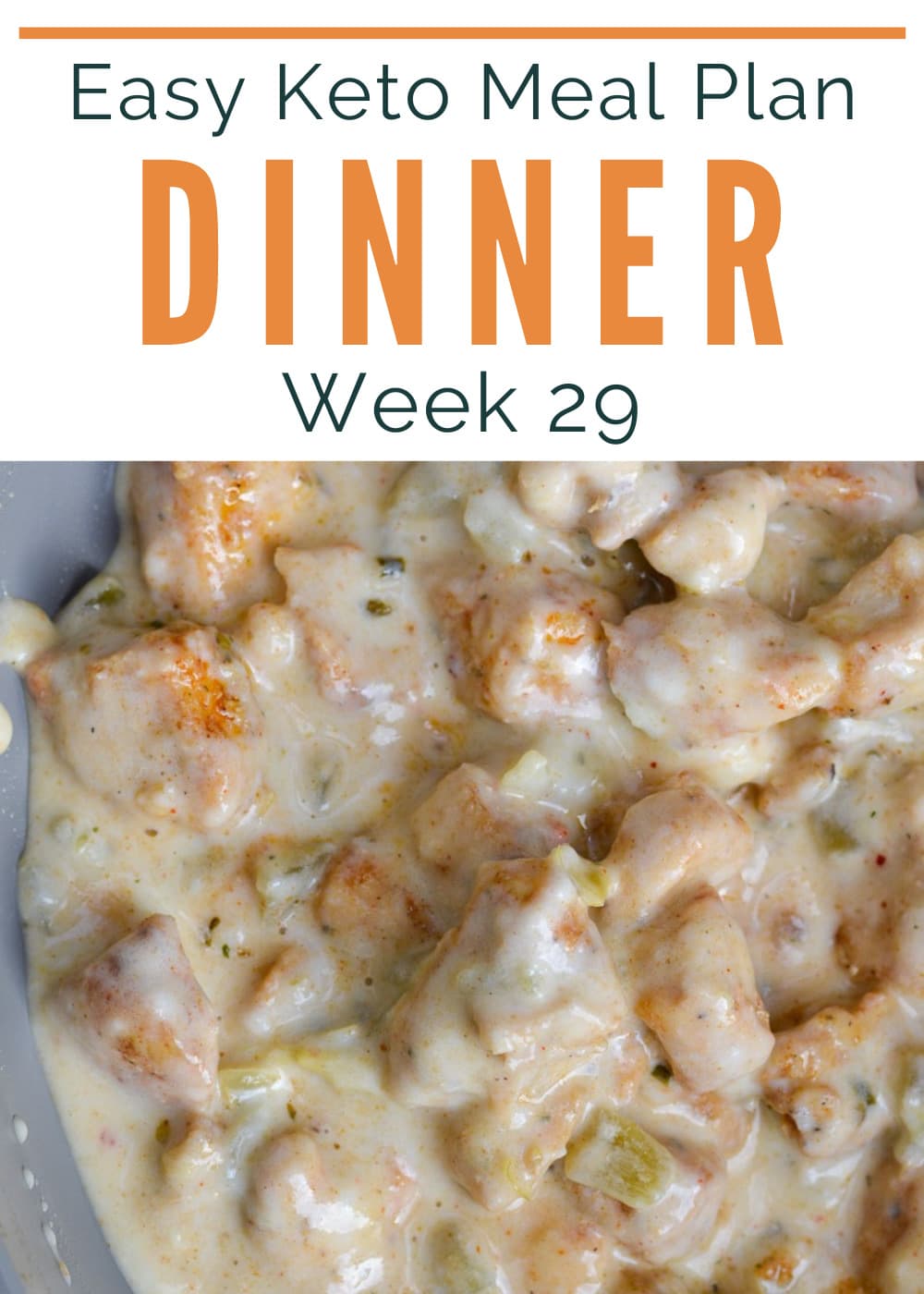 This week, I chose five easy, nutritional, keto-friendly dinners and added a great meal prep breakfast you can keep in the fridge or freezer. With the printable shopping list, you can save time grocery shopping and have more time meal prepping these tasty meals! With most meals ready in 30 minutes, you'll be less likely to stray from your low-carb plan and more likely stay on track!
When you click through to each individual recipe, it'll take you to the full, detailed, step-by-step instructions. This includes a printable recipe card that includes nutrition information, too (right at the bottom of the card). To figure out the net carb count, I subtract the amount of fiber from the amount of carbs.
At the bottom of this post, you'll find a printable meal plan (with space to fill in your own needs & weekend plans) as well as an organized grocery list to help make things even easier. I also included meal prep tips for each meal so you can easily organize a "prep day" to make your week easier or find time during the week to make sure your evenings run smoothly!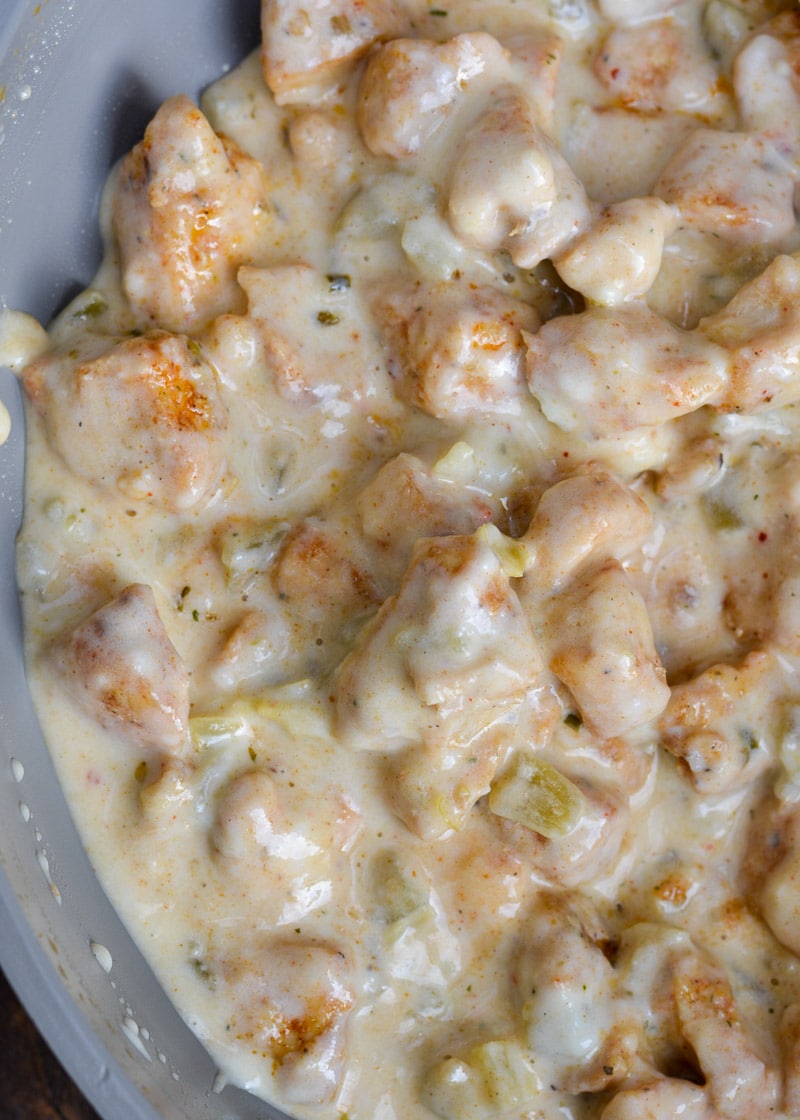 This One-Pan Keto Pollo con Queso is a pretty new recipe, but I loved it so much I had to include it! This cheesy, family-friendly recipe makes 6 servings at just 2.8 net carbs. You could serve with low-carb store-bought tortillas (or make these Zucchini Keto Tortillas) and garnish with chopped tomatoes, avocado, and salsa if you'd like!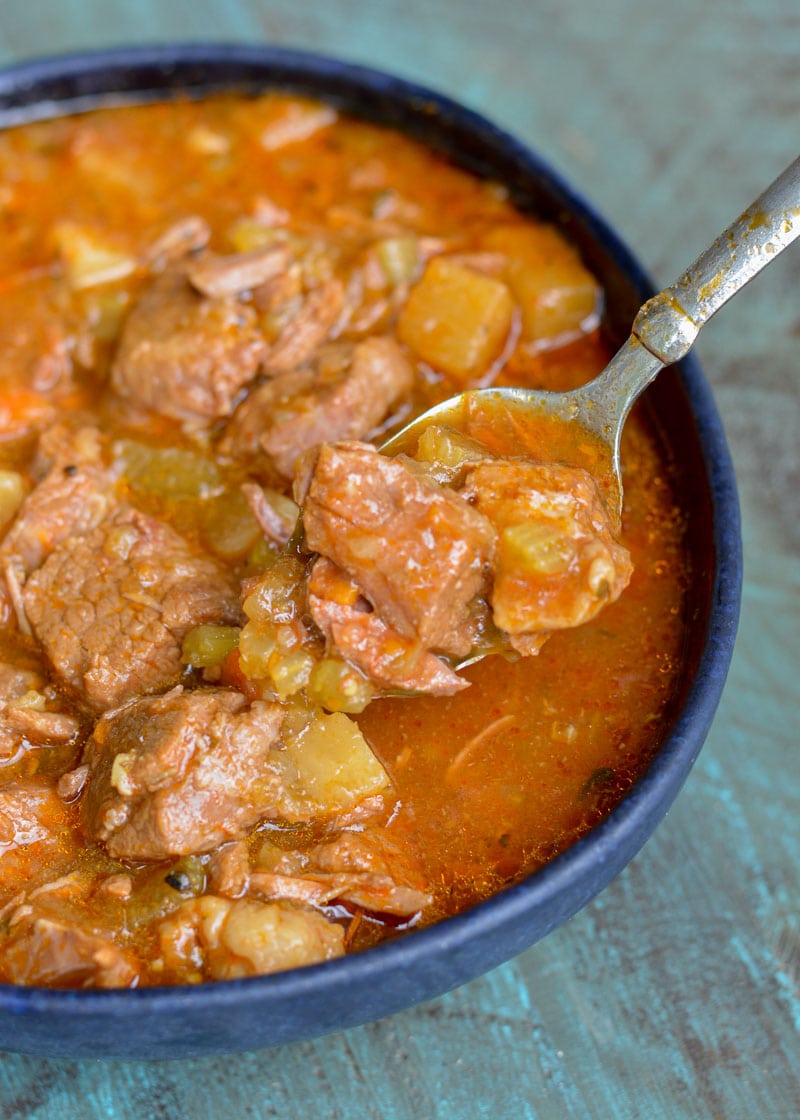 This Low-Carb Vegetable Beef Soup is not exactly keto to some standards because we use a decent amount of carrots, but I kept the carb count to just 5.1 net carbs per bowl! This recipe makes 8 bowls, and it's perfect for meal prepping!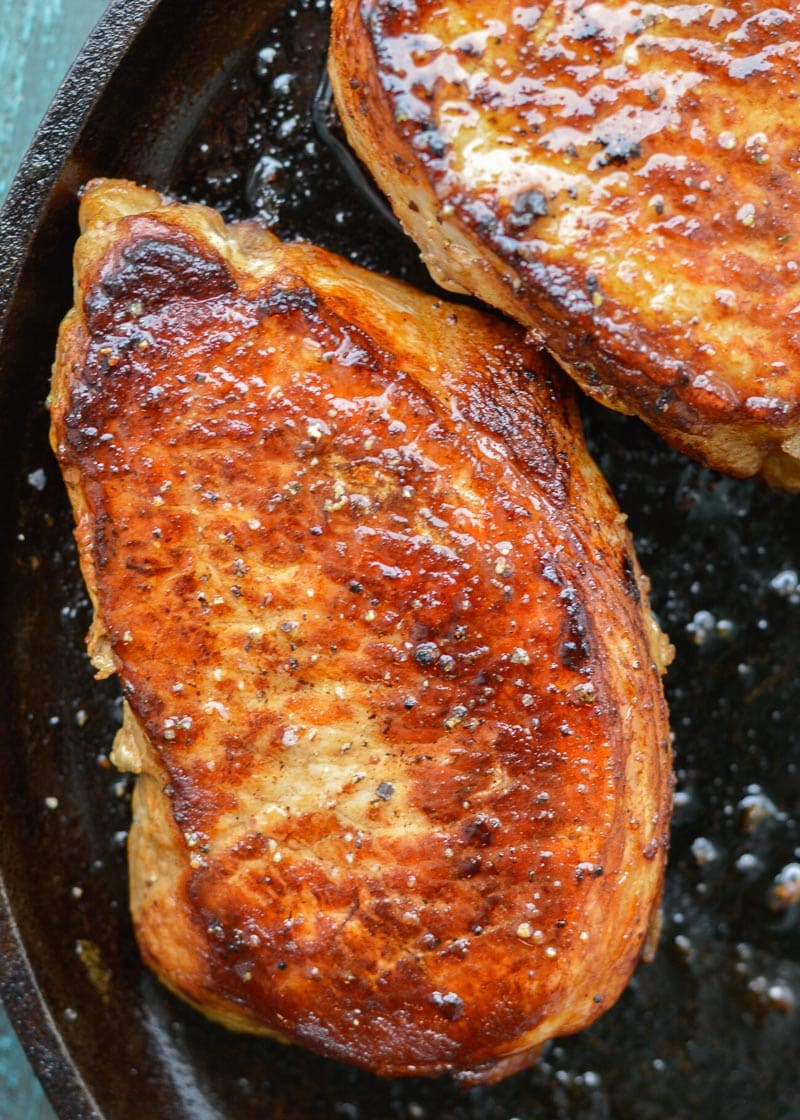 These Thick-Cut Pork Chops are so simple to make and are seriously impressive if you have company over! I used 2 2-inch thick 8-ounce pork chops, so this recipe makes 2 servings at 1.1 net carbs each. If you use thinner pork chops, you will want to reduce the cooking time and rely on the meat thermometer.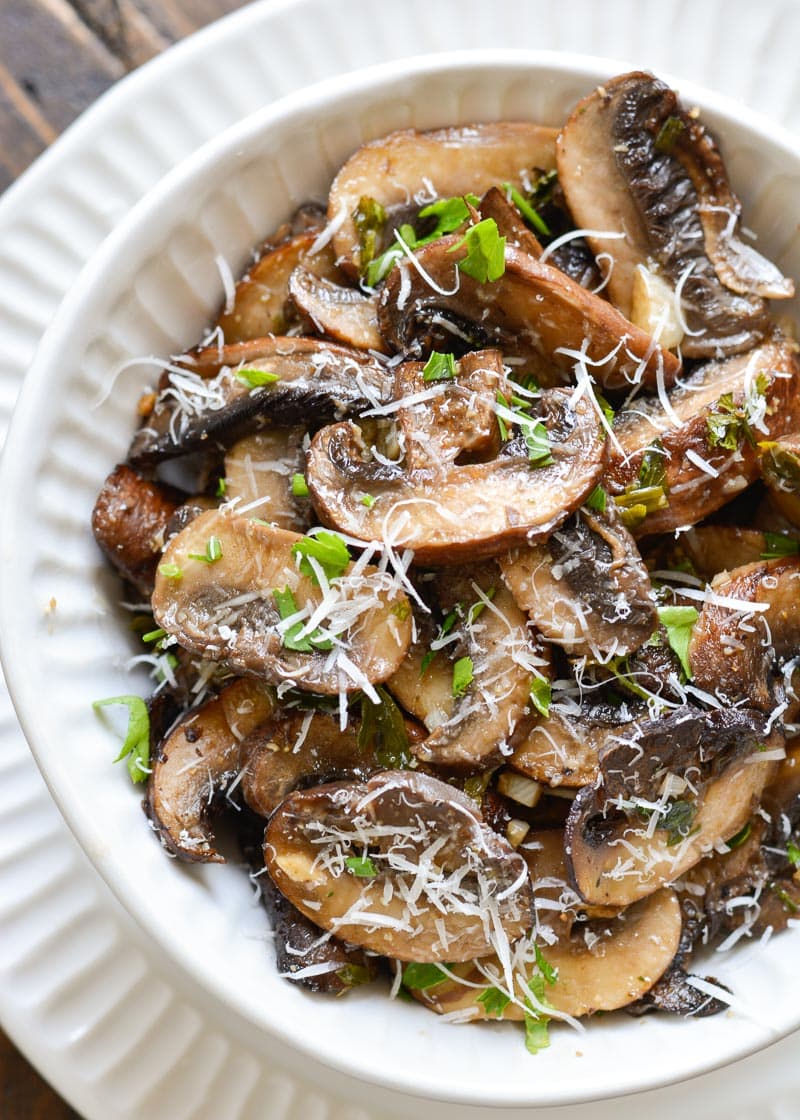 These Italian Baked Mushrooms are so tender and flavorful! It's one of our all-time favorite side dishes. If you're lucky enough to have leftovers (or if you want to make a double batch), they are delicious in wraps or egg scrambles, too! This recipe makes 6 servings (about 1/2 cup) at 4.4 net carbs each.
The pork chops and mushrooms cook at the same temperature and for the same amount of time, so you can easily sear the pork chops, then cook together as a sheet pan dinner. 1 8-ounce pork chop + ~1/2 cup mushrooms = 5.5 net carbs
These cheesy, creamy Keto Sour Cream Enchiladas are absolutely delicious! This makes 6 servings (2 small enchiladas each) using the Mission Carb Balance street tacos, and each serving is 7.8 net carbs. If you want to reduce the carb count even further, you could use sliced deli chicken in place or tortillas! See recipe for notes about this super keto trick.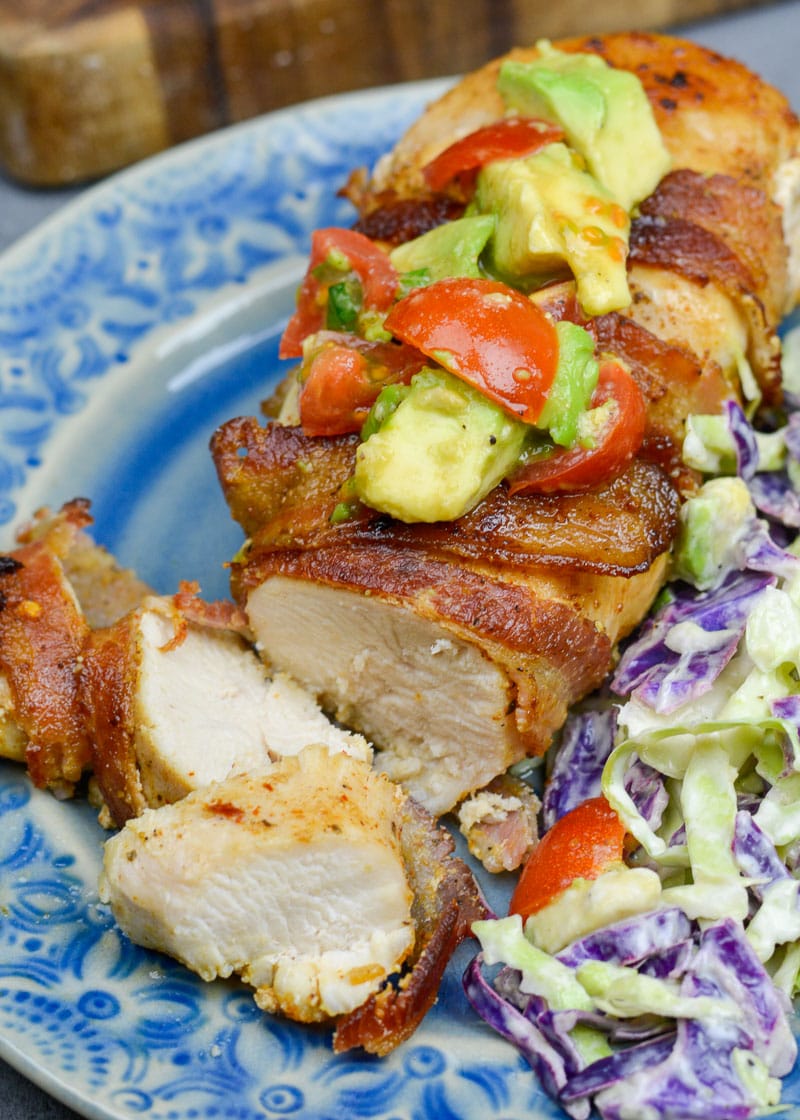 We love this Bacon Wrapped Chicken with Avocado Salsa! It looks super impressive, and the bacon helps keep chicken nice and juicy. This recipe makes 4 servings, and you can enjoy one bacon-wrapped chicken breast with a half-cup of salsa for just 3.1 net carbs. P.S. If you'd like a good slaw, this keto jalapeno slaw is delicious!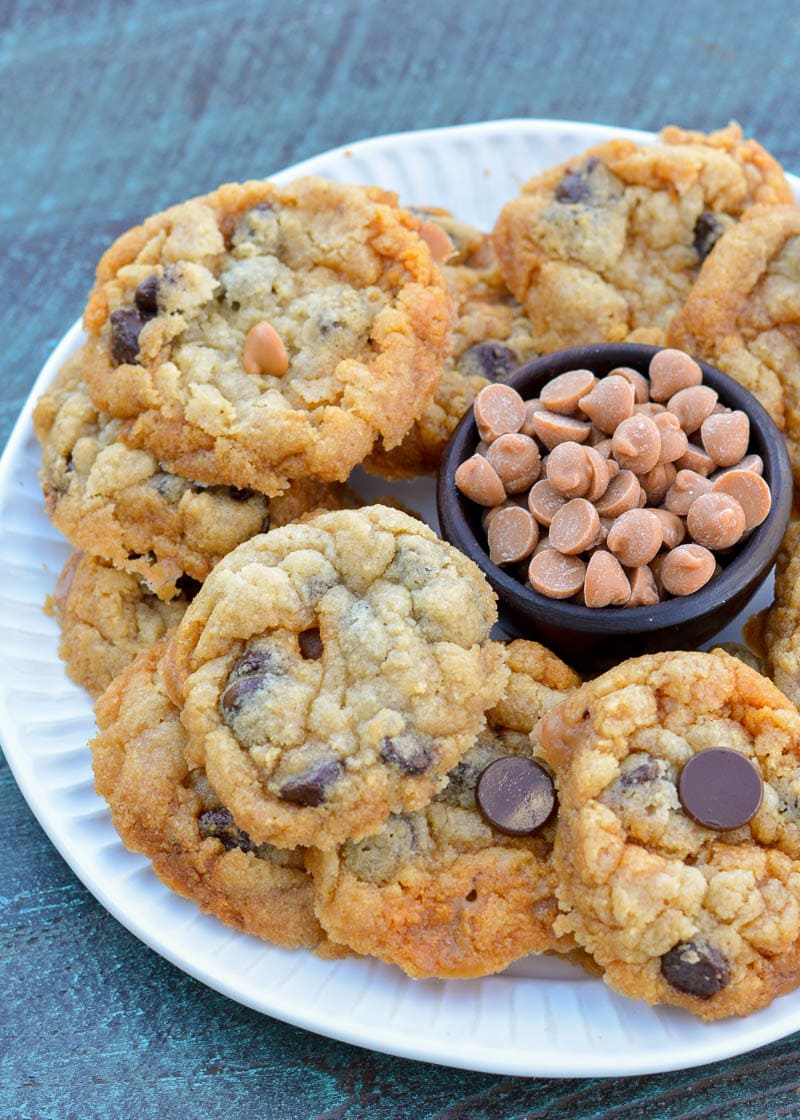 These Keto Butterscotch Cookies are absolutely delicious! This recipe makes 28 cookies at only 2.4 net carbs each. You can make the entire batch at once or freeze individual cookie dough scoops so you can pull out the exact number you need and bake fresh.
Keto Meal Prep Tips
Pollo con Queso –
This meal could be cooked up to 3 days ahead of time and stored in the fridge. To reheat, cover and reheat in the oven, on the stove (stir occasionally to prevent the bottom from sticking or burning), or place in a slow cooker on low.
You could make these Zucchini Keto Tortillas to serve alongside — You can make a large batch and serve with meals later this week or freeze for longer storage.
Vegetable Beef Soup –
This soup is perfect for meal prepping! It gets even better the second day as all the flavors have time to mix together. You can store this in the fridge up to 4 days or in the freezer for 6 months. Simply reheat in the microwave, in a pot on the stove, or in a slow cooker on low.
Pork Chops and Mushrooms –
This meal could be made ahead of time, but it's truly divine when made fresh. You can cook these as a sheet pan meal (after searing the pork chops) as they cook at the same temperature for the same amount of time, making it a very convenient meal! You could marinate the pork chops and the mushrooms (separately) the night before so that you skip all prep work before cooking!
If you do cook these ahead of time, store in the fridge up to 3 days. Reheat covered in the oven until warmed throughout. You may want to sprinkle a little water on the pork chops to make sure they stay moist.
Enchiladas –
You can bake these up to 3 days ahead of time, then store covered in the fridge. When ready to serve, bake until warmed throughout (covering with foil if the cheese looks like it'll get too brown). You could also assemble these and then freeze before baking. I wouldn't freeze for longer than a month to keep the nice textures, but that would be one way to batch cook everything on a weekend!
Because this uses shredded chicken, you could easily cook the chicken in the slow cooker up to 3 days before eating or use a rotisserie to save time. The filling could be made in advance if you'd like to speed up dinner but still cook the enchiladas fresh. You could make these Zucchini Keto Tortillas ahead of time to use (1.2 net carbs each) or use the super keto deli chicken wrap tip to lower carbs even further.
Chicken and Salsa –
To speed this dinner up, you could season and wrap the chicken with bacon 1-2 days ahead of time, then store in the fridge. I wouldn't recommend pre-making the salsa as the tomato gets watery and the avocado browns. That is best made fresh right before serving.
I wouldn't recommend cooking these more than 1 day in advance to prevent the chicken breast from drying out. If you do cook a day ahead, just store in an air-tight container in the fridge, then reheat in the oven covered for 5-10 minutes, checking frequently. Uncover in the last minute or two or broil for 30 seconds to crisp up the bacon. If you're worried the chicken will dry out during reheating, you can pour a small amount of water into the pan with the chicken so the steam keeps the chicken moist. However, this may make it difficult to crisp up the bacon.
Butterscotch Cookies –
You can easily make these ahead of time! If you want to bake the entire batch, these will last 4-5 days on the counter. You could also make the dough, chill, scoop, then freeze individually so you can bake a few cookies each night this week. Frozen dough can last up to 6 months while frozen baked cookies can last up to 2 months.
This recipe doubles and triples easily, so feel free to make a huge batch and freeze for upcoming holiday parties, potlucks, or long-term meal prepping!
*If you're having trouble downloading, make sure your ad blocker is turned off.