This week's Easy Keto Meal Plan features 5 delicious keto meals without cheese plus a low-carb dairy-free snack AND a flourless keto dessert. The meal prep tips and printable shopping list make your week even easier!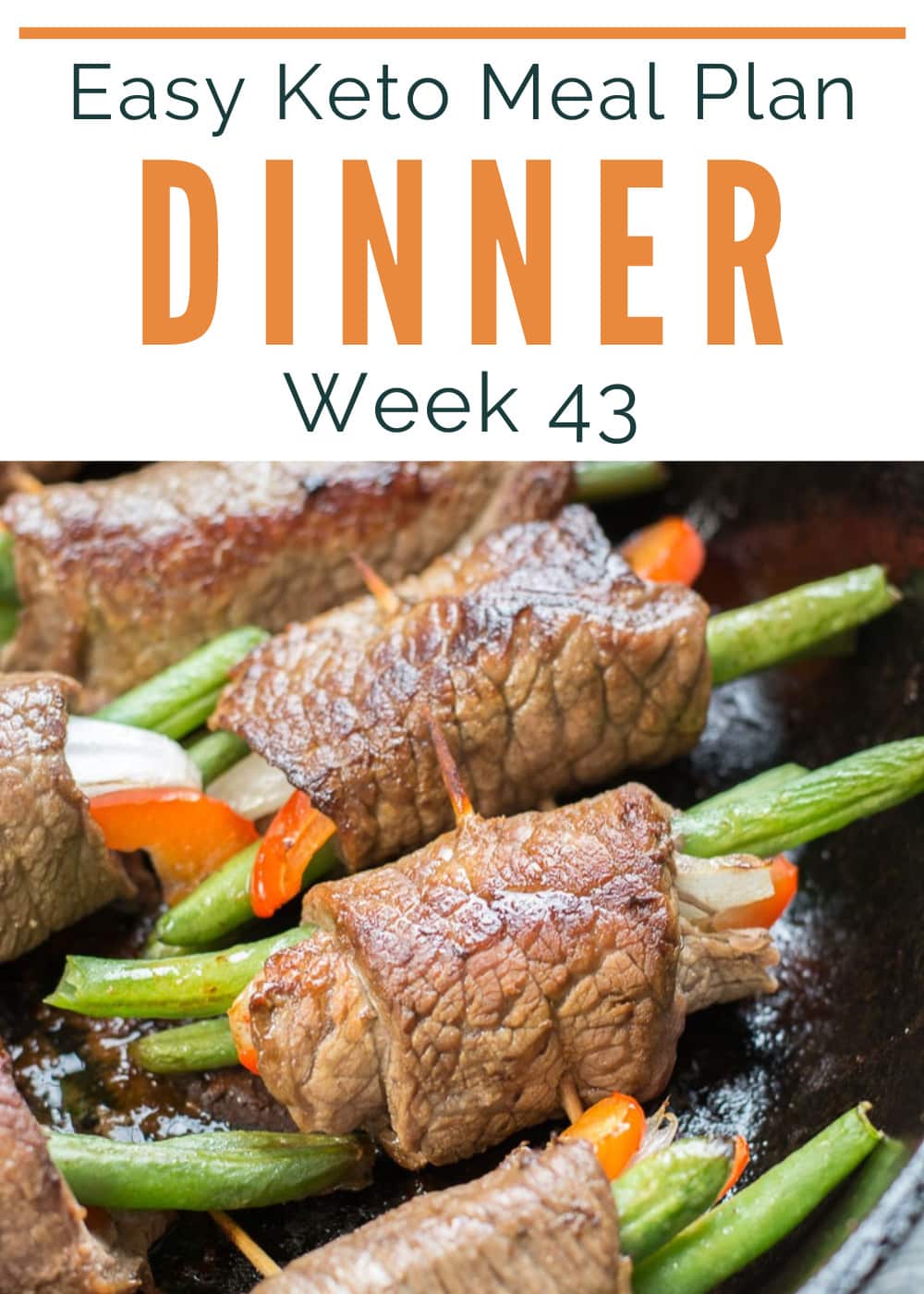 This week's menu focuses on quick keto dinners with a good dose of vegetables and few ingredients. I usually include a lot of cheesy recipes, but in the interest of reducing the grocery bill, we're going cheese-free this week! The only dairy involved is a plain Greek yogurt in Wednesday's chicken marinade–If you want a completely dairy-free week, So Delicious, Silk, and other brands offer "Greek style" coconut milk yogurt you could use instead.
Each day I also included a keto side dish recommendation–These are entirely optional, so I didn't include those ingredients on the shopping list. I highly recommend clicking through to those suggested recipes and adding those to your list if the sides meet your preferences!
Bonus recipes this week are Grain Free Granola and Flourless Chocolate Chip Peanut Butter Cookies! These are both perfect for meal prepping and easy to customize for your preferences. Feel free to swap out the chocolate chips for nuts to keep the cookies dairy-free OR add the chocolate chips to the granola for a salty-sweet treat!
Plan ahead and make dinners easy by using the meal prep tips near the bottom. Each recipe can be prepped ahead of time if you'd like to make sure your evenings go as smoothly as possible. Download the grocery list and meal plan, then have a quick answer for every "What's for dinner?" question!
If you're having trouble downloading the recipes or meal plan, check to make sure your ad blocker is turned off.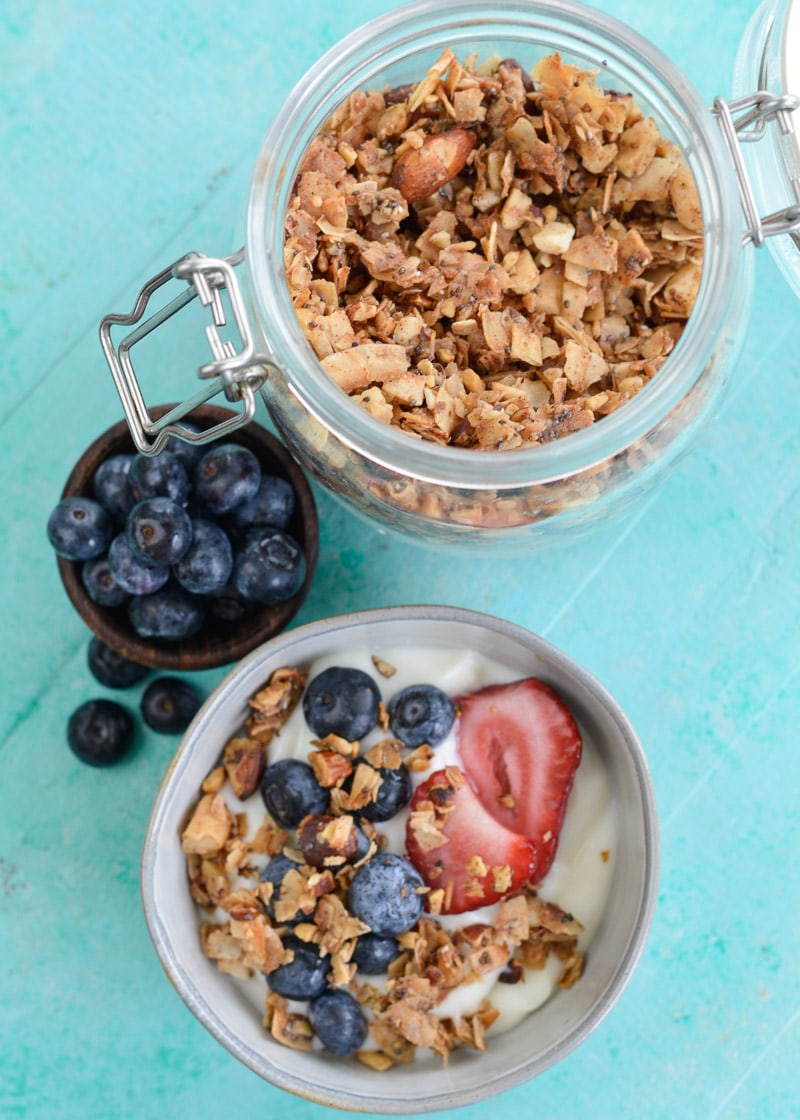 This Grain Free Granola is a great crunchy snack, perfect to add to low-carb yogurt for breakfast or alone as a mid-day snack. This makes 4 1/2 cups total, which comes to 18 (1/4-cup) servings, just 2.5 net carbs each. This is gluten-free, low-carb, dairy-free, and meal prep friendly (just store in airtight containers or ziplock bags up to a month).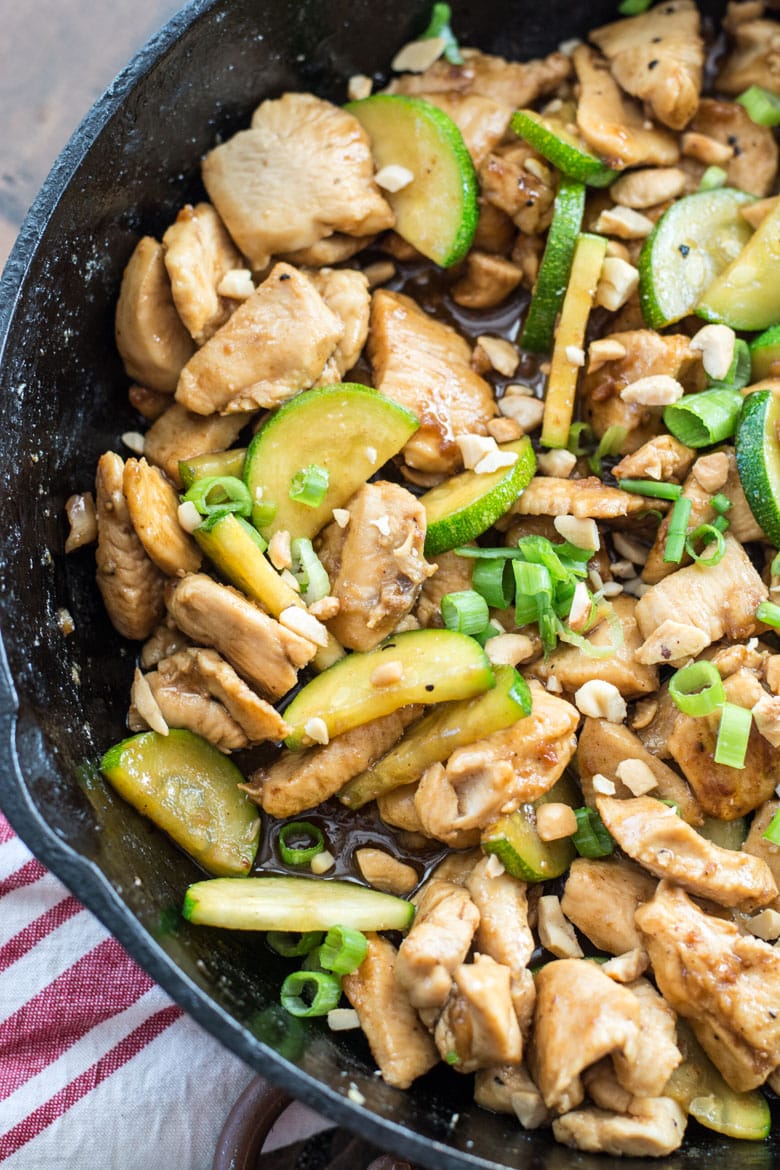 This Keto Sesame Chicken Stir-Fry is the super flavorful, easy dinner you need to start the week! This recipe makes 4 servings, each one only 1.8 net carbs! Side suggestion: Foil Pack Green Beans – 4 servings, 5.3 net carbs; The delicious flavor in these foil packs would complement the stir fry perfectly, and there's barely any cleanup!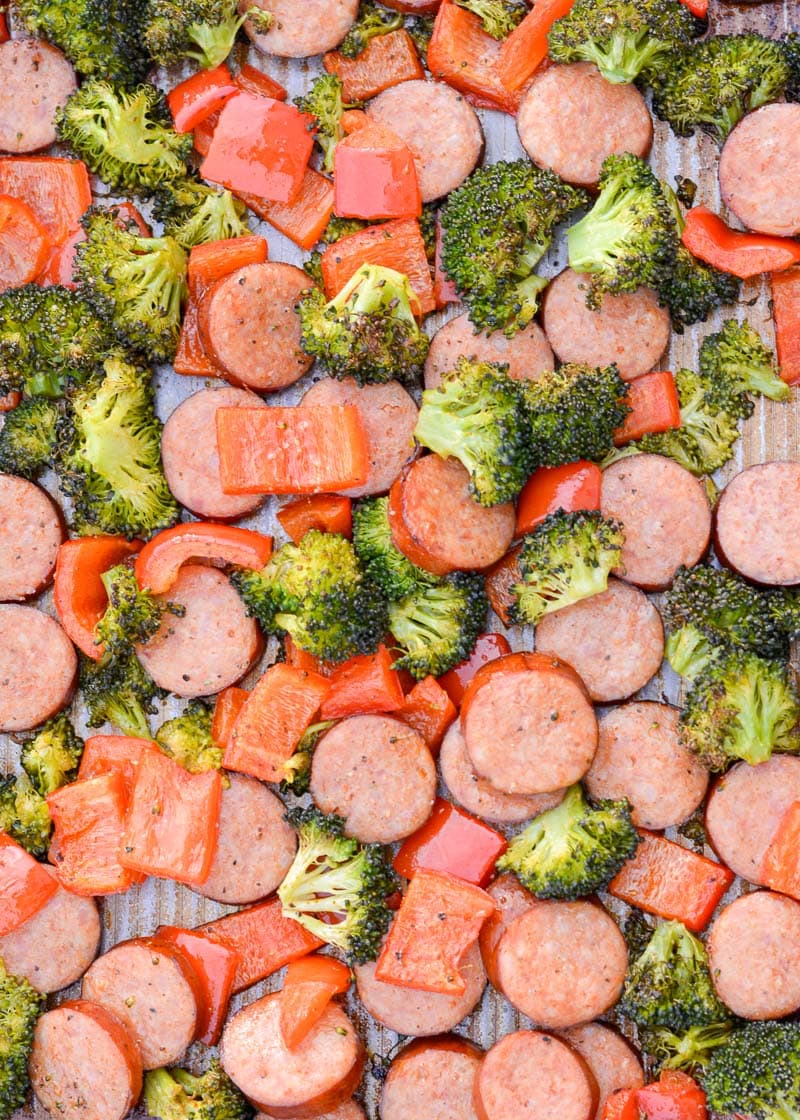 This Keto Sausage Veggie Sheet Pan is the easiest possible weeknight meal! Just chop, put on a pan, and bake for a delicious keto-friendly dinner (makes 4 servings, 6.2 net carbs each). Side dish recommendation: Keto Three-Cheese Biscuits – 22 biscuits, 2 net carbs each.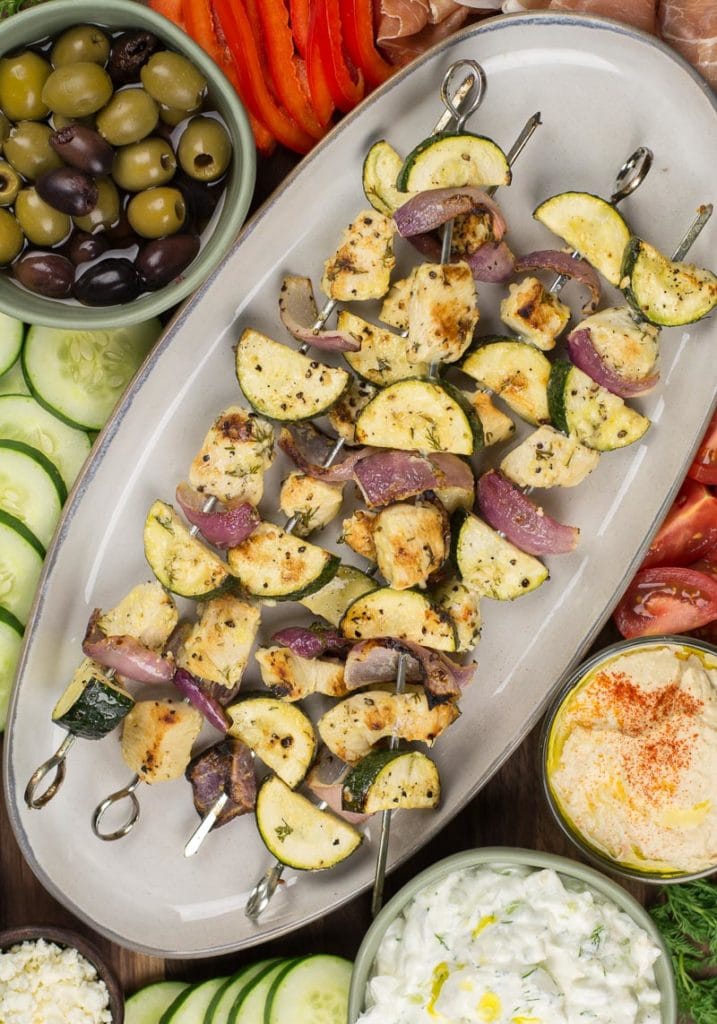 These Greek Chicken Kabobs can be grilled or even broiled if you're stuck in some rough weather! This recipe makes 4 servings (2 kabobs each) at 3.5 net carbs each. Side suggestion: Keto Tzaztiki Sauce – 3.4 net carbs per quarter cup (makes 1.5 cups); This is the perfect dip for these kabobs!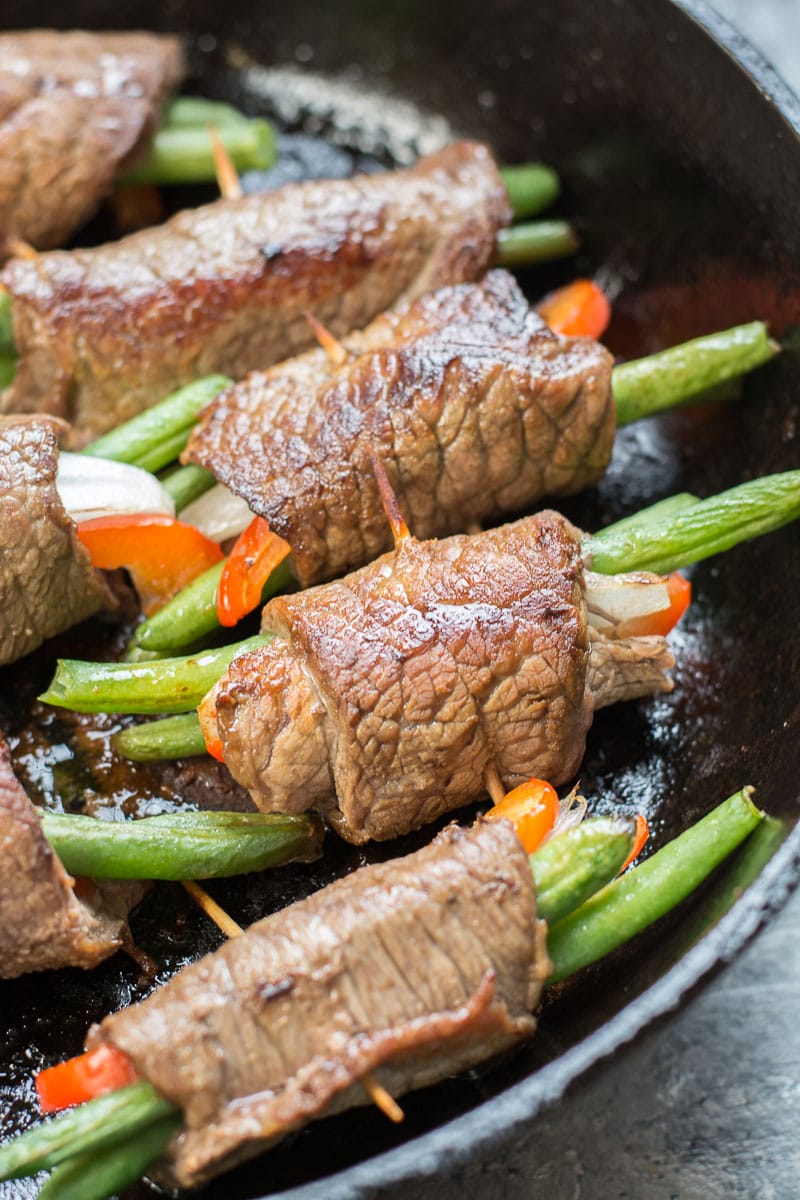 We love these individual, tender Keto Steak Rolls! Each serving is two rolls and packed with tasty vegetables. This serves 4 (4 rolls each) for just 4.3 net carbs! Side suggestion: Roasted Radishes – 2 servings, 2 net carbs each; While radishes don't taste like a perfect substitute for potatoes, these roasted radishes have that great texture you'd expect from roasted potatoes!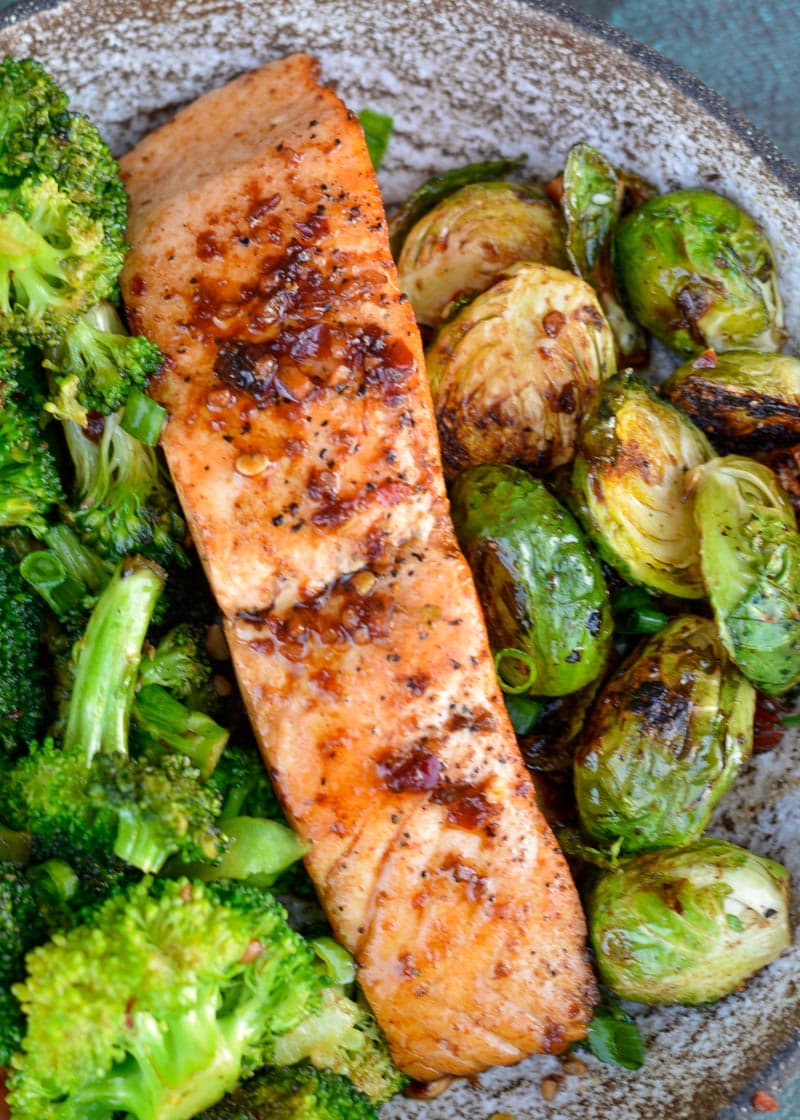 This easy Asian Salmon is ready in 20 minutes and is packed with flavor (but only requires six ingredients)! This recipe makes 4 servings for just 2 net carbs each. Side suggestion: Air Fryer Brussels Sprouts – 4 servings, 6.4 net carbs with dipping sauce; These turn out SO perfectly crispy on the outside, tender on the inside. Quick, too (pictured with the salmon above)!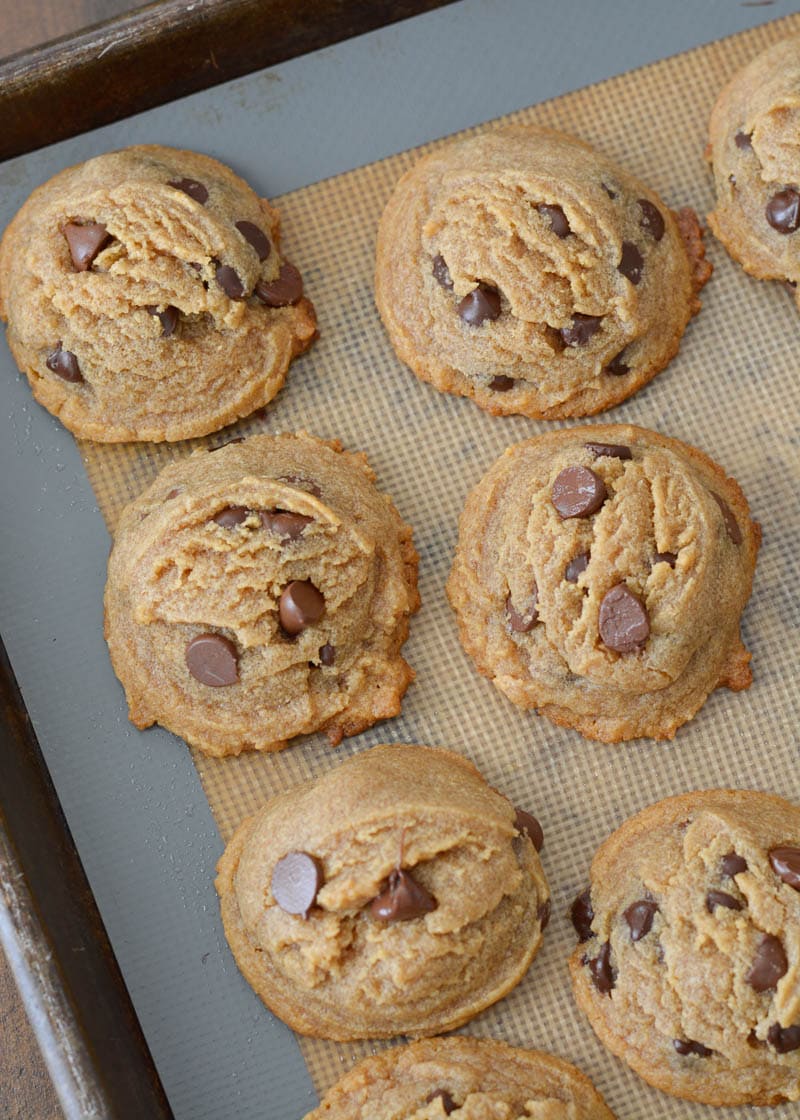 These Flourless Peanut Butter Chocolate Chip Cookies are so easy to make (and perfect for a freezer meal prep)! Naturally gluten-free, no expensive keto-friendly flours, and just 3.3 net carbs each. This recipe makes 18 cookies. If you're looking to save more money or make these dairy-free, you can leave out the chocolate chips for delicious peanut butter cookies!
Keto Meal Prep Tips
Stir Fry –
This dish is simple to meal prep! You can prepare this up to 3 days before serving, then toss back into the skillet to reheat. The flavors in the sauce really just gets better after sitting. I do recommend slightly undercooking the zucchini so that it doesn't overcook during reheating.
Sheet Pan –
This dish can easily be prepped or even cooked ahead of time. If you cook this ahead of time, just store in the fridge, then reheat on a pan in the oven, in a skillet on the stove, or on a plate in the microwave.
Kabobs –
You could marinate these up to 1 day before cooking and cook up to 3 days before serving. Store in the fridge, then reheat on a pan under the broiler or in a skillet on the stove.
Steak Rolls –
In my opinion, it's best to prep these ahead of time but cook them fresh. You can marinate the flank steak up to 1 day, then cut and assemble these rolls up to 3 days before cooking. Store in an airtight container in the fridge, then bring them to room temperature by sitting them on the counter 30 minutes before cooking.
Salmon –
As with all seafood, I prefer to make this fresh. You can make the sauce ahead of time (it can sit in an airtight container for about a week or so), then you can just brush the salmon and cook it when you're ready. It only takes 9-10 minutes of cooking time, so you'll be eating in no time!