Week 44 of this easy keto meal plan includes 5 flavorful keto dinners and 1 low carb dessert. Net carb counts, serving amounts, keto meal prep tips, side suggestions, AND a keto shopping list are included!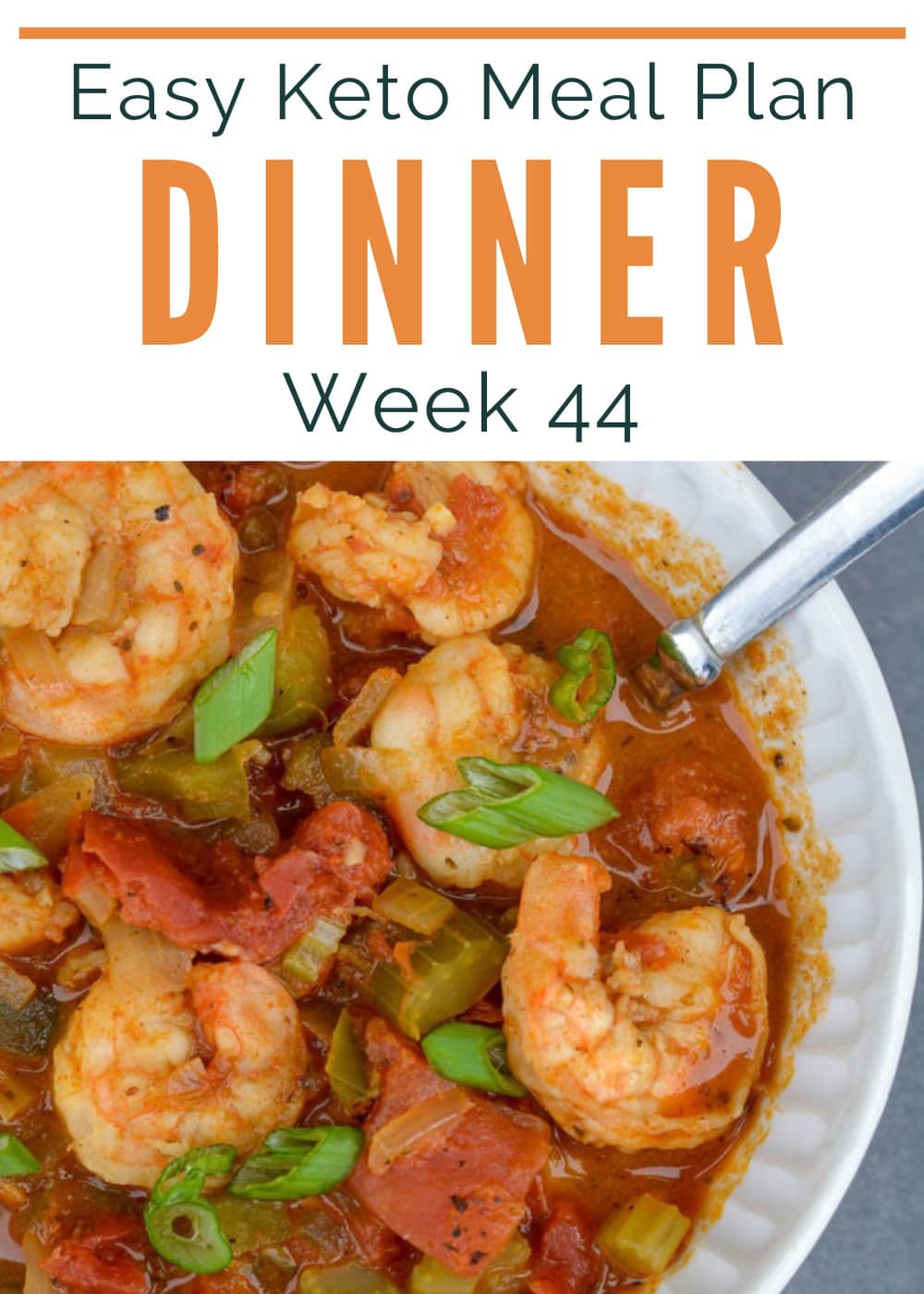 This week we go heavy on the spice, not the grocery list! I've got five quick, easy meals low in carbs and bursting with flavor. I've also included a spring-inspired keto dessert for you, perfect for a brunch snack or a lunchbox sweet! Side suggestions, meal prep tips, net carb counts, AND your printable shopping list are ready!
I'm making keto as easy as possible… Just download the grocery list for all the ingredients you need for these dinners and bonus recipe! Click through to each individual recipe for a printable recipe card with net carbs and macros, then scroll to the bottom of this post for keto meal prep tips and a printable meal plan + grocery list!
If you're having trouble downloading the recipes or meal plan, check to make sure your ad blocker is turned off.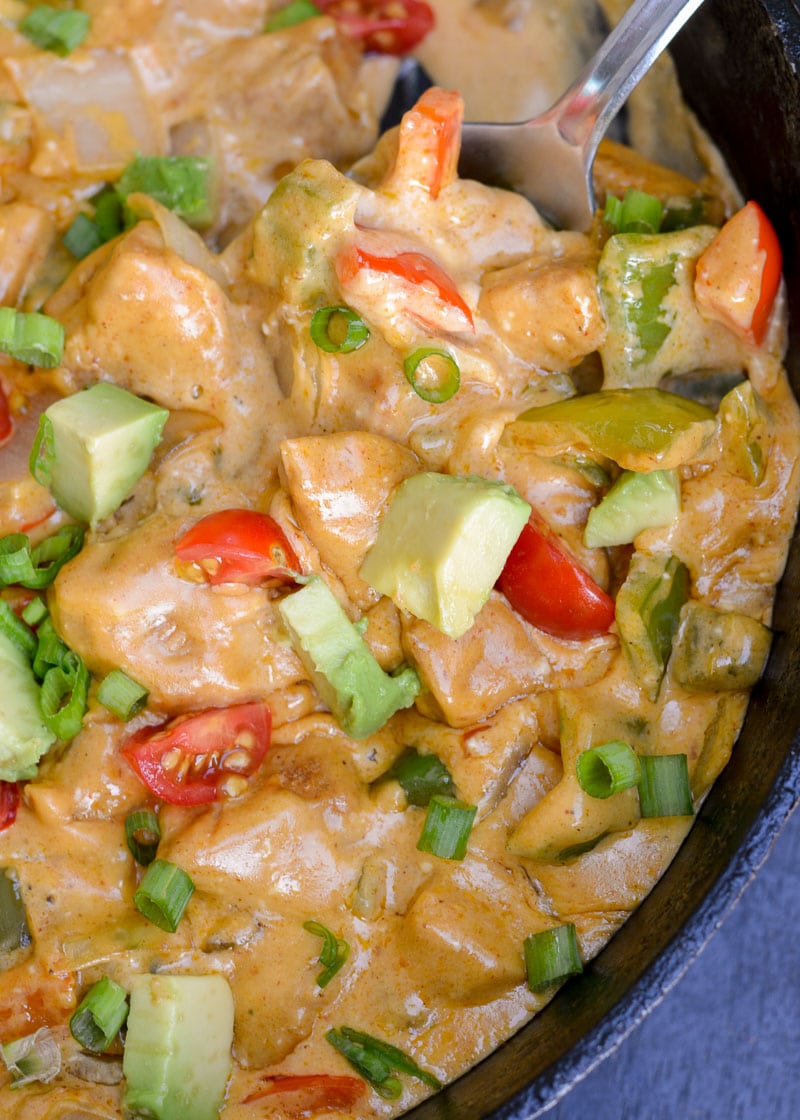 We LOVE this easy One Pan Cheesy Fajita Chicken because it packs so much flavor into that creamy sauce with such little effort! This recipe makes 4 servings, just 4.7 net carbs each. Side suggestion: Zucchini Tortillas – 12 small tortillas, 1.2 net carbs each; These are easy to meal prep and store in the freezer for a low-carb, gluten free side dish!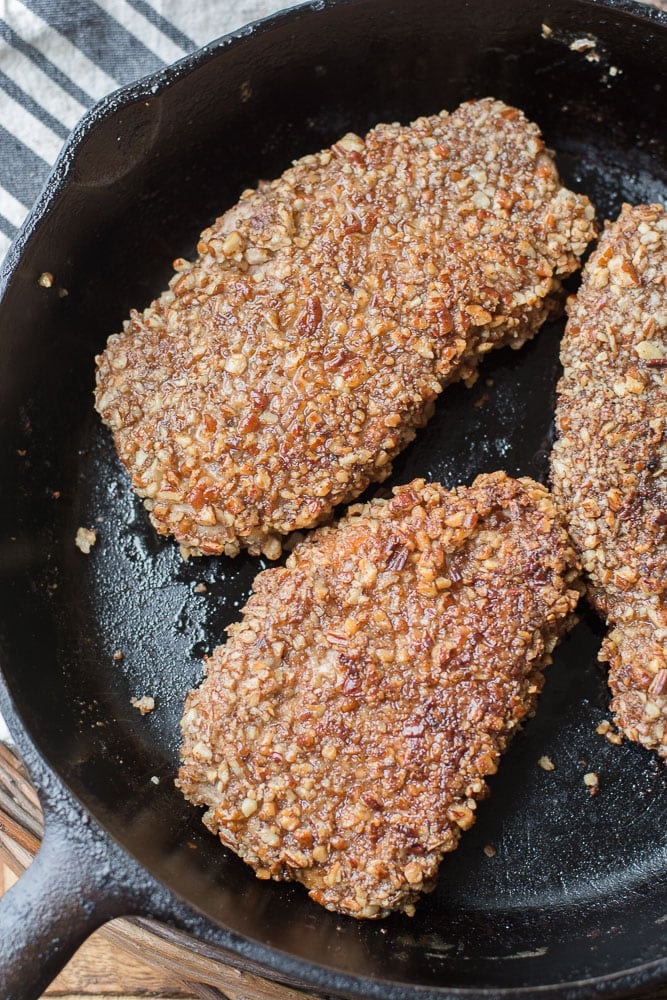 These Pecan Crusted Pork Chops are a great variation with a delightfully crunchy crust! This recipe makes six pork chops, just 3.6 net carbs each. Side suggestion: Garlic Butter Cauliflower – 4.2 net carbs, 6 servings; We love how easy and tasty this one pan side dish is!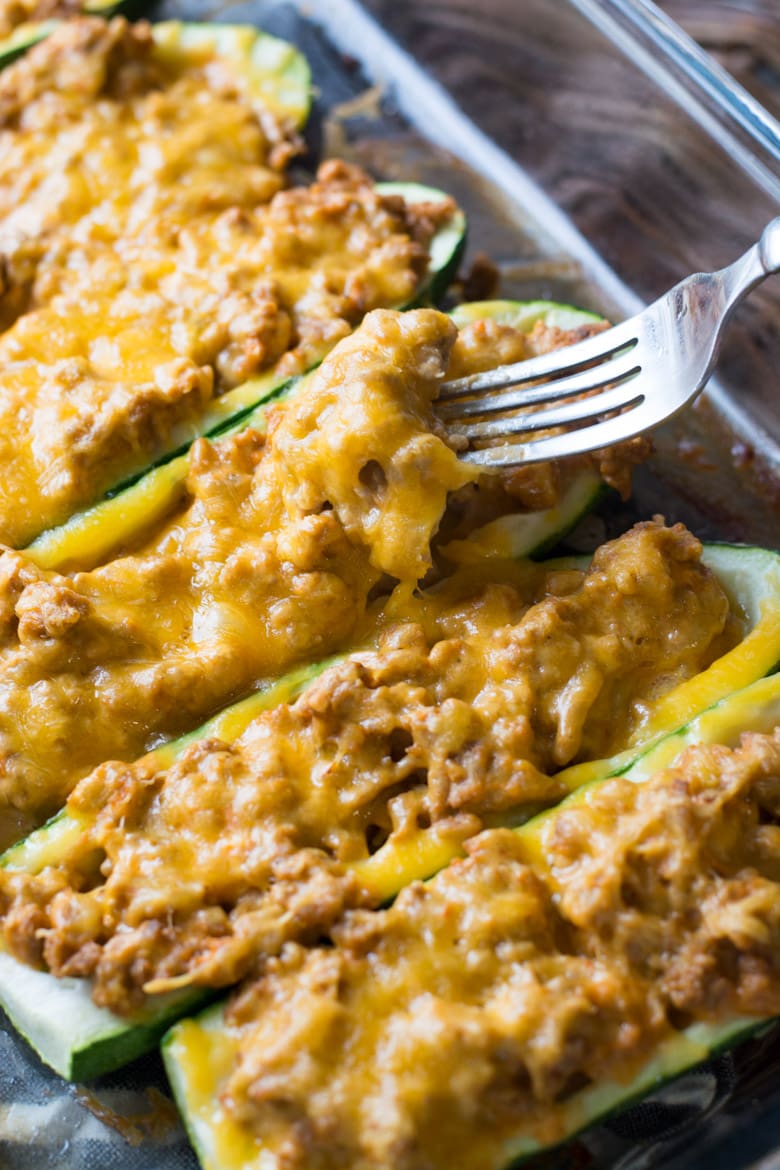 These Cheeseburger Stuffed Zucchini Boats give you that great classic flavor, but with the healthy benefit of zucchini! This recipe makes 6 servings, each one 4.8 net carbs (probably a bit less since you hollow out the zucchini first, though). Side suggestion: Bacon Cheddar Chaffles – 5 chaffles, 2.2 net carbs each; These make a great bread substitute, and you can pile on any cheeseburger stuffing that falls out!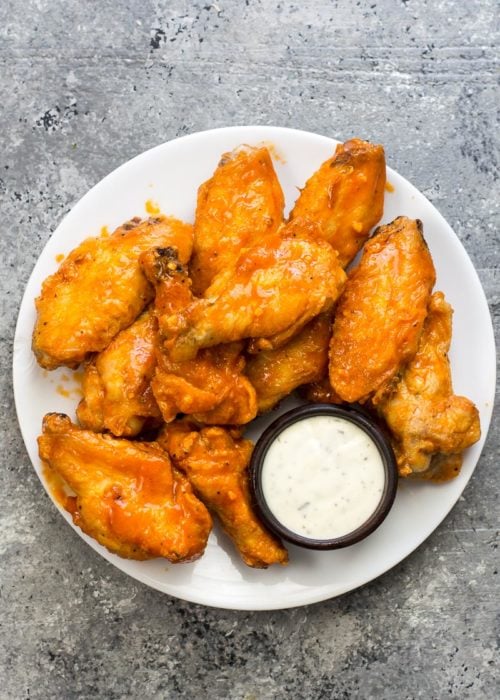 These Keto Chicken Wings are cooked in the air fryer, but you can find baking instructions here if you'd rather! Side suggestion: Keto Jalapeno Poppers – 4 servings (3 poppers each), 2 net carbs; These are stuffed with cheeses and wrapped with bacon for a perfect "bar food" that goes great with wings!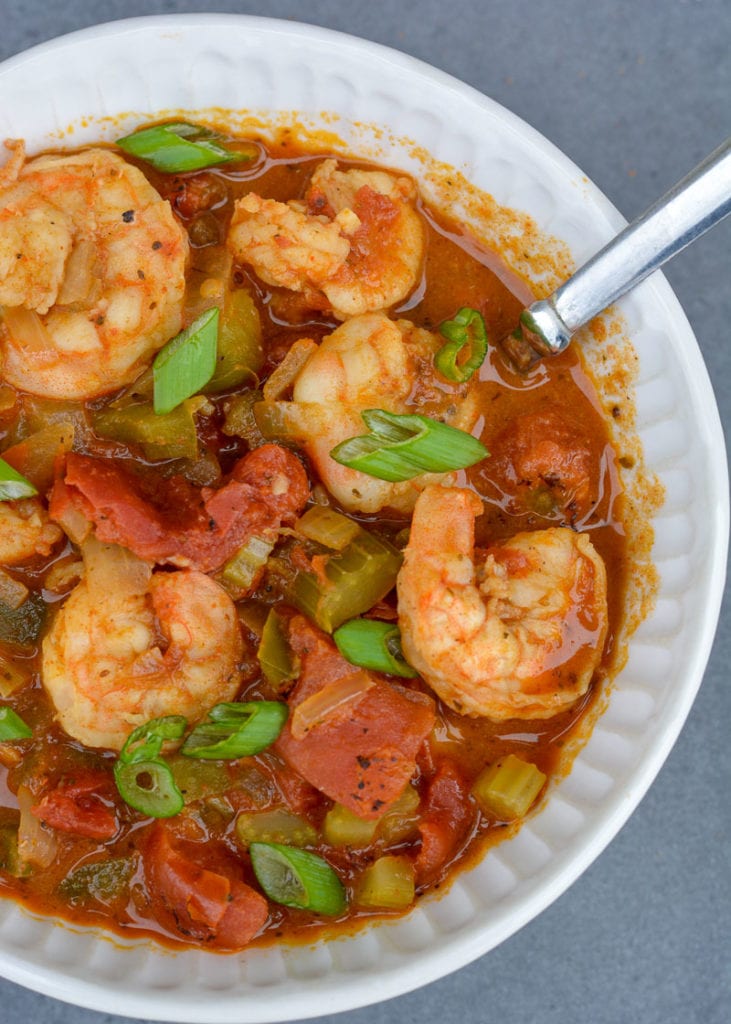 This Shrimp Creole is BURSTING with flavor! This recipe makes 6 servings, just 5.7 net carbs each. Side suggestion: Cauliflower Grits – 4 servings; about 4 net carbs; The texture of these keto grits keeps the down home vibe of the shrimp creole, and it is delicious with the creole sauce!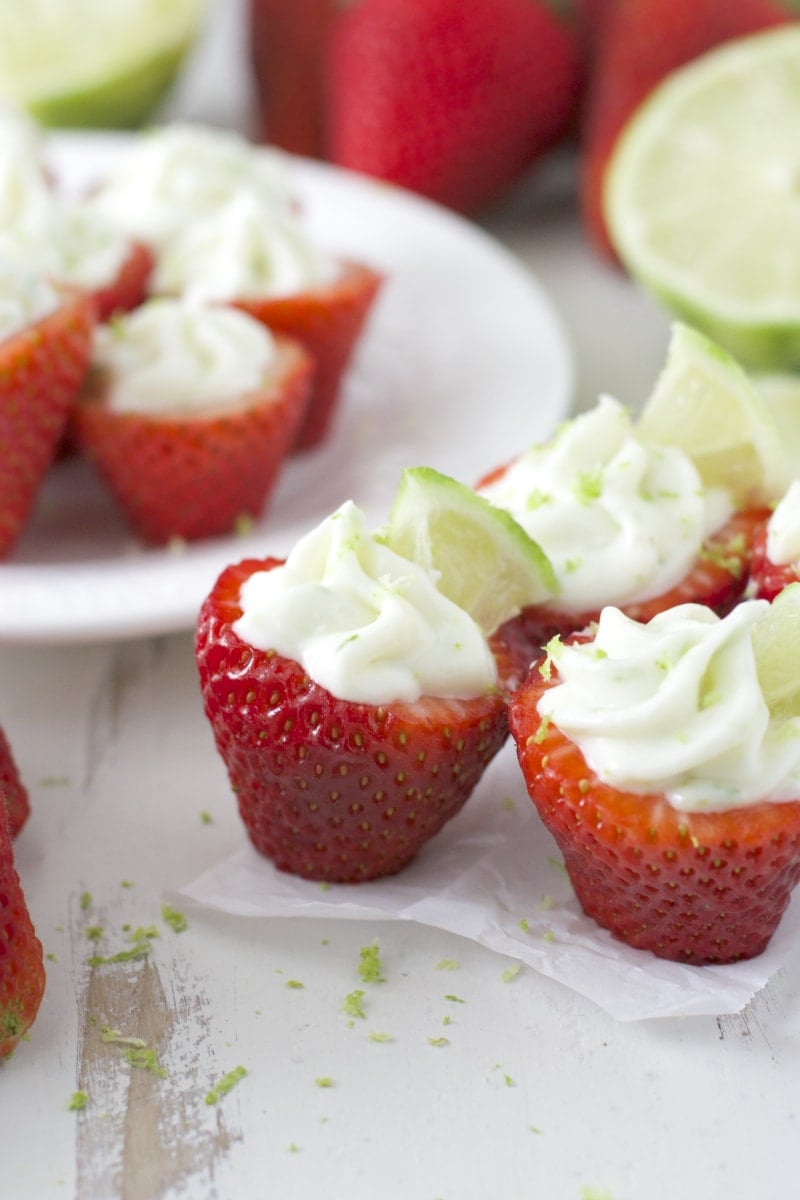 These Key Lime Stuffed Strawberries are exactly what you need to put you in the spring spirit! This is perfect for a little lunchbox sweet snack or to bring to brunch. This recipe makes 1 pound of strawberries, each one (assuming 16 strawberries per pound) being about 2.4 net carbs each!
Keto Meal Prep Tips
One Pan Chicken –
You can easily make this skillet ahead of time, then simply refrigerate up to 4 days. To reheat the entire dish, I put back in a pan on the stove and simmer on low until reheated throughout (stirring occasionally to make sure nothing sticks on the bottom). You can microwave individual portions (great for lunches) in the microwave–Blast in 30-second intervals (stirring between sessions) until warmed throughout.
Pork Chops –
These are great for meal prepping. I love making a double batch of these, then freezing the raw, pecan-covered pork chops. This turns into a super quick meal later when I just don't want to come up with something new!
You can cook these and store them in the fridge in an airtight container up to 4 days. To reheat, place on a baking sheet at 350 degrees until pork is warmed throughout. You could also use the air fryer or a toaster oven to reheat and keep the crunchy crust; a microwave is quicker, but you're more likely to overcook the pork and lose some crunchiness.
Zucchini Boats –
If meal prepping, you may want to just make the cheeseburger filling in advance and then wait to assemble the zucchini boats until you're ready to bake them. You can even hollow out the zucchini ahead of time and chill them until ready to use!
Once cooked, I prefer eating the baked zucchini boats right away (baked and then reheated zucchini tends to turn mushy).
Chicken Wings –
Wings are great for meal prep. Simply store in an airtight container in the fridge, then reheat in the microwave for 30 second intervals. While this is the fastest reheating method, I prefer to reheat mine in the air fryer or the oven to get back that deliciously crispy skin.
Shrimp Creole –
I don't usually love reheating seafood, but the sauce really changes things for me here. The flavors meld and become even more amazing as the dish sits up to 3 days in the fridge.
To reheat, warm slowly in a pan on the stove, stirring often so it doesn't burn. If you need to thin out the sauce, you could add seafood/vegetable broth or water. If microwaving, try heating on 50% power in 30 second intervals so that the shrimp doesn't become overcooked and rubbery.