These Crispy Baked Buffalo Wings are made keto-friendly and ready for game day! Baking powder crisps up the skin perfectly while a buttery buffalo sauce packs the flavor!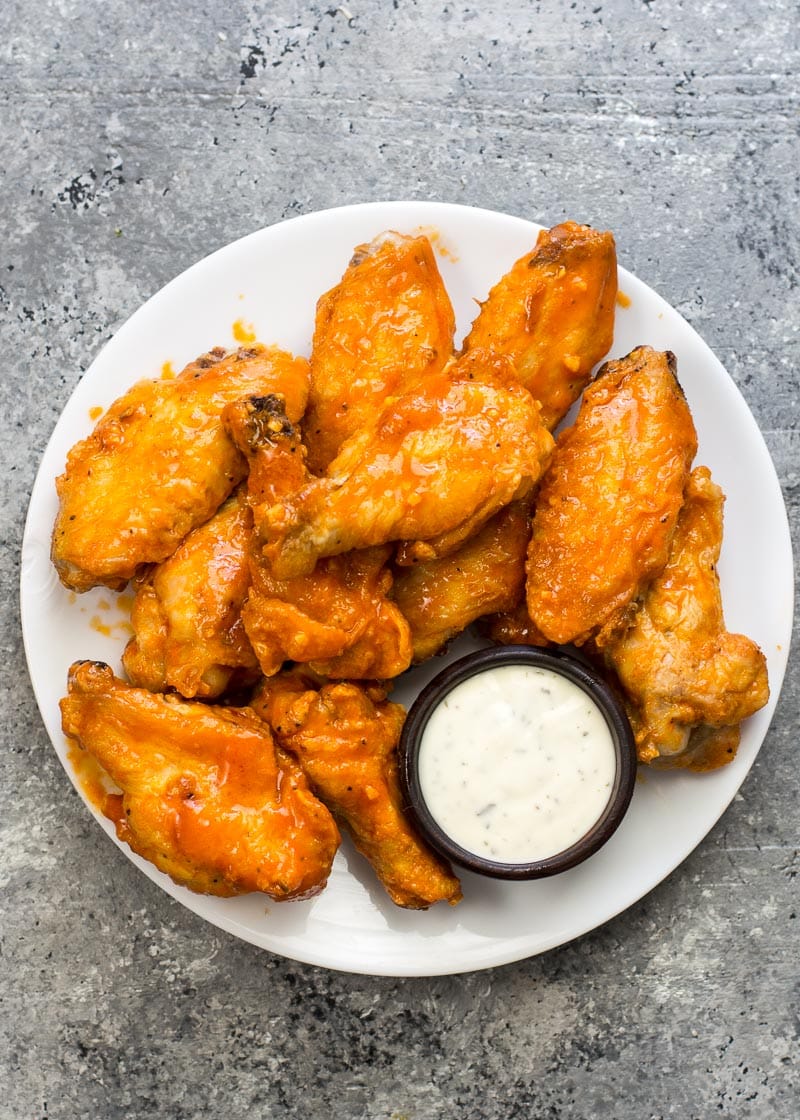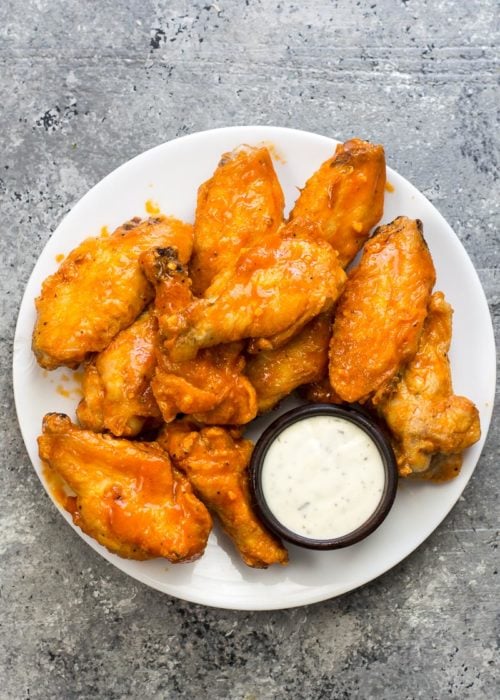 If you've been reading long, you know I live in the South. Down here, football is a way of life. It is practically a religion to
However, I am in the very slim margin of people who are indifferent about it. But on a Saturday morning in the Fall, you better believe I put my orange t-shirt on pretend like it matters. This year the Vols have had a bit of a rocky start, and by rocky start I mean they have left nearly everyone in the great state of Tennessee heartbroken in the last five minutes of the first three games.
I have watched my normally laid back husband stand inches from the TV and scream and jump and pace our living room with his head in his hands. Well, last week I decided I needed to take matters into my own hands. I may not be able to help the Vols win, but I can make game day snacks that win all on their own!
These buffalo wings are baked not fried! They are ultra crispy, super tangy and totally irresistible. They are the perfect game day treat and they happen to be orange! 🙂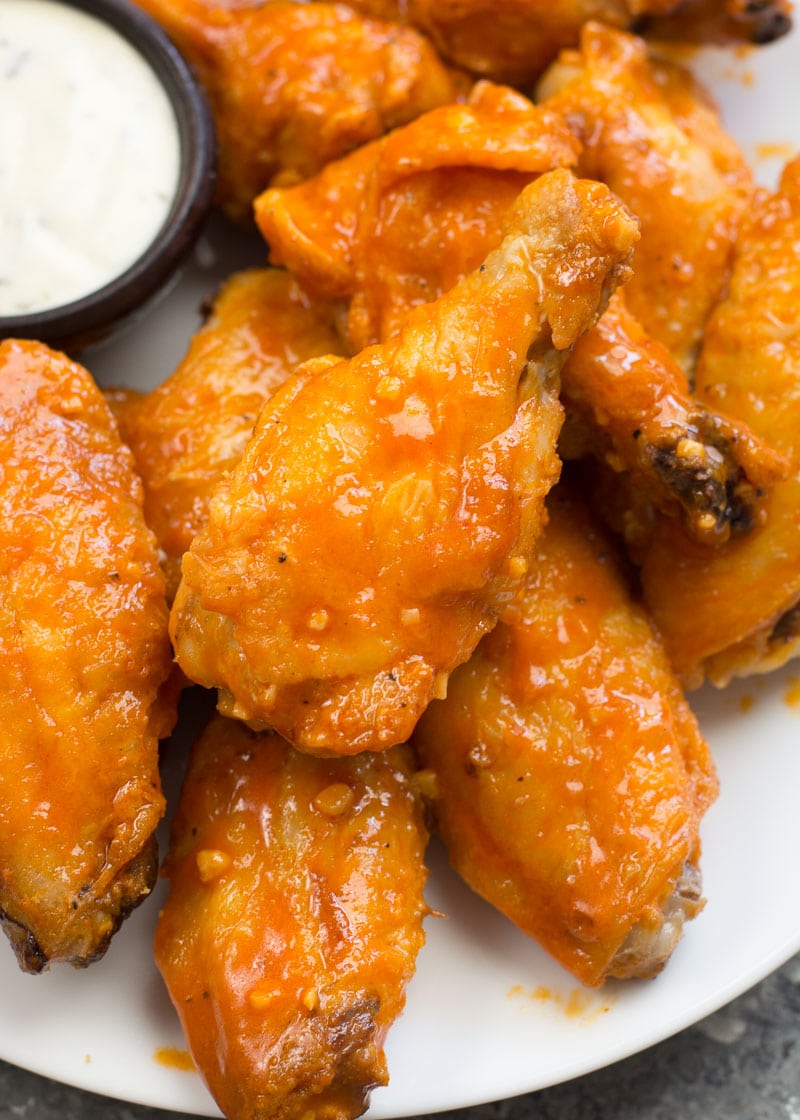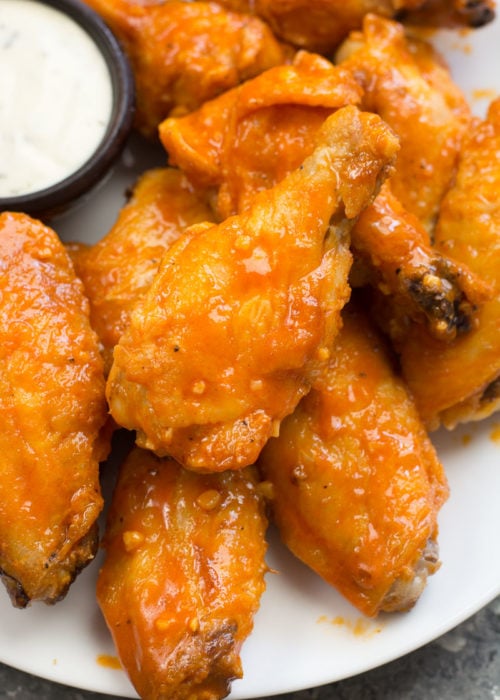 Baked Buffalo Wings Ingredients
As always, this is a quick overview of the ingredients you will need. For the complete recipe just keep scrolling.
Chicken wings- I used a 2 pound bag
Baking powder
Buffalo sauce- make sure to get one without sugar if you're Keto–check the carbs!
Apple cider vinegar- any variety you have on hand is fine
Butter
Spices- Minced garlic, Salt, Pepper
Can I use Bone-In or Boneless for Buffalo Wings?
It's up to you! Both options are always a hit in my house, but bone-in wings are known to have a little more flavor. Sometimes boneless wings cook a bit faster, so you may want to check with a thermometer around the 30-35 minute mark to be sure.
Can I make Crispy Chicken Wings from frozen?
Frozen is fine! However, this can affect the crispiness of the skin and the timing of the cook. Still make sure to pat off as much moisture from the frozen wings before tossing in the baking powder for crisp skin.
I find that I usually have to cook frozen wings for about 60-80 minutes, so I strongly recommend using a thermometer to ensure the wings are fully cooked. If you are trying to cut down on time, check out my recipe for Air-Fryer Wings here.
How do I Bake Buffalo Wings with super crispy skin?
This recipe is so incredibly easy. To start, you want to pat the wings dry and toss with baking powder. The powder soaks up any remaining moisture from the skin, allowing it to get super crispy.
Next, you want to create a delicious sauce to dip the wings in before cooking. Combine buffalo sauce, apple cider vinegar, garlic, salt, and pepper, then bring to a simmer. Dip each individual wing into the buffalo sauce, completely covering.
When all wings are covered and placed on the baking sheet, baking for 40 minutes at 400 degrees F. If you want super flavorful wings, occasionally brush the wings with buffalo sauce as they cook!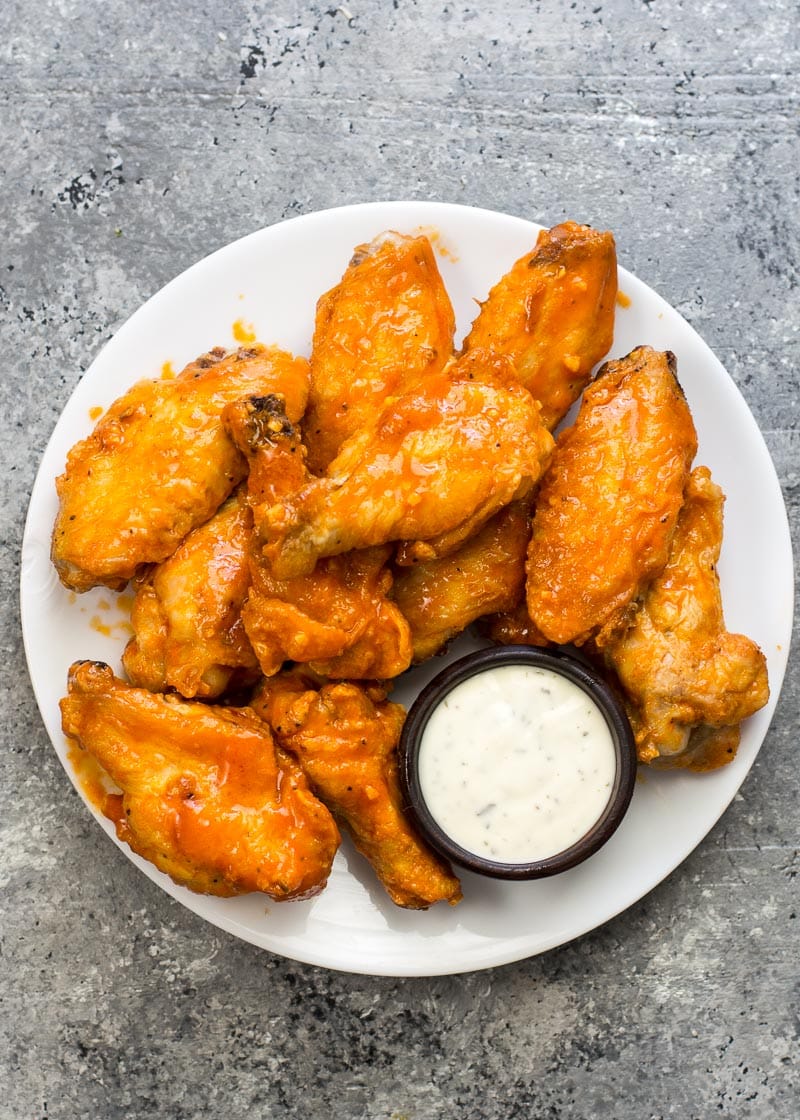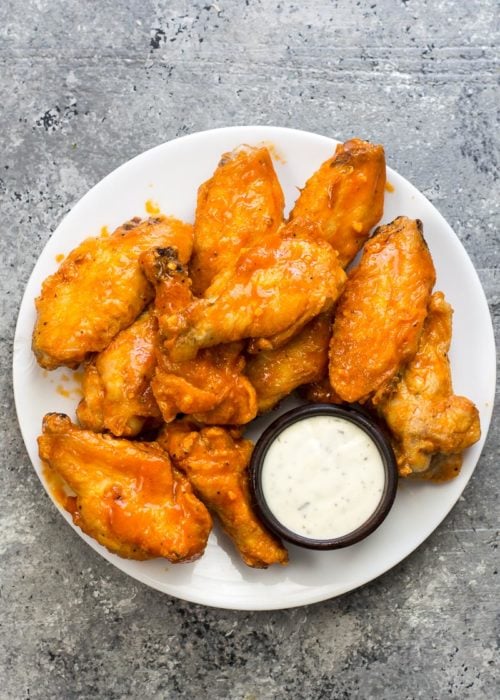 Tips and Tricks for Crispy Wings
If you don't have any baking powder, no sweat. It's not required for the wings to be fully cooked, but it does add a nice level of crispiness to the wing!
If you're in a rush, these Air-Fryer Wings really cut down on time.
Wings are made for dippin'! I love ranch and blue cheese with my wings, and don't forget the celery! If you're feeling bold, give this Japaleno Ranch a try.
If you're out of apple cider vinegar, feel free to use white vinegar instead! Use the exact same amount, and you should be good to go.
What to Serve with Chicken Wings
These wings are great as a main dish or as an appetizer. Here are some other recipes you can add to this to make a buffet: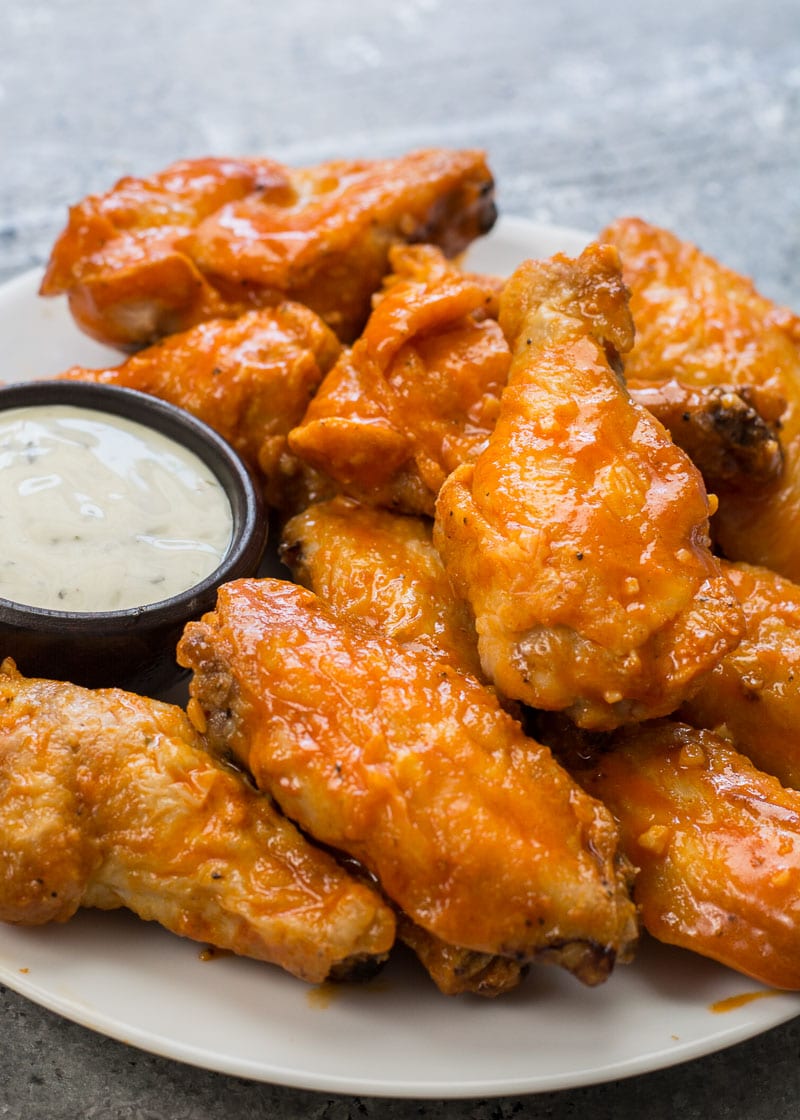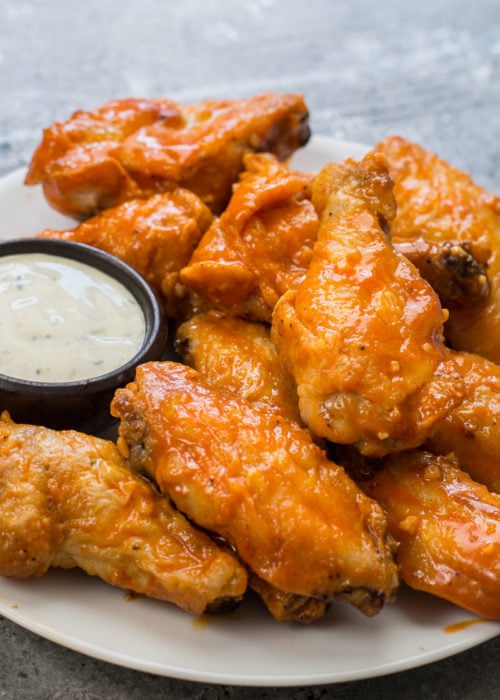 More Buffalo Chicken Recipes:
We LOVE buffalo chicken in this house, and you can tell by the number of different recipes with this combination! Try some of our favorites: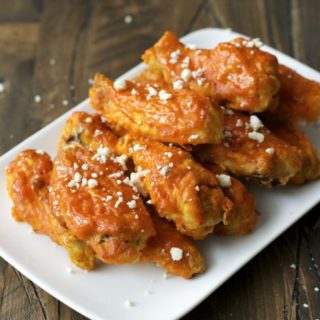 Baked Buffalo Wings
These Crispy Baked Buffalo Wings are made keto-friendly and ready for game day! Baking powder crisps up the skin perfectly while a buttery buffalo sauce packs the flavor!
Ingredients
2 pounds chicken wings
1-2 tablespoons of baking powder
For the sauce:
1 cup buffalo wing sauce (+ some separated for brushing wings later)
1 Tablespoon butter
2 teaspoons apple cider vinegar
1 teaspoon minced garlic
1/8 teaspoon each salt & pepper
Instructions
Preheat oven to 400 degrees F
Toss the wings in the baking powder.
Line a large baking sheet with foil and spray with cooking oil.
Pour the buffalo sauce in a small sauce pan and combine with the apple cider vinegar, butter, garlic, salt, and pepper. Bring to a simmer then reduce heat to low.
Remove each wing from the bag one at a time, making sure to knock off any extra baking powder and dip in the buffalo sauce, make sure it is completely covered.
Bake wings for 40 minutes, removing from heat occasionally to brush with additional sauce.
Notes
*I used Frank's Buffalo Wing Sauce, but you can use your favorite!
Nutrition Information:
Yield:

2
Serving Size:

1 pound
Amount Per Serving:
Calories:

930
Total Fat:

39.4g
Cholesterol:

419mg
Sodium:

819mg
Carbohydrates:

5.9g
Net Carbohydrates:

5.6g
Fiber:

0.3g
Sugar:

0g
Protein:

131.4g