These delicious Keto Pork Chops are an easy 30 minute weeknight meal! The perfect low-carb dinner with under 4 net carbs per chop!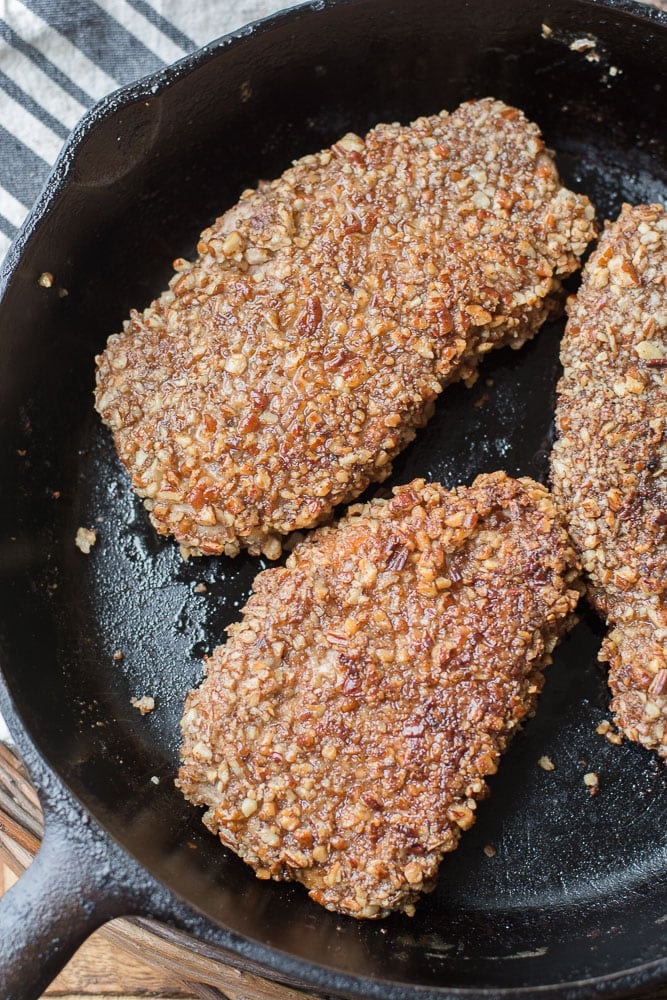 If you were to come to my home for dinner, odds are this is what I will be serving. Pecan crusted pork chops are an absolute favorite in this house. This keto pork chop recipe is a simple, yet impressive dinner that comes together quickly with ingredients you probably already have on hand.
I am sure I am not the first person to come up with the concept, but for us this recipe originated because I was trying to find an acceptable substitute for breadcrumbs. This was several years ago before gluten-free products were as common as they are now. As luck would have it, pecans make an excellent breading!
P.S. Pecans also make an amazing nut butter… Here's a Homemade Pecan Butter Recipe in case you're interested!
Ingredients in Keto Pork Chops
To make these low carb pork chops, you'll need the following ingredients:
Boneless pork chops
Dijon mustard
Pecans
Eggs
Olive oil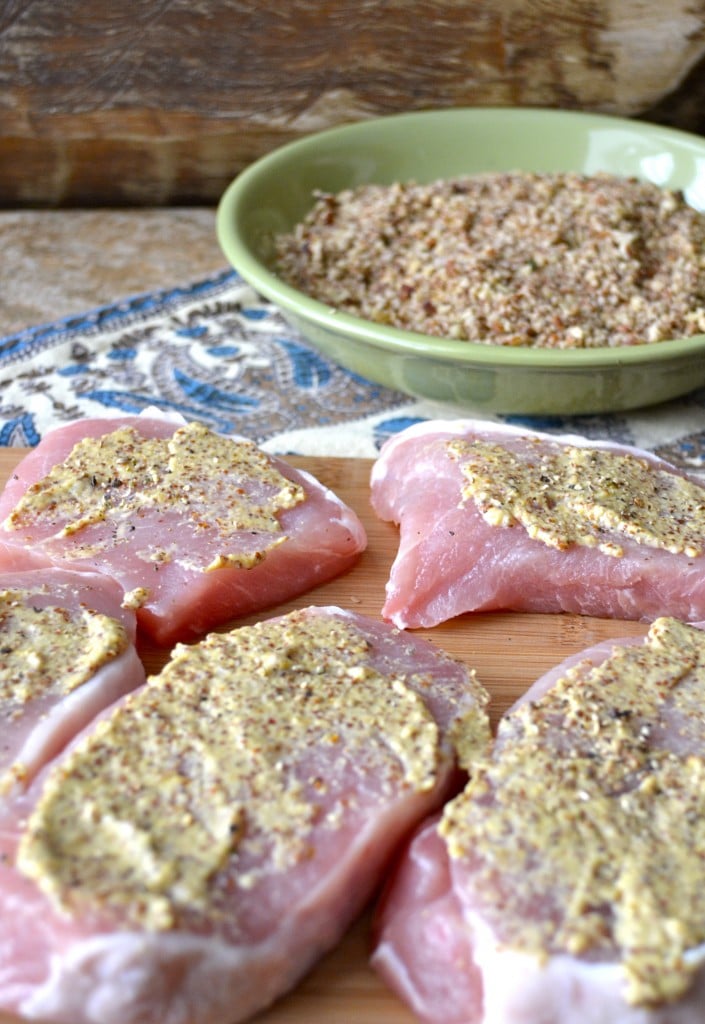 How to Make Keto Pork Chops
The process is pretty simple:
Spread some type of mustard on one side of the pork chops. I just eyeball it, but I probably spread about two teaspoons per pork chop.
Sprinkle a bit of pepper on each chop.
Throw 2 cups of pecans in a food processor, and give them a good whirl.
Pour your pecan crumbs into a shallow bowl, and set aside.
Now grab another shallow bowl, beat an egg and dip each chop in the egg mixture, then the pecans.
From there, you just toss them in a pan with a little oil to give them some color, and let them finish baking in the oven.
And there you have it, my oh-yes-I-just-whipped-this-up-no-big-deal dinner for guests. Now you know all my secrets!
Can I Freeze Pecan Crusted Pork Chops?
Yes! I normally make a double batch and freeze them after breading but before cooking. Then you have a batch ready to go for busy weeknights.
Can I Use Bone-In Pork Chops?
Yes, but note that the cooking time would be slightly increased.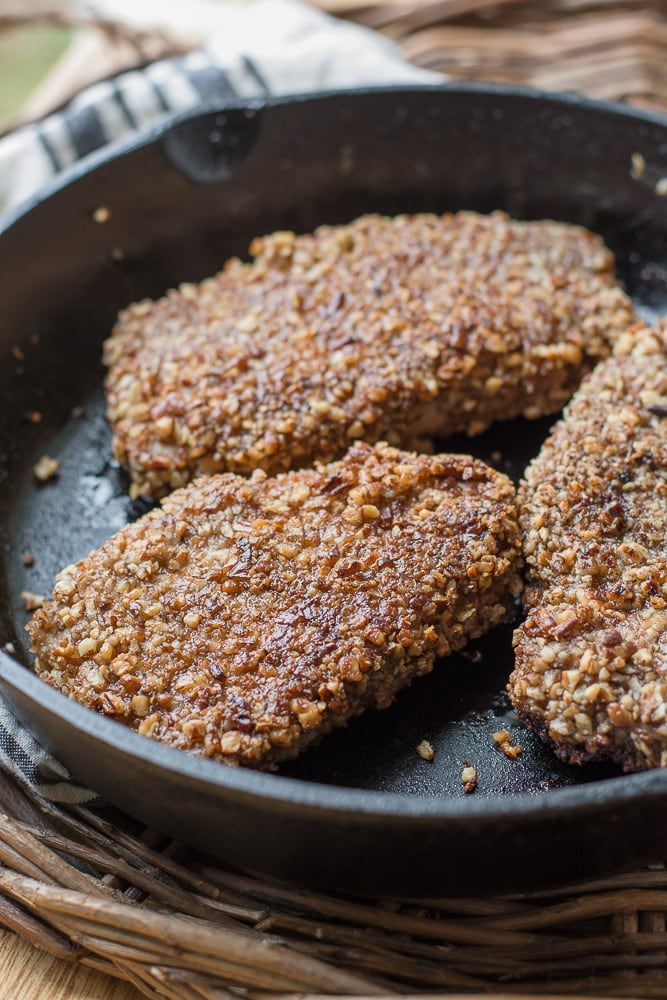 Tips for Making Low Carb Pork Chops
We like dijon in this recipe, but honey mustard is great too. If you are anti-mustard, don't worry, you can't really taste it. It just adds to the savoriness (is that a word?) of the dish.
If you don't have a food processor, just put the pecans in a plastic bag and smash away.
Make sure to buy raw pecans for this recipe, not roasted and salted.
More Keto Pork Recipes: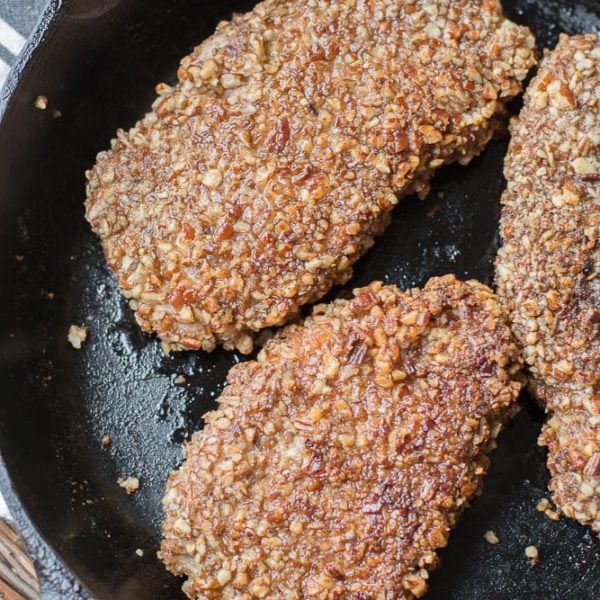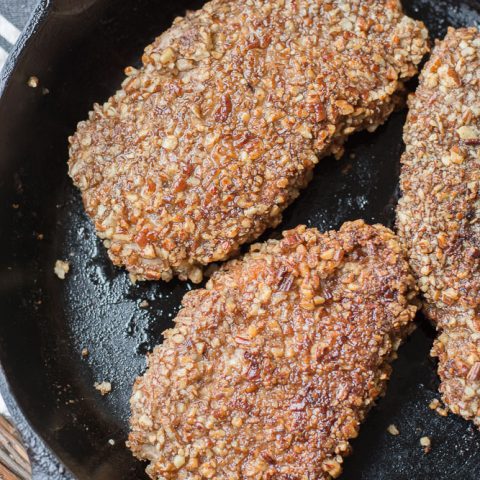 Pecan Crusted Pork Chops
These delicious Keto Pork Chops are an easy 30 minute weeknight meal! The perfect low-carb dinner with under 4 net carbs per chop! 
Ingredients
1.5 pounds boneless pork chops
1/4 cup dijon mustard (or your favorite kind)
2 cups pecans
2 large eggs, beaten
2-3 tablespoons olive oil
Instructions
Preheat oven to 350ºF.
Spread a spoonful of mustard on one side of each pork chop, set aside.
Pour the pecans into a food processor and blend until you have a good crumb consistency. I like to keep it kind of chunky, but you can crush them to a finer texture if you prefer. Set pecans aside in a shallow bowl.
In another shallow bowl beat the eggs.
Dip each pork chop in the egg, then the pecan mixture. Press the pecans into the pork chops lightly to ensure a good solid crust.
Place your breaded pork chops in the freezer for 10 minutes, I think this helps to really seal the crust so the pecans stay on better. However, if you are short on time you can skip this step.
Preheat a skillet to medium heat with the olive oil.
Cook two pork chops at a time in the skillet, 1-2 minutes on each side. You are just looking for good color here, they will finish baking in the oven.
Place pan seared pork chops on a baking sheet and cook 15-20 minutes.
Please note your cooking time will vary based on how thick your pork chops are. I rely on my meat thermometer.
Notes
The pecans brown quite quickly, keep an eye on them as they cook in the skillet.
Nutrition Information:
Amount Per Serving:
Calories:

625
Total Fat:

51.4g
Sodium:

1441mg
Carbohydrates:

8g
Fiber:

4.4g
Protein:

38.5g