This Egg Bites Recipe is so much better than the coffee shop version! You only need a few ingredients to make these cheesy, bacon-filled egg bites that are perfect for weekly meal prep!
Melty Cheese and Bacon Keto Egg Bites
I'm a huge fan of finger foods, and this recipe for cheesy egg bites is one of my absolute favorites. The flavors are intense, with smoky bacon, rich gruyere cheese, and tart cottage cheese. The gruyere melts and mixes with the eggs, creating a decadent texture … you won't be able to just eat one!
Even though these egg bites are packed with flavor, they only have 4 ingredients, and barely take any time to make. I make them whenever I want a savory, protein-filled keto snack, or need a fun side dish.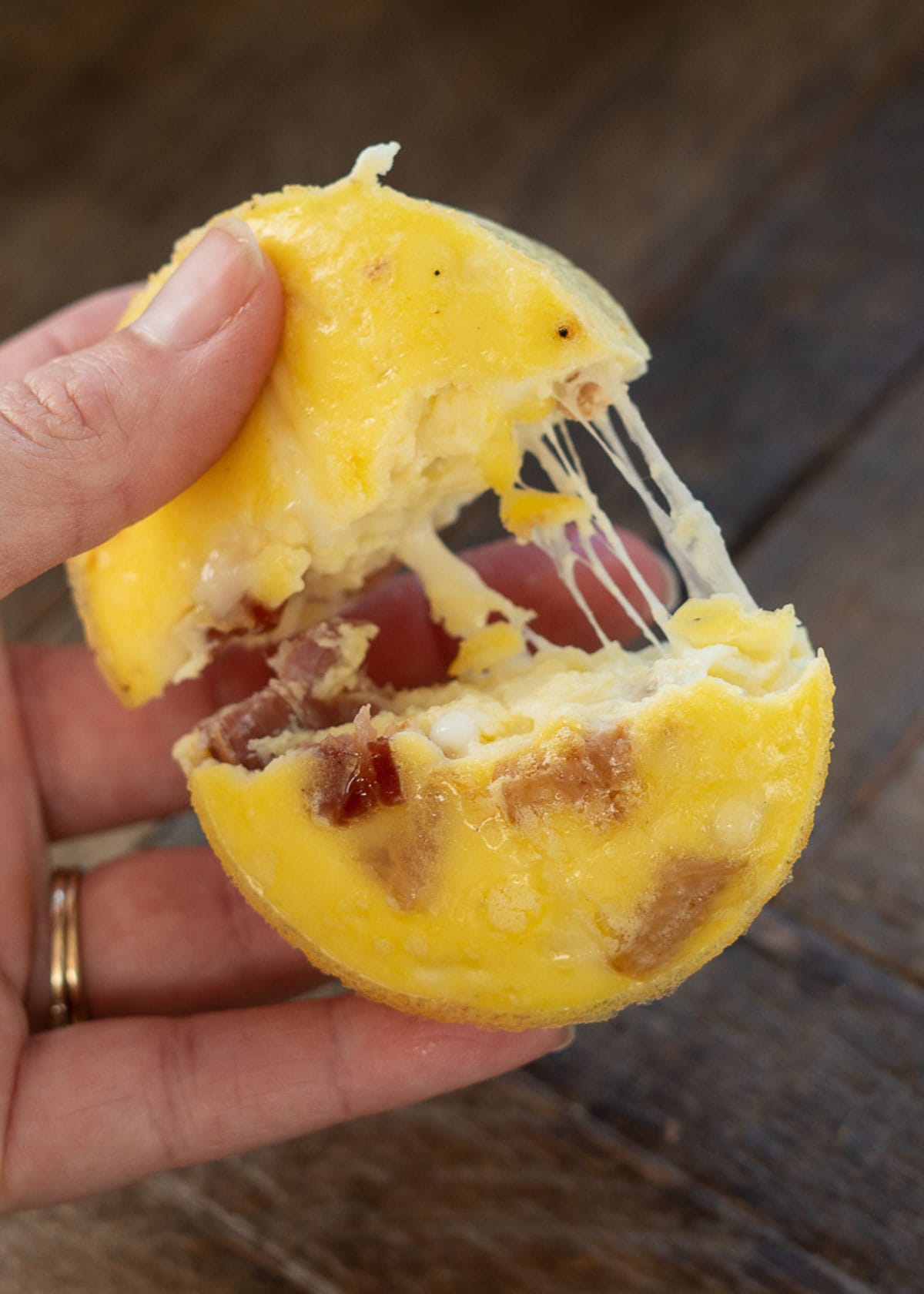 Why You'll Love This Easy Egg Recipe
These are a go-to snack food in my house. Here are some reasons why you'll love this recipe.
Super easy to make. This recipe only has 4 ingredients (plus salt and pepper). It takes just 10 minutes of prep work, and then the bacon and cheese egg bites head into the oven. It doesn't get much more simple than that!
Classic flavors. It's hard to beat the combination of bacon and eggs, or eggs and cheese. Simply put, bacon, eggs, and gruyere cheese is a mouth-watering trio, and it all comes together in these soft and melty egg bites.
Filling. These egg bites have a nice amount of protein so they'll keep you full for longer.
They're fun! I love to make these egg bites when I'm hosting people, or bringing food to a potluck. It's easy to double or triple this recipe, and you'll impress anyone who tries them. Whether you're serving these as a snack on game day, or to a bunch of hungry kids, everyone's going to love them.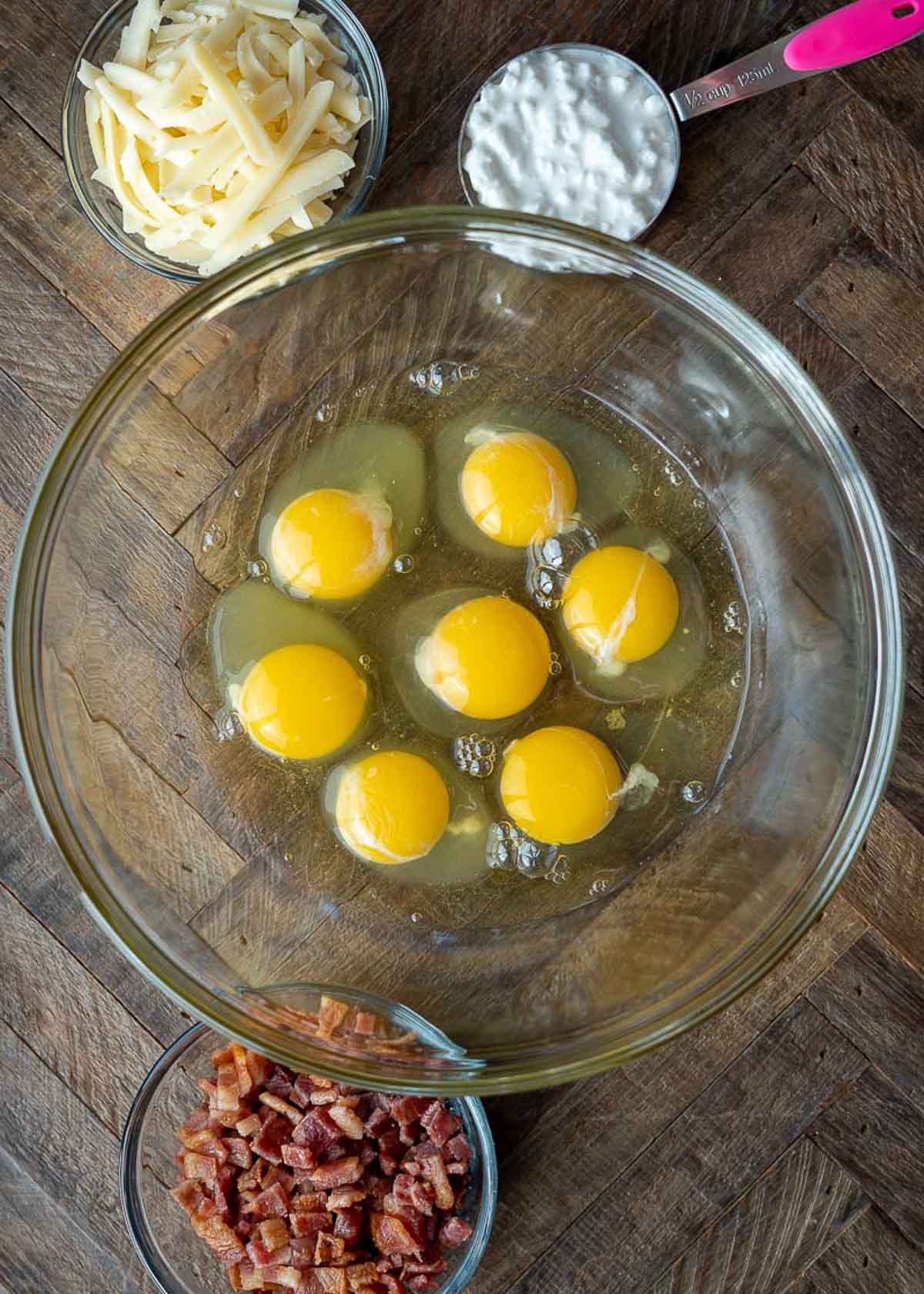 What You'll Need
Here are all the ingredients you need to make this rich egg bite recipe. For the exact amounts of each ingredient, scroll to the recipe card at the bottom of the page.
Eggs – Make sure to use large eggs for this recipe.
Cottage cheese
Bacon – The bacon needs to be cooked for this dish.
Shredded gruyere cheese – For best results, grate your own gruyere cheese.
Salt
Pepper – Be sure to use freshly ground black pepper.
How to Make Keto Egg Bites
Here's how to make these melty egg bites. They couldn't be easier!
Prep. Preheat the oven to 325F.
Mix the wet ingredients. Add the eggs and cottage cheese to a mixing bowl, and whisk until combined.
Add the rest of the ingredients. Fold in the bacon and the gruyere cheese, then season with salt and pepper.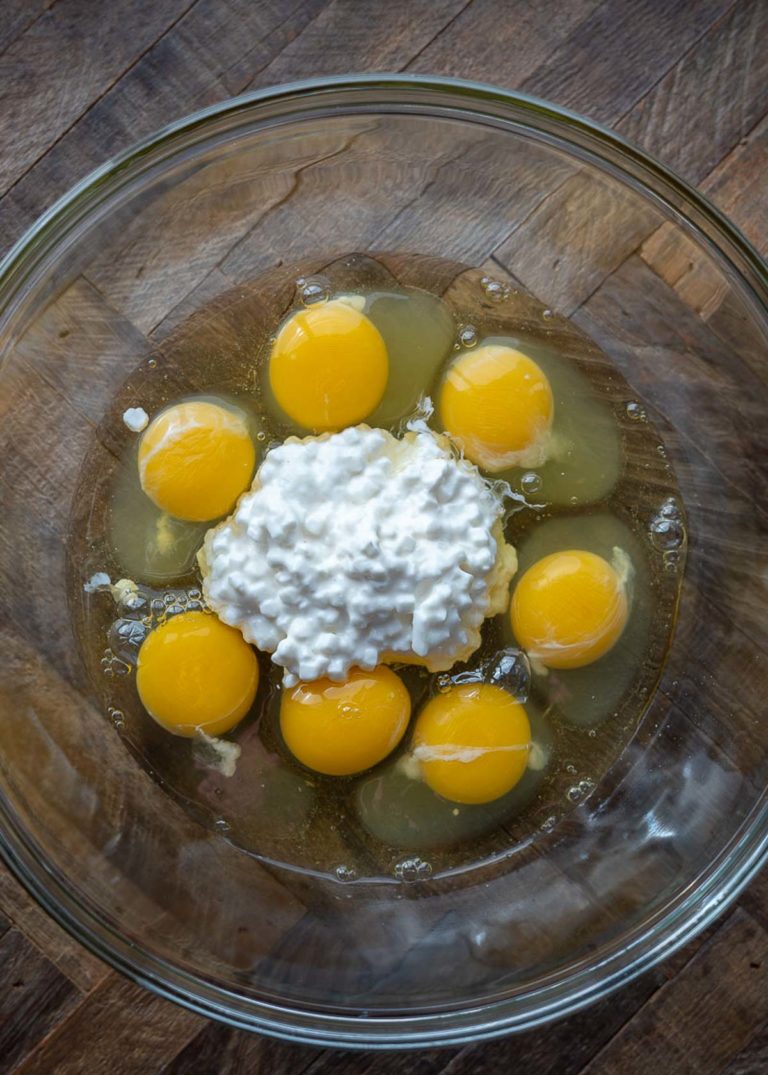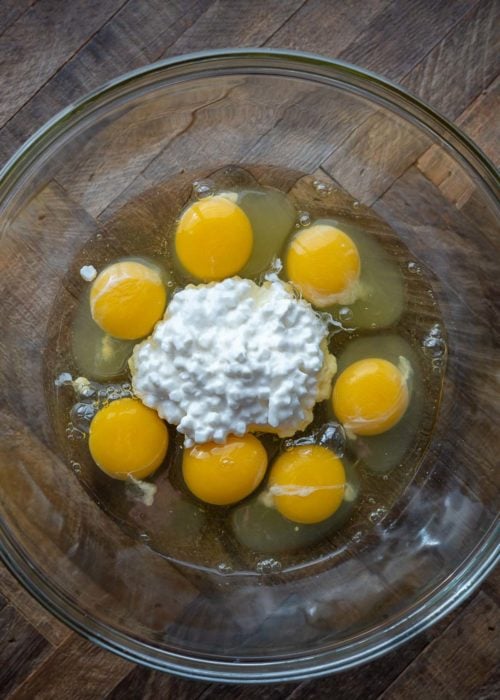 Portion the batter. Spoon the batter into a muffin tray or silicone muffin tins until they're about ¾ full.
Make a water bath. Put about an inch of water in a 9×13-inch baking dish. This will help the eggs cook evenly, and keep them moist.
Add the egg bites. Put the muffin tins into the water bath.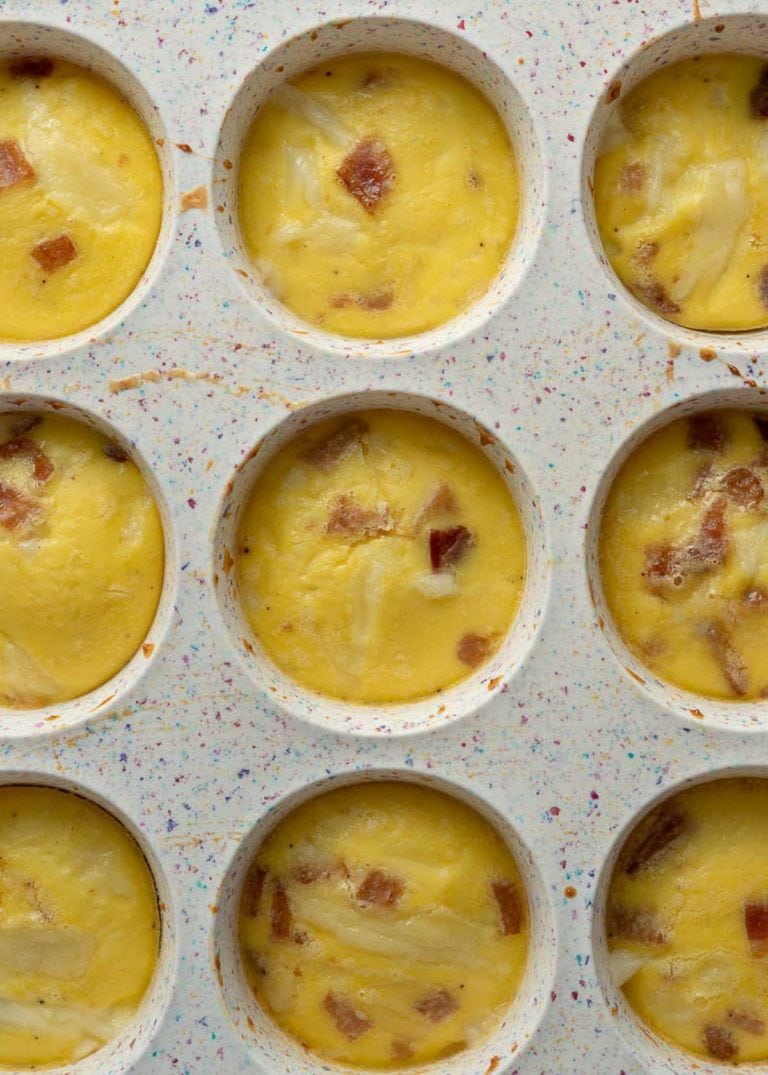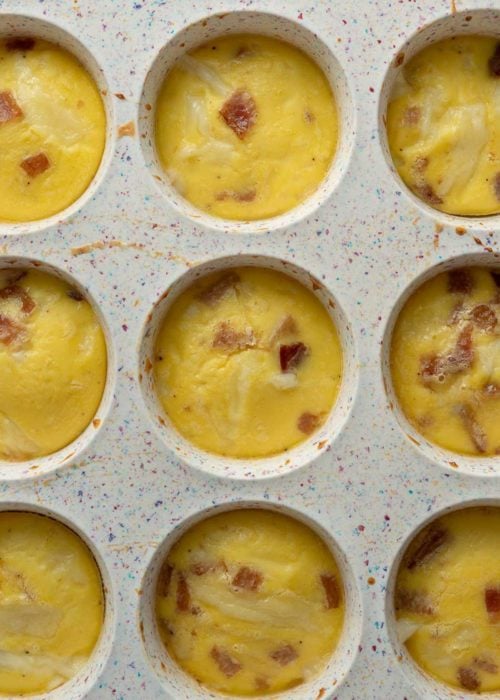 Bake. Put the baking dish in the oven and bake until the eggs are cooked through. This should take 25-30 minutes.
Tips and Variations
Here are a few tricks and variations for making these cheese snacks.
Be careful folding the bacon and cheese. When folding the pieces of bacon and shredded gruyere cheese into the mixture, work carefully. You don't want to mix them in with a heavy hand, or the batter will become too dense.
Don't overcook. After you take the egg bites out of the oven, they'll keep cooking for a few minutes until they cool down. Nobody wants overcooked eggs, so pull them out of the oven when they're cooked through, but still pretty soft.
Blend the mixture. I enjoy having the curds from the cottage cheese in this dish, but they're not everyone's cup of tea. If you would rather the egg bites be smoother, then you can blend the cottage cheese and eggs in the blender until they're a smooth consistency.
Add your own seasonings. One of my favorite things about this recipe is how simple it is, and how few ingredients it uses. But if you want, you can add a few more seasonings. Ingredients like fresh garlic, fresh herbs, paprika, chili powder, and chives would all be great in this recipe. Just add them at the same time as the bacon and gruyere cheese.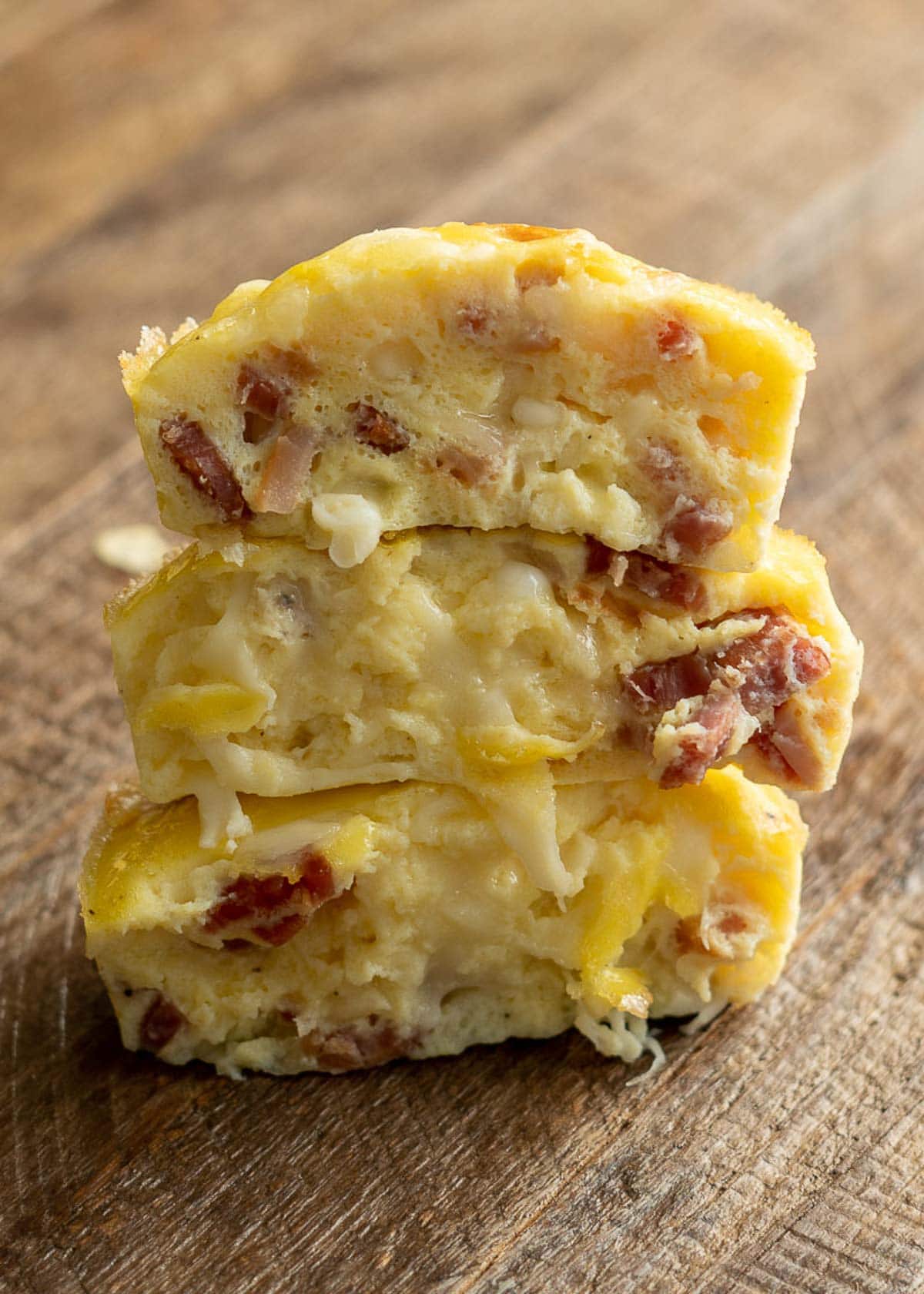 How to Store and Reheat Leftovers
Leftovers will last for 4 days in the fridge if stored in an airtight container. If you want to serve them warm, heat them in the microwave on 80% power in 20-second increments. Or you can warm them up in a 350F oven for 5 minutes.
Can I Freeze Egg Bites?
Definitely! These are a great snack to keep in the freezer, where they'll last for 3 months if stored in an airtight container. You can reheat them directly from the freezer in the oven, though they'll need an additional 2-3 minutes.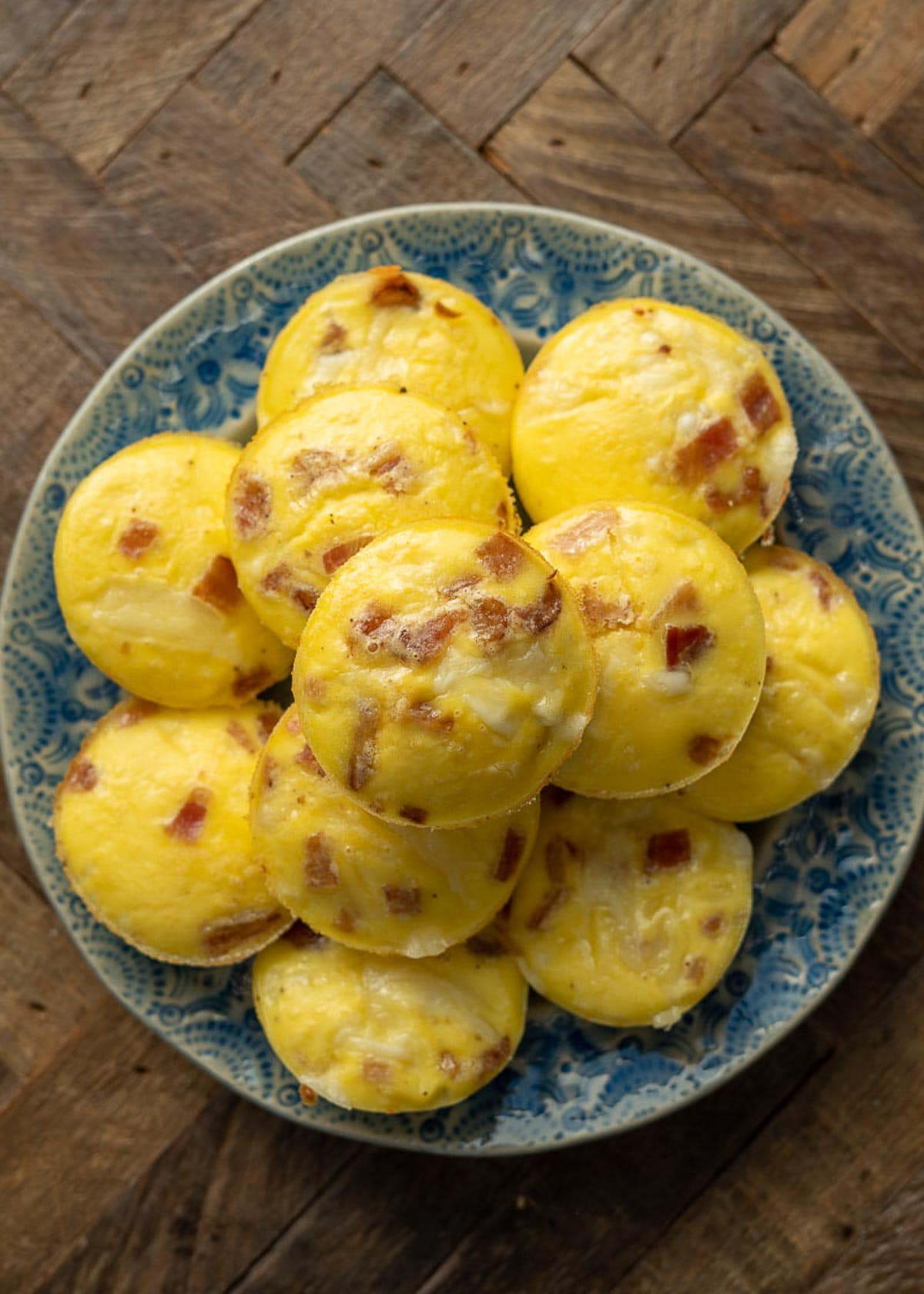 More Delicious Finger Foods
Here are some more of my favorite finger foods to try!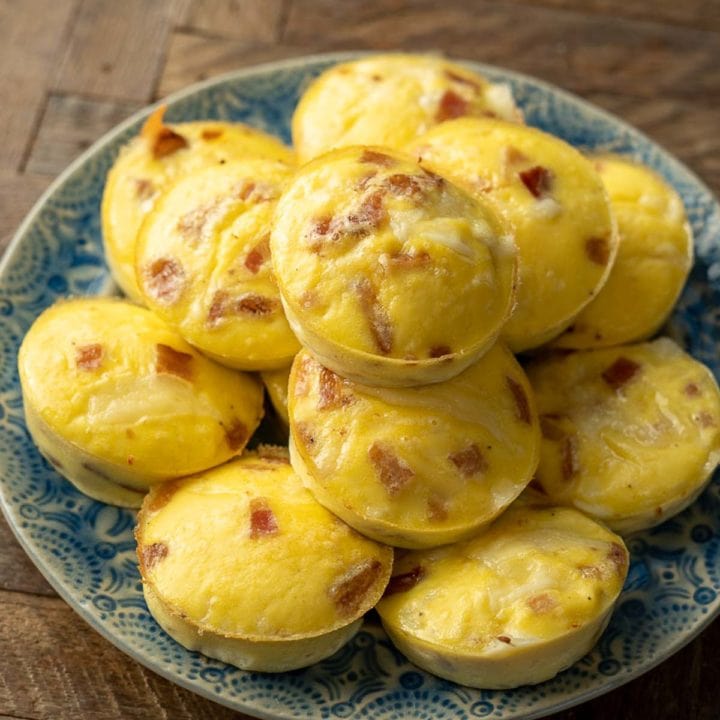 Egg Bites
These cheesy, bacon egg bites are the perfect snack, appetizer, or side dish. They're fun, decadent, and super easy to make.
Ingredients
7 large eggs
1/2 cup cottage cheese
3/4 cup cooked and chopped bacon
3/4 cup shredded gruyere cheese
Salt and pepper to taste
Instructions
Preheat the oven to 325F.
In a large mixing bowl, whisk the eggs and the cottage cheese until well combined.
Fold in the bacon and the shredded cheese, then add salt and pepper to taste.
Spoon the mixture into a 24-count silicone muffin tin until 3/4 full.
Add about an inch of water to a 9x13-inch baking dish. Place the silicone muffin tin inside the baking dish so the eggs can cook slowly in a water bath.
Cook the egg bites for 25-30 minutes, until the eggs are cooked through.
Notes
If you do not have a 9x13-inch baking pan that the muffin tin will set inside, you can fill a casserole dish with an inch of water and place it on the bottom rack of the oven. Then cook the egg bites on the middle or top rack.
You can blend the eggs and cottage cheese in a blender until smooth if you dislike the texture of cottage cheese curds.
Store in an airtight container in the fridge for 4 days, or in the freezer for 3 months. Reheat in a 350F oven for 5-10 minutes, or in a microwave on 80% power in 20-second increments.
Nutrition Information:
Yield:

8
Serving Size:

3 egg bites
Amount Per Serving:
Calories:

198
Total Fat:

15.4g
Cholesterol:

189.6mg
Sodium:

309.8mg
Carbohydrates:

1.3g
Fiber:

0g
Sugar:

0.9g
Protein:

12.9g