These easy Instant Pot Egg Bites are perfect for a healthy meal. This low-carb recipe takes just 30 minutes for a freezable breakfast you can eat on the go!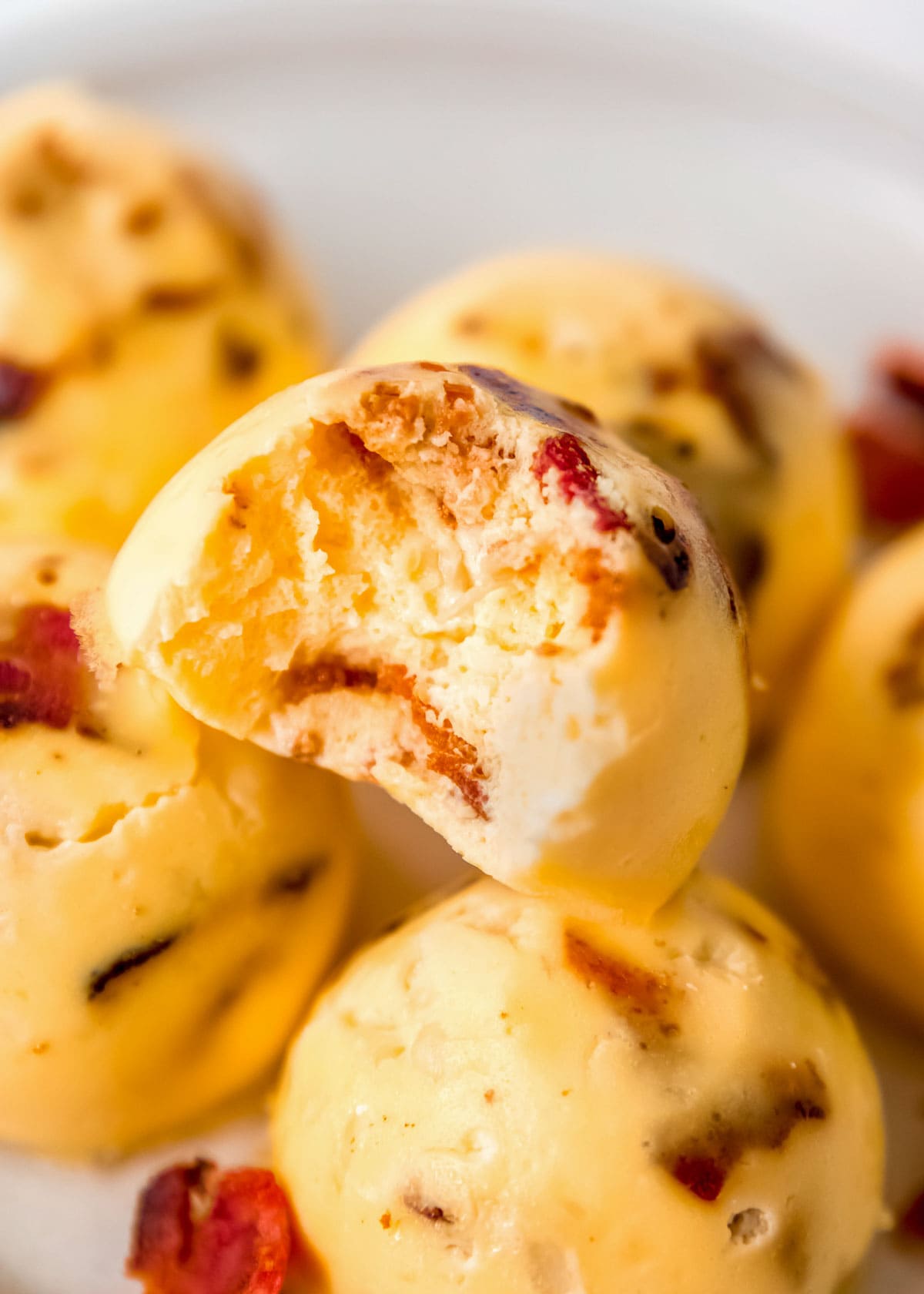 Instant Pot Eggs
These Instant Pot Egg Bites come out soft, fluffy, and so delicious! They're cheesy and packed full of protein for a savory breakfast or snack you can feel good about. This low-carb recipe is naturally gluten-free and keto-friendly, too. It's easy to make ahead of time and can even be frozen for a simple, healthy breakfast that takes just a minute to reheat!
If you want to make these but don't have an Instant Pot, try these Easy Egg Bites! They're made in the oven with a water bath, so you get a similar texture. They're super moist and delicious!
Why you'll love this recipe:
Easy – This is great for beginners or Instant Pot newbies! You don't need to spend a ton of time chopping ingredients (you can even skip the bacon or use store-bought bits to eliminate all prep). You just whisk, pour, and let the Instant Pot do the rest of the work! Reheating isn't hard either–You just need a minute and a microwave.
Healthy – You get a balanced dose of fat and protein in this delicious recipe! Each bite has just 141 calories and 0.3 carbs, so you'll get loads of energy without breaking a diet. You can use low-fat cream cheese and swap the bacon for roasted mushrooms if you'd like to make them even healthier!
Customizable – This is a great recipe to make your own! Easily swap out the gruyere with pepper jack and substitute bell peppers for the bacon for a spicy start to the day. Sausage, chicken, steak, broccoli, onions, asparagus… The options are endless!
Ingredients for Instant Pot Egg Bites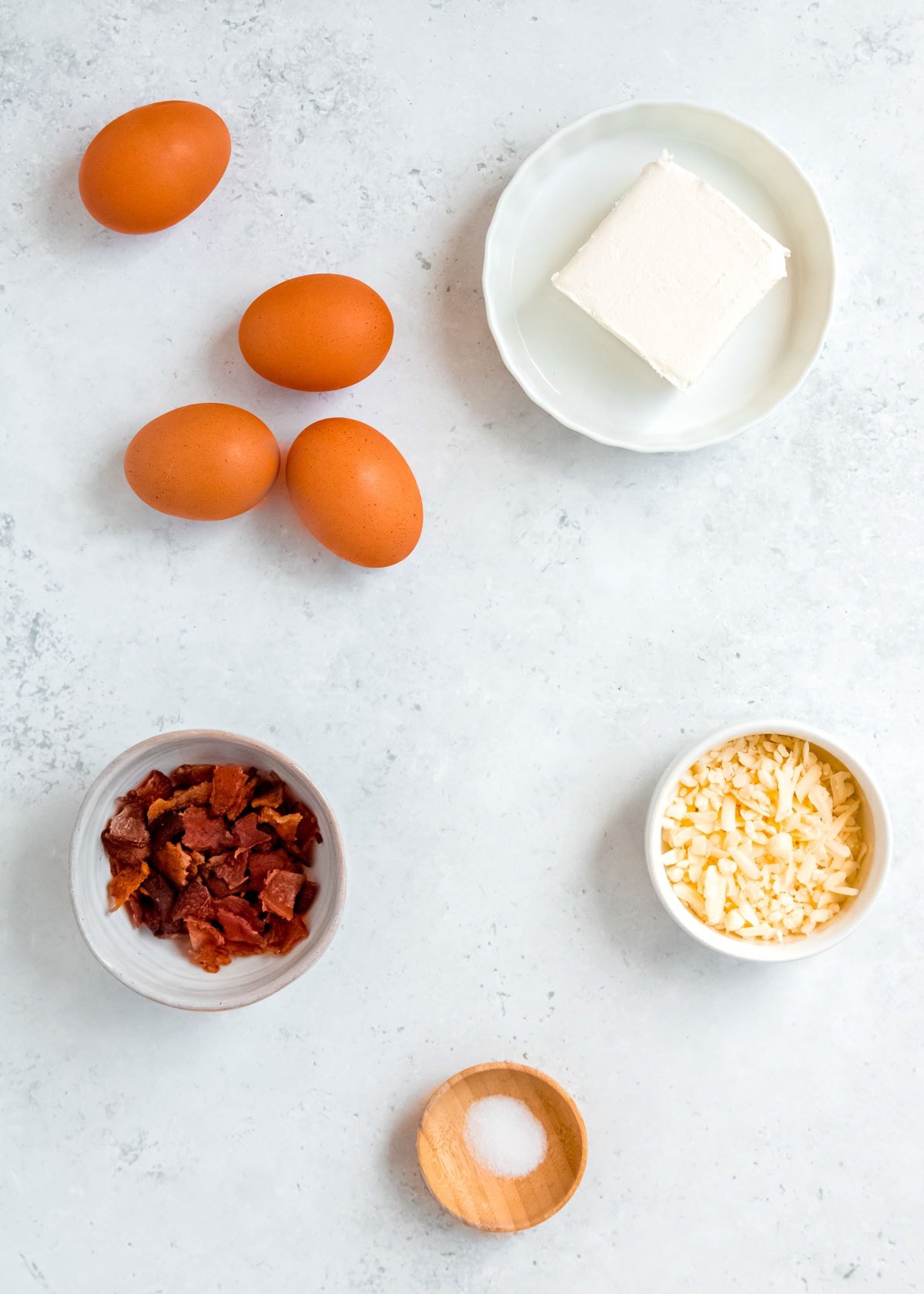 Here's a quick overview of what you'll need for this recipe. For exact measurements, keep scrolling down to the printable recipe card at the bottom of the page.
Cream cheese – You can use full- or low-fat cream cheese without much change to the texture. Start with it softened so it's easier to mix.
Eggs – Size large. These are the main attraction, so you can't omit them. If you're egg-free, you can try some of the substitutions recommended in this post.
Gruyere cheese – Shredded. This gives a delicious, full flavor that I love! You can substitute for your favorite type of cheese, though. Monterey jack or pepper jack are my next two top suggestions.
Salt – We don't use a ton because the bacon and cheese add some saltiness already. If you're swapping out the bacon for veggies, you might need a pinch more salt.
Bacon – Cooked, crispy, crumbled. Bacon is easy to cook ahead of time and freeze to conveniently throw into recipes like this. You can always use store-bought bacon bits if you're in a hurry, though. Feel free to leave this out or swap it for a meat or vegetable of your choosing.
As far as tools go, you'll need a large, microwaveable mixing bowl, a whisk, an egg bite mold with a lid (or aluminum foil), and an Instant Pot.
How to Make Egg Bites in the Instant Pot
This simple recipe comes together so easily! Here's a quick step-by-step guide to making these cheesy egg bites.
Mix up egg batter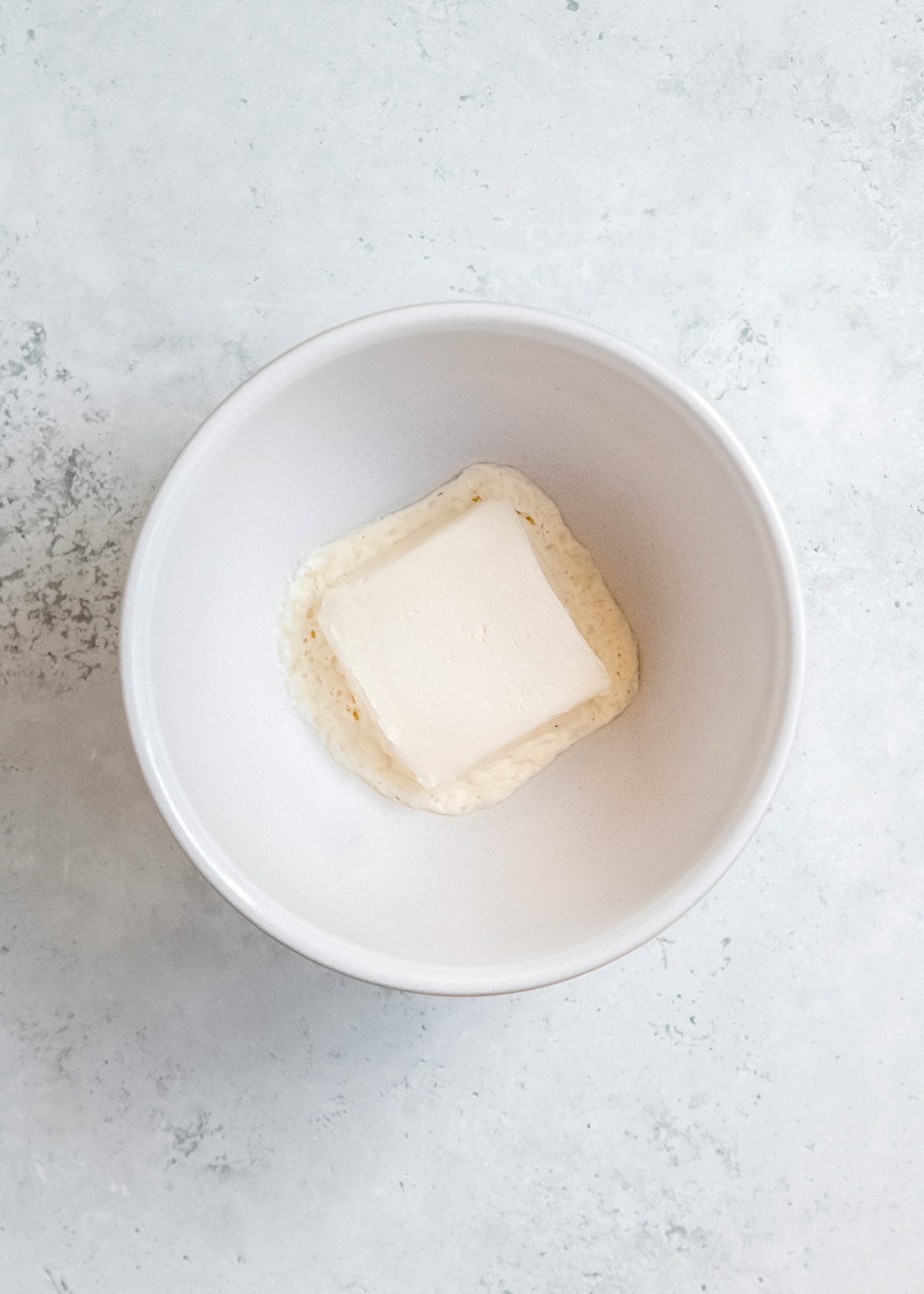 First, place your cream cheese in a large microwave-safe mixing bowl. Microwave for 30-45 seconds until it begins to melt. Whisk until smooth with eggs, shredded cheese, and salt. Set aside for now.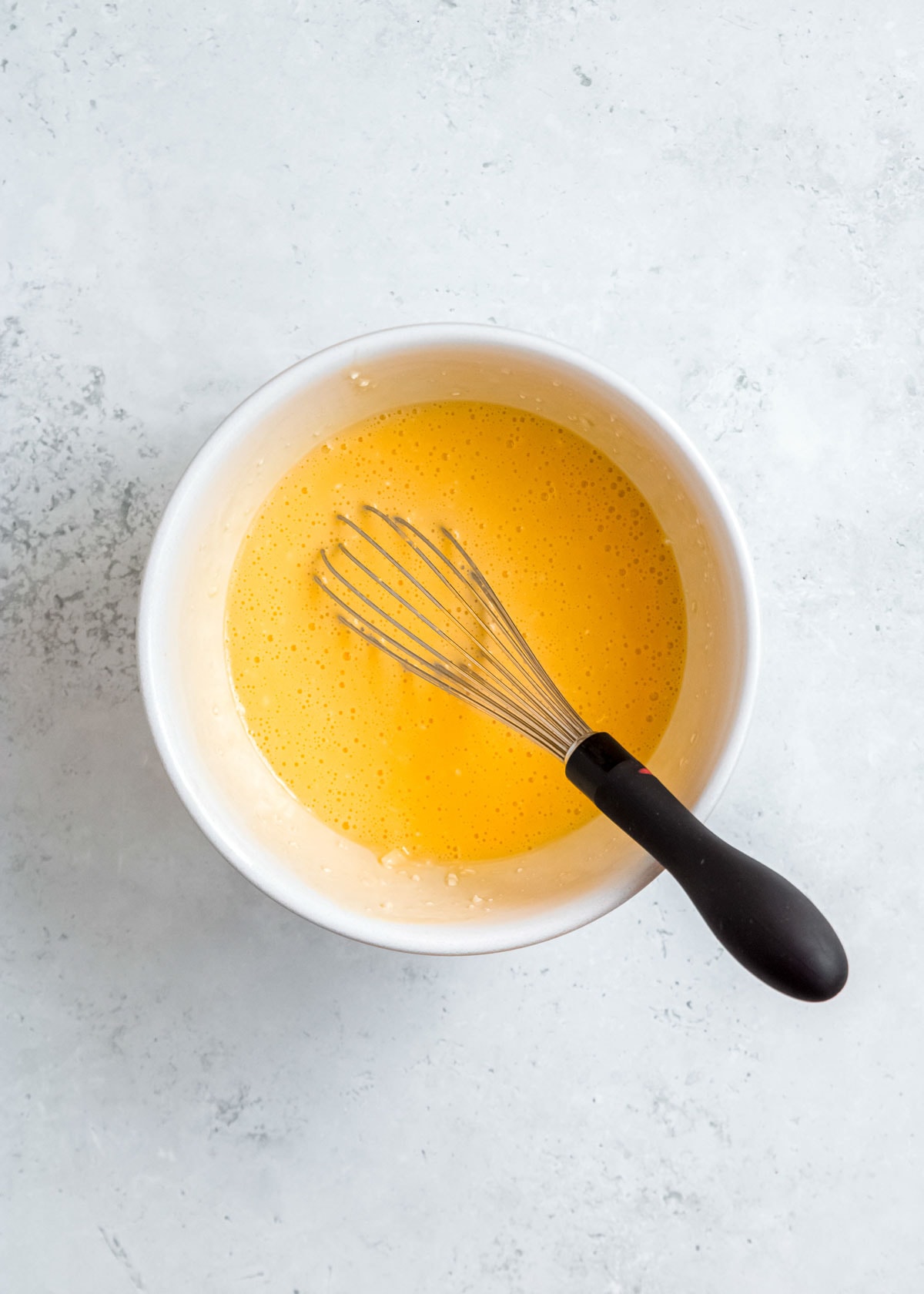 NOTE: Don't microwave the cream cheese too long! If it's hot when you add in the eggs, you could potentially cook the egg. This can lead to a grainy texture in your egg bites instead of the smooth, fluffy bites we're looking for.
Add to egg mold with bacon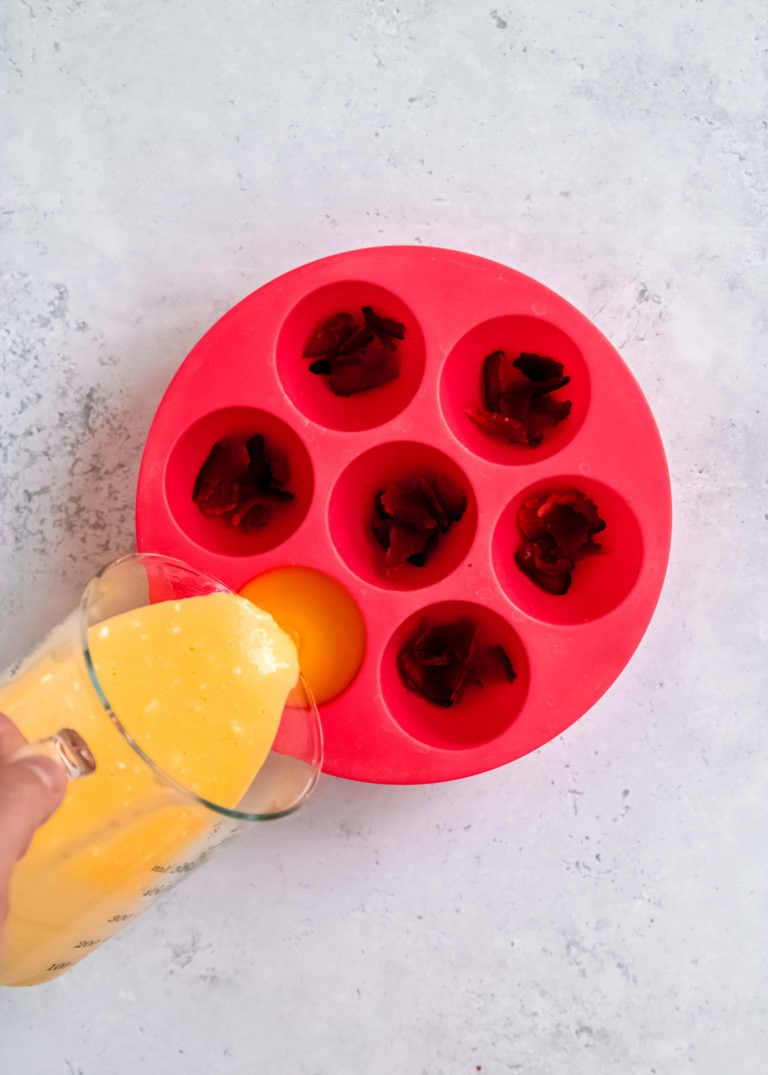 Take 2/3rds of your crumbled bacon and sprinkle them evenly between the 7 cavities in the egg mold. Then, pour the egg mixture in, filling each cavity 3/4ths full. Finally, top all cavities with the remaining bacon and cover with lid or aluminum foil (tightly).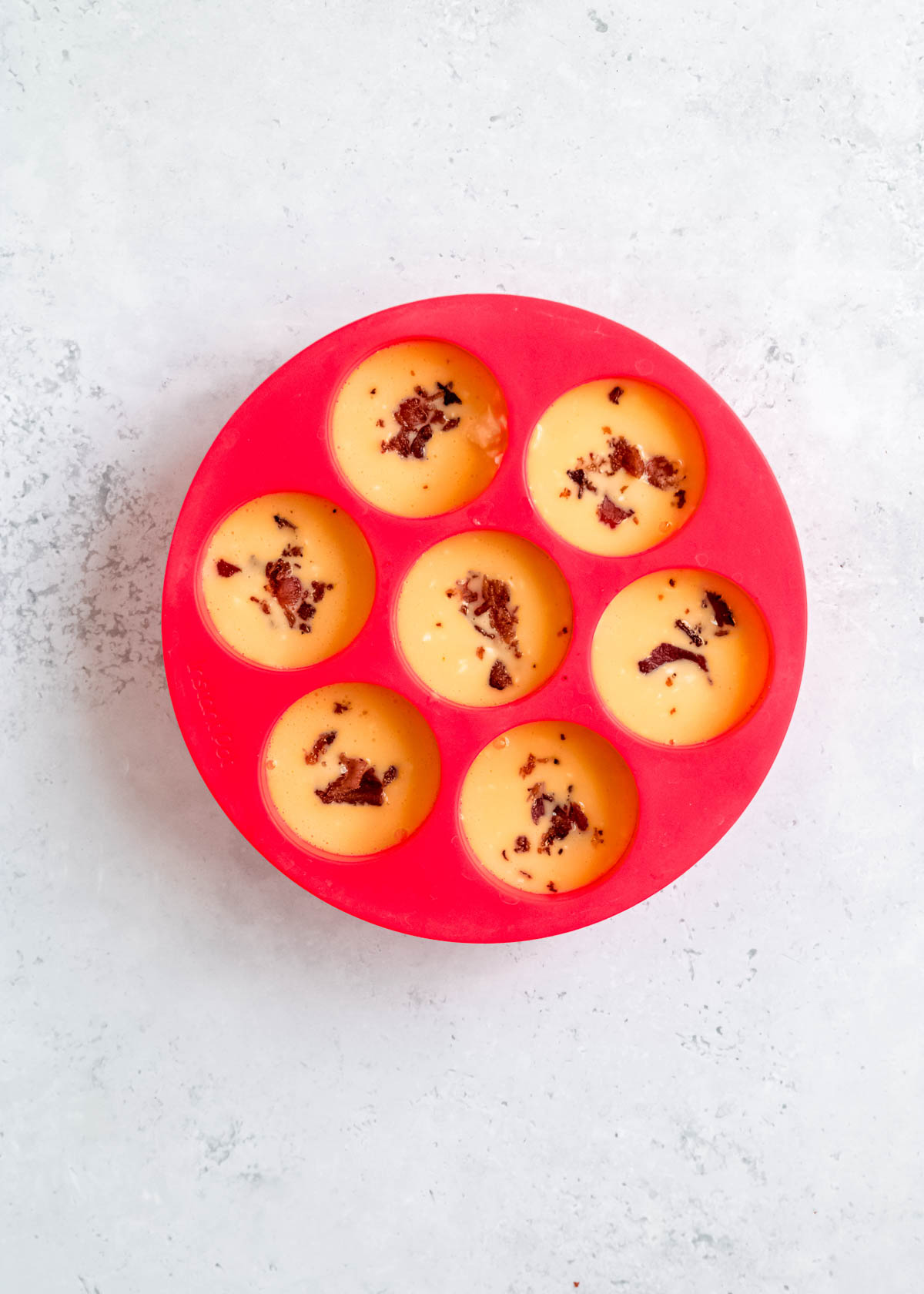 Cook in Instant Pot
Pour 1 cup of water into the Instant Pot, then place the trivet inside. Gently place the egg bite mold onto the trivet, being careful to not tip it over. Set the Instant Pot to cook on high pressure for 10 minutes.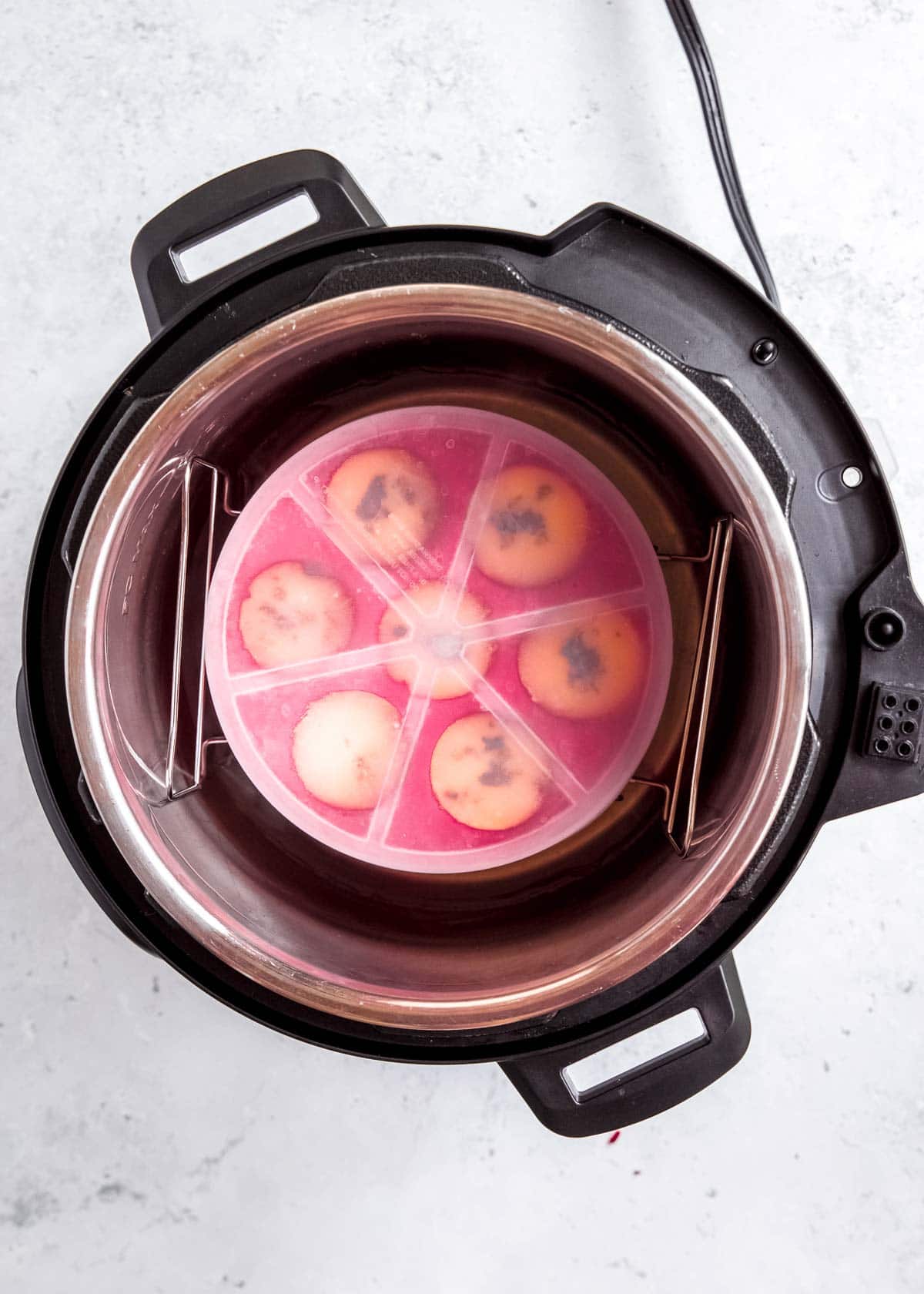 Once the pressure cooking cycle has finished, allow the machine to naturally release the pressure for 10 minutes. After 10 minutes, open the venting knob to release any remaining pressure. Carefully remove the egg bites using the trivet and allow to rest for a few minutes before inverting on a plate.
How to Serve Egg Bites
Healthy egg bites are the perfect breakfast for so many occasions! Pair with some berries or granola for an easy breakfast you can eat on your commute. If you've got time to sit for breakfast, add some breakfast potatoes and homemade breakfast sausage to stretch these egg bites further.
More breakfast side dishes: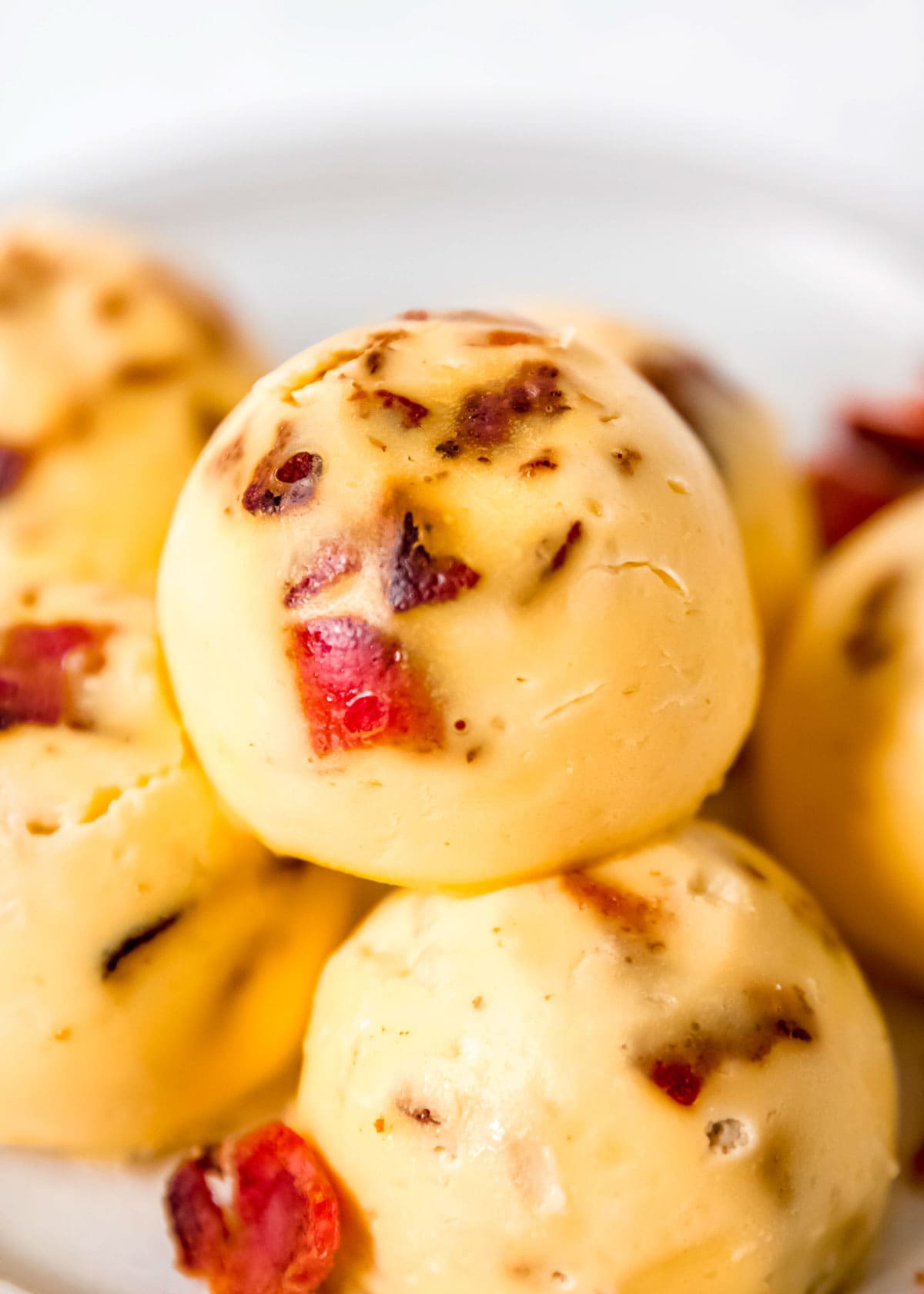 How to Store Egg Bites
Once cooled, store egg bites in an airtight container in the fridge for about 3 days. If you want them to last longer, you can store them in the freezer.
Can you freeze egg bites?
Yes, egg bites freeze wonderfully and reheat easily! After egg bites have cooled, place them in a single layer on a plate and freeze for about 2 hours. Transfer to a freezer bag and enjoy within 1-3 months. To avoid freezer burn, you could add an extra layer of protection by double/triple wrapping with plastic wrap and storing in a freezer bag.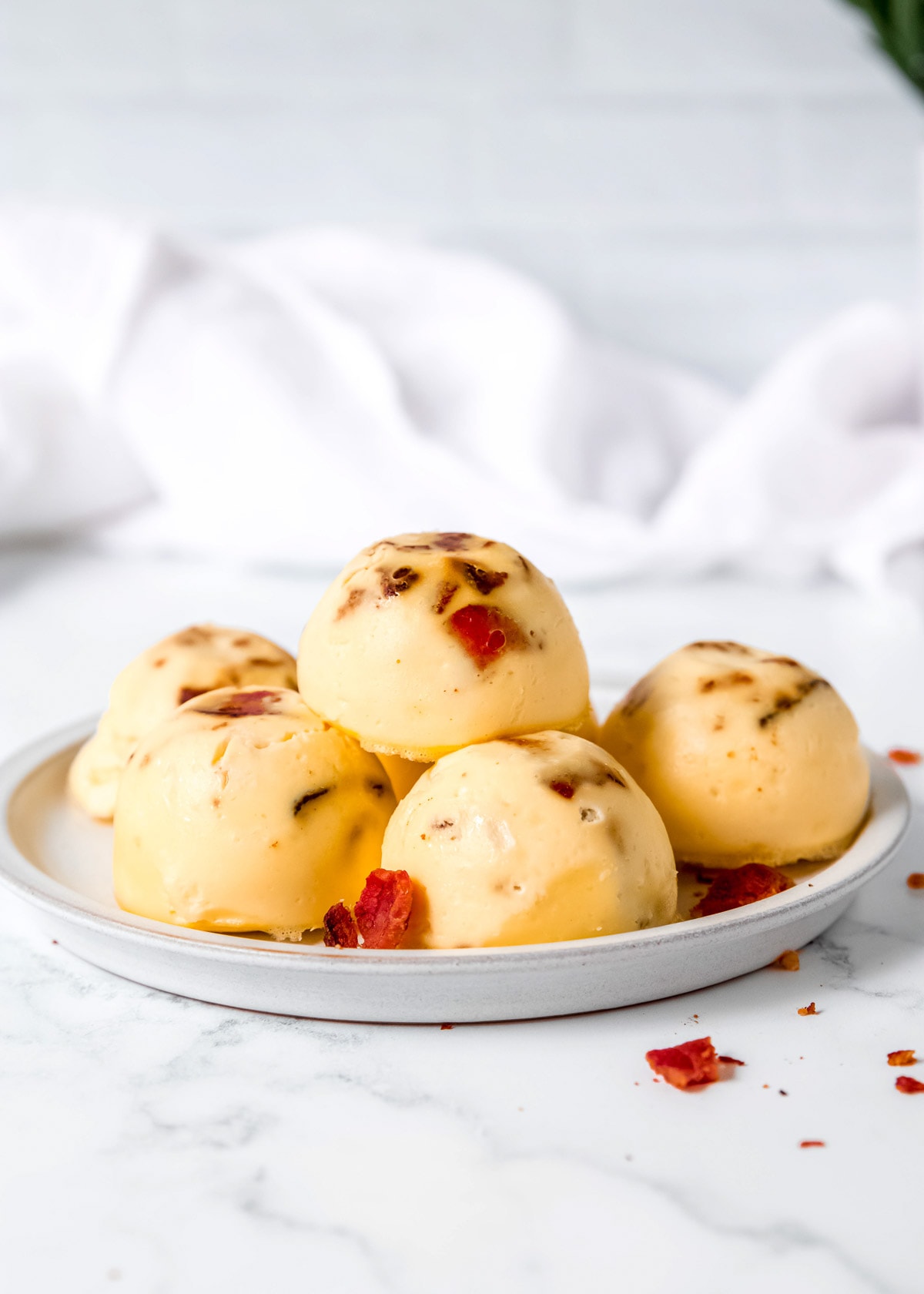 Best ways to reheat egg bites without overcooking them
Microwave – Super quick and easy! Blast in 30-second increments until warmed through. Timing depends on microwave power and number of bites you're reheating at once.
Oven – Best for a crowd. Place in a baking dish and reheat 5-10 minutes until heated through. If you're worried about them drying out, cover with a lid or aluminum foil to keep the moisture in.
If you like these egg bites, you'll love these easy breakfast recipes!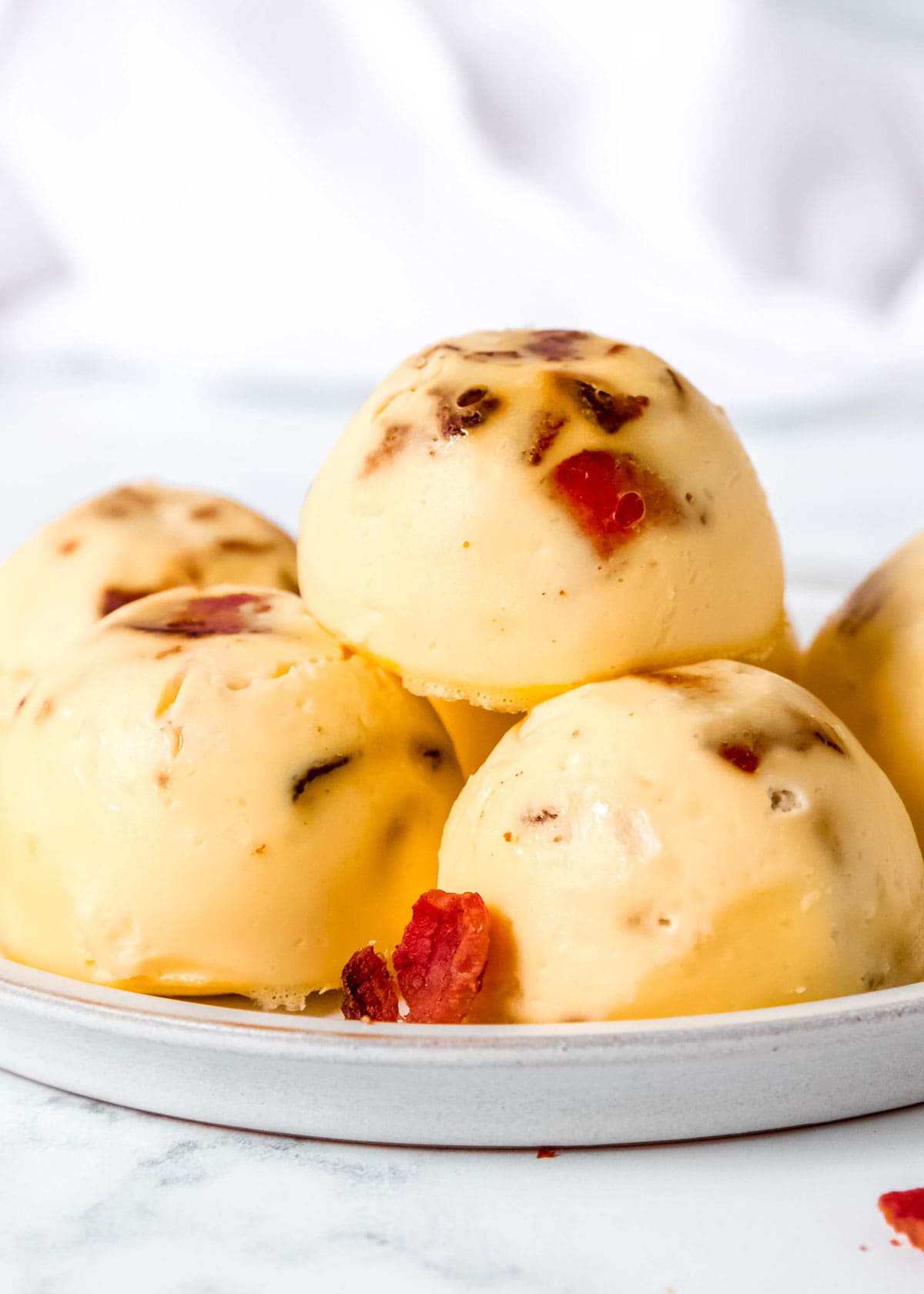 FAQs for Instant Pot Egg Bites
Should I blend the eggs and cream cheese?
No, I don't recommend it for this recipe. When I tested using a blender to combine the ingredients, the egg bites were underdone in the middle and just didn't cook well. It's best to mix by hand to avoid overworking the eggs.
How long does it take for the Instant Pot to cook eggs?
When using the Instant Pot, you also have to consider the time it takes for the machine to pressurize and depressurize. This recipe took 5 minutes to prep, 5 minutes to pressurize, 10 minutes to cook, and 10 minutes to allow pressure to naturally release before venting. It's an easy 30-minute meal!
What can I use to make egg bites in the Instant Pot?
For these fun shapes, you need a silicone egg bite mold! This is the product I used. If possible, buy one with a lid for the convenience of both cooking and storage. If you have one that didn't come with a lid, you can just wrap it tightly with aluminum foil instead.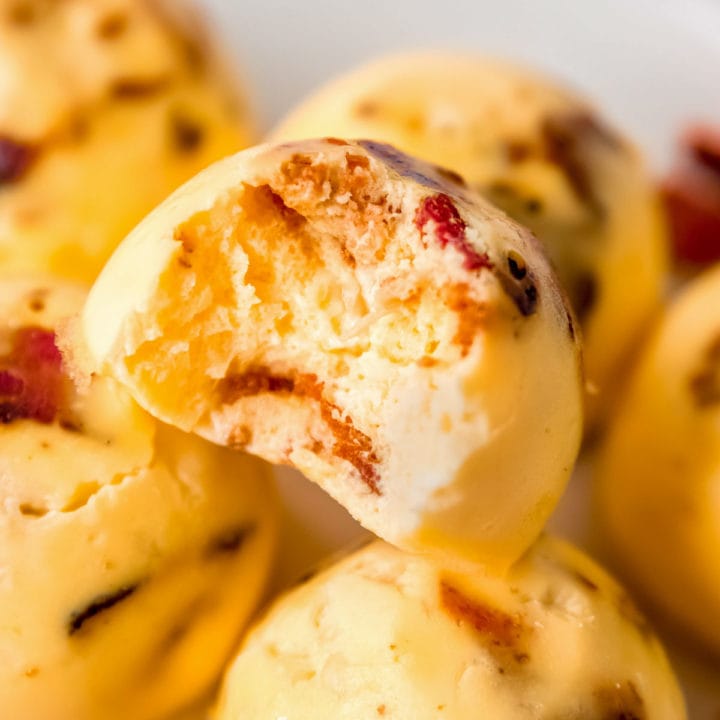 Instant Pot Egg Bites
These easy Instant Pot Egg Bites are perfect for a healthy meal. This low-carb recipe takes just 30 minutes for a freezable breakfast you can eat on the go!
Ingredients
4 oz cream cheese, softened
4 large eggs
¼ cup shredded Gruyere cheese
¼ tsp salt
3 slices crispy cooked bacon, crumbled
Instructions
Place the cream cheese in a large microwave-safe bowl, and microwave for 30-45 seconds, until it starts to melt.
Whisk together the eggs, melted cream cheese, shredded Gruyere cheese, and salt.
Divide 2 pieces of the crumbled bacon evenly between the egg molds. Pour in the egg mixture until the egg molds are ¾ full. Sprinkle the remaining bacon over them. Cover with egg mold lid or tightly with aluminum foil.
Pour 1 cup of water into the Instant Pot, then place the trivet inside. Carefully place the egg bites onto the trivet.
Pressure cook on high for 10 minutes, allowing for a 10-minute natural release. Once the natural release time is up, open the venting knob carefully to release any remaining pressure.
Remove the egg bites from the Instant Pot by carefully lifting the trivet. Allow the egg bites to rest for a few minutes, then invert on a place and eat!
Notes
Bacon is optional but tastes so good! You can use turkey bacon in it's place if desired.
If you don't have Gruyere, use shredded Monterey jack or pepper jack cheese. 
No need to blend these. In fact, when I tested these using a blender to combine the ingredients, the egg bites did not cook well and were underdone in the middle. 
These store really well in the fridge for about 3 days, just reheat in the microwave! 
My Instant Pot took about 5 minutes to pressurize and start cooking. 
This is the egg bite mold that I used: https://www.amazon.com/dp/B07WSRN21B?ref=ppx_yo2ov_dt_b_product_details&th=17
Nutrition Information:
Yield:

7
Serving Size:

1 egg bite
Amount Per Serving:
Calories:

141
Total Fat:

11.8g
Cholesterol:

133.7mg
Sodium:

303.9mg
Carbohydrates:

0.3g
Fiber:

0g
Sugar:

0.1g
Protein:

7.8g