Keto Breakfast Ideas under 5 net carbs! These easy keto breakfast recipes are sure to fill you up and give you fuel for the day without loads of carbs!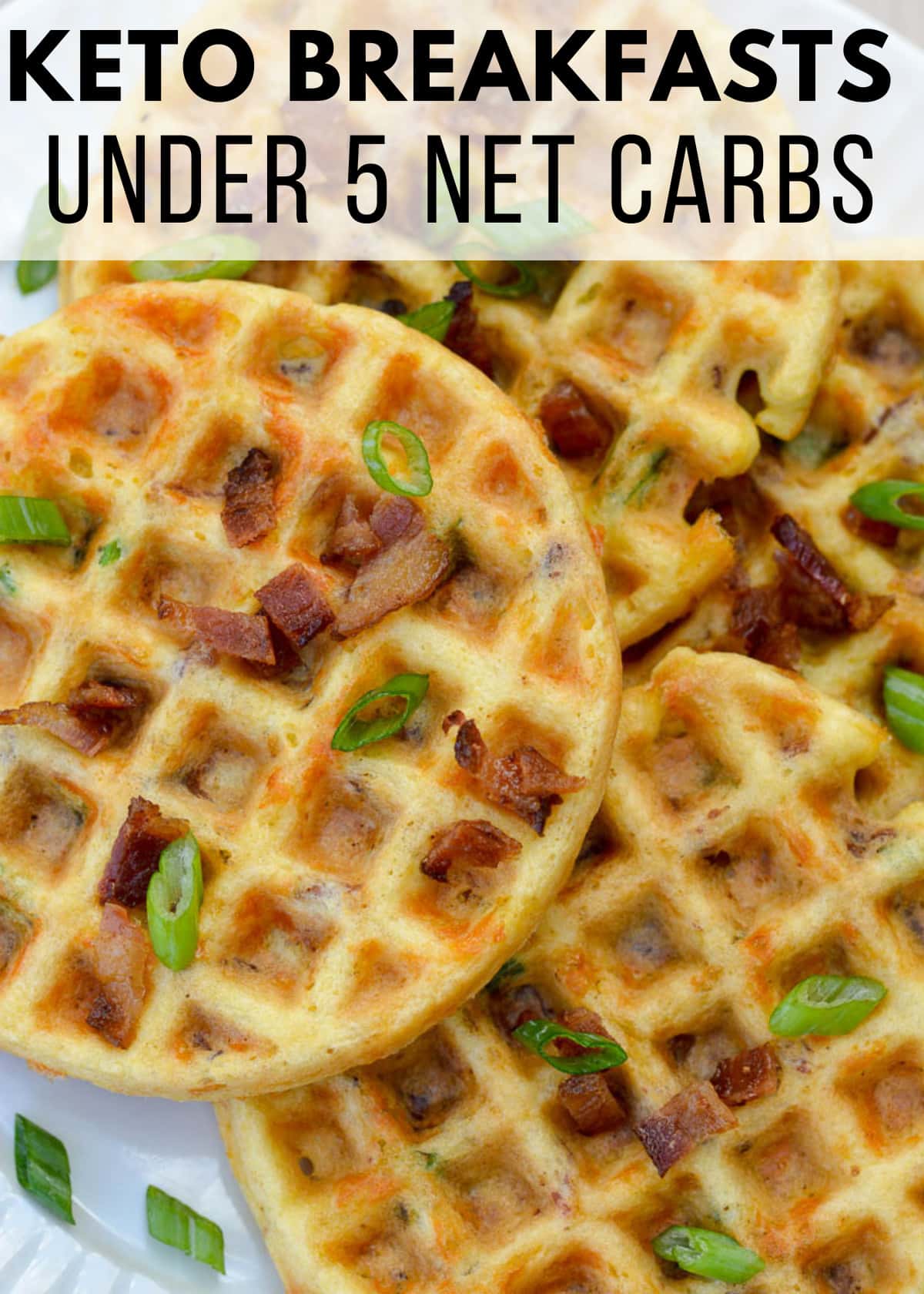 What to eat for breakfast on a keto diet?
Keto is short for ketosis. Ketosis is the process by which your body breaks down fat for energy instead of glucose. By limiting your carbohydrate intake drastically, you encourage your body to enter ketosis. Therefore, burning fat for your primary energy source. The keto diet has become popular because of significant, potential weight loss when following this diet on a consistent basis.
An ideal keto breakfast would be low in carbohydrates and have moderate to high levels of fat. While any breakfast will work that fits in your total daily net carbs, 5 or fewer net carbs for breakfast would be a good goal to allow you have a few carbohydrates within your meals or snacks throughout the rest of the day.
Keto Breakfast Ideas
Low Carb breakfast options aren't too hard to come by. Common breakfast foods such as eggs, bacon, sausage, ham and most vegetables are keto-friendly. However, if you are craving a sweet coffee drink or tasty muffin, things get a little harder!
Baked goods such as bagels, muffins, and biscuits can all be made keto-friendly using the correct flours. You can also prep things such as Ham and Cheese Bites for an easy grab and go breakfast. This article will guide you through all of your options for 50+ Keto Breakfast Ideas! We have everything from wraps to omelettes!
Classic Keto Breakfast
Traditional breakfast items such sausage and biscuit, waffle, or pancakes are still attainable. With a few ingredient substitutions you can enjoy all the breakfast classics! Below is a list of 20+ classic keto breakfast ideas.
Keto Coffee Recipes
For many of us, coffee is a necessity to make it through the day. Here are some amazing low-carb drink ideas that won't bust your diet before you leave the house! Just in case coffee isn't your thing, try this Chai Frappuccino or this keto friendly Vanilla Frappuccino.
Keto Waffles, Chaffles, and Pancakes
If you're following a keto diet, you have likely been craving a good carb heavy meal, nothing can fool your stomach quite like a plate full of keto waffles or pancakes! If you prefer baked goods but waffles or pancakes aren't your thing then you should try these Keto Blueberry Muffins, Toasted Coconut Granola, or Coconut Flour Muffins!