This super simple Funfetti Strawberry Poke Cake is totally gluten-free and perfect for spring. It's made with boxed cake mix, so it's impossible to mess up!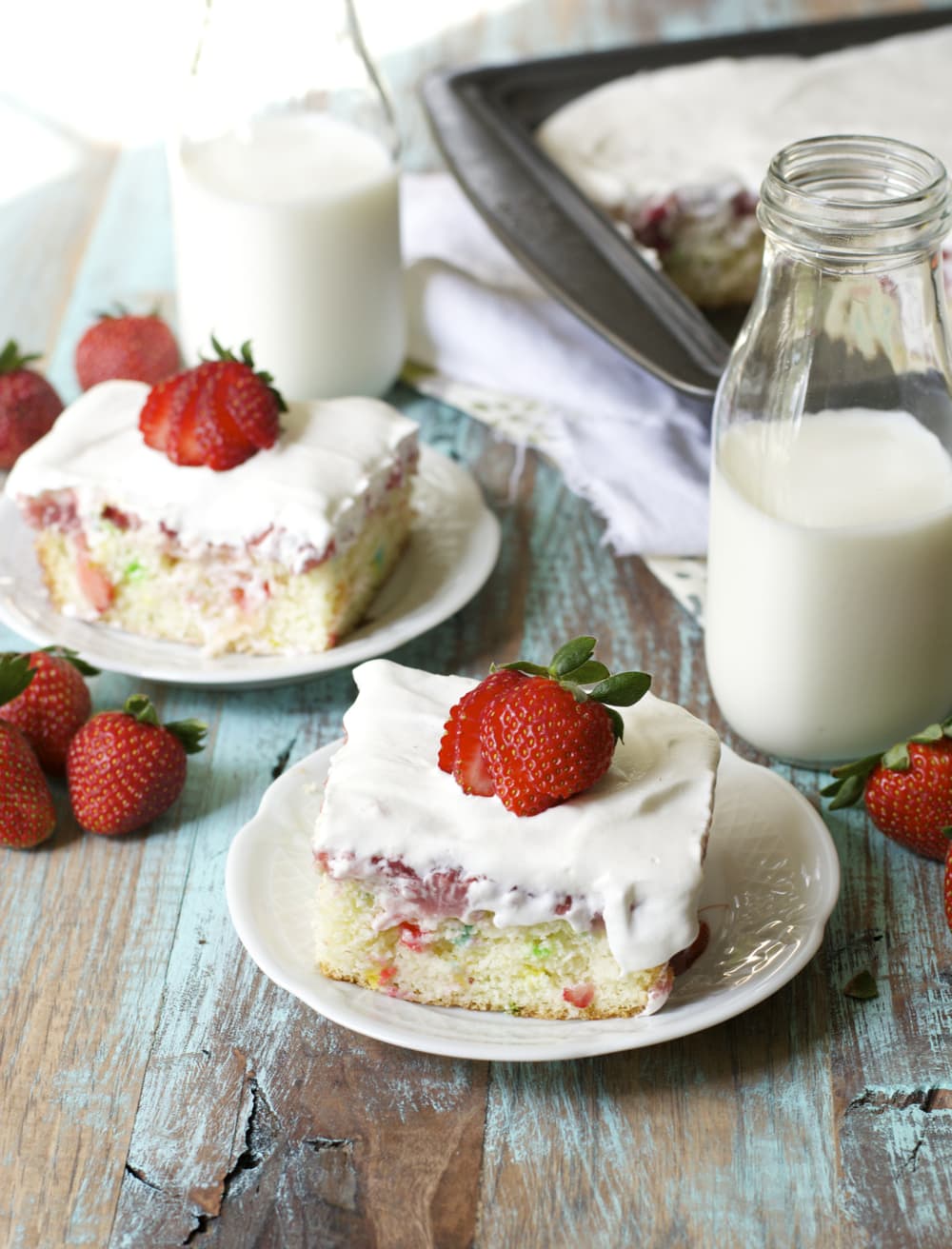 My first year of college, I lived with three other girls. You couldn't have paired a group of girls that was any different than the four of us. We were a perfect blend of organized, messy, sensible, and wild, and looking back I am so thankful for that experience, it taught me a lot about real friendships.
Out of the four of us, two of us cooked, two absolutely did not. Actually, one of them tried to cook ramen noodles in the microwave and started a fire because she forgot to put water in the bowl. So to say they didn't cook would be an understatement.
One weekend we came back from visiting our families and one of the girls had baked a cake. A funfetti cake with funfetti icing. She was elated, just completely over the moon excited because she had actually baked something. I can't walk past the baking aisle or boxed cake mix without thinking of her triumphant smile. How turning an oven on, mixing flour and sugar from a box with eggs and water and canned frosting made her feel like she had done the impossible!
I think that is the beautiful thing about baking, the wonderful memories it involves! When you think about it, so many big wonderful memories center around a table with a cake. There are birthdays, weddings, showers, graduation parties — practically every big life event involves a delicious cake!
In honor of that special college memory, I created this gluten-free funfetti poke cake using one of Pillsbury's pre-made cake mixes. We love this cake because it is delicious and it makes preparing gluten-free desserts so much easier! The entire line of Pillsbury Gluten Free Baking products are perfect to keep on hand for anytime your sweet tooth calls!
This cake is perfect for a sweet spring treat or for a special occasion! It is a great way to "mix up a moment" with your family!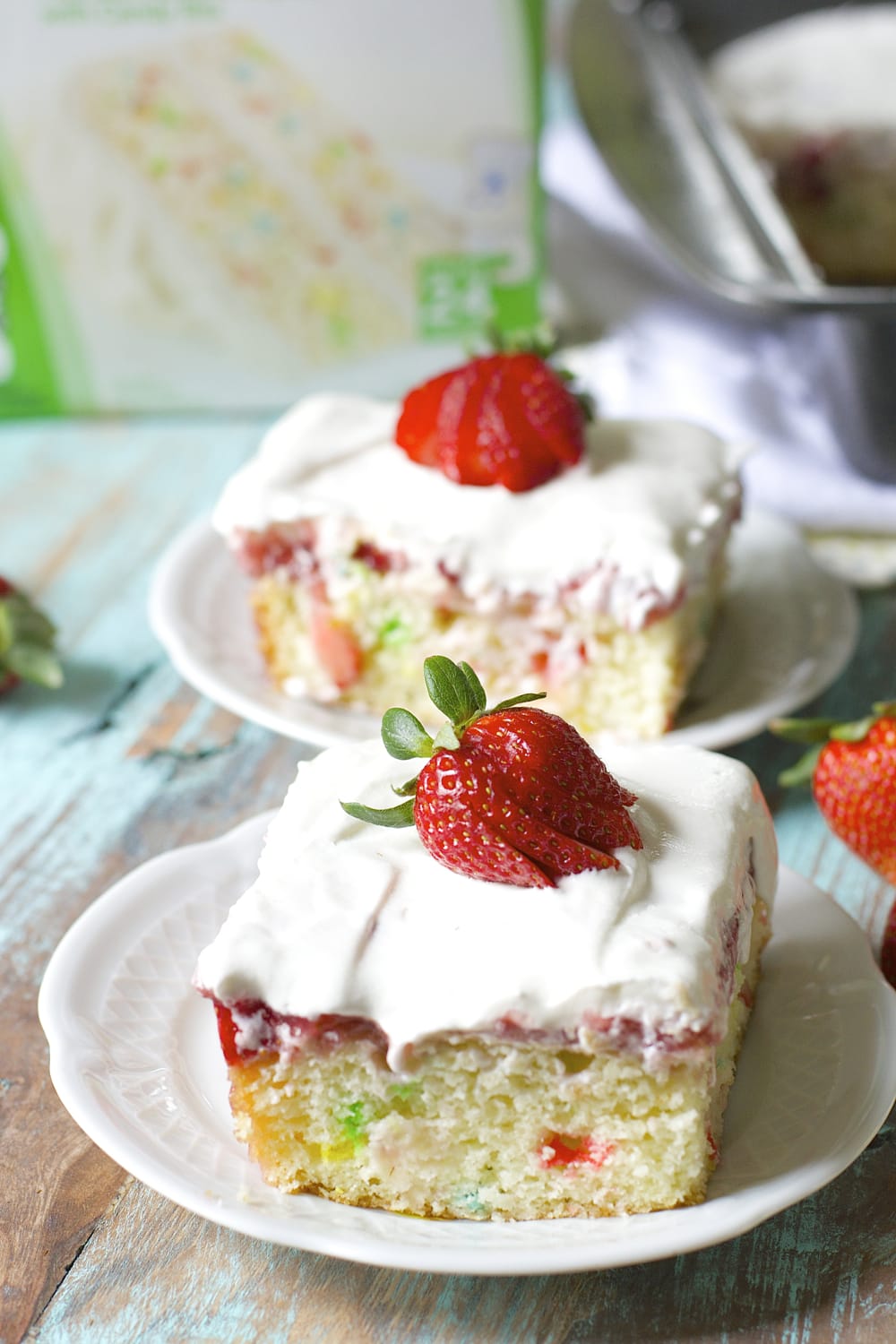 Ingredients Needed for Strawberry Poke Cake
Since this strawberry funfetti cake uses a pre-made cake mix, the ingredients list is minimal:
Pillsbury Funfetti Gluten-Free Cake Mix (+ ingredients called for on the box)
Water
Granulated sugar
Chopped fresh strawberries
Whipped cream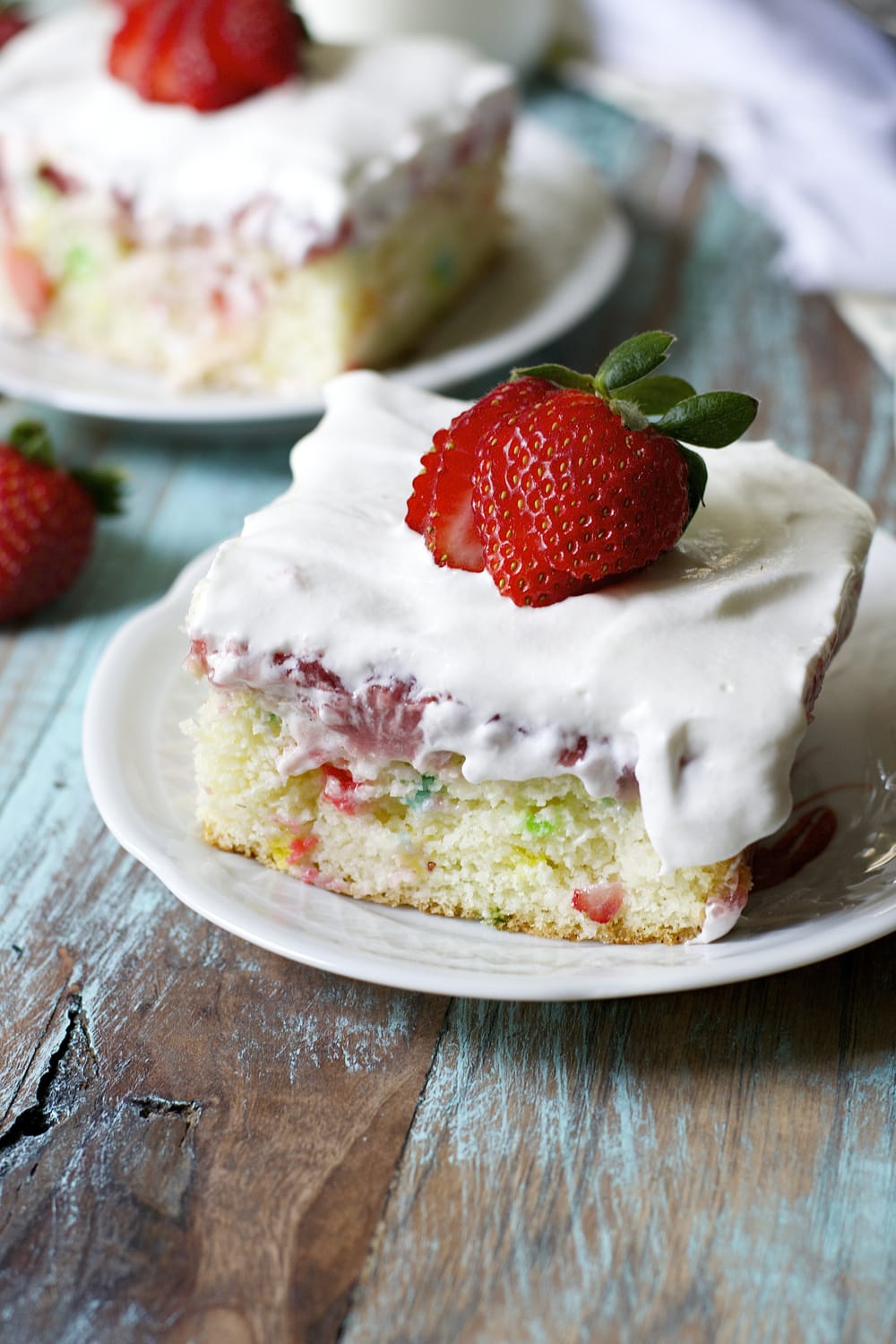 How to Make Strawberry Poke Cake
This Funfetti Strawberry Poke Cake is super moist and delicious and it is so perfect for Spring and Summer because it is packed with strawberry flavor! This cake is also really simple to make.
Start by simmering a bit of water, sugar, and fresh strawberries in a saucepan until a nice sauce forms. This takes a couple minutes, but this fresh strawberry sauce is worth the time!
Once the strawberries are cooked down, remove it from heat and add a few more cups of fresh strawberries to give you that great mix of fresh strawberries along with the sauce, it provides great texture!
For the gluten-free funfetti cake, I used a Pillsbury Gluten Free Funfetti cake mix in a 9×13-inch pan.
When the cake comes out of the oven, poke some holes into the cake. I make the holes about 3/4 deep into the cake so it doesn't create a hole all the way through, just a bit of a "well" for the fresh strawberry sauce to sink into.
Then, just spoon the strawberry mixture right over the top and spread it nice and evenly across the top.
Top with whipped cream and dig in!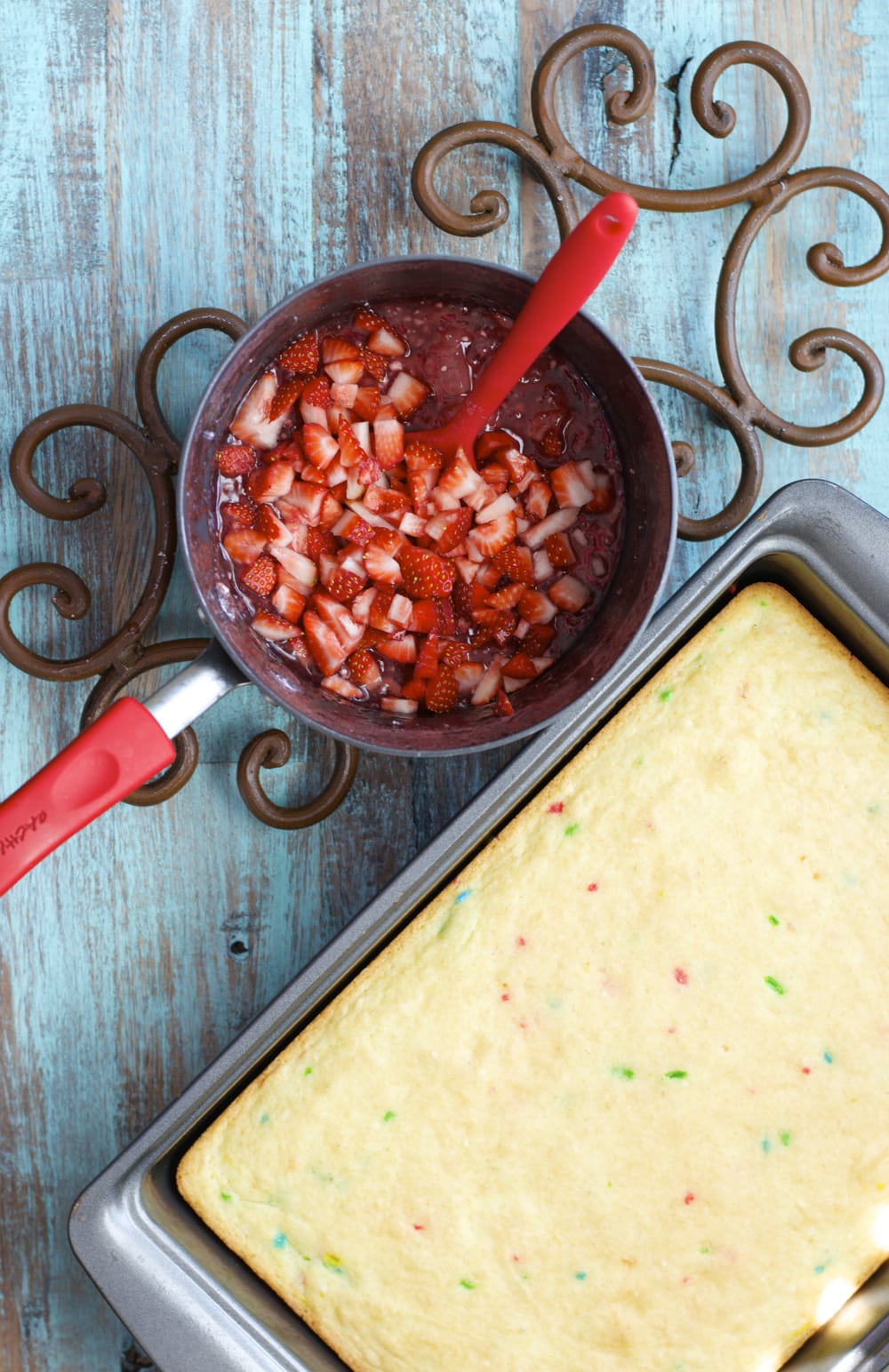 How to Store Poke Cake
Because this easy poke cake has fresh berries in the topping, it needs to be stored in the fridge. It'll last up to 3 days. Just be sure to wrap with plastic wrap before chilling.
Can I Use Another Berry in the Topping?
I'm sure you could, although I've never tried it myself! You may need to adjust the sugar amount in the sauce if using another kind of berry.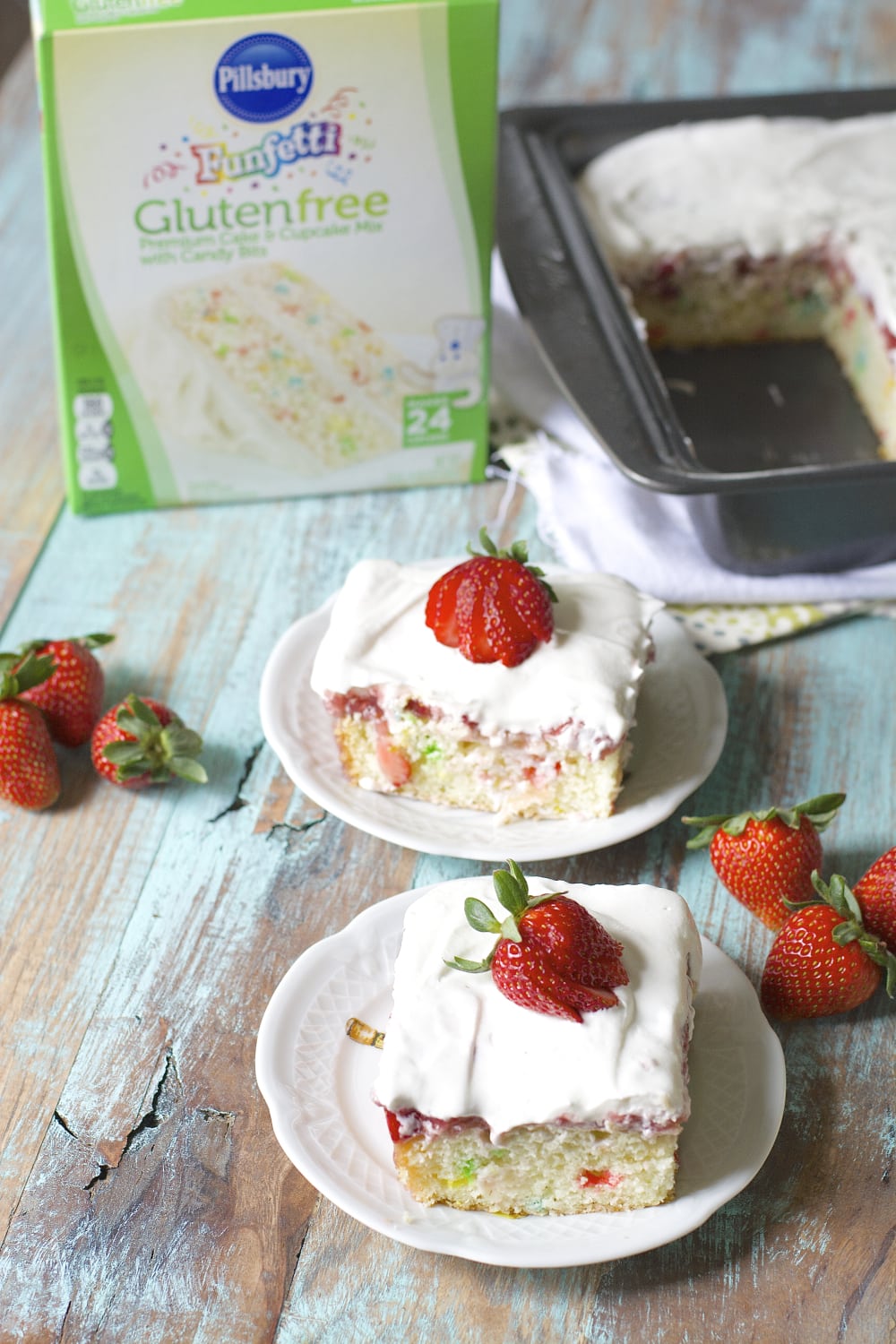 Tips for Making Strawberry Funfetti Poke Cake
Instead of frosting, I used whipped cream to create a nice strawberry shortcake flavor. However, this strawberry poke cake recipe can also be made with Pillsbury Vanilla Frosting if you prefer!
I made this poke cake recipe using gluten-free cake mix, but you can use regular cake mix if desired.
Leftover strawberry poke cake tastes incredible, but note that the cake will soften over time as the strawberry sauce seeps into it.
More Gluten-Free Dessert Recipes: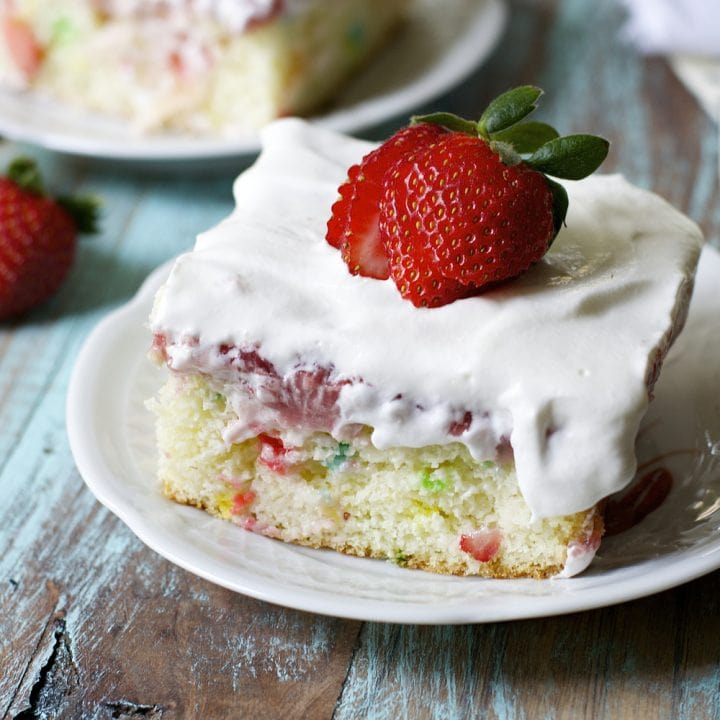 Funfetti Strawberry Poke Cake
This super simple Funfetti Strawberry Poke Cake is totally gluten free and perfect for Spring!
Ingredients
1 (17 ounce) Pillsbury Funfetti Gluten-Free Cake Mix, prepared according to package directions
1 cup water
1/2 cup granulated sugar
4 cups chopped strawberries
1 (8 ounce) container whipped cream
Instructions
In a small sauce pan bring the water and sugar to a light simmer over medium high heat.
Add 3 cups of the chopped strawberries and let the mixture simmer for 7-10 minutes until the strawberries have become very soft. The mixture will resemble strawberry jam.
Remove from heat and add the last cup of strawberries, stir well and set aside.
Preheat oven to 350 degrees F.
Prepare the Pillsbury Funfetti Gluten Free Cake Mix according to the package directions and turn batter into a 9x13-inch baking pan.
When cake is done, remove from oven and poke several holes in the cake (I poked 4 rows of 3) and pour the strawberry sauce over the cake and spread evenly.
Allow the strawberry sauce to sink into the cake and cool completely before frosting with the whipped cream.
Nutrition Information:
Yield:

12
Serving Size:

1
Amount Per Serving:
Calories:

215
Total Fat:

2g
Saturated Fat:

1g
Trans Fat:

0g
Unsaturated Fat:

1g
Cholesterol:

0mg
Sodium:

319mg
Carbohydrates:

49g
Fiber:

2g
Sugar:

30g
Protein:

2g
To avoid any confusion I remove erythritol from the final carb count and net carb count, as it is not known to affect blood glucose levels. To calculate Keto recipes listed on this site carbs - fiber = net carbs. I use Nutrifox as my nutrition calculator. This nutrition information is an estimate based on the information provided by Nutrifox and the specific ingredients I used.
This is a sponsored conversation written by me on behalf of The J.M. Smucker Company. The opinions and text are all mine.