This Keto Coconut Shake is packed with freshly toasted coconut, vanilla and salted caramel!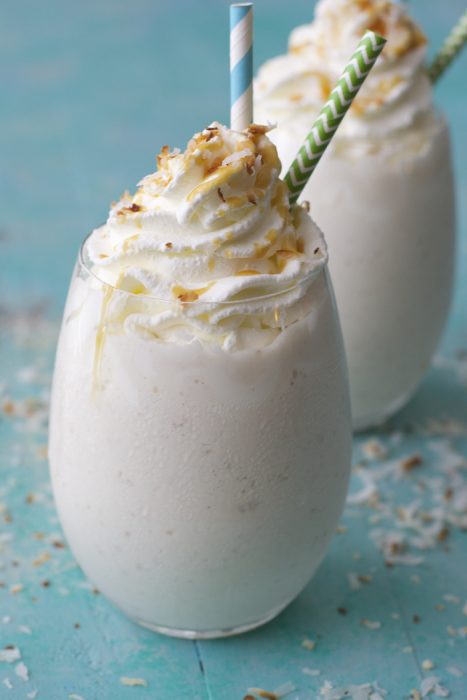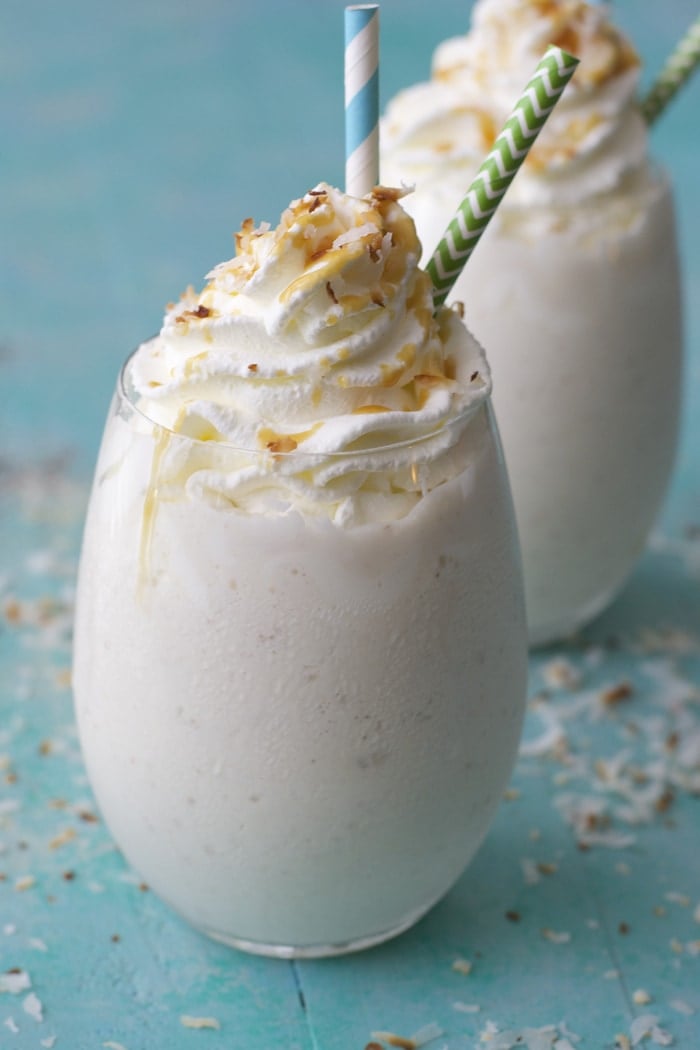 My favorite cookie used to be a Samoa girl scout cookie. That chocolate, caramel and toasted coconut combination gets me every time! Since we've been a gluten free family for 13 years it has been a really long time since I've had that scrumptious combo. However, that doesn't stop me from adding those flavors into other sweet treats!
This Coconut Shake is decadent and delicious! It also has some easy ingredient swaps you can make to make it a bit lighter if you need to. You can use a base of vanilla ice cream or frozen whipped cream (frozen coconut whipped cream also works for a dairy free version.) You can also use sugar free caramel and unsweetened coconut flakes if you need to trim a few more carbs and calories. Either way, this is an easy summer treat you will love!
Ingredients in Keto Milkshake
As always, here is a quick overview of the ingredients used for my Keto Coconut Shake. For the complete recipe, just keep scrolling.
Vanilla ice cream- Rebel brand is Keto
Ice
Milk- Almond milk is keto
Toasted coconut- unsweetened
Caramel sauce- this Keto Caramel Sauce is always a huge hit and is of course low carb!
Vanilla extract
Sea salt
How do you make low carb Coconut Shake?
This recipe is seriously only two steps! Just combine everything into a blender and blend until smooth and all of the ice is crushed. Top with caramel sauce, toasted coconut and whipped cream if desired. This recipe comes out to a total of only 4.8 net carbs!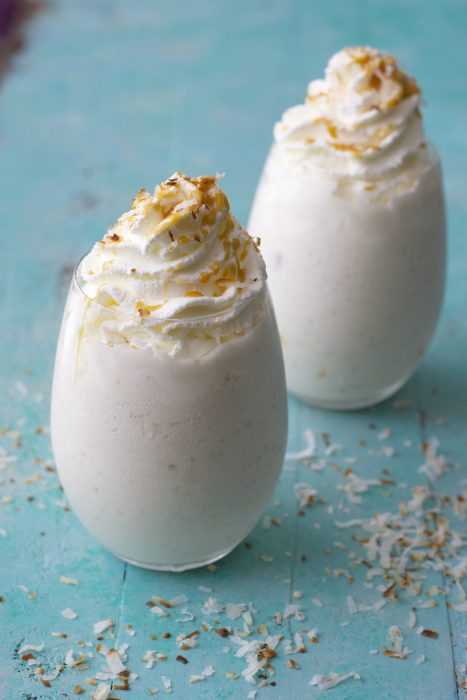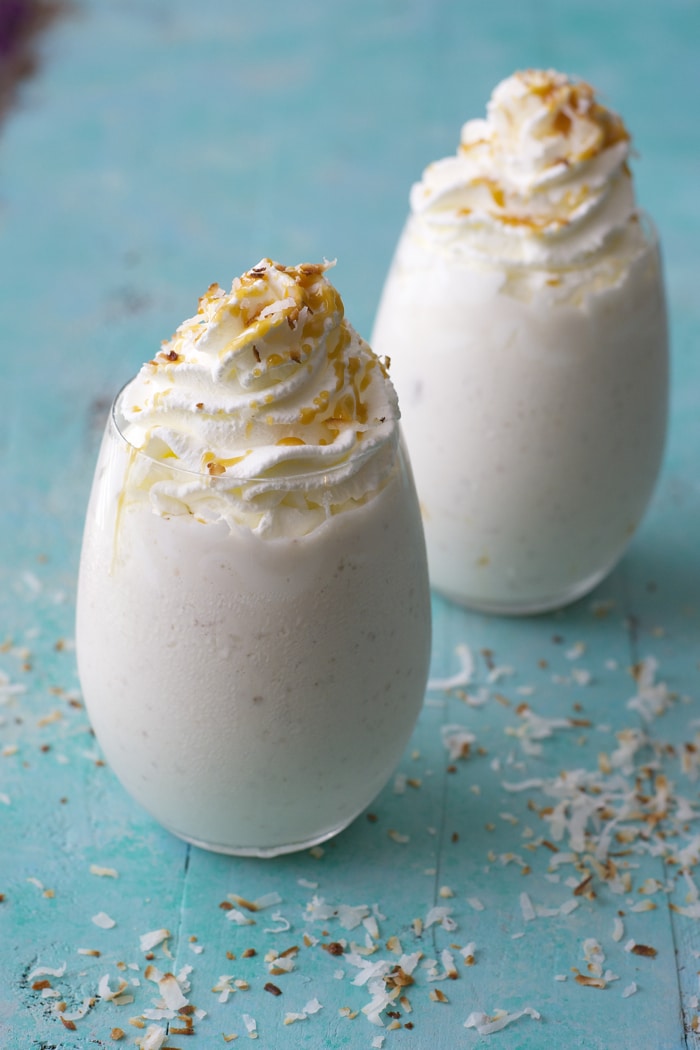 Tips and Tricks to low carb Milkshakes
There are many ways you can make this keto milkshake yours- you just have to pick!
Add-ins- you can add sugar free chocolate chips (Lily's has sugar free options) or fresh fruit, such as strawberries or raspberries.
Add keto cookies! Add in chunks of these Keto Chocolate Sugar Cookies, Keto Sheet Pan Cookies or No Bake Almond Butter Cookies to make this shake super indulgent while still keto!
Add in flavorings- if you want, you can layer flavors into this shake! Add a dash of instant coffee for a coconut coffee kick, cocoa powder for a chocolate coconut flavor or peanut butter!
Can you freeze keto Coconut Shake?
Yes! If you want to make a large batch or have some ready for later, this milkshake can be frozen. Place in a glass jar that is safe for the freezer and freeze for up to 3 months. Thaw in the fridge prior to enjoying!
Can you make this keto Milkshake ahead of time?
Absolutely! This recipe is very easy to meal prep. Add your ice cream, milk, coconut, caramel sauce, vanilla extract and sea salt to a glass jar and store in the fridge for up to two days. This is the entire recipe besides the ice! When you are ready to make your milkshake, just pop into the blender and add your ice!
Other Keto Drinks You May Enjoy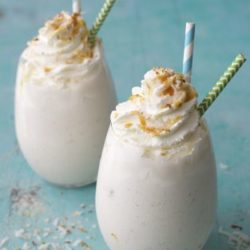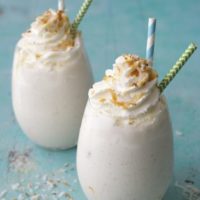 Keto Coconut Shake
Ingredients
2 cups of vanilla ice cream (low carb such as Rebel brand if keto)
2 cups ice
1 cup milk (almond milk if keto)
1/2 cup toasted coconut
2 tablespoons caramel sauce (my keto caramel sauce if low carb)
1/2 teaspoon vanilla extract
1 pinch of sea salt
Instructions
Place all ingredients in a blender and blend until completely smooth and ice is crushed.
Pour into two glasses, top with whipped cream and additional toasted coconut and caramel sauce if desired.
Nutrition Information:
Yield:

2
Serving Size:

12 ounces (nutrition calculated with keto options)
Amount Per Serving:
Calories:

163
Total Fat:

23g
Cholesterol:

96mg
Sodium:

168mg
Carbohydrates:

17.8g
Net Carbohydrates:

4.8g
Fiber:

4g
Sugar:

1g
Sugar Alcohols:

9g
Protein:

3.8g