This Peppermint Mocha Protein Shake with low-carb options gives you a boost of caffeine AND protein to help you make it through your day!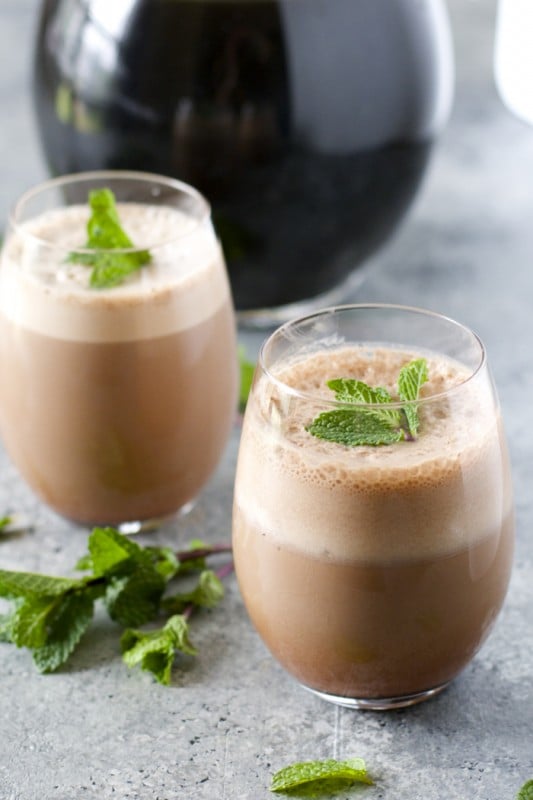 When I was doing my grocery shopping last week and I picked up a bag of coffee, I was suddenly transported to my freshman year of college. Without a very special coffee drink, I might not have made it through that awful first semester!
The University I attended had a pretty big campus, which is something I definitely did not account for when I was scheduling classes. My first semester, I crammed all of my classes into morning sessions so I could be done early.
Little did I know, my classes were as far away as they could possibly get. I had to literally run to get to my second class before the professor locked the door (and yes, she really did that). On rainy days, I was a soaking wet mess before my second class began. There was no amount of rain gear that could have made it any easier.
Now when I am driving through town, I see college kids walking through campus, and then I see a poor lonely soul running as fast as they can, and I think, "yep…that was me."
Lucky for me, there was a great little coffee shop on campus. I tried an Iced Peppermint Mocha for the first time and was hooked! That strong, robust iced coffee with rich dark chocolate and a hint of cool mint became my reward for all the sprinting I had to do.
Now that I am done with college and don't frequent that little coffee shop anymore, I found a way to enjoy my favorite drink without heading to campus. My Peppermint Mocha Protein Shake is much more affordable than that coffee house version! It's balanced, wholesome, and dedicated to all those campus sprinters–You can do this!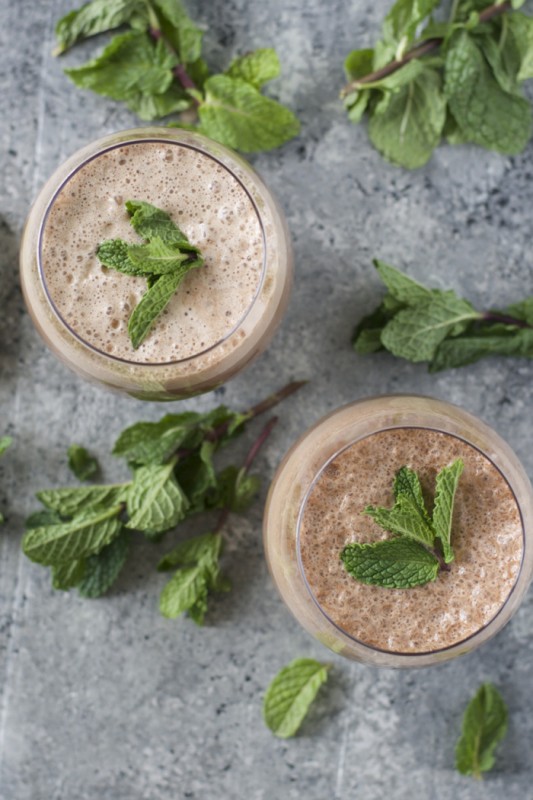 Ingredients for Peppermint Mocha Protein Shake:
Milk: Plant-based or lactose-free milks work as well
Cold brewed coffee: I cold brew my own; click here to see how
Greek yogurt: I prefer using vanilla flavored, but you can use a plain, low-carb option like Fage 2% if you're watching carbs
Cocoa powder
Protein powder: I use Myofusion for the gluten-free flavors. Check carbs on your powder if you're keto
Sweetener: Can be honey, coconut sugar, monkfruit if you're low-carb
Peppermint extract
Ice
How do I make a protein shake with coffee?
This couldn't be simpler! Place all the ingredients in a blender, and give it a whirl! Taste, then add more sweetener, cocoa, or coffee for your preferences.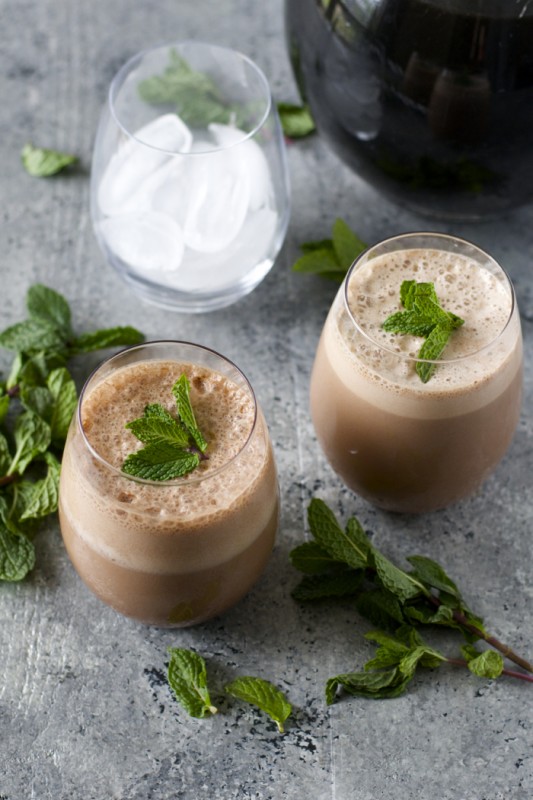 Tips for making the best Mocha Protein Shake:
Try different types of coffee — I love mine really strong, but feel free to experiment with different flavors and roasts!
Don't make it before you're ready — Save this for a time you can drink it immediately after making it. If you try to make it ahead of time, the ice will melt and leave you with a watered-down taste.
Consider different flavor additions — You could add almond butter, toasted coconut, or whatever flavors you prefer!
Watch your ingredients — If you're on a low-carb diet, be careful what you use! Some yogurts, milks, protein powders, and sweeteners have different amounts of carbs.
More Coffee Drinks: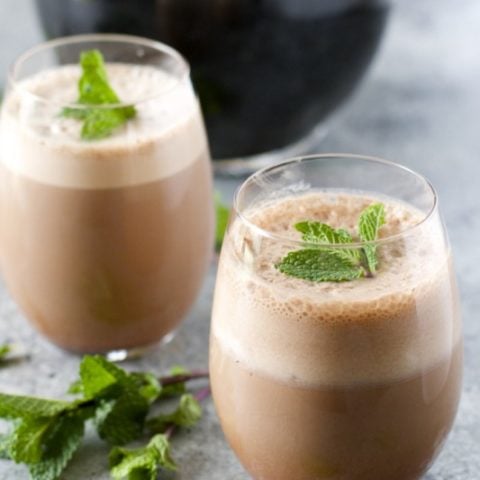 Peppermint Mocha Protein Shake
This Peppermint Mocha Protein Shake with low-carb options gives you a boost of caffeine AND protein to help you make it through your day!
Ingredients
1 cup milk (any milk is fine)
2/3 cup cold brewed coffee
1/2 cup vanilla flavored Greek yogurt (If low-carb, try a low-carb yogurt like Fage Total 2%)
2-3 tablespoons cocoa powder
1-2 tablespoons vanilla or chocolate flavored protein powder (Myofusion has gluten free flavors; If you're low-carb, make sure your powder is too!)
2 tablespoons sweetener (honey, coconut sugar, monkfruit if keto, etc.)
2 teaspoons peppermint extract
1 1/2 cup ice
Instructions
Place all ingredients in blender and blend until smooth.
Add additional sweetener for a sweeter drink or additional cocoa powder for a slightly stronger chocolate taste.
Serve immediately
Notes
Nutrition information below was calculated based on using almond milk, monkfruit, and Fage Total 2% Greek Yogurt but does NOT include the protein powder. Because the nutrition information varies so widely depending on brand and flavor, it's best if you calculate the final nutrition information by adding it to the basic information below.
Nutrition Information:
Yield:

1
Serving Size:

1
Amount Per Serving:
Calories:

194
Total Fat:

6.7g
Cholesterol:

0mg
Sodium:

227.9mg
Carbohydrates:

11.1g
Net Carbohydrates:

7.9g
Fiber:

3.2g
Sugar:

0.2g
Protein:

15g