Creamy Vanilla Almond Butter is paired with warm, frothy milk and espresso for a beautiful Almond Vanilla Latte!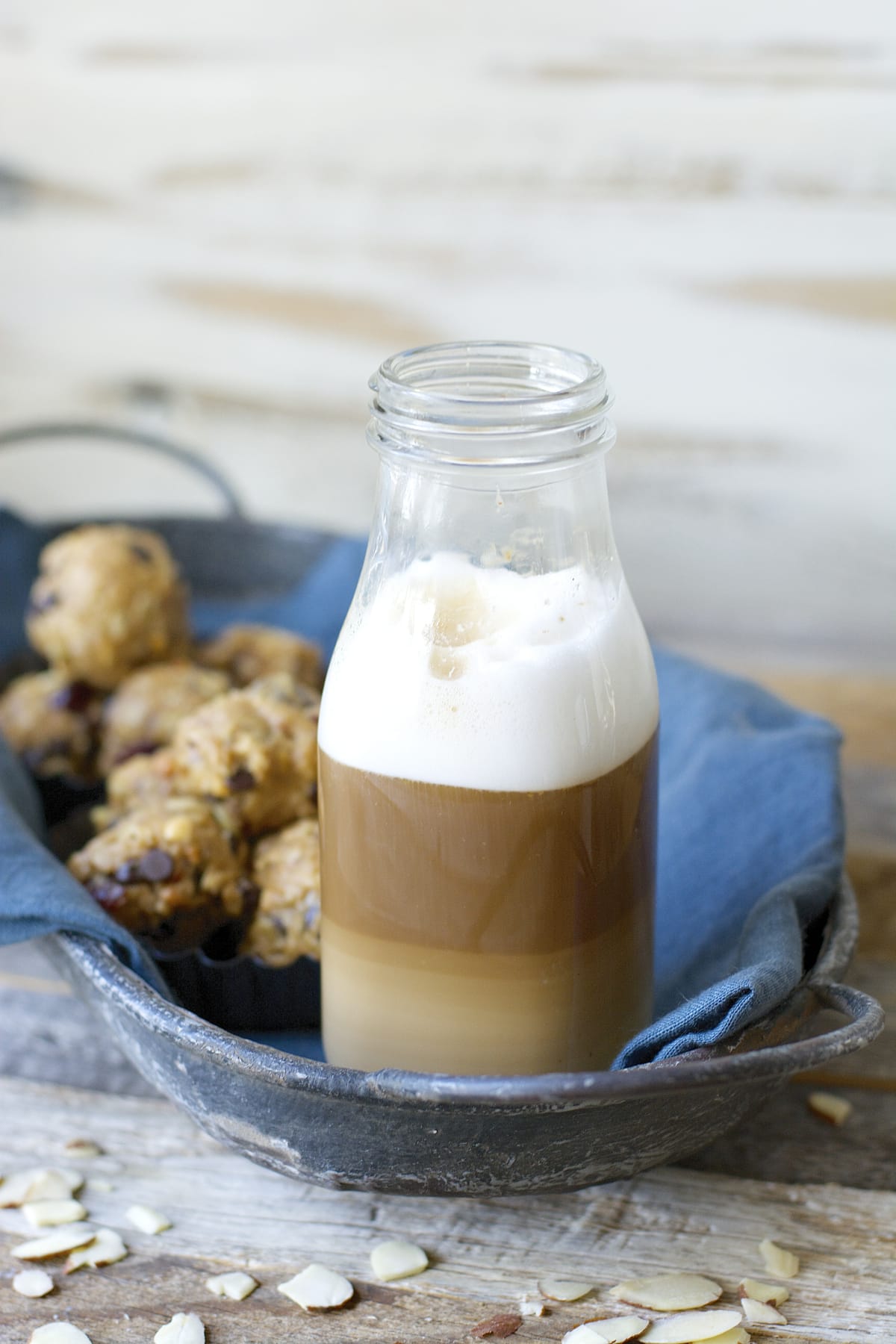 Last month I spent a weekend in Chicago. Actually, it wasn't even a weekend. I left my home at 3am on a Friday and returned at 11pm on a Saturday. To say it was a whirlwind trip would be an understatement. I went for the BlogHer Food conference so it was two days with tons of other women who are passionate about the same things I am. It was a motivating, uplifting and exhausting experience.
I had never been to Chicago before so I had no idea where I was going but I had three missions, learn as much as possible, meet some new friends, and bring home a bag of Garret's Chicago style popcorn for Mr. Maebell. Fortunately, I did all three!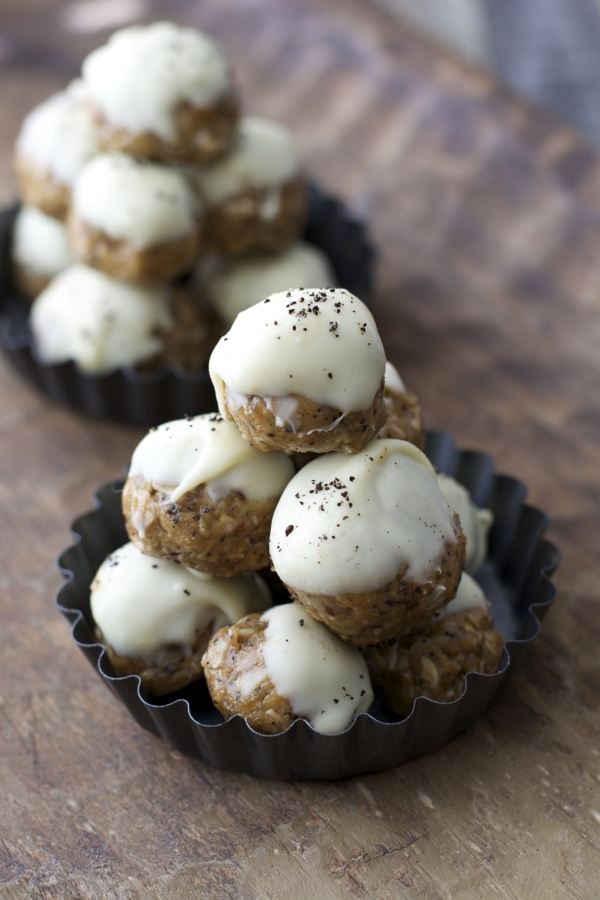 One of the cool things was meeting brands. Conferences like this are packed with companies who work with bloggers in all kinds of different capacities so it was fun to be introduced to new products and have a chance to talk to the brands directly. One of my favorite booths was showcasing the Ninja Coffee Bar. If you know me, you know I love my coffee so I hit this booth up many many times that weekend. I was so impressed by all of the different things it could do I decided I needed one of my own to experiment with!
This Almond Vanilla Latte is a super easy drink to prepare. It has creamy vanilla almond butter, a little vanilla syrup, frothed milk and of course coffee. I know almonds and coffee aren't a combo you see often, but it is amazing! My Almond Butter Espresso Balls are super popular and very addictive and my Mocha Almond Frappuccino from my ebook is insanely good! There is something about that strong bitter coffee flavor paired with creamy sweet almond butter that is just unstoppable!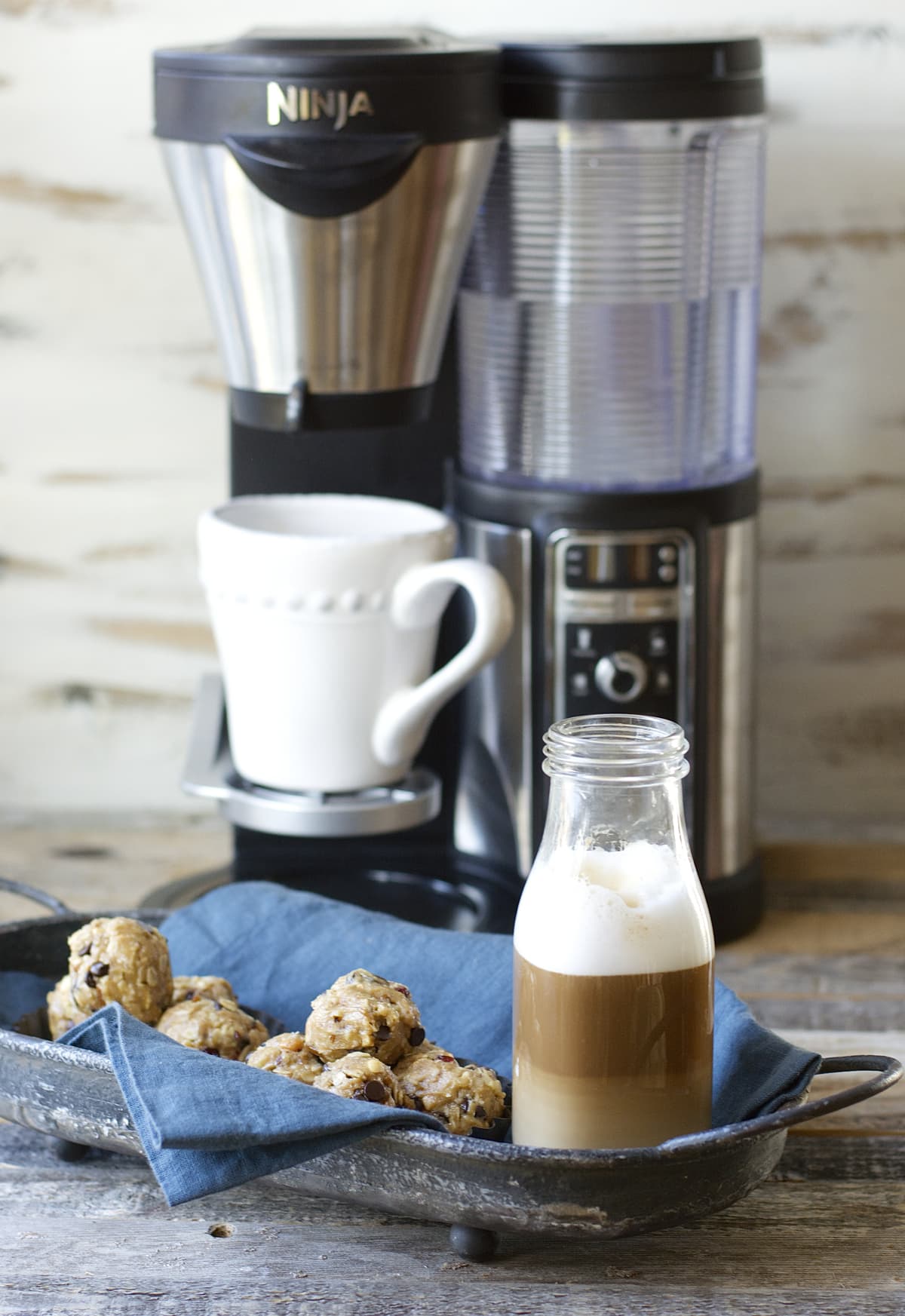 The Ninja Coffee Bar makes regular coffee in a single cup or a carafe, it makes iced coffee and specialty brews which are super concentrated so it makes it perfect for lattes like this. To make this drink I just put some vanilla almond butter and vanilla syrup in the bottom of my cup, add the frothed milk and then allow the concentrated coffee to brew right in the cup! The result is this beautiful layered latte! It is a coffeehouse drink that you can make right in your own home!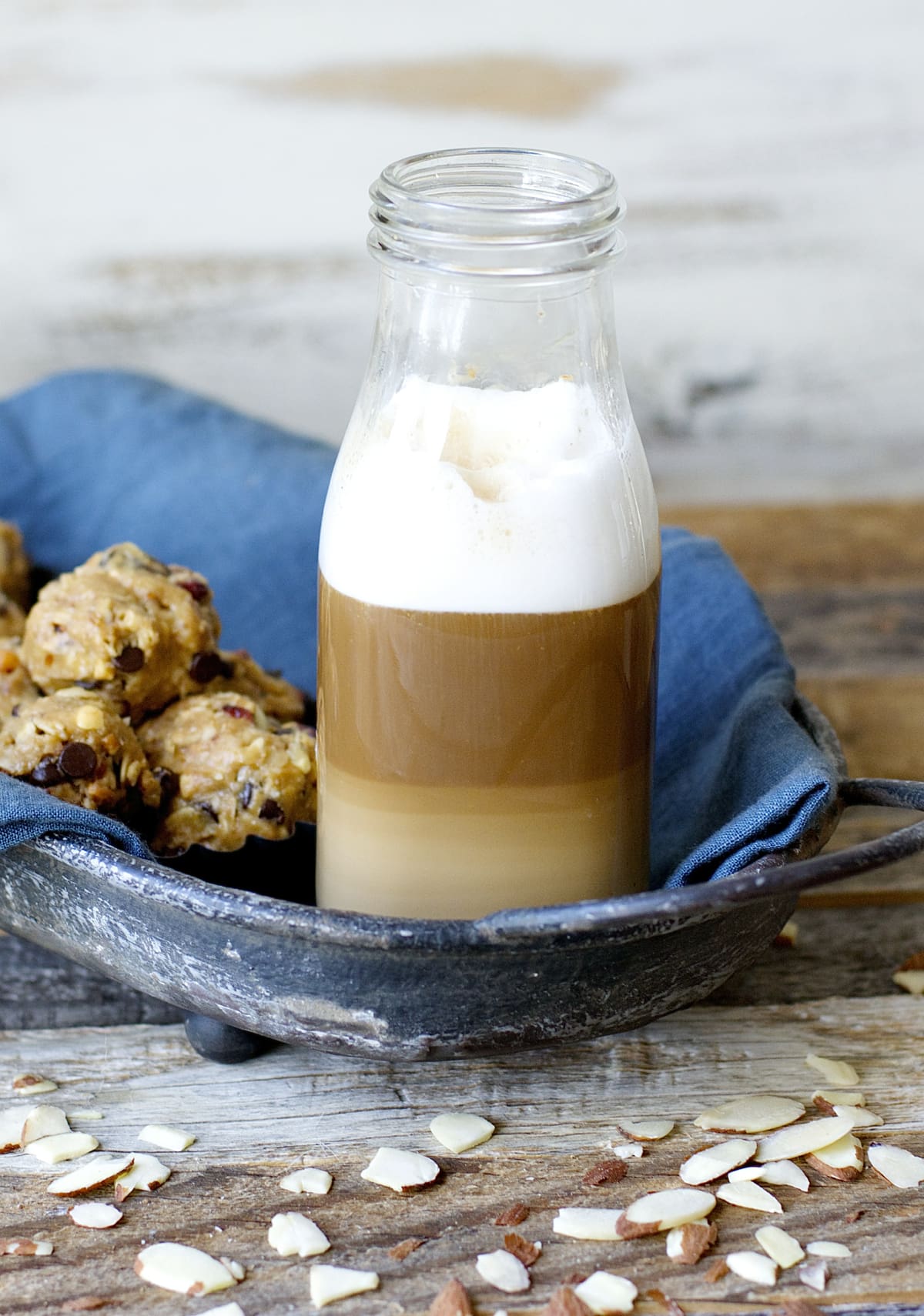 I was compensated for my time by Ninja Coffee Bar but all opinions are my own. Thank you for supporting brands that support Maebells!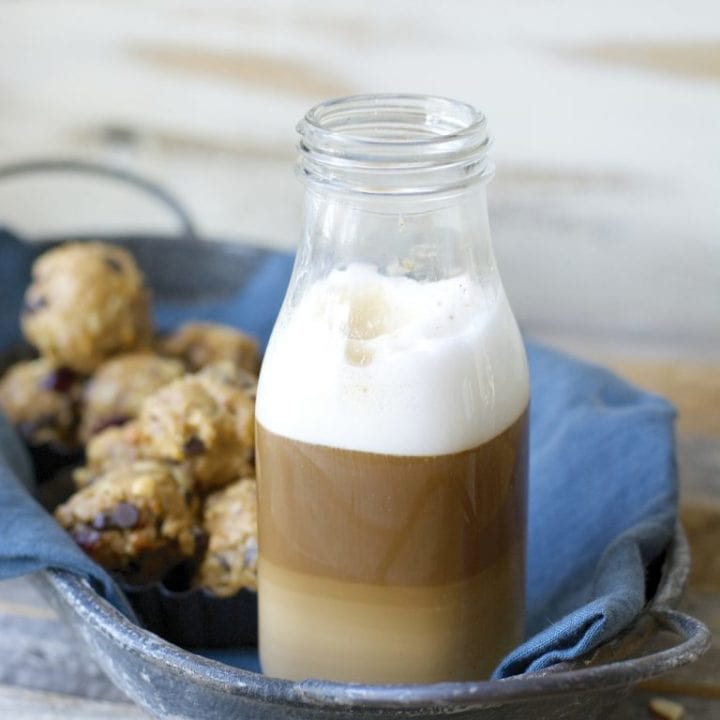 Almond Vanilla Latte
Creamy Vanilla Almond Butter is paired with warm, frothy milk and espresso for a beautiful Almond Vanilla Latte! 
Ingredients
3 tablespoons coffee grounds
1 1/2 tablespoons vanilla almond butter
1 tablespoon vanilla simple syrup
1/2 cup milk
water for brewing
Instructions
Place the coffee grounds in the brew basket and add water to the reservoir.
In the bottom of a mug, place the almond butter and vanilla simple syrup.
Add the milk to the Ninja Coffee Bar frother and microwave for 1 minute. Pump frother 15 times. Pour froth into the mug.
Turn the machine on, select the travel mug size setting, then select specialty brew.
Allow coffee to brew over the almond butter, syrup and milk.
Notes
If you would like to make this drink without a Ninja Coffee Bar, you will need to:

Place the almond butter and syrup in the bottom of a mug.
Heat the milk in the microwave for one minute pour in a blender and blend on high for 20 seconds until froth forms.
Add the froth to the mug and then add 1/3 cup fresh, strongly brewed coffee.
Nutrition Information:
Yield:

1
Serving Size:

1
Amount Per Serving:
Calories:

189
Total Fat:

13.4g
Cholesterol:

2.5mg
Sodium:

56mg
Carbohydrates:

10.6g
Net Carbohydrates:

8.1g
Fiber:

2.5g
Sugar:

7.3g
Protein:

9.2g