This Spinach and Sausage Quiche is the perfect easy brunch recipe that is deceptively impressive! With options for low carb, keto and gluten free diets this recipe is perfect for everyone!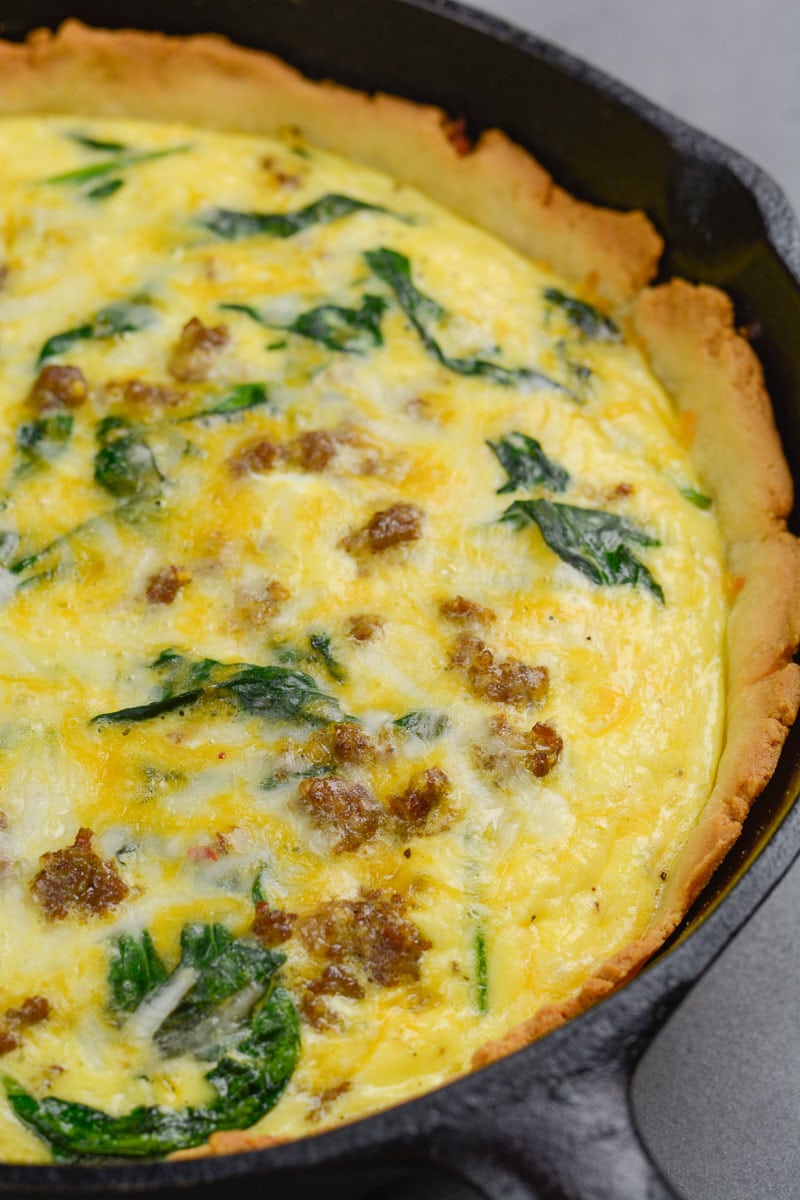 You know those embarrassing moments you wish you could forget? The kind normal people just pretend never happened, well I have one of those memories. Instead, I am going to own it and tell you all about it.
The first time I remember having quiche I was probably 16, maybe even younger. A silly teenager who was certain she was older than she was. I was having brunch with an older friend and her Mother. I thought a lot of her Mom, but she was kind of intimidating and I couldn't really tell if she liked me. So, of course, I was trying extra hard. I politely ordered, in my thick Southern drawl, "Qui-chee" meaning, Quiche, from the menu.
Everyone just stared at me.
The dear Mother said as nicely as she could, holding back a smile, "Honey, it is pronounced "Kee-sh"
Oh dear.
There is no coming back from that one. I could feel my face get bright red. I just smiled and said "yes, that is what I will have."
So, today I am presenting my most favorite breakfast ever, Sausage and Spinach "Qui-chee"!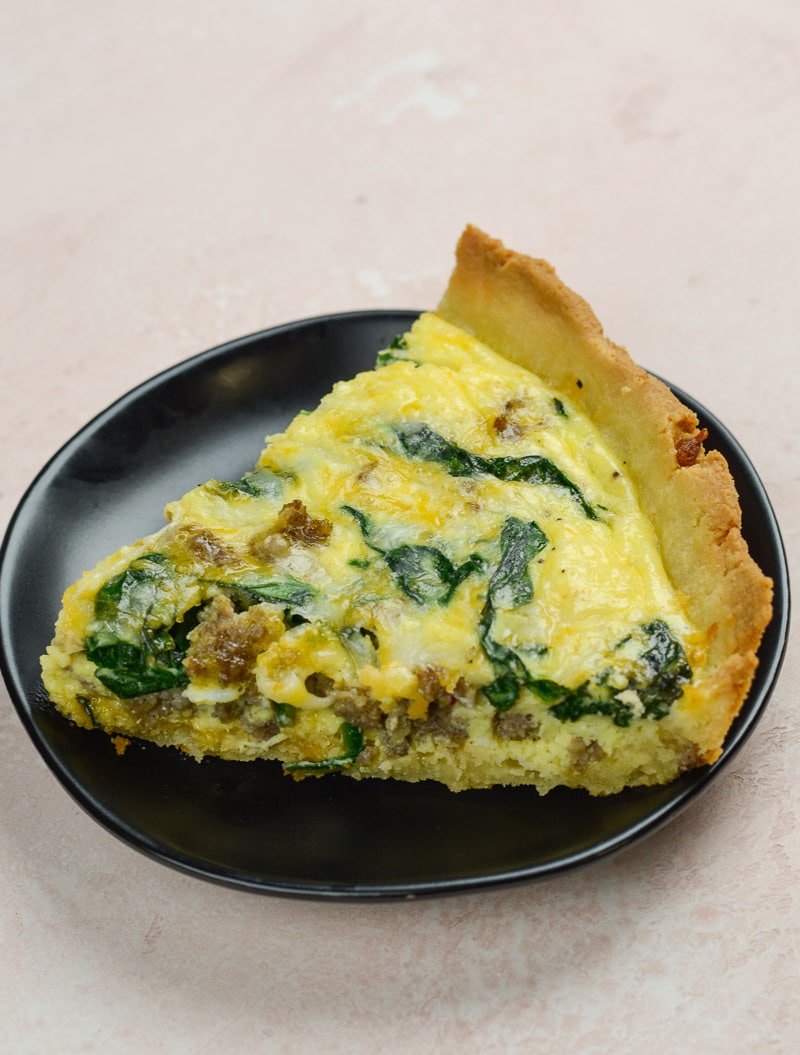 What's in a Spinach Sausage Quiche?
This spinach, sausage and cheese quiche has a simple ingredients list. Here's all you'll need to make this recipe:
Pie Crust (I use this keto pie crust)
Sausage
Spinach
Eggs
Shredded Cheddar Cheese
Heavy Cream
Salt and Pepper
How to Make a Spinach Sausage Quiche
This sausage spinach quiche couldn't be simpler to make! Here's how to make a classic sausage quiche:
In a deep dish pie pan, lightly spray the pan and press the pie crust into the pan and up the edges of the pan.
In a mixing bowl combine the eggs, heavy cream, salt and pepper. Whisk vigorously until completely combined.
Layer the spinach, cooked sausage and cheese over the crust.
Pour the beaten egg mixture over the crust.
Bake 20-23 minutes until the quiche has set.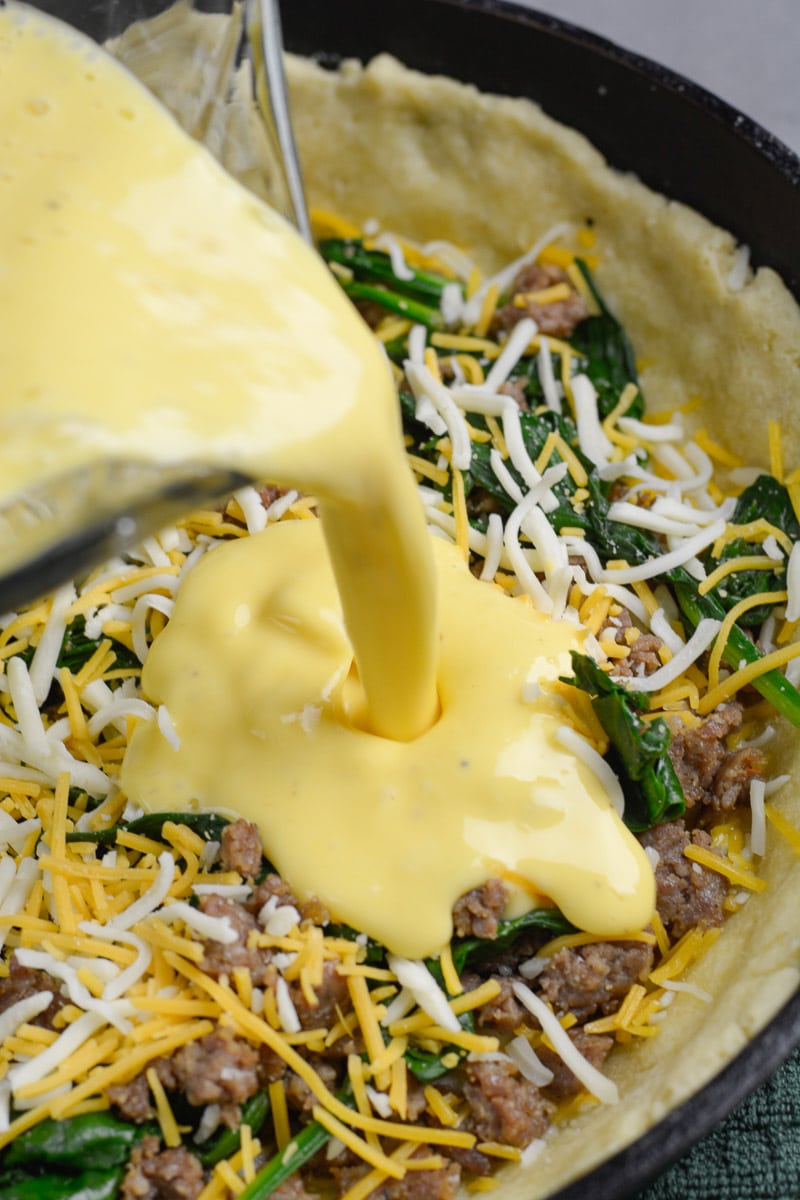 Tips for Making a Keto Quiche
You can also use a cast iron skillet if you do not have a deep dish pie pan.
You can use any kind of cheese you'd like in this recipe. Sharp cheddar, Pepper Jack and Monterrey Jack are all great choices!
I prefer serving my quiche warm, but leftovers can be enjoyed cold the next day.
More Keto Breakfast Recipes:
If you are on the hunt for some keto or gluten free breakfast recipes I have some great options for you. My Keto Sausage Egg and Cheese Bites are about one net carb each and great for meal prep. Some of our other favorites are: