Ultra creamy, three-ingredient Keto Peanut Butter Fudge that is only 2 net carbs per slice!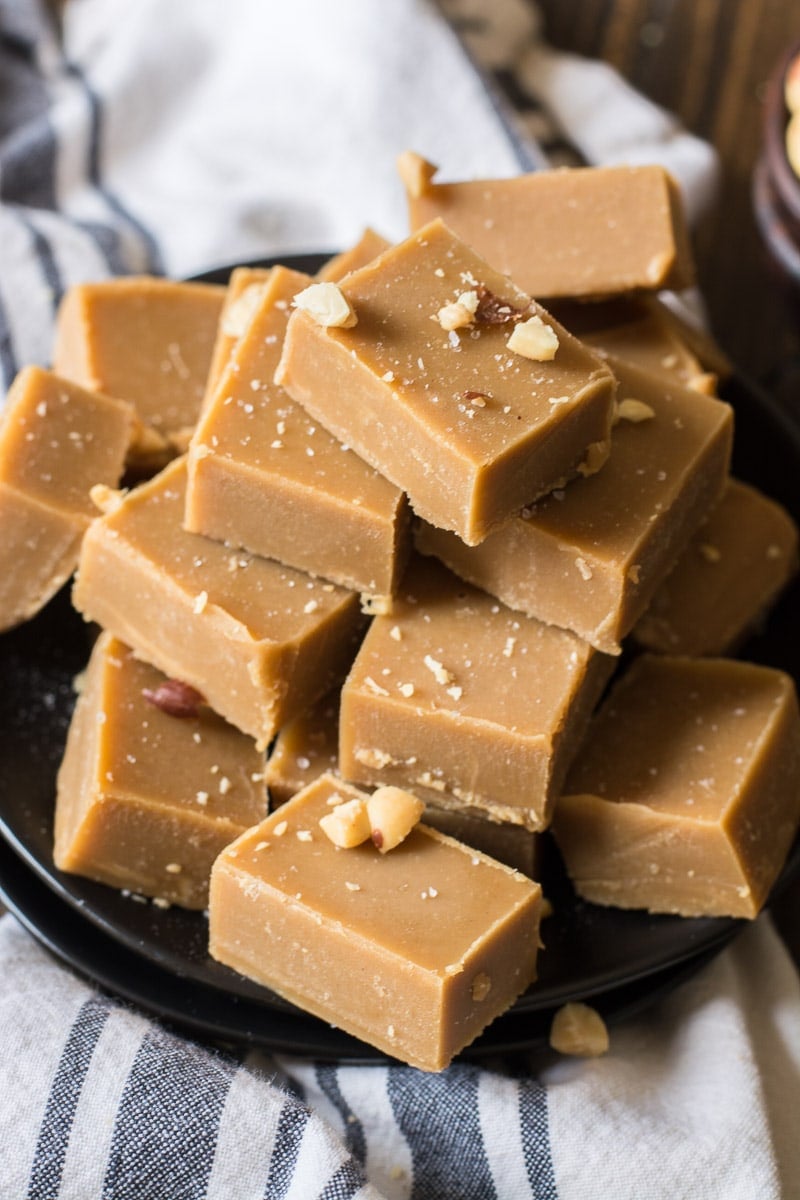 My favorite Keto Peanut Butter Fudge has only three ingredients and takes just a few minutes to make. This ultra creamy fudge has a caramel base that adds a rich flavor you will love! Once you make the keto caramel, just stir in peanut butter, freeze and top with a little sea salt for a decadent keto holiday dessert!
The ultra low carb count makes this fudge a great keto snack. This could also be called a keto fat bomb. A ketogenic diet is a low-carb, high fat diet. When on keto your primary energy source is fat, so people often add fat bombs to their diet to meet their quota or add a little boost. Fat bombs can be sweet or savory they must be low in carbs and high in fat.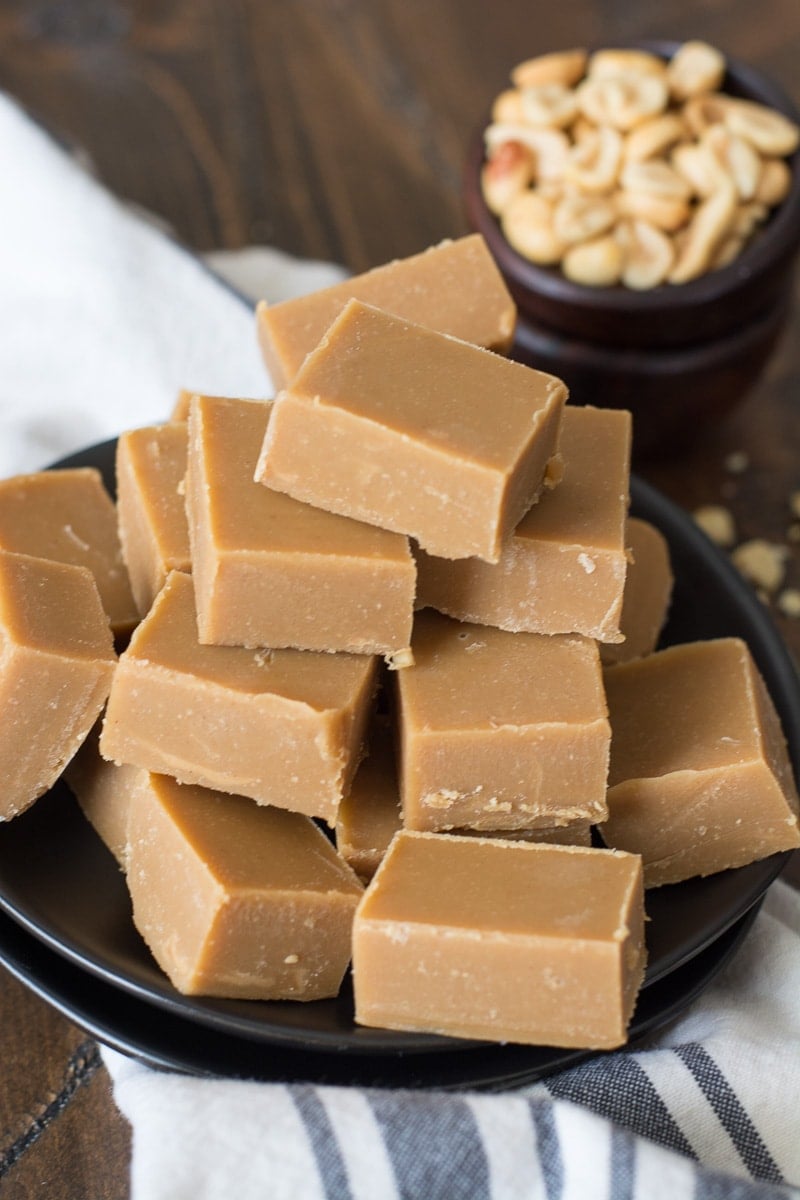 Ingredients in Keto Peanut Butter Fudge
This low carb peanut butter fudge recipe has three ingredients:
butter
swerve brown sugar sweetener
peanut butter
You will find this recipe has the best flavor and results with butter and the brown sugar swerve. If you swap those for granular Swerve it will lack the same rich caramel flavor that the brown sugar version provides.
However it will still be sweet and delicious, just not quite the same. You definitely can switch the peanut butter for a different nut butter, just make sure it is a low carb/no sugar added version to keep your carbs at bay.
Can You Have Peanut Butter on Keto?
Yes! For this recipe, any peanut butter will work so long as it's not one of the high-carb versions that contain extra honey or sweeteners.
How to Make Keto Peanut Butter Fudge
This keto-friendly peanut butter fudge couldn't be simpler to make! Here are the basic steps:
In a sauce pan, melt the butter and add brown sugar.
Stir continuously until sugar dissolves and it begins to simmer and a thick brown caramel begins to form.
When the sauce is thickened and looks like caramel remove from heat and stir in the peanut butter until melted.
Line a loaf pan with wax paper and carefully pour the fudge into the pan.
Freeze until completely set.
Peel the wax paper away from the fudge and slice.
Top with sea salt as desired.
How to Store Keto Fudge
After slicing I find these store best in an air tight container in the freezer. Simply set them out one at a time for a few minutes to allow them to thaw. When thawed just a bit they melt in your mouth!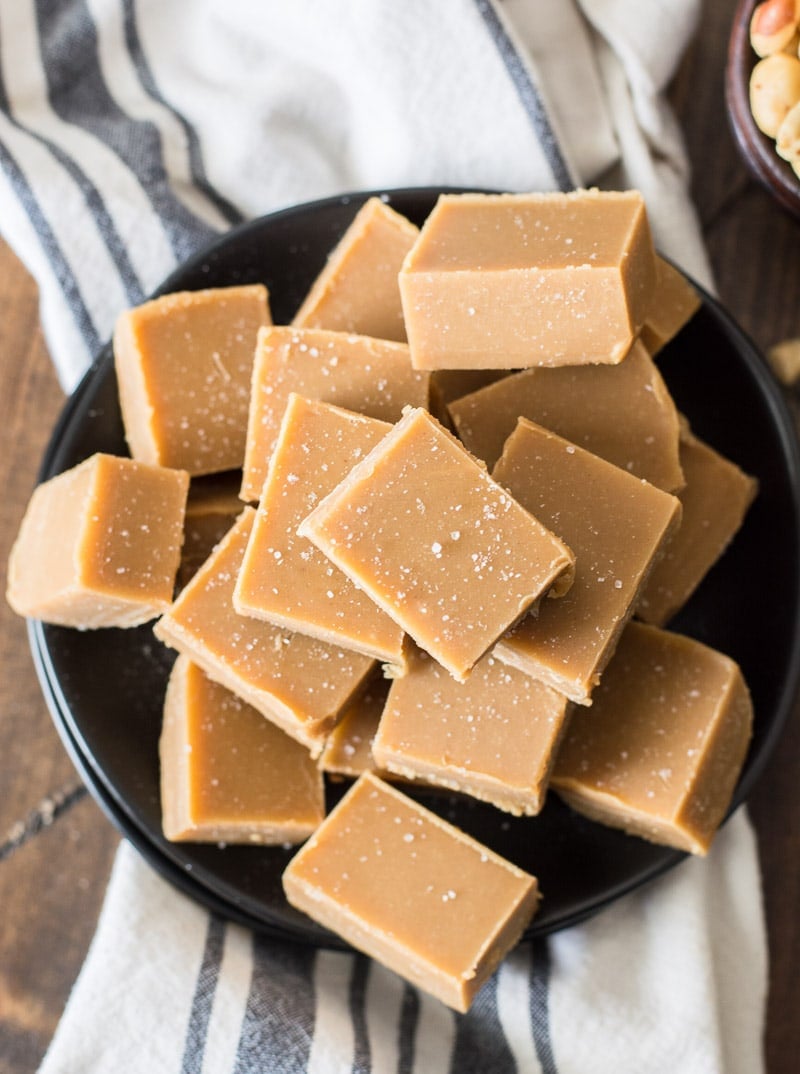 Tips for Making Low-Carb Peanut Butter Fudge
For added flavor, add 1 teaspoon vanilla extract to the keto fudge.
I like to slice the loaf of fudge into three long, skinny rows, then slice the long rows into 7 chunk-size pieces.
If stored in the freezer, this keto-friendly peanut butter fudge will last up to 3 months.
More Keto Desserts: