These Homemade Egg Bites with Ham and Cheese are only 1.5 net carb and great warm or cold! This is an easy keto meal prep recipe!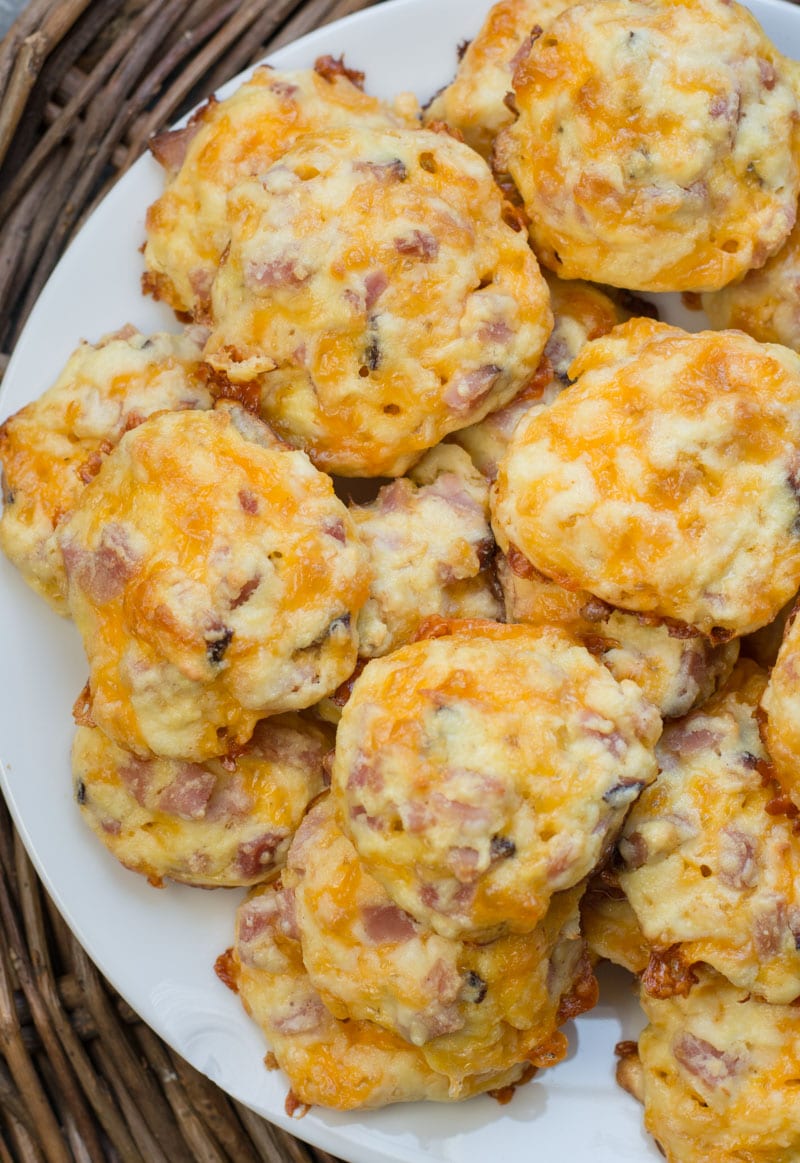 Two of the most popular recipes on this site are my Keto Sausage Egg and Cheese Bites and my Keto Pizza Bites. If you've been a reader long and you are trying a low carb diet, chances are you have already tried them. I think they are so popular because they are very easy, make a large batch and are perfect for meal prep.
I got a message on Instagram last week asking if I had any varieties to share and of course I do! I made these Keto Taco Bites for my dedicated low-carb website a few weeks ago, and today I'm sharing this easy ham and cheese version!
What is the Keto Diet?
Keto is a high fat, low carb diet. When your body is in a state of ketosis it burns fat for fuel instead of carbs. The total amount of suggested net carbs can vary from person to person, but generally people can reach ketosis when they have had 40-20 net carbs.
It can be difficult to find grab and go or meal prep-style foods that fit this diet because so many of those go-to options are full of carbs. These ham and cheese homemade egg bites are tasty eaten warm or cold. One batch makes over 20 bites (24 for me) and they contain 1.5 net carbs each! They make a great low carb breakfast, or a good lunch paired with a garden salad or other low-carb side.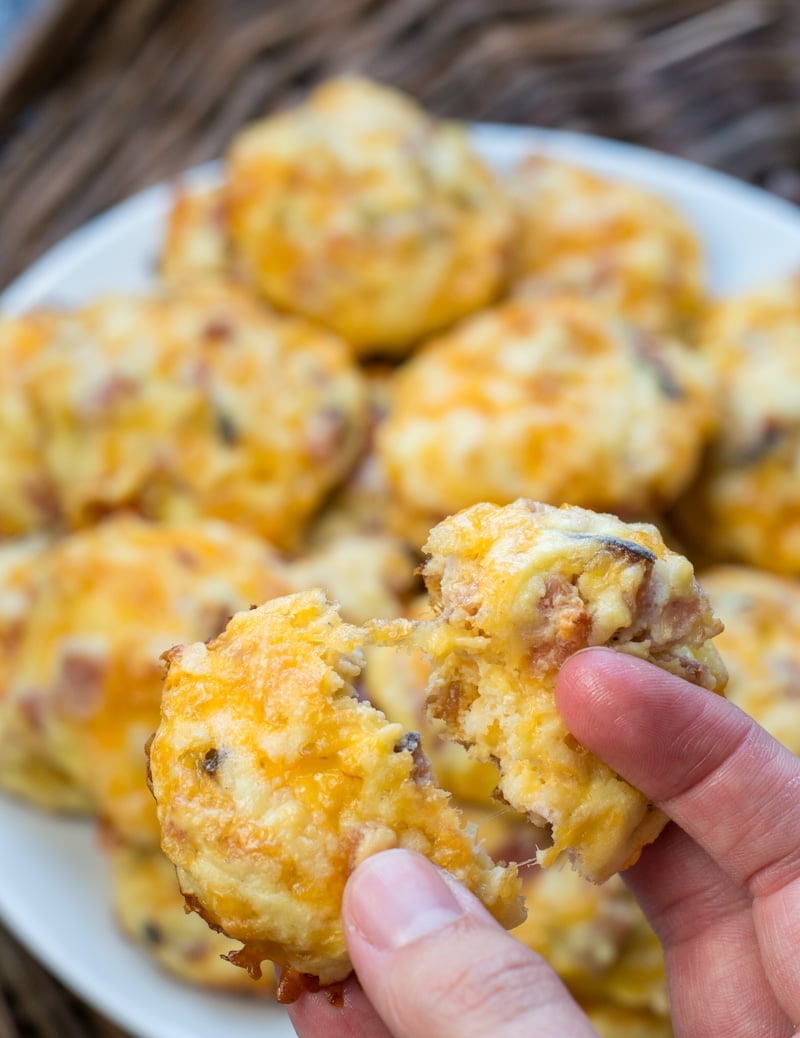 Ingredients for Homemade Egg Bites
This recipe follows the same base I use for my other keto bites — a protein, cheese, cream cheese, eggs, baking powder and coconut flour. For these particular keto bites, I used:
Ham
Cream cheese
Coconut flour
Baking powder
Shredded cheddar cheese
Eggs
Can I Substitute the Coconut Flour?
I get a lot of questions regarding the coconut flour. I do not notice any coconut flavor, but I suppose if you are highly sensitive you might get some hint of the flavor?
You can substitute almond flour if you wish, but it will not yield the best result. The bites are light and fluffy with coconut flour, and they are more dense if you sub almond flour. I highly suggest making the recipe as written for the best results.
How to Make Homemade Egg Bites
Combine the ham and softened cream cheese.
Add in the remaining ingredients.
Chill the mixture for at least 10 minutes in the fridge. Do NOT skip this step!
Using a small cookie scoop, drop the mixture onto a parchment paper lined baking sheet.
Bake at 350F until golden brown on top.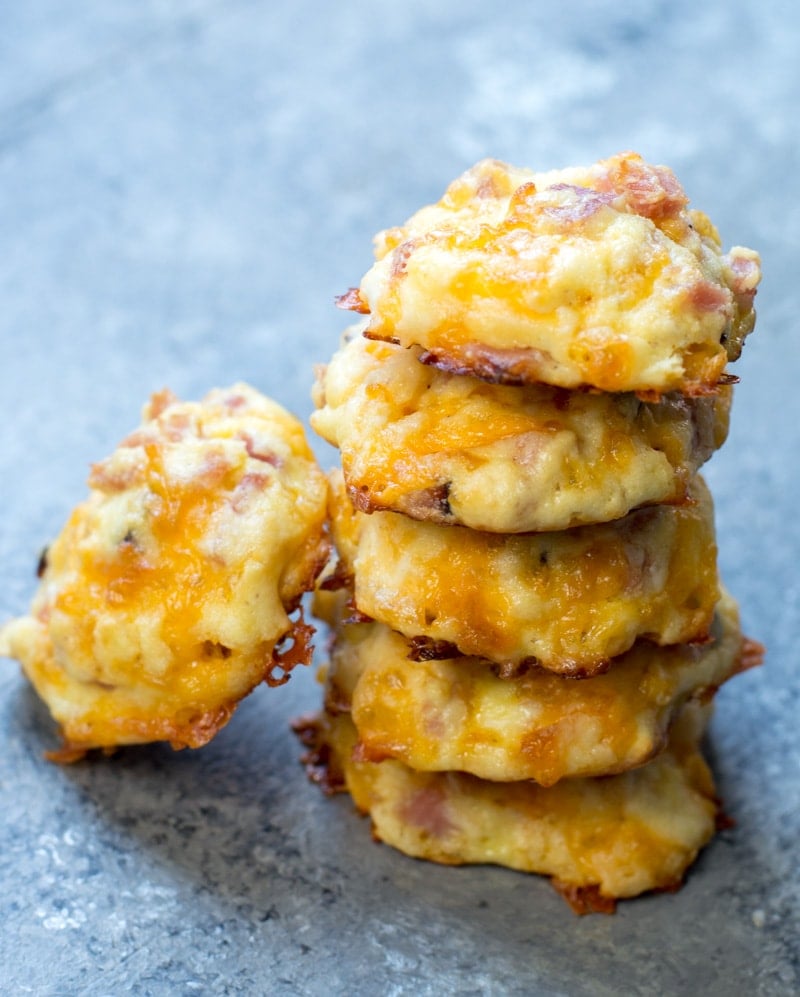 Can I Freeze These Keto Bites?
Yes! I freeze these all the time. Let them cool to room temperature, then freeze on a baking sheet so that they don't clump together. Once hard, seal inside a freeze bag. To reheat, microwave in 30-second intervals.
Tips for Making Keto Ham and Cheese Bites
Use brick-style cream cheese for this recipe. Full-fat or light will both work, but it must be brick-style.
If you don't follow a keto diet, you can likely use regular all-purpose flour to make this recipe. However, we have a gluten allergy in our household so I've never tried this myself.
Store the bites in the fridge for up to 5 days in an airtight container.
More Easy Keto Breakfast Ideas:
Other Easy Keto Recipes
If you are new to Keto try my favorite Sausage Egg and Cheese Bites, they contain less than one net carb per bite and they are perfect for meal prep! One of my favorite easy low carb dinners is this One Pan Cabbage Casserole. It is so easy, cheesy and delicious and it has less than 9 net carbs per serving. Some other favorites, Keto Chocolate Cookies, Pimento Cheese and Bacon Stuffed Peppers and Sausage and Cream Cheese Pinwheels!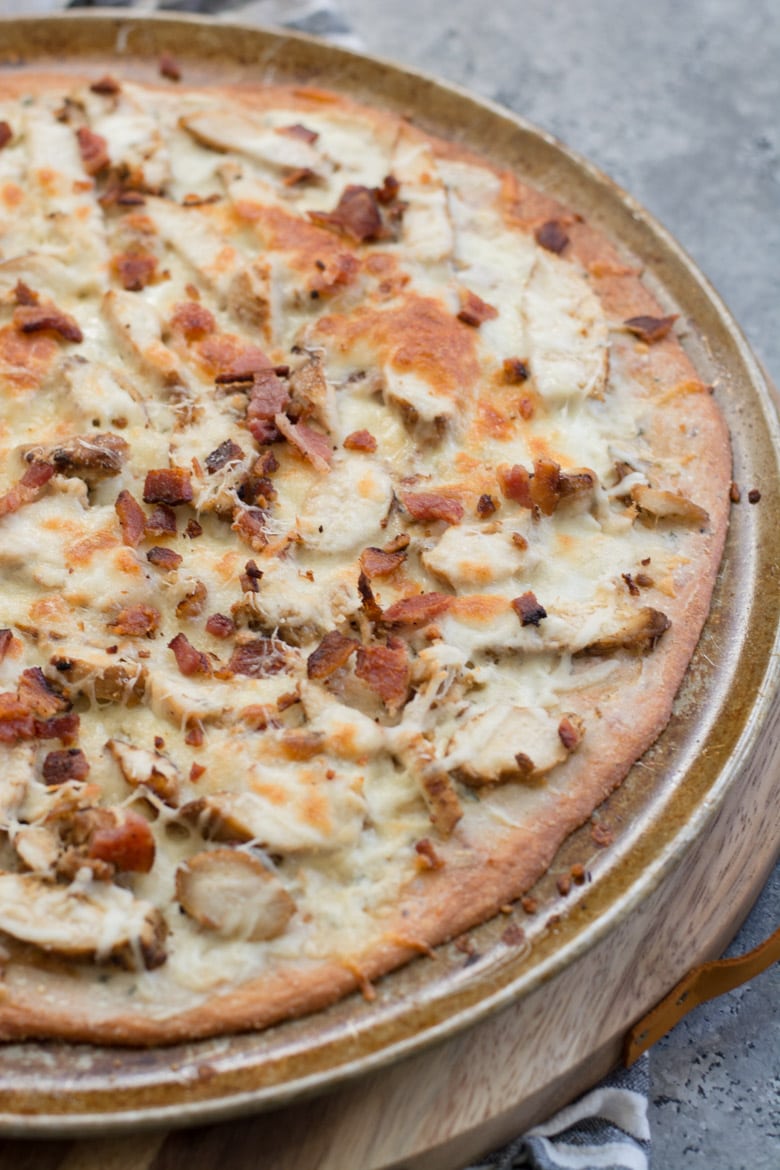 Keto Chicken Bacon Ranch Pizza