These Keto Ham and Cheese Bites are only 1.5 net carbs each, and are great warm or cold! This is one of the best keto recipes!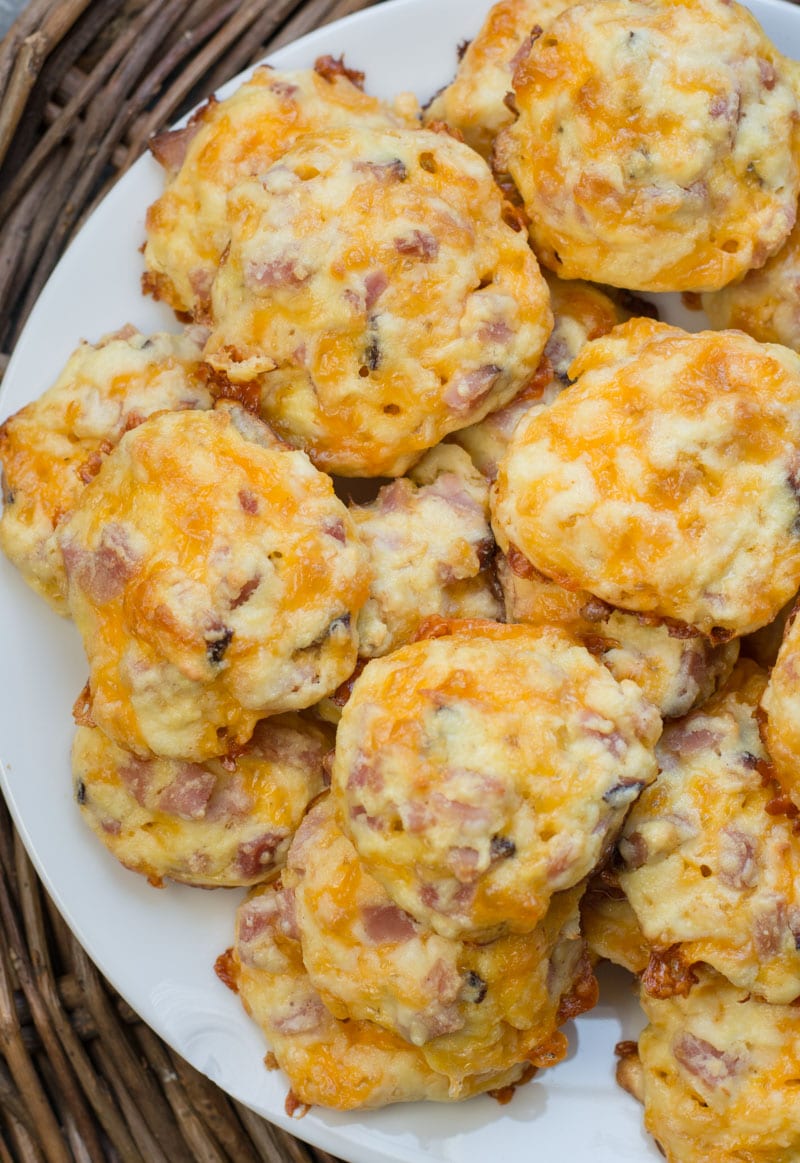 Two of the most popular recipes on this site are my Keto Sausage Egg and Cheese Bites and my Keto Pizza Bites. If you've been a reader long and you are trying a low carb diet, chances are you have already tried them. I think they are so popular because they are very easy, make a large batch and are perfect for meal prep.
I got a message on Instagram last week asking if I had any varieties to share and of course I do! I made these Keto Taco Bites for my dedicated low-carb website a few weeks ago, and today I'm sharing this easy ham and cheese version!
What is the Keto Diet?
Keto is a high fat, low carb diet. When your body is in a state of ketosis it burns fat for fuel instead of carbs. The total amount of suggested net carbs can vary from person to person, but generally people can reach ketosis when they have had 40-20 net carbs.
It can be difficult to find grab and go or meal prep-style foods that fit this diet because so many of those go-to options are full of carbs. These ham and cheese homemade egg bites are tasty eaten warm or cold. One batch makes over 20 bites (24 for me) and they contain 1.5 net carbs each! They make a great low carb breakfast, or a good lunch paired with a garden salad or other low-carb side.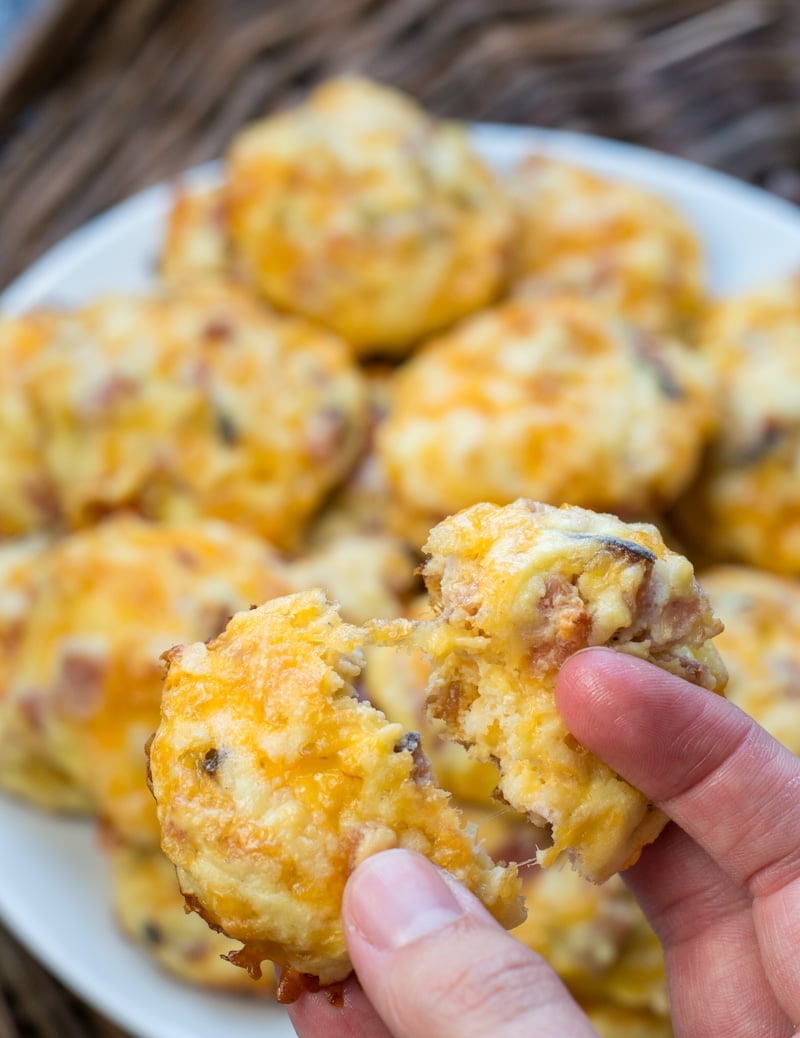 Ingredients for Ham and Cheese Bites
As always, this is a quick overview of the ingredients needed for this recipe. For the complete, printable recipe just keep scrolling. To make simple ham and cheese bites you will need:
Ham: any good quality thick-cut ham will do, this is a great way to use up leftover holiday or "Sunday" ham.
Cream Cheese: you can use full or reduced-fat cream cheese in this recipe.
Coconut Flour: coconut flour provides the best fluffy texture, but you can use almond flour if needed. Please see the substitution information below.
Baking Powder: provides lift and rise for these cheesy bites.
Shredded Cheese: I prefer sharp cheddar in this recipe but Swiss, or another cheese will work as well.
Eggs: you will need size large eggs for this recipe. I have not made this recipe with any egg substitutions.
Can I Substitute the Coconut Flour?
I get a lot of questions regarding the coconut flour. I do not notice any coconut flavor, but I suppose if you are highly sensitive you might get some hint of the flavor? You can substitute almond flour in equal amounts if you wish, but the bites will not be as light and fluffy with almond flour.
How to Make Keto Ham and Cheese Bites
Aside from the ingredients listed above you will just need a mixing bowl, a spatula, and a large cookie sheet. You can use a silicone-lined baking sheet if you wish, they help prevent sticking and help the bites cook evenly.
Chop Ham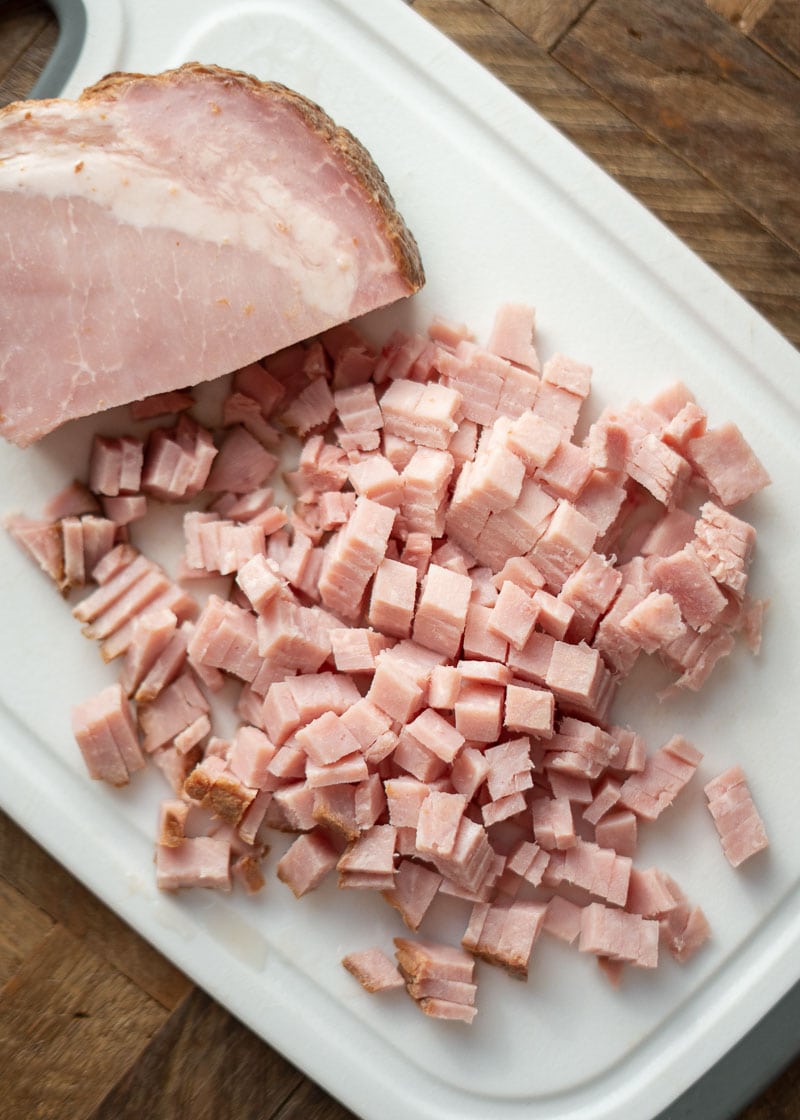 Chop the thick-cut ham into small pieces. You will need two cups of chopped ham for this recipe. I love to buy the small hickory smoked quarter ham, it has great flavor and is perfect for easy meals like this. Remember, if you are watching carbs don't grab a ham with added sugar such as honey baked ham.
Combine the Ham and Cream Cheese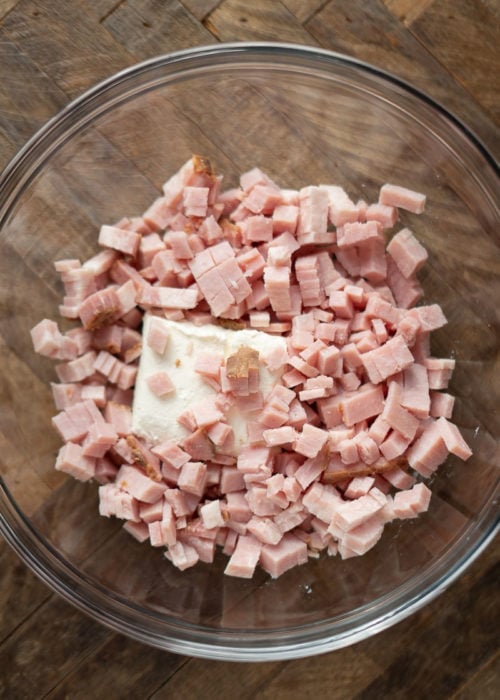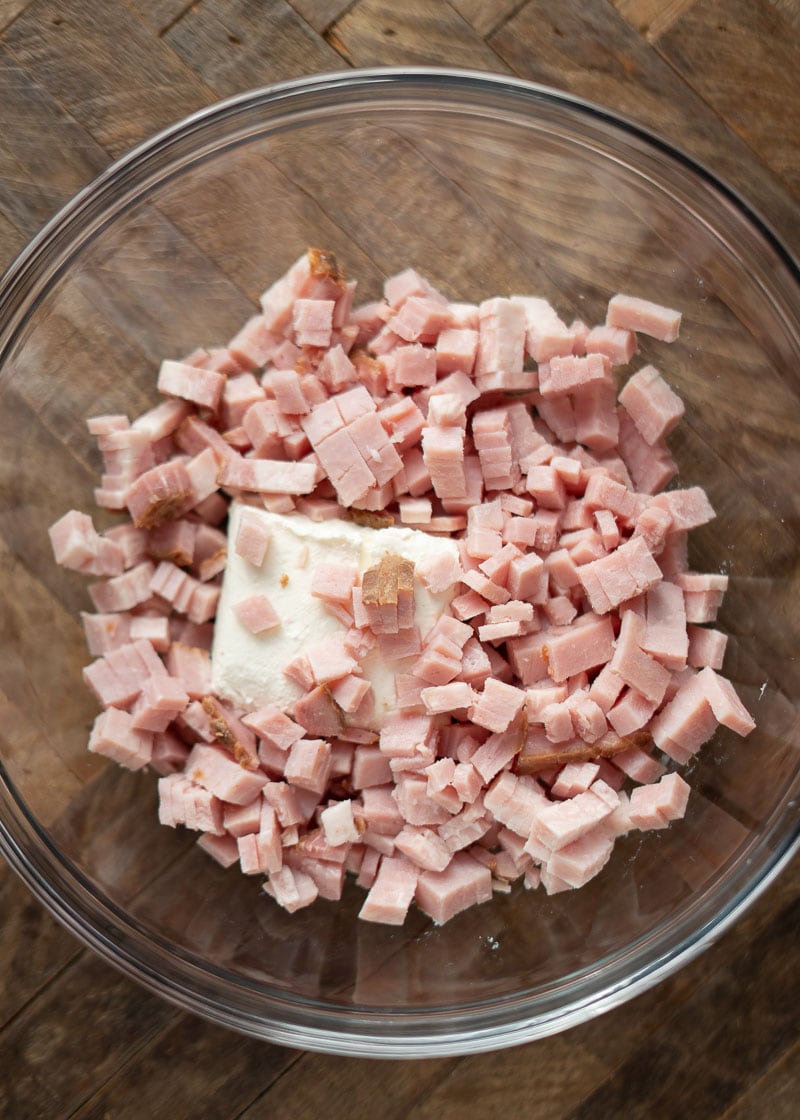 In a medium size mixing bowl combine the ham and softened cream cheese. Mix well until there are no clumps of cream cheese.
Add Remaining Ingredients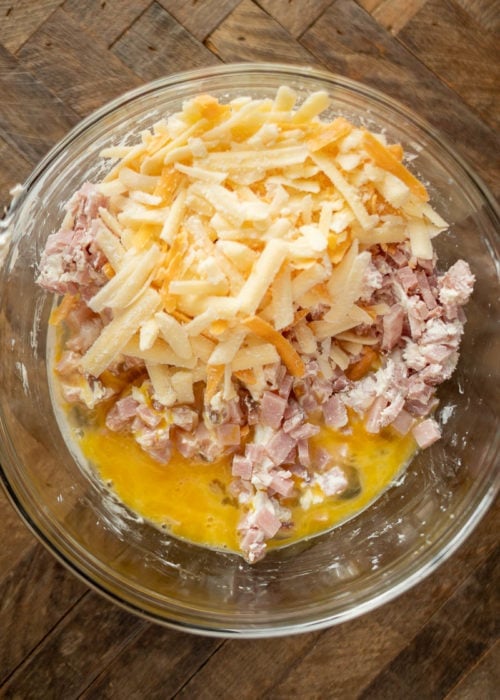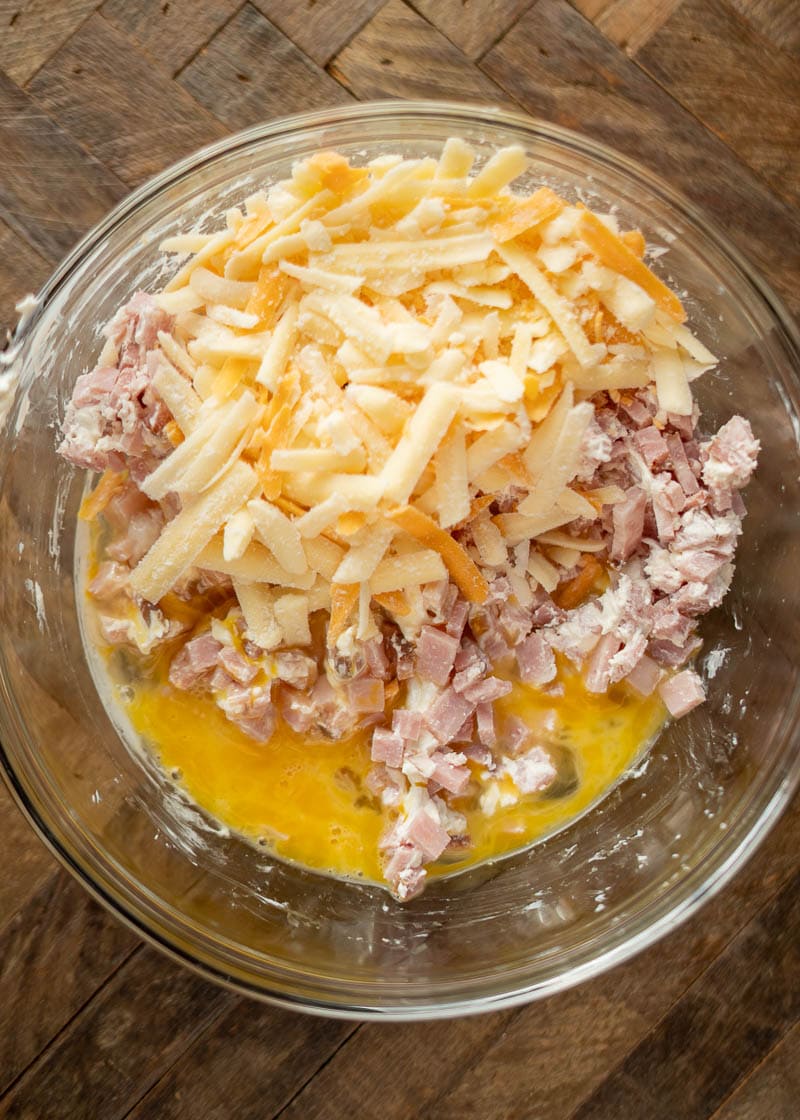 Add the shredded cheese, beaten eggs, coconut flour, and baking powder to the bowl. Combine the ingredients well until a soft dough forms.
Chill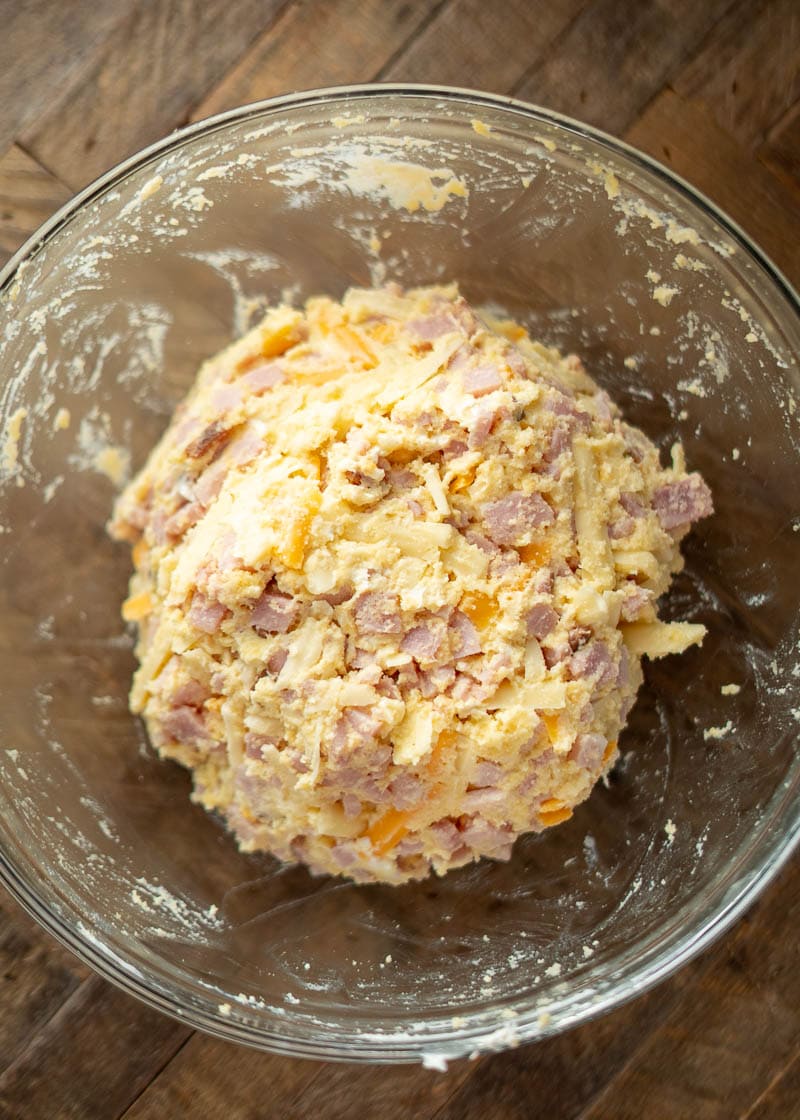 Chill the mixture for at least 10 minutes in the fridge. Do NOT skip this step! Coconut flour is very absorbent. You must give it time to soak up the egg mixture, or the bites will be flat. Allow the mixture to chill while the oven preheats.
Bake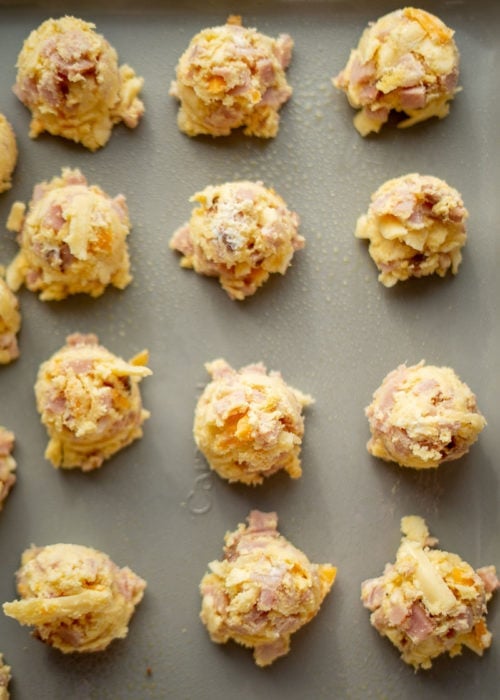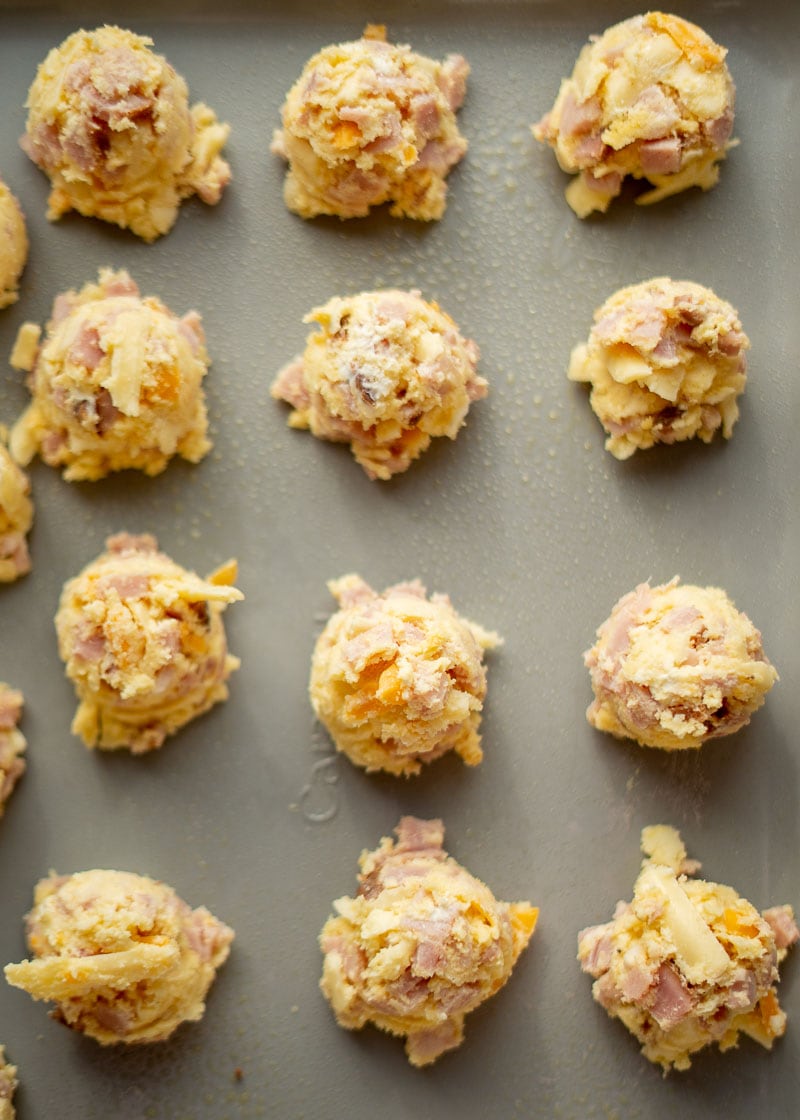 Using a small cookie scoop, drop the mixture onto a large baking sheet. Make sure there is a bit of room between each bite, as they will puff up as they cook. Bake at 350F until golden brown on top.
Storage and Freezing
To store these Ham and Cheese Bites place them in an airtight container in the fridge for up to 5 days.
You can also freeze these bites. Let them cool to room temperature, then freeze on a baking sheet so that they don't clump together. Once hard, seal inside a freeze bag. To reheat, microwave in 30-second intervals.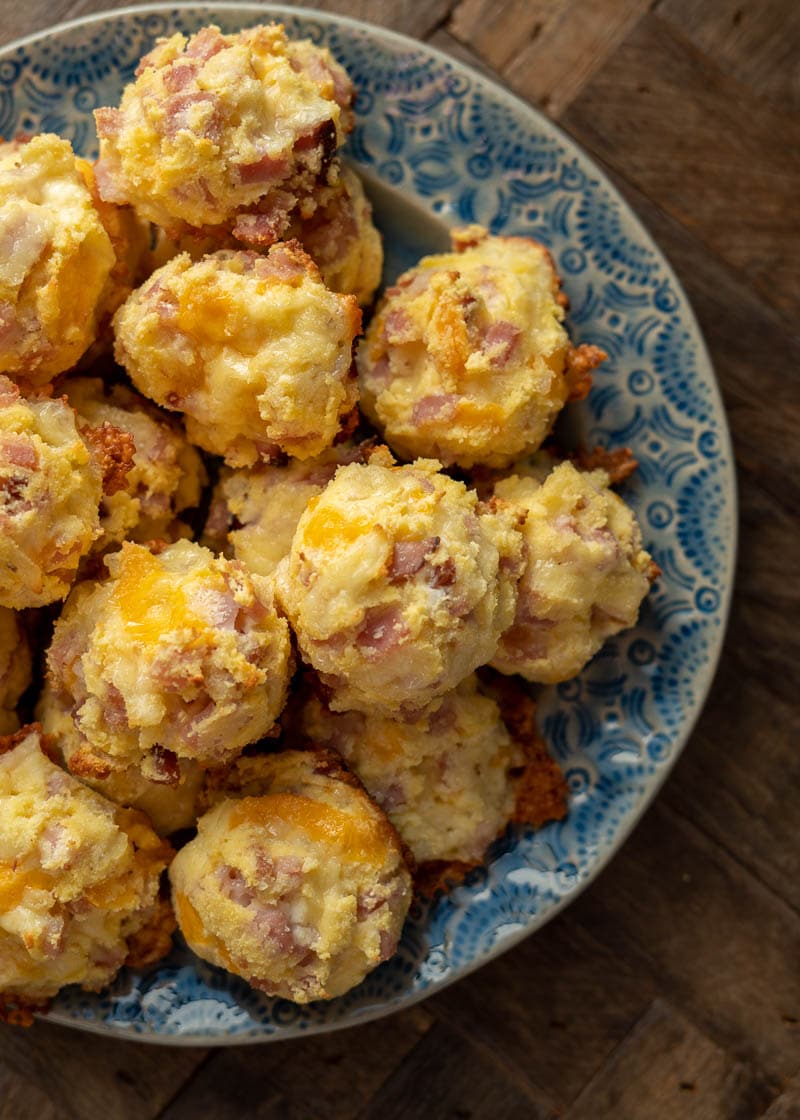 FAQ Keto Bites
Can I use almond flour?
Yes, you can make these bites with almond flour instead of coconut flour, use equal amounts. The bites will not be as fluffy with almond flour.
How many carbs are in ham?
If using smoked ham the carbs are very minimal. Be sure you are not using ham with sugar added and check the nutritional information on your specific ingredients.
Is this gluten free?
Yes, this recipe is naturally grain and gluten free.
Can this recipe be doubled?
Yes, you can certainly double this recipe. You will need two large baking sheets.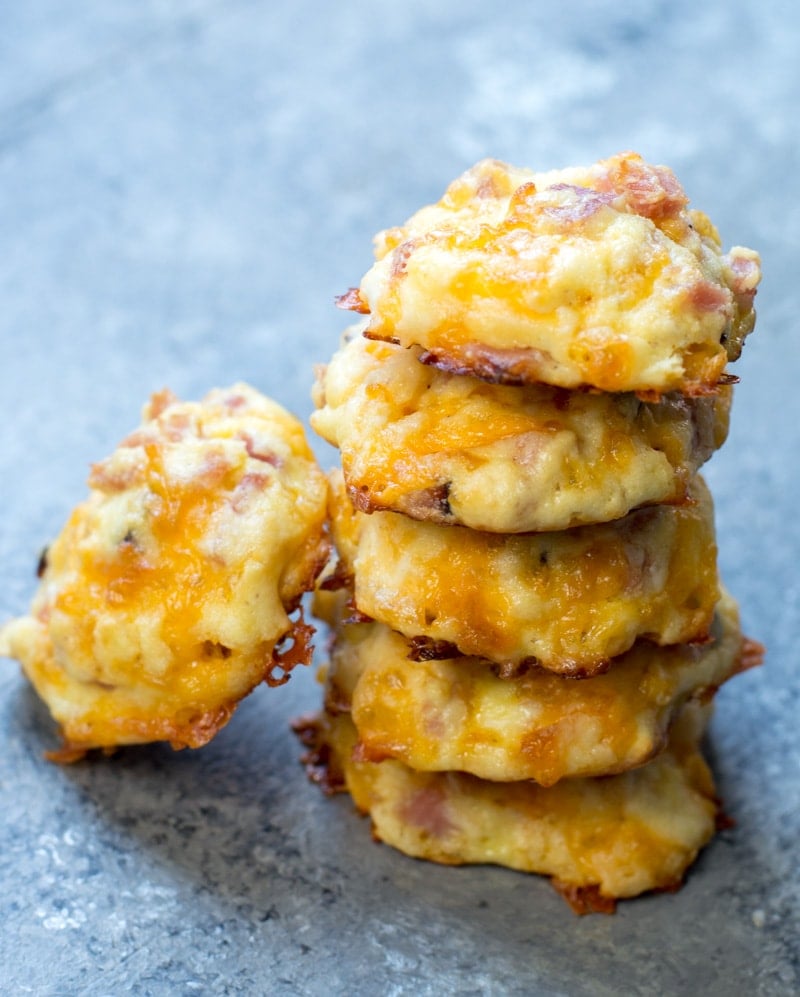 Best Keto Breakfast Recipes: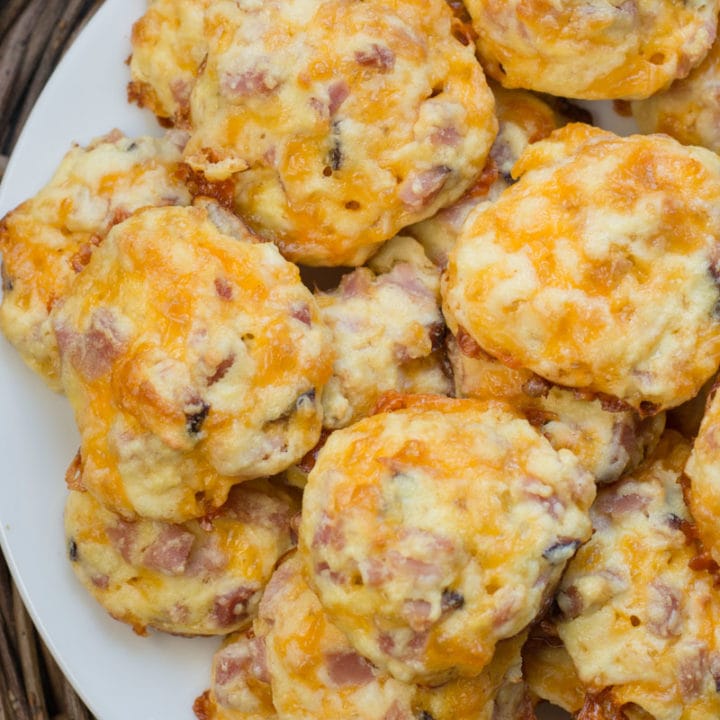 Keto Ham and Cheese Bites
These Homemade Egg Bites with Ham and Cheese are only 1.5 net carb and great warm or cold! This is an easy keto meal prep recipe!
Ingredients
2 cups ham, chopped
4 ounces cream cheese, softened
1/3 cup coconut flour
1/2 teaspoon baking powder
1 1/2 cup shredded cheddar cheese
3 eggs, beaten
Instructions
Preheat oven to 350 degrees F.
Combine ham and cream cheese until completely combined.
Add in remaining ingredients until well combined and chill 10 minutes.
If you skip chilling the dough they will flatten as they cook and not be nice round balls.
Drop onto a greased baking sheet (I like to use the silicone baking mats) using a small cookie scoop.
Bake 20-23 minutes until golden brown.
Notes
This recipe made 24 egg bites for me, but that will depend on the size scoop you use and how tightly you pack them.
Recommended Products
As an Amazon Associate and member of other affiliate programs, I earn from qualifying purchases.
Nutrition Information:
Yield:

24
Serving Size:

Nutrition calculated per ham and cheese bite
Amount Per Serving:
Calories:

115
Total Fat:

7g
Cholesterol:

56mg
Sodium:

86mg
Carbohydrates:

2.6g
Net Carbohydrates:

1.5g
Fiber:

1.1g
Sugar:

0.9g
Protein:

10g