These easy Keto Pizza Bites are loaded with Italian sausage and mozzarella! Perfect for keto meal prep and under 1 net carb per bite!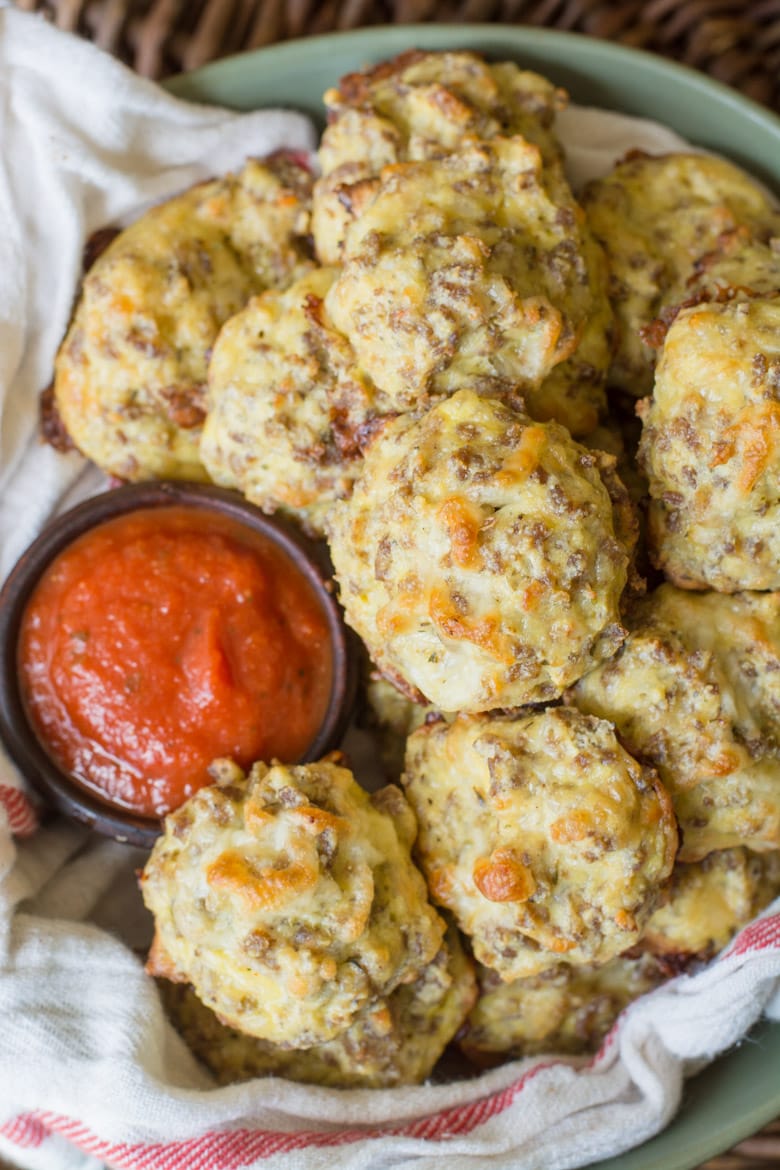 This may just be my favorite keto recipe yet! These super easy keto pizza bites are gluten-free, low-carb, perfect for meal prep, and so easy to make! While there are other ways to get your pizza fix on keto, like these super delicious keto pizza rolls, sometimes you need something that can be made really quickly with few ingredients!
This recipe is a loose variation of my popular Keto Sausage Egg and Cheese Bites, so if you have tried it you are sure to love this one. It has basic ingredients like Italian sausage, mozzarella, eggs and coconut flour.
The complete nutritional information is listed below the recipe card, but this recipe made 30 bites using my small cookie dough scoop, which makes these come in at under 1 net carb per bite! These also reheat really well so they are great for keto meal prep. Just serve with low-carb marinara and you have a great low-carb lunch or dinner!
If you are new to keto, you can checkout all of my low-carb, keto recipes here!
Keto Pizza Bites Ingredients
These keto crustless pizza bites are made with just a handful of real ingredients. Here's what you'll need to make this simple keto meal:
Italian sausage
Cream cheese
Coconut flour
Baking powder
Minced garlic
Italian seasoning
Eggs
Shredded mozzarella
Do I Have to Use Coconut Flour?
Almond flour can be used in place of coconut flour, but the keto-friendly pizza bites will not be as light and fluffy.
Can the Cream Cheese Be Substituted?
No, you cannot substitute the cream cheese in this recipe. Also note that I recommend using full-fat, brick-style cream cheese to create the best keto pizza bites.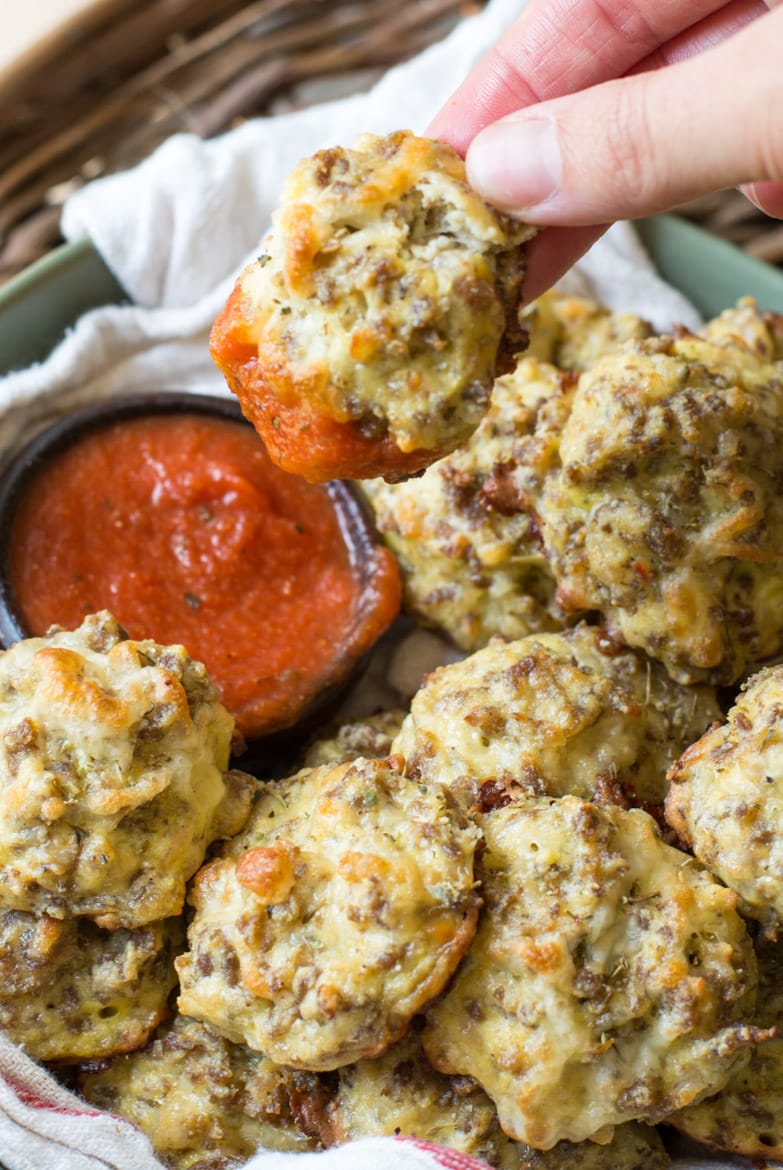 How to Make Keto Pizza Bites
Here are the basic steps to make this low-carb pizza bites recipe:
Add cream cheese and cooked sausage to a bowl and mix until well combined.
Add in the rest of the ingredients and stir.
Chill for 10 minutes to allow the flour time to absorb the moisture.
Drop onto a greased baking sheet using a small cookie scoop.
Bake at 350ºF until golden brown.
Can This Recipe Be Made in an Air Fryer?
I've only made the keto crustless pizza bites as written, so I'm not sure if cooking them in an air fryer would work.
Can I Freeze Keto Pizza Bites?
Yes! These keto crustless pizza bites freeze beautifully. I reheat mine in 20-second increments in the microwave!
Can This Recipe Be Prepared in Advance?
The keto-friendly pizza bites can be assembled and baked in advance.
However, I'm not sure if you can prepare the mixture, chill it, and bake it off later. I worry the mixture may not hold up well a day ahead. I think I would mix the sausage and cream cheese a day ahead and then add the flour, seasonings, eggs and cheese the day of.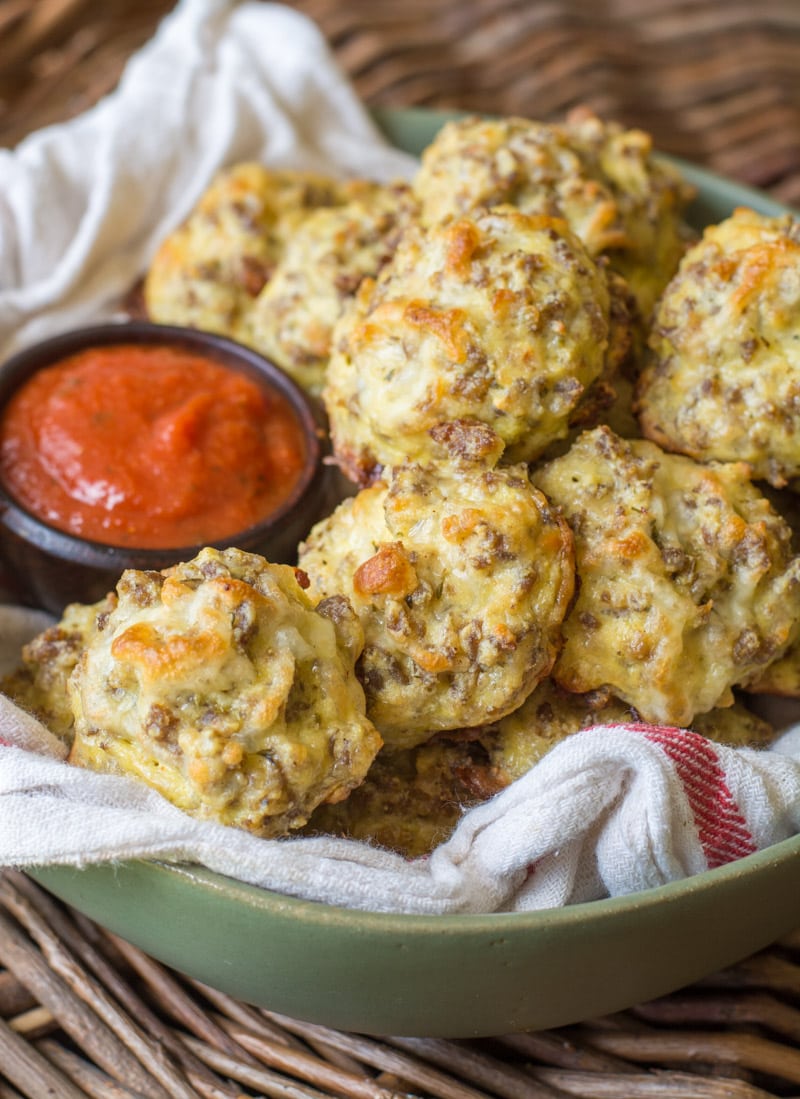 What to Serve with This Recipe
These low-carb pizza bites can be enjoyed on their own as a snack, but they're also a great keto meal prep option. Here are some keto-friendly sides to serve with the pizza bites:
Tips for the Best Keto Pizza Bites
If you'd rather not use Italian sausage, you can replace it with 1 1/2 cups of chopped pepperoni. Just note that you can't simply omit the sausage, as I don't think the pizza bites would work well without anything as a replacement.
I have used this as a base recipe for "supreme pizza" bites and have included bell pepper, black olives, and mushrooms. If you try something similar, make sure your veggies are patted dry so they don't add too much moisture and you are all set!
I dunk these keto-friendly pizza bites into Rao's Low-Carb Marinara (not sponsored, just love it!).
More Keto Dinner Ideas:
Nutrition and Net Carbs