These Healthy No Bake Cookies are just one net carb each and can be made with just 10 minutes of prep! This is the ultimate easy low carb keto dessert!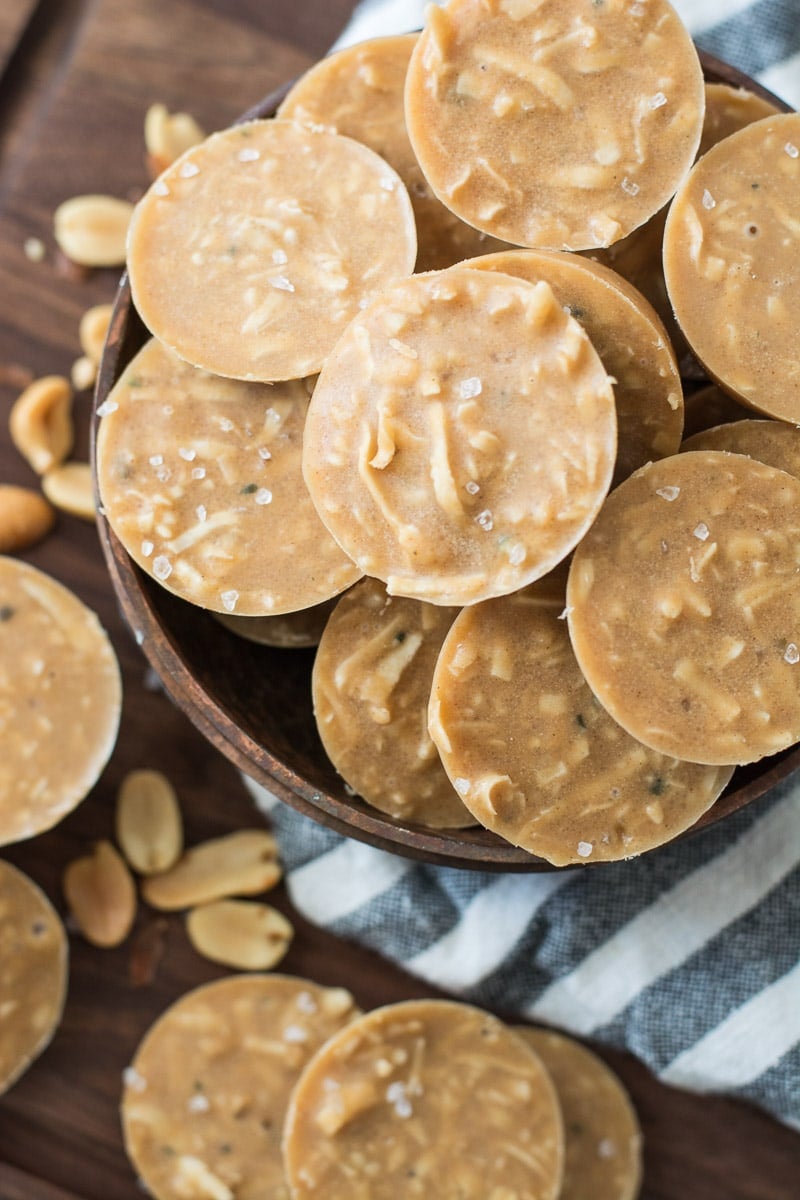 These no-bake peanut butter cookies are a low carb, oat-free version of the classic no-bake peanut butter oatmeal cookies. Those cookies are loaded with butter, sugar, peanut butter and oats and are unfortunately not at all keto compliant.
This version is still packed with a sweet peanut butter fudge flavor, but none of the carbs!
Ingredients in Healthy No-Bake Cookies
The base for this keto peanut butter no-bake cookie recipe is coconut oil, peanut butter, keto friendly sweetener, and cinnamon. It creates a smooth and sweet peanut butter flavor that melts in your mouth.
Instead of oats, the filling is a mixture of unsweetened coconut flakes and hemp seeds. I think you will be surprised how well the coconut flakes and hemp seeds substitute for oats. Neither one has a very strong flavor, but they keep their texture or "bite" well so they work well as a low-carb oat substitute.
Here's a full list of what you'll need to make these no-bake peanut butter coconut cookies:
Coconut oil
Peanut Butter
Unsweetened Coconut Flakes
Cinnamon
Hemp Hearts (optional)
Sea Salt (optional)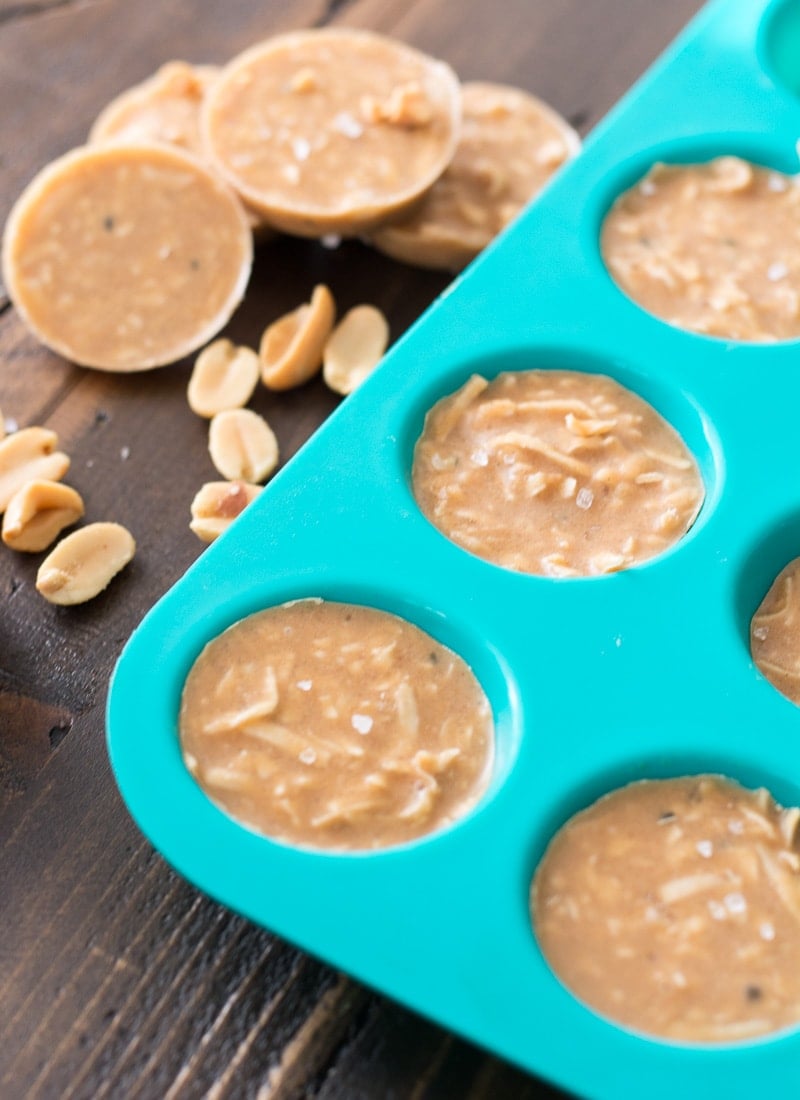 How to Make Healthy No-Bake Cookies
In a sauce pan, melt together the coconut oil and the peanut butter.
Stir in the sweetener and cinnamon. Stir as the mixture melts until the sweetener has completely dissolved.
Remove from heat and stir in the coconut flakes and the hemp seeds.
Set aside and allow mixture to cool slightly.
Carefully spoon into silicone mini muffin tins until 3/4 full.
Sprinkle with sea salt, if desired.
Freeze until set.
How Many Net Carbs per Low-Carb Peanut Butter Cookie?
Each healthy no-bake cookie is just one net carb! For this recipe I use a mini silicone muffin pan to keep these cookies uniform. I prefer the mini muffin size because it is just the right size to satisfy my sweet tooth and keeps the carbs at a minimum.
In the mini muffin pan, this makes 48 small cookies and they come in at 1 net carb each. I store them in the freezer and 48 cookies takes a while to eat so these are perfect for keto meal prep!
How to Store No-Bake Keto Cookies
These low-carb peanut butter cookies should be stored in the freezer. They'll last up to 3 months.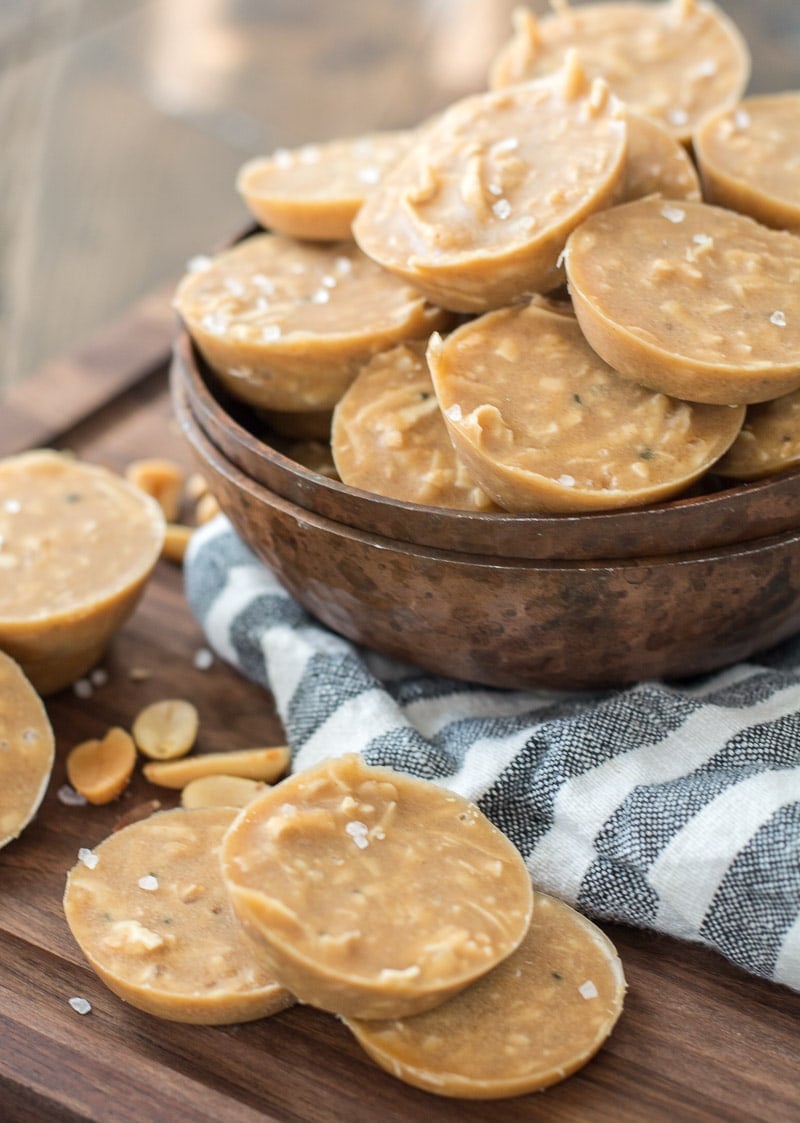 Can I Make These Into Bars?
Yes! If you don't want to go through the process of making individual PB no bake cookies , you could use a baking pan — like a 14×10-inch jelly roll pan — and line it with wax paper and pour the mixture out on the wax paper. When it sets, cut it into slices.
Tips for Making PB No-Bake Cookies
Do not overcook! This mixture needs to be smooth and pourable, do not overcook or over high heat. If you overcook the mixture will be dry and crumbly.
You can use either peanut butter OR almond butter for this recipe. Just make sure to buy a low-carb option.
You can use an extra 2 tablespoons of coconut flakes if you don't have hemp seeds. I like the mixed texture and it adds a bit of fiber.
Make sure you're using unsweetened coconut flakes and not the sweetened kind from the baking aisle.
More Keto Cookie Recipes: