This Keto Tuna Casserole is the perfect low-carb comfort food! This dish is only 3.4 net carbs and packed with zucchini noodles, a creamy cheese sauce, and chunks of tuna.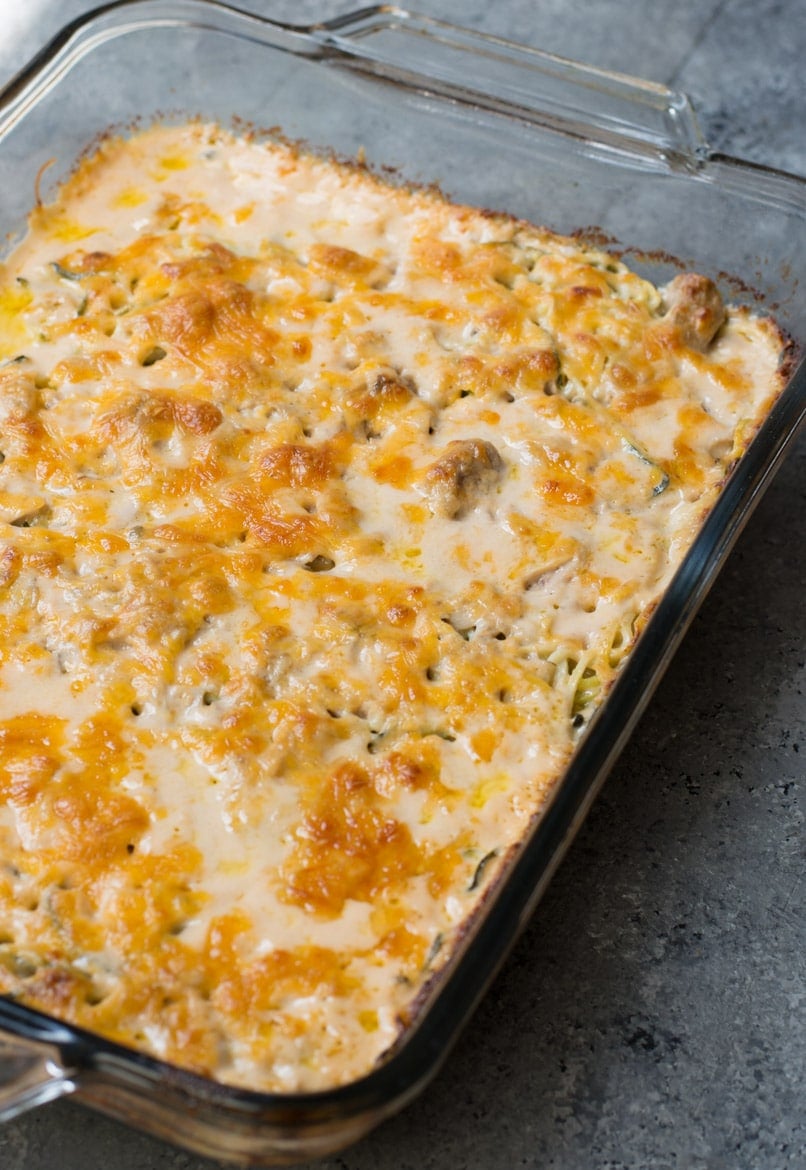 If you loved my super popular Taco Zoodle Casserole you are going to love this Keto Tuna Zoodle Casserole! It has tons of zoodles and that same rich creamy cheese sauce along with tender chunks of tuna. It is a delicious low-carb comfort food even your picky eaters will love!
Believe it or not, I am a total carb junkie. Have you seen that episode of Friends where Monica tells Rachel she has to do something because she owes it to her inner fat girl, then she says "I owe this to her, I never let her eat!" that is my relationship with carbs. I love them, but they just don't love me.
One of my favorite things was a good cheesy pasta or rice casserole. This Cheesy Chicken and Rice was my particular indulgence in my pre-keto days. Sadly, those dishes are a thing of the past around here, but this Keto Tuna Casserole is a great low-carb replacement!
I asked on Instagram what most people struggled with on keto and one overwhelming answer was that you miss old favorites. This resonated with me because I struggle with this too. I think sometimes when you've had a long day and your tired you just want those comfort foods.
I wanted to recreate some of those good old classic flavors from dishes most of us grew up knowing and loving. So this healthy tuna casserole is my first in a long list of keto comfort foods! This dish is packed with zucchini noodles (I have a trick to prevent them from being soggy and watery!) a creamy cheese sauce and chunks of tuna.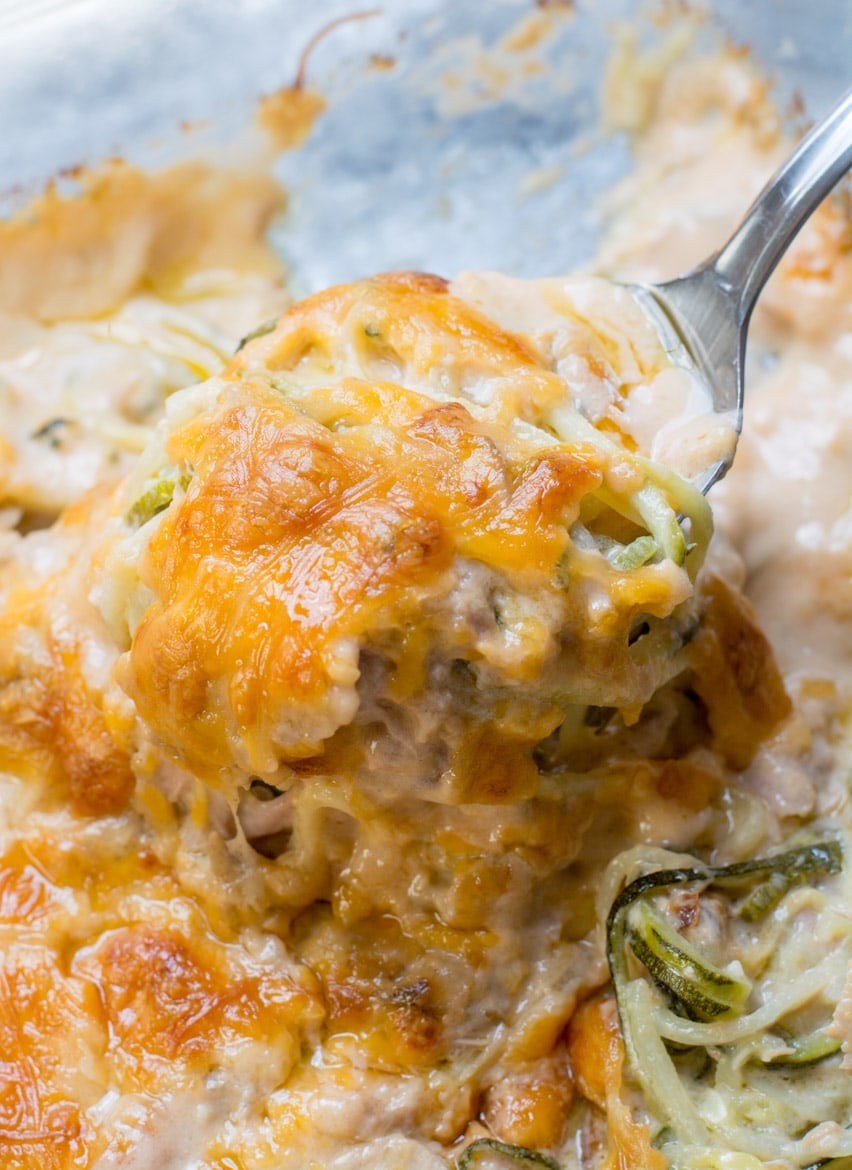 What's in Keto Tuna Casserole?
To make this cheesy tuna noodle casserole, all you need is:
Zucchini
Butter
Garlic
Unsweetened almond milk
Heavy cream
Cream cheese
Cheddar cheese
Canned tuna
Mozzarella cheese
How to Make Keto Tuna Casserole
Making tuna casserole from scratch is so much easier than you'd think! No need to buy "cream of" soups at the store for this low-carb version.
Lightly spray the bottom of a 9×13-inch baking dish with cooking spray.
Place the zoodles in the dish and spread out as much as possible.
Bake at 10-minute intervals. Remove and stir every 10 minutes, and continue baking at 10-minute intervals until the moisture has evaporated.
While the zoodles are baking, make the cheese sauce. Stir in drained tuna. Remove from heat.
In the 9×13-inch pan you pre-baked your zoodles in, layer the zoodles, tuna cheese sauce, and remaining shredded cheese to the top.
Bake until gold and bubbly.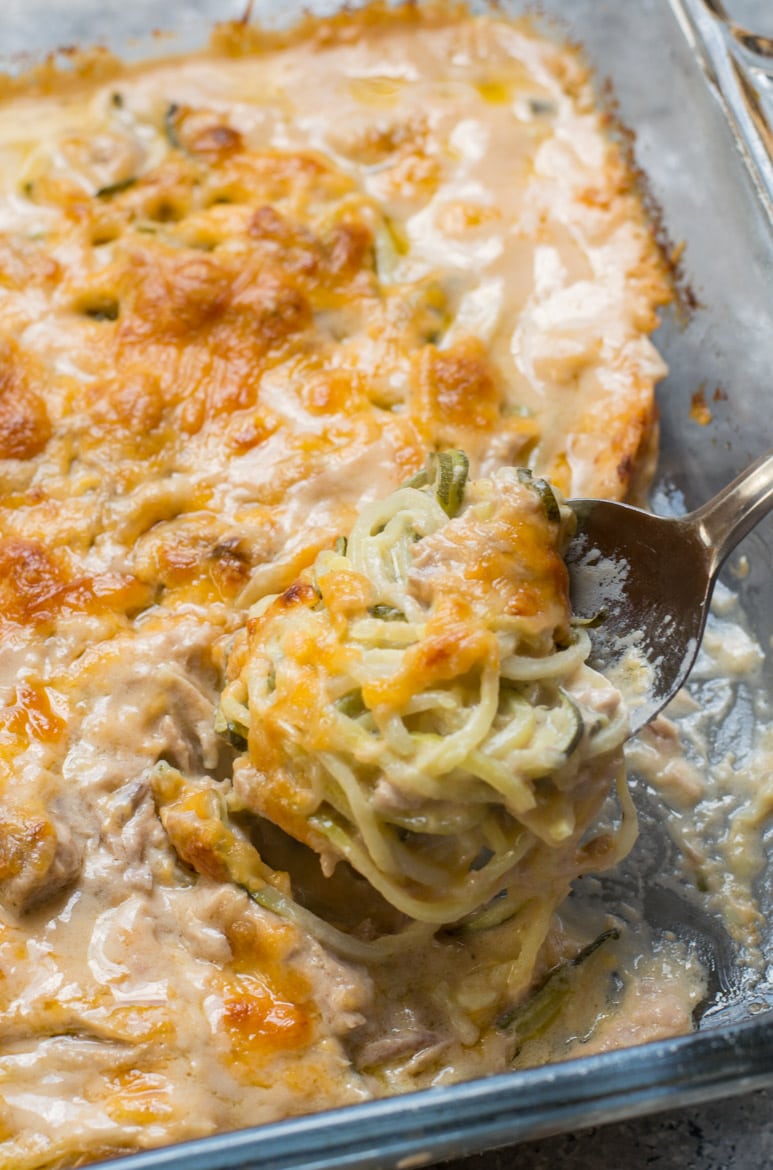 How Many Carbs Are in This Dish?
This dish is only 3.4 net carbs per serving and it is so satisfying.
Can I Add Veggies?
If you're not concerned with keeping this homemade tuna casserole low-carb / keto, you're welcome to add in veggies. I've seen traditional tuna casserole recipes use frozen peas and finely diced celery.
Tips for Making Low-Carb Tuna Casserole
If you want to add a keto-friendly crunchy topping, just sprinkle some crushed pork rinds on top. It keeps the net carb count ultra low and will help give you that crunchy texture.
Shredded chicken works great in this dish if you want to switch things up!
Make sure to use unsweetened almond milk, not flavored or sweetened.
More Keto Comfort Food Recipes: