These ultimate Italian Veggie Sliders are packed with fresh zucchini, mini sweet peppers, basil leaves and topped with a creamy whipped Pesto and Feta Spread!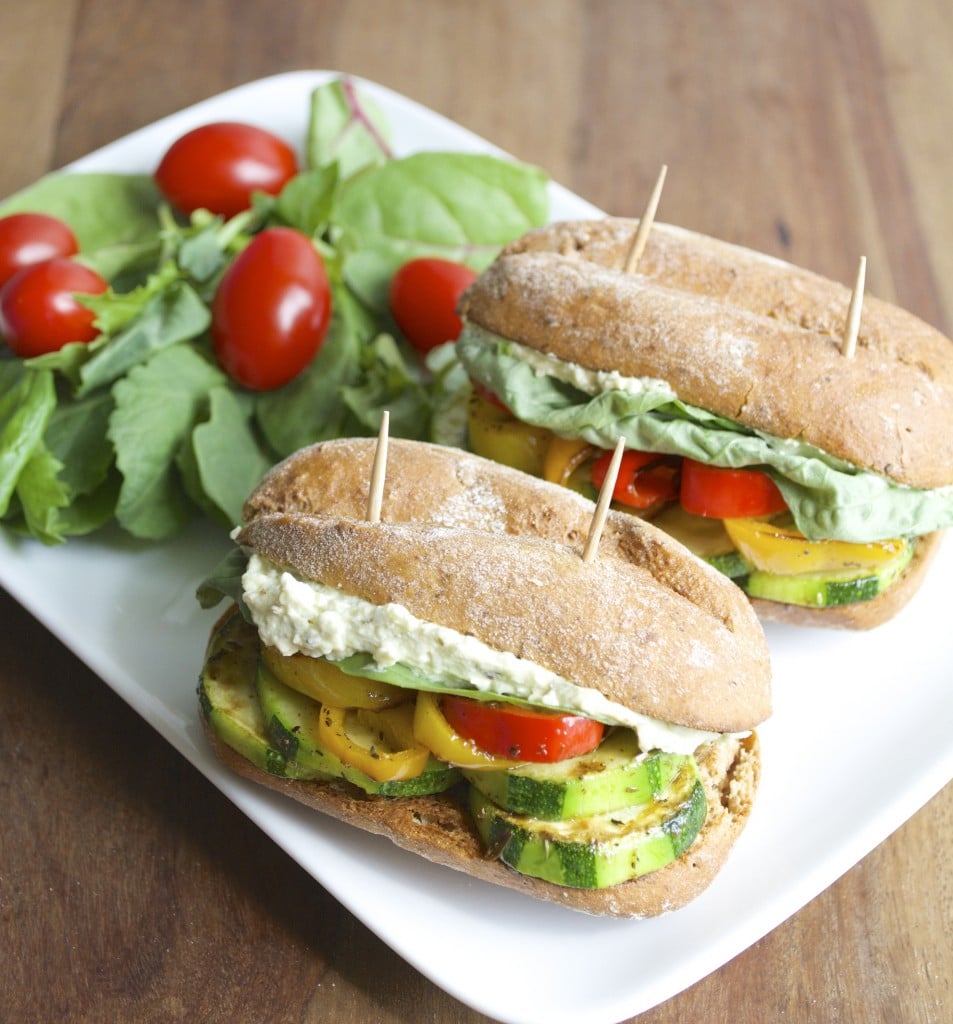 Since Football season is in full swing the big question every week is "What are you making for the game?!"
As a person who is totally indifferent to football, I am kind of glad that food seems to be a big way to "get into the game" because it makes me feel like I am a true Southerner who is actually celebrating game day. So, I will gladly put on my florescent orange t shirt, make snacks, and Pinterest while my husband screams at the television.
We usually have a dip (like this Blue Cheese Buffalo Chicken Dip or this Slow Cooker Sweet Corn Dip), some wings, maybe our favorite Turkey Chili. However, I've been wanting something a little lighter to go along with these goodies!
So I have been experimenting with some lighter, healthier game day options. I finally struck gold over the weekend with these beautiful Italian Veggie Sliders with Whipped Pesto and Feta Spread. Seriously, these little guys are kind of a miracle.
These will be making a regular appearance around our table, healthy, easy, and super easy!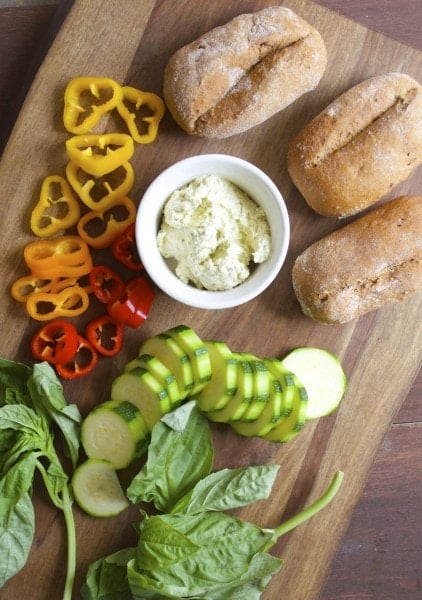 Ingredients Needed for Veggie Sliders:
Slider Rolls (I used Udi's gluten free rolls, but you could use Hawaiian rolls, these keto biscuits, keto bagels, or any bread of your choice)
Zucchini
Mini Sweet Peppers
Olive Oil
Italian Seasoning
Garlic Salt
Black Pepper
Fresh Basil Leaves
Whipped Pesto Feta Spread Ingredients:
This spread could be a great, flavorful addition to pretty much any sandwich (or even a dip for veggies). Feel free to make a double batch or save this for a future meal.
Feta Cheese (I used reduced fat)
Basil Pesto
Cream Cheese (Again, I used reduced fat)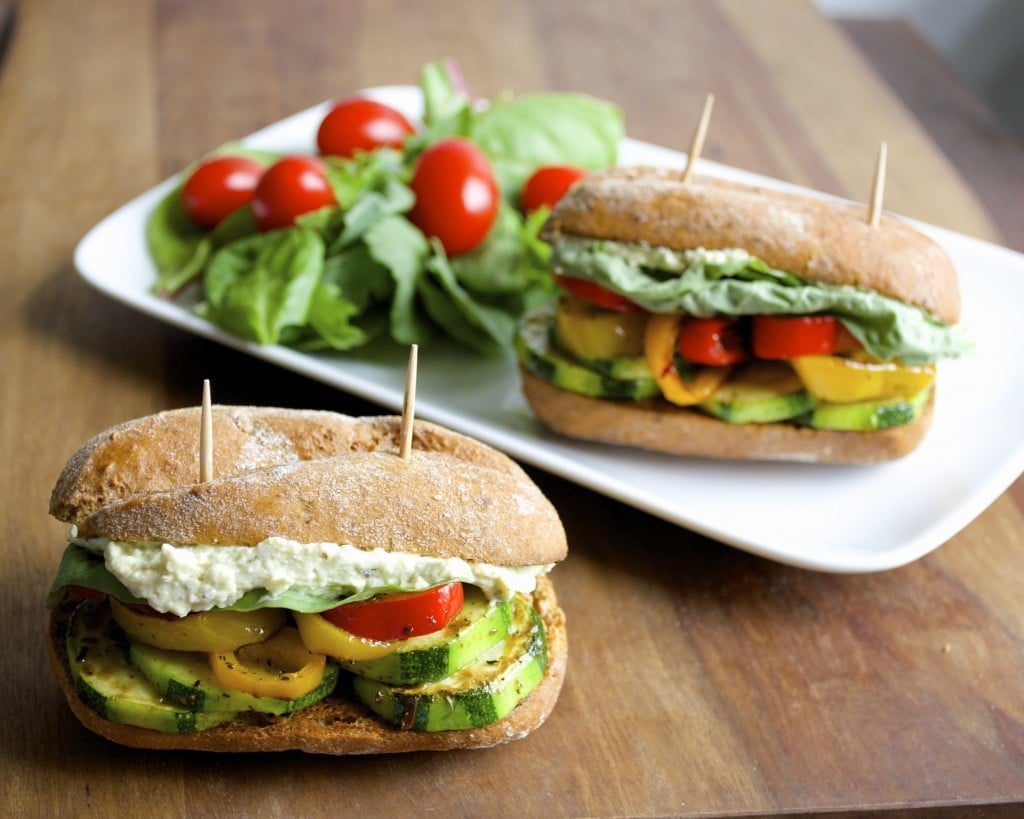 How do I make veggie sliders?
It is so simple; I just toss some sliced zucchini and mini sweet peppers in a little olive oil and a few spices, then cooked them in a skillet until they were tender and had browned a little bit! Next, I toasted some rolls (same skillet=less clean up). Finally, I made this super easy spread and called it a day!
Can I roast the vegetables in the air fryer instead?
Absolutely! If you'd rather use the air fryer, I recommend setting the air fryer to 380 degrees F, tossing the veggies in, then letting cook 6-10 minutes depending on how you prefer your cook. Shake at least once to make sure your getting an even char.
If you don't have an air fryer but you still don't want to use a skillet, you could broil or grill the vegetables as well. Just carefully watch your veggies if you're using a broiler or a grill — You don't want these burnt, just lightly cooked!
Additionally, you're welcome to use a toaster or broiler for the buns instead of a skillet.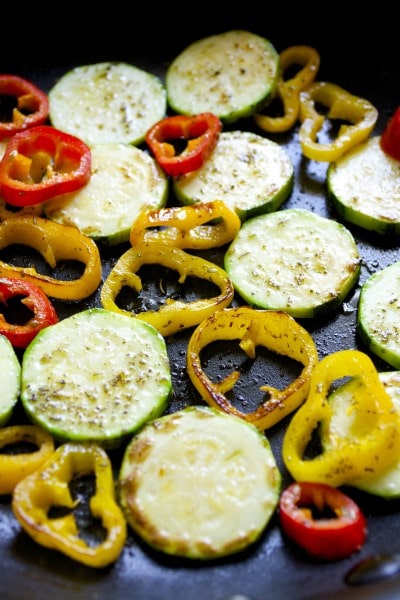 Can you meal prep veggie sliders?
You can certainly prepare steps of this dish ahead of time, but I wouldn't recommend putting these sandwiches together more than a few hours ahead of time. Cooking the vegetables and making the spread are both steps that could be prepped to make your day easier, though.
If you're cooking your vegetables ahead of time, I recommend keeping these veggies in an air-tight container in the fridge for 1-2 days. Because cooked vegetables can start to get a bit watery, just pat off the zucchini and peppers before putting them on your bread.
The whipped pesto and feta spread can be kept in the fridge in an air-tight container for up to 5 days–Just stir thoroughly before spreading on your bread as it may begin to separate as it sits. Because this will last nearly a week, it's a great option for meal prepping for dipping vegetables, adding to wraps, or even to upgrade your morning toast!
I would not recommend toasting the bread ahead of time as it will become stale faster. Just toast and assemble the sandwiches when you're ready to eat! A bit of meal prep makes this an easy, healthy lunch that kids can make for themselves while they're home this summer!

What should I serve with these healthy veggie sliders?
You could make a pretty big batch of these in under 20 minutes, making them great for game day or movie nights! Here are a few other tasty options that would pair well for company:
Gluten-Free Game Day Snacks: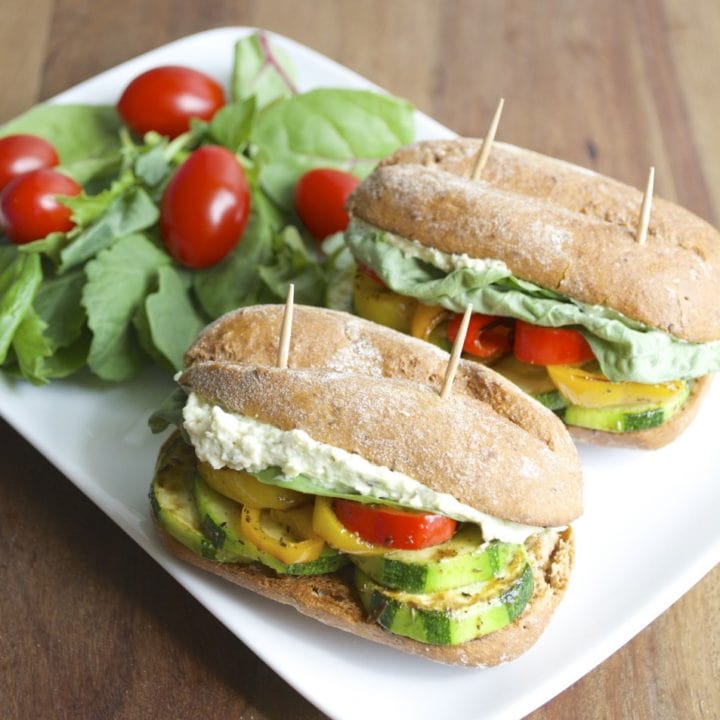 Italian Veggie Sliders with Whipped Pesto+Feta Spread
These are the ultimate Italian veggie sliders, featuring fresh zucchini, mini sweet peppers, basil leaves, and a creamy whipped Pesto and Feta Spread! 
Ingredients
4-6 rolls (I used Udi's gluten free rolls)
2 medium size zucchini, sliced fairly thickly
8 mini sweet peppers, sliced fairly thickly
1 tablespoon olive oil
1 teaspoon Italian seasoning
1/8 teaspoon garlic salt
1/8 teaspoon black pepper
1/2 cup crumbled reduced fat feta cheese
1 1/2 tablespoon basil pesto
2 ounces reduced fat cream cheese, room temperature
4-6 basil leaves (one or two leaves per slider)
Instructions
For the Veggie Sliders:
Heat a large skillet to medium heat.
Toss the sliced zucchini and the sliced sweet peppers with the olive oil and the spices in a large Ziploc bag or mixing bowl.
Lightly spray the skillet with cooking spray, then add the veggies in a single layer. Depending on the size of your skillet, you may need to do this in 2 batches.
Cook the vegetables for approximately 2 minutes on each side until they are tender and beginning to brown a bit.
Remove vegetables from skillet and add the sliced halves of the rolls to the skillet to lightly toast them. Approximately 1 minute.
Remove rolls from heat.
For the Whipped Pesto & Feta Spread
Combine the feta cheese, cream cheese and basil in a small blender or food process and pulse approximately 30 seconds until well combined.
To assemble the sliders stack the zucchini and pepper slices on the rolls, top with basil leaves, spread a thick layer of the spread over the top half of the bun and close.
Notes
I used Udi's dinner rolls, which are pretty large for rolls. I got 5 very full sandwiches with this recipe, and that is what the nutritional information is based on.
If you are using something like the little Hawaiian bread rolls this will make closer to 6-8 sliders for you.
Nutrition Information:
Yield:

4-6 Veggie Sliders
Serving Size:

1 Slider
Amount Per Serving:
Calories:

226
Total Fat:

9.7g
Cholesterol:

11mg
Sodium:

427mg
Carbohydrates:

28.4g
Net Carbohydrates:

24.6g
Fiber:

3.8g
Sugar:

7.9g
Protein:

10g