Crispy Parmesan Crusted Chicken is the perfect weeknight meal! This easy chicken recipe requires basic ingredients and is gluten free, low carb and keto-friendly!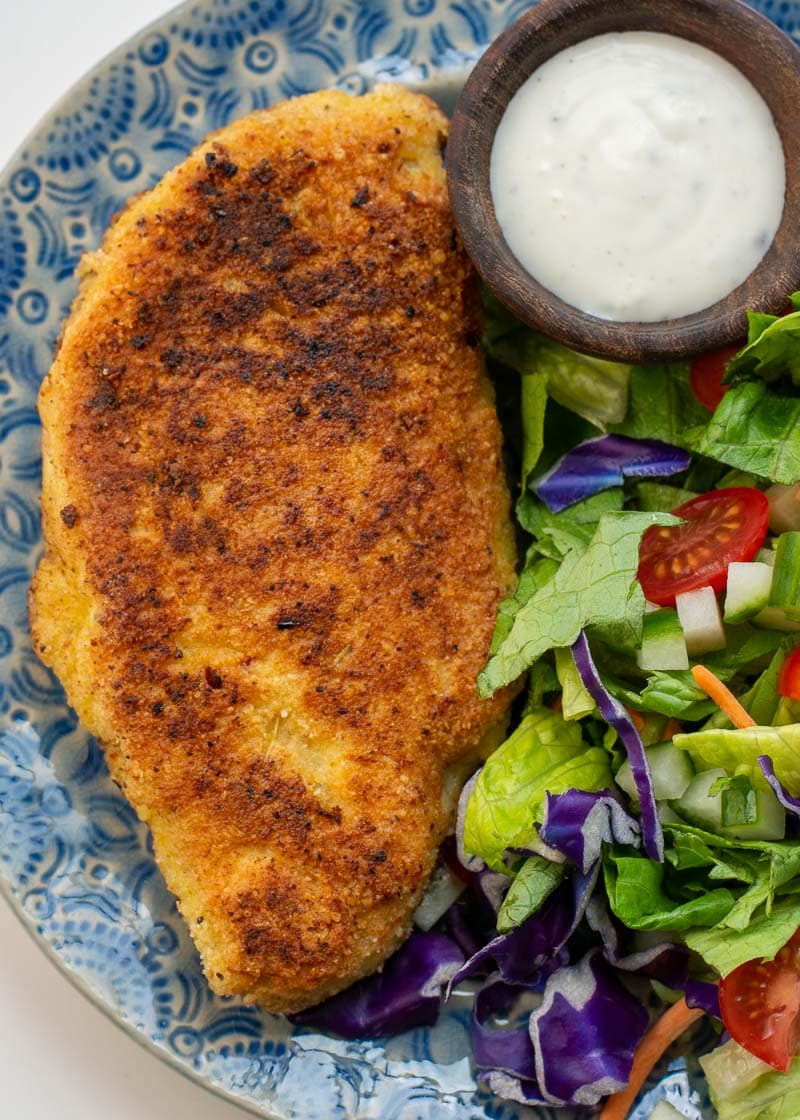 Parmesan Crusted Chicken is one of our families favorite meals! This is my go to dinner when I am short on time and ingredients, I always have everything I need for this easy chicken recipe! While other similar chicken recipes call for breadcrumbs this version is kept low carb, keto-friendly, grain and gluten free by using almond flour! This chicken is excellent with a great vegetable side dish, but it is also great in wraps, or on salads!
Ingredients for Parmesan Crusted Chicken
As always, this is a quick overview of the ingredients you will need for this recipe. For the complete recipe just keep scrolling to the printable recipe card below. For this easy chicken recipe you will need the following ingredients:
Chicken: I use boneless, skinless chicken breast sliced thinly. However, this recipe will also work very well with chicken tenderloins if you prefer.
Almond Flour: instead of traditional flour or breadcrumbs this recipe uses almond flour. This keeps the chicken low carb, gluten and grain free. If you are new to almond flour don't worry! It makes an excellent crust!
Grated Parmesan: you will need the grated or powdered parmesan for this recipe. Shredded parmesan won't mix with the flour well to make a nice crispy crust. Stick to the grated parmesan or a parmesan romano mix for the best flavor!
Spices: this is where you can mix things up. I use my favorite cajun seasoning and garlic powder. This will work with any all purpose seasoning blend, or if you want to stick to more traditional flavors use Italian seasoning and garlic powder.
Eggs: these are the "glue" that help hold the breading to the chicken.
Mayonnaise: you can use eggs only if you prefer, but adding a bit of mayo in with the eggs before you dredge helps the breading stay on much better than with eggs alone. It also helps to add flavor and keeps the chicken from drying out. Not a fan of mayo? Don't worry, you won't taste it!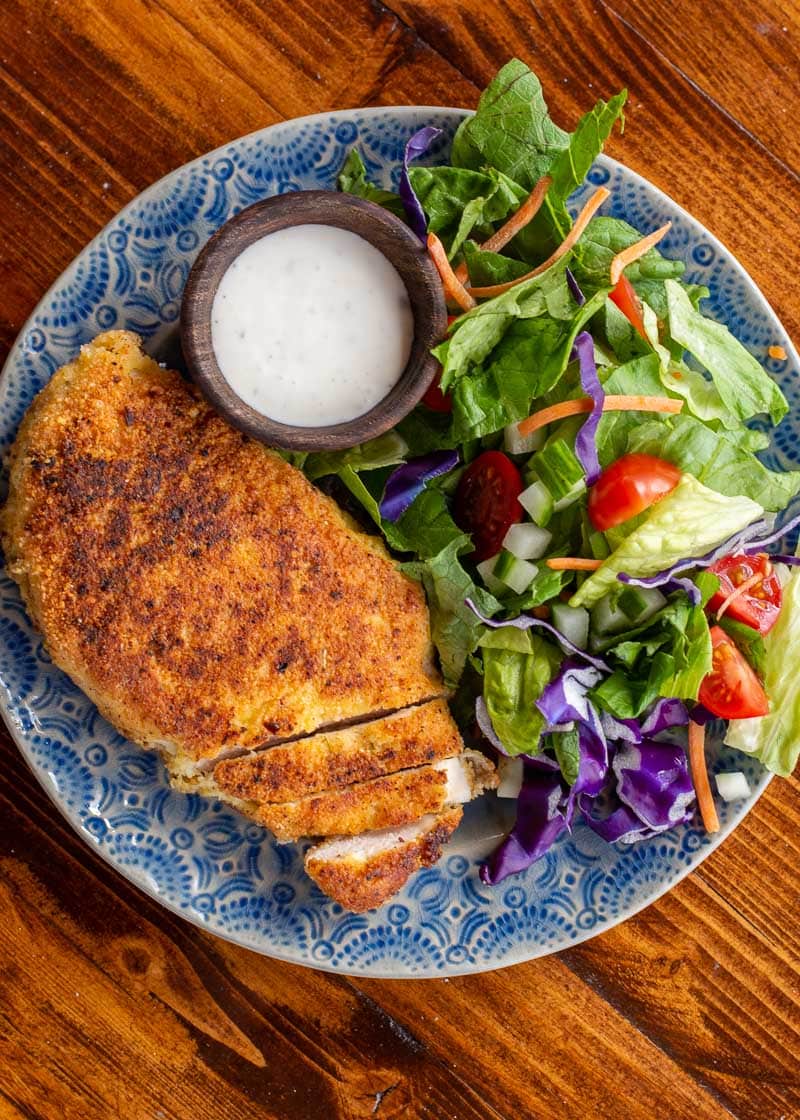 How to Slice Large Chicken Breast
First things first, slice the chicken. Chicken breast are quite large, so they will need to be cut for this recipe. Place a whole breast on a cutting board. Slice through the breast like you are going to butterfly the chicken but cut all the way through making two thin breast. This is much easier and less messy than pounding a chicken breast.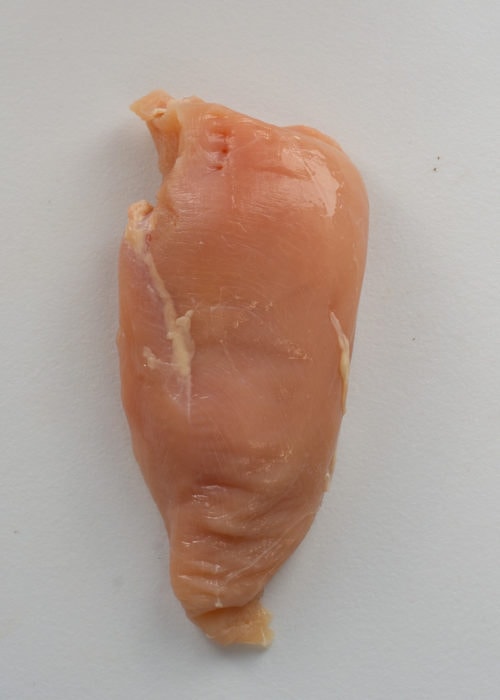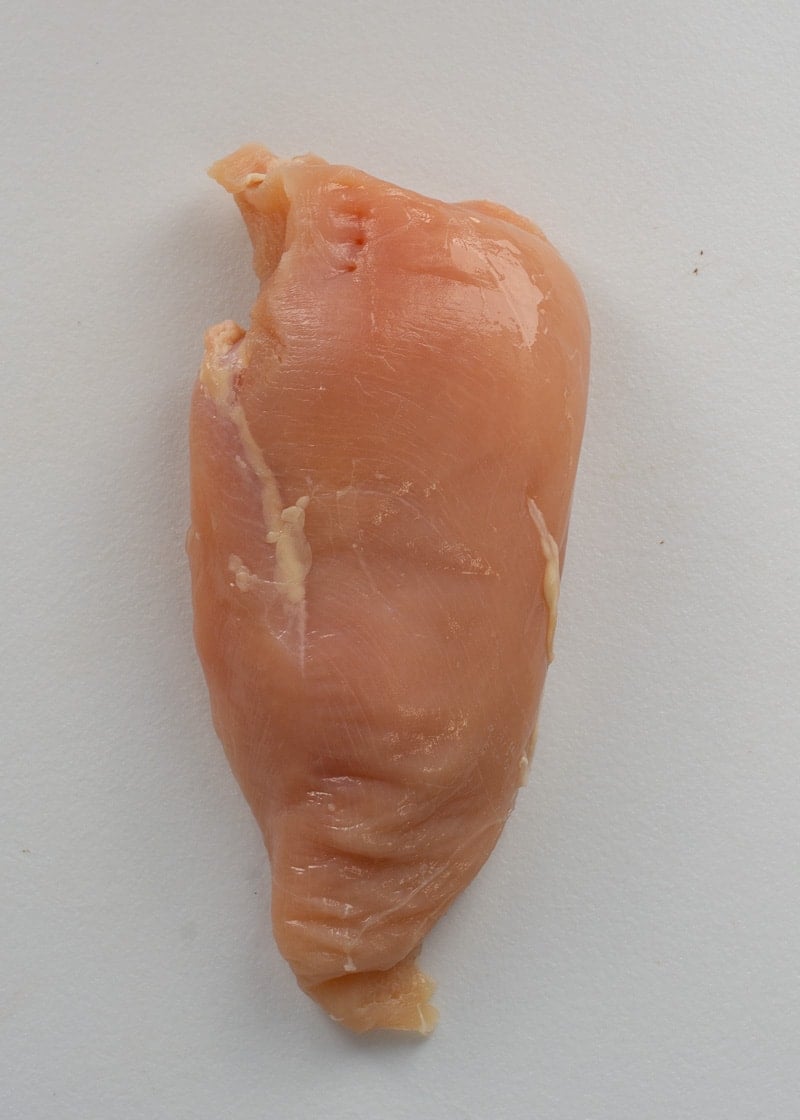 How to Make Parmesan Chicken
Set up the breading station. First you will need a bowl with the eggs and mayonnaise. Remember, you don't taste the mayo it just helps to keep the breading adhere to the chicken and prevents it from drying out as it cooks. Crack the eggs and mayo in a bowl, then whisk until it is completely combined.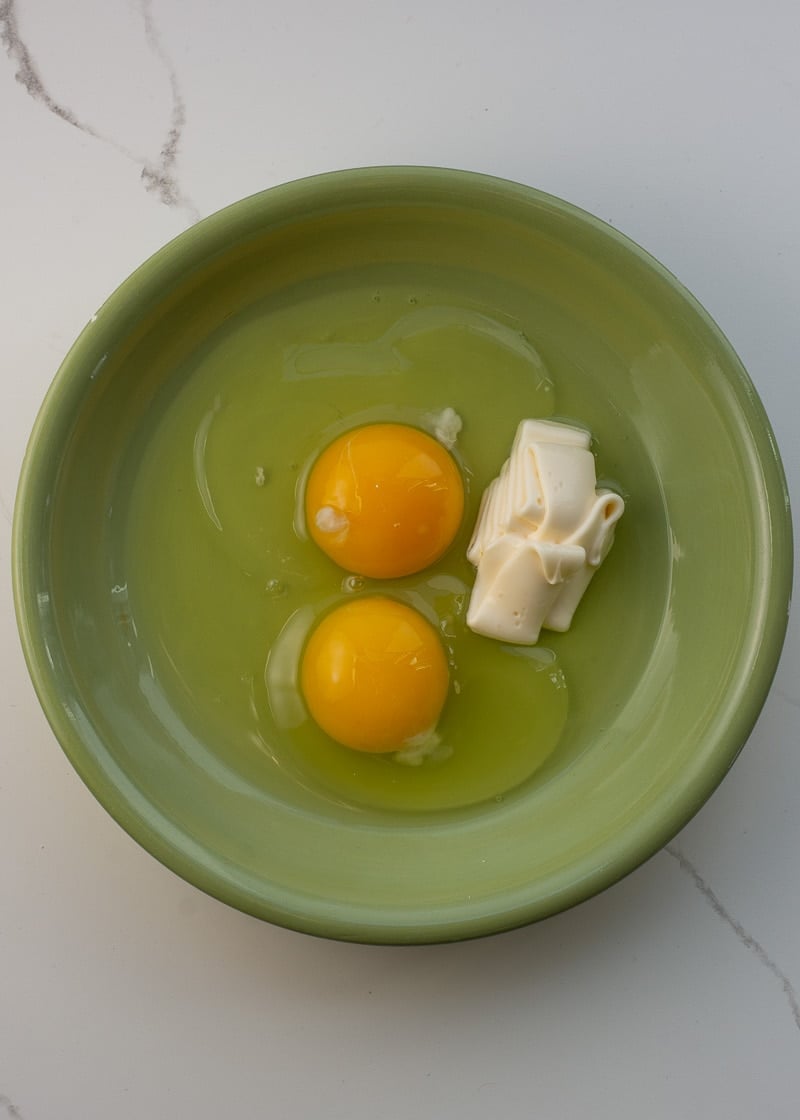 Next, add the almond flour, parmesan, cajun seasoning, garlic powder and add salt and pepper to taste. Stir to combine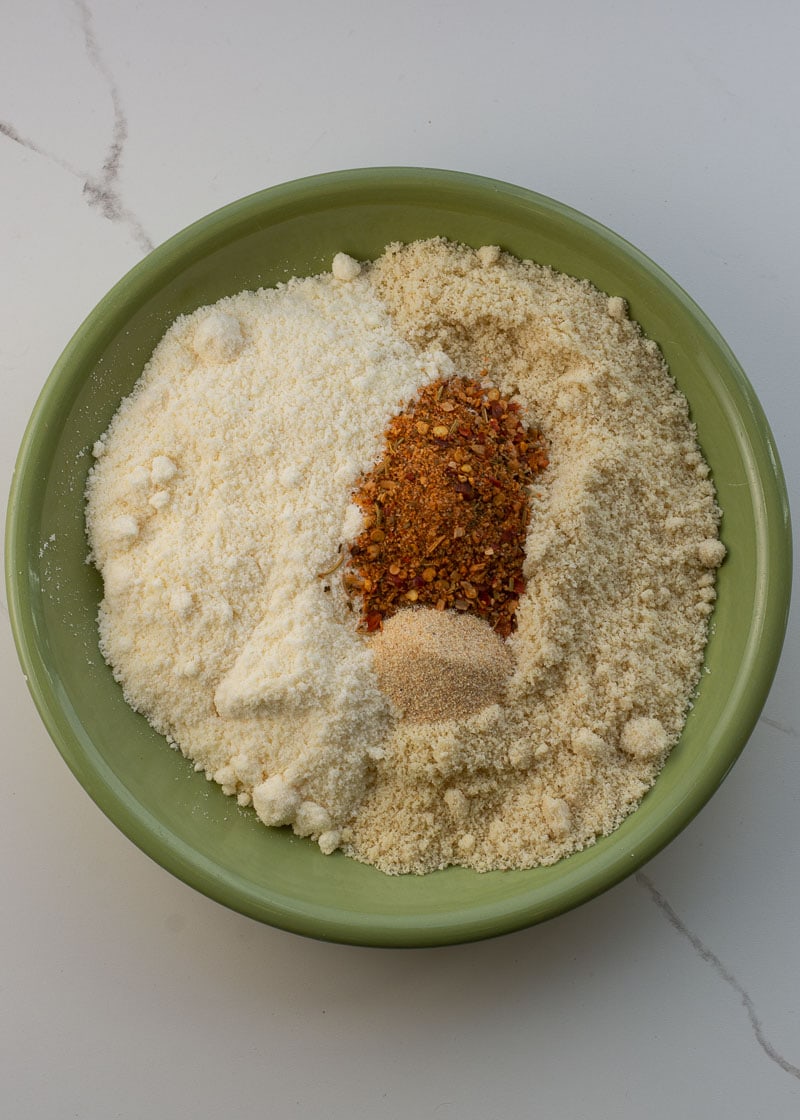 Bread the Chicken
Grab two forks, it will help keep things less messy! Using one fork dredge the chicken in the egg wash. Then in the breading. Use the clean fork to help fully coat the chicken. Then carefully shake any extra breading off the chicken. Dredge in the egg wash again, then back in the breading. The double dip ensures perfectly crispy chicken! Place the breaded chicken on a clean baking sheet.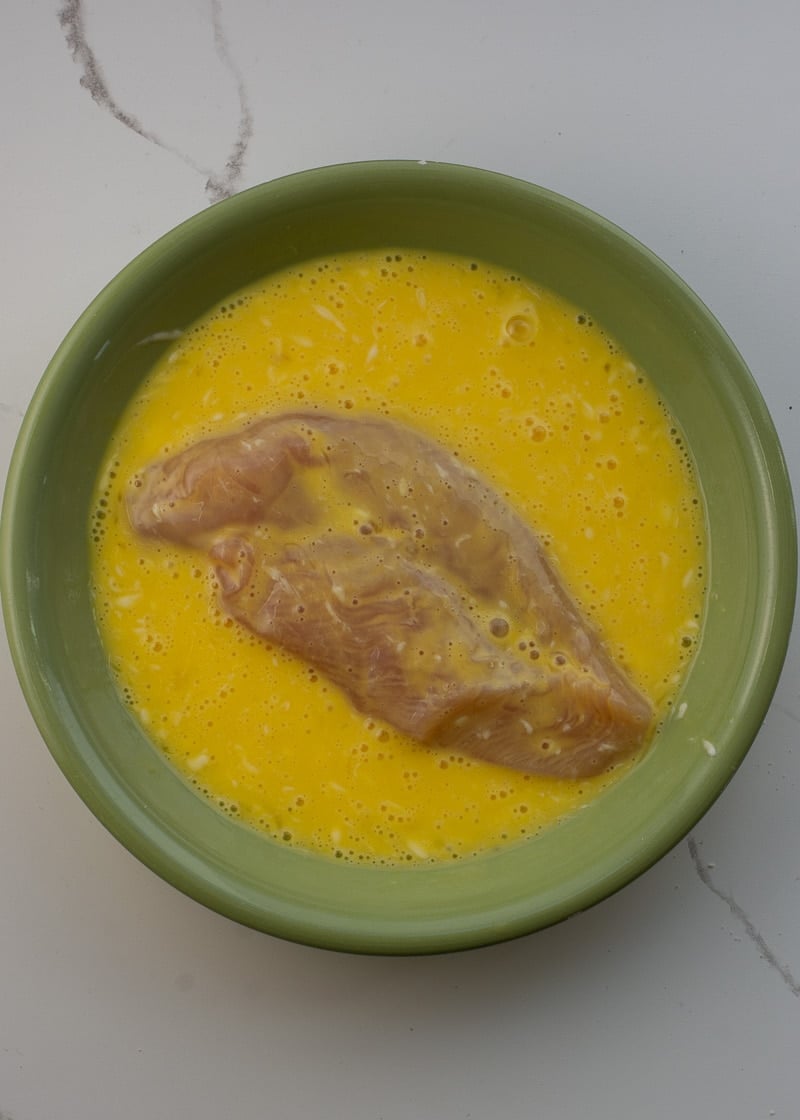 Pop in the Freezer
Now place the baking sheet with the breaded chicken in the freezer for 10 minutes. This is the key to successfully cooking the chicken without the breading falling off. You don't have to leave it in the freezer long, 10-15 minutes will do the trick. I do this while I clean up the bowls from the breading station.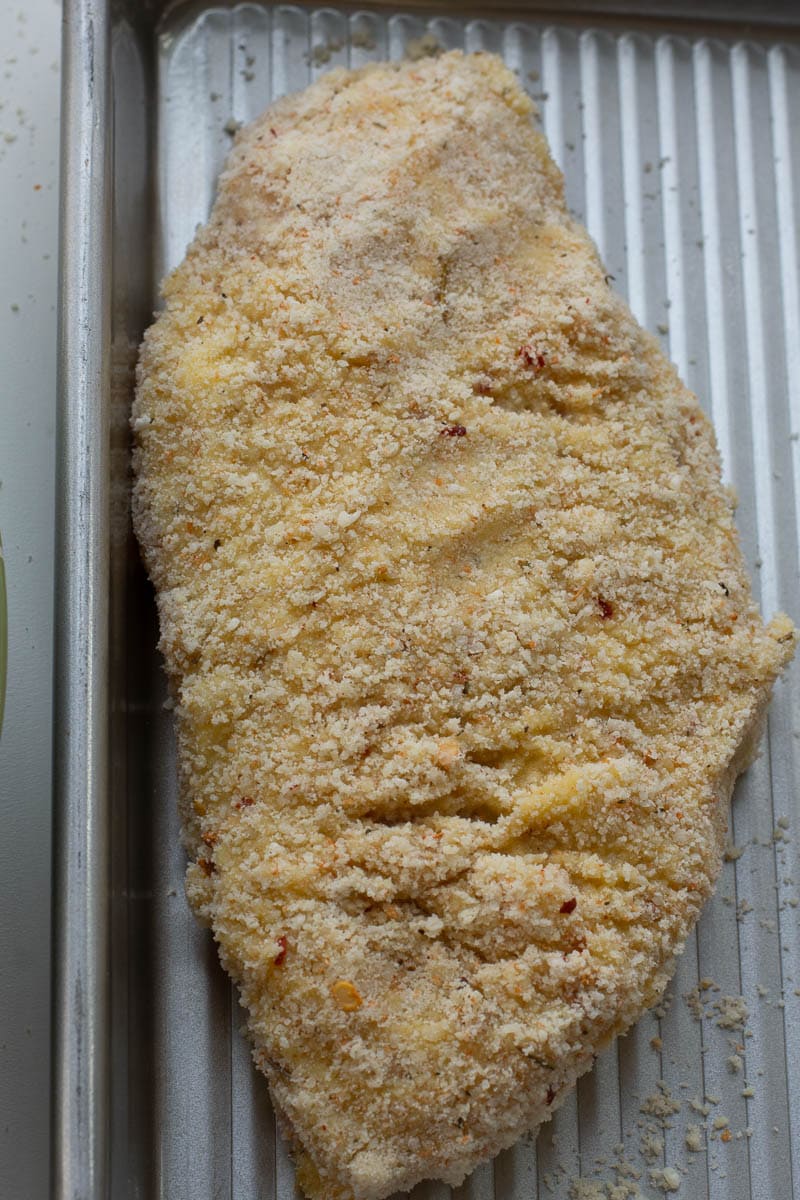 Heat a Large Skillet
Add 2 tablespoons of avocado oil to a skillet and tilt to coat it completely. When the skillet is hot add a few pieces of chicken to the skillet, taking care not to over crowd. Cook 3-4 minutes on each side. Remove from the skillet when the chicken has reached an internal temp of 165 degrees F.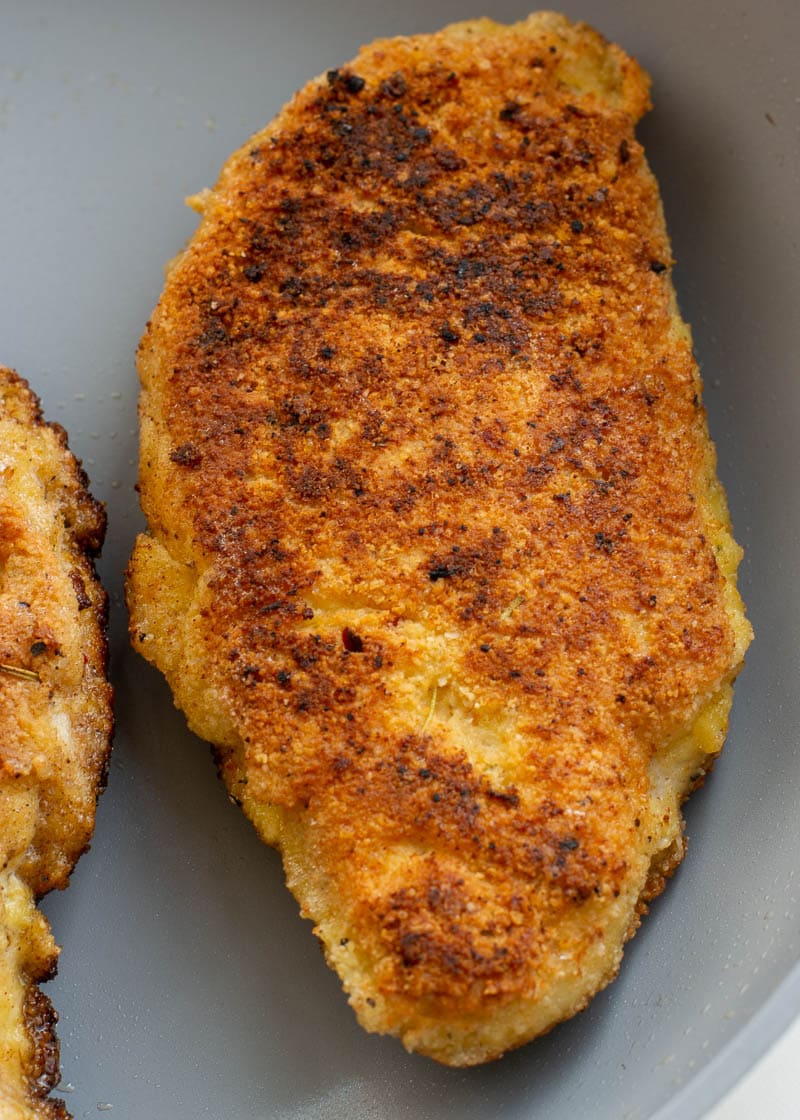 Tips for the Best Parmesan Crusted Chicken
Coat Fully: Don't skimp on the coating! Take your time, double dip and make sure it is fully coated.
Freeze: This small step makes a big difference. It gives everything a chance to properly set and ensures the coating will stay on during the cooking process.
Be careful! Only flip the chicken once when the bottom side is golden brown, after about 4 minutes of cook time. This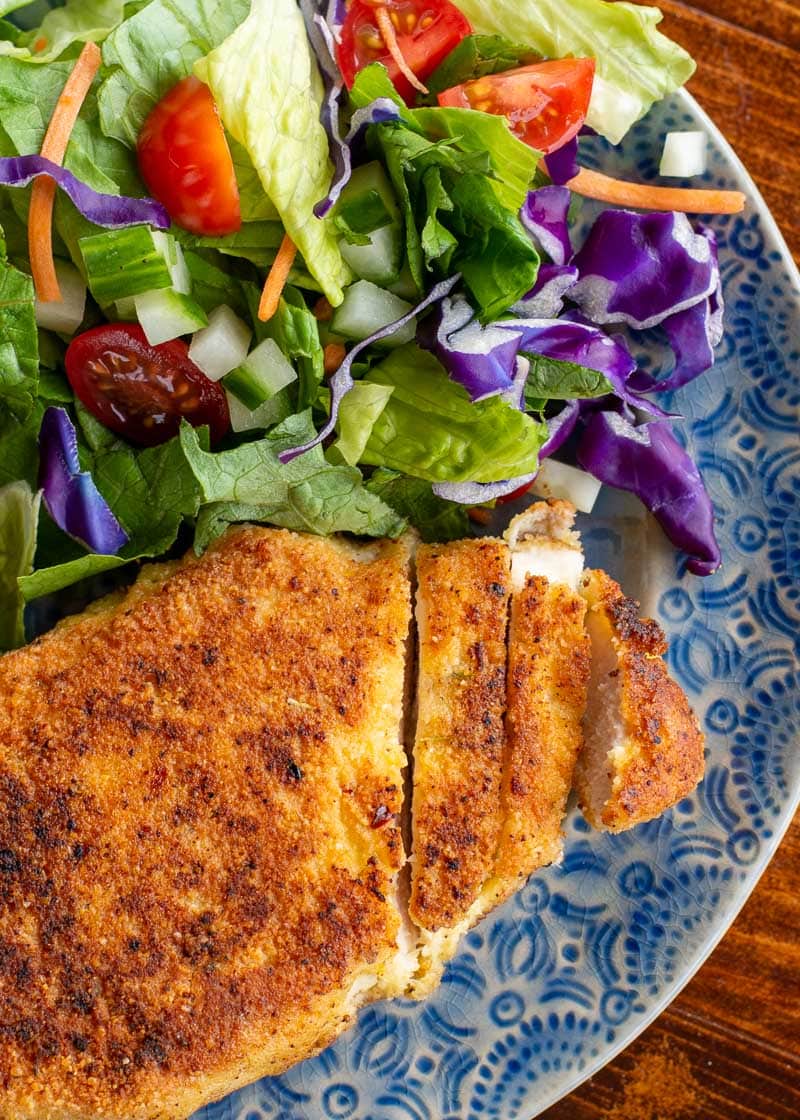 Serving Suggestions
This crispy chicken is great with a garden salad, kale salad or my favorite wedge salad! If you would like something a little heartier try some of these easy side dish recipes:
Store
Allow the chicken to cool completely on a wire rack. Store the chicken in an air tight container for 3-5 days in the refrigerator.
Reheat
To reheat already cooked chicken use an air fryer, oven or skillet for best results. The microwave will work but the breading will not be crispy. To reheat in the air fryer preheat the air fryer to 350 degrees for 3 minutes. Heat the chicken 3-4 minutes until heated through.
To reheat in the oven preheat the oven to 350 degrees F. and heat the chicken 10-12 minutes until heated through. For the stove top heat a large skillet to medium heat and spray with olive oil. Cook 2-3 minutes on each side until heated through.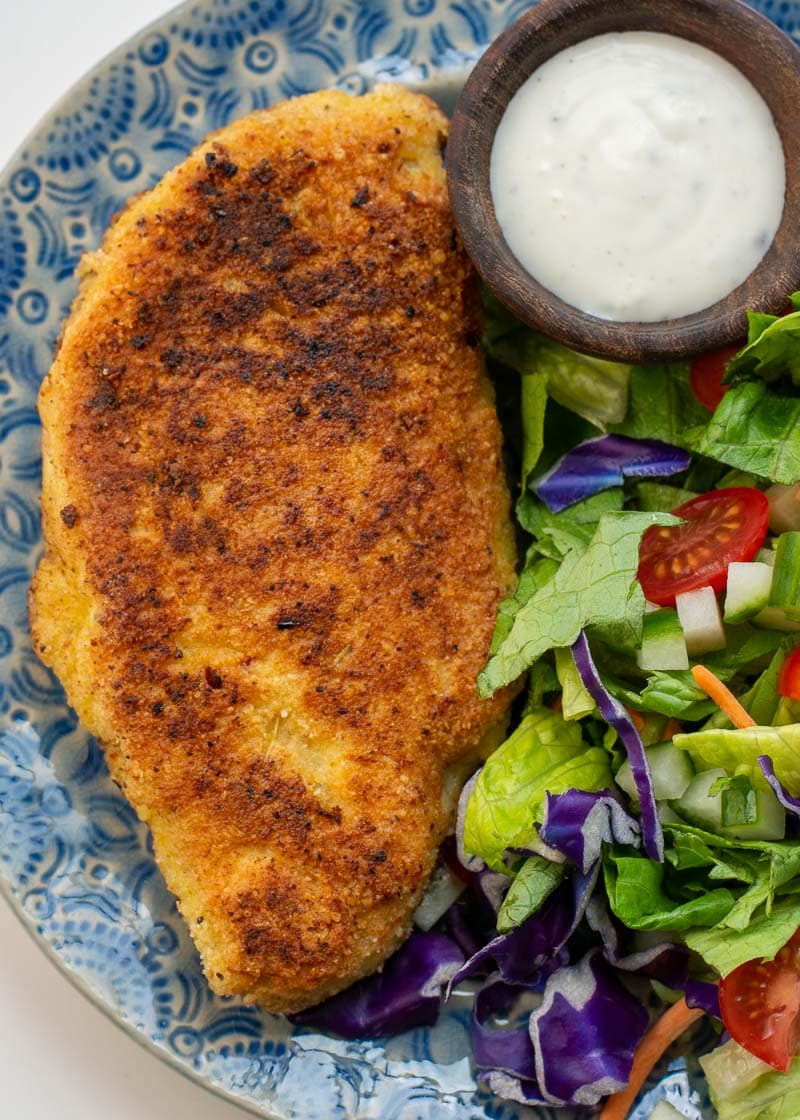 FAQ for Parmesan Chicken
What kind of oil should I use?
Use a neutral oil like avocado oil. When butter gets too hot it darkens and burns. This will change the taste and texture of the breading.
Will this work with coconut flour?
Coconut flour is much more absorbent that almond flour, so it is not recommended for a breading.
What if I don't like almond flour?
If you are looking for a keto-friendly sub for the almond flour use this pork rind panko. If you are not worried about low carb regular or panko breadcrumbs will work.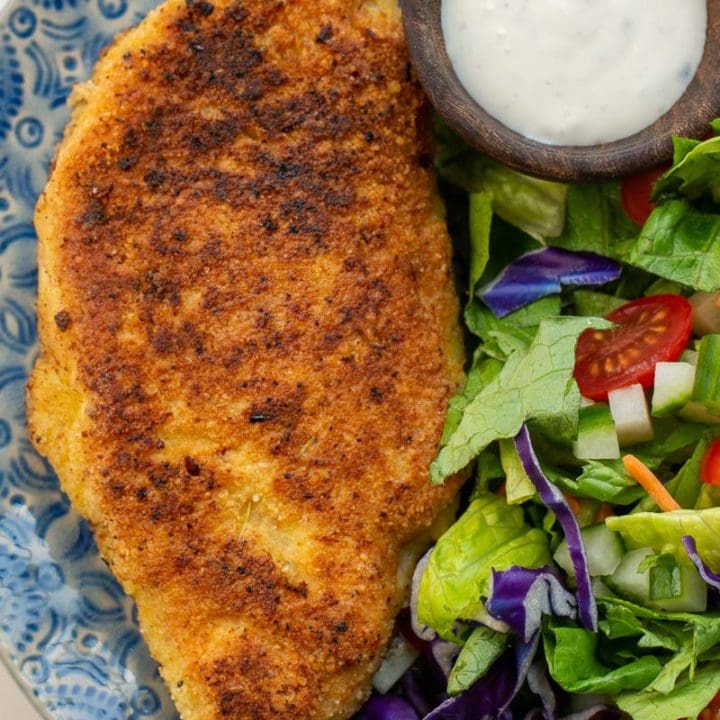 Parmesan Crusted Chicken
Freezing Time:
10 minutes
Crispy Parmesan Crusted Chicken is the perfect weeknight meal! This easy chicken recipe requires basic ingredients and is gluten free, low carb and keto-friendly!
Ingredients
1 1/2 pounds chicken breasts
2 tablespoons Avocado oil
Breading
1 1/4 cup Parmesan cheese, grated
3/4 cup Almond flour
1 tablespoon Cajun seasoning
1 teaspoon Garlic powder
1/4 teaspoon salt and pepper
Egg Wash
2 Eggs
2 tablespoons Mayonnaise
Instructions
Make sure your chicken breasts are cut into smaller, thinner slices. To do this, begin butterflying the chicken breast, but continue cutting all the way through.
In a shallow bowl, combine the eggs and mayonnaise. Whisk until it becomes a well-combined mixture.
In another bowl, combine the cheese, almond flour, and seasonings.
Place each fillet into the egg mixture, turning to coat. Transfer chicken to the breading mixture, then turn to coat again. Repeat this step, dipping each piece of chicken into the egg and the breading one last time.
Freeze the chicken fillets for 10 minutes on a baking sheet to help the breading adhere to the chicken.
Heat a large skillet to medium heat, then add avocado oil. Cook the chicken 3-4 minutes on each side. Make sure to only flip the chicken once to keep the breading on the chicken.
Remove from skillet when chicken has reached an internal temperature of 165.
Recommended Products
As an Amazon Associate and member of other affiliate programs, I earn from qualifying purchases.
Nutrition Information:
Yield:

6
Serving Size:

2 pieces
Amount Per Serving:
Calories:

370
Total Fat:

18.3g
Cholesterol:

158mg
Sodium:

591mg
Carbohydrates:

3.6g
Net Carbohydrates:

3.1g
Fiber:

0.5g
Sugar:

0.7g
Protein:

36g