This Buffalo Chicken Cobb Salad is loaded with spicy chicken, crispy bacon, sharp cheddar cheese and loads of vegetables! Each generous serving has about 7 net carbs making it a great low carb dinner option!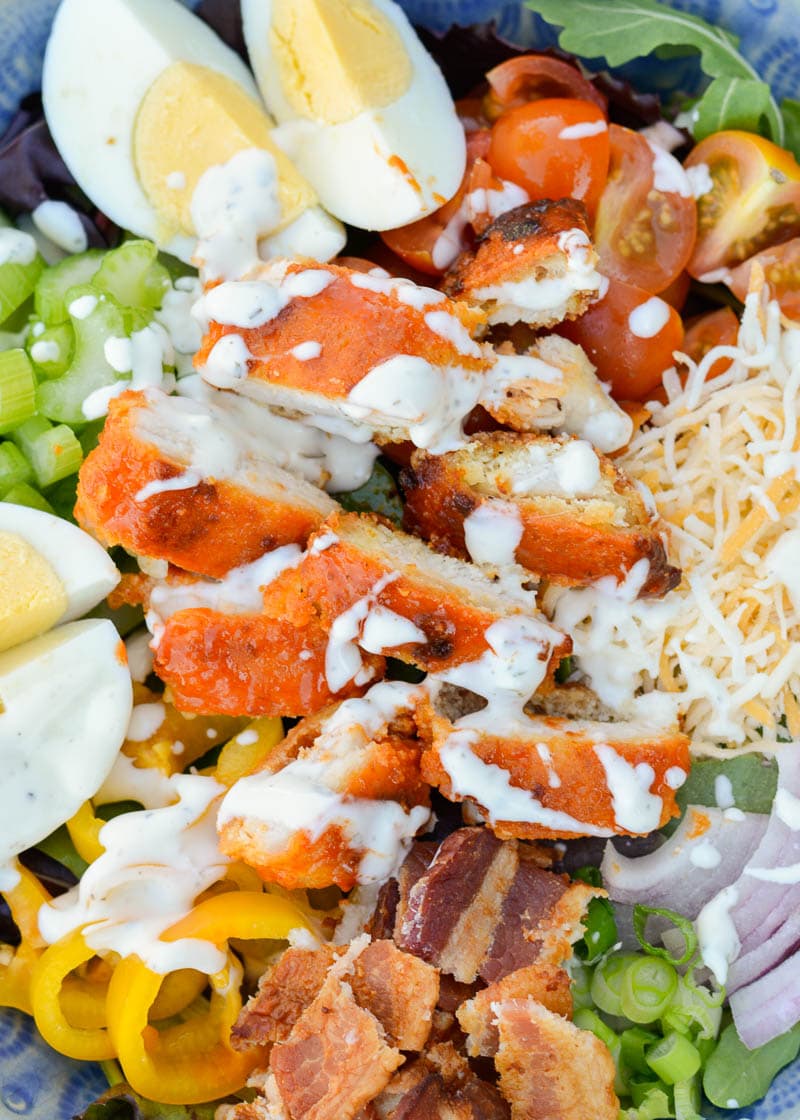 What is a Cobb Salad?
A Cobb Salad is a bowl packed with lettuce, tomato, veggies, meat, cheese, and hard-boiled eggs. It's full of protein and a variety of textures and tastes. Cobb salads usually use a mix of lettuce greens instead of sticking to just one variety as well. It's a favorite for many because it is very filling, easy to prepare ahead of time, and can be made with a variety of veggies. This Easy Wedge Salad is another delicious keto salad option!
Ingredients for Cobb Salad:
Lettuce mix
Meat: Buffalo chicken tenders (I used this recipe for Keto Buffalo Chicken Tenders) and bacon
Vegetables: Celery, mini sweet peppers, red onion, green onions
Hard-boiled eggs
Cheese
Tomatoes
Dressing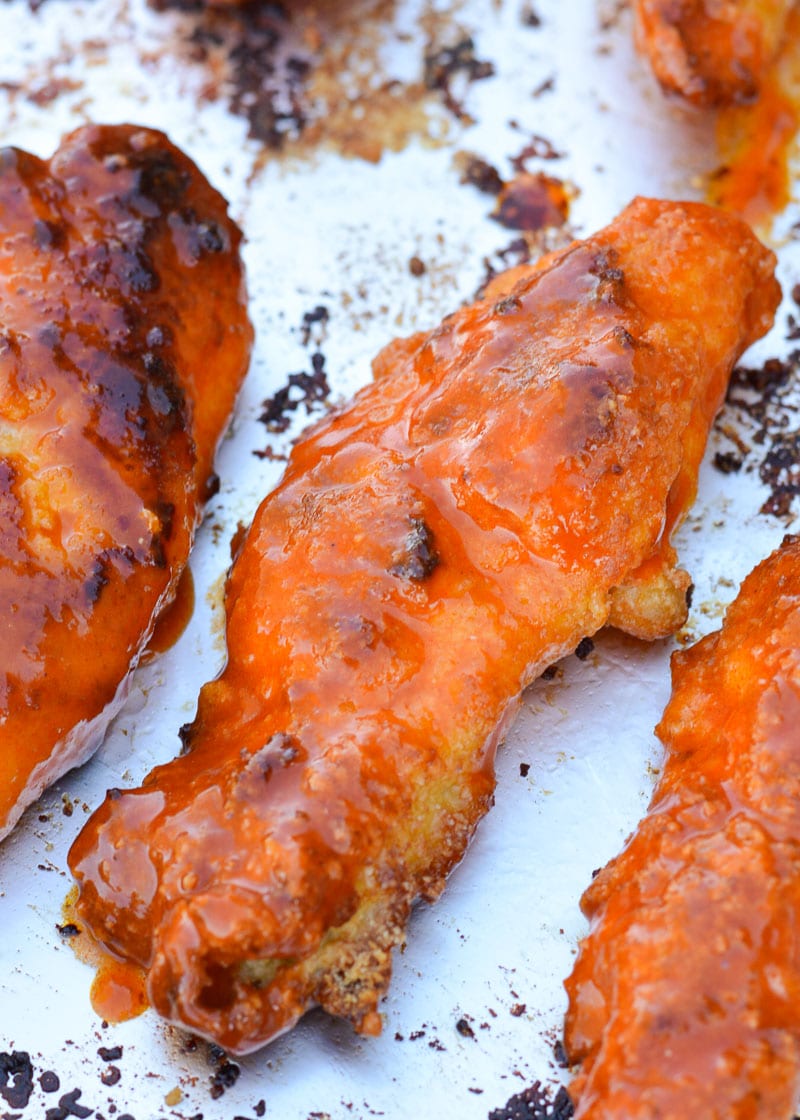 How to make Keto Cobb Salad
This recipe is incredibly simple. All of these components can be prepared ahead of time, then stored separately until ready to serve.
Chop your crispy, cooked bacon, hard-boiled eggs, tomatoes, and vegetables into convenient bite-sized pieces. Toss these on top of your lettuce mix with your sliced buffalo chicken tenders, cheese, and dressing. For a "traditional" looking Cobb salad, you'll want to organize these in rows. However, I often just like to toss it all together.
How do you make Keto Chicken Tenders?
You can buy or make your buffalo chicken tenders–I chose to make mine so that they would be keto-friendly. My Baked Buffalo Chicken Tenders have just 1.1 net carbs for two tenders, making them a great, easy option for this! You can also freeze these, so it's great for longer-term meal planning.
If you aren't a huge buffalo sauce fan and like a crispier crust, you could try these Oven Baked Keto Chicken Tenders! They use some pork rind panko in the breading for a crispy, low-carb coating!


How to meal prep salad?
You can chop all of your components ahead of time, then store them in the fridge until ready to serve. If possible, store your components all separately for the best flavors and textures. If you need to double up to save space, you could store your celery, peppers, red onions, and green onions together in one container and your chicken, bacon, and cheese in another. Tomatoes generally contain too much moisture to be stored with other components, so keep those separate if possible.
If you like to carry your salads in jars, it's best to put your wet ingredients (dressing and tomatoes) on the bottom, then top with the veggies, then eggs, lettuce, and meat. If you keep it upright until lunch, you meat should still be crunchy and your lettuce crisp! When ready to eat, you can just pour it all into a bowl, and mix. These will last 4 days in the fridge, so it's an easy way to meal prep nearly a week's worth of lunches super quickly!
How do you meal prep meat for salad?
You can freeze your buffalo chicken tenders and bacon if you enjoy batch cooking! Then you just buy fresh veggies and lettuce every week, thaw out your meat, and hard-boil your eggs each weekend for simple, healthy meals.
To freeze these buffalo chicken tenders, allow them to cool completely, then place on a baking sheet in the freezer (not touching) for about 2 hours. Once they are frozen, transfer them to a freezer bag so you can pull out exactly the number you need whenever you're ready. These will be their best for about 4 months in the freezer.
To use the frozen chicken tenders, allow them to thaw in the fridge overnight. If you prefer cold chicken on your salad, you can skip any reheating and go directly to enjoying these thawed tenders on your salad! If you like warmed chicken, you can reheat these tenders in the oven (400 degrees F for 5-10 minutes) or in the air fryer (400 degrees F for about 3 minutes). You technically can microwave them in 30-second increments, but I don't love it because the delicious coating gets soggy and the chicken can easily be overcooked.
If you're running low on time and want an easier meal prep chicken option, consider making Easy Slow Cooker Shredded Chicken instead. Tender, juicy shredded chicken can also be frozen in individual portions, then tossed into this easy cobb salad for a nutritious, easy keto meal!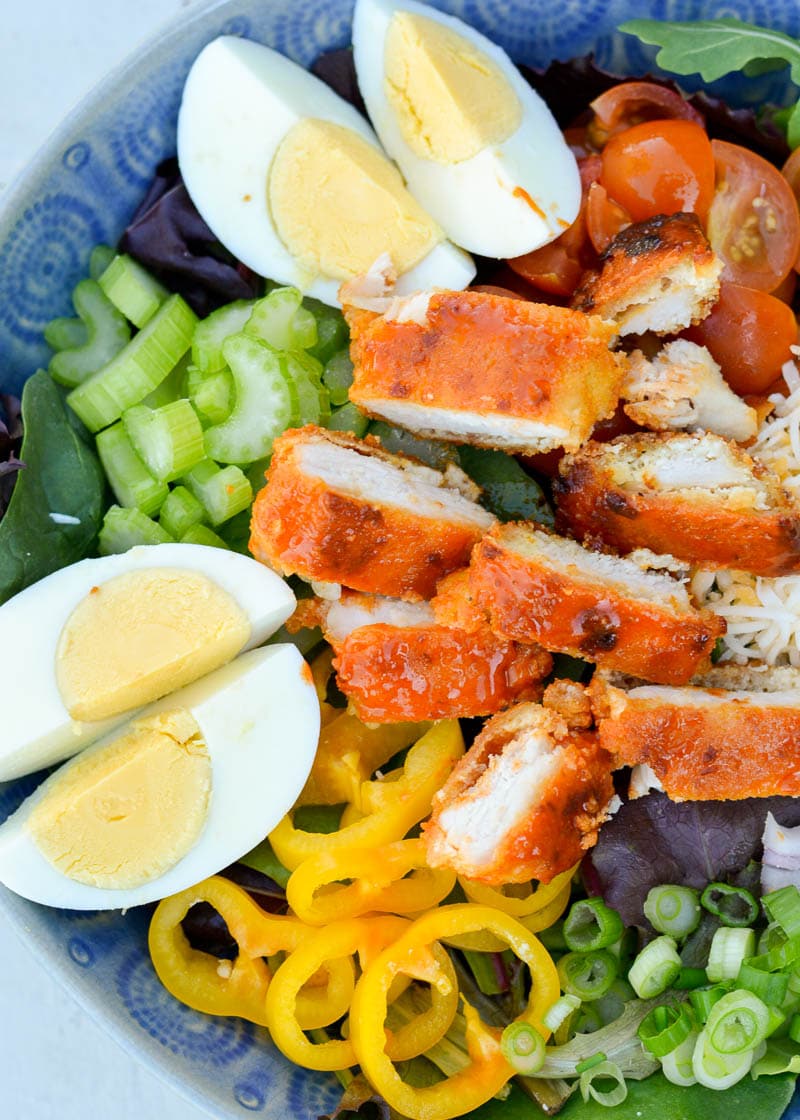 How to store cobb salad
The elements of a cobb salad should be stored separately for the best taste and texture. If you make a large salad for dinner and think you may have leftovers, it's best to serve the dressing and tomatoes on the side. The buffalo chicken and bacon will lose some crispiness if they are stored with the lettuce and veggies as well.
Chicken can be cooked and stored in the fridge (4 days) or freezer (best within 4 months). Bacon can be cooked and stored in the fridge (5 days) or freezer (1-6 months). If you tend to have problems keeping lettuce crisp, try drying and storing it in tightly-closed jars in the fridge–This helps keep the lettuce fresh all week!
More keto meal prep recipes:


More salad recipes:
Buffalo Chicken Cobb Salad
Ingredients
6 slices bacon, cooked until crisp
3 large hard boiled eggs
6 Keto Buffalo Chicken Tenders (recipe linked below)
6 cups greens (romaine, iceberg, or your favorite blend)
2 cups grape tomatoes, sliced in half
1 cup shredded cheddar cheese
1/2 cup celery, chopped
1/2 cup sweet peppers or bell pepper, chopped
1/4 cup thinly sliced red onion
1/4 cup green onions, thinly sliced
1 cup low carb Ranch dressing (or dressing of your choice)
Instructions
Layer the lettuce in the bottom of a large bowl or platter. Top with chopped cooked bacon, sliced hard boiled eggs, tomatoes, cheddar, celery, peppers, red onions and green onions.
Slice the six Buffalo Chicken Tenders and and add them to the salad (one per person).
Top with dressing and serve immediately.
Recommended Products
As an Amazon Associate and member of other affiliate programs, I earn from qualifying purchases.
Nutrition Information:
Yield:

6
Serving Size:

About 1 3/4 cup salad + 1 tender, 1/2 egg, 1 slice bacon
Amount Per Serving:
Calories:

590
Total Fat:

40g
Cholesterol:

212mg
Sodium:

1400mg
Carbohydrates:

9.5g
Net Carbohydrates:

7.3g
Fiber:

2.2g
Sugar:

5.4g
Protein:

31g