This Turkey Casserole is the perfect way to enjoy leftover turkey! This wild rice casserole is loaded with tender turkey, vegetables, and cheese.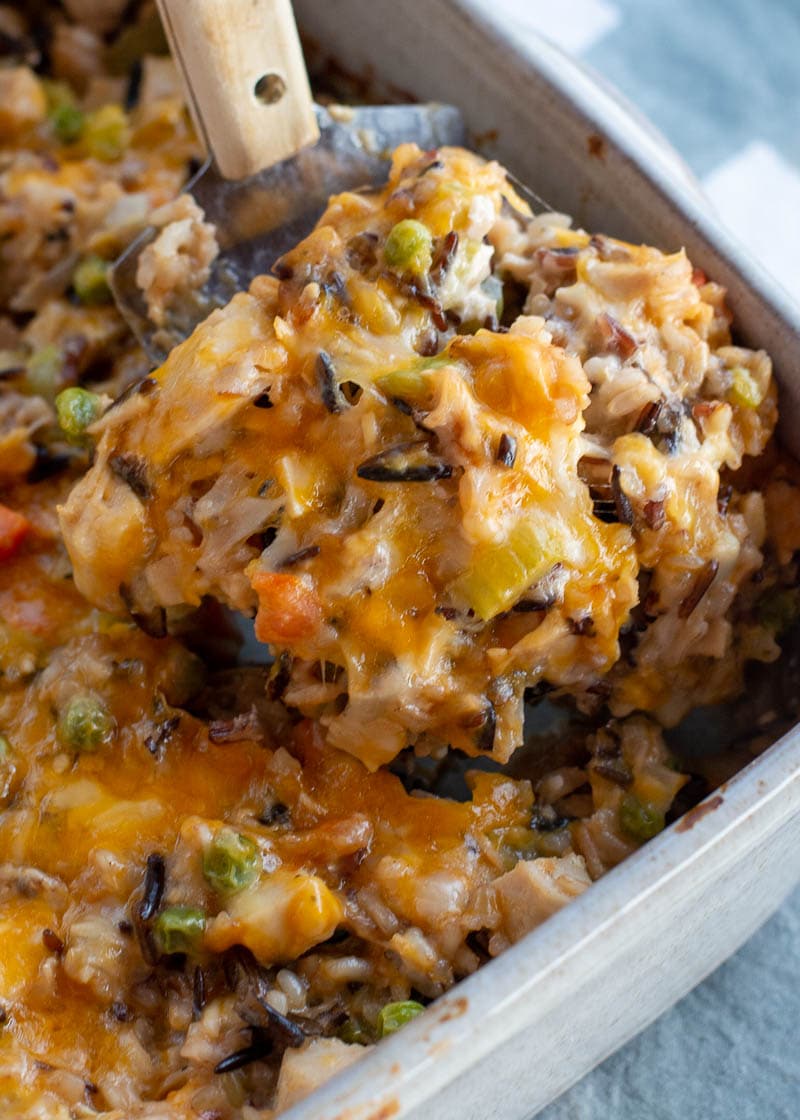 Turkey Casserole
This easy Turkey Casserole is the perfect answer to leftover Thanksgiving turkey! While we all love holiday food, there are usually leftovers. This casserole is perfect because it is a dump and bake casserole with minimal ingredients!
A creamy, cheesy sauce makes this easy casserole recipe the perfect comfort food meal. It's packed full of vegetables, making it a great healthy dish, too! It does use cream of chicken soup, but I've included a homemade, gluten-free cream of chicken recipe you can use instead.
If you don't have turkey on hand you can easily use chicken for a year-round delicious meal. This wild rice casserole recipe can be assembled ahead of time and cooked fresh, so it's a great time-saver, too!
Ingredients in Turkey Casserole recipe
As always, here is a quick overview of the ingredients used in our Turkey Rice Casserole. For the complete recipe, just scroll to the bottom of the page.
Cooked Wild Rice Blend: you can use a seasoned version, or an unseasoned blend like this.
Cooked turkey: this is the perfect use for leftover roast or slow cooker turkey. You can also sub cooked chicken in this recipe with great results.
Vegetables: frozen peas and carrots as well as onion, bell pepper, and celery. The instructions indicate to sauté the vegetables before mixing, but this is an optional step. It purely depends on your personal preference.
Sour cream: this adds the perfect creamy texture. You can use full or reduced fat sour cream.
Cream of Chicken Soup: if you are gluten free or prefer a homemade version, there are instructions listed below.
Shredded Cheese: sharp cheddar pairs perfectly, but colby jack or gruyere also works really well.
How do I make Turkey Rice Casserole?
This Turkey Rice Casserole is super easy! First, preheat your oven to 350 degrees F. While the oven is preheating, sauté your onions, peppers, and celery until softened (it took about 5-6 minutes for mine). This step is optional and can be skipped if you prefer a quicker casserole. It reduces some of the moisture in the vegetables, but it'll be fine if you toss them in raw.
Take your cooked turkey and add it to a bowl with your cooked rice. If your rice was refrigerated and stuck together, just separate with your hands. Next, add all of your vegetables (both frozen peas and carrots as well as fresh or cooked veggies). Toss in the cream of chicken soup, sour cream, and half of your shredded cheese, them mix very well. You want to make sure that the ingredients are well distributed so that creamy sauce is in every bite!
Finally, add your mixture into a 9×13 greased casserole dish, then top with the rest of your cheese. Bake until it's heated throughout, about 25-30 minutes, then serve! If you are using a different sized casserole dish, you will need to adjust your cooking time accordingly.
How do you cook turkey?
Turkey can be intimidating to cook if you've never done it before, but once you get the hang of it it's really very simple! There are also several ways to do it, so you can find the method that is best for you. If you're interested in cooking a full turkey, check out my Smoked Whole Turkey — This one has AMAZING flavor and is fantastic for a crowd.
If you're cooking for a smaller group or yourself, consider a turkey breast instead! This How to Cook a Turkey Breast tutorial can help you roast it in the oven for a super juicy meal. Or you could go the slower route (more hands-off and less time in the kitchen!) with this perfect Crockpot Turkey Breast.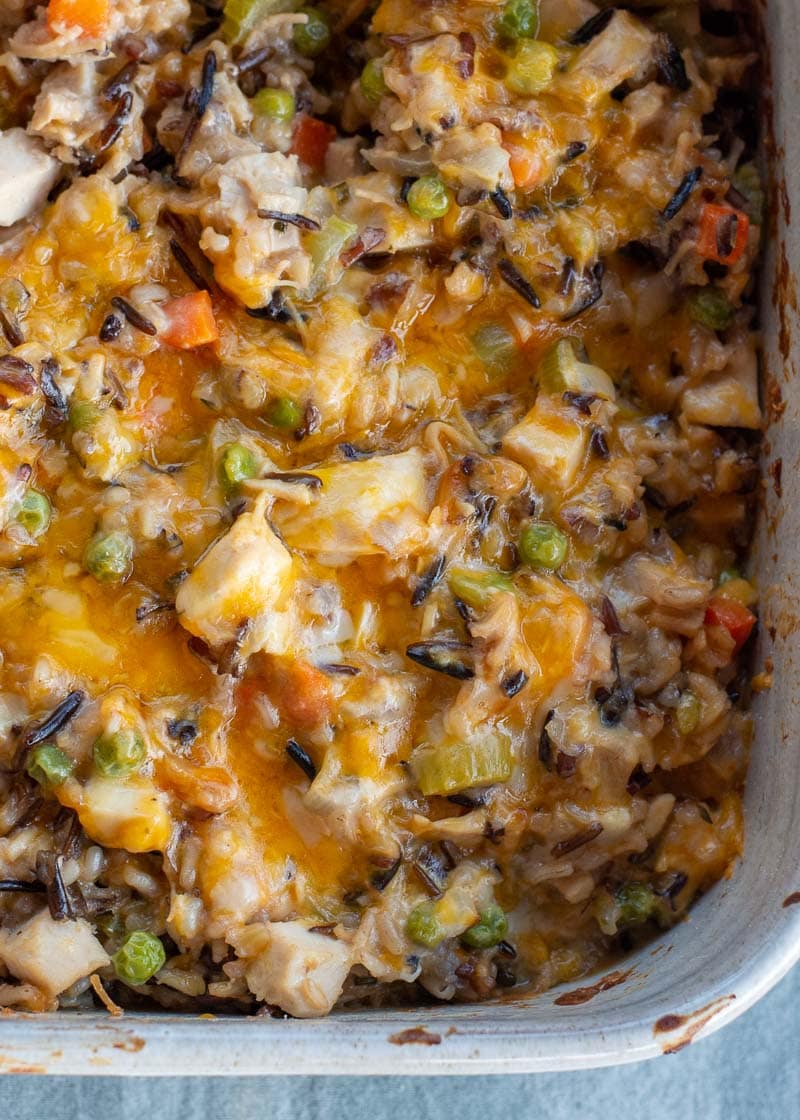 What should I serve with this cheesy rice casserole?
One of the great things about this casserole is that it's packed with vegetables, so you really don't need many sides with it! But if you wanted a few options on what to serve, I would recommend Jalapeno Cornbread or Cheddar Cornbread Muffins for an easy bread dish. Cheddar Ranch Au Gratin Potatoes or Air Fryer Potato Wedges are also always a hit! For dessert, try Double Chocolate Peanut Butter Cheesecake Brownies!
How to Store Leftover Turkey
Leftover turkey can be stored on or off the bone. It's easier to store it off the bone — Just store in an airtight container 3-4 days in the fridge! To make sure it doesn't dry out, add a bit of the drippings or a little bit of broth. It can be safely frozen up to 6 months.
While leaving turkey on the bone can be difficult, it does leave the meat a bit juicier! To wrap, first cut off any wings or legs, and store them in an airtight container, or wrap multiple times in plastic wrap or aluminum foil. For the rest, you can put in an extra large bag or any other airtight container that can fit it.
How to Store and Reheat Turkey Casserole
First, allow your casserole to completely cool. Skipping this step can lead to more moisture, changing the texture of the casserole. To keep this casserole fresh, store in an airtight container (or right in the casserole dish if your has a tight-fitting lid). It will stay fresh 3-4 days. I do not recommend freezing this casserole as the sour cream will separate and mess with the texture.
You can reheat this casserole by microwaving single servings in 30-second bursts until it's hot throughout. To reheat the entire casserole (or several servings), place it in a baking dish, cover with foil, and bake at 350 degrees F for about 10 minutes (or until it's hot throughout). If you're worried it may dry out, add a few teaspoons of water to the dish before reheating.
Tips for the Best Wild Rice Casserole
I used a wild rice blend in this recipe- I think it gives the best flavor and texture. But if you don't prefer wild rice, that's fine. Brown or white rice will also be fine in this meal. Check your casserole early as using a different rice can change the amount of time needed.
You can easily prepare this casserole about a day ahead of time and store in the fridge until you're ready to bake. If your fridge is especially cold, I would add a couple of minutes to the cooking time.
Cooked wild rice can be frozen! You could easily meal prep this by freezing your cooked wild rice, turkey, and sauteed vegetables, then freeze them all in bags. When you're ready for a casserole, simply thaw, toss into a bowl, and add in your creamy sauce ingredients… You'll be ready to bake in no time!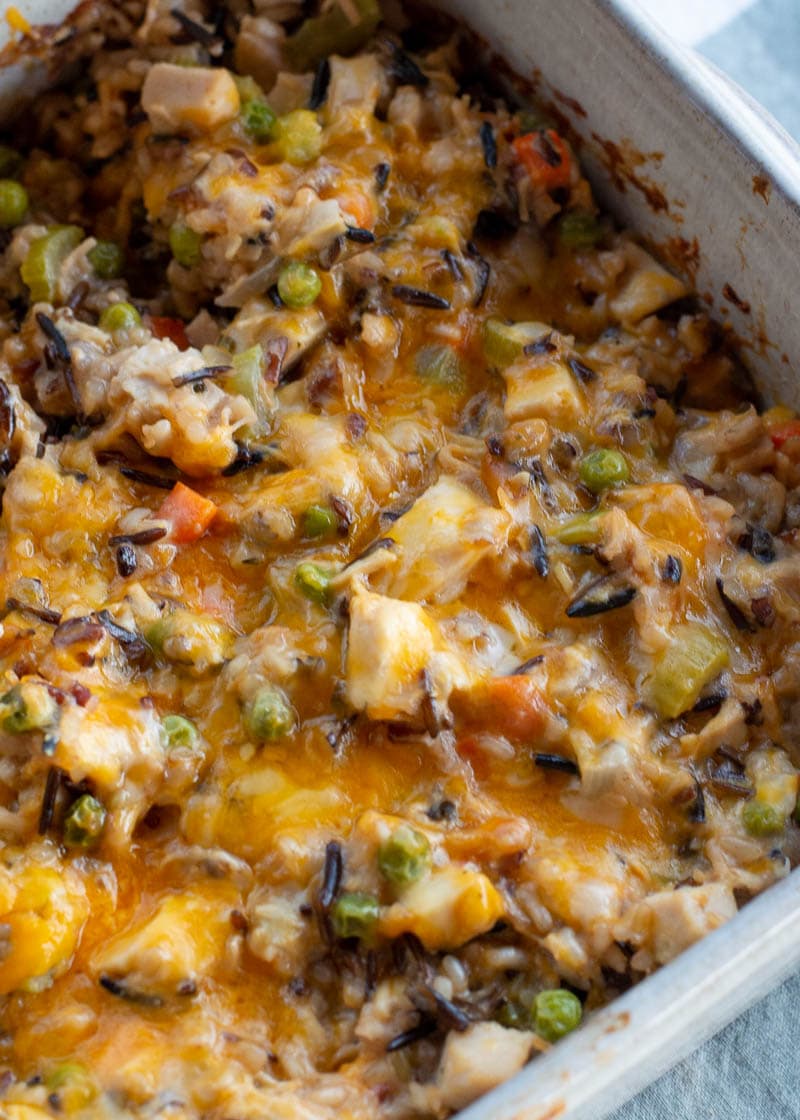 Recipes for Leftover Turkey
Several of these recipes call for deli turkey, but you could easily substitute your delicious turkey leftovers!
More easy casserole recipes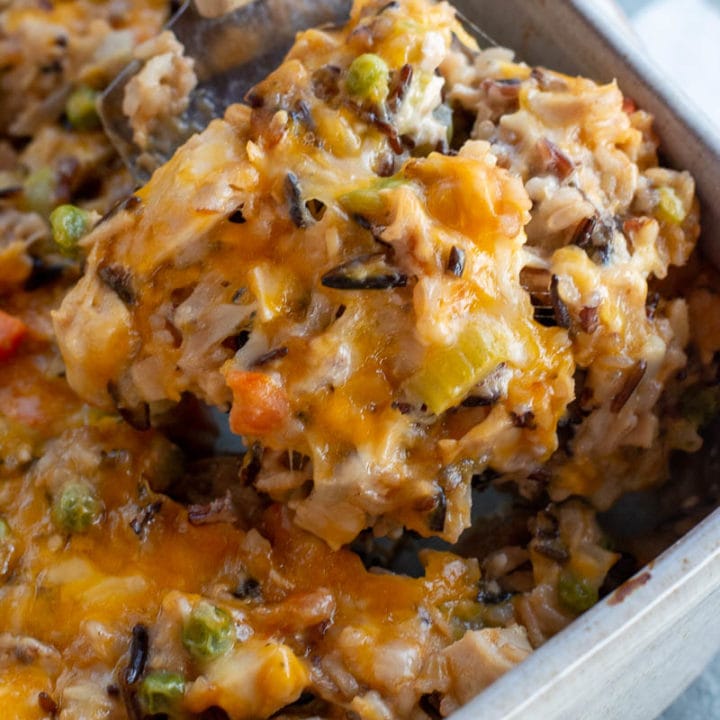 Turkey Casserole
This Turkey Casserole is the perfect way to enjoy your leftover turkey! This casserole is warm, cheesy and super comforting!
Ingredients
3 cups cooked wild rice blend
3 cups cooked turkey
1 cup peas and carrots, thawed
1/2 cup onion, chopped
1/2 cup bell pepper, chopped
1/2 cup celery, chopped
1 (10.5 ounce) can cream of chicken soup
1/2 cup sour cream
2 cups shredded cheese, divided
salt and pepper to taste
Instructions
Preheat the oven to 350 degrees F.
Sauté the onion, peppers and celery in a skillet over medium heat until softened, about 5-6 minutes.
In a large mixing bowl combine the cooked rice, turkey, sautéed vegetables, peas and carrots. Mix in the cream of chicken, sour cream and half of the shredded cheese.
Spoon the mixture into a greased 9x13 casserole dish and top with the remaining shredded cheese.
Bake 25-30 minutes until heated through.
Recommended Products
As an Amazon Associate and member of other affiliate programs, I earn from qualifying purchases.
Nutrition Information:
Yield:

9
Serving Size:

A heaping cup
Amount Per Serving:
Calories:

345
Total Fat:

14.7g
Cholesterol:

92.9mg
Sodium:

448mg
Carbohydrates:

24g
Net Carbohydrates:

20.6g
Fiber:

3.4g
Sugar:

1.9g
Protein:

29g