These Peanut Butter and Chocolate Protein Bites are packed with oats, nuts, peanut butter and protein powder! Perfect for a grab and go snack!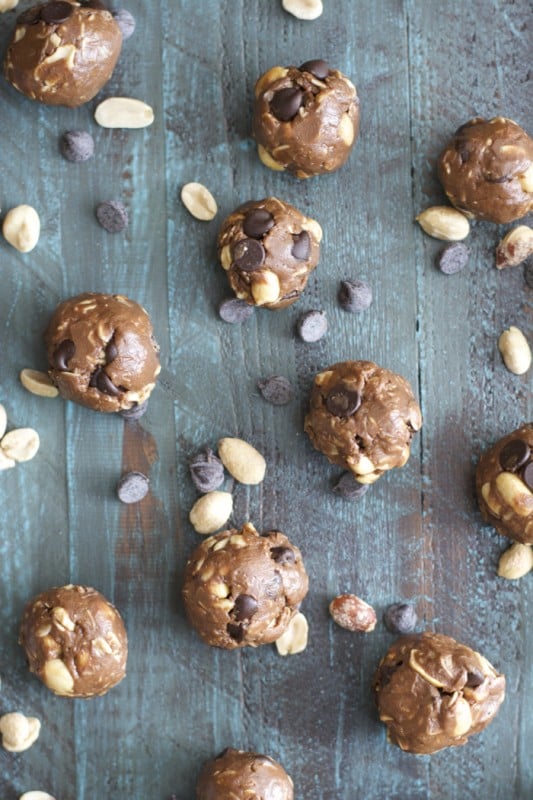 Sometimes I am reminded that it really is the little things in life. I was busy making these Peanut Butter and Chocolate Protein Bites when Mr. Maebell walked in from work. One look at a big bowl of peanut butter and chocolate chips and he was overjoyed with happiness.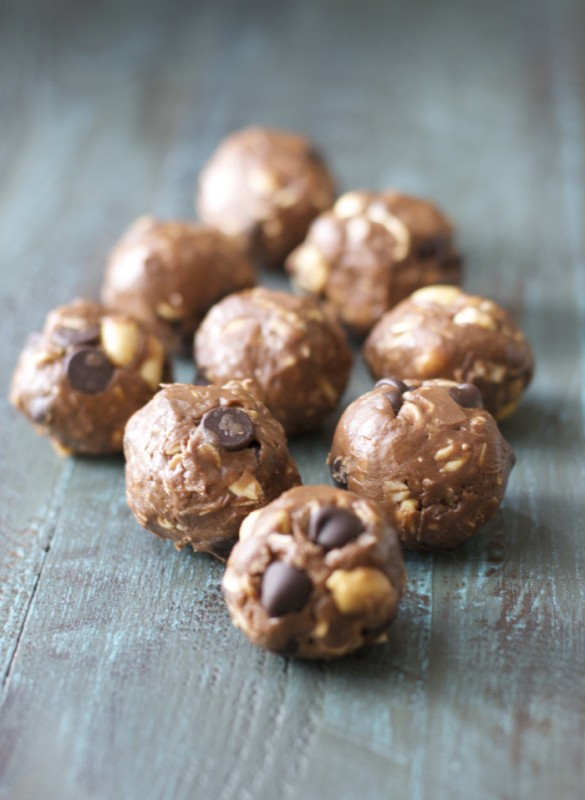 I kind of forget how hard it must be to not be able to eat so many things. Especially when you are at work and it is impossible to grab something quick or from a vending machine. If you don't pack enough lunch, you just go hungry.
Usually, I am pretty good about having a selection of homemade snacks around, but I have kind of gotten out of the habit lately. Well, no more! These Peanut Butter and Chocolate Protein Bites are seriously SO easy to make and they are the perfect little snack. They are a variation of my Peanut Butter and Chocolate Chip Bites, which I also love, but these are a protein packed extra chocolaty version!
Ingredients in Protein Bites
Peanut butter- I used creamy
Old fashioned oats- we used gluten free, but use whatever type you have
Peanuts
Honey
Chocolate chips
Protein powder- any type you have is fine
Cocoa powder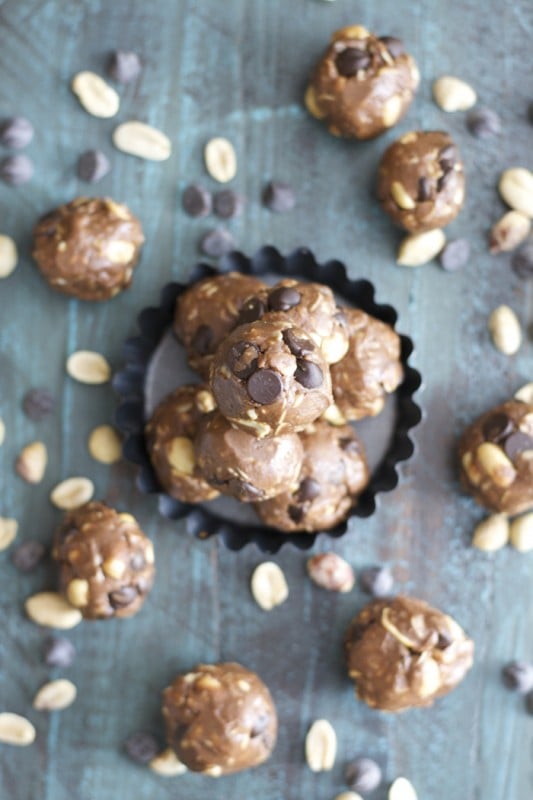 Substitutions for Chocolate Protein Bites
Here are a few ways you can make this recipe cater to your personal tastes a little more!
Peanut butter- If you want to use a different type of peanut butter besides creamy, go ahead! If peanut butter is not your preferred nut butter, use almond butter, cashew, sunflower, whatever you like!
Oats- If you aren't gluten free, you certainly don't have to use gluten free oats. Any type you like should be fine here.
Peanuts- I love peanuts, but if you want to use almonds, cashews, walnuts, or a different type of nut (or a combination) then go crazy!
Chocolate chips- Of course, there are tons of different types of chocolate chips out there. Mini, peanut butter, butterscotch, milk chocolate, white chocolate, dark chocolate…I'm getting carried away.
Protein powder- I like to add this to get extra protein into these little bites, but if you don't have any, that's fine.
Cocoa powder- if you have already used chocolate protein powder, I would still add the cocoa powder. It gives these protein bites an extra chocolately taste!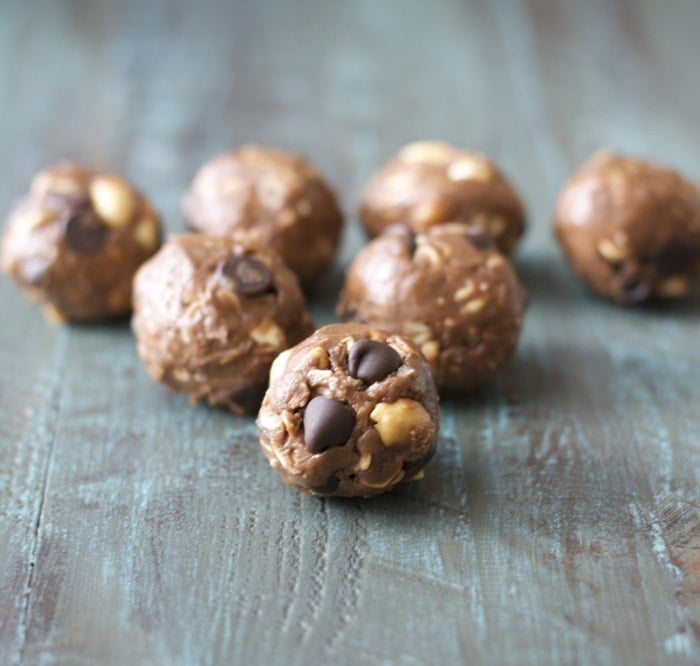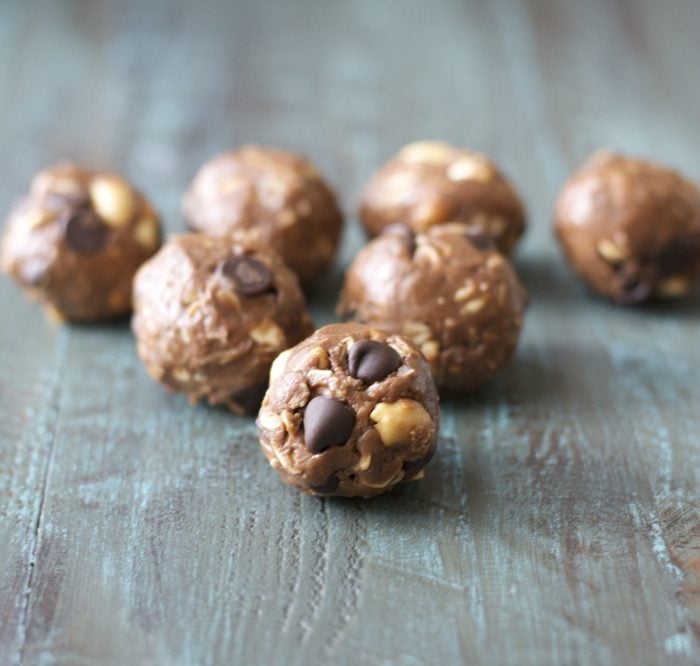 How do you make Protein Balls?
These are such a breeze to make! Really, all you need is a mixer (or some elbow grease) and you're good to go! Here is how we make them:
First, combine all of your ingredients into the bowl of a stand mixer or in a mixing bowl. Mix until everything is incorporated well. Next, place your bowl into the fridge for about fifteen minutes and allow your mixture to set. Following this step, roll into balls and enjoy! Yep, that's it!
If you have a stand mixer, these come together in a matter of minutes. Just toss in your ingredients and get to mixing! If you don't they are still super easy, but it can be a little hard to combine the peanut butter really well because it is so thick, so grab a really good sturdy spatula and give yourself a good arm workout! They are worth it!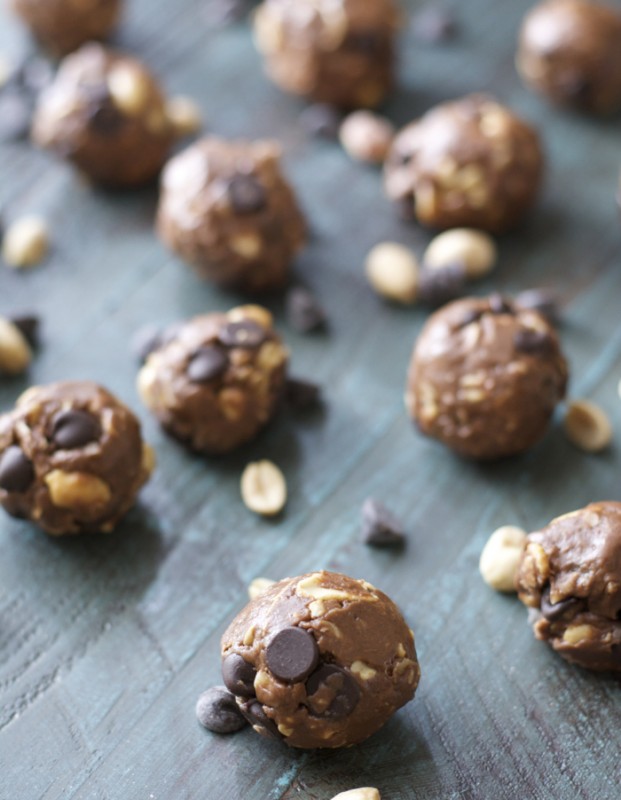 How do you store Peanut Butter Protein Bites?
Store your bites in an airtight container, plastic or glass is fine, in the fridge. I don't recommend storing these on the counter as they won't stay in their ball shape quite as well.
Other Healthy Treats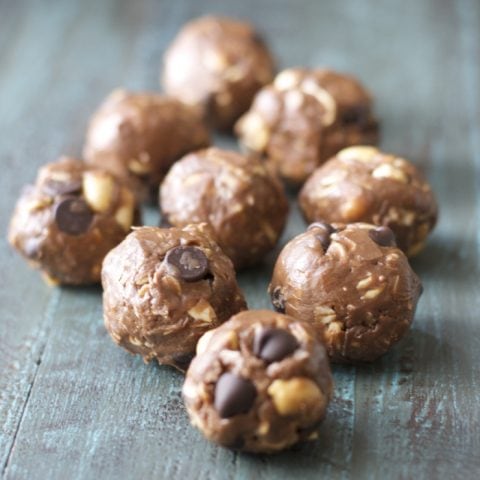 Peanut Butter and Chocolate Protein Bites
Inactive Time:
15 minutes
These Peanut Butter and Chocolate Protein Bites are packed with oats, nuts, peanut butter and protein powder! Perfect for a grab and go snack!
Ingredients
1 cup creamy peanut butter
1 cup gluten free old fashioned oats
1 cup peanuts
1/2 cup honey
1/2 cup chocolate chips
1/4 cup protein powder
2 tablespoons cocoa powder
Instructions
Combine all ingredients in a stand mixer and mix until well combined.
Chill mixture for 15 minutes before rolling into balls.
Store balls in the refrigerator in an air tight container.
Nutrition Information:
Yield:

24
Serving Size:

1 bite
Amount Per Serving:
Calories:

133
Total Fat:

8.5g
Sodium:

46.7mg
Carbohydrates:

11.5g
Net Carbohydrates:

10.1g
Fiber:

1.4g
Sugar:

7.2g
Protein:

4.4g