Made with spicy sausage, cheddar cheese, and eggs, this easy Sausage Casserole is the perfect make-ahead breakfast!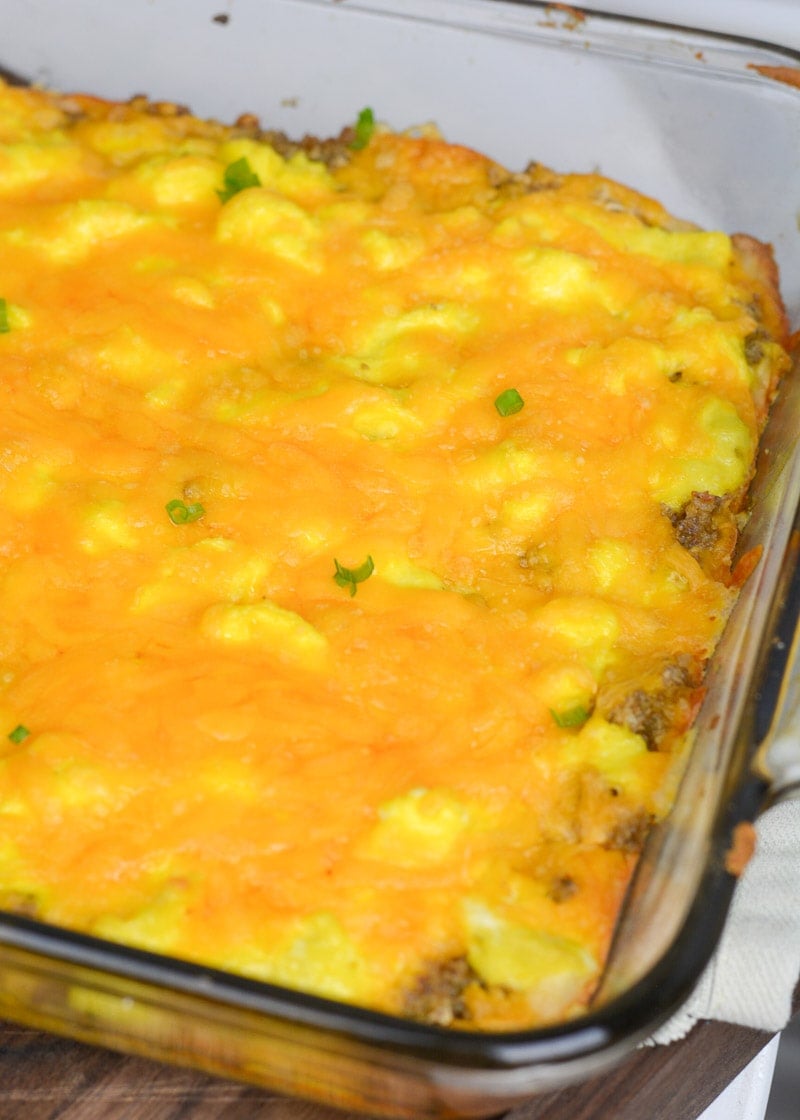 I love breakfast food. All kinds of eggs, bacon, muffins, pancakes, and waffles. You name it, I want it. We have breakfast for dinner at least once a week, except that probably has more to do with my default I-am-too-lazy-to-cook-tonight-so-here-are-some-scrambled-eggs attitude that creeps up on me every now and then, than my actual love for breakfast food.
This Spicy Sausage Casserole features a low carb, gluten free crust that has a similar texture to traditional crescent rolls. This delicious crust is topped with cooked, spicy sausage mixed with cream cheese, scrambled eggs and sharp cheddar! It is great for a delicious weekend brunch, or breakfast for dinner!
Ingredients for Sausage Casserole
As always, you will find the complete recipe and instructions below, just keep scrolling. To make this sausage, egg, and cheese casserole, you'll need the following ingredients:
Low-carb crust: Mozzarella cheese, cream cheese, egg white, almond flour
Spicy Breakfast Sausage
Cream cheese
Eggs
Shredded cheddar cheese
How to Make Egg & Sausage Casserole
This is a gluten free, low carb version of the sausage, cream cheese and crescent roll sandwich we all know and love. You can make this easy breakfast casserole in just three easy steps:
Mix together mozzarella cheese, cream cheese, almond flour, baking powder and a beaten egg white together until a soft dough forms. Press the dough into a 9×13 baking dish.
Combine the cooked sausage with the cream cheese and spread over the crust. Top with soft scrambled eggs and shredded cheddar.
Bake at 350 degrees F for 20-25 minutes.


Is breakfast casserole good for meal prep?
Yes. You can easily prep this casserole the night before and store in the fridge overnight. Simply follow the instructions to bake fresh in the morning.
Alternatively, bake this as instructed and reheat for an easy meal prep breakfast.
How do you reheat breakfast casserole?
This sausage breakfast casserole is easy to reheat in the oven or microwave. If you're opting for the oven, start by preheating it to 325F-350F.
Place your casserole in an oven-safe dish and reheat for around 20-30 minutes, depending on the portion size. Keep checking every 10 minutes or so. Remove from the oven when it has warmed through.
To quickly and conveniently reheat your breakfast casserole in the microwave, simply place your portion into a microwave-safe dish and heat in 30 second increments until warmed through.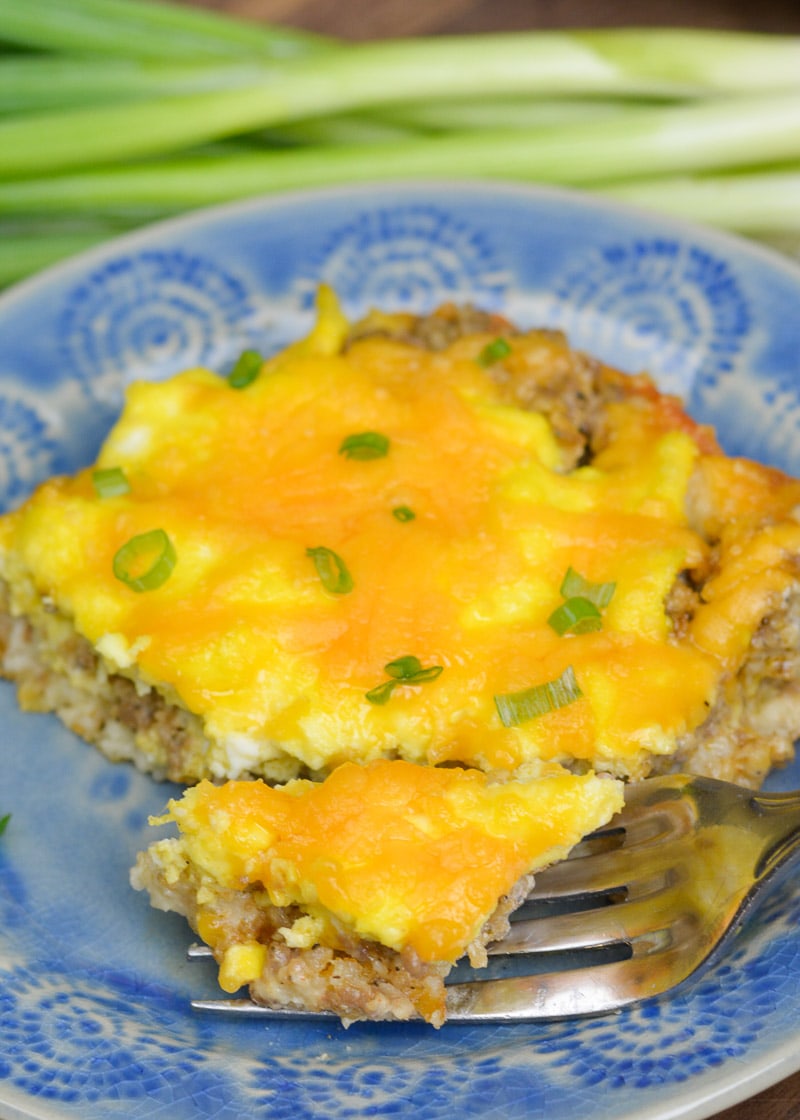 How do you store keto breakfast casserole?
If you plan to use your casserole for meal prep or find yourself with some leftovers, you can store it in the refrigerator easily.
Simply let your casserole cool off to room temperature before placing it in the refrigerator (preferably in an airtight sealed container), and it should be good for a few days.
Although freezing a casserole is generally doable, it may be best to avoid for dairy-heavy casseroles like this one (you don't want your cheese to split!)
Tips for Making Sausage and Cheese Casserole
I prefer my sausage, egg, and cheese breakfast casserole on the spicy side, so I used spicy sausage. If you don't like spice, use a milder sausage.
Look for ground breakfast sausage, if possible. Otherwise, buy sausage links that you can remove the casings from and break it up yourself.
Once baked, you can also freeze this sausage egg breakfast casserole for up to three months. Reheat from frozen in the oven or microwave.


More Sausage Breakfast Recipes: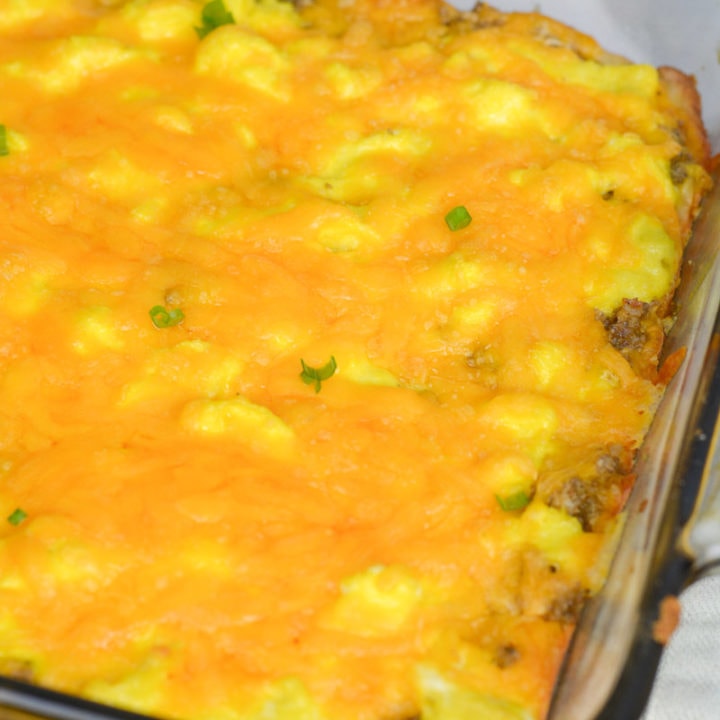 Spicy Sausage Casserole
Made with spicy sausage, cheddar cheese, and eggs, this easy Sausage Casserole is the perfect make-ahead breakfast!
Ingredients
For the Crust
1 1/2 cup mozzarella cheese
1 ounce cream cheese
1/2 cup almond flour
1/2 teaspoon baking powder
1 egg white, beaten
For the Filling and Topping
1 pound breakfast sausage, cooked and grease drained
4 ounces cream cheese, room temperature
6 large eggs, soft scrambled
1/2 cup shredded cheddar cheese
Instructions
Preheat the oven to 350 degrees F.
To make the crust: In a large microwave safe bowl combine the mozzarella cheese and cream cheese. Heat in 30 second increments until cheese is completely melted.
Stir the cheese so they are combined.
In a second smaller bowl combine the almond flour and baking powder. Mix the almond flour with the the melted cheeses.
When the almond flour and cheese are nearly combined add in a beaten egg white and stir well
Using your hands work the dough to make sure the egg white is completely worked into the dough (no streaks of egg whites visible)
Lay the dough on a silicone baking sheet. Place a second silicone baking sheet on top and spread the dough into a thin rectangle. Place the dough in a lightly greased 9x13 casserole dish.
To make the filling: Combine the cooked breafast sausage and cream cheese until completely combined. Spread the sausage mixture over the crust.
Top with soft scrambled eggs and shredded cheddar cheese.
Bake 20-25 minutes.
Notes
For a mild version use mild or regular breakfast sausage.
Recommended Products
As an Amazon Associate and member of other affiliate programs, I earn from qualifying purchases.
Nutrition Information:
Yield:

12
Serving Size:

1 slice
Amount Per Serving:
Calories:

236
Total Fat:

16.7g
Cholesterol:

149mg
Sodium:

371mg
Carbohydrates:

1.8g
Net Carbohydrates:

1.6g
Fiber:

0.2g
Sugar:

0.5g
Protein:

15.8g