Ultra fluffy Pumpkin Spice Pancakes are topped with Honey Roasted Pecans and warm maple syrup for a decadent Fall breakfast!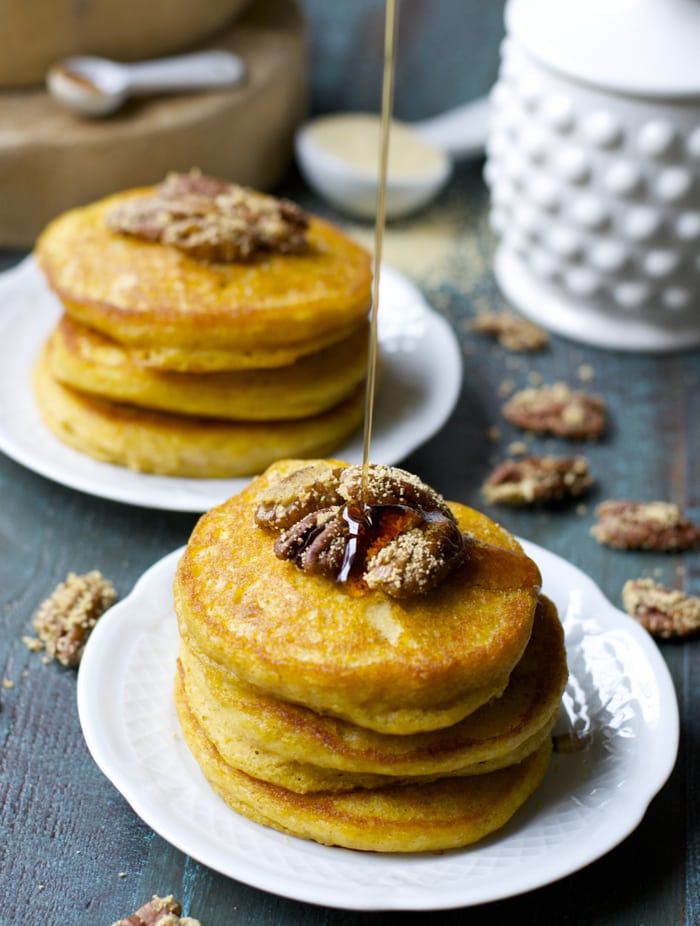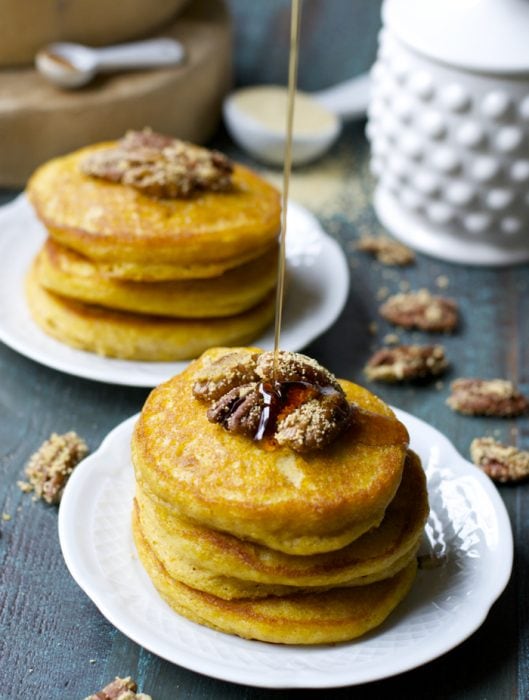 There are some flavor combinations that just cannot be beat. Peanut butter and jelly, mashed potatoes and gravy, mac and cheese, you know the good old standbys. Well for me pecans and pumpkins are in that same category of totally-irresistable-gotta-have-it foods.
With Fall in full swing it was officially time to break out the pumpkin! Mr. Maebell and I have a little tradition since Fall is our favorite season. On the first cool, crisp autumn weekend we make pumpkin pancakes for breakfast and chili for dinner. It is almost ceremonial. Last weekend we woke up to a wonderful chill in the air and we knew it was time!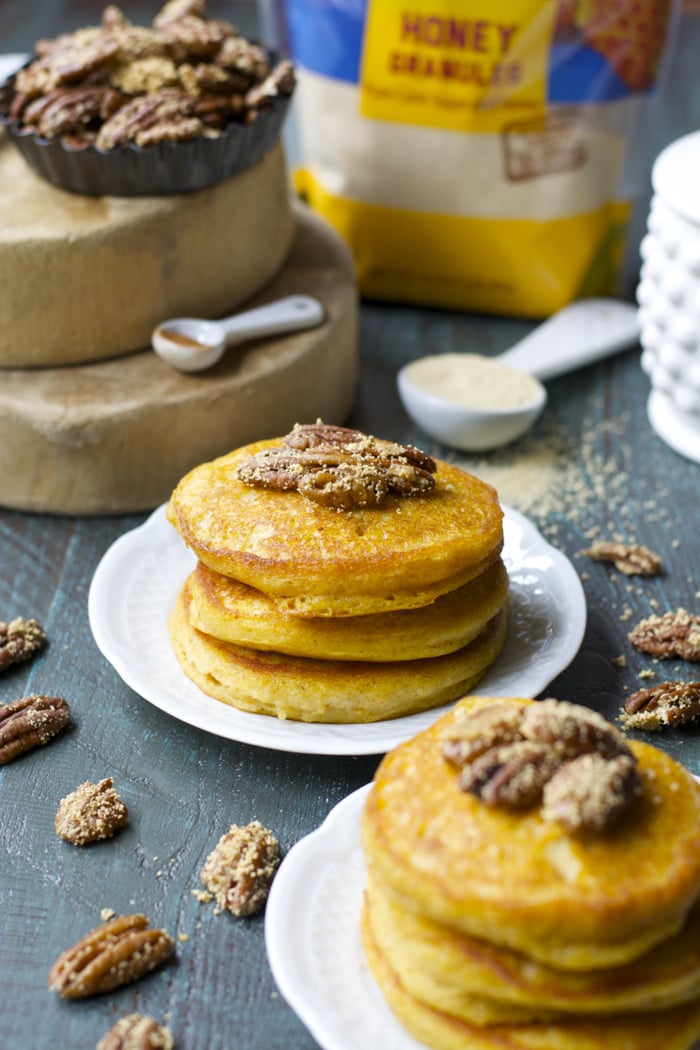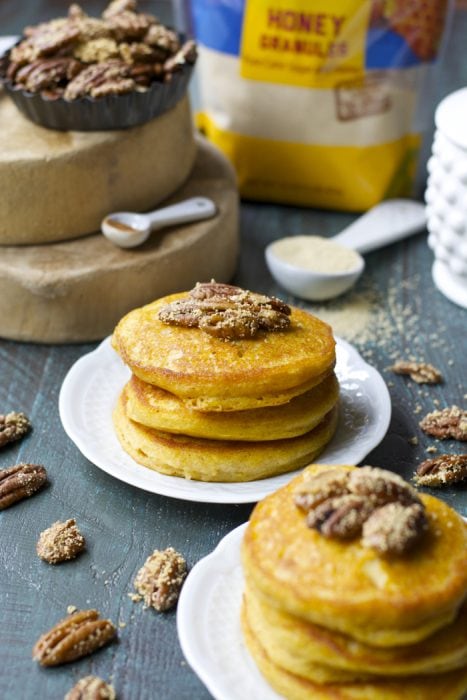 I decided to go all out and not just make Pumpkin Pecan Pancakes, but Pumpkin Spice Pancakes that were topped with Honey Roasted Pecans. Let me just tell you, this is a new favorite. The pumpkin and buttermilk make these pancakes the lightest, most fluffy pancakes ever. And the combination from the cinnamon and pumpkin spice is the perfect balance for the sweet Honey Roasted Pecans.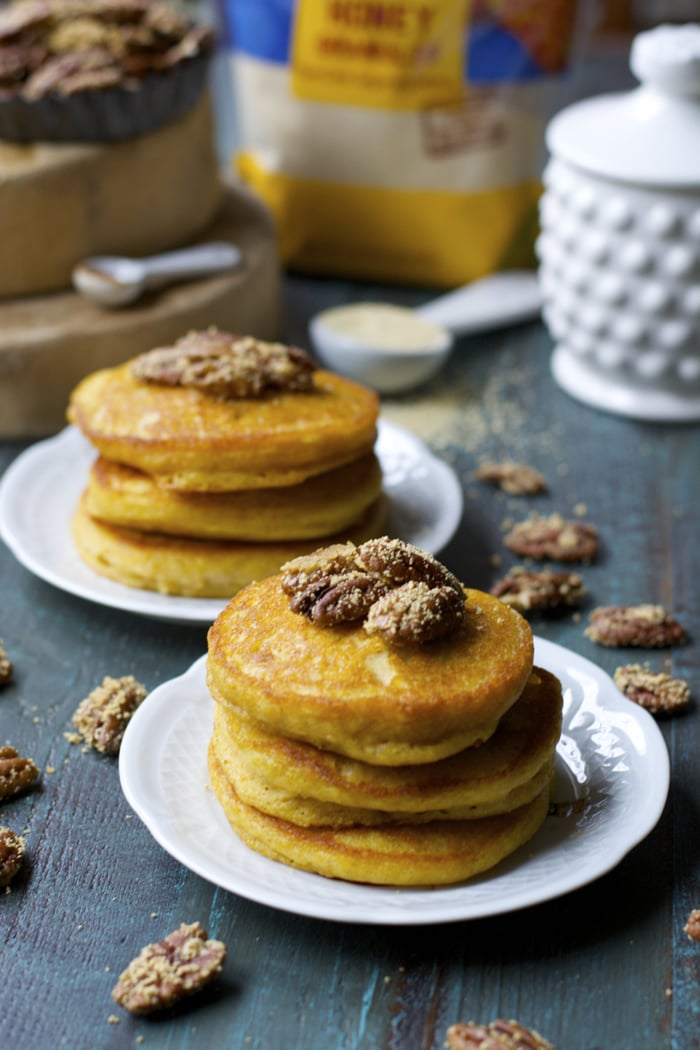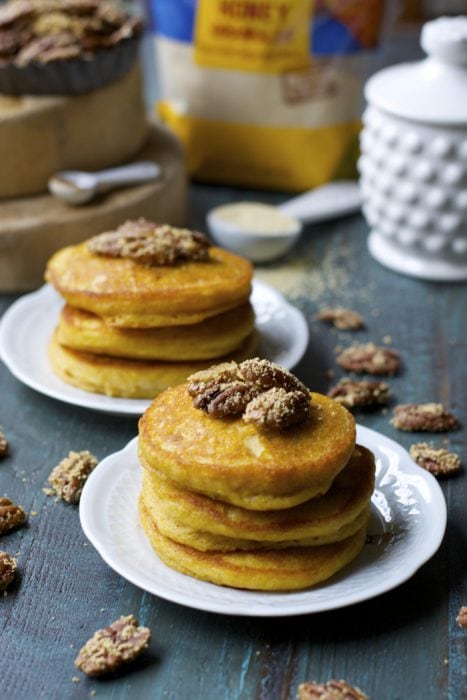 You may be wondering how in the world I made the honey roasted pecans without making a total mess. The answer is Tate+Lyle® Honey Granules! If you have never used them they are kind of amazing. They are a free-flowing blend of pure cane sugar and honey. You can spoon it into tea, over cereal or use in place of sugar when baking to add a delicious honey flavor without a sticky mess. For these Honey Roasted Pecans I simply tossed the pecans in a small amount of vanilla extract then sprinkled the Honey Granules right over them and stirred to coat, then popped them in the oven and let them get perfectly toasted!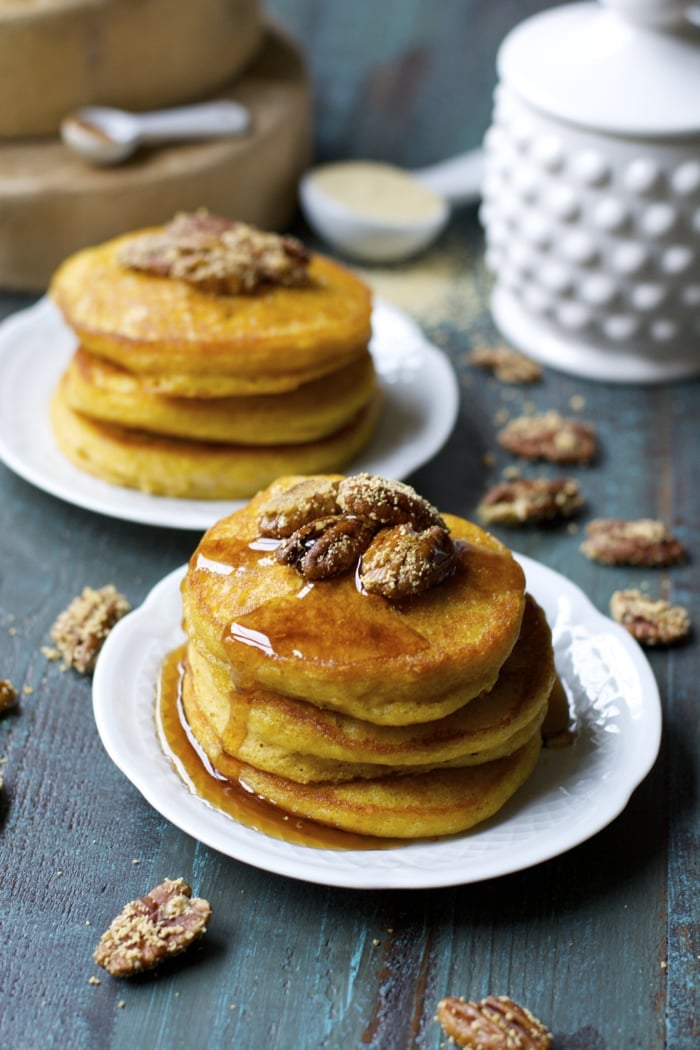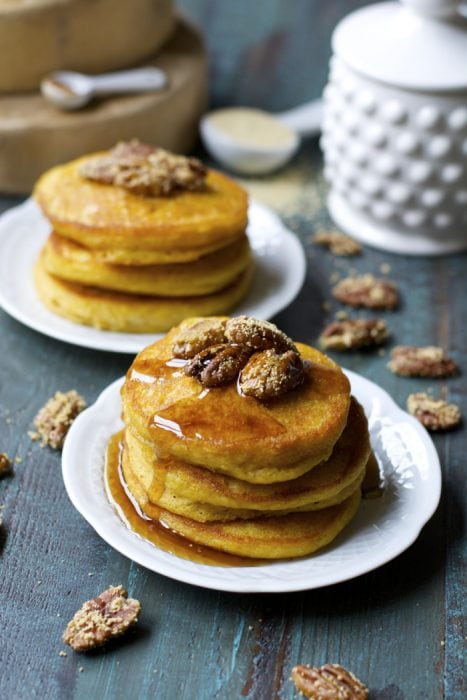 These Pumpkin Spice Pancakes and Honey Roasted Pecans are the ultimate Fall Breakfast!
*I find depending on the brand some buttermilks are thicker than others. I would start with one cup and add the additional 1/4 cup if you need to thin it further.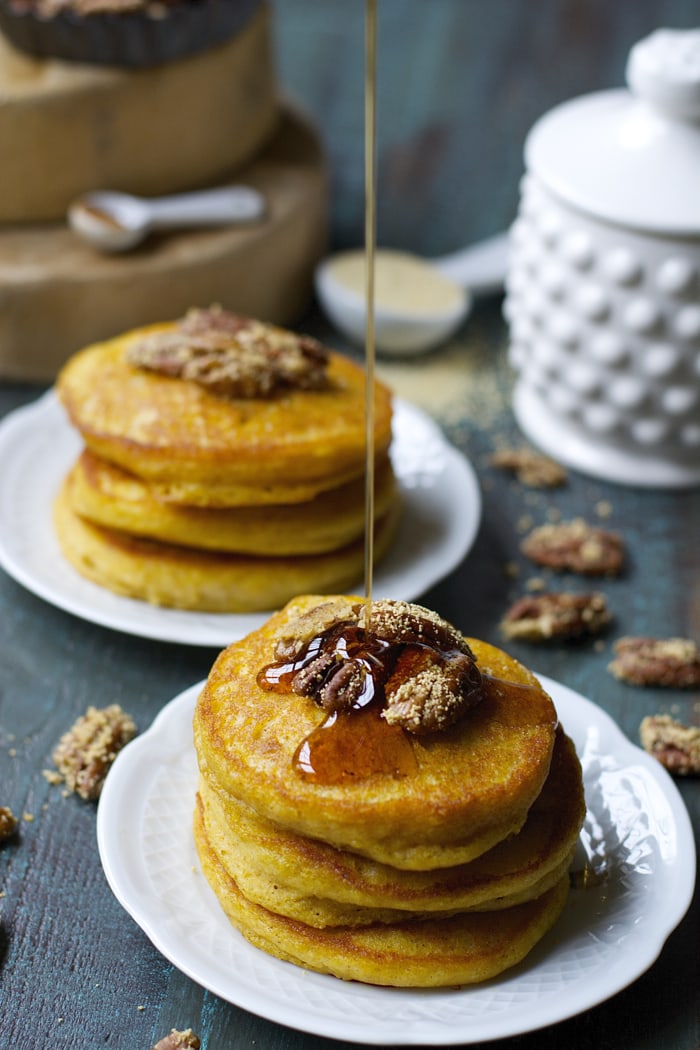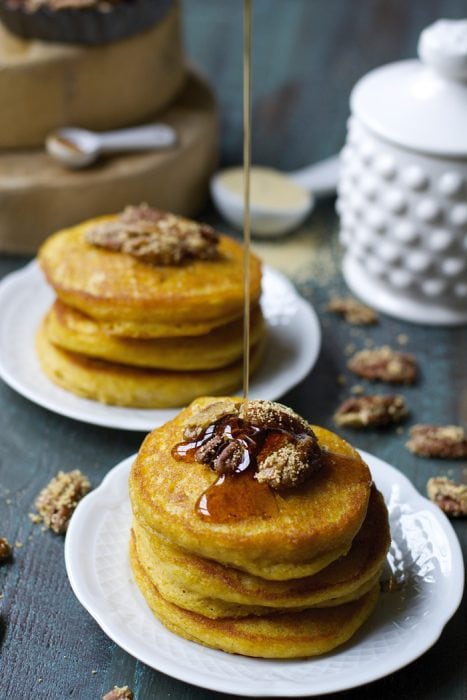 These Tate+Lyle® Honey Granules have so many uses in the kitchen!
They are a deliciously sweet and easy way to add honey flavor to all of your Fall baking treats!
Other Breakfast Treats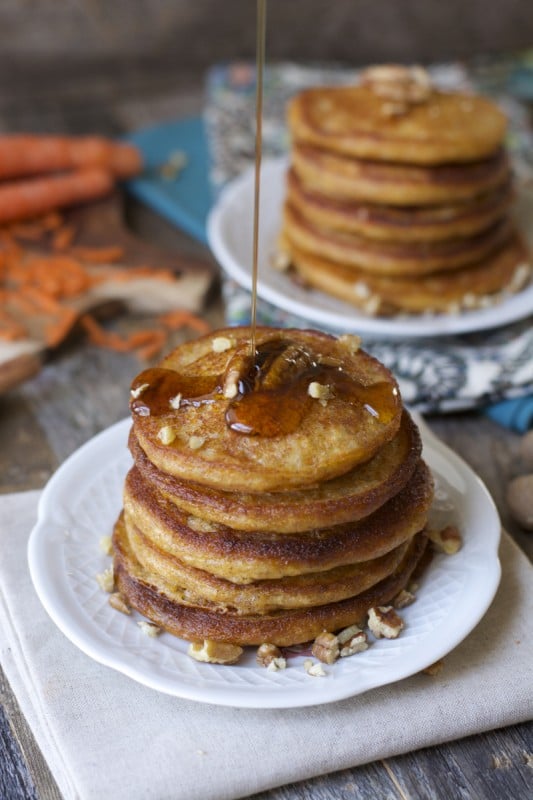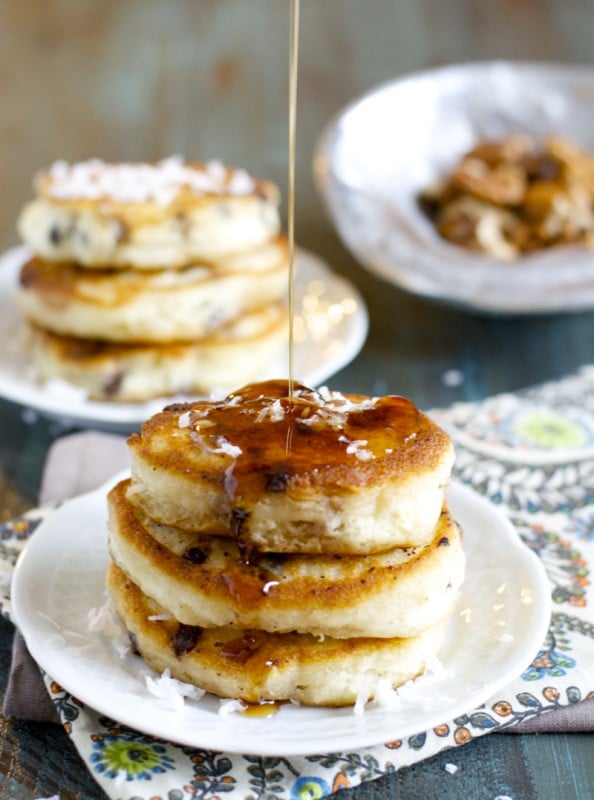 Loaded Chocolate Chip Pancakes
I was selected for this opportunity as a member of Clever Girls and the content and opinions expressed here are all my own.