These easy Keto Sausage Pinwheels are packed with sausage and cream cheese! The perfect gluten-free, keto breakfast or appetizer!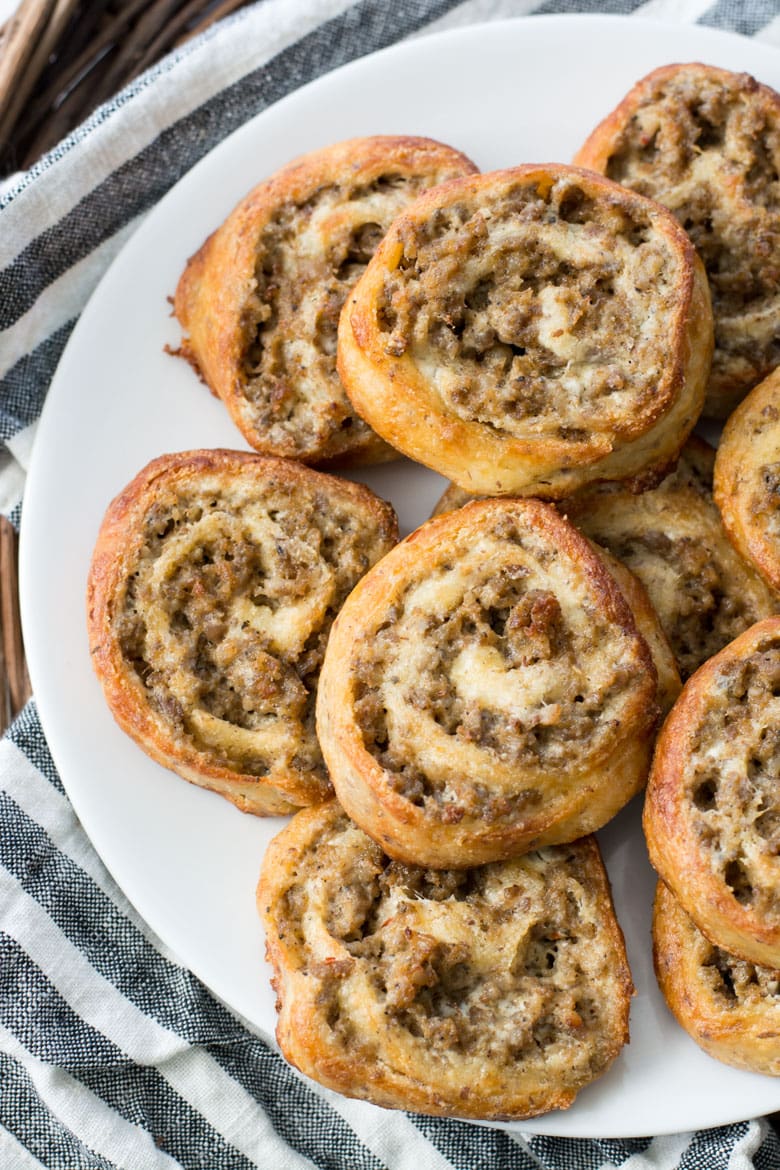 These sausage cream cheese crescents are our new favorite! I tried this recipe several different ways, my original plan was sausage Hot Pockets, perfect for breakfast or lunch. Don't worry, I have tons of keto hot pocket recipes coming your way, but these are absolutely perfect as pinwheels!
These Keto Sausage Rolls are perfect for breakfast, meal prep, an easy dinner, or even an appetizer! The keto dough is a spin on your basic fat head dough. I have experimented with lots of variations and I find this to be the most reliable. I use almond flour, flax seed meal, cream cheese, mozzarella cheese and NO eggs.
The crust reminds me a bit of pastry dough, it is crisp on the outside and soft on the inside. It is also very pliable and easy to work with.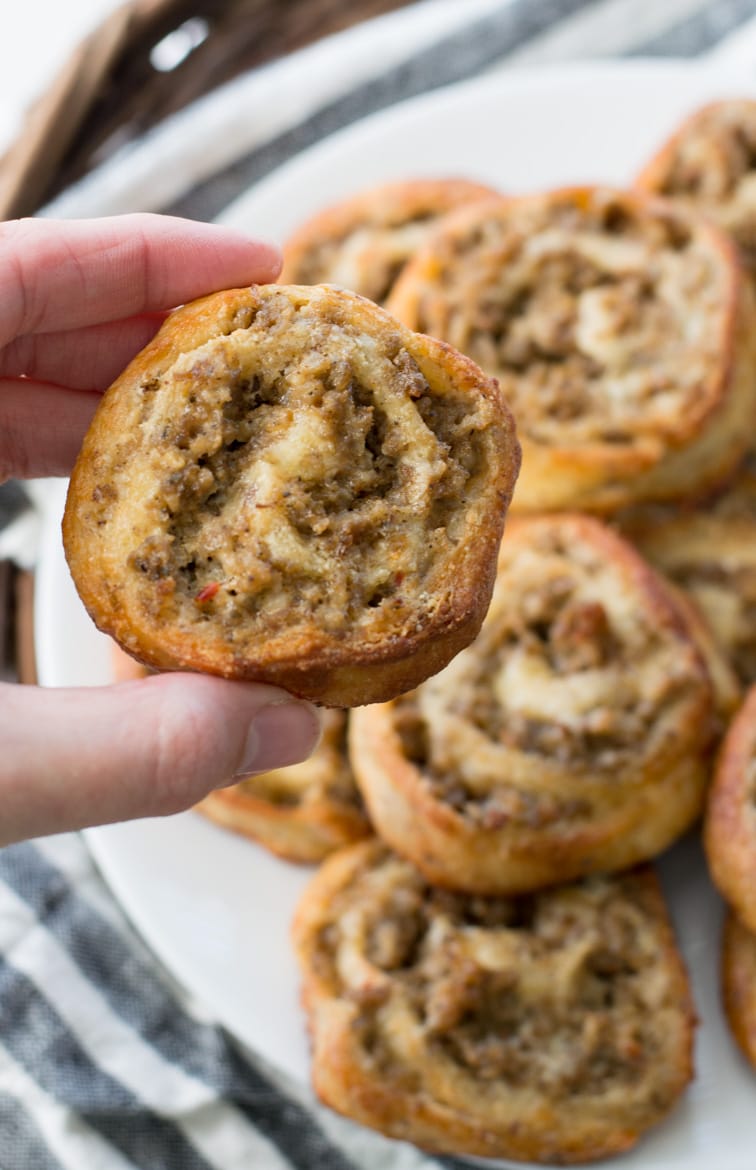 Ingredients for Sausage Pinwheels
These keto sausage cream cheese pinwheels come together with few ingredients. Here's what goes into this recipe:
Mozzarella cheese
Cream cheese
Almond flour
Flax meal
Breakfast sausage
How to Make Keto Sausage Pinwheels
Combine the cream cheese and mozzarella cheese in a microwave-safe bowl and heat until it is completely melted.
Add in the almond flour and flax seed meal. I usually mix it with a spatula until it is pretty well incorporated, but then I use my hands to knead it just like you would traditional dough.
Roll or press your dough into a rectangle and spread your sausage and cream cheese mixture evenly over the dough.
Take the long edges of the dough and fold it over just a tiny bit, this helps to keep the filling inside your pinwheels on the end then starting with your short end, tightly roll them together.
Place your roll in the fridge or freezer for a few minutes to firm it up a bit.
Using a sharp knife, carefully slice them into thin rolls (less than the width of two fingers)
Then pop them in the oven!
These Keto Sausage Pinwheels are going to become your new favorite! Make a double batch for easy keto meal prep, grab and go low carb breakfast or just because!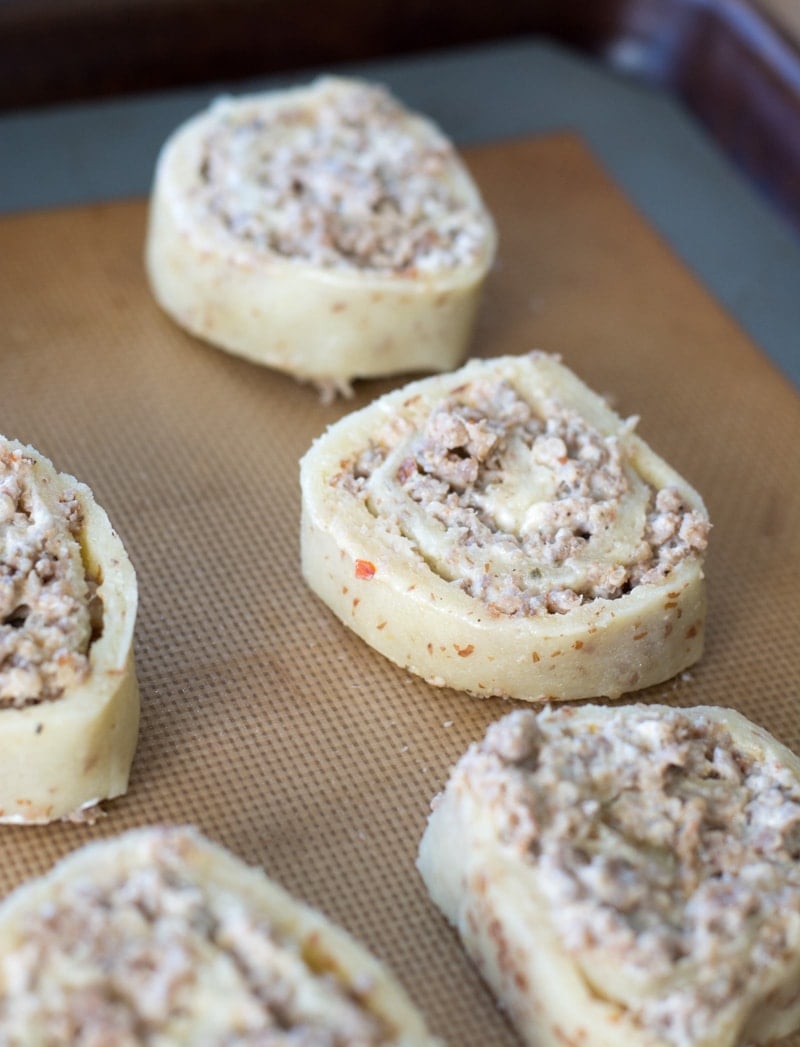 What Type of Sausage Should I Use?
Any keto-approved breakfast sausage will work! The Whole Foods brand, Canino's, or Pederson's Natural Farms will all work.
I have also used the following recipe to make my own — just mix and cook!
1 pound ground pork
1 tsp fennel seeds
1/2 tsp garlic powder
1/2 tsp ground black pepper
1/2 tsp dried sage (optional)
3/4 tsp salt
1/4 tsp onion powder
Can I Freeze Sausage Pinwheels?
Yes! I've frozen these sausage cream cheese pinwheels after baking and reheat them in the microwave in 20-second increments.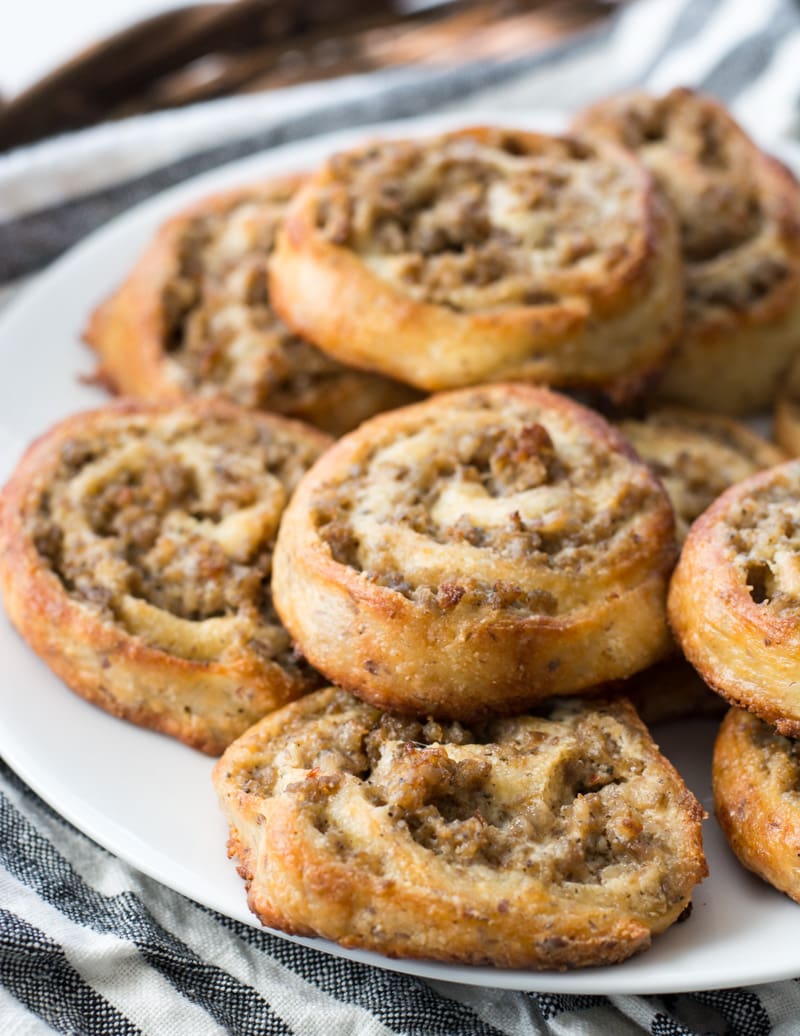 Tips for Making Sausage Cream Cheese Pinwheels
Take care not to slice the pinwheels too thick otherwise your dough will not get crisp all the way through.
If you need to see step-by-step photos, this is the same method I used in my keto cinnamon roll recipe.
I've only made this recipe using almond flour, so I'm not sure how using another flour alternative would affect the taste and texture of the pinwheels.
More Keto Recipes with Sausage: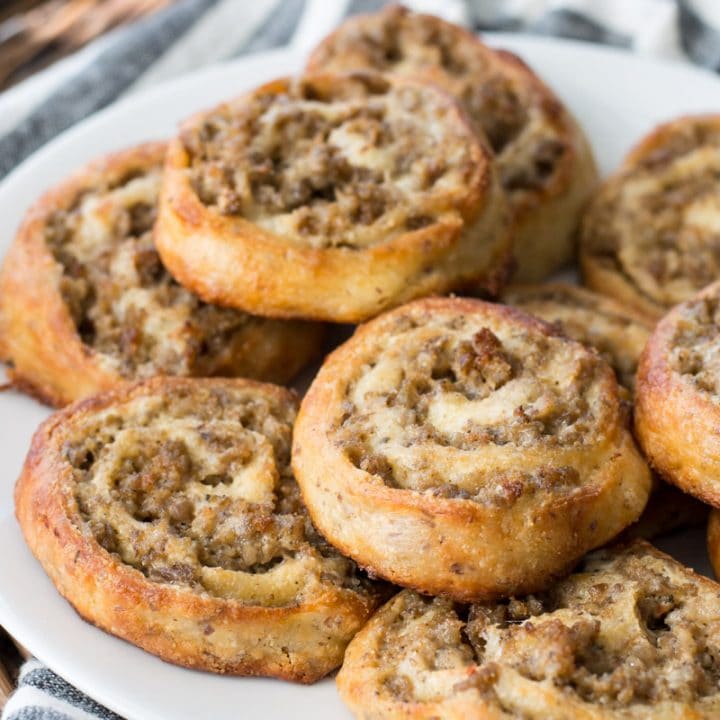 Keto Sausage Pinwheels
These easy Keto Sausage Pinwheels are packed with sausage and cream cheese! The perfect gluten free, keto breakfast or appetizer!
Ingredients
For the Rolls:
2 cups shredded mozzarealla cheese
2 ounces cream cheese
3/4 cup almond flour
2 tablespoons ground flax meal
For the Filling:
1/2 pound cooked breakfast sausage, drained
3 ounces of cream cheese
Instructions
Preheat oven to 400F.
For the Rolls:
In a microwave-safe mixing bowl, combine the shredded mozzarella cheese and cream cheese. Heat in 30 second increments, stirring in between until completely melted.
Add the almond flour and ground flax meal.
Mix the dough well until you have a soft ball
Between two silicone baking mats or parchment paper roll the dough into a rectangle roughly 12x9 inches.
For the filling:
Combine the sausage and cream cheese.
Spread the sausage cream cheese mixture evenly on the dough.
Starting at one end roll the dough as tightly as you can into a log.
Slice into rolls about the width of two fingers, be careful not to slice them too thick because it will be difficult for the dough in the center to cook through.
Place the rolls on a greased baking sheet.
Bake 12-15 minutes until golden brown.
Nutrition Information:
Amount Per Serving:
Calories:

203
Total Fat:

16.5g
Carbohydrates:

2.7g
Fiber:

0.6g